Store Inventory in WareIQ Operated
Pan-India
Fulfillment Network
Reduce Delivery Timelines
Increase Stock Availability
Reduce Cost Per Shipment
Using
Courier Allocation Engine
Backed by
Same Day
& Next Day Deliveries
30%
reduction in logistics cost
99%
on-time shipping rate
Smart eCommerce fulfillment for same/next day deliveries to accelerate sales
01
Connect your D2C & marketplace channels to our smart platform
Integrate channels from 20+ D2C platforms and marketplaces & connect your orders to our platform
02
We identify locations closest to your customers to store inventory at using our smart platform
Use intelligent AI algorithms to identify inventory placement locations closest to customers and unlock same/next day delivery at a cheaper cost
03
We place inventory in our nationwide fulfillment network & manage your fulfillment fully
Leverage our capable operations team to store inventory in our pan-India fulfillment network and manage end-to-end order fulfillment efficiently
04
Optimize cost & speed through our smart courier engine to allocate orders to the right courier
Choose automatically or manually from a network of national, regional and hyperlocal courier partners to optimize for cost and speed
Pan-India network of fulfillment centers & dark stores with a capable warehouse operations team
Pan-India network of 20+ Fulfillment Centers & Dark Stores
Scale up or scale down your fulfillment infrastructure at speed
Manage order surges during sales seasons efficiently
Scan-based picking & packing operations to minimize errors
Amazon FBA prep services
Provision to personalize orders and create custom kits
Our Fulfillment Services
Our fulfillment services allow you to handle all of Amazon, Flipkart and other marketplaces' requirements, without incurring any penalties or SLA breaches, while reaping the maximum benefits of selling on these marketplaces. Furthermore, our Value Added Services (VAS) such as Order Customization and Kitting allow you to create a delightful unboxing experience for your customers.
InventoryLogIQ
AI-Enabled inventory planning to help modern brands sell more from less
Inventory Health Report
Network Planner
Stocked-out SKUs List
Overstocked SKUs List
Decrease your inventory holding costs by 40%
Increase product availability to 99%+
Place your inventory regionally for over 70% of demand
WareIQ Fast Shipping Badges
Boost your sales conversions by displaying transparent shipping timelines
Achieve a higher sales volume and reduce cart abandonment rate
Clearly communicate the delivery timelines to prospective customers
Help customers check the pin codes that are serviceable and the fastest available shipping timeline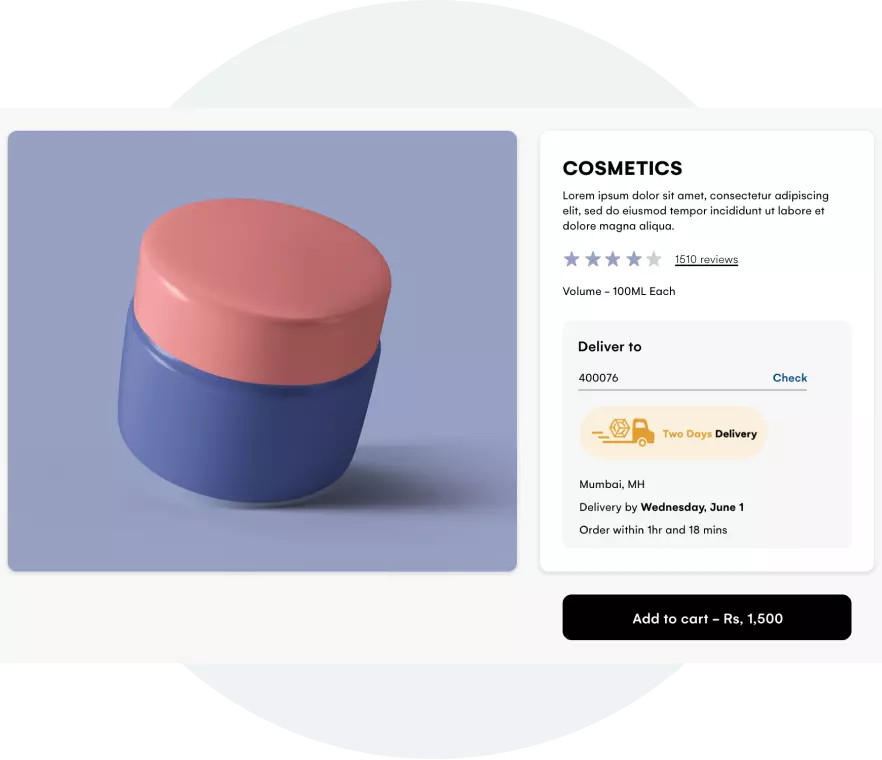 Accelerate Your Digital Business with Our Powerful Suite of Apps
One click app integration
Easily scale up business over inefficient & complex ecosystem of integrating multiple business application
Hassle-free Customization
Choose & drop apps as per your business usage in a completely hassle free experience.
Supercharge your supply chain
An arsenal of business tailored logistics applications to power & transform your supply chain operations
Shipping Badges
WareIQ Rush
RTO Shield
Branded Tracking
Customer Feedback
Interact
Why partner with WareIQ?
Capabilities
WareIQ
Last-mile Players
Shipping Aggregators
Warehousing Providers
Other 3PL

Unified Platform Experience

Connected to all sales channels & enable end-to-end operations management

Yes

No

No

No

No

Smart Fulfillment Network Design & Inventory Placement Insights

for efficient inventory planning

Yes

No

No

No

No

Smart Courier Allocation

to optimize shipping speed and cost

Yes

No

Yes

No

No

Assured Prime-like Shipping Badges for D2C websites

to boost online conversion

Yes

No

No

No

No

RTO Risk Prediction

to minimize RTO/returns losses

Yes

No

No

No

No

Integrated Value Apps

for Branded Tracking, NDR Management etc.

Yes

No

Yes

No

No
After researching and evaluating multiple options, we are excited to partner with WareIQ & explore their smart fulfillment solution that will enable us to integrate across channels quickly, get ready access to seller flex compliant Pan-india fulfillment network to store inventory closest to customers without any upfront investment in infrastructure and leverage advanced data analytics and insights generation capabilities to enhance our visibility and consequently control over the entire operations.
Puspen Maity
CEO Techno Sportswear
With WareIQ as our trusted fulfillment partner, we have been able to scale our operations significantly in our zero-to-one journey. Using WareIQ's eCommerce solution our team has been able to fulfill both B2C & B2B orders, cut down storage costs by 50% during sales seasons, and provide faster deliveries to customers. Along with this, we have been able to unlock 6x business growth in under 1 year. The partnership has also helped us in diversifying our outreach onto multiple marketplaces such as Nykaa, Myntra etc.
Arjun Doshi
Co-Founder, Cuddles for Cubs
WareIQ came to Gynoveda with a full-stack fulfillment platform & gave Gynoveda access to a nationwide network of fulfillment centers & last mile & hyperlocal courier partners closer to our customers based out of North & East India. They made same-day delivery possible for us in metros. WareIQ supports Gynoveda to make healthcare accessible to remote locations where gynecological medical services are not developed & thus, helping change the lives of millions of women in 20000 pin codes across India.
Vishal Gupta
Founder Gynoveda