10 Best Prozo Alternatives & Competitors Offering eCommerce Fulfillment and Shipping Solutions in 2023
The demand for a competent fulfillment partner is higher than ever due to the ever-expanding eCommerce market in India. Every day, more people try their hand at eCommerce selling due to the enormous amount of success that multiple retailers have experienced. The ability to purchase products and services is growing and once people discover the joy and convenience afforded to them by online shopping, they seldom go back to a physical experience. However, having a fulfillment partner that can deliver a positive experience to you and your customers is very important as it can dictate the success of your business.
Prozo is one of the many companies offering fulfillment services in the current competitive eCommerce landscape. While it offers most of the services you would expect from a 3PL fulfillment company, there are areas where it is lacking compared to the competition. In this blog, we will take a detailed look at services to look for while choosing Prozo alternatives, the 10 best Prozo competitors in the market, and how WareIQ can help.
About Prozo
Prozo describes itself as an "eCommerce enabler and accelerator" owing to the fact that they provide multiple services that enhance the ability of eCommerce retailers to carry out their practices. The company was founded in 2014 and is currently based in Noida. Some of their services include supply chain technology solutions, a network of warehouses and fulfillment centers, multi-channel distribution across most major eCommerce marketplaces, and much more.
The company has a unique cloud-based supply chain that the company claims reduce the need for multiple shipping partners. Additionally, the company has a decent record of client satisfaction and claims that brands working with them have experienced increases in revenue of up to 5% and reductions in costs by 10% to 30%.
WareIQ – Amazon-prime Like Logistics for Modern Brands in India
WareIQ, an eCommerce fulfillment company, empowers online brands with a superior-tech platform to compete with Amazon like service levels by bringing their average delivery timelines from 5-10 days to 1-2 days.
"With WareIQ's full stack digital enabled fulfillment solution, we got access to the pan India network of fulfillment centers & cold storage facilities enabling same/next day delivery, without any upfront investment in supply chain infrastructure from our end. During the IPL campaign in April 2022,

WareIQ efficiently

handled unpredictable 200x surges in daily order volumes

of ~20k/day with a

99% fulfillment rate

. With WareIQ as our preferred fulfillment partner, we witnessed 172% growth in online order volume in just 4 months, with a significant improvement in the overall customer experience in fulfillment."
5 Services to Look for While Choosing Alternatives to Prozo
Pan-India Network of Fulfillment Centers
While Prozo does offer a network of fulfillment centers that span most major regions of the country, there are Prozo competitors that have more widely dispersed fulfillment center locations and offer technology such as smart inventory placement, automated picking and packing, and much more. Ascertain which areas you generally get most of your demand from and identify a company that has good fulfillment infrastructure in those locations, as well as an ability to handle excessive operations as the company scales up.
Warehouse Management Software
Again, Prozo offers a unified WMS and OMS configuration but there are many alternatives to Prozo that have simpler interfaces and a more comprehensive layout. WMS software is a must to keep warehouse and logistics operations running smoothly, as well as organising SKUs efficiently according to various criteria.
Reverse logistics
Reverse logistics refers to the process of inspecting, picking up and storing an order after it has been returned by a customer. Returns are an inevitable reality for eCommerce businesses and it is better to be prepared and protect your business from adverse impacts caused by them. Many Prozo alternatives offer reverse logistics services and some go the extra mile with insurance for every product to provide an additional layer of protection.
Order Tracking Facilities
Order tracking is extremely important because it allows your customers to know the status of their orders at all times and they can be updated on the go whenever it moves to a new stage in the delivery process. While Prozo offers order tracking, some Prozo competitors offer value-added facilities such as branded tracking pages that can be customized to your liking to promote complimentary products or give customers more information about your business.
Choice of Shipping Aggregators
Prozo claims that its use of cloud-based supply chain technology reduces the need for multiple partnerships with shipping aggregators. However, if there are any shipping delays caused due to unforeseen circumstances, having the ability to transfer the fulfillment responsibilities to another company can reduce the risk of delayed delivery or cost increases. Some Prozo alternatives offer as many as 20 different companies to fulfill orders for their clients.
10 Best Prozo Alternatives for eCommerce Sellers in 2023
WareIQ
Being one of the fastest-growing eCommerce fulfillment businesses in India, WareIQ leverages technology as a foundation to support a variety of eCommerce services, including inventory management, order fulfillment, ultra-fast delivery, reverse logistics, customer support, and much more. The business was established in Bangalore in 2019 with the goal of offering ultra-fast delivery to every Indian pin code by constructing a massive infrastructure of fulfillment and logistics centers and transportation hubs.
The business offers a variety of distinctive features, including a custom WMS that can integrate with different eCommerce marketplaces, an app store with multiple downloadable apps to improve your experience, an RTO shield to secure retailers from incurring the cost of returns and much more. Some of the features that make WareIQ one of the best alternatives to Prozo are:
It imposes no minimum order requirements
It provides a nationwide network of fulfillment facilities and dark stores
It provides affordable and clear pricing
It offers branded tracking services with enhanced customizability
It provides services for individualized packaging
Are you eager to know more about WareIQ's offerings if you sign up now? Find the features of the best-in-class, category-defining fulfillment services for eCommerce & D2C brands below:
Pan India Fulfillment & Darkstore Network: Plug-and-play fulfillment infrastructure with no minimums, which is compliant with Amazon Seller Flex, Flipkart Assured, Myntra and other marketplaces
Inventory & Network Planning Excellence: Best-in-class AI models for sales forecasting, product segmentation, and inventory management to reduce inventory by 40% and increase revenue by 10%.
Vertically Integrated Fulfillment Tech Stack: Our Fulfillment Tech Solution supports integrations with 20+ top marketplaces & D2C platforms, and prominent national, regional and hyperlocal couriers, enhancing reach by covering deliveries for 27,000+ pin codes
Supply Chain Productivity Applications: Integrate a host of supply chain productivity apps with a single-click to your existing CRMs, ERPs & accounting software to manage your logistics workflows from one command center. Use Apps like RTO Shield to get 100% RTO protection, Branded Tracking to turn your order tracking page into a profitable marketing channel, and many more.
Trusted by 300+ top Indian brands, we are helping them accelerate online sales and expedite their growth through a synergistic combination of advanced technology, robust fulfillment infrastructure & seller enablement services!WareIQ is backed by leading global investors including Y Combinator, Funders Club, Flexport, Pioneer Fund, Soma Capital, and Emles Venture Partner.
Fulfillment by Amazon (FBA)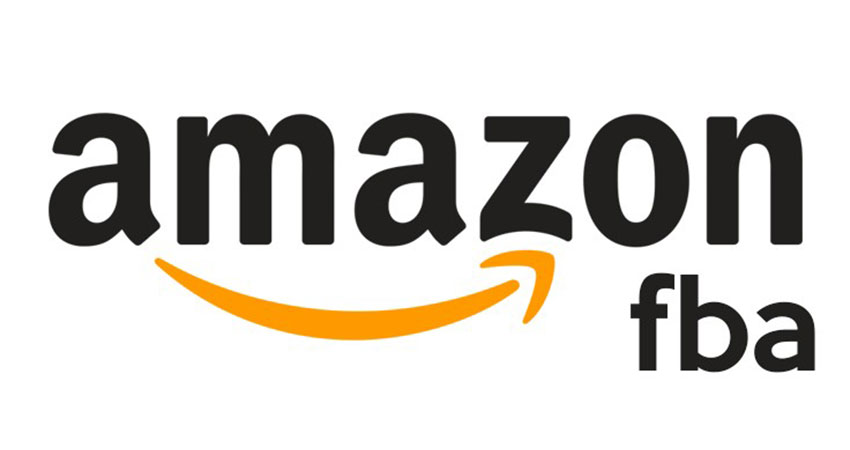 In terms of eCommerce fulfillment and retail, Amazon is a reputed brand across the globe. The order fulfillment revolution was ushered in when Fulfillment by Amazon (FBA), the company's first-party fulfillment service, made its debut in 2006. Amazon makes use of its position to provide the best possible services, including processing returns, operating several fulfillment facilities across the globe, offering free shipping to customers and much more.
Additionally, it aids businesses in cost management by offering free order processing, warehousing and other services. The main drawback is that it can only be utilised to fulfill purchases from Amazon and a few other limited eCommerce selling sites, so sellers should keep this in mind. Some of the features that make Fulfillment by Amazon (FBA) one of the best alternatives to Prozo are:
It has no minimum order requirements
It responds to all client inquiries and manages returns and refunds
It can manage orders from a variety of external selling channels
It utilises inventory pooling to consolidate similar products from various suppliers
It enables free shipping to customers
DHL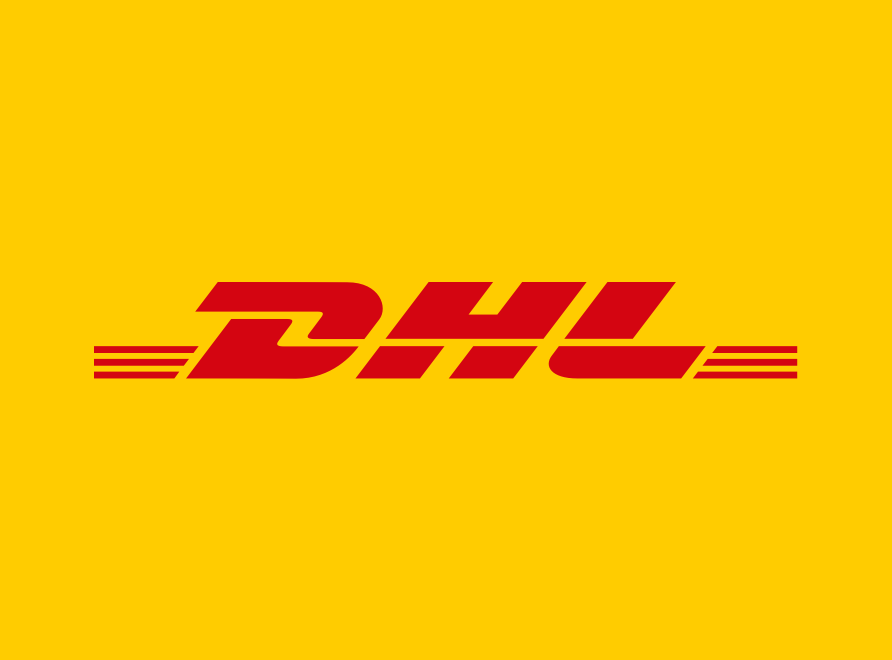 DHL, which stands for Dalsey, Hillblom, and Lynn, is a company that offers shipping and courier services and was founded and is headquartered in Germany. The business, which today has operations in more than 220 countries, is well-known throughout the world for its warehousing facilities and courier solutions. Freight forwarding services and door-to-door delivery by air, road and water are offered by its distribution division.
DHL offers eCommerce retailers a significant benefit in that it can easily handle customs clearance and other issues that can come up during overseas distribution, and it also offers insurance on all packages. Some of the features that make DHL one of the best alternatives to Prozo are:
It provides a consolidated technology platform for managing inventory, fulfilling orders and other eCommerce activities
It delivers packages the following day in more than 80 Indian cities
It has many different B2C and B2B eCommerce services
It provides effective logistics management
It offers inventory integration and optimization across sales channels
FedEx
One of the top multinational fulfillment companies, FedEx specialises in offering supply chain, shipping and eCommerce fulfillment solutions to a variety of industries, including retail, consumer products, healthcare and electronics. The company, which is currently headquartered in Memphis, Tennessee, offers shipping services to over 220 nations worldwide and gives businesses the option to synchronise their orders across numerous platforms in one place in addition to inventory and warehouse management. Some of the features that make FedEx one of the best alternatives to Prozo are:
It offers a worldwide network of services
It provides several connections with various selling platforms
It has a platform that is intuitive and simple to use
It provides a vast delivery network
It delivers packages quickly and offers reverse logistics services
Gati
Gati is a Mumbai-based provider of eCommerce fulfillment services. One of India's oldest logistics organisations, it began its journey 40 plus years ago in 1989 and is now a well-known player in the fulfillment industry. It provides complete logistical solutions for eCommerce fulfillment. You can choose from a variety of service packages they offer. It offers resources for managing supply chains, warehouse operations, air freight, ground-level logistics, and online commerce. There are Gati offices in each of India's major states. Some of the features that make Gati one of the best alternatives to Prozo are:
It provides facilities, such as heavyweight shipping, customised packaging, accelerated delivery, EPOD (electronic proof-of-delivery) and time-scheduled delivery
It services many business segments, such as B2B, C2C and B2C
It claims to be India's first express delivery service
It serves more than 17,000 pin codes and 99% of all states in the country
It offers a wide range of services at different price points
ShipDelight
ShipDelight was founded in 2015 in Mumbai, Maharashtra. The combined experience of ShipDelight's staff in the shipping and distribution sectors exceeds 55 years. The creators of the company are experts at finding solutions to the various issues that arise during order fulfillment, and they work to fully integrate these facilities with the company's logistics and fulfillment services. Some of the features that make ShipDelight one of the best alternatives to Prozo are:
It has a serviceable network of more than 26,000 pin codes in the country
It provides facilities such as branded tracking, order management, automated shipping and much more
It offers same-day and next-day delivery services
It imposes some of the cheapest shipping rates in the industry at ₹25 for 0.5 kgs of inventory
It provides a variety of fulfillment and logistics solutions
You can also check other alternatives to Shipdelight
Shipway
The budding startup Shipway, founded in 2015 and currently headquartered in Gurgaon, specialises in providing trustworthy and reasonable delivery services to eCommerce enterprises. This enables you to concentrate on business operations and give your customers the best possible purchasing experience. Currently, Shipway works with more than 30 eCommerce couriers. Over 12,000 eCommerce retailers are currently served by its end-to-end shipping automation system for fulfillment and logistics. Some of the features that make Shipway one of the best alternatives to Prozo are:
It offers automated supply chain solutions
It offers ultra-fast delivery through 30-plus shipping aggregators
It currently has a client network of over 12,000 sellers
It offers reasonable pricing
It provides order tracking on every order
Suggested Read: Alternatives to Shipway
ShipBob
A provider of international logistics, technology and eCommerce fulfillment services, ShipBob was established in Chicago in 2014 and offers next-day delivery for orders filled by D2C businesses. ShipBob claims to have a 99.95% accuracy record and serves more than 7000 clients globally. It offers end-to-end facilities for eCommerce fulfillment. Along with a strong software infrastructure that enables integrations to the company's internal platform through a developer-friendly API, it provides 2-day shipping at reasonable and transparent costs. Some of the features that make ShipBob one of the best alternatives to Prozo are:
It has a vast network of warehouses spread over many locations
It provides an excellent, user-friendly user interface
It offers simple integrations with other online marketplaces
It offers standardised 2-day shipping
It has cost-effective pricing plans
DTDC
DTDC is one of the most well-known eCommerce fulfillment and courier service companies in the nation. With a serviceable area of upwards of 10,000 pin codes spread out over the nation, it has been providing courier services since 1990. The company is able to manage huge packages through a cutting-edge management information system (MIS) to ensure smooth pick-up and delivery through fulfillment status facilities. Cash-on-delivery and a customised shipping procedure for imported and speciality items are some of their value-added offerings. Some of the features that make DTDC one of the best alternatives to Prozo are:
It accepts all the widely used payment methods
It provides specialised delivery for pricey, bulky and hazardous items
It offers real-time tracking capabilities through a tracking API
It supports more than 17,500 pin codes
It provides express shipping
Deliverr
Deliverr, a San Francisco-based company founded in 2017, offers small eCommerce businesses exceptional fulfillment solutions with a 2-day fulfillment option. At the heart of Deliverr's offerings are transparent pricing, badges that are reminiscent of Amazon Prime and a hassle-free experience. eCommerce businesses can utilise Deliverr's live data tracking features to forecast their fulfillment performance in the future and even next-day delivery for D2C clients. Some of the features that make Deliverr one of the best alternatives to Prozo are:
It provides customer support online
It offers easy integration and facilities
It has simple and transparent pricing
It offers integrations with multiple eCommerce marketplaces
It provides a standard 2-day delivery scheme
Conclusion: Why You Should Choose WareIQ as Your Prozo Alternative
Choosing a fulfillment company that reflects your values and requirements is one of the most decisions that you will need to make as an eCommerce retailer. They are responsible for ensuring your customers get what they paid for in a timely and secure manner. Prozo has an impressive list of services. However, for a variety of reasons, you may be looking for Prozo alternatives in the market. You need to assess what you want out of your fulfillment partner and opt for one that closely matches your needs and financial capabilities. One company that offers a variety of services at a price point that won't break the bank is WareIQ.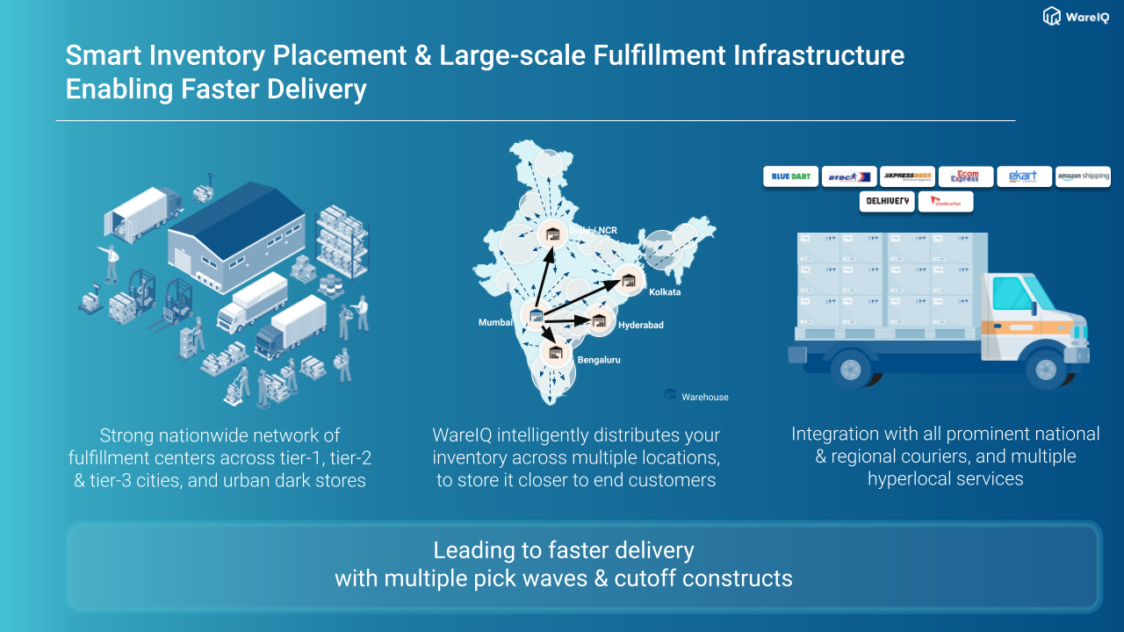 WareIQ is an eCommerce fulfillment company that is one of the fastest-growing Prozo alternatives in the country. Like Prozo, WareIQ offers a comprehensive technology platform as well as plenty of additional facilities such as branded order tracking, an app store, multiple shipping partners and much more. A few key services that we provide are listed below:
We offer a national network of fulfillment centers and dark stores with intelligent inventory placement that recommends the most practical location to store your goods based on demand and access to transportation infrastructure
Every fulfillment center is equipped with our own WMS, which can sync with more than 12 online selling platforms, including Amazon, Flipkart, eBay, and others, and can combine inventory and order data from many fulfillment centers into a single dashboard
Through our collaboration with more than 20 of the top shipping aggregators in the nation, we provide lightning-fast same-day and next-day delivery. We also always choose the most affordable and expedient alternative for each order
To improve the functionality of numerous corporate operations, like customer feedback and branding tracking, we offer a unique app store where different productivity apps can be downloaded
We provide a thorough RTO Shield that can lessen the harm brought on by RTOs by ensuring all products and handling the reverse logistics procedure
You May Like: Top 10 Quickshift Alternatives for eCommerce Retailers Looking for Fulfillment & Shipping Solutions in 2023
Prozo Alternatives and Competitors: FAQs