What is a Carrier Facility? Status of Packages at Carrier Facility, Offerings of Top Carriers Facilities Like Fedex, Delhivery, Blue Dart, Amazon etc. [2023]
The process of order fulfillment is extremely complex. With millions of packages, raw materials and consignments being transported back and forth to various destinations, there is a high possibility of damaging errors being committed if things aren't planned properly. You may assume that once an order is located, packaged and dispatched from your own warehouse, it will be transported directly to its relevant customer. However, in most instances, that isn't really the case.
Most packages end up in what is known as a carrier facility, from where it is picked up and will ultimately reach their final destination. These facilities enable packages moving to the same city or nearby locations to be consolidated and stored until they are finally picked up by the last-mile delivery partner. Hence, they play an important role in the order fulfillment process. In this blog, we will take a look at the ins and outs of the workings of a carrier facility, their importance, real-world examples, the different package statuses to be familiar with, and how WareIQ can help.
What is a Carrier Facility?
A carrier facility is a type of distribution hub that is designed to handle and store various types of cargo. This can include packages, containers, and machinery, among other items. The facility is equipped with the necessary infrastructure, equipment, and personnel to support the efficient handling and movement of goods from one location to another. Typically, a carrier facility includes a large storage area where items can be stored temporarily, as well as loading docks for easy access and transfer of goods. The facility may also include specialised equipment for handling different types of cargo, such as cranes for lifting heavy containers or conveyor systems for sorting packages.
In addition to storage and handling, many carrier facilities offer additional services such as packing and unpacking, labeling and customs clearance. This can help streamline the transportation process and ensure that items reach their final destination quickly and efficiently. It is important to note that carrier facilities must adhere to strict safety and security standards in order to guarantee the protection of the goods stored and handled on-site. This may include the use of surveillance systems, secure access controls and other measures to prevent theft, damage or loss of goods.
WareIQ – Amazon-prime Like Logistics for Modern Brands in India
WareIQ, an eCommerce fulfillment company, empowers online brands with a superior-tech platform to compete with Amazon like service levels by bringing their average delivery timelines from 5-10 days to 1-2 days.
"With WareIQ, UTH is able to consolidate common inventory for all platforms and get much closer to the customer through access to WareIQ's strong nationwide network of fulfilment centres, and last mile & hyper-local courier partners.

We are excited about being able to offer

same day delivery

in several pin codes due to

WareIQ

.

"
Importance of Tracking Shipments in Real-Time
Streamlines the Distribution Process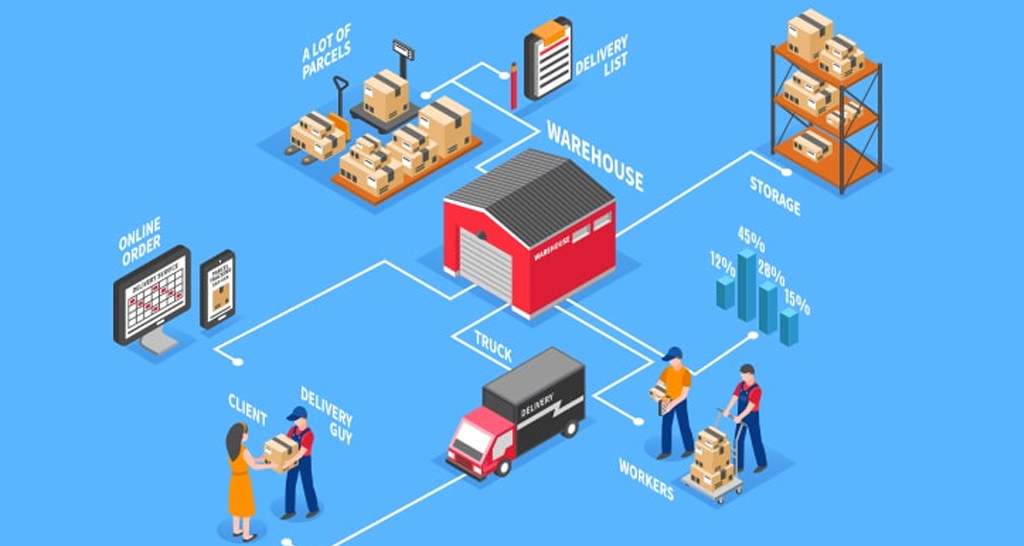 You can determine how long it will take a shipment to arrive at its destination by constantly tracking it and maintaining reports on each singular shipment. Using this information, you can work retroactively to plan your procurement and production timetables, shipping dates, and other logistics-related details to make sure the supply chain runs more smoothly and efficiently. This will help reduce time, reduce logistics costs, and effort in ensuring goods reach their destinations as per schedule.
Averts Order Delays
You can identify any problems and bottlenecks early on and take prompt corrective action by constantly knowing the status of every consignment and whether everything is going to plan. For instance, you can take proactive measures and ship a replacement if a product appears to be lost en route rather than waiting for the client to notice and then get in touch. The timely and accurate delivery of packages, as well as keeping customers informed and satisfied, depend on this kind of responsiveness. Hence, your entire business's reputation will be improved in the eyes of existing and prospective customers.
Rectifies Potential Mishaps
Maintaining quality from your eCommerce fulfillment center to the customer's doorstep requires real-time order tracking facilities for both parties. You can pinpoint where any damage takes place while products are in transit and hold the responsible party accountable by tracking the delivery at every turn. Additionally, this makes it simpler to spot evidence of negligence, dishonesty and subpar service. As a result, you will be more equipped to decide whether to stick with your current business partners or choose a different one.
Boosts Client Satisfaction
Your customers will have a much more stellar experience with your company with the implementation of real-time tracking. This will help you increase logistical efficiency, maintain your schedule and prevent damage to products while in transit. Customers adore and demand a smooth delivery process with consistent tracking and order updates. As a result, when your brand can competently provide all those services, customers are more likely to make more purchases and promote your company to others.
Features and Services of Prominent Carrier Facilities of India and the US in 2023
General Outlook
A carrier facility is a large, multi-level warehouse used to store and manage packages for delivery. Some of the largest shipping companies in the world, such as Amazon, FedEx, UPS and USPS provide carrier facilities as part of their global shipping and distribution services. These facilities are generally strategically located near major transportation hubs to ensure that packages can be quickly and efficiently transported to customers. Read more about companies providing courier services from India to the US here.
The buildings are typically large, ranging from hundreds of thousands to millions of square feet and are equipped with state-of-the-art technology, such as automated conveyor systems, barcode scanners and robots, to help manage the flow of packages seamlessly and effectively. The extent of the services offered by a carrier facility can vary between companies. We will take a look at each company's carrier facility offerings below.
Company ➡️
Details and Facilities ⬇️
Amazon Carrier Facility
FedEx Carrier Facility
UPS Carrier Facility
USPS Carrier Facility
Delhivery
Carrier Facility
Blue Dart Carrier Facility
Pickup Services
As the carrier facility is closed to the general public, you won't be able to pick up your Amazon shipments directly from there. Customers who requested that their order be delivered to an Amazon Hub, however, may choose to pick up their package following receipt of the delivery notification.
Customers can pick up shipments from FedEx using methods other than those that necessitate the use of carrier facilities. Eligible packages can be redirected to and picked up from a local FedEx retail site using the "Hold at FedEx Location" service.
Customers can use services like UPS Delivery Intercept to prevent direct delivery or to reroute the box to a UPS Access Point or location of their choice, where they can pick it up.
Just like UPS, USPS gives consumers options for package pickup that don't require them to go to actual carrier facilities. Customers can halt delivery using the USPS Parcel Intercept service for a charge, from where the package will then be forwarded to their neighbourhood post office so it can be collected.
People will have to raise a support ticket from the tracking page and will need to carry any government ID proof (driving license, PAN card, voter ID), while picking up the package from Delhivery's carrier facility.
People can pick up their courier from Bluedart office by showing Government ID card and the docket number of the package .
Holding Time
There is no set period of time during which parcels are held at Amazon transportation facilities. The hold time will vary depending on the product being shipped, the shipping service being used and seasonal pressure on a carrier's service bandwidth.
For all FedEx Ground® and FedEx Express® services, FedEx will keep your package for up to 7 days before returning it to the shipper.
The UPS Store and other UPS Access Point locations can hold your package for up to 7 calendar days without charging you extra if you're a UPS My Choice member. Your package may be held by customer service centres for up to five business days.
Your mail can be safely held at your neighbourhood Post Office™  location via the USPS Hold Mail® service until you return, for a period of up to 30 days.
Delhivery does not have a standard holding time policy, as the holding period for a package can change based on the specific circumstances surrounding each shipment.

In general, packages are usually held for a maximum of 48 hours before being returned to the sender or disposed of, if the recipient is unable to receive the delivery. However, this holding period can be extended under certain circumstances, such as if the recipient has requested an extended holding period or if there are issues with the delivery address.
Blue Dart can hold shipments for a maximum of 10 days at the destination listed on the waybill, from the date of shipment.
Processing Time
Not specified
Upto 2 days
1 to 2 days
1 to 2 days
Usually, the processing time for Delhivery carrier facility is 5-7 days. With Same Day Delivery services of Delhivery, processing time can be 1-2 days.
Usually, the processing time is 5-7 days. With Express time-definite service with Money Back Guarantee* (MBG), processing time for certain Pin codes in Chennai, Delhi, Ahmedabad, Mumbai, Bangalore, Navi Mumbai, and Gurgaon can be 1-2 days.
What Does Various Status of Packages at a Carrier Facility Mean (Q&A)?
Parcel Has Arrived at the Carrier Facility
This status indicates that a carrier facility has received the shipment. If the package needs to make numerous stops, this status may simply indicate that the parcel has finished a particular section of an overall longer-lasting journey. It may also indicate that the package is currently at a facility in close proximity to its final destination.
Parcel Has Been Dispatched From the Carrier Facility
This status indicates that the parcel has just left the carrier facility and is currently in transit to its next location. The destination of the product will depend on where it is in the shipping process. Whether it is going to another carrier facility or the doorstep of the consumer will depend on the nature of the order and its destination.
Parcel is Currently Being Processed at the Carrier Facility
This status indicates that the package has been delivered to the carrier's facility and is presently being scanned and processed in preparation for transportation to its next location, whether that is another storage facility or directly to the customer's location.
Parcel is Delayed at the Carrier Facility
This status indicates that the package's journey to the next location has been somewhat delayed by a specified timeframe. This frequently occurs as a result of bottlenecks in the carrier facility caused by a backlog of parcels or a lack of delivery trucks and personnel, usually resulting from seasonal pressures and enhanced demand.
Suggested Read: Detail Guide on Fulfillment Status?
Conclusion: Up Your Order Fulfillment Game With WareIQ
Carrier facilities act as a transitionary space for products being transported from your company's warehouse to the destination of the customer that ordered it. As your business starts to grow and scale its offerings, having an efficient carrier facility will become even more important as the number of packages and orders you need to deal with will skyrocket.
Thus, in order to maintain effectiveness, ensure that mishaps and confusion do not occur and constantly keep customers in the loop, opting for a competent carrier facility is a must. It will make sure that regardless of the number of packages, the accuracy and success rates of your delivery process do not falter. One way to get access to the best carrier facilities on the market is to partner with a 3PL company like WareIQ.
WareIQ is one of India's leading eCommerce fulfillment providers. Our fulfillment solutions take advantage of the use of advanced technology at every step, ensuring that you and your customers will have the best possible experience. Some of the services that make us one of the best options in the country when it comes to order fulfillment are listed below:
Partnership With 20-Plus Shipping Carriers
We have partnered with the most revered names in the shipping industry, such as FedEx, BlueDart and more, to ensure your packages will always be delivered securely and on time.
Smart Courier Allocator
We have an ML-based courier allocator that automatically assigns the fastest and most cost-effective option for every order.
Nationwide Storage Network
We have a vast network of fulfillment centers, dark stores and carrier facilities that are located in every region of the country.
Smart Inventory Placement
We provide inventory placement recommendations to ensure your products are always stored in close proximity to your customers and areas of high demand.
Branded Tracking Facilities
We offer branded tracking facilities where every component of the tracking page can be customised to fit your liking so you can include information about whatever you want to convey to your customers.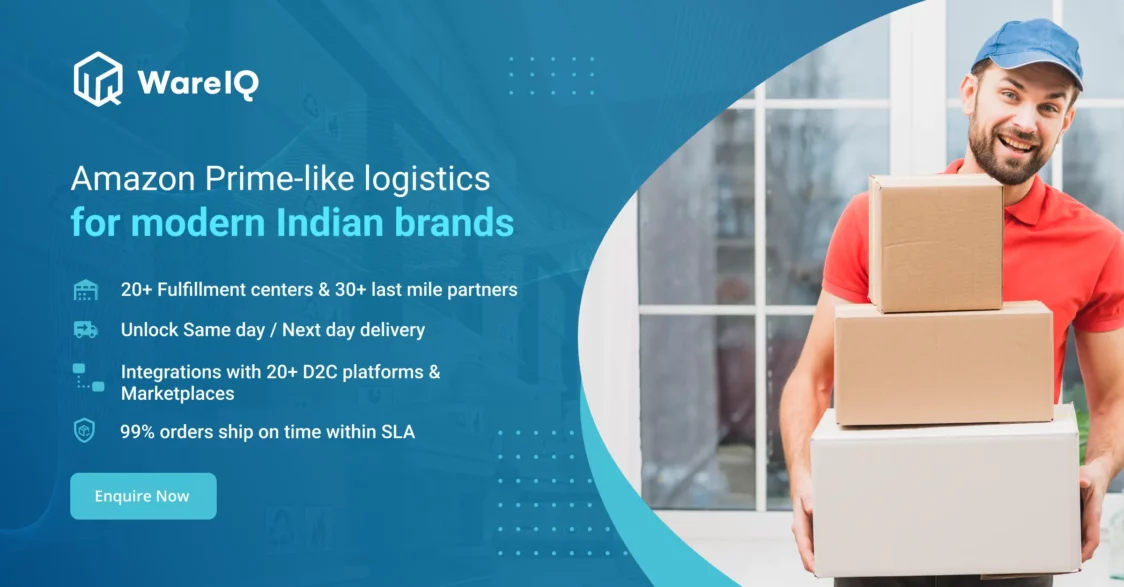 Carrier Facility: FAQs