What is a Fulfillment Center? Top 10 Benefits of Using Fulfillment Warehouse for eCommerce Businesses in 2023
One of the most prominent challenges facing businesses looking to expand into the eCommerce space is identifying where to store inventory and how to implement a strategy to ensure that incoming orders are located, packed and shipped as soon as possible. While many big MNCs have tons of staff to help on this front, small businesses, oftentimes, do not have that same luxury. This is where a fulfillment center would make life tremendously easier for these companies.
What is a Fulfillment Center?
A fulfillment center forms a critical part of the supply-chain network and executes the entire process of order fulfillment, from receiving an order, locating it in the warehouse and processing it right through to its packing, loading, dispatch and transportation. It acts as a logistical hub, transporting goods from the seller to the customer. Fulfillment centers are used by both 1st party fulfillment services such as Amazon FBA and 3rd party fulfillment services, such as WareIQ. A Fulfillment center works efficiently to deliver orders received by online customers within the stipulated time. In doing so, it manages the fulfillment process on behalf of eCommerce firms which is critical for their success.
A fulfillment center is a warehouse or distribution center that is used to store, pick, pack, and ship orders for e-commerce businesses. These centers are essential for the efficient and timely delivery of products to customers, and play a crucial role in the success of e-commerce companies.
There are several types of fulfillment centers, each with their own unique features and capabilities. Some centers focus on small, lightweight items that can be easily shipped, while others specialize in handling large or fragile items. Some centers are fully automated, with robots handling the picking and packing of orders, while others rely on human labor.
WareIQ – Amazon-prime Like Logistics for Modern Brands in India
WareIQ, an eCommerce fulfillment company, empowers online brands with a superior-tech platform to compete with Amazon like service levels by bringing their average delivery timelines from 5-10 days to 1-2 days.
"With WareIQ's full stack digital enabled fulfillment solution, we got access to the pan India network of fulfillment centers & cold storage facilities enabling same/next day delivery, without any upfront investment in supply chain infrastructure from our end. During the IPL campaign in April 2022,

WareIQ efficiently

handled unpredictable 200x surges in daily order volumes

of ~20k/day with a

99% fulfillment rate

. With WareIQ as our preferred fulfillment partner, we witnessed 172% growth in online order volume in just 4 months, with a significant improvement in the overall customer experience in fulfillment."
How Does a Fulfillment Center Operate?
As mentioned above, a fulfillment center acts as a hub for all logistical activities needed to transport a seller's goods to their customer – this is referred to as the order fulfillment process.
Since numerous factors are involved in fulfilling orders and warehouse management, the minutia is often swept under the carpet and ultimately causes severe problems such as supply-chain bottlenecks.
With 3PLs, the inventory is stored in its fulfillment center. Upon receiving an order from a customer, the products are selected, packed and shipped. B2C orders are delivered directly to the customer's address, while B2B orders (large volumes, mostly) are shipped to large-sized retailers.
When a seller outsources its requirements to a 3PL fulfillment company, it can focus on other critical business functions. In contrast, a 3PL handles its inventory and ecommerce logistics, including order-receiving, packing, loading, shipping, negotiating transport rates, reducing fulfillment costs, managing order returns, warehouse management and handling scale efficiently.
Top 10 Benefits of Using a Fulfillment Center for eCommerce Businesses
Listed below are 10 significant reasons why eCommerce businesses should use a fulfillment center:
Ability to Focus on Core Business
Although the tasks of order management and shipping are crucial for success, they can be easily outsourced to a 3PL fulfillment center. Not only can clients benefit from the expertise of the 3PL but they now have more time to focus on their core business tasks such as marketing, expanding their product portfolio and refining existing ones, without the burden of having to manage customer orders on their own.
Benefit from 3PL Fulfillment Expertise
Collaborating with a fulfillment company makes your entire process seamless – they are the experts in the field and outsourcing your inventory storage, packing, loading, dispatch (etc.) helps you gain from their expertise.
Logistics and distribution, especially in today's global markets with complex ecosystems and processes, is a challenging and, often an overwhelming task for any seller. Outsourcing this to 3PL experts that handle these complex processes efficiently on a daily basis, is the correct way to go – your business will gain immensely from their expertise and know-how.
Utilize Inventory Outsourcing & Reduce Operating Costs
Unless a seller operates a company of some scale, the task of managing an entire warehouse becomes expensive and cumbersome. Outsourcing this task to a fulfillment center is far more efficient. eCommerce firms almost always start small and have limited space e.g. garages, basements etc. Outsourcing your inventory to a fulfillment center helps to reduce operating costs. Online businesses get access to inventory space without any upfront investment in infrastructure. Often, the prudent time to make the shift is also once scale starts kicking in.
Benefit From an Increase in Scalability
3PL company and their fulfillment centers are connected with global supply-chain networks and equipped with significant resources to manage scale. With the number of online shoppers only slated to go higher, you benefit from their international expertise and can scale your business globally. With this scale, you can also take advantage of storing your inventory in as many fulfillment centers as you require and can efficiently manage your inventory across all of them using the tools that 3PL companies often provide.
Benefit From an Extensive Network of Warehouses
3PLs have an elaborate network of warehouses and fulfillment centers and often follow a hub-n-spoke model. This means they are closely located to your customers. Therefore, the lesser distance your cargo has to travel, the lesser the delivery time and cost. Don't forget that customers today are bred on super-speed shipping, free shipping and discounted shipping. Access to a larger network of fulfillment centers means that you can strategically store your inventory closer to areas of high demand or near transport hubs for easy shipping.
Access to Modern Technology
Quite expectedly, 3PL companies that operate fulfillment centers invest big dollars into cutting-edge software systems to improve their efficiency. eCommerce firms benefit from this without the CapEx required or hiring resources to operate it. These advanced software solutions can track and manage inventory across platforms and selling channels, and can automate multiple processes involved in warehouse management to mitigate any errors or miscalculations that could occur. You can also read on warehouse automation technology.
Utilization of Economies-of-Scale
Fulfillment warehouses operate on a tremendous scale, manage hundreds of clients and work across multiple shippers and transporters. Therefore, they also benefit from economies of scale and can negotiate discounted rates across their operations including packing materials, assets, warehouse space, software and staffing, not to mention shipping rates, which account for up to 70% of fulfillment costs.
Access to Bulk Discounts
Since 3PLs operate on a global scale, they benefit from it – bulk delivery discounts, zone-based shipping rates and frequent pickups are just some advantages of scale. Additionally, 3PL firms like WareIQ partner with multiple shipping providers and always suggests the fastest and cheapest options so firms can consistently save money on a massive scale. This provides an incentive for firms to partner with 3PL companies and use all the advantages that come with it.
Access to Professional Customer Service
While customer services is an important aspect of eCommerce retail, sellers can also take advantage of better customer service when they opt for a 3PL fulfillment center. If sellers face any issues, they are just a call, message or email away from getting them resolved. Additionally, many 3PL companies offer outsourcing facilities for customer support so sellers can transfer this enhanced customer support to their customers which will result in increased satisfaction.
Access to Customized Packaging
eCommerce customers only experience their product when it arrives at their doorstep and a damaged or messy package isn't going to cut it. Fulfillment centers offer customized packaging solutions that keep packages attractive and fresh – an important element in building customer satisfaction. Sellers can choose how they want their packaging to look and can highlight their brand rather than sending shipments in a bland box or package.
Access to Data Analytics
Modern logistics management software used by 3PLs tracks, collects and mines data that is generated across the entire fulfillment process. This results in deep insight for managers who can use this as the bedrock for decision-making, thereby leading to more efficient planning and implementation. These tracking facilities are generally available across multiple fulfillment centers and a variety of selling platforms to keep sellers well informed about their inventory at all times.
Also read: Hot to choose fulfillment center for E-commerce?
Fulfillment Centers vs Warehouses: Differences and Myths Busted
There are innate differences between the two and the roles each plays in fulfilling customer orders. While a warehouse simply stores inventory, a fulfillment center manages the process of ordering and delivering products to customers on time to ensure customer satisfaction. Sellers stock their inventory in 3PL fulfillment centers, situated across numerous locations. This reduces delivery times and costs.
Long-Term vs. Short-Term Storage
The main objective of a fulfillment center is to manage the entire process from customers placing orders till the order is successfully delivered whereas a warehouse is a storage location that is just one piece of the entire gamut of operations that a 3PL conducts.
Ideally, inventory should not sit in a fulfillment center for more than 30 days since this is long-term storage and attracts higher storage fees. The seller and 3PL must communicate regularly about stock levels, re-order levels, and maintain appropriate levels of inventory based on the frequency of orders and time taken to reach customers so that out-of-stock problems don't arise.
Range of Operations
While a warehouse often remains inactive since it is used primarily for stocking inventory, a fulfillment center provides comprehensive solutions and is constantly abuzz with activity, including:
Receiving, packing, loading and dispatching orders
Receiving and stocking inventory
Preparing order documentation and shipping labels
Kitting products (if required)
Processing order returns
Comparatively, activity in a warehouse is limited to receipt and dispatch of inventory.
Order Pickup Frequency
Since a fulfillment center gets out orders immediately on receipt, they work with several shipping companies so that goods are picked up at least once a day and often more. This ensures order delivery within the time windows promised to the customer. Often, the orders have specified delivery times (e.g. same-day, 24-hr, 2-3 days etc.) and an eCommerce fulfillment center will have various cut-off times based on order details.
Warehouses, however, schedule less frequent pickups regardless of the delivery speed specified by the customer since this enables them to stay cost-effective. They also use freight companies that adhere to pre-defined pickup windows. This can often cause delays and is also inflexible.
Why Do You Need a Fulfillment Center for Your Business in 2023?
It's difficult to provide recent statistics on fulfillment centers for ecommerce, as the industry is constantly evolving and changing. Here are some general statistics that can prove why fulfillment centers are important for your business in 2023:
According to a 2021 survey by eMarketer, around 57% of global ecommerce sales were fulfilled through third-party logistics providers, such as fulfillment centers.
In 2021, the global fulfillment center market was valued at around $155 billion and is expected to grow at a compound annual growth rate of around 10% through 2026.
In the United States, the ecommerce fulfillment market is expected to grow at a compound annual growth rate of around 15% through 2025, driven by the increasing demand for online shopping.
According to a 2021 survey by eMarketer, the most popular fulfillment method for ecommerce businesses was shipping orders from their own warehouse (used by 49% of respondents), followed by using a third-party fulfillment center (used by 32% of respondents).
Few of the reasons you need an eCommerce fulfillment center are mentioned below:
Speedy Delivery
Since a fulfillment company works with several shippers, their shipments are picked up at least once daily, ensuring timely deliveries.
Complete Automation
Modern fulfillment centers use updated technology throughout the fulfillment process so that their ecommerce clients can track order processing, inventory movement (etc.) in real-time.
Improved Scalability
While scaling up is the goal of every business, its mismanagement can have disastrous results. Today's fulfillment centers are modern giants with numerous resources that tackle scale comfortably and professionally.
Focus Retention
Managers in eCommerce firms must focus on strategic tasks that scale the business and maintain profitability e.g. product management, marketing and customer service. Tasks like order fulfillment and inventory handling can be easily outsourced to 3PLs.
Best Tips for Inventory Management Using Fulfillment Centers
Modern eco-systems and borderless markets exert inordinate pressure on online resellers. 3PL fulfillment warehouses are masters at optimizing inventory management. Some of the best ways you can use them are suggested below:
Reduce Costs via Cross-Docking & Wave-Picking
Using cross-docking decreases handling as well as storage time and enables firms to manage warehouse inventory seamlessly. Wave-picking is another method of tackling complex shipping systems. Both reduce carrying costs and shipping costs.
Stay Atop Your Supply Chain
Several glitches can often disrupt an otherwise smooth supply chain. While events are sometimes unavoidable, understanding your supply chain enables you to stay on top of mishaps that sometimes throw things off-kilter.
Re-Modify Your Floor Plan
Often overlooked due to their simplicity, efficient floor plans are still a proven strategy to increase efficiency. However, supply and demand are forever fluctuating and floor plans should be adapted according to the situation.
Minimize Pilferage
Employee monitoring and security measures help minimize pilferage, and the results are often highly beneficial. This enables companies to minimise inventory shrinkage and loss due to such incidents which can have a negative impact on the company.
Track Product Success
Optimized inventory management means you can track sales of each product. Using this data, firms gain insights into their inventory movement. For example, the bestsellers can be stored in places where it is easier to locate, replenish, and ship out. You can follow a similar method to monitor your top clients and their orders. Similarly, you can identify your laggards and minimize their stock levels or even phase them out entirely.
Utilize Inventory Management Systems
If you are still using legacy inventory software, you are bound to struggle. The modern, automated software systems of today, with their large data-crunching abilities, cloud connectivity, real-time data processing and insight-generation using AI and ML tools, enable you to manage your inventory quickly and efficiently.
Minimize Shrinkage
Shrinkage is a fancy term for breakage, damage and theft. Select a fulfillment company that offers a zero-shrinkage policy which means that once the fulfillment center confirms and records your products, all items will be accounted for. If products go missing or get damaged on their watch, they have a reimbursement policy.
What Are the Top Challenges with Fulfillment Centers and How To Solve Them in 2023?
Delayed Shipping
With eCommerce behemoths like Amazon increasing customer expectations with their same-day delivery and free shipping, all eCommerce companies are expected to match up. If your warehouse or fulfillment center or your specific business model cannot do so, you risk customer dissatisfaction.
Due to capacity constraints and labour shortages, fulfillment centers may struggle to keep up with the increased demand for storage and shipping.
Solution: Partner with multiple last mile delivery companies
Customers expect fast and reliable shipping, so it's important for fulfillment centers to have multiple shipping carriers and routes available to ensure timely delivery.
Regularly reviewing and improving fulfillment processes can help to ensure that orders are accurately and efficiently picked, packed, and shipped, leading to a better customer experience.
Limited Locations
If your eCommerce company doesn't have an elaborate network of strategically placed fulfillment centers that minimizes the distance and time taken for deliveries, it will result in extended delivery times. The resulting customer dissatisfaction would be inevitable.
Solution: Partner with third-party logistics (3PL) providers
Working with a 3PL fulfillment provider can help to alleviate some of the challenges that fulfillment centers face concerning slow delivery or free shipping, as they have a wide network of warehouses and fulfillment centers spread across the country that allows them to store inventory closer to the customes
Complicated Fulfillment Software
While using modern, automated fulfillment software is a great strength of using a fulfillment center, they can often be complex and intimidating for eCommerce companies to deal with. Poor integration will also confuse and the results are potentially disastrous.
Solution: Use a fulfillment software like WareIQ that offers a unified experience
WareIQ's smart fulfillment platform allows eCommerce companies to manage all logistics operations directly from a single platform. WareIQ's fulfillment software also provides easy, plug and play integrations with 200+ eCommerce softwares.
Quality Control
Ensuring that orders are accurately and efficiently picked, packed, and shipped can be challenging, especially for centers with high volumes of orders. Any errors or mistakes can lead to customer dissatisfaction.
Solution: Focus on quality control
Implementing quality control measures, such as regular training and inspections, can help to reduce errors and mistakes in the fulfillment process.
Damaged Goods & Return Inefficiency
For eCommerce firms without physical locations, returned or damaged items are received back at their fulfillment center. But, if your fulfillment center doesn't efficiently manage the order-return process, the costs are tremendous e.g. irate customers, restocking expenses and inventory losses.
Solution: Implement returns management processes
Developing clear and efficient processes for handling returns can help to streamline the returns process and reduce the burden on fulfillment centers.
Labor Shortages
Fulfillment centers often rely on large numbers of workers to pick, pack, and ship orders. If there is a shortage of available labor, it can lead to delays and reduced efficiency.
Solution: Invest in automation
Automation can help to improve efficiency and reduce the reliance on labor, which can help to address capacity constraints and labor shortages.
Inept Customer Service
We live in uber-competitive times and customer satisfaction is the most important metric in building a sustainable eCommerce business. When you use a fulfillment center, they are typically responsible for your customer service. However, if they don't handle this efficiently by deploying omni-channel options, you risk aggravating customers.
Solution: Improve customer service at fulfillment centers
Fulfillment centers should have knowledgeable and helpful customer support teams in place to assist with any issues or concerns.
Customers also appreciate being able to track their orders, so it's important for fulfillment centers to provide accurate and up-to-date tracking information.
Out-of-Stock Costs
While this will probably never go away completely, the trick is to minimize it. If not, your customers will discover other options. If your fulfillment partner doesn't deploy the best practices in inventory management along with you in projecting demand patterns, your stock-out costs could burn a deep hole in your profits.
Solution: Seek out cost-saving opportunities
Fulfillment centers can look for ways to reduce costs, such as negotiating better rates with carriers or implementing energy-efficient technologies and also use inventory management software like Inventory LogIQ to reduce out-of-stock and overstocking situations.
Security and Loss Prevention
Fulfillment centers handle large amounts of inventory, which can make them vulnerable to theft or damage. Implementing security measures and loss prevention strategies can be costly and time-consuming.
Solution: Increase security
Fulfillment centers can invest in security measures, such as surveillance cameras and secure storage areas, to reduce the risk of theft or damage.
You can also keep a look at the challenges faced in eCommerce fulfillment in 2023 here.
Conclusion: Why is it in a Business's Best Interest to Partner with a Fulfillment Center in 2023?
Ultimately, the benefits are significant for sellers that partner with a fulfillment center to handle their fulfillment. A 3PL becomes your trusted business ally and supports your business growth. The business can then focus more on refining its product and promoting it rather than worry about inventory management and order fulfillment. One such company that provides fulfillment centers and a host of other products is WareIQ.
WareIQ, is the leading provider of full-stack eCommerce order fulfillment services for some of the most reputed brands in India. WareIQ offers a full-stack platform for eCommerce companies to enable same-day delivery and next day delivery to customers – an Amazon Prime-like experience but accessible to everyone.
WareIQ is one of the very few fulfillment tech companies in the world that have same-day delivery service for their customers under their product "WareIQ RUSH".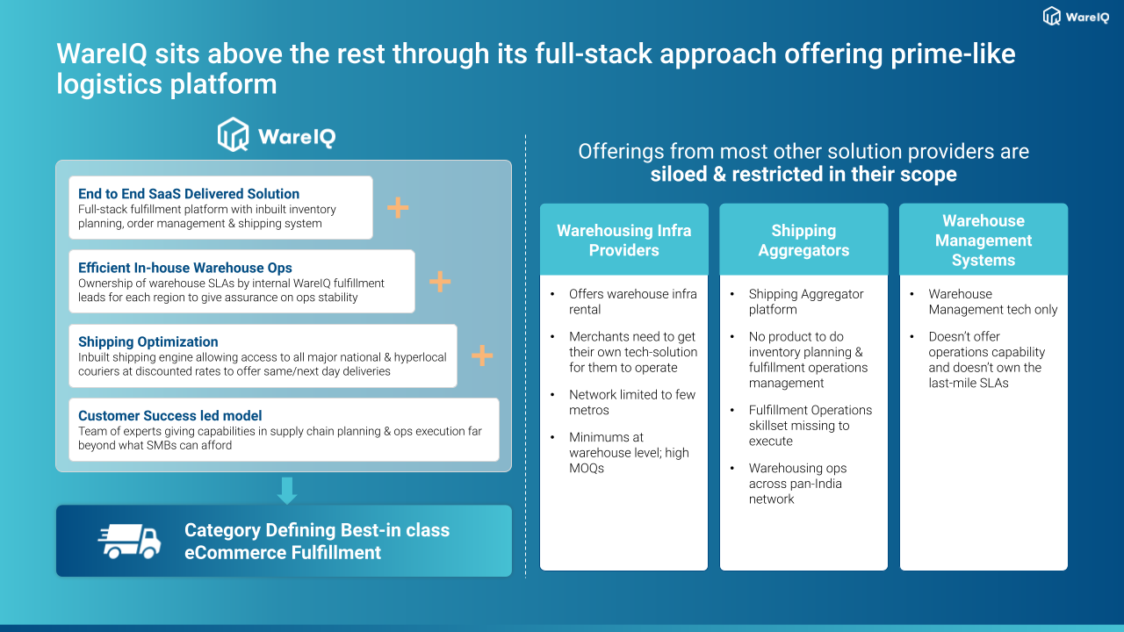 With a superior WMS platform, WareIQ handles the entire range of warehouse operations in the eCommerce fulfillment process, ranging from inbound and outbound logistics such as scanning and quality checks, 100% accurate pick and pack, multi-channel inventory management etc. At the same time, WareIQ customers reduce logistics costs and increase shipping speed due to better negotiations with shipping partners, economies of scale, scope in warehousing, strategically placed warehouses and data-driven decision making.
WareIQ's customers save resources that are typically spent on establishing infrastructure. We offer you the flexibility to store inventory in one of several fulfillment centers as per your business needs. Our team's expertise in logistics and our extensive warehousing network across India enables greater influence during negotiations, resulting in volume discounts for our clients.
Are you eager to know more about WareIQ's offerings if you sign up now? Find the features of the best-in-class, category-defining fulfillment services for eCommerce & D2C brands below:
Pan India Fulfillment & Darkstore Network: Plug-and-play fulfillment infrastructure with no minimums, which is compliant with Amazon Seller Flex, Flipkart Assured, Myntra and other marketplaces
Inventory & Network Planning Excellence: Best-in-class AI models for sales forecasting, product segmentation, and inventory management to reduce inventory by 40% and increase revenue by 10%.
Vertically Integrated Fulfillment Tech Stack: Our Fulfillment Tech Solution supports integrations with 20+ top marketplaces & D2C platforms, and prominent national, regional and hyperlocal couriers, enhancing reach by covering deliveries for 27,000+ pin codes
Supply Chain Productivity Applications: Integrate a host of supply chain productivity apps with a single-click to your existing CRMs, ERPs & accounting software to manage your logistics workflows from one command center. Use Apps like RTO Shield to get 100% RTO protection, Branded Tracking to turn your order tracking page into a profitable marketing channel, and many more.
Trusted by 300+ top Indian brands, we are helping them accelerate online sales and expedite their growth through a synergistic combination of advanced technology, robust fulfillment infrastructure & seller enablement services!WareIQ is backed by leading global investors including Y Combinator, Funders Club, Flexport, Pioneer Fund, Soma Capital, and Emles Venture Partner.
Fulfillment Center FAQs (Frequently Asked Questions)