5 Easy Steps to Find and Choose a Fulfillment Center for eCommerce Sellers in 2023
eCommerce as an industry comprises many different processes that are involved in multiple business facets. However, the main goal is to get customers to purchase your products and deliver the items to them, so you can eventually make back the money you spent on research and development, production, marketing, and order fulfillment. In order to carry out all these tasks seamlessly and without any overlap or conflicts of interest, there needs to be a secure location where multiple processes can happen without any external constraints.
For instance, most eCommerce companies require a storage facility where they can keep their inventory to prepare for upcoming fulfilling orders throughout the year and also has the necessary infrastructure in place to organise, locate, pack and dispatch inventory whenever a new order comes in. Fulfillment centers not only accomplish these things but can also have multiple other benefits for your business. In this blog, we will take a look at the meaning, benefits, and 5 ways to choose a fulfillment center for eCommerce.
What is a Fulfillment Center?
A fulfillment center is a type of storage facility or distribution center where inventory is received, stored, and then packaged and ultimately shipped to customers every time an order is confirmed. These centers are used by companies that sell goods online for multiple applications, such as D2C, B2B, B2C and more, to handle the logistics of getting products to customers in a timely and efficient manner. Fulfillment centers are often operated by third-party fulfillment companies that specialize in order fulfillment and logistics.
Additionally, they also run some impressive technology behind the scenes, such as WMS software, automated processes, SKU tracking facilities, and much more. This helps with inventory management and makes sure that all your products are stored in their respective locations so that they can be easily accessed and identified when an order comes in.
While fulfillment centers enable regional and nationwide order fulfillment for nutrition and wellness product, a new wave of fulfillment centers, termed micro fulfillment centers or "dark stores", have emerged as a smaller-scale alternative that enables hyper-local fulfillment and sub-30-minute deliveries by using the same philosophy that fulfillment centers operate on, just scaled down to a more localized level.
WareIQ – Amazon-prime Like Logistics for Modern Brands in India
WareIQ, an eCommerce fulfillment company, empowers online brands with a superior-tech platform to compete with Amazon like service levels by bringing their average delivery timelines from 5-10 days to 1-2 days.
"With WareIQ's full stack digital enabled fulfillment solution, we got access to the pan India network of fulfillment centers & cold storage facilities enabling same/next day delivery, without any upfront investment in supply chain infrastructure from our end. During the IPL campaign in April 2022,

WareIQ efficiently

handled unpredictable 200x surges in daily order volumes

of ~20k/day with a

99% fulfillment rate

. With WareIQ as our preferred fulfillment partner, we witnessed 172% growth in online order volume in just 4 months, with a significant improvement in the overall customer experience in fulfillment."
Why Should eCommerce Businesses Use a 3PL Fulfillment Center?
Streamlines Monetary Spending
Fulfillment centers allow retailers to store and ship large quantities of products at a lower cost than if they were to handle fulfillment in-house. A large part of it is due to the bulkiness and scale of the inventory stored, which aids retailers in getting large discounts for the amount of total storage space they acquire.
Additionally, many other important fulfillment services, such as picking, packing fulfillment service and shipping services, take place within fulfillment centers, reducing the need to spend money on doing them, either in-house or externally. All these factors together contribute to an improved use of financial resources since partnering with a fulfillment company and using their fulfillment centers is a single, recurring expense.
Takes Care of Inventory Management and Storage
Fulfillment centers use advanced technology to quickly and accurately pick, pack and dispatch products, which can help increase efficiency and reduce errors. The use of WMS software in most fulfillment centers also helps with improving inventory management processes by optimizing storage locations based on factors such as size, dimensions, value and nature of individual products.
Items can also be grouped together to make the best use of the available storage space. This helps increase storage capacity and enables you to store your products in an easy-to-identify and accessible way.
Improves the Overall Customer Experience
Fulfillment centers can help you offer faster shipping times and a wider range of delivery options, which can improve customer satisfaction and loyalty. Additional services, such as branded packaging, order tracking and returns management, can also be in place, depending on the company's offerings, making sure that customers have a one-of-a-kind experience when they purchase an item from your store. Due to the optimization of many fulfillment services, transit times and errors will also be cut short, adding to the enhanced experience that customers will have.
Provides Increased Flexibility
In many fulfillment centers, you can choose from a variety of fulfillment-related services, from kitting and assembly to returns processing and inventory management, to create a customized fulfillment solution that meets their specific needs. Many companies also offer flexible payment schemes where you only need to pay for the facilities you use.
This can help your business seize control of its expenses and help it get assistance in the areas where it really needs it, while saving money in other areas where you don't need any external help. You can also focus on their core business, such as marketing and customer service, while the fulfillment center handles the logistics of getting products to customers.
Offers Enhanced Scalability
Fulfillment centers can accommodate your growth and can handle an increase in orders during peak seasons due to their ability to ascertain the most efficient way to store inventory. Additionally, most companies provide multiple fulfillment centers so you never have to worry about running out of storage space.
Many companies also equip their fulfillment centers with the necessary tools to help with scaling up operations in terms of inventory management, storage, and order fulfillment. Because of this, your business can seamlessly scale its eCommerce operations while also making sure that quality and organization are maintained.
Choose a Fulfillment Center for eCommerce With These 5 Easy Steps
Step 1: Get the Business Data like Product Dimensions & Weight, Required Storage Space, Current Daily Order Volumes, Demand Centers, etc. Ready
When you choose a fulfillment center for eCommerce, it is important to provide your prospective 3PL company with all the information they need to give you a proposal for their list of services and a quotation for what they are offering. Because fulfillment centers will be the primary storage facility for your inventory, from where they will be dispatched and eventually delivered to customers, you need to supply data such as your entire product catalog, current order volume and sales figures, estimated demand for a specified future time period, historical inventory data and more.
Additionally, you will also need to mention more nuanced details about the products you are planning to store, such as their dimensions, value, price, weight and more, so the fulfillment center provider can successfully ascertain how much storage space you'd require and the facilities you'd need.
Step 2: Shortlist Storage or Warehouse Location(s) that Optimizes the Speed of Delivery
It is important to conduct some research and identify which regions the majority of your orders are coming from. This will allow you to choose a any fulfillment center for eCommerce such as woocommerce fulfillment that is in close proximity to your customers so that orders can be delivered faster and more cost-effectively. Many companies provide storage networks that span various regions and metropolitan areas, so knowing where you need to ship your items will give you a good idea of where they need to be stored.
You should also determine the scale of your inventory and whether it will need to be stored across multiple fulfillment center locations or if just one will suffice so you can preemptively gauge what your storage costs will be and take the necessary steps to reduce them.
Step 3: Identify Your Business Requirements
Not all fulfillment centers offer the exact same facilities. While most of them offer basic storage units and other relevant technology, such as WMS software and product tracking capabilities, some provide more meticulous features and specialised services for specific types of products, such as heavy machinery for bulky items, cold storage for perishable goods and storage bays that can store hazardous materials.
If you deal in unconventional products or require a specific type of service, it is important to understand the steps your storage facility needs to take in order to store them securely and preserve their shelf life.
Step 4: Examine the Quality and Pricing Quotations of Various Fulfillment Services
Fortunately for sellers, there are many competing companies vying to participate in providing storage facilities and other services. While choosing a fulfillment center for eCommerce, it is important to get offers and pricing quotations from multiple options so you can compare them with your own requirements, and short term and long term goals. For instance, a company may have the facilities you need right now but may not have good enough scalability.
Thus, choosing such a company will be based on your own sales numbers and expansion prospects. Conversely, there are companies that also provide a wide range of features so you need to analyse whether you would actually use those services or be better suited opting for a cheaper company that provides the right balance of essentials.
Step 5: Choose the Fulfillment Center and FC Locations That Aligns with Operational Goals in Terms of Cost and Scalability
The last step involved in choosing a fulfillment center for your eCommerce business is actually shortlisting a company and biting the bullet. We have already highlighted the importance of their services coinciding with your objectives, so you should only make this decision after careful deliberation. If all goes well, you can use the same company for years to come and can take its assistance with scaling your services.
On the flip side, if you just need an urgent storage facility that doesn't break the bank, you can identify an option that fits the bill. Either way, make sure to choose one that can fit your current warehouse capacity and that can provide additional facilities in the future if and when you need them. This will help you have a good relationship with the company and also prevent the need of searching for one again in a hurry.
Conclusion: Utilize WareIQ's Nationwide Fulfillment Center Network to Enhance Your Services
Fulfillment centers play a crucial role in the eCommerce industry by helping retailers handle logistics and improve customer satisfaction. By utilizing the benefits that fulfillment centers offer, you can streamline their operations, save money and increase revenue. By offloading most logistics and distribution managemen tasks to fulfillment centers and the 3PL companies that operate them, you will also have more time and freedom to explore different retail options, launch new products, and market existing ones.
Keep in mind that not all fulfillment centers are the same and there can be major disparities in the scope and applications of the facilities they offer. Compare your requirements with the services your prospective 3PL company offers and choose the one that coincides with your vision the best. If you need access to a nationwide network of fulfillment centers with all the bells and whistles, consider partnering with WareIQ.
WareIQ is one of India's fastest-expanding eCommerce fulfillment companies. eCommerce fulfillment is our bread and butter and we help our clients get exposure to success by giving them access to multiple facilities. Some of them are listed below:
Nationwide Fulfillment Center Network
We offer a pan-India storage network of fulfillment centers and dark stores that aid in your products being stored in close proximity to areas of high demand, ensuring that orders are always fulfilled on time.
Intelligent Inventory Placement
We provide AI and ML-based recommendations to help you get the most out of every SKU by storing them specifically where they are likely to be sold.
Product Categorization
To improve your sell-through rates, we can intelligently classify your SKUs depending on their performance, demand and other variables.
Outstanding Forecasting Techniques
We assist you with demand forecasting using past data so that you can adjust your inventory levels more effectively.
Automated Stock Replacement
To guarantee that your best-selling products are constantly in stock, we offer automated stock replenishment alerts that can be customised according to your preferences.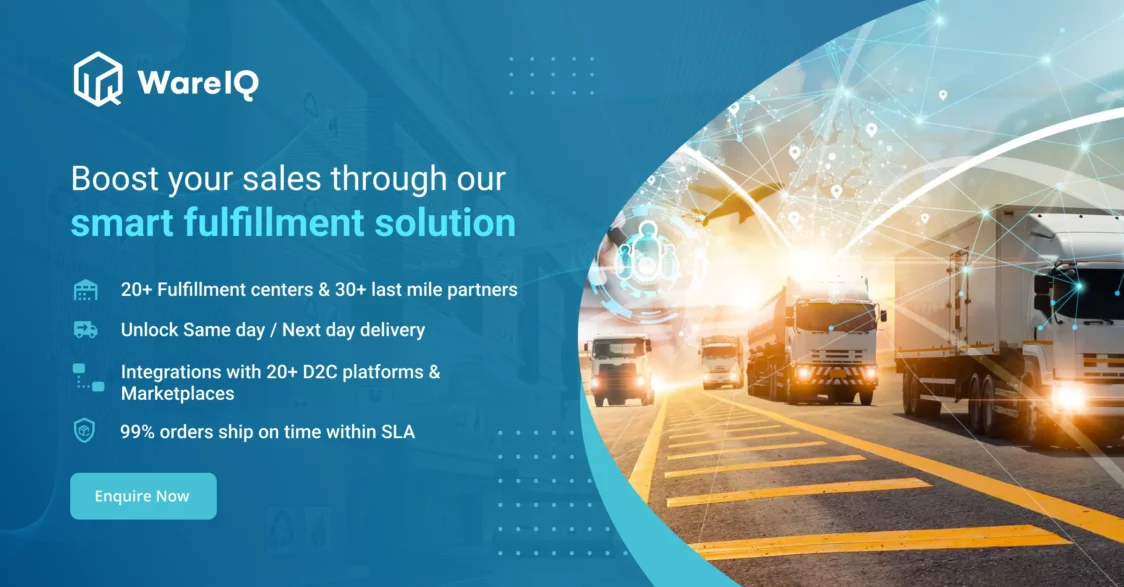 Choose a Fulfillment Center for eCommerce: FAQs