Order Fulfillment: How Does it Work? Top Processes, Steps Involved & Strategies in 2023
Every eCommerce company strives to provide clients with the best products and an easy and hassle-free ordering process. When a customer makes a purchase, the crucial moment of a business's success begins. Creating an order fulfillment system has become increasingly complex as the firm grows and attracts customers worldwide.
If this process is inefficient, customer happiness and revenue may suffer. As a result, the company's reputation is at stake. Read on to learn more about order marketplace fulfillment services and the best processes and strategies for 2023.
What is Order Fulfillment?
The order fulfillment process which is also called order processing involves storing, packing, and sending products to the customers. Receiving inbound wholesale shipments, sorting stock, and storing inventory for efficient picking and packaging are all part of order fulfillment. Later, these orders are checked for quality, packed, labeled, and dispatched to the buyer's address. The products are then picked, tested for quality and accuracy, and shipped. Returns management (also known as reverse logistics) is an extension of the fulfillment process.
WareIQ – Amazon-prime Like Logistics for Modern Brands in India
WareIQ, an eCommerce fulfillment company, empowers online brands with a superior-tech platform to compete with Amazon like service levels by bringing their average delivery timelines from 5-10 days to 1-2 days.
"With WareIQ's full stack digital enabled fulfillment solution, we got access to the pan India network of fulfillment centers & cold storage facilities enabling same/next day delivery, without any upfront investment in supply chain infrastructure from our end. During the IPL campaign in April 2022,

WareIQ efficiently

handled unpredictable 200x surges in daily order volumes

of ~20k/day with a

99% fulfillment rate

. With WareIQ as our preferred fulfillment partner, we witnessed 172% growth in online order volume in just 4 months, with a significant improvement in the overall customer experience in fulfillment."
What are the Steps Involved in Order Fulfillment Process?
The order fulfillment process comprises various steps that can be divided into four distinct phases:
Create an order when a sale is done.
Create an invoice for the order and send it to the customer.
Select, complete the quality check, and pack the order.
Deliver the order to the customer's doorstep.
Order fulfillment is carried out at fulfillment centers or warehouses and includes inventory management, supply chain management, order processing, quality control, and customer service to manage the entire value chain. Let us break down each process to understand it better:
Receiving and Storing Inventory
Every item received at the fulfillment center is counted, inspected, and inventoried before storing to confirm the correct number and ensure good quality. Each product has its own SKU or barcode allocated so that it can be quickly retrieved from internal storage.
Order Processing
Order processing refers to the processes involved, once an order has been placed. The order must be based on SKUs, color, number, and size, before packaging and delivery. This will be completed in-house if self-fulfillment is determined.
Packing
The team selects packing materials to reduce the dimensional weight. This is a crucial stage because the weight impacts the speed of travel and the potential for cheaper shipping costs.
Shipping
Once the order is packaged and ready, we can choose the best transportation partner and the channel for shipping the orders to the customer. The freight charges are calculated by determining the actual package weight or the package's dimensional weight. Most carriers have packaging restrictions to maximize revenues from the available shipping space. The shipments may be delayed if carriers refuse to accept the order when the standards are unmet.
Delivery
Delivery is usually the final step in the eCommerce order fulfillment process, until and unless the customer wants to return or exchange the product. Customers are provided with tracking information to receive real-time updates on the status of their orders.
Returns Processing
Returns processing begins with the original customer's order, including shipping materials and a return label. Customers can seek a return or refund if their items were damaged during delivery or if they are displeased with their purchase. A quicker mechanism for storing and disposing of returned products based on their condition is also required.
What are the Different Types of Order Fulfillment?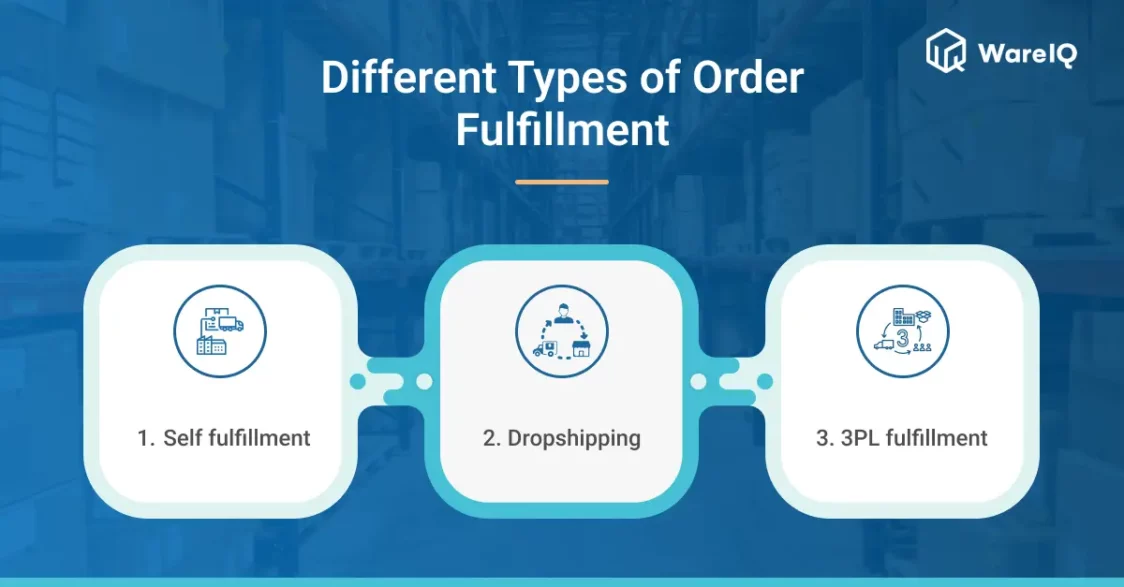 It is critical to have an order fulfillment strategy and process in place to ensure customer satisfaction. It is vital to adopt the right strategy to increase sales, maintain a great brand image, and nurture a loyal customer base. The following are some of the different fulfillment methods that organizations can consider:
Self-fulfillment
When a company decides to handle order fulfillment in-house, it must address all process aspects, including storage, packing, and shipping. Businesses can either hire a third-party company to execute the process or use drop shipping, with the rest of the work done in-house.
Businesses can control product quality, customer service, simplified and timely transportation, and even material prices with self-fulfillment. However, it is logistically demanding and takes time away from marketing, sales, and product development.
Dropshipping
This method, also known as consumer direct fulfillment, is a business approach in which online retailers work with manufacturers or suppliers to deliver products to customers directly. In this arrangement, an eCommerce retail fulfillment does not purchase or store an inventory of the products for sale. They sell it on their websites and ship it directly from their supplier or production network to the buyer.
While the seller is in charge of product marketing and customer support, the manufacturer or wholesale supplier is responsible for inventory management, eCommerce warehousing, and logistics. Dropshipping order fulfillment allows merchants and distributors to expand their product lines without having to raise their inventory holdings.
3PL Fulfillment
3PL fulfillment firms manage inventory, process orders, and ship items on behalf of other companies. They can help business owners store, package, and transport their products to customers. Businesses can focus on product manufacturing, quality assurance, and customer satisfaction by outsourcing fulfillment services to a 3PL fulfillment company. These could be inventory management, monitoring SKU sales performance, forecasting customer demand, packaging, and shipping orders.
Why is Order Fulfillment Important?
When a business is dependent on consumer orders, it is crucial to consider the storage and distribution of products.
The eCommerce industry has been growing more than ever before, thanks to rapid digitalization and the COVID-19 pandemic. Order fulfillment is an important aspect of any business's success. It is critical to ensure that orders are delivered to clients on schedule. It includes receiving inbound wholesale shipments, sorting stock, and shelving inventory for efficient picking and packaging before it reaches the customer's doorstep.
Setbacks in order fulfillment might hamper their business and operational effectiveness.
Benefits of Having a Streamlined Order Fulfillment Process
Having an order fulfillment process can help you maintain track of physical items inventory and handle the end-to-end process of getting the order to the customer, despite your company size.
Businesses can effectively manage the following by using eCommerce fulfillment companies for: 
Warehousing
Picking and packing
Shipping
Logistics of kitting
Cross-docking
International shipping
The following are some of the primary advantages of using order fulfillment partner services:
One can retain inventory at the service provider's warehouses and remotely maintain the list. These warehouses can be accessed on-demand or permanently at any preferred location to ensure a flawless experience for the customer.
The distance between the product's source and the customer's location is reduced by ensuring speedier order delivery. Small businesses can easily use the service partner's warehouse fulfillment technology to keep stock items in areas with the highest frequency of requests.
It is crucial to enhance customer satisfaction by eliciting positive feedback from customers about a speedy and flawless delivery process. Businesses may improve brand loyalty and promote repeat purchases by providing a pleasant client experience.
One can use technology to make delivery services as frictionless as possible. Advanced technologies like AI and machine learning are used by order fulfillment services to improve the accuracy of product sequencing, order fulfillment, product tracking, and return order processing. It is also simple to get real-time updates on orders and keep track of stock and orders.
One can prioritize product sales and revenue generation by focusing on essential functionalities like marketing, product design, product diversification, and so on by allowing service partners to peek into the order fulfillment process, resulting in increased sales.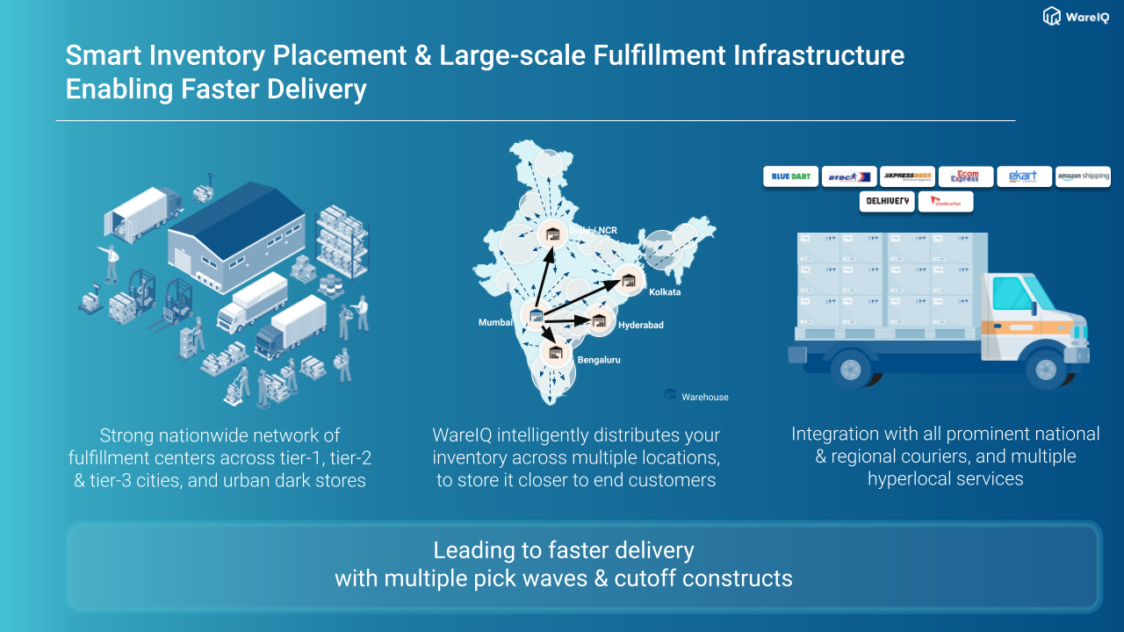 What are the Challenges in Order Fulfillment?
Developing an order fulfillment system becomes more difficult as the company grows and attracts clients worldwide. A clumsy procedure may hamper customer satisfaction and income. As a result, the company's reputation may suffer.
The challenges associated with order fulfillment are:
Demand Forecasting
Demand planning is crucial for appropriate inventory stock. It is essential to ensure that businesses know what to store and what to hold back on, having the capacity to estimate product demand based on client buying habits.
Inventory Management
It is essential to maintain an outstanding client experience. Inventory management issues have a detrimental impact on everything from profitability to customer satisfaction, and they frequently result in higher fulfillment costs and dead inventory stock. Businesses often struggle to keep track of their inventory and know exactly what they have, how much they have, and where it is.
Supply-chain Management
An efficient order fulfillment procedure needs a strong supply chain network. Building solutions to control each risk and reduce concerns caused by unplanned events is difficult.
Multichannel
It becomes more tricky to regularly ship the correct package on schedule and in good condition to the right destination. Taking orders across many channels can be complicated with all of the stages involved in the order fulfillment process. eCommerce orders may be completed at the expense of in-store goods availability due to a lack of real-time inventory control, or merchandise on the shelf vs. in a shopping cart may be unaccounted for.
Logistics and Transportation
Increasing logistics costs continue to influence the ability to fulfill orders, resulting in higher consumer pricing. For SMEs and startups, meeting delivery deadlines, resource management, and ensuring how client orders are prioritized is a challenge.
What is the Strategy to Choose the Best Order Fulfillment Type for Your Business in 2023?
Fulfillment solutions can give considerable benefits in terms of product management, shipping prices, delivery speed, tailored shipping services, and more as a company grows and order volume increases. Consider the following aspects when selecting order fulfillment services:
Shipping Time: The faster a consumer receives their item, the more likely they may return for additional transactions. Small businesses require these services for speedy shipping and delivery, particularly now that Amazon Prime offers choices like same-day and next-day delivery.
Costs of Fulfillment Services: Although working with a fulfillment partner requires an initial investment, make sure there are no hidden fees for long-term storage because the products are in low demand.
Warehouse locations for fulfillment: The closer the warehouses are to the consumer base, the faster the order will be filled. When choosing order fulfillment partners, make sure they have a large network of warehouse locations to reduce delivery distance and time. You can have a quick read on warehouse management system here. You can also get a better understanding of different types of warehouses here.
Features of the order fulfillment service: Businesses need order web applications with simple features like clear order visibility, responsive dashboards, and simple inventory management so they can focus on sales and marketing rather than working out inventory levels to organize their order fulfillment.
Real-time order visibility: Total process transparency in the event of delays, among other things, are crucial while growing a business and enhancing customer happiness. The fulfillment partner should be able to track and manage orders easily.
Packaging Options: Depending on the goods being carried, the selected service provider's fulfillment center should be able to offer packaging options. Product damage can also be avoided by having a choice of packing options. Aside from packaging, using the right insulation material, such as corrugated paper, bubble wrap, or air pillows, ensures the safety of the products.
Returns Management: Orders will be returned at some point. The fulfillment provider should work with the business owner to reduce or eliminate them as much as feasible through better-advanced logistics. To prevent order returns and build the customer's faith in their products, it is essential to recognize clients who return the orders frequently.
Cost, quality, and control should be addressed when evaluating order fulfillment methods. The good news is that altering the fulfillment process to fit business requirements is simple for startups and SMEs. After thorough consideration of the benefits and drawbacks, businesses can select a technique they trust and work to expand their brand and customer base. An excellent third-party logistics provider, such as WareIQ, can assist with the entire fulfillment process and any other logistics needs a firm may have.
What are the Best Practices in Order Fulfillment?
To assist in making informed decisions for future demand planning, create a statistical forecast by analyzing sales patterns, purchasing history, and consumer interaction.
Collaborate with customers, distributors, and logistical partners to determine demand vs. supply expectations.
Analyze demand across channels to see which platform may generate the highest revenue.
To stay prepared for unforeseen demand surges, improve demand forecasting with the help of predictive ordering software solutions.
To avoid order fulfillment concerns such as backorders, delays, and disgruntled customers, maintain clear stock visibility.
To market the first-in, first-out (FIFO) products, use the first-in, first-out (FIFO) method. Create a mechanism for adding new products and stuff from the back so that older items for sale can be pushed to the front.
Examine products that have not been sold in the previous 12 months to find low-turn stocks. Have sales to get them sold, and do not stock them until there is a higher demand.
Inventory should be audited to ensure that it corresponds to the forecasted demand.
To ensure no surplus or out-of-stock items, use cloud-based inventory management solutions with real-time analytics.
Keep an eye on stock levels and put the most expensive items first.
To create a unified, collaborative supply chain, work with suitable suppliers.
Identify potential supply chain risks and assess all possibilities and the chance of their occurrence.
Conclusion: Why Should You Choose WareIQ for Your Order Fulfillment Requirements in 2023?
WareIQ has quickly risen to become the leading provider of full-stack eCommerce fulfillment tech solutions for some of India's most well-known companies since its launch in 2019. We are a full-stack platform allowing eCommerce businesses to offer customers same-day and next-day delivery, similar to Amazon Prime, but for everyone.
WareIQ manages the entire range of complex operations in the eCommerce fulfillment process, such as inbound functions like scanning and quality check, 100% accurate Pick and Pack, and inventory management across all channels, with a centralized platform for core fulfillment and shipping operations and post-shipping apps for a delightful experience and zero to minimal supply chain leakages.
Established in 2019, WareIQ, a Y-combinator backed startup, has rapidly grown to be the leading provider of full-stack eCommerce fulfillment services for some of the most reputed brands in India. WareIQ offers a full-stack platform for eCommerce companies to enable same-day delivery and next-day delivery to customers – an Amazon Prime-like experience but accessible to everyone.
WareIQ manages the entire range of complex operations in the eCommerce fulfillment process, such as inbound functions like scanning and quality check, 100% accurate Pick and Pack, and inventory management across all channels, with a centralized platform for core fulfillment and shipping operations and post-shipping apps for a delightful experience and zero to minimal supply chain leakages.
The next-day and same-day delivery services help businesses set new standards for setting and meeting customer expectations. Due to enhanced negotiations with shipping partners, strategically positioned warehouses, warehousing economies of scale and scope, and data-driven decision-making, WareIQ customers benefit from significant cost reductions and a wider reach.
A machine learning-based prediction engine is deployed for effective warehouse network architecture and creative inventory allocation. All fulfillment and shipping procedures are centralized on a single platform. Its post-shipping apps are beneficial for a pleasant experience and fewer supply chain breaches.
WareIQ has empowered brands to sell more, sell faster & sell everywhere due to:
WareIQ has customised offerings for merchants experiencing different order volumes as well as having different delivery speed expectations. WareIQ is probably one of the very few fulfillment tech companies in the world that have same-day delivery service for their customers under their product "WareIQ RUSH".
With world-class WMS functionalities, WareIQ handles the entire range of intricate operations in the eCommerce fulfillment process, ranging from Inbound Operations such as scanning and quality check, through 100% accurate Pick and Pack, to Inventory Management across all channels. WareIQ's next-day delivery and same-day delivery services are helping eCommerce businesses set new standards with respect to setting customer expectations and fulfilling them with high efficacy. At the same time, WareIQ customers realise significant cost savings and wider reach due to better negotiations with shipping partners, strategically placed warehouses, economies of scale and scope in warehousing, and data-driven decision-making.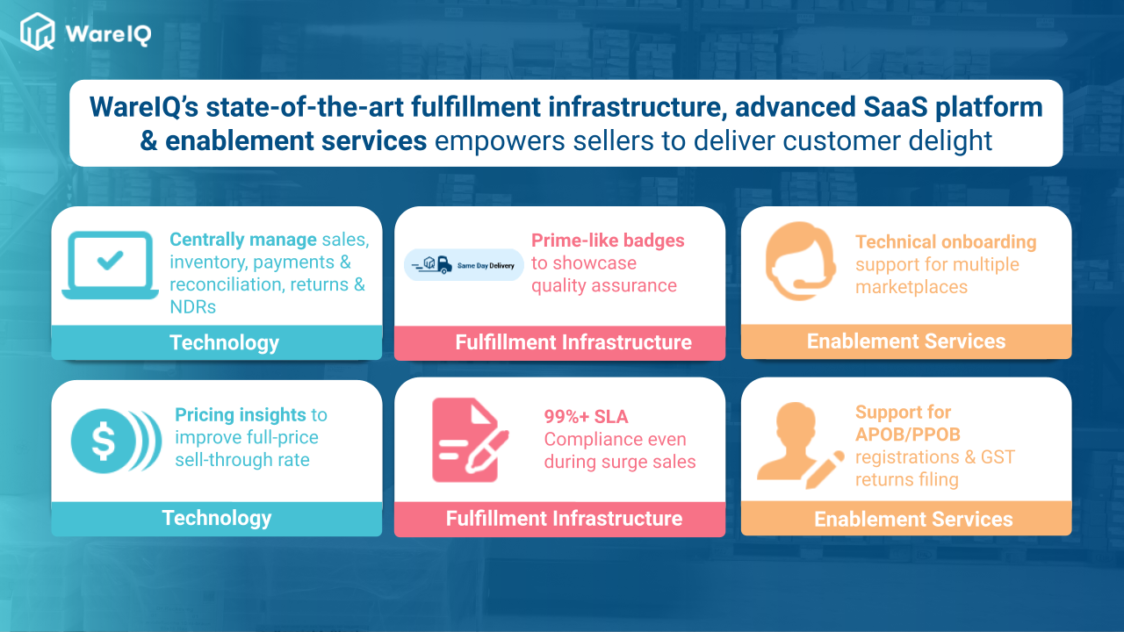 WareIQ's WMS, a centralised tech platform helps to better manage undelivered orders by reducing NDR processing time by 12 hours – a multifunctional NDR dashboard helps to track and take immediate action for undelivered orders in real-time, thereby reducing RTO by up to 10%. Automatic replenishment recommendations and easy purchase order creation capabilities on the WareIQ platform further empower eCommerce companies to leverage all possible ways of increasing their ROI.
Are you eager to know more about WareIQ's offerings if you sign up now? Find the features of the best-in-class, category-defining fulfillment services for eCommerce & D2C brands below:
Pan India Fulfillment & Darkstore Network: Plug-and-play fulfillment infrastructure with no minimums, which is compliant with Amazon Seller Flex, Flipkart Assured, Myntra and other marketplaces
Inventory & Network Planning Excellence: Best-in-class AI models for sales forecasting, product segmentation, and inventory management to reduce inventory by 40% and increase revenue by 10%.
Vertically Integrated Fulfillment Tech Stack: Our Fulfillment Tech Solution supports integrations with 20+ top marketplaces & D2C platforms, and prominent national, regional and hyperlocal couriers, enhancing reach by covering deliveries for 27,000+ pin codes
Supply Chain Productivity Applications: Integrate a host of supply chain productivity apps with a single-click to your existing CRMs, ERPs & accounting software to manage your logistics workflows from one command center. Use Apps like RTO Shield to get 100% RTO protection, Branded Tracking to turn your order tracking page into a profitable marketing channel, and many more.
Trusted by 300+ top Indian brands, we are helping them accelerate online sales and expedite their growth through a synergistic combination of advanced technology, robust fulfillment infrastructure & seller enablement services!WareIQ is backed by leading global investors including Y Combinator, Funders Club, Flexport, Pioneer Fund, Soma Capital, and Emles Venture Partner.
Order Fulfillment FAQs (Frequently Asked Questions)