Detailed Guide on Micro Fulfillment Center: Meaning, Top Benefits & Challenges with Micro Fulfillment Centers and How Can They Enhance Retail Efficiency in 2023
In this day and age, where consumers are used to ordering most of their requirements online, a delay in them receiving that order could have dire consequences for the seller. With so much competition in every sector, businesses are pining for getting their products to their customers at a faster rate than their competitors. To accomplish this goal, businesses and online retailers have had to adopt new strategies to ensure that they don't fall behind. This is why micro fulfillment centers are important as they can bridge the gap between where the order is being shipped from and the customer's doorstep. Read further to understand all the nuances of micro fulfillment, in more detail.
What is Micro Fulfillment?
Micro fulfillment is a strategy adopted by companies/eCommerce sellers where the fulfillment cycle is made more efficient by setting up small-scale ecommerce warehouses or storage facilities near densely populated areas, thus reducing the time taken from placing the order to delivering it.
In this age of consumerism, where same-day delivery has become a norm in some locations, companies such as Amazon, Flipkart, Big Basket, and other eCommerce/retail companies are finding solutions on how to uphold customer expectations, while at the same time, figuring out how to maximize on their own profit margins. This is where micro fulfillment is the solution.
Last-mile delivery incurs the most costs among the different stages of delivery, and is estimated to be between 40-50% of the entire supply chain cost. With the inclusion of micro fulfillment, this cost can be minimised as it reduces the shipping costs from regional/central distribution centers to the local distribution center.
WareIQ – Amazon-prime Like Logistics for Modern Brands in India
WareIQ, an eCommerce fulfillment company, empowers online brands with a superior-tech platform to compete with Amazon like service levels by bringing their average delivery timelines from 5-10 days to 1-2 days.
"With WareIQ, UTH is able to consolidate common inventory for all platforms and get much closer to the customer through access to WareIQ's strong nationwide network of fulfilment centres, and last mile & hyper-local courier partners.

We are excited about being able to offer

same day delivery

in several pin codes due to

WareIQ

.

"
What is a Micro Fulfillment Center?
Micro fulfillment centers are small, fully or semi-automated fulfillment centers situated in close proximity to the end customer and generally covers an area between 3,000 to 10,000 sq. ft. They center can be part of a larger warehouse or can exist as a standalone unit as well. They are also known as dark stores, where the order processing and packing is fully automated with minimal human interaction.
A micro fulfillment center usually has limited inventory, lasting for 24-72 hours, and acts as a base for express delivery for products within a certain pin code or geographical location. To state an example, Flipkart may have a large warehouse in Binola, Haryana of 13 lakh sq. ft., but in order to fulfil express delivery for Saket, it can set up a micro fulfillment center in Saket of just 500 sq. ft., and thus cut down on the 1.5 hours of travel time. This will ensure that same-day delivery can be easily met for those end-users in South Delhi and offers an enhanced customer experience for the end-user.
How can Micro Fulfillment Centers Boost Retail Efficiency in 2023?
With the advent of hyperlocal delivery ecosystems, the aim is to increase efficiency to match the needs and expectations of the end customer. Still, despite automated warehouses and large fulfillment centers, with the latest implementations of picking and sorting technologies, the required efficiency is difficult to achieve.
This is where micro fulfillment centers step in.
eCommerce companies will find a boost in retail efficiency post the implementation of micro fulfilment centers due to the following reasons:
Improved analytics
Companies will gain deeper insights into the purchase patterns of customers within a pin code or a smaller geographical location. Thus, the inventory stored will be more precisely suited to the user's needs and will involve faster order pickups as well as cost-saving from unused inventory.
Faster fulfillment
Even in a semi-automated state, they help reduce the fulfillment cycle duration because the orders have to be picked from a smaller area and can be done with higher accuracy. The order pick up process reduces from 60 minutes in regional distribution centers to just 6 minutes in micro fulfillment centers.
Faster delivery
With last-mile delivery carving out a significant portion of an eCommerce company's revenue, they reduce the delivery time and thus aid in cost-saving.
Ease of integration
They are much smaller in size, aid in the company's expansion as they can help reach a larger area and are also much easier to integrate into the existing system of the company's supply chain.
5 Benefits of Micro Fulfillment Centers vs. Traditional Fulfillment Centers
As per the real estate firm CBRE, it was seen that for an eCommerce player to earn $1 billion in sales, it requires 1.25 million sq. ft. of storage space. This added to the fact that the majority of players are aiming for a faster fulfillment cycle, shows that micro fulfillment centers provide a solution to the needs of eCommerce players.
Micro fulfillment centers prove how useful they are as compared to traditional fulfillment centers in the following ways:
Highly responsive to changes in customer demands
When the lockdown struck and customers' demands changed from clothing to groceries, micro fulfillment centers could have adapted to the change in the demands much faster by making space for grocery items and replacing other products. This rapid deployment and shift in resources cannot be matched by a traditional fulfillment center.
More customizable products
With better insights into the customers' demands in a certain area, micro fulfillment can stock up on the required inventory that the customers in that area need, and this leads to an optimised, faster and more efficient fulfillment cycle.
Improved quality control
With a lower order density, it is much easier to ensure that the products being shipped are of the quality demanded and to the correct addresses.
Faster delivery time
It is common to see commercial vehicles waiting to enter the city limits and ending up in long traffic jams at the city borders. This hassle is saved by micro fulfillment centers being set up close to the end-user, thus reducing the distance and ensuring extremely fast deliveries.
Lower operational and set-up costs
Micro fulfillment centers take much less time to be set up and the operational costs are lower than traditional fulfillment centers, thus increasing the company's profits.
What are the Best Practices in Micro Fulfillment?
Micro fulfillment is a relatively new practice. Thus, eCommerce and other fulfillment companies are striving to ensure that they can fine-tune this to the best of their abilities.
The following are some of the best practices that are being followed universally by most, if not all, eCommerce companies:
Inventory: Establishing an inventory management system based on the business model, and thus ensuring that the micro fulfillment center is not under or overstocked is essential. Inventory issues can cause a bullwhip effect going back up to the main distribution center as well.
Integration with existing systems: Ensuring the software system for handling the micro fulfillment center can be integrated with that of the distribution center's Warehouse Management Software and/or the Order Management System and e-commerce platforms, to improve visibility and control over operations.
Property Selection: Whether it is building a new store or renovating an existing property, the geographical location and ease of approach must be considered. A cheaper location but with an interrupted power supply will, in the long run, prove to be costlier than a location that might be more expensive but with better civic amenities available.
5 Main Challenges with Micro Fulfillment Centers
Micro fulfillment is a solution that can revolutionise the eCommerce industry, but for all the promise and excitement, it must be taken with a pinch of salt. Players, new and old, when expanding using the micro fulfillment route, must keep in point the following challenges and be prepared with contingencies for them:
Constant inventory replenishment
Be it using the Milk-run route or the EOQ model, micro fulfillment centers, due to their smaller size, will require their inventory to be replenished often, and this means a proactive inventory replenishment system must be in place to handle this.
Consumer unpredictability
A limited storage capacity can sometimes make it difficult to quickly adapt to a certain trend. For example, an influencer posting about a certain product leads to an overnight trend, and this may lead to unfulfilled orders.
Risk of stockouts
With a limited inventory of certain SKUs, there is a risk of some products/SKUs facing stockouts during unpredictable high demand changes.
Not suitable for all products/SKUs
They are not suitable for some larger products which cover more area, and given the limited space available, it will be a choice between which SKU to sacrifice.
Order consolidation
Customers order multiple grocery items simultaneously and expect all the items to be delivered together. But at the micro fulfillment center, if even a single item is out of stock, it can lead to a delay in the delivery or cancellation of the product by the retailer's end, both leading to depleted customer satisfaction and mistrust of this system.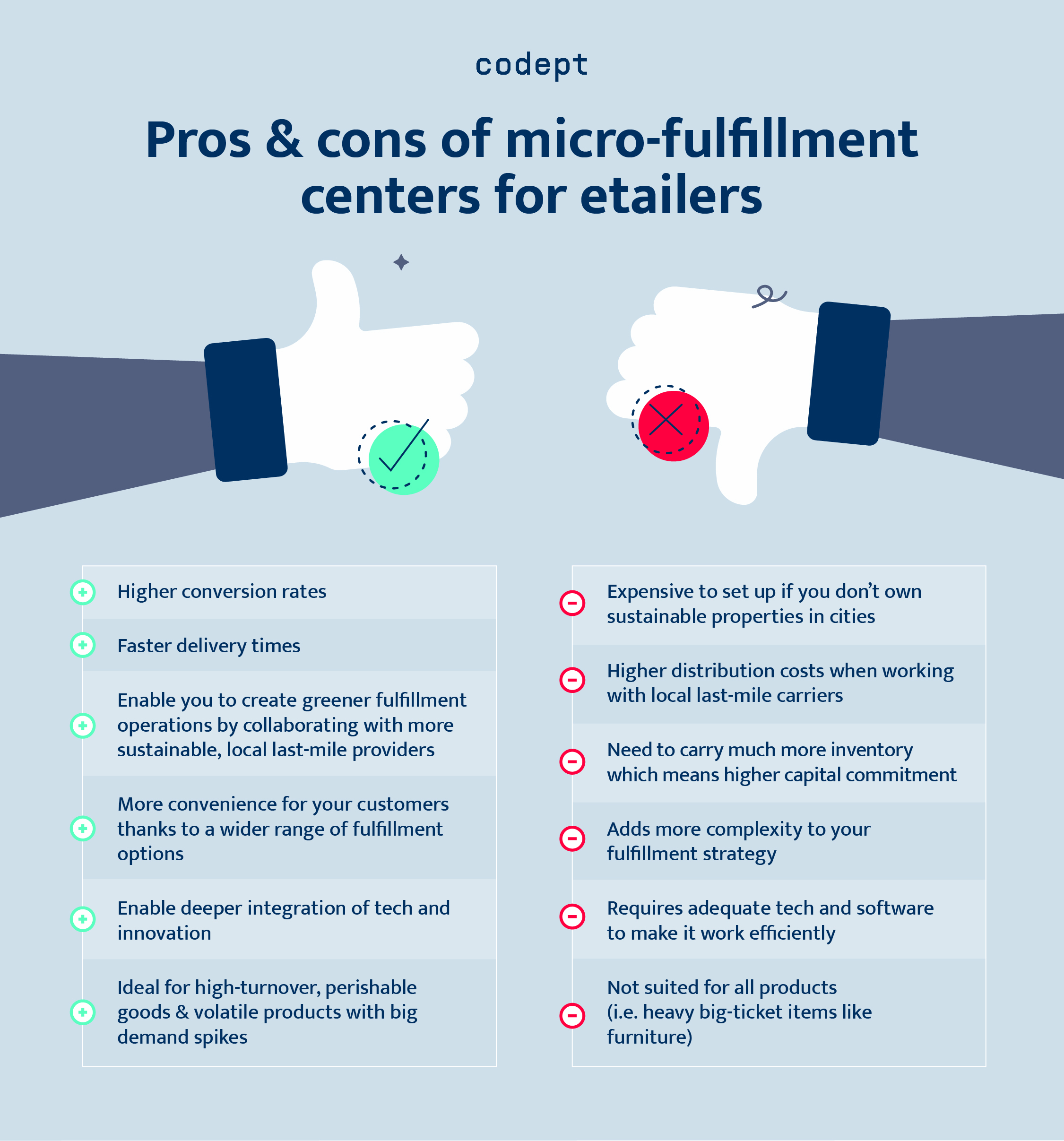 Top 8 Micro Fulfillment Companies in India [2023]
Micro fulfillment in India is followed using a relatively hybrid marketplace concept. The FMCG sector in India is vastly unorganized, with close to 95% being unorganized. So, rather than only setting up dedicated micro fulfillment centers, many 3PL, eCommerce and fulfillment companies are using the already established infrastructure of these stores as micro fulfillment centers while also setting up their own micro fulfillment centers.
While completely automated micro fulfillment centers have not been set up in India yet, many companies dealing in the hyperlocal delivery industry are using this hybrid model of using the existing Kirana stores as micro fulfillment centers.
Below are some of the leading micro fulfillment companies:
WareIQ
Flipkart
Dunzo
Swiggy
Grofers/Blinkit
Big Basket
Ola Dash
Shadowfax
WareIQ
WareIQ is a category defining, best- in class full-stack eCommerce fulfillment tech platform (with inbuilt inventory planning, order management & shipping system) for modern brands to accelerate online sales/ expedite revenue growth & profits with same/next day delivery.
We not only help you reduce your logistic costs but also your delivery timelines – this could be the game-changer your business needs!
WareIQ offers centralised tech platform for your entire eCommerce operations
ML-based prediction engine for efficient warehouse network design & smart inventory placement
Centralised platform for core fulfilment & shipping operations
Post-shipping apps for a delightful experience & zero to minimum supply chain leakages
Today, over 300 brands have taken charge of their ecommerce logistics & fulfilment with WareIQ to unlock tremendous value in terms of revenue and customer satisfaction. WareIQ Rush is their same-day-delivery platform. Using this platform, WareIQ is aiming to help online sellers offer same day delivery in every major metropolis in India, with a plus 99% fulfillment rate.
Sign Up Now with WareIQ RUSH to avail our superior fulfilment tech platform & enhance your online business growth.
Flipkart
One of the original players to bring about this hybrid concept of using Kirana stores as a micro fulfillment centers, this eCommerce giant has opened up micro fulfillment centers and launched the "Flipkart Quick" service to deliver close to 2000 products ranging from grocery to electronics such as smartphones. It now uses its vast network of micro fulfillment centers to provide grocery services across 1800 cities, 23 states, and 10,000 pin codes in India.
Dunzo
Established in 2014, this hyperlocal delivery system caters to 7 cities. Seeing the changing consumer demand due to the lockdown, Dunzo plans to open 300 micro fulfillment centers across 20 cities and keep the top 2,000 SKUs in each center. Their main goal is to provide delivery in under 19 minutes, in every corner of the country.
Swiggy
Swiggy's Instamart is now available across 18 cities and has achieved the 15-minute delivery service level by opening up multiple micro fulfillment centers in partnership with local Kirana stores. The potential of this service can be realised by understanding Swiggy's decision to invest $700 million into establishing a micro fulfillment center for hyperlocal deliveries.
Grofers/Blinkit
Grofers, now rebranded as Blinkit, one of the country's earliest hyperlocal grocery delivery companies, is opening 1000 micro fulfillment centers across India and providing a 15-minute grocery delivery service. With the onset of services like Swiggy Insatmart and Dunzo, Grofers is trying to claim the mantel of India's leading online grocery platform.
Big Basket
Big Basket, with its BB Daily and BB Instant services, provides hyperlocal delivery services by being able to deliver around 90% of the items within two hours. Big Basket was amongst the earliest adopters of the micro fulfillment service. It presently has ten micro fulfillment centers in each metro city and one each in 50 smaller cities.
Ola Dash
Ola is known for its cab service but its up-and-coming same-day-delivery eCommerce service called Ola Dash, is seeking to up the ante by opening up to 500 micro fulfillment centers across 20 Indian cities. Ola Dash is presently providing a 10 minutes "Store to Door" delivery service across nine cities and across 2,500 SKUs and the micro fulfillment platform is set to expand upon that. Ola is hoping to make a name for itself in the eCommerce space.
Shadowfax
This logistics company provides same-day delivery and courier services and is now being used by retailers to fulfil their online orders. With Shadowfax's micro fulfillment centers which are actually their delivery and sorting hubs, they provide hyperlocal delivery of products such as groceries and medicines, in a very short amount of time to their customers doorsteps.
Conclusion: How You Can Utilize Micro Fulfillment Centers of WareIQ to Offer Same Day Delivery to Customers
The Indian eCommerce industry is rapidly progressing towards the hyperlocal fulfillment sector. Zomato recently announced their decision to enter this sector as well, and with multiple other startups also aiming to provide the "10-minute" delivery service, the way forward is through micro fulfillment centers only.
As the pandemic restrictions slacken and people are returning back to the offices, the hassles of coming home and buying groceries will return once again too. This will lead to an increase in the demand for hyperlocal delivery services, and subsequently, the need for micro fulfillment centers across metros and even smaller cities in the country. One such company seeking to provide same-day delivery services is WareIQ through their WareIQ RUSH platform.
Established in 2019, WareIQ, a Y-combinator-backed startup, has rapidly grown to be the leading provider of full-stack eCommerce fulfillment services for some of the most reputed brands in India. WareIQ offers a full-stack platform for eCommerce companies to enable same-day delivery and next-day delivery to customers – an Amazon Prime-like experience but accessible to everyone.
WareIQ has empowered brands to sell more, sell faster & sell everywhere due to:
Access to WareIQ's strong nationwide network of fulfillment centers & urban dark stores near their customers
Access to all major national & hyperlocal last-mile couriers at discounted rates for making same/next day deliveries possible
Easy integration across multiple online platforms & marketplaces

Horizontal marketplaces: Flipkart, Amazon etc.
Vertical marketplaces: Nykaa, Myntra etc.
D2C platforms: Shopify, Magento, WooCommerce etc.
Social commerce platforms: Bikayi

Access to a superior centralised tech platform for eCommerce operations

ML-based prediction engine for efficient warehouse network design & smart inventory placement
Centralised platform for core fulfilment & shipping operations
Post-shipping apps for delightful experience & zero to minimum supply chain leakages ( Branded tracking page with smart marketing placements; Trigger-based updates & smart communication platform)
WareIQ has customised offerings for merchants experiencing different order volumes as well as having different delivery speed expectations. WareIQ is probably one of the very few fulfilment tech companies in the world that have same-day delivery service for their customers under their product "WareIQ RUSH".
With world-class WMS functionalities, WareIQ handles the entire range of intricate operations in the eCommerce fulfilment process, ranging from Inbound Operations such as scanning and quality check, through 100% accurate Pick and Pack, to Inventory Management across all channels. WareIQ's next day delivery and same-day delivery services are helping eCommerce businesses set new standards with respect to setting customer expectations and marketplace fulfilling them with high efficacy. At the same time, WareIQ customers realise significant cost savings and wider reach due to better negotiations with shipping partners, strategically placed warehouses, economies of scale and scope in warehousing and data-driven decision making.
Are you eager to know more about WareIQ's offerings if you sign up now? Find the features of the best-in-class, category-defining fulfillment services for eCommerce & D2C brands below:
Pan India Fulfillment & Darkstore Network: Plug-and-play fulfillment infrastructure with no minimums, which is compliant with Amazon Seller Flex, Flipkart Assured, Myntra and other marketplaces
Inventory & Network Planning Excellence: Best-in-class AI models for sales forecasting, product segmentation, and inventory management to reduce inventory by 40% and increase revenue by 10%.
Vertically Integrated Fulfillment Tech Stack: Our Fulfillment Tech Solution supports integrations with 20+ top marketplaces & D2C platforms, and prominent national, regional and hyperlocal couriers, enhancing reach by covering deliveries for 27,000+ pin codes
Supply Chain Productivity Applications: Integrate a host of supply chain productivity apps with a single-click to your existing CRMs, ERPs & accounting software to manage your logistics workflows from one command center. Use Apps like RTO Shield to get 100% RTO protection, Branded Tracking to turn your order tracking page into a profitable marketing channel, and many more.
Trusted by 300+ top Indian brands, we are helping them accelerate online sales and expedite their growth through a synergistic combination of advanced technology, robust fulfillment infrastructure & seller enablement services!WareIQ is backed by leading global investors including Y Combinator, Funders Club, Flexport, Pioneer Fund, Soma Capital, and Emles Venture Partner.
Micro Fulfillment Center FAQs (Frequently Asked Questions)