Same Day Delivery Service: Key to Accelerate Online Sales in 2023
Did you know that same day delivery service can help brands achieve
30% jump in revenue
Higher repeat purchases
Near zero returns %
As more & more brands start selling online to persist in the market, due to the burgeoning preference of online shopping among consumers, easy & improved accessibility to smartphones & faster internet services, one of the service offerings that has turned out to be the key enabler to online business growth is faster delivery service. Gone are the days when same day delivery service used to be just another factor for maximum customer delight. Same day courier delivery service is the new normal for online brands now. With the growing presence of online brands & geographically dispersed demand from customers across the country, eCommerce brands can differentiate themselves from other online players with same day courier delivery service even to the customers in the nook & corner of the country.
Read along to understand how same day delivery services can be a game-changer for eCommerce & D2C business & how WareIQ RUSH can be your best fulfillment partner to accelerate your online sales.
What is Same Day Delivery for eCommerce?
Same Day Delivery for eCommerce brands is fast evolving as one of the most preferred services. Leading marketplaces like Amazon and Walmart have made deep pockets in the eCommerce space with Same Day fast Delivery service.
As the concept is fairly new, there is a lack of awareness among eCommerce brands regarding the myriad advantages of same day/ 24 hour delivery. It means delivery of purchased products to the customer in less than 24 hours, ideally within the same day as the order is placed on the eCommerce platform.
A recent survey showed:
60% of online shoppers said that delivery speed was an influential factor in their purchase decisions
80% of shoppers shift to a different ecommerce brand if delivery speeds are too long.
Thus, speed is a very important factor for any eCommerce business as success depends not only on the product quality but also on the time taken by it to reach the customer. More specifically, about 49% of customers consider Same Day or Next Day Delivery as a value addition to their purchase experience on any eCommerce platform, according to a recent study.
WareIQ – Amazon-prime Like Logistics for Modern Brands in India
WareIQ, an eCommerce fulfillment company, empowers online brands with a superior-tech platform to compete with Amazon like service levels by bringing their average delivery timelines from 5-10 days to 1-2 days.
"With WareIQ, UTH is able to consolidate common inventory for all platforms and get much closer to the customer through access to WareIQ's strong nationwide network of fulfilment centres, and last mile & hyper-local courier partners.

We are excited about being able to offer

same day delivery

in several pin codes due to

WareIQ

.

"
Why is Same Day Delivery Service Necessary for Online Brands?
The e-commerce industry is getting very competitive day by day. With the entry of multiple billion-dollar companies, the segment is getting crowded as never before. With a lot of money in hand, they are able to provide multiple services such as same day /next day delivery service to the end customer which the small or medium-sized entrepreneurs are unable to provide. Moreover, the success of an e-commerce business not only depends on the product quality but also on the entire customer experience which depends heavily on the delivery timelines.
For offline businesses who are planning to start online businesses & hence be a multi-channel retailer, same day courier delivery provides an opportunity to participate in the e-commerce boom and stay relevant in the market by providing more convenience to their customers at the same time with a hassle-free same day delivery experience.
Do customers really want it?
According to a recent survey by PWC, more than 60% of shoppers say delivery speeds influence their purchasing decisions and more than 80% of online shoppers search elsewhere when delivery speeds are too long, this clearly shows how much speed matters.
As per Conveyco, "Nearly half of consumers said they were willing to wait within two days for delivery in 2021 as opposed to a quarter of consumers who said they would wait within 3-4 days. This 20% drop off illustrates the importance and expectation that most consumers have when it comes to standard two-day shipping."
Now the expectations have started shifting towards same day courier delivery. If the online businesses don't find out solutions to meet the rising customer expectations of hassle-free same day delivery experience, either they are going to be surpassed by their competitors or completely run out of business altogether in the coming future which won't be too far.
How is Same Day Delivery Service a Key Enabler for Revenue Growth for eCommerce Brands?
High conversion rates – Ecommerce brands offering this fast delivery service have higher customer conversion to capture impulse buying behaviour
Low cart abandonment rates – customers tend to abandon the cart if the delivery time is long (5 – 10 days)
Delightful customer experience – give a delightful and hassle-free experience to your customers that they can remember
Low order cancellation rates – reach your customers in 24 hours, so that they won't cancel the order due to a delay in delivery.
Short cashflow cycles – to get the cash from the COD orders early, you will have to deliver the orders early
What are the Top Challenges Faced by eCommerce while Providing Same Day Delivery Services?
With geographically dispersed demand & rising customer expectations of same day delivery service of the products purchased online, even in the remotest parts of the country, e-commerce brands are now under pressure to provide such service to stay relevant in the market. However, 24 hour delivery can be challenging for e-commerce brands to offer because of the inaccessibility of prime-like fulfilment infrastructure to online brands selling outside of Amazon due to the following 3 factors:
High fixed investments (significant contract size)
Rigid contracts
Tech complexity
The fact that eCommerce brands typically don't have physical stores limit their ability to offer same day or 24 hour delivery service. This also makes it difficult to personalize deliveries and create a seamless customer experience.
If e-commerce and D2C brands are handling their own delivery operations, they face a lot of challenges:
Missing the 24 hours delivery timeline of orders due to improper planning & coordination of fulfillment process leading to minor delays in O2S (Order to Ship), S2D (Ship to Deliver) timelines that leads to delay in expected O2D (Order to Deliver) timeline of 24 hours
Inadequate size of fleets & understaffed warehouses to handle the increased volume associated with same day delivery (in case of sudden spike)
Improper packaging, & mishandling of items that lead to product damage during transit
Improper labeling that leads to wrong product reaching a wrong destination
Do it yourself (in-house) or find the right partner to do it for you (outsource)?
There are 2 ways in which online brands can provide same day delivery services to their customers:
In-house fulfilment: This provides more control and transparency on the processes, but it is hard to oversee and manage as it requires a lot of capital and manpower
Outsourced fulfilment: This helps to serve the ecommerce businesses in a cost-effective manner but comes with its own set of challenges
Apart from the differences, the operations involved in both the methods are similar, which includes
Receiving and storing stock.
Tracking and analyzing inventory.
Picking and packing orders.
Shipping deliveries with a shipping partner.
The major challenge with both the solutions while offering same day delivery service to the customer is the cost of delivery. If you add the shipping cost to the product, then definitely the customer will abandon the cart. You also can't bear the cost of shipping because it will wipe off all the margin you had selling the product.
Here is a short comparison between the 2 methods:
How WareIQ RUSH Helps eCommerce & D2C Brands Accelerate Online Sales with Same Day Delivery Services?
5 ways in which WareIQ RUSH helps you accelerate your online sales with same day delivery services:
Faster Order to Delivery
WareIQ RUSH allows ecommerce & D2C businesses to reach a larger audience in a shorter period of time (within one day) by empowering you with a strong nationwide network of fulfilment centres near their customers. Our smart inventory placement ensures that your fulfilment centres are well-stocked and enables efficient & prompt delivery. As per reports, more than 60% of consumers, currently receiving deliveries in 5-15 days, are willing to pay more for a 1-day shipping speed and about 40% of customers prefer to shop from stores that offer 2-day shipping.
Improved CPS (Cost per Shipment)
WareIQ RUSH's customers save resources spent on establishing infrastructure(i.e. Warehouses and fulfilment centres). We help you store your inventory in fulfilment centres as per your business needs. Our team's expertise in logistics and our extensive warehousing network across India enables greater influence during negotiations(with warehouse owners and delivery partners), resulting in volume discounts for our clients
Planning ahead in time
WareIQ's tech platform uses real-time data to enable your organisation to predict demand. With this data, you can make wise data-driven decisions ahead of time, thereby reducing costly delays and enabling supply chain efficiencies frequently
Onground expert support
Given the vastness of the logistics involved, WareIQ RUSH provides the expertise needed to improve and advance your supply chain for India's ever-changing e-commerce environment. Our customer success teams support your day-to-day on-ground operations along with other requirements such as transport documentation, import and export licenses, compliances and economic regulations
Improved customer satisfaction
With WareIQ's real-time data and prompt response times, you can ensure timely deliveries and greater brand reliability. This translates to satisfied customers — the most crucial success metric for direct to customer brands in a competitive space like India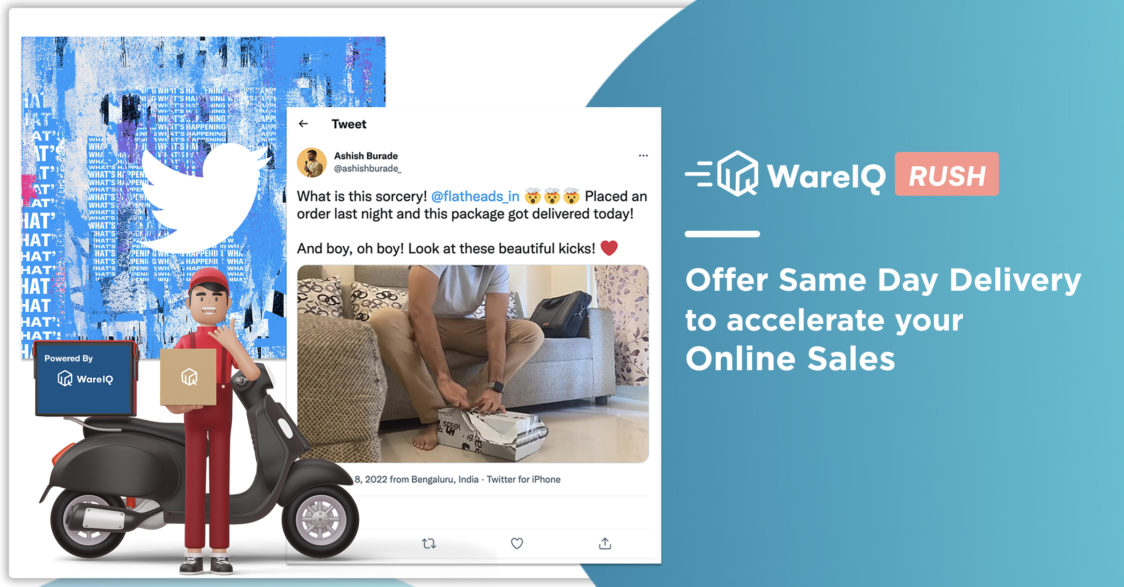 Conclusion
The online shopping experience of customers reaches an altogether different level with same day delivery experience. With minimum differentiation in product quality & features in similar categories & price range, same day delivery service can be an outstanding value proposition to your customers. In order to stay competitive in the market, same day courier delivery is probably the only way forward for eCommerce & D2C brands. While same-day delivery is an immense opportunity, it can be an operational challenge for founders/business owners alike. This is where WareIQ comes into the picture to help businesses accelerate their online sales.
WareIQ is a category defining, best- in class full-stack eCommerce fulfillment tech platform (with inbuilt inventory planning, order management & shipping system) for modern brands to accelerate online sales/ expedite revenue growth & profits with same/next day delivery.
We not only help you reduce your logistic costs but also your delivery timelines – this could be the game-changer your business needs!
WareIQ offers centralised tech platform for your entire eCommerce operations
ML-based prediction engine for efficient warehouse network design & smart inventory placement
Centralised platform for core fulfilment & shipping operations
Post-shipping apps for delightful experience & zero to minimum supply chain leakages
Are you eager to know more about WareIQ's offerings if you sign up now? Find the features of the best-in-class, category-defining fulfillment services for eCommerce & D2C brands below:
Pan India Fulfillment & Darkstore Network: Plug-and-play fulfillment infrastructure with no minimums, which is compliant with Amazon Seller Flex, Flipkart Assured, Myntra and other marketplaces
Inventory & Network Planning Excellence: Best-in-class AI models for sales forecasting, product segmentation, and inventory management to reduce inventory by 40% and increase revenue by 10%.
Vertically Integrated Fulfillment Tech Stack: Our Fulfillment Tech Solution supports integrations with 20+ top marketplaces & D2C platforms, and prominent national, regional and hyperlocal couriers, enhancing reach by covering deliveries for 27,000+ pin codes
Supply Chain Productivity Applications: Integrate a host of supply chain productivity apps with a single-click to your existing CRMs, ERPs & accounting software to manage your logistics workflows from one command center. Use Apps like RTO Shield to get 100% RTO protection, Branded Tracking to turn your order tracking page into a profitable marketing channel, and many more.
Trusted by 300+ top Indian brands, we are helping them accelerate online sales and expedite their growth through a synergistic combination of advanced technology, robust fulfillment infrastructure & seller enablement services!WareIQ is backed by leading global investors including Y Combinator, Funders Club, Flexport, Pioneer Fund, Soma Capital, and Emles Venture Partner.
Same Day Delivery FAQs (Frequently Asked Questions)