eCommerce Fulfillment 101: A Detailed Guide to eCommerce Fulfillment Processes, Costs, Challenges, Types, and Factors to Select a Fulfillment Partner For Your eCommerce Business in 2023
The number of people who are opting to shop online as opposed to the more traditional way of shopping at traditional brick-and-mortar stores has skyrocketed. It is in the best interest of eCommerce fulfillment companies and online retailers to have a system in place that gives customers the ability to keep track of orders every step of the way until it is delivered to the correct location. This also enables both sellers and buyers to know if each process has gone smoothly and can follow the outline set by this process. Read further to know about what is eCommerce fulfillment and all about the eCommerce fulfillment process.
What is eCommerce Fulfillment?
eCommerce fulfillment refers to the process that begins when the customer places the order and that ends with the product being delivered to the customer's address. This involves order management, picking, packing, sorting, storage, inventory management, transportation, post-order tracking, and managing returns.
eCommerce fulfillment service companies provide sellers with the most efficient and cost-effective way of transporting the goods from the Sellers' fulfillment service company's warehouse to the customer. It basically comprises the post-order placement experience of the customer.
Thus, the fulfillment stage is integral to both the B2B market and B2C segments and the entire eCommerce industry.
WareIQ – Amazon-prime Like Logistics for Modern Brands in India
WareIQ, an eCommerce fulfillment company, empowers online brands with a superior-tech platform to compete with Amazon like service levels by bringing their average delivery timelines from 5-10 days to 1-2 days.
"With WareIQ, UTH is able to consolidate common inventory for all platforms and get much closer to the customer through access to WareIQ's strong nationwide network of fulfilment centres, and last mile & hyper-local courier partners.

We are excited about being able to offer

same day delivery

in several pin codes due to

WareIQ

.

"
How Does eCommerce Fulfillment Work?
eCommerce fulfillment is more of an umbrella word to include the various stages and actions undertaken to deliver a package. It is not limited to just picking and sorting a product from the warehouse shelf. The process can be justified by breaking it down into the following components.
6 Processes that are involved in eCommerce fulfillment are mentioned below:
Inventory Management
No or low stock or high inventory costs due to excessive inventory can cause huge losses for a seller. Thus, inventory management and accurate inventory forecasting are crucial to maintaining adequate inventory, no matter what kind of fulfillment model is employed.
Storage/Warehousing
The warehouse layout, the ideal aisle width, and other minute details like the availability of cold storage facility, forecasting order volumes & labor demand, etc affect the entire picking, packing & shipping process and count towards the overall fulfillment duration.
Order Management
Inventory and Warehouse Management must be in sync to ensure that a customer does not place an order for an out-of-stock product. Thus, order management does not include just receiving an order; it also involves coordination with the warehouse management team to ensure the customer orders a product in stock.
Picking, Sorting, and Packing
This phrase determines how fast the product is ready to be shipped. Numerous models are prepared to ensure that the picking process can be made more efficient. Many warehouses use completely automated processes to reduce time spent picking, sorting & packing in order to improve efficiency.
Logistics/Shipping
This covers the entire first-mile delivery to last-mile delivery and involves 3PL fulfillment companies with expertise in providing logistical solutions. This phase of the eCommerce fulfillment cycle depends on multiple external factors, and thus, the term "AGWWP (All goes well, weather permitting)" is commonly used here. This stage ensures the product's safe delivery to the customer's doorstep without damage.
Returns
Certain product categories, such as clothing, account for a very high return percentage (75%). Thus, ensuring the product is returned intact from the customer to the seller is crucial. This phase of the eCommerce fulfillment cycle is important for sellers, especially as they require the product to be received back in the best condition with no further damage and can be resold after repairs to another customer who has placed the same order.
3 of the Most Common Misconceptions Regarding eCommerce Fulfillment Services
Like any industry, the eCommerce fulfillment services industry also struggles with common misconceptions held by those not so well associated with the industry. Some of these misconceptions are:
The Cheapest Way is Self-Fulfillment
Smaller sellers, generally with less than 50 orders per month, can afford to spend time packing, going to the courier service, and getting it posted, and may find self-fulfillment more cost-effective. But as the business expands, this could eat up the seller's crucial time, which could be utilised for more important aspects such as preparing a growth plan. Even for bigger players with an established business set-up, capital investment (leasing of new land, setting up warehouses) and maintenance costs (labour costs, machinery costs) can tremendously affect the business's balance sheet.
Fulfillment is Just Warehousing
It is often assumed that fulfillment refers to just the storage of goods and their dispatch from the warehouse. On the contrary, eCommerce warehousing is a subpart of fulfillment, and eCommerce fulfillment is an end-to-end process that involves storage and distribution. It also means efficiently picking the product and shipping it to the customer most efficiently and cost-effectively.
Fulfillment Centers in Rural / Tier 2 or 3 Cities are Better or Closer to the Seller's Business Location
While the land costs may seem cheaper, most of the customer base still exists in metro and tier 1 cities. Thus, over time, the seller will have to pay more in shipping charges to cover the distance from the warehouse to the bulk of customers.
What are the Various Challenges in eCommerce Fulfillment?
eCommerce fulfillment endures significant challenges and issues, primarily due to the involvement of multiple stakeholders and parties in the entire process. These issues lead to additional costs incurred by the eCommerce fulfillment service company and the sellers. Some of the challenges in eCommerce fulfillment faced are listed below:
Returns
Returns continue to be one of the biggest challenges faced by eCommerce fulfillment services, as it involves capital investment into establishing a reverse supply chain and ensuring the product reaches back to the seller without any damage.
Information Inaccuracy
A wrong address, or a wrong pin code, is often realized in the last-mile delivery phase of the supply chain, leading to irreversible delays and costs. Because of this wrong information, inaccuracy can occur at any stage, be it during order placement or while sorting, and it is realised only during the last-mile delivery stages. Last-mile delivery software can help better manage this process.
Inventory Management Issues
Inventory Management is every seller's most common issue, be it choosing between the Newsvendor Model, the Economic Order Quantity (EOQ), the Continuous Review (ROP), or the Periodic Review. The lack of appropriate forecasting leads to significant inventory management issues at the beginning of the supply chain, which travels down, eventually causing the Bullwhip Effect.
Related Article: Inventory Management in Supply Chain
Delays During Pre-Shipping
In some supply chains where the Push-Pull boundary is extremely high up in the chain, delays during the pre-shipping stage, caused by processing and producing the order, put added pressure on eCommerce fulfillment services companies to fulfill the order within the promised time. This is often seen with customizable products.
Exceptions
These exceptions can often occur from natural disasters to a massive container ship blocking the Suez Canal. Despite the best preparations by the largest eCommerce fulfillment companies, there is sometimes no getting around such situations, which eventually lead to delays or damages. Read more on delivery exceptions.
How to Calculate Fulfillment Costs for eCommerce Business?
You must account for all of the costs connected with storing, packing, and shipping consumers' orders when figuring up fulfillment costs. A few things to consider for calculating fulfillment costs are provided below.
Asses the Storage Requirements for Inventory
Take into account the number of orders you receive as well as the size and nature of the things you offer. This will enable you to estimate the amount of warehouse space you'll require as well as the price of renting or leasing that space.
Determine the Order Picking and Packing Costs
Take into account the time and resources or manpower cost needed to prepare orders for delivery, including the price of consumables like labels and packaging materials.
Determine the Shipping and Handling Costs
Take into account the price of mailing or shipping labels, supplies used for packaging, and courier fees. Additionally, you might want to think about providing your clients with other delivery options, such as expedited or international shipping, and account for the added costs related to these options.
Determine the Cost of Managing Returns and Exchanges
Consider the cost of processing and managing returns and exchanges, including labor, materials, pickup, and any restocking fees.
To calculate the total fulfillment cost for a specific order, you can add up the costs for each of these categories. For example, if your warehousing and storage costs per order are INR 100, your picking and packing costs per order are INR 50, and your shipping and handling costs per order are INR 25, the total fulfillment cost for the order would be INR 175.
It is important to regularly review and update your fulfillment costs to ensure that you are accurately accounting for all relevant expenses and that your pricing is competitive.
5 Main Benefits of eCommerce Fulfillment
eCommerce fulfillment service companies are specialized companies that understand the industry and cater to the needs of both sellers and buyers. Thus, they provide an efficient and cost-effective service to the seller and enhance the end customer's consumer experience. With 38% of online shoppers willing to abandon a package if it takes longer than expected, sellers cannot afford to lose sales because of undertaking self-fulfillment.
Some of the benefits of eCommerce Fulfillment are listed below:
Enhanced Customer Satisfaction
eCommerce fulfillment services have established infrastructure and supply chains and ensure that the customers get their products on time and in the best condition. With 33% of customers leaving after the very first bad experience and 16% of customers willing to pay higher for a better customer service experience, it is prudent for any seller to ensure they can uphold their service promise to the customer.
Reduced Delivery Times
Warehouses and fulfillment centers of eCommerce fulfillment services companies are spread nationwide. With the inventory stored across these warehouses, the time taken for the product to reach any customer nationwide is reduced drastically compared to having it shipped from the seller's location.
Optimized Inventory Management
The importance of inventory management is something that few are aware of, and its repercussions can lead to a product's failure. eCommerce fulfillment services provide sellers with the power to remotely manage their inventory while providing insights to them through the data collected. Thus, designing the best inventory management system for their product optimizes the shipping process for eCommerce and the storage within the warehouse for which the sellers have to pay.
Improved Branding and Packaging
Personalized branding and packaging is a feature of eCommerce Fulfilment that sets it apart from regular order processing and helps boost customer satisfaction by providing them with a personalized feeling.
Effective Returns Management
Ensures effective returns management, with certain product categories that have high returns, eCommerce Fulfilment services help cater to them and ensure a smoother overall process from the time the customer raises the return request to the product reaching back to the seller.
The 3 Different Types of eCommerce Fulfillment Models
eCommerce fulfillment can be carried out in multiple ways as there is no single fixed method. This is primarily due to the difference in products, inventory, and customer requirements. The 3 most commonly utilized models are listed below:
Self Fulfillment
The seller manages the entire fulfillment process, which starts from receiving the order, storing it on their premises, packing it, and also ensuring its transportation through established courier services. It is suitable for businesses that have just started out with a handful of orders per month.
3PL Fulfillment
3PL (Third Party) fulfillment services companies cater to sellers who outsource their fulfillment needs. 3PL fulfillment companies cater to the end-to-end service requirements of the seller by providing access to the company's established warehouses, logistics and supply chain, and inventory management system. 3PL fulfillment companies use economies of scale by catering to multiple sellers. Thus, these companies spread the cost amongst all, proving cost-effective for each seller, both in the B2B fulfillment and B2C domains.
Dropshipping
In the dropshipping model, the seller does not hold any inventory, and the product is shipped directly from the seller's manufacturer or wholesaler. Although ideal for sellers starting out, it provides no inventory management solution. Read the blog on dropshipping vs order fulfillment to know which fulfillment model is right for your online business.
Differences among the three types of eCommerce fulfillment
The 3 eCommerce Fulfilment models can be confusing for new and small businesses to figure out. Thus, in the table mentioned below, the salient features of each model have been mentioned for Sellers to make an informed decision.
| Self Fulfillment | 3PL Fulfillment | Dropshipping |
| --- | --- | --- |
| Suitable for small businesses which are just starting, but this isn't a sustainable method | Suitable for B2B and B2C companies who can outsource the entire or part of the fulfillment proces | Suitable for new businesses or very early stage start-ups with very low order volumes |
| High capital expenditure which includes acquiring storage space or investing in owning/renting warehouses | Lower capital expenditure as there is no upfront investment in infrastructure | No capital expenditure as the goods get shipped directly from the seller's manufacturer's/wholesaler's location |
| Operational expenses in maintaining the storage space | Zero operational expense from seller's end since the fulfillment is outsourced to a 3PL partner | Operational expenses exist & has to face obstacles while coordinating with multiple drop shippers |
| Not cost-effective for larger orders | More cost-effective as 3PL companies can offer discounts on bulk orders | Usually the order volume isnt huge here. But, with increase in order volumes, costs would shoot up |
| Time-consuming | Outsourcing to fulfillment partners saves a lot of time. Sellers can focus on expansion and growth rather than wasting time fulfilling orders | Coordination with multiple dropshippers can consume a lot of time & hinder scaling up of business & increase chances of deteriorated customer experience |
| Seller has to bear the charges & responsibility in case of customisation. The seller has high control over inventory. | Solutions are customizable basis each seller's requirements | Lack of customization basis seller's needs with least control over inventory |
Suggested Read: What is Hybrid Fulfillment?
How to Choose an eCommerce Fulfillment Provider that is Right for Your Business in 2023?
Who is going to be the fulfillment company for my business? This is a question that comes to every seller's mind and is probably one of the most important decisions that a seller has to make. Some points that should be kept in mind before taking this decision are listed below:
Shipping Speed
In this era of 10-minute hyperlocal delivery, it is crucial to partner with an eCommerce fulfillment service provider that keeps the seller one step ahead of the competition. Read how to increase shipping speed.
Warehouse Location
With eCommerce gaining confidence in Tier 2 and 3 cities, it is important that warehouses have a nationwide network to fulfill the needs of the expanding customer base.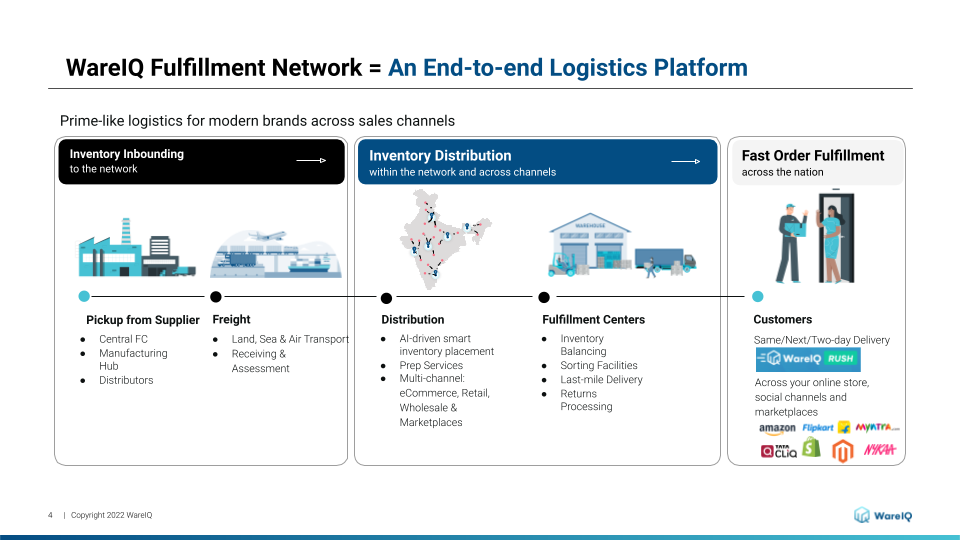 Shared Ideologies
Synergy in ideology is a critical aspect that can be overlooked and realised much later after it is too late. For example, a seller dealing in organic products, who ensures that the backend supply chain is sustainable, would also want to ensure that the eCommerce fulfillment service provider is making efforts towards sustainable usage of transport for the logistics aspect and also in the warehouses.
Order Fulfillment Software
Data plays a crucial role in optimising the fulfillment process, along with software that understands the data generated from the orders. It is crucial that the software is easily integrated with the Seller's order processing and data handling software. The use of AI and ML should be considered a norm in this software. Small business order fulfillment services are very important for smaller retailers.
Transparency and Visibility
Sellers must have full access to the details of their products at any stage in the order fulfillment process, especially during the shipping phase. This service should be extended to the customer as well because such services are now considered amongst the most basic aspects of the eCommerce fulfillment service process.
Scalability
The eCommerce fulfillment service provider must be able to handle demand surges as well as the fall in demand without causing significant losses to the seller by using appropriate forecasting demand methods. This ensures to the seller that the service provider is prepared for most of the events that can be faced during a demand cycle.
Packaging and Branding
eCommerce fulfillment service providers are known to provide customized packaging and branding options to sellers for their products. This adds to the overall customer experience and increases the customer's trust and want for the seller's product.
Certifications
The eCommerce fulfillment service provider should never compromise on quality, and a good verification of that is the company's qualifications.
Customer Support
The fulfillment service provider should have efficient customer support facilities that can quickly resolve issues.
How Can eCommerce Fulfillment Contribute to the Success of Your Online Business?
eCommerce fulfillment services in India provide the catapult that is needed by every product, regardless of how amazing it is. Some important numbers that every seller must remember are:
From the above numbers, it is evident how much the consumer is influenced by the delivery experience and also how the consumer believes that the seller is to blame for late delivery. Thus, it is extremely important for sellers to ensure that they team up with an eCommerce fulfillment services provider that propels them in order to expand their business in the eCommerce industry.
Sammy Gibson's idea of custom neon signs was a success because he managed to boost his sales through an eCommerce fulfillment services provider and deliver his products all the way to America and Canada, from Australia.
Should You Outsource Your eCommerce Fulfillment? 5 Benefits of Doing it
eCommerce fulfillment can often be a challenge for smaller businesses that don't have access to advanced software solutions or enough resources to provide features such as ultra-fast delivery and discounted shipping. Outsourcing eCommerce fulfillment service requirements to 3PL companies can take away a tremendous burden for these sellers, who are now able to focus on more central business activities. Here are some of the main benefits of outsourcing eCommerce fulfillment:
Ability to Focus on Core Business Activities
Order fulfillment often takes up a lot of time for both small and big businesses alike. The difference is that big companies have multiple teams focusing on different tasks while small businesses may have to rely on a few members to take care of a variety of processes. Fortunately, if they partner with a 3PL, they can offload the entire fulfillment process which frees up time to focus on core activities of the business such as marketing, running promotional offers, expanding their product range, and enhancing existing products.
Access to Lower Shipping Costs
Businesses that do not have a large number of orders to fulfill every month are often the victims of the highest shipping costs as they cannot take advantage of bulk shipping discounts. However, 3PL companies often partner with multiple shipping aggregators and offer a choice between them. Additionally, companies like WareIQ automatically assign the courier service that will deliver particular orders in the shortest amount of time and at the lowest shipping rates, enabling retailers to significantly reduce their shipping expenditures.
Ability to Provide Faster Shipping
Next-day, same-day, and even 10-minute delivery are becoming commonplace so it is in every retailer's best interests to provide the fastest possible shipping. While this may be hard to tackle on their own, when they partner with 3PL companies, they instantly get access to ultra-fast shipping at cost-effective rates that are guaranteed to have a positive impact on them and their customers.
Access to Advanced Software
3PL companies are often equipped with highly advanced software systems that sellers would not have access to if they fulfilled orders on their own. When they choose to partner with these 3PL companies, they can take advantage of features such as automated reorder triggers, integrations across selling platforms, intelligent suggestions for placement of inventory based on areas of high demand, inventory management, and much more.
Provision of Order Tracking Facilities
Order tracking is a must if sellers want to keep their customers constantly updated and satisfied about the fact that the order is on its way. Some 3PLs not only provide generic order tracking facilities but companies like WareIQ offer customizable branded tracking pages that can be customized with a whole host of information that is guaranteed to keep your customer delighted and informed.
How Can WareIQ be the Best eCommerce Fulfillment Partner for Your Business?
Today, the coronavirus pandemic has further accelerated the already growing e-commerce economy since 2020, and customer demand is only expected to rise. The growing demand has led to supply chain management becoming more complex than ever before. However, what hasn't changed is the customer's expectation of fast, Amazon-like, delivery. Customers don't want to wait for orders to reach them within 5-15 working days, instead by default, they end up comparing all shipping options to Amazon and expect their orders to reach them within 2 working days. Evidently, e-commerce stores that don't offer this will lose customers to Amazon. To survive and remain competitive e-commerce businesses have to 'deliver' on this expectation.
WareIQ is an end-to-end solution for eCommerce fulfillment that allows you to ship 90% of your orders across India in 1 day – just like Amazon.
WareIQ's technology prioritizes speed and scale to give you complete control over your eCommerce logistics and offer Amazon-like delivery to your customers. WareIQ unifies all your logistics operations into one platform so you can manage everything in one place – from inventory via InventoryLogIQ, orders, and warehousing, to shipping, delivery, and returns. No more wasted resources and fragmented data from a hundred different tools.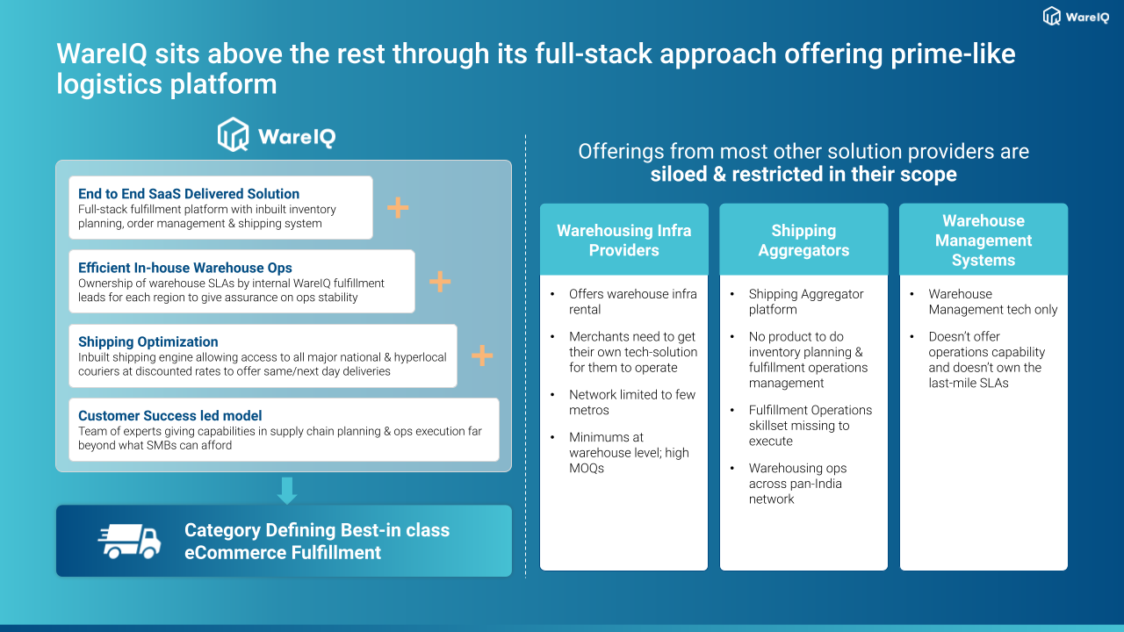 6 ways in which WareIQ helps e-commerce & DTC brands ace their logistics game:
Faster reach & reduced delivery times: WareIQ allows you to reach a larger audience in a shorter period of time with storage facilities spread across India and closer to your demand centers. Our smart inventory placement ensures that your demand centers are well-stocked and enables efficient & prompt delivery. As per reports, 61% of consumers are willing to pay more for 1-day shipping speed and 40% of customers prefer to shop from stores that offer 2-day shipping. We help you evolve from a 5-15 day delivery system to the same day/next day Amazon-like delivery system and are already helping 100+ other brands in India to do so.
Reduced overhead costs: WareIQ's customers save resources that are typically spent on establishing infrastructure. We offer you the flexibility to store inventory in several or one fulfillment centers as per your business needs. Our team's expertise in logistics and our extensive warehousing network across India enables greater influence during negotiations, resulting in volume discounts for our clients.
Expert support: Given the vastness of the logistics involved we provide the expertise needed to improve and advance your supply chain for India's ever-changing-commerce environment. It is difficult to foresee and accommodate the internal expertise required across functions and geographical regions – that's where we come in. Our teams support your day-to-day on-ground operations along with other requirements such as transport documentation, import and export licenses, compliances, and economic regulations.
Rich insights: WareIQ's tech platform leverages real-time data to enable your organisation to predict demand. With this data, you can make wise data-driven decisions promptly thereby reducing costly delays and enabling supply chain efficiencies frequently.
Scalability: When there is a surge in demand, your enterprise can upscale quickly, similarly, in the case of a slack, downscaling is effortless. Our pay-as-you-go model allows simplified and flexible scalability. There are no redundant investments or under-utilised resources. With the world evolving as it is, scalability has proved itself to be the make-or-break factor for a large number of e-commerce businesses.
Improved customer satisfaction: As discussed earlier, the success of your e-commerce business not only depends on your product quality but also on the time it takes to reach your customer. With WareIQ's real-time data and prompt response times, you can ensure timely deliveries and greater brand reliability. This translates to satisfied customers — the most crucial success metric for DTC brands in a competitive space like India.
Are you eager to know more about WareIQ's offerings if you sign up now? Find the features of the best-in-class, category-defining fulfillment services for eCommerce & D2C brands below:
Pan India Fulfillment & Darkstore Network: Plug-and-play fulfillment infrastructure with no minimums, which is compliant with Amazon Seller Flex, Flipkart Assured, Myntra and other marketplaces
Inventory & Network Planning Excellence: Best-in-class AI models for sales forecasting, product segmentation, and inventory management to reduce inventory by 40% and increase revenue by 10%.
Vertically Integrated Fulfillment Tech Stack: Our Fulfillment Tech Solution supports integrations with 20+ top marketplaces & D2C platforms, and prominent national, regional and hyperlocal couriers, enhancing reach by covering deliveries for 27,000+ pin codes
Supply Chain Productivity Applications: Integrate a host of supply chain productivity apps with a single-click to your existing CRMs, ERPs & accounting software to manage your logistics workflows from one command center. Use Apps like RTO Shield to get 100% RTO protection, Branded Tracking to turn your order tracking page into a profitable marketing channel, and many more.
Trusted by 300+ top Indian brands, we are helping them accelerate online sales and expedite their growth through a synergistic combination of advanced technology, robust fulfillment infrastructure & seller enablement services!WareIQ is backed by leading global investors including Y Combinator, Funders Club, Flexport, Pioneer Fund, Soma Capital, and Emles Venture Partner.
Ecommerce Fulfillment FAQs (Frequently Asked Questions)