First Mile Delivery: A Detailed Guide Including Definition, Importance, Challenges and Tips for Optimising First Mile Logistics in 2023
Many rapidly expanding online merchants struggle with the ongoing balancing act of providing clients with a great delivery experience. In the process of offering smooth and hassle-free deliveries, if a business is paying too much in shipping costs, it can majorly reduce profit margins. What if it was possible to enhance the delivery experience at a more early stage of the eCommerce supply chain? It turns out that your shipping experience is directly impacted by the first mile delivery stage and optimizing it will result in significant downstream gains. In the article, we will learn the advantages and challenges of first mile delivery, its importance and tactics to improve it.
What is First Mile Delivery?
First mile delivery refers to the transportation of goods from a merchant's premises or warehouse in the supply chain to the next location where the goods are stored and distributed from there. But for various supply chains and businesses, the first mile delivery could signify different things. For a retailer, this can entail shipping goods from a local distribution center or storefronts to a regional warehouse. For logistics companies, this could be a service of picking up goods. First mile delivery is used by eCommerce businesses where products are picked up from a merchant and then passed to third-party logistics or courier service to be delivered to the end-user (Buyer).
WareIQ – Amazon-prime Like Logistics for Modern Brands in India
WareIQ, an eCommerce fulfillment company, empowers online brands with a superior-tech platform to compete with Amazon like service levels by bringing their average delivery timelines from 5-10 days to 1-2 days.
"WareIQ came to Gynoveda with a full stack fulfillment platform & gave Gynoveda access to a nation wide network of fulfillment centers & last mile & hyperlocal courier partners closer to our customers based out of North East & North India.

They made

same-day delivery possible

for us in metros.

"
Importance of First Mile Logistics in eCommerce
First mile delivery, which is the first step in the supply chain, has a significant influence on how a company handles retail fulfillment. Ineffective first mile delivery can slow down last-mile delivery by affecting the supply chain throughout the fulfillment stage. Some of these inefficiencies frequently have their origins in incorrect purchase order decisions.
If production is delayed or an incorrect amount of inventory is delivered, it is enough to throw off the remainder of your supply chain, especially if you are receiving orders that depend on the arrival of the upcoming shipment of stock. By identifying ways to increase visibility, diversify your supplier network and implement a robust warehouse receiving process, many problems that arise during first mile logistics can be resolved.
Tactics to Optimise First Mile Delivery Processes
Choose a Tech-Enabled Fulfillment Company
There is always the option of handling first mile logistics on your own but if you're ordering a lot of products and handling a lot of orders, you're going to need the room and the assistance of a professional. You can choose which parts of a 3PL's warehouse network to keep products in when you first begin working with them.
You can request direct delivery of merchandise from your supplier to the fulfillment center, where logistics professionals will carry out a careful inventory check to make sure the purchased items match the paperwork. WMS software is built to make sure you have the information you need so everything is accounted for and correctly stored, in order to guarantee the completion of flawless first mile delivery.
After receiving inventory, you can monitor the flow of it in real-time on the dashboard. You can access inventory records, calculate the best time to replenish inventory and create automation reorder notifications when inventory is running low because all inventory and order data is consolidated in one location.
Analyze the Supply Chain Process
Making a map of your supply chain starting with first mile delivery is a good method to improve it. You may find the inefficiencies in your current supply chain and the measures required to optimize and improve processes by carefully looking over each step of it. The manual process is labour-intensive and subject to human mistakes. If you are at this stage, you should think about automation and other supply chain technologies to lessen the human factor involved in reordering goods and also to reduce errors.
Make a Warehousing Strategy
Creating a thorough warehouse receiving process is another first mile delivery must. This process specifies how you or your warehouse team will receive inventory shipments delivered by your supplier and is crucial for proper inventory tracking. Before that, you should establish the quantity of each item that will be transported in each container as well as the packaging specifications for every product. Then meet with the shipper, unload the required cargo, and double-check the received inventory against your inventory records.
Organise the Data
You must have a system in place to gather data and present critical distribution metrics in order to properly enhance your first mile delivery process. Data and information on the supply chain can be recorded in a variety of ways. You can assess the effectiveness of the first mile logistics process using different metrics like shipping timing, purchase accuracy, manufacturing cost, number of days your supplier needs to supply stock after receiving an order, the time period needed to disassemble pallet loads and stock ready-to-ship merchandise inventory and the proportion of your supplier's items that are harmed while being transported.
By using inventory management software or a warehouse management system, much of this can be monitored or you can also just outsource fulfillment to increase your visibility of these metrics.
Create a Packaging Process with a Scanning and Labeling System
The majority of your products will be damaged regardless of how quickly it gets to your warehouse if it is not wrapped properly for transportation. The quality of the packaging used for your inventory is one factor to consider when choosing a supplier for your company, some even provide custom packaging services. There needs to be a proper scanning and labeling process in place to ensure that the right products are packaged and in the appropriate manner. You can read more about shipping labels.
Challenges of First Mile Delivery in 2023
First mile delivery is a complex supply-chain process. There are several difficulties, but we will concentrate on the top four first mile delivery challenges likely to be faced in 2023:
Lack of Visibility
Poor visibility is a major challenge of first mile logistics that ultimately impacts not just mid-mile operations but also last-mile processes along with the experience of the end-buyer. Poor handling, en-route delays and ineffective tracking of freight movement from a warehouse to a hub, among other things are important impact areas of poor visibility.
Lack of Focus on First Mile Experience
For the past several years, businesses have come to understand the value of last-mile delivery in terms of offering a better customer experience. Due to the fact that this process has fewer stakeholders and is not customer-facing, first mile delivery has been conveniently overlooked as a result.
First mile operations should be given the same attention as other aspects of the supply chain, such as the requirement to give customers complete transparency of the delivery process and to reduce logistics costs. Due to this, businesses must use reliable first mile tracking systems that reduce expenses and guarantee complete visibility of delivery operations.
Improper Packaging
Packaging frequently suffers as a result of the rush to supply quickly. Regardless of the type of item, businesses frequently employ standard packaging materials. This delays the entire freight transportation procedure and frequently results in material damage during first mile delivery. Branded packaging is the most sophisticated packaging method. It not only saves money and better safeguards products but also helps in marketing your brand.
Ineffective Labeling Methods
Labeling is a small but crucial component of first-mile delivery. Many companies still manually label packages to this day. As a result, not all the required fields are mentioned in packages, which causes dispatching to be ineffective and prone to delays. This problem is rapidly solved by automating dispatching, a crucial component of last-mile tracking technology.
Top 4 Differences Between First Mile Delivery and Last Mile Delivery
| First Mile Delivery | Last Mile Delivery |
| --- | --- |
| First mile delivery refers to the transportation of goods from a merchant's premises or warehouse in the supply chain to the next location where the goods are stored and distributed. | The last mile route is taken to get from a retail location or a delivery facility to the residence of the final consumer. It is the final phase or last mile of the procedure, as the name suggests. |
| First mile delivery is intended to be the first step of the supply chain. It is the dispatch of goods through transportation, after which the item is in shipment or cargo. | The supply chain's final stage is supposed to be the last mile of delivery. This is the transportation of orders to the hands of the end-user. |
| First mile operations encompass moving goods between the products manufactured to the transport hub. It is moved in batches as per the location. | Deliveries made throughout the first and middle miles sometimes include moving inventory in groups or batches. The items will be moved from one site to another in their crate, pallet or master carton from where they are separated to fulfill each order in the last mile. |
| The first mile delivery involves creating labeling and packaging for transportation to the mid mile. | The last mile delivery process entails labeling and transporting specific SKUs to a destination. |
Suggested Read: List of Delivery Partners for Ecommerce & Last Mile Delivery Companies
Conclusion: Integrating First Mile Delivery with WareIQ
Now it is clear that good last-mile delivery has a direct impact on customer satisfaction and profitability. Customer satisfaction can be drastically decreased if a shipment is delayed or a customer receives an incorrect item. The first mile delivery procedure is largely manual for many logistics service providers, if not entirely. Moving all operations and supply chain data online is the first step to cutting costs and improving efficiency. Remember that you need applications that provide visibility and control to all parties involved including dispatchers, drivers, operations managers and shippers.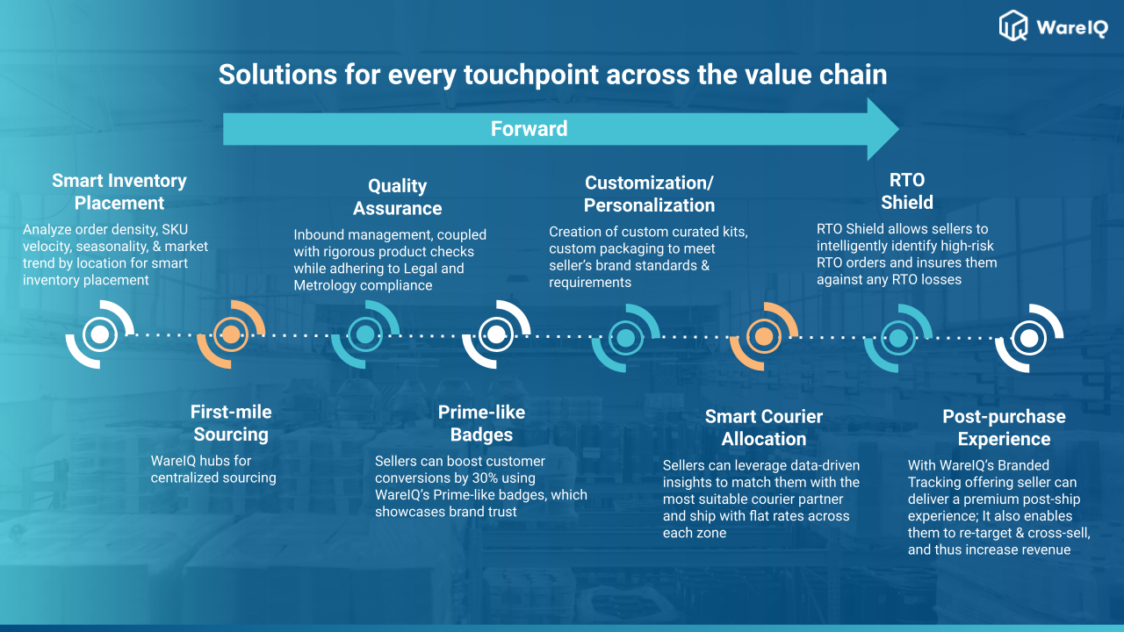 Using WareIQ's smart technology, businesses can customize logistics management systems to better suit their requirements and make smarter automation decisions. WareIQ, a complete logistics management system, guarantees a decrease in delivery costs and time. The end-to-end visibility and tracking capabilities that results from moving the entire delivery process to a digital platform are increased.
Companies can use the best transport management system with optimal route management by partnering with WareIQ. Features like real-time intercity tracking, dynamic detention and delay alerts, delivery route planning and route optimization can improve linehaul tracking. Together, these capabilities greatly simplify the processes involved in first mile delivery. Customer satisfaction can be considerably raised by an effective tracking system and a prompt delivery system.
WareIQ takes care of the following guidelines while sending freight:
To appropriately spread the weight of your shipments when they are piled one on top of the other, we use top and bottom load protectors.
Stretch wrapping is used to support the shipment during transit and avoid load movement.
Enough bubble wrap is included in each box in the shipment to guard against breakage.
As you develop connections with suppliers, we make sure to hold them accountable for their output and delivery quality.
We increase vertical stacking strength, avoid damage to corner edges and balance the load by using corner/edge boards.
First Mile Delivery: FAQs