Beginners Guide: What is Retail Fulfillment? Definition, Types, Challenges, and Strategies for Fulfilling Retail Orders in 2023
In some scenarios, customers may go to a shop and enquire about a product that is currently out of stock at the shop. The shopkeeper would have a few different ways to convey the news to the customer, without displeasing them. They could say that the stock is overdue to high demand and that fresh stocks of the product would be available in 2-3 days or something of that nature. This example encapsulates what retail fulfillment is, where a seller is trying to obtain the product for the customer. Similarly, the same process is followed by online retailers.
You, as a seller, should work according to the supply and demand of relevant products. These days, a lot of sellers have gravitated to selling products online. You can see the same products with the same benefits at similar rates offered by different sellers on multiple selling channels. All of them may not have the product physically at their eCommerce warehouse but they still continue to sell it. The question is, how? The reason behind it is that they all take advantage of retail fulfillment.
What is Retail Fulfillment?
The process of assembling and eCommerce shipping a customer's order is known as retail fulfillment. After a consumer places an order online, an eCommerce merchant is responsible for packaging the shipment with the correct products and placing the box into transit, which is the primary difference from conventional stores, where customers browse and purchase items themselves.
It is a specialized branch of logistics that is more intricate, complex, and distinct from DTC (direct-to-consumer) fulfillment. Sending goods to stores necessitates a higher level of quality control, precision, and attention to detail. You will need the necessary tools to interact with each merchant separately to ensure a pleasant encounter.
WareIQ – Amazon-prime Like Logistics for Modern Brands in India
WareIQ, an eCommerce fulfillment company, empowers online brands with a superior-tech platform to compete with Amazon like service levels by bringing their average delivery timelines from 5-10 days to 1-2 days.
"With WareIQ's full stack digital enabled fulfillment solution, we got access to the pan India network of fulfillment centers & cold storage facilities enabling same/next day delivery, without any upfront investment in supply chain infrastructure from our end. During the IPL campaign in April 2022,

WareIQ efficiently

handled unpredictable 200x surges in daily order volumes

of ~20k/day with a

99% fulfillment rate

. With WareIQ as our preferred fulfillment partner, we witnessed 172% growth in online order volume in just 4 months, with a significant improvement in the overall customer experience in fulfillment."
What are the Types of Retail fulfillment?
Retail fulfillment can be classified into 3 categories:
In-House Fulfillment Model
Dropshipping Model
Third-Party Fulfillment (3PL) Model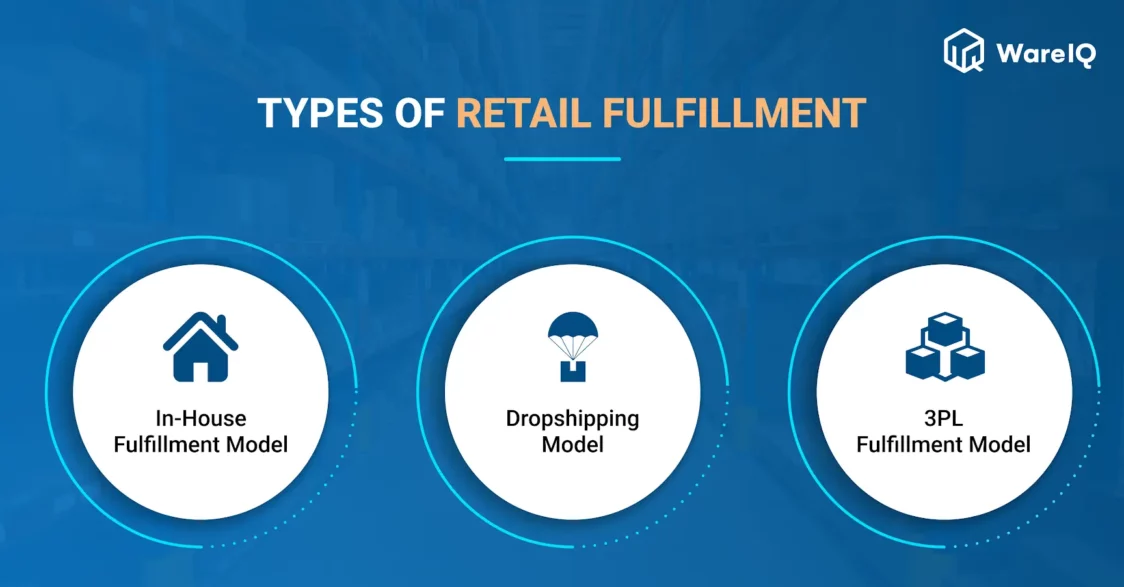 In-House Fulfillment Model
In-house fulfillment model is where an eCommerce seller provides order fulfillment on their own. It is either done by a small-scale business, where the scale is small enough for it to be done in-house, or a huge business which has its own resources such as in-house warehouses, human resources, and its own supply chain network.
Here are the pros and cons of the In-house fulfillment model
Pros:
Ability to focus on individual product delivery: A small business with few delivery orders can easily focus on individual deliveries they need to fulfill. A big business can also focus on individual delivery with its in-house fulfillment system. They can customize delivery according to the buyer's preference.
Opportunity to save costs on bulk orders: If a buyer orders more than a single product and wants it to be delivered to the same address, the cost of delivery decreases due to taking advantage of economies of scale.
Access to door-step branding: An employee with a company that does in-house fulfillment can contact customers directly, on behalf of the company. It will increase the brand presence and add extra value to your orders.
Access to direct feedback: Similarly to the point above, company personnel can contact customers directly to solve any query, issue or get customer feedback. They can directly guage the customer's preferred experiences and solve any issues on the spot.
Cons:
Increase in prices: In the case of a small business where the seller has to fulfill every order themselves, prices can definitely add up. For big businesses, it can be expensive if they have to deliver products to different places.
Need for dedicated resources: Sellers have to put in all their effort to provide suitable order fulfillment. They need to invest in dedicated resources in order to provide a good retail experience to their customers.
Increase in time consumption: Good retail fulfillment takes time. A delivery initiated from South India that has to be delivered to North India could take at least 3 days if you are not an expert, which would seem like ages in todays world of same-day and next-day delivery.
Limited growth potential: If you are taking care of an essential aspect of your business such as retail fulfillment, you may end up neglecting other tasks such as product development and marketing.
Suggested Read: What is Small Business Order Fulfillment?
Dropshipping Model
Dropshipping Model is where a seller does not stock inventory in their own warehouses. They get orders from their website and other selling platforms and dispatches them from an OEM warehouse or a fulfillment center. The seller functions as an aggregator.
Here are the pros and cons of dropshipping model:
Pros:
Requires less space: A physical seller's storage space is required to showcase their shop and to store their products. An online seller can showcase their products on online selling platforms or their dropshipping website, negating the need to have a huge store.
Removes the need to manage inventory: With no storage needed for products, a seller does not need to manage inventory. Sellers also do not need to hire resources for such work.
Provides flexibility to your business: It gives you the benefit of running your business remotely from anywhere on the globe. It does not matter if you are working from your office or any other location. You can still do all the same things you could if you were physically present such as confirming and fulfilling orders.
Cons:
Lack of self-branding: Under the dropshipping model, a seller cannot do self-branding as per their requirements. They never handle the product directly. The only thing they can do is provide customised order invoices.
Difficulty in quality control: The product is never accessed by the seller because orders are just confirmed and sold through dropshipping. The chances of poor quality control measures can increase without the seller's knowledge.
Reduced profit margins: The model is quite cost-effective and maintenance-free so many sellers are adopting similar business models. Thus. competition is higher than in other models so profit margins are lower.
Dependence on OEMs: Here, sellers do not have the freedom to fulfill the items according to their preferences. They will have to accept guidelines from the manufacturers regarding their timing, working style, rate fluctuations, etc.
Differences Between B2B Fulfillment and Retail Fulfillment
B2B fulfillment is not the same as retail fulfillment. It's a general term for sending things in bulk to any company. Shipping boxes from one business address to another is what B2B fulfillment is all about. It could entail delivering items to a store or a corporate facility for staff to utilize, such as shipping documents from one office to another.
B2B fulfillment includes retail fulfillment. Traditionally, this meant things would end up on store shelves, but with the growth of eCommerce, it can also mean products would end up on the pages of a retailer's online shop or marketplace. If a merchant sells their goods to a retailer, they could end up in the seller's shop, godown, warehouse or fulfillment center, or micro-fulfillment centers.
On the other hand, in retail fulfillment, the seller plus retailer never asks merchants to deliver products to them. The retailer can directly send it to the buyer or a third-party fulfillment center.
| B2B Fulfillment | Retail Fulfillment |
| --- | --- |
| In B2B fulfillment, orders are fulfilled by the wholesaler/ manufacturer to the retailer. | In retail fulfillment, orders are fulfilled by the wholesaler/ manufacturer to the customer directly. |
| In B2B fulfillment, the number of ordered products should be in bulk. | In retail fulfillment, the number of ordered products could be in bulk or even single pieces. |
| In B2B fulfillment, the manufacturer/wholesaler is not responsible for picking, packing, RTO etc. | In retail fulfillment, the fulfillment company performs all the processes that a seller needs to do while fulfilling an order. |
| In B2B fulfillment, a seller needs huge space for inventory. | In retail fulfillment, sellers do not need any space for storing inventory. |
| In B2B fulfillment, a seller needs to invest a huge amount of money for procurement and making a successful delivery. | In retail fulfillment, sellers do not need to invest a penny on inventory or focus on fulfillment. |
In order to know about other types of fulfillment, you can read direct order fulfillment and D2c fulfillment here.
What are the 6 Steps Involved in the Retail Fulfillment Process in 2023?
There are several steps involved in retail fulfillment and they are listed below:
Receiving New Inventory
New inventory must be sent to your fulfillment center for storage. Each SKU will require its own storage area (bin, shelf, or pallet). You must process, organize, document, and stow inventory once it arrives at a fulfillment facility. You'll need to order additional inventory as you are continuously selling products.
Reorder quantity management for retail fulfillment needs a deeper grasp of inventory forecasting as well as strong collaboration with manufacturers. If you want to opt for retail fulfillment, you'll need a warehouse management strategy that includes organization, infrastructure, software, and processes for inventory tracking, as well as stations dedicated to each retail fulfillment process.
Warehousing
You'll be able to use those products to fill customer orders after inventory storage is complete. To avoid stockouts, keep an eye on stock levels and set reorder points so that you can order more inventory if it falls below a certain level.
Your shipping costs will be heavily influenced by where you keep and ship your things (i.e., the farther away from the shipping destination, the more expensive the delivery will typically be).
Picking and Packing Orders
When a customer places an order, a picking list should be generated. The seller must start gathering the items needed to complete the request. Items from one order must be stored separately from those need for other orders.
You can pack an order once all of the products have been selected. To save money on shipping, use boxes, poly mailers, and packaging materials that will both protect your products and add up to the smallest possible dimensional weight.
Shipping Orders
When you ship orders, keep an eye on the ship date as well as the promised delivery date or estimated timeline. If your online store's delivery policy requires orders to be shipped the same day, make sure you are in line with fulfilling the policy.
Processing of Returns
Customers will almost certainly return eCommerce orders at some point, and you must be prepared. Reverse logistics management that is well-designed can cut expenses and mitigate problems connected with returns and exchanges.
Retail Ratings, Issues, and Chargebacks
A logistic company is judged by its retail fulfillment process which includes the duration of delivery, accuracy, and rating by others. These days, if a fulfillment company does not meet the retailer's expectations, the retailers may fine them which is called cashback. This cashback can be fixed or a percentage of the chargeable amount.
Suggested Read: Beginner's Guide to Retail Distribution.
What are the Challenges and Solutions in the Retail Fulfillment Process?
Growing Order Volume
With the passing years, online shopping is growing so the number of orders is increasing proportionally. This is leading to an increase in order fulfillment demands and handling thousands of orders is not an easy task. If you are providing a bad experience to your customers, there are high chances that you will lose them in the long run. In this situation, it is better to opt for 3rd party fulfillment companies.
Lack of Visibility of Delivery Routes
The retailers who fulfill the customer's demand through dropshipping methods have the pain of lack of visibility of the delivery route and it is amplified by partnering with any third party fulfillment company.
Inefficient Manual Processes
With a high number of orders which need to have 100 % accuracy at the scheduled time, manual processes need to be reduced as much as possible.
Manually it is nearly impossible to manage retail fulfillment centers, track inventory, navigate, assign drivers and manage any other logistical processes. This reduces efficiency, kills time, and hinders growth due to which the customer experience suffers.
Choice Between One or Many Retail Fulfillment Providers
As a seller, when you choose multiple channels to sell your product on, you should also tie-up with several logistics companies. They offer fulfillment services in different locations, for different kinds of products and have different specializations. You can also partner with fulfillment companies, that will track the record and accuracy of different retail logistics companies and will give you the best option.
Scheduling with Customers
These days, many people shift their locations for work, studies and other purposes, which is also a reason for buying products online. Time is of the utmost importance to them which means that the sooner they receive their parcel, the more satisfied they will be and the more positive reviews your business will receive.
Conclusion: Does Your Business Require Retail Fulfillment?
Technology has driven our life into a different world. Today in India, we have 100s of unicorns. Each of them caters to new technology and has similar ideas and creative goals which are usually to encourage eCommerce retailers like you, to partner with them to outsource various requirements. For this, you need them to plan your investment budget and set a timeline. You just need to play it smart and you can also earn revenue.
A great example of this is Amazon. As we know it is the biggest online retailer in India but doesn't have a single physical store and offers only a few core products that they sell using their own brand while offline sellers like BigBazar went bankrupt. The pattern of bankruptcy shows BigBazar invested millions in procuring products, investing in new physical stores, warehousing, hiring in-house experts, etc.
As a business, when it comes to increasing sales or expanding your operations, you should always be open to adopting new trends and technology. If you are a seller, you should opt for multiple selling options and if you choose to sell online, retail fulfillment is one of the necessities to sustain your growth and increase your reachability over the nation and across the globe if you aspire to do so. WareIQ is one of the emerging players in the retail fulfillment space.
WareIQ, a Y-combinator backed startup, has rapidly grown to be the leading full-stack eCommerce fulfillment company for some of the most reputed brands in India. WareIQ offers a full-stack platform for eCommerce companies to enable same-day delivery and next day delivery to customers.
WareIQ manages the entire range of complex operations in the eCommerce fulfillment process, such as inbound functions like scanning and quality check, 100% accurate Pick and Pack, and inventory management across all channels, with a centralized platform for core fulfillment and shipping operations and post-shipping apps for a delightful experience and zero to minimal supply chain leakages.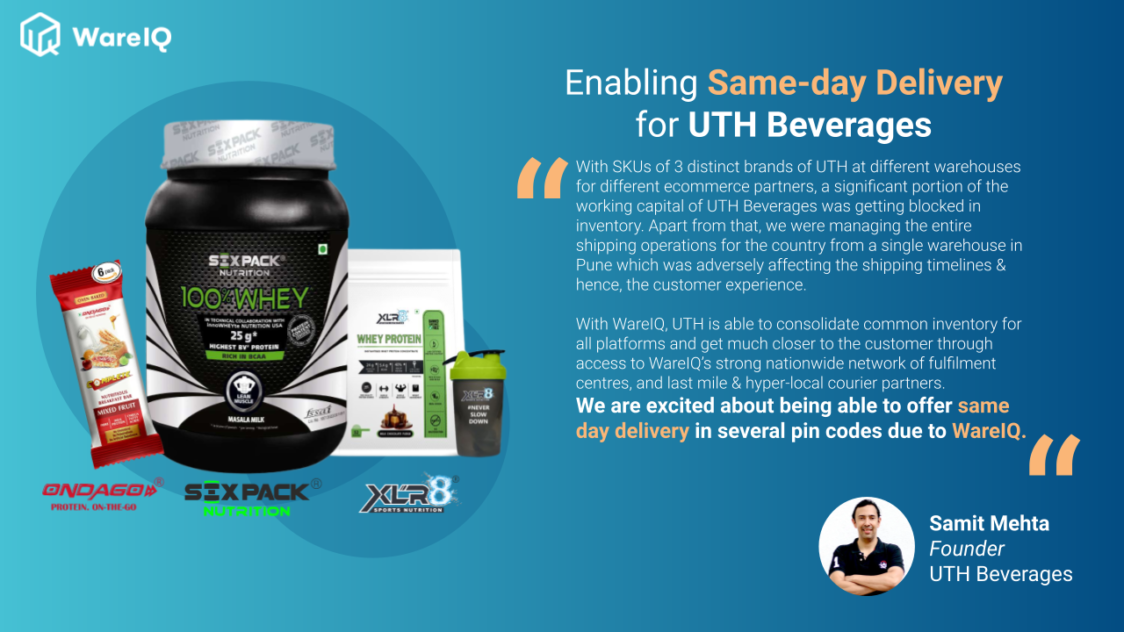 WareIQ has customised offerings for merchants experiencing different order volumes as well as having different delivery speed expectations. WareIQ is probably one of the very few fulfillment tech companies in the world that have same-day delivery service for their customers under their product "WareIQ RUSH".
WareIQ's Ecommerce WMS, a centralised tech platform helps to better manage undelivered orders by reducing NDR processing time by 12 hours – a multifunctional NDR dashboard helps to track and take immediate action for undelivered orders in real-time, thereby reducing RTO by up to 10%. Automatic retail replenishment recommendations and easy purchase order creation capabilities on the WareIQ platform further empower eCommerce companies to leverage all possible ways of increasing their ROI.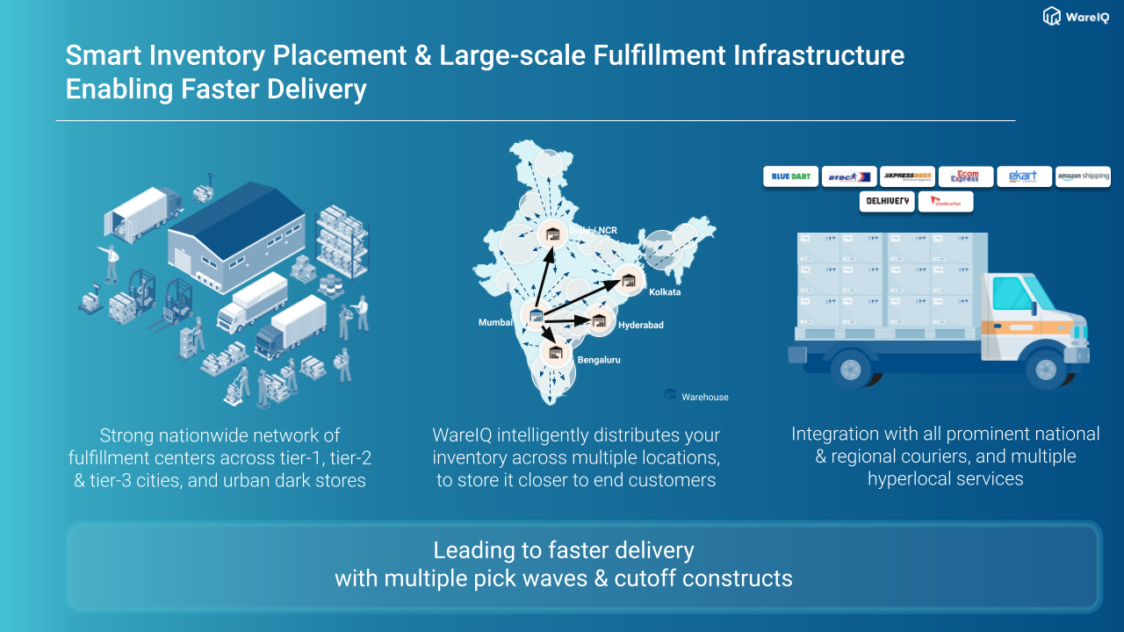 Are you eager to know more about WareIQ's offerings if you sign up now? Find the features of the best-in-class, category-defining fulfillment services for eCommerce & D2C brands below:
Pan India Fulfillment & Darkstore Network: Plug-and-play fulfillment infrastructure with no minimums, which is compliant with Amazon Seller Flex, Flipkart Assured, Myntra and other marketplaces
Inventory & Network Planning Excellence: Best-in-class AI models for sales forecasting, product segmentation, and inventory management to reduce inventory by 40% and increase revenue by 10%.
Vertically Integrated Fulfillment Tech Stack: Our Fulfillment Tech Solution supports integrations with 20+ top marketplaces & D2C platforms, and prominent national, regional and hyperlocal couriers, enhancing reach by covering deliveries for 27,000+ pin codes
Supply Chain Productivity Applications: Integrate a host of supply chain productivity apps with a single-click to your existing CRMs, ERPs & accounting software to manage your logistics workflows from one command center. Use Apps like RTO Shield to get 100% RTO protection, Branded Tracking to turn your order tracking page into a profitable marketing channel, and many more.
Trusted by 300+ top Indian brands, we are helping them accelerate online sales and expedite their growth through a synergistic combination of advanced technology, robust fulfillment infrastructure & seller enablement services!WareIQ is backed by leading global investors including Y Combinator, Funders Club, Flexport, Pioneer Fund, Soma Capital, and Emles Venture Partner.
Retail Fulfillment FAQs (Frequently Asked Questions)