What is Direct Fulfillment? How is it Different from Amazon FBA?
eCommerce retailers are constantly striving to offer the best services to their customers at the most competitive rates to out-shine their rivals. There are many important decisions to be made, especially in terms of order fulfillment because that is the most visible aspect to the customer and they get to experience it first hand. There are many different methods of order fulfillment and today we take a look at one of the more unconventional ones – direct fulfillment. Read further to understand what it is, how it works and if it would be the right fit for your business.
What is Direct Fulfillment?
Direct fulfillment is the process of shipping goods ordered by a customer directly, using the company's own facilities and resources, and not relying on a 3PL fulfillment company for any aspect of the fulfillment process. Another process is that wholesale sellers make a large number of product purchases, obtained from the producer, after which separation of the goods into distinct categories occurs, in order to sell to retailers. The distributor then sells the products to the end consumers. This is known as Indirect distribution.
Fulfillment By Amazon (FBA) is a service provided by Amazon that helps their clients with storage, packaging, shipping guidelines, and other aspects of the fulfillment process. This reduces the burden on sellers. Sellers ship their products to an Amazon fulfillment center, where the products are stored in warehouses, according to their demand, expiry date, etc. The products are then shipped whenever they are needed. When an order is placed, the employees in Amazon are always physically getting ready to prepare, package, and ship the products.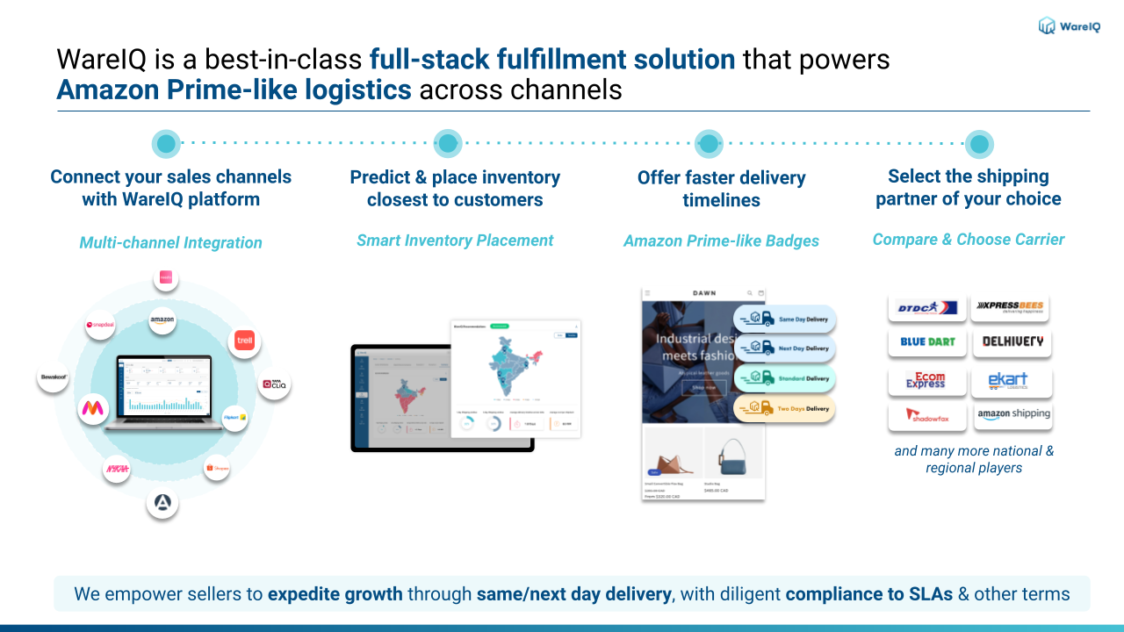 What are the Benefits of Direct Fulfillment?
There are many benefits in the process of direct order fulfillment, especially during the inception of an online retailer, where customers would be fewer and demand would still be on the lower side. A few benefits of direct order fulfillment are
Ability to consolidate important information on client purchasing habits.
Ability to separate yourself from the competition.
First-hand look as to the performance of certain products and client feedback
Faster supply of your goods to your customer's
Removal of payments and credit to a third-party distributor
Direct relationship with your clients
Expanded number of ASINs
Buy request no needed
Unavailable assurance
Hassle-free reverse logistics
No outbound delivery costs
How do I get started with Direct Order Fulfillment?
Direct order fulfillment starts with the following steps:
The online retailer gets client requests and orders.
The company checks stock and by the same token, acknowledges or dismisses the order request.
The company initiates the fulfillment of each order from the area allocated by Amazon (commonly a stockroom) and drops the request if they don't have stock in that area.
The company satisfies the order request by utilizing the chosen transporter and transport strategy during the arrangement.
If you are currently an Amazon vendor
1. If it's not too much trouble, record a help case in your Vendor Portal mentioning the desire to be set up on Drop Ship Central and Direct Fulfillment.
If you are not currently an Amazon vendor
Train your onboarding contact that you would like the "DF (Direct Fulfillment)" box checked during arrangement on Vendor Central
During the Vendor Central arrangement process, you will get a challenge to pursue Drop Ship Central, the administrative entry for dealing with your immediate satisfaction queries.
As a component of the guided setup process, you will be asked to (1) pick your conveyance name preference (utilize Amazon's transportation mark as opposed to giving your delivery name); (2) provide your fulfillment warehouse data; (3) provide your hours of operations, occasion, and termination plans; and (4)select a transporter.
In around 48 hours, you will get the last guidance to transfer your stock feed data into Drop Ship Central.
What are the Advantages and Disadvantages of Direct Order Fulfillment?
Advantages Of Direct Fulfillment
You can oversee your own branded shipping, stock, and orders.
As long as you have the space, can print address names, pick and pack, and stand in line at a mailing station, you can satisfy orders on your behalf.
It functions reliably, assuming your clients are nearby, the operations are sensible, and the transportation costs are negligible, particularly when order volumes are relatively low.
Rather than most 3PLs, you can store and transport transitory or perishable merchandise, such as blossoms or lithium batteries.
You can be located closer to your clients since this choice accompanies more client contact.
Disadvantages Of Direct Fulfillment
This strategy requires a lot of staff to oversee customer service and other eCommerce fulfillment processes. This is likely removing diverting your attention away from developing the business.
You need to have adequate warehouse space to store items.
To ensure quick international shipping, would require a lot of capital and resources than partnering with a 3PL fulfillment company.
Human blunders can happen when orders expand in size and complexity, particularly on the off chance that you are not utilizing automation to assist in dealing with your stock.
Read our blog about Seller Fulfilled Prime to get a better understanding of other services Amazon has to offer.
What are the Main Points to Keep in Mind while Choosing Direct Fulfillment?
Fulfillment companies new to direct order fulfillment and multi-level marketing (MLM) organizations might battle with one or more of the extraordinary prerequisites needed to successfully serve their customers.
Nature of Business
Retailers with expanding business operations are best suited to benefit from direct order fulfillment. Such businesses have the monetary means and available manpower to take on the process of fulfilling customer orders on their own, without needing to bank on Amazon's fulfillment services. Retailers that seek to reduce their order fulfillment and logistics costs can do so by distributing to customers directly and don't need to pay any fees to a 3PL fulfillment company.
Reduced Delays
Retailers who rely on Fulfillment by Amazon frequently face challenges relating to inventory receiving times. The receiving process, which would initially take 5 days, can now take upwards of 30 days. This lengthy delay can severely reduce the availability of inventory. By independently taking care of order fulfillment processes, companies can make use of their entire inventory, which would result in an increase in sales.
Benefit to small businesses
Small businesses generally find Fulfillment by Amazon to be a useful tool and can adopt Amazon's offerings as their main fulfillment strategy with Direct Fulfillment as a backup. Retailers who make use of Fulfillment by Amazon have access to standardized shipping devoid of any hassles. Amazon takes care of the storage of inventory, packing, and shipping aggregation for all orders that come in. Smaller businesses can also use direct order fulfillment as a backup option to transfer more of their products.
Fulfillment by Amazon (FBA) vs Direct Fulfillment: What are the Differences?
Given the benefits, it shouldn't shock anyone that most third-party sellers on Amazon utilize its Fulfillment by Amazon (FBA) service. With FBA, sellers' items automatically qualify for Amazon Prime and Super Saver Shipping. They can likewise exploit Amazon's customer service experience, and this all means acquiring more deals than contending with non-FBA sellers.
Notwithstanding, not all that sparkles is gold. Amazon's FBA has its disadvantages as well, and numerous sellers frequently select to deal with this aspect of eCommerce logistics themselves.
If you're a third-party seller deciding on direct order fulfillment, you might need to enlist external assistance to help you in dealing with the logistical portion of your business. Fulfillment, direct or otherwise, has become well known and has progressed as necessities have ascended over the last ten years. Innovation is a major tool in terms of dealing with the entire cycle and monitoring individual shipments as well as the stock in the warehouse. For the vast majority of businesses, the goal is to get to the same level of assurance that Amazon Prime offers in terms of reliability and quality.
The differences between direct fulfillment and FBA are listed below:
| Direct Fulfillment | Fulfillment by Amazon |
| --- | --- |
| In supply chain management, the consumer's orders are supplied directly to the end customer. This is known as direct fulfillment. | The process is taken up by Amazon, which helps the customer with storage, packaging, and shipping guidelines to sellers is known as Fulfillment by Amazon. |
| Direct fulfillment is the process of shipping the goods ordered by the customer directly to the same customer. | The products are shipped whenever they are needed. During the placing of an order, the employees in Amazon are always physically getting ready to prepare, package, and ship the product(s). |
| Human blunders can happen when orders expand in size and complexity, particularly on the off chance that you are not utilizing programming to assist with dealing with your stock. | You generally have a deal accessible to the client. Adding these items to your Direct Fulfillment inventory will give you unavailable assurance. This won't affect your ongoing orders. |
Conclusion
Direct order fulfillment facilitates your enterprise to manage expenses and mitigates dangers while at the same time enhancing your capacity to serve customers. You get all the recognition for providing professional services but conversely, you also get all the blame if something goes wrong. It is a primary step and doubtlessly, a hard one. If you feel that your business needs to outsource its fulfillment requirements to a 3PL company, WareIQ can definitely be of service.
WareIQ, a Y-combinator backed startup, has rapidly grown to be the leading full-stack eCommerce fulfillment company for some of the most reputed brands in India. WareIQ offers a full-stack platform for eCommerce companies to enable same-day delivery and next day delivery to customers – an Amazon Prime-like experience but accessible to everyone.
WareIQ manages the entire range of complex operations in the eCommerce fulfillment process, such as inbound functions like scanning and quality check, 100% accurate Pick and Pack, and inventory management across all channels, with a centralized platform for core fulfillment and shipping operations and post-shipping apps for a delightful experience and zero to minimal supply chain leakages.
WareIQ has empowered brands to sell more, sell faster & sell everywhere due to:
Access to WareIQ's strong nationwide network of fulfilment centres, micro-fulfillment centers & urban dark stores near their customers
Access to all major national & hyperlocal last-mile courier services at discounted rates for making same/next day deliveries possible
Easy integration across multiple online platforms & marketplaces enhancing multi-channel selling

Horizontal marketplaces: Flipkart, Amazon etc.
Vertical marketplaces: Nykaa, Myntra etc.
D2C platforms: Shopify, Magento, WooCommerce etc.
Social commerce platforms: Bikayi

Access to a superior centralised tech platform for eCommerce operations

ML-based prediction engine for efficient warehouse network design & smart inventory placement
Centralised platform for core fulfilment & shipping operations
Post-shipping apps for delightful experience & zero to minimum supply chain leakages (Branded tracking page with smart marketing placements; Trigger-based updates & smart communication platform)
WareIQ has customised offerings for merchants experiencing different order volumes as well as having different delivery speed expectations. WareIQ is probably one of the very few fulfilment tech companies in the world that have same-day delivery service for their customers under their product "WareIQ RUSH".
With world-class WMS functionalities, WareIQ handles the entire range of intricate operations in the eCommerce fulfillment process, ranging from Inbound Operations such as scanning and quality check, through 100% accurate Pick and Pack, to Inventory Management across all channels. At the same time, WareIQ customers realise significant cost savings and wider reach due to better negotiations with shipping partners, strategically placed warehouses, economies of scale and scope in warehousing and data-driven decision making.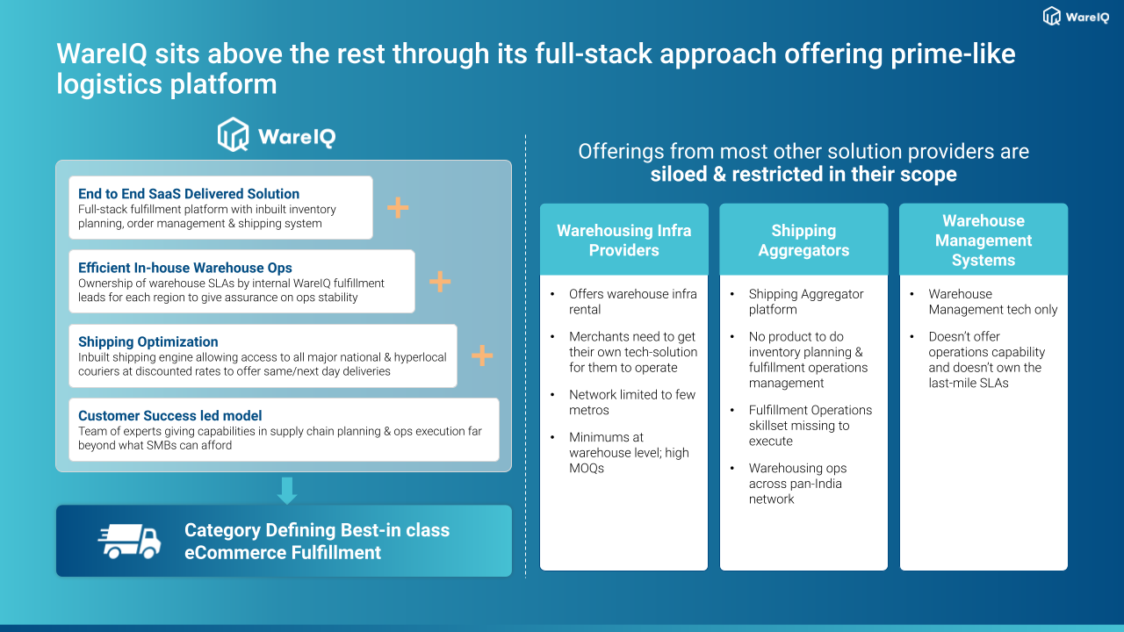 300+ brands, such as The Man Company, Future Group, Kama Ayurveda and Wingreens Farms, have trusted WareIQ as a reliable partner in their growth journeys. No minimum order quantity requirements make it suitable even for small businesses, having low order quantities, to take advantage of the latest trends such as next day delivery and same-day delivery. The onboarding process is simple, convenient and less time consuming, while the pricing policy is clear and transparent. WareIQ also undertakes strict safety precautions at its warehouses and complete ownership of the operations, thereby minimising the risk exposure of WareIQ customers.
Thus WareIQ will definitely prove to be a more reliable and trusted long-term fulfillment partner compared to dropshipping and conventional 3PL companies.
Sign Up Now with WareIQ to avail our superior fulfillment tech platform & enhance your online business growth.
Direct Fulfillment FAQs (Frequently Asked Questions)