What is Fulfillment by Amazon (FBA)? How Does FBA Work in 2023?
Fonts must be clear.
Labels must not be faded.
A direct thermal or laser printer must be used.
Only certain types of packaging material are allowed ….
And the checklist on how to prepare inventory for FBA or Fulfillment By Amazon goes on and on.
Amazon ships 35 items a second and that's because FBA runs like a well-oiled machine. But it can be a mind-boggling overload of instructions and information for vendors. Failing to comply with FBA preparation requirements may result in being charged for non-compliance, and products being returned, disposed of, or blocked from future shipments. And that's not a situation any vendor wants to be in.
A fulfillment center for FBA prep services can lift the weight off your shoulders.
Using the right service, like the one offered by WareIQ for instance, will ensure your inventory is prepared according to Amazon's regulations and standards and delivered to Amazon. WareIQ is a software-only platform that connects and centralizes a nationwide network of fulfillment centers and last-mile couriers partners.
Once products are sent into a fba prep service, you can focus on other aspects of your business, like sales, marketing, and scaling up for instance! Let's first understand what is FBA & how it works in 2023.
What is Fulfillment by Amazon (FBA)?
The Fulfillment by Amazon (FBA) program offers sellers the ability to ship products directly from Amazon to their customers worldwide, saving them time and money and providing more flexibility in their selling practices. It helps sellers with storage and packaging, too.
How to Register Your Business on Amazon FBA?
To register as an Amazon seller, go to the Seller Registration page and click the ' Register Now ' button. During the Amazon seller registration process, you will need to provide basic information such as the business entity's name, the company's address, and the company's phone number.
You should register as a Limited Liability Partnership (LLP), One Person Company (OPC), or Private Limited Company (PLC) when becoming an Amazon seller partner, as these entities offer limited liability protection and are simple to start.
Business promoters who sell products through online eCommerce platforms like Amazon could theoretically be sued or held liable by vendors/customers. Hence, it is important to have limited liability protection. Either the entity's name or the proprietor's name should be entered.
Contact details: Office address and phone number
Registration requires you to provide the entity's registered office address or business address and a phone number, which can be a mobile phone number, for voice calls or SMS verification.
GST registration information
GST registration is not required for sellers selling certain products not covered by GST. However, all other sellers selling products for which GST is applicable must provide a GSTN number to begin selling their products on Amazon India.
Amazon India requires potential sellers to provide the following information regarding their bank account to complete the seller registration process:
Bank Account Holder's Name
Bank Account Number
Bank IFSC Code
Account Type
Once Amazon receives the above information and the compulsory Amazon Partner Quiz is taken, you can start selling on Amazon India. A seller's dashboard on Amazon India offers complete information about listing products and managing listings.
WareIQ – Amazon-prime Like Logistics for Modern Brands in India
WareIQ, an eCommerce fulfillment company, empowers online brands with a superior-tech platform to compete with Amazon like service levels by bringing their average delivery timelines from 5-10 days to 1-2 days.
"WareIQ came to Gynoveda with a full stack fulfillment platform & gave Gynoveda access to a nation wide network of fulfillment centers & last mile & hyperlocal courier partners closer to our customers based out of North East & North India.

They made

same-day delivery possible

for us in metros.

"
How Does Amazon's FBA Work?
FBA on Amazon's platform is easy and direct. First, list all the products you want to sell on Amazon's marketplace. You will get a notification after a customer makes a purchase, requesting you to ship them the product. You may initiate the delivery of the chosen product to the customer and confirm shipment or allow Amazon to fulfill the order for you. 
After this, Amazon will credit the funds to your bank account after necessary deductions, such as its fees.
How Does FBA Work on Amazon?
In short, after you have been accepted to Amazon's FBA program, you will need to register Amazon's fulfillment center as an additional place of business with the tax authorities.
Then, you will need to list your products and unit quantities in advance to be fulfilled.
Prepare and label products or product lists and packages for shipping.
Ship the products to Amazon.
Amazon receives and stores product units in Amazon's fulfillment center.
Orders are shipped directly from one of Amazon's many fulfillment centers to the end customers.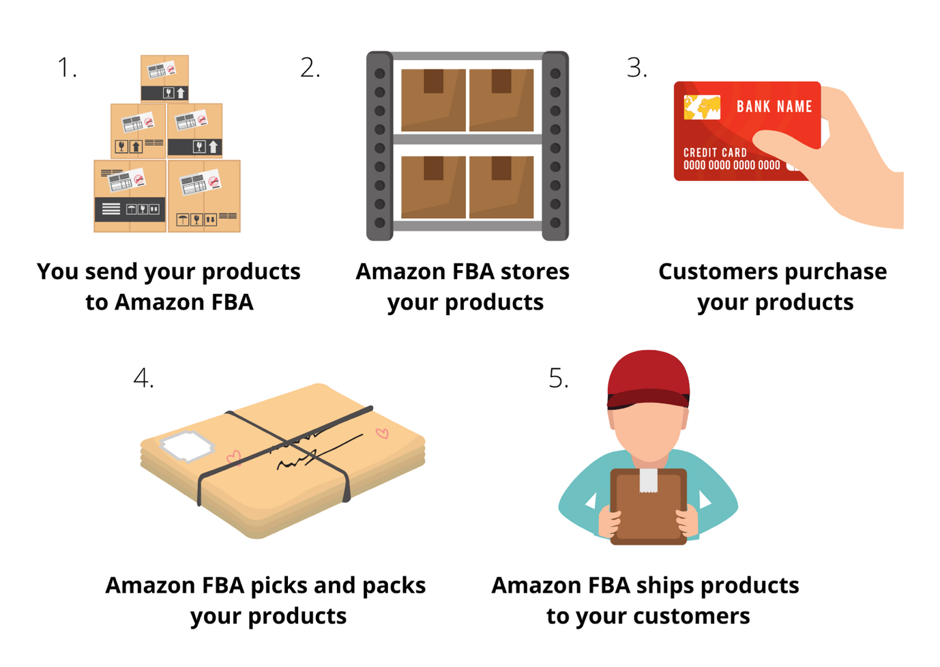 What are the Benefits of Using Fulfillment by Amazon or FBA Services?
FBA allows your products to be listed on Amazon and makes them eligible for several eCommerce-related benefits. Grow your business by putting Amazon's world-class fulfillment technology to work and delight your customers with excellent customer service.
Buyer and End-user Confidence
Having Amazon associated with the seller's products makes the buyer feel more confident and makes the seller more attractive to them. One benefit is having Amazon's name associated with the product. Most customers will appreciate Amazon's quality stamp, making them more comfortable buying from the seller.
Unmatched Customer Service
FBA provides excellent customer service and efficient delivery without charging the end customer. It also has a 24/7 support team that handles every aspect of selling – from recorders to providing customer service on the sellers' behalf. Amazon's customer service team also handles FBA sellers' product return management.
Lower Shipping Fees
Because of Amazon's relationship with shipping aggregators, sellers can offer shipping at a lower cost than if they delivered their items from their individual accounts. They can also offer free shipping.
Multichannel Fulfillment
Amazon's fulfillment centers allow FBA sellers to store inventory, ship it quickly, and manage stock outside their own marketplace across multiple channels. These warehouses allow FBA sellers to safely store their inventory in Amazon fulfillment centers, which efficiently ship products quickly from multiple channels.
Standardized Shipping Process
When a buyer orders an item from Amazon, the product is picked up from its inventory, suitably packed, and dispatched. The shipping process is standardized – customers' orders are dealt with in the same way for all products, whether they are Amazon products or third-party FBA products.
Wide Product Range
Sellers can scale operations more flexibly without investing in an additional warehouse when selling with Amazon, as it can handle a wide selection of products and large volumes without a lot of growing pains.
Amazon fulfills the following categories of products:
Books
Beauty
Consumer electronics
Cameras
Video games
Digital accessories, such as mobile and PC accessories
Jewellery
Luggage
Mobile phones
Movies
Personal care items
Appliances
Toys, etc.
No Minimum Cut Off Required
FBA does not require a minimum number of items to use it.
Side Hustle
In today's world, one of the key reasons people are setting up eCommerce businesses is to earn passive income by outsourcing major business tasks to Amazon. You can automate the rest of the processes by using Amazon software. Income can be generated from anywhere in the world.
Huge Storage Space and End-to-end Order Fulfillment
Amazon outsources space for storage. This means you can store your inventory in Amazon's fulfillment centers, and they will fulfill your orders on your behalf – you won't have to worry about order fulfillment. In contrast, if you choose the Fulfillment by Merchant option, you'll have to bear the cost of storage and shipping. These costs can be cumbersome, especially if your business has a small budget or no space for storage.
Massive Customer Base and Great Brand Image
There are over 300 million active buyers on Amazon. Selling on the platform gives you access to all these people. FBA will also boost your chances of increasing sales through branded shipping. You will be selling products with the Amazon logo and packaging material, making customers instinctively trust you and they will be more inclined to buy from you.
Ease of Use
Amazon FBA is the best option in terms of convenience – you don't have to handle a shipment, dispatch an order, or deal with packing materials, returns, or customer service issues.
What are the Expenses Associated with Fulfillment by Amazon (FBA Fees)?
FBA (Fulfillment by Amazon) fees charged by Amazon are:
Standard Seller Fees: About 15–18% of a product's price becomes the seller's fee. Amazon charges 15% on certain products. However, hidden costs – for example, refunds – increase the overall charge to the seller.
Fulfillment Fees: Fees are determined by unit size, shipping, service, handling, and purchase returns.
Referral Fees: This is paid for each item sold and can range from 8–15% based on the product category, such as consumer electronics, home/garden, and personal computers.
Storage or Inventory Fees: These are charged depending on the product size tier, the average volume per day, and the calendar month. Besides monthly inventory fees, Amazon fulfillment centers charge for inventory units kept for more than one year, called storage fees. The FBA dashboard's reporting section allows you to see what fees you're paying to Amazon as part of the FBA program, which covers settlement fee reports and stranded inventory reports. Amazon keeps it transparent, which helps calculate costs associated with FBA and make important inventory decisions.
International Shipping: Using FBA, with Amazon's 150 million square foot storage space and over 29 million units shipped worldwide, sellers can now export their inventory globally. Amazon offers domestic and international shipping options by air and ocean shipping modes.
Fees are charged for these services provided by Amazon for individual accounts. Your products are stored in Amazon fulfillment centers, with increased visibility on Amazon. It picks and packs your products when a customer orders them, ships your products to them, and offers support for Amazon-sold products. Read our article on logistics costs to understand what they are and how to mitigate them.
Suggested Read: How to Choose the Best Amazon Pricing Strategy?
Why Should You Choose Fulfillment by Amazon?
International Shipping: FBA allows the seller to receive inventory that originated in another country, and sellers will have to arrange the customs clearance and other paperwork and arrange for the delivery shipment to the Amazon facility. This changes the game for international product shipping and eCommerce fulfillment.
Your products are sent to a district Amazon warehouse, which will be decided by Amazon.
Amazon reserves your stock in its warehouse following all safety protocols.
Once a customer makes a buying decision, Amazon handles the entire process, from payment to inventory updates and customer support, including dealing with returns and refunds. Amazon credits the profits you receive from your sales every two weeks into your registered bank account.
Essentially, Amazon FBA mimics having your own storage space, packaging unit, and logistics partners, providing the same benefits.
Amazon takes care of dispatching orders and handling all email correspondence from your customers, including informing them when their order has been shipped and when it will reach the end customer.
It takes credit card payments and handles shipping for you as well – all you must do is provide the products.
Amazon's Brand Advantage and Reputation: Amazon is a world-renowned and trusted brand. Orders from Amazon are guaranteed to be delivered. Also, customers love the return policy. This is a huge factor in making a purchase decision.
Super-fast Delivery: Sellers can ship products to their customers more quickly because Amazon offers a superior, technology-driven online ordering system that provides faster processing and delivery of products and also provides fulfillment status information and tracking facilities for both the buyer and the seller.
This provides a better ranking on the Amazon website and better visibility of products. When a seller isn't using FBA, products show the total price (the price and shipping costs together). However, FBA sellers show only price, which is lesser than other sellers, enabling them to rank higher in the search results. Read our blog on micro fulfillment centers to understand how they can contribute to super-fast delivery.
Reduction of Overheads: FBA makes it possible for you to focus on increasing your sales and profits without worrying about staff, storage, or administration.
Increased Productivity: The biggest benefit of this program is a surge in productivity. In this way, you can spend time improving your business rather than chasing after returns, inventory management, packing, and transportation of products.
Flexibility to Run Your Business Anywhere: Regardless of where you live, you can earn consistent income as a seller with FBA. Your orders will be handled by Amazon 24 hours a day.
Fewer Customer Queries and Customer Service: With FBA, Amazon handles your customer service. A buyer can contact Amazon's customer service department if they have a problem with their order rather than you. You'll avoid unnecessary stress and frustration by not needing to speak directly with customers.
Amazon Prime: Another feature is that products sold via FBA are automatically eligible for Amazon Prime. When a business becomes a Prime-eligible seller, it can also sell to Prime subscribers, which can double their sales.
Vast network: Amazon currently operates in India through several technologically advanced fulfillment centers across Maharashtra, Karnataka, New Delhi, Haryana, Tamil Nadu, Gujarat, Rajasthan, Punjab, Telangana, and West Bengal. Amazon has end-to-end, advanced fulfillment solutions along with a massive network.
Great Partner for Business Expansion: As an example of how Amazon FBA can be beneficial to you, consider the following situation: you have conducted your research, sourced your products, and have two or three hot items all selling well on Amazon. Your business is definitely doing well.
As a seller, you are probably thinking about buying more stock at this point, but you lack the storage space to store it. You are also concerned about how long it will take you to dispatch more orders.
Amazon FBA can do wonders for you to expand the business and ship products to almost any geographic location.
Seamless, End-to-end Fulfillment Service: As Amazon's Fulfillment Service is designed to be so seamless, customers usually aren't aware that they are buying from a third-party seller using Amazon FBA. It is so streamlined that when customers purchase from Amazon, they will usually be completely unaware that they are buying from a third party.
Purchasing directly from Amazon and through Amazon FBA will be almost identical to each other, with the same delivery options, return and refund policies, and excellent service.
Therefore, as you might expect, this solution can be very beneficial to Amazon sellers and can certainly eliminate a lot of time-consuming tasks, but it will require effort to implement, just like any other business strategy.
By using the Amazon fulfillment network, Amazon has solved one of the biggest problems in the eCommerce industry: how to make the eCommerce shipping process easy, quick, and simple?
Wow Factor: Amazon FBA is a great service, especially for those who want to avoid the hassle of managing their own distribution and fulfillment networks.
Customers trust products labeled "Fulfilled by Amazon" products. The "Prime" checkbox or the "FREE Shipping on eligible orders" note in the search results is what people look for when they're trying to meet Amazon's free shipping requirement.
Free Shipping: In the past few years, Amazon has built a great reputation for free shipping, and FBA allows you to use that to your advantage. Currently, free shipping is such an important part of Amazon's businesses that if you do not offer it (either through FBA or on your own), many people will look for a competitor that does.
Using FBA makes it easy to offer free shipping. Its shipping rates for products sold on Amazon will be much lower than your own rates, so you can offer free shipping to your customers. "Free" shipping is a way of life for many buyers now across all geographic locations.
Reverse Logistics: Reverse logistics is no more a hassle with FBA doing all the work, not to mention offering customer service and answering queries.
Amazon's "free returns" are not free to the business but only to the customer. If an item is returned through this service, the business must still pay a return processing fee. It's a lot cheaper than hiring a customer service team, but it definitely isn't free.
Ease of Use: Anyone can make FBA work for their business. It takes the hassle of dealing with shipping logistics or processing returns from customers away from the business so that one can concentrate on their main business. It does come with a few issues, but they can be calculated and worked out to be a plus for the business.
Therefore, looking at the huge customer base and great reputation that Amazon as a brand has built, the answer to whether selling products on Amazon is worth it is for you, as a business, to decide.
Related Article: What should you choose FBA or FBM?
Who are the Chief Competitors of Fulfillment by Amazon in 2023?
Online retailers are vying for customers in India, which is expected to become a $1 trillion digital economy by 2025.
Foreign-funded companies cannot hold eCommerce inventory in India at the moment. While Amazon had hoped that those rules would be relaxed, the proposed policy calls for harsher controls – even on the phantom sellers that Amazon and Flipkart use to circumvent the rules. That means the eCommerce giant and its preferred resellers will not be able to offer great discounts on its items.
These are Amazon's main competitors in India.
WareIQ
WareIQ is a startup founded recently in 2019 but has quickly grown to be a great alternative to Amazon's FBA. It combines the latest software technologies and platforms to give the customer a great fulfillment experience.
The low cost and transparency of same-day and next-day delivery make it accessible to everyone. WareIQ provides its customers with a nationwide network of fulfillment centers and ecommerce warehouses close to their location. Moreover, it has tie-ups with numerous couriers, making same-day and next-day delivery cheap and possible for all customers, whether large-volume or small-volume.
With the latest cutting-edge technologies and platforms, WareIQ's WMS offers:
Shipping management services

Printing of labels and packing services in a technologically advanced manner to make it easy to use for any seller
Latest technology to handle failed deliveries and redeliver them
Order management services

Services to point out where exactly the order is, which phase it is in, and its estimated time of arrival
Inventory management services

WareIQ can disperse inventory boosting for speed, location, and low cost
Warehouse management services

It takes full ownership of the inventory and provides safety to the stock – a chief reason behind WareIQ's success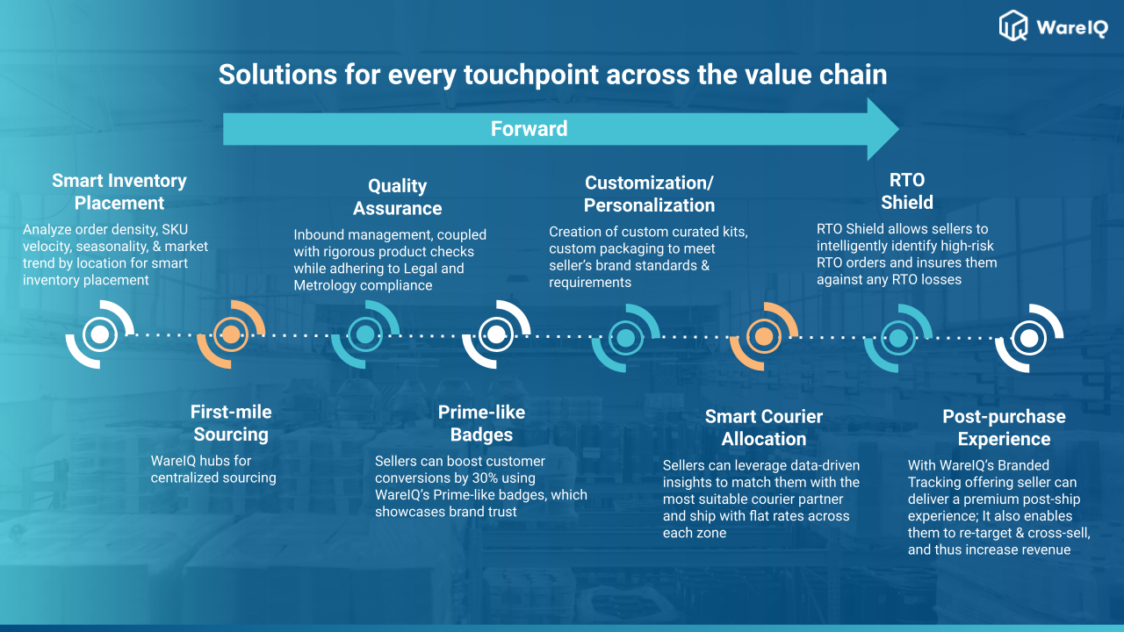 The WareIQ platform consolidates both national and local couriers, thereby cutting costs and increasing delivery time. This cut in cost is passed on to sellers, even those selling minimum quantities. This is a big benefit to small-scale and new sellers.
WareIQ RUSH is a same-day delivery program that has taken the fulfillment industry to another level. Even small eCommerce sellers can reap economies of scale, low costs, and high-speed delivery, however small the quantities shipped.
Many brands, such as Future Group to Kama Ayurveda, have trusted WareIQ as their fulfillment partner.
Flipkart
Amazon's biggest competitor in the Indian eCommerce market is Flipkart, which continues to grow. It was founded in 2007 and is one of India's leading online eCommerce sites. Amazon and Flipkart have similar business models. Flipkart's revenue is increasing steadily, with a reported 12% increase every year.
Plus points
Flipkart Fulfillment lets you utilize its latest state-of-the-art fulfillment centers at extremely low prices.
Inventory is stored with all safety procedures followed so that the business does not incur any loss.
Huge warehouses all across the country
Flipkart stores all inventory in warehouses, so sellers don't have to worry about their stock once it reaches Flipkart's fulfillment centers.
All stock and inventory are checked for quality.
Packaging and bubble-wrap
Flipkart makes sure that the products are packaged and sent to customers in proper condition.
ShipBob
ShipBob is a 3PL logistics and eCommerce fulfillment company that delivers orders with next-day delivery to brands that serve direct-to-consumer customers. It was founded in Chicago in 2014.
Plus points
With 2-day shipping at affordable prices, this company is transparent and affordable. It manages eCommerce fulfillment from start to finish, which is a huge relief for sellers.
The reason for its success is an easy API that integrates with the seller's platform, providing leverage in terms of speed as well as cost. The seller's platform can easily integrate with ShipBob's platform and use its highly advanced software to provide the best services to the end consumer.
The user interface is simple and provides ease of use
A large network of warehouses located in different locations
Providing order management services when a product is out of stock
Minus points
Its pricing is not easy to understand or calculate, which has been reported by a few sellers.
Customer support is not top of the line.
Cooling and refrigeration are not possible in ShipBob warehouses.
Deliverr
Deliverr, a San Francisco-based company founded in 2017, provides comprehensive solutions for small business order fulfillment. It provides a 2-day delivery service which has been a major hit with eCommerce logistics companies with a relatively smaller scale of operations.
Its goal is to provide customers with an enjoyable and hassle-free experience, including transparent pricing, seamless ordering, and a good customer experience.
It provides live data tracking feature which offers an accurate date of fulfillment. It also services direct-to-customer businesses with next-day delivery options.
Plus points
Pricing is transparent.
It provides adequate customer support to its clients.
Deliverr provides integration of its platform to the seller's eCommerce platform, providing the best services to the end customer.
Minus points
It does not provide international fulfillment services, only local services.
No telephone support is offered to customers.
Shopify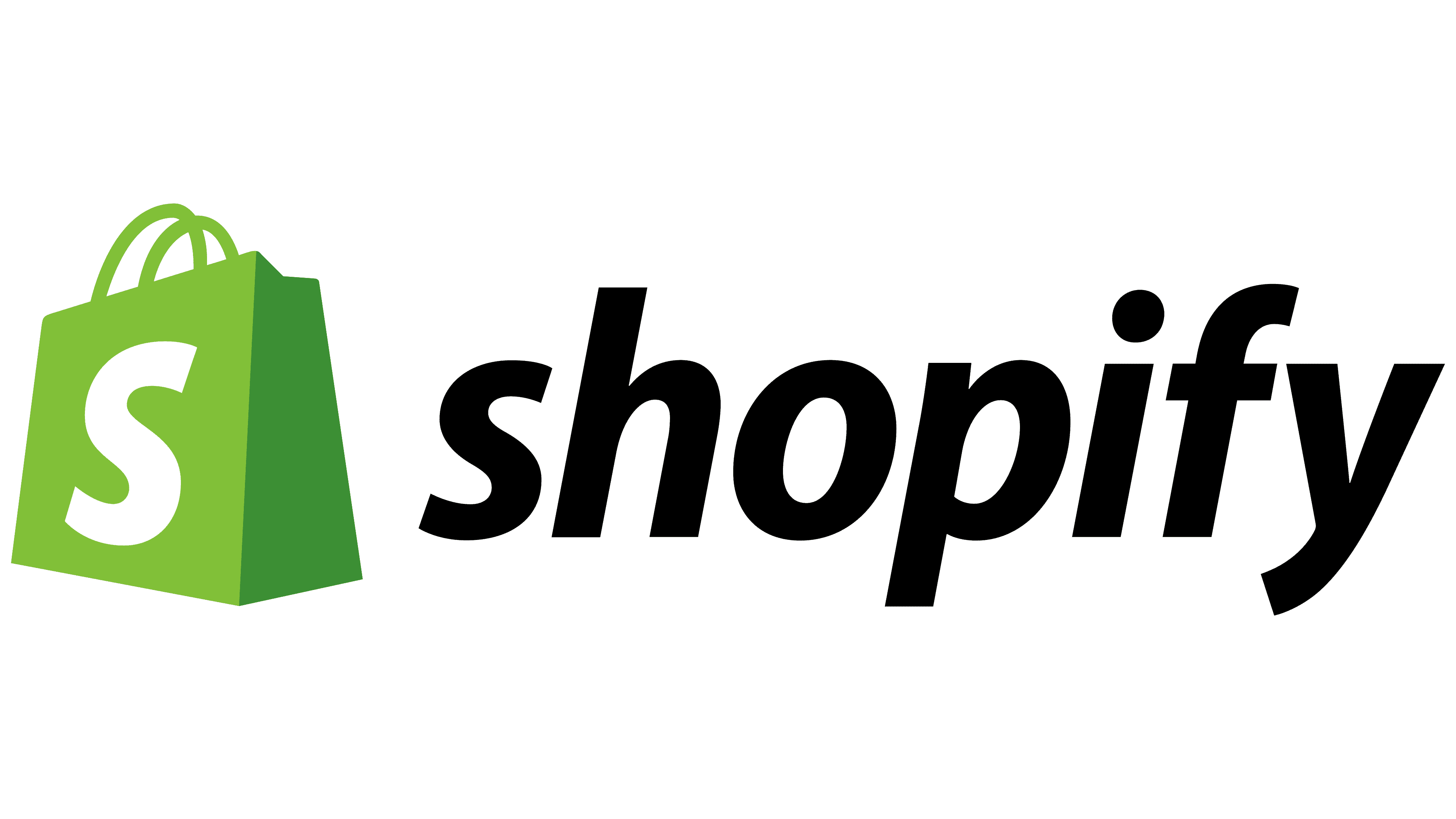 A multinational eCommerce company based in Ottawa, Canada, Shopify Inc. was founded in 1998.
Retail point-of-sale systems and eCommerce platforms for online stores are an added feature of Shopify.
Plus points
Shopify allows for creating a business and enabling its online operations from scratch. It helps you build a website from scratch, backed by powerful tools to find customers, create sales, and manage the business.
With Shopify's latest technologies used in its Point of Sale technology, selling products to anyone and shipping to any location is easier than ever.
Shopify is spread across 175 countries worldwide and has garnered a business of $200 billion, making it very profitable for small-scale and independent business owners to make profits using its platform.
Business owners and companies can easily manage orders, shipping, and other services from any location by using just one dashboard. Pricing is also managed from the same dashboard, making it a one-stop-shop solution.
Great customer support is provided by Shopify 24 hours a day, all seven days of a week.
Its powerful platform provides much-needed insights into the business, which is fully managed by Shopify Fulfillment.
JD
JD's B2C operation and logistics infrastructure are renowned. Approximately 1,300 warehouses spanning roughly 23 million square meters comprised the company's network as of September 30, 2021. The company is not only a competitor to Amazon but also Alibaba.com, as both of them offer bulk purchase options. It is the largest online retailer in China by revenue.
What are the Various Challenges of Using Fulfillment by Amazon?
Fees Charged by Amazon FBA
The cost of Amazon storage fees can add up if your inventory doesn't sell as quickly as you would like. To minimize storage fees, you should ensure your stock moves quickly, and you are generating sales, so you don't need to worry about additional fees. This is one of the major challenges of using FBA.
Amazon has revised their prices, effective from 10th May 2023, which has resulted in a marginal increase in their prices and has put undue pressure on sellers who rely on FBA for their fulfillment services. There is now an 18% increase in Pick Pack Fees, a 25% increase in Closing Fees, and a 25% increase in weight handling fees. Read more about the updated fee structure.
Labeling
Amazon will give you access to their guidelines on preparing and shipping your items once you register for Amazon FBA. The guidelines are very strict, and if the inventory is not properly labeled, it will be rejected by the warehouse. This can cause delays and frustration, besides extra work. Instructions are to be followed carefully.
Product Packaging Has the Amazon Logo and Not Your Brand's
Amazon FBA dispatches all orders using their own packaging. So, when your customers receive their order, the packaging will sport Amazon's branding, making it harder for you to build your unique reputation through brand awareness since your brand is not visible on the packaging. Therefore, if brand awareness is a crucial factor for you, you may not benefit greatly from FBA.
An Increase in Returns after Using FBA
Since Amazon's returns policy is so easy, there is the possibility of receiving a higher number of returns from customers once you use Amazon FBA. However, you can minimize this risk by always supplying quality products.
Sales Tax Issues
Using a fulfillment service like FBA makes calculating sales tax even more difficult. When items are sold and shipped directly, calculating sales tax becomes interesting enough. But with FBA, product items are manufactured, shipped, and sold in different regions, resulting in further complications in tax issues.
Inventory Management
You, as the seller, are responsible for keeping track of your FBA inventory and ensuring that it is restocked as needed. If you don't do this properly, you risk accepting orders that can't be fulfilled because the items aren't in stock.
Amazon Fee Structure
Amazon will deduct all fees owed to them before paying you, so you cannot use the next sale to pay for the last one. That means a seller will require a credit card to pay off all fees owed to Amazon, and these fees cannot be carried forward.
Product Handling Issues
You may lose or damage inventory in the fulfillment process, and most often, Amazon is the one who made the error, not you, the seller. In these cases, Amazon will reimburse you. Nevertheless, some cases might go unnoticed, and sellers' money is lost due to damaged inventory. Thus, sellers should keep shipping records in case Amazon short-delivers inventory.
Complicated Calculations Involved
In addition to the FBA calculator, Amazon offers a chart for its fulfillment fees for FBA sellers. A chart for fulfillment fees can be found on Amazon's website along with its FBA calculator, which allows you to decide if an item is profitable enough to sell on FBA or if you should use another method. This requires foresight and a lot of calculations. Not every seller is well-versed in these complicated calculations.
Strict Guidelines
The Amazon fulfillment centers have specific requirements for certain products (i.e., poly-bagging and bubble-wrapping) to ensure that inventory is in good shape. A per-item fee can also be charged for Amazon to handle the preparation for sellers.
Stickerless Merging of Similar Products
Amazon's default inventory setting collects the same products from a manufacturer at the same time, so if a seller sells the same product as another seller or retailer, the inventories will be mixed. This leads to low-quality products from different sellers mixing with superior-quality products, leading to fraud and account suspensions. You must be aware of this as a seller.
You can also read different alternatives to Amazon FBA.
Conclusion: Why is WareIQ a Better Option than Fulfillment by Amazon in 2023?
There are many ways in which Amazon FBA can benefit your online business without having to invest in expensive storage facilities and staff. However, these services can end up being quite expensive and may not offer the exact services that you are looking for. A company like WareIQ offers the same services as FBA, and much more, while also being flexible by giving customers a choice as to which services they need and allowing them to opt for those specific services only. In addition, we offer integrations with a multitude of the biggest eCommerce platforms such as Shopify.
WareIQ's prices for similar services are cheaper and more transparent than Fulfillment-by-Amazon with a negligible amount of hidden expenses. We utilise local resources which help to keep costs down.
WareIQ offers flexible solutions to labeling. You can either opt for your own custom packaging and labeling to increase awareness of your own brand or you can opt for our standardised packaging, which is well-designed and will make your product stand out from the crowd. All in all, it is a win-win.
You can opt for our entire suite of fulfillment services which includes inventory management. If you do, you will not need to bother about the hassle to maintain your inventory levels and keep track of what needs to be restocked as our custom management software will take care of everything.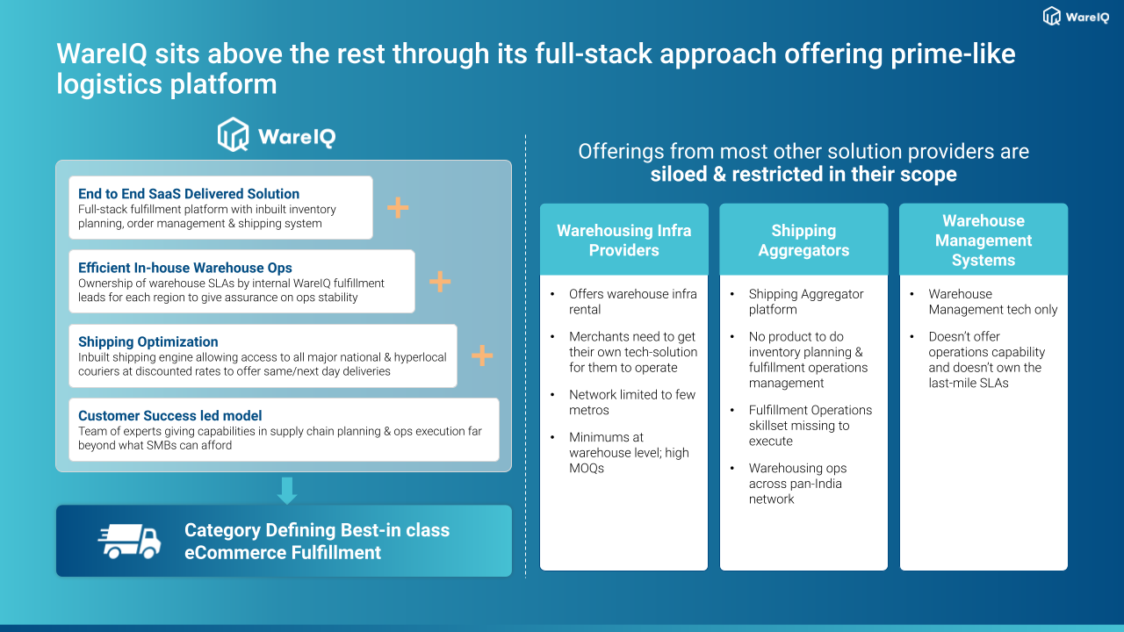 WareIQ has customised offerings for merchants experiencing different order volumes as well as having different delivery speed expectations. WareIQ is probably one of the very few fulfillment tech companies in the world that have same-day delivery service for their customers under their product "WareIQ RUSH". We also offer multiple services relating to the preparation of inventory to meet Fulfillment by Amazon requirements such as:
Pick & Pack by WareIQ: WareIQ's fully automated order fulfillment system guarantees efficient and accurate picking & packing and also has the capacity to fulfill 1 to 10,000+ orders each day. In addition to this, you are only chargeable for the services that you use. So if you ship only 1 order a day, you will only pay a pick & pack charge for that 1 order.
Amazon Product Compliance with WareIQ: Amazon has very strict guidelines that retailers need to comply with in order to avoid refusal, disposal, or return of inventory, and charges for noncompliance at the fulfillment center. WareIQ offers services such as repacking and labeling, to make sure that your products abide by all these regulations before it is sent to an Amazon fulfillment center.
Smart Tech by WareIQ: WareIQ's smart technology ensures maximum efficiency by offering API integrations, automated mapping of SKUs across multiple sales platforms, and the ability to bundle products without the requirement of tracking, regulating inventory levels, or handling fulfillment.
Hub & Spoke Transport by WareIQ: This important process involves the streamlining of the entire supply chain and results in the reduction of costs, across the entire process. Our most utilized service is the transport of inventory to our warehouse, relabelling of the product, and reorganizing it for delivery to multiple locations. We also take advantage of shipping discounts through consolidations and deconsolidations to ensure a seamless shipping experience.
Fulfillment by Amazon FAQs (Frequently Asked Questions)