How to Sell on Amazon? A Step-to-Step Guide for Beginners in 2023
Amazon is the largest eCommerce in the world and has changed the retail landscape forever. Because of its large volume of resources and access to highly advanced technology, Amazon often initiates trends that need to be followed by other eCommerce platforms in order to stay relevant. This is why it is the goal of many online retailers, regardless of size and scale, to sell on Amazon. There are many benefits associated with it and also a few things to keep in mind. Let's take a closer look in more detail.
Why Should You Choose to Sell on Amazon in 2023?
Experience Higher Levels of Growth and Exposure
Even though the advent of eCommerce marketplaces has given rise to multiple alternatives, choosing to sell on Amazon consistently enables brands to expand at faster rates than if they opted to join another eCommerce selling platform or sell on their own means. It also supplies retailers with increased levels of exposure to their target audience as well as potential customers in isolated or far-off locations.
Many eCommerce analysts suggest that opting to sell on Amazon not only provides multiple benefits but that it is also vital for the long term survival of the company. Amazon is a company that continues to grow at a rapid pace due to an increase in the number of people who have access to the internet and who are getting accustomed to shopping online.
Relatively Simple Process to Start to Sell on Amazon
Getting started with your journey to sell on Amazon is a relatively easy process for most retailers who are able to meet the necessary requirements and regulations. Specific product categories are susceptible to more scrutiny than others but this is generally the exception, not the rule. It is also in Amazon's interest to make the process as intuitive as possible to attract as many sellers as they can. The process in order to sell on Amazon is also far easier than setting up your own website, warehousing facilities and retail fulfillment processes. All you need to do is:
Create listings for all your offerings
Transport your inventory to an Amazon warehouse
Monitor the orders that come in
After you finish these aspects of the setup process, Amazon will take care of the rest. However, you will need to put in an effort to make your product stand out from the crowd and this can be done through attractive listings and pictures, branded shipping or discounted prices compared to similar products.
Tailored to Retailers that Have Exclusive Products and Stable Levels of Income
Choosing to sell on Amazon empowers budding eCommerce retailers with all the tools they need to sustain and accelerate their growth. By removing the burden of important eCommerce logistics processes such as inventory management and order fulfillment, Amazon enables businesses to focus on the core aspects of their business such as refining and marketing their products.
However, it needs to be said that all these services come at a price and would mainly benefit companies that can afford to give Amazon a significant commission, by maintaining profitability at a sustainable rate. It would not benefit companies that cannot afford to reduce their bottom line by giving a share of their profit to Amazon for their services.
Benefit from Customers Association with Amazon as a Household Name
When you make the choice to sell on Amazon, you automatically get access to millions of potential customers who already use and trust its services. Because of the extremely standardized nature of its offerings, customers associate brands who sell on Amazon with reliability, speed and quality and since your business is fulfilling orders through them, customers will extend that same association to your business as well. Amazon has strict quality control measures and will ensure that every order is delivered according to the estimated date and time and in the best possible condition.
Customers expect everything to be seamless and that is what your business will provide to them, through Amazon marketplace integration. When you sell on Amazon, you also get the benefits of Amazon's stellar customer service to make sure your customers are always satisfied, even if they have to deal with a minor issue or query.
Gain Access to the Amazon Marketplace's Advanced Technology and Automation
The Amazon marketplace is known for its use of advanced technology and automation from drones to state-of-the-art Warehouse Management Systems (WMS). Businesses who partner with them will also get access to these facilities, without needing to do any of the heavy lifting themselves. Oftentimes, small and mid-sized companies would not have access to the resources or budget to conduct research and development on how to advance their services so it is highly beneficial to them to be able to take advantage of technology that would enhance their business processes, mitigate any manual errors and increase customer satisfaction.
Read our blog on how to become a Flipkart Gold Seller to get more information on similar services to Amazon.
How Can You Start to Sell on Amazon? 7 Easy Steps to Follow
Registering on Amazon
The first thing you need to do if you want to register your business to sell on Amazon is to go to the Amazon Seller Signup Page and click on the "Register Now" option. This is a setup page and would prompt you to provide various details about your business such as the name of your company, office address and contact information such as phone and email.
Entering the Name of Your Organization
During the registration process to sell on Amazon, it is beneficial to register your business as one of the following:
Limited Liability Partnership (LLP)
One Person Company (OPC)
Private Limited Company (PLC)
This is due to the fact that these types of companies are covered under limited liability protection and involve an easy setup process. This is important because retailers that choose to sell on Amazon or any other eCommerce platform can constantly come under the scrutiny of litigation from customers or other sellers.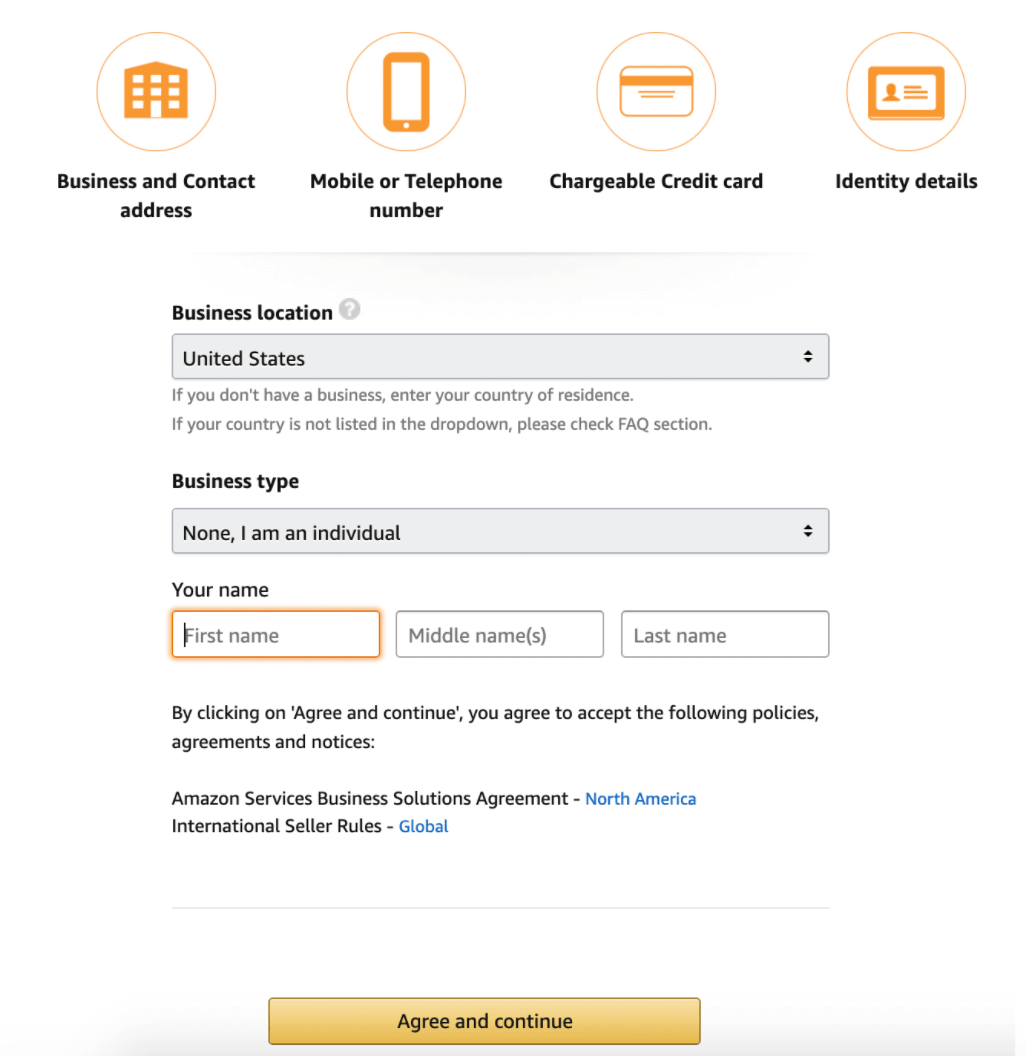 Entering Your Business' Address and Contact Information
You should provide the official office address of the company in the relevant field and also enter an active phone number that can be used for calls and SMS identification.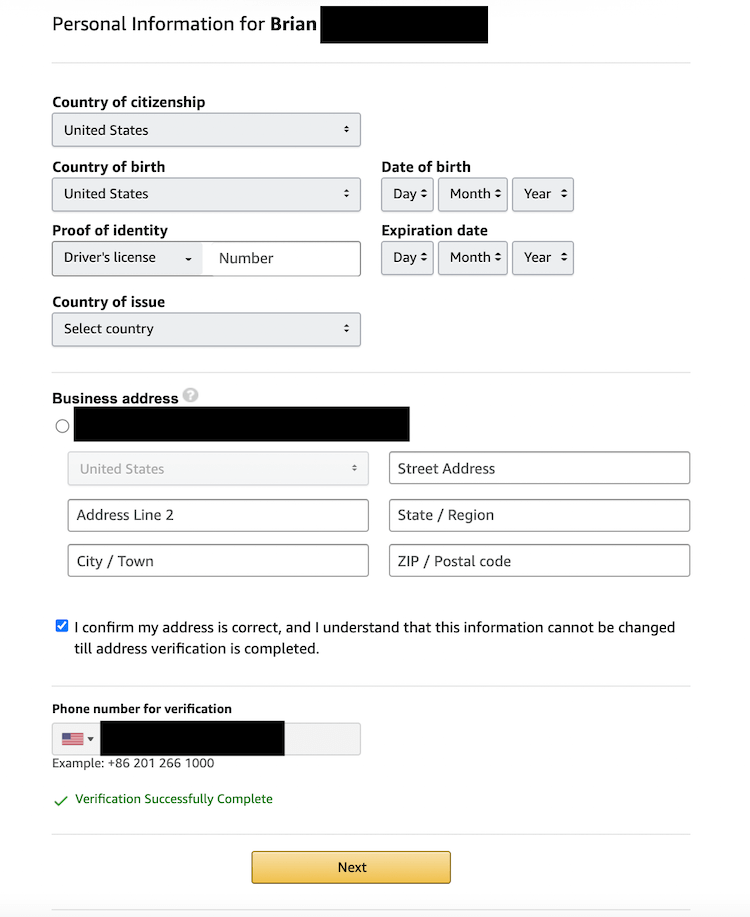 Entering Your GST Information
Providing GST information is only required for products that are bound by GST, which are the majority of products that are available on the Amazon marketplace. Products that don't fall into this category are exempt from needing to provide GST details.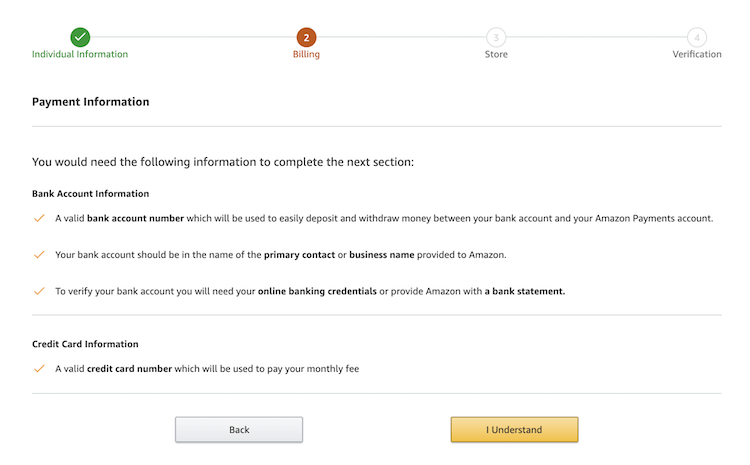 Entering Your Bank Account Information
Sellers who wish to register to sell on Amazon are required to provide the following information regarding the bank details of the relevant company:
Account Type
Bank IFSC Code
Bank Account Number
Bank Account Holder's Name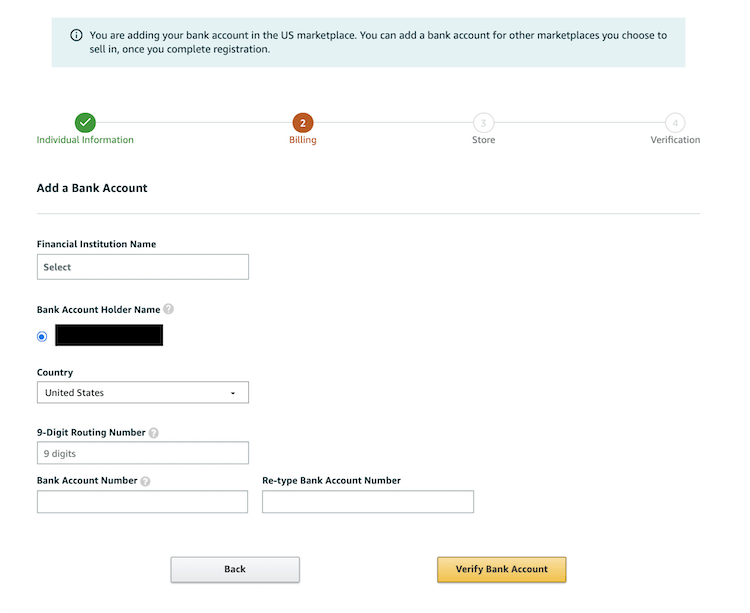 Listing of Available Products
Post filling out the necessary information, potential sellers will have to participate in a compulsory Amazon Partner Quiz. After this, they can begin to sell on Amazon. Products will then have to be listed with detailed descriptions, pictures and accurate information regarding dimensions, features and pricing which can be done on the Seller Dashboard.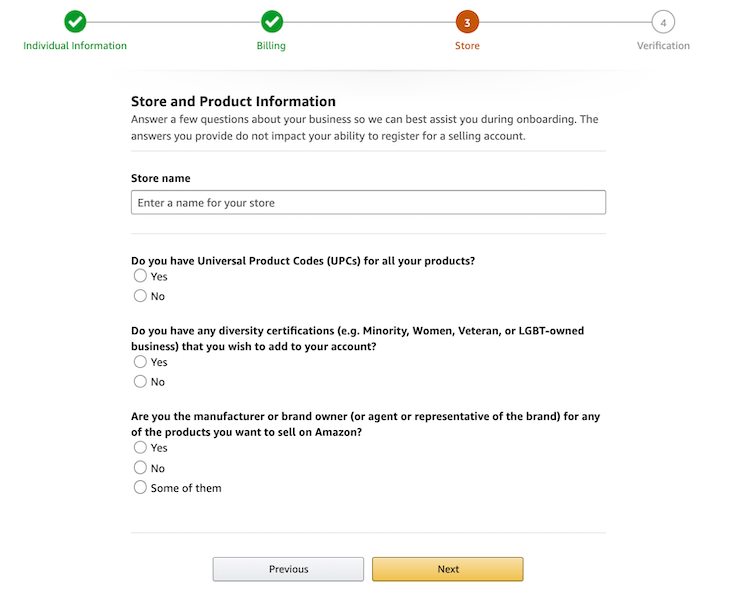 Post Setup Process
If a customer shows interest in one of your products and ends up making a purchase, you will get an alert with all the details, prompting you to ship the order. You can then either start the delivery process of the ordered product on your own through Fulfillment by Merchant (FBM) or allow Amazon to fulfill the order on your behalf through Fulfillment by Amazon (FBA). They will deduct their commission and transfer the remaining amount to your listed bank account.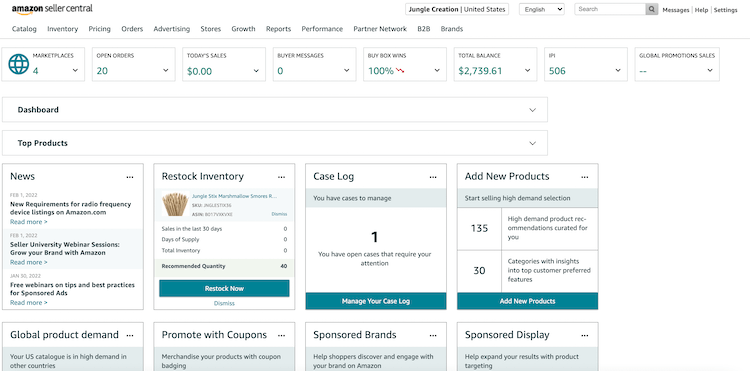 Alternatively, you can also read how to sell on amazon without FBA.
8 Best Strategies to Benefit the Most from Selling on Amazon in 2023
Come up with a Detailed Business Strategy
It is important to chalk out a detailed plan for anything that you seek to accomplish and this holds true in order to successfully sell on Amazon. Important aspects to achieving a suitable business strategy would be:
Core short term and long term goals for the company
Analysis of potential customers and target markets
Research and development of products
Marketing strategies
Sales figures in terms of units
Estimation of logistical, production and operational costs
Setting a profit margin
It is also necessary to identify trends in the market, keep a close eye on your competitors' products and strategies and have a clear picture as to what kind of products you want to sell and what kind of customers you'd want to sell them to. Another thing that we recommend is to come up with a detailed list of schedules and relevant activities in order to streamline every process that would ultimately have an impact on your bottom line.
Identify Your Place in the Market
Opting to sell on Amazon is no easy task as there are a vast number of retailers and offerings that would often overlap with your business model. It is important to identify where your products fall in terms of price and visibility, in comparison to your rivals. To achieve this, you need to constantly examine the indicators that would have an impact on your space in the market so that you stay ahead of the curve and be the dominating seller in your segment.
Provide Exciting and Descriptive Product Titles
Product titles are one of the first things that a potential customer will interact with, on the journey to getting them to make the purchase. Just like your product itself, you need to enhance and refine your title so that it will stand out amongst a sea of other products. The general consensus to come up with the best listing titles is to follow a simple hierarchy which is as follows:
name of the brand
name of the product
descriptive elements such as colour, dimensions, use case etc.
If you follow this method, your title can rank highly in terms of keyword searches and customers will have a concise way of identifying your products.
Provide High-Quality Photos
Making sure that the photos on your product listing pages are high resolution and are able to encapsulate the positioning of your product is crucial. It can have a drastic effect on the perception of your products by customers. In this day and age where phone cameras are more than capable of taking high-quality photos, it isn't hard to put in a little effort to make sure that your product stands out in its images. There are a few tricks that you can follow to get good shots:
Take pictures of your product in its real-world use-case
Highlight your product from all angles
Use a tripod to avoid shaky or blurry images
Use a subtle background that doesn't overshadow the product
Avoid using flash
Make Sure Your Inventory is Synced
If you sell on Amazon in addition to multiple other channels, you need to make sure that your inventory is synced across all of them to avoid any confusion regarding orders and available stock levels. You will also be able to seamlessly edit listings and orders that will reflect across all platforms, which will save you time and effort.
Focus on Relevant Keywords
Keywords are a very important aspect to sell on Amazon by making sure that your product is not only visible to your target audience but also to as many potential customers as possible. Trending keywords are constantly changing based on customers' tastes and preferences, festive seasons, online trends and other factors so it is important to stay up to date on which keywords are relevant at the right time.
Abide by Amazon's Rules and Regulations
There are a vast number of rules and regulations that retailers need to follow to sell on Amazon. The company is very strict about enforcing these rules so it is important to follow them at every step of the way. These rules exist to not only get the most out of your business but also so that Amazon can maintain its image of efficiency and quality.
Push for Customer Feedback
If you sell on Amazon, it is important that you get feedback to gauge the reception of your products from customers. If you are able to provide a positive experience to customers, it would benefit your business to highlight those reviews so that it can inspire confidence in other customers. Conversely, if you receive negative reviews, it is important to understand and solve the issues faced by the customers that wrote them, so that you can mitigate those same issues in the future.
Read our blog on Seller Fulfilled Prime to understand how it can help boost your Amazon sales.
Sell on Amazon: Pros and Cons
Pros for Retailers who Sell on Amazon
Access to Larger Customer Base
In most regions of India and the world in general, Amazon has become synonymous with eCommerce retail. This gives retailers who choose to sell on Amazon, a significant advantage over their competitors who opt to sell through their own website or other eCommerce channels. This additionally unlocks access and visibility to the millions of customers who use and browse through Amazon on a daily basis which other eCommerce platforms simply cannot compete with on the sheer scale of active users.
Access to Positive Perception by Customers
Since Amazon has a vast amount of rules and regulations for retailers to follow if they want to sell on Amazon, most processes across the board are standardised and customers experience a consistent level of efficiency and quality that they will start to associate with your brand as well since you sell on Amazon.
Easy to Operate
In order to sell on Amazon, you do not have to be well-versed with technology because most of the services and functions are designed to be intuitive to people from walks of life, so that they can easily sign up by following the instructions and start to sell their products, without any hassles or complications.
Access to Important Features in One Place
Fulfillment by Amazon (FBA) is Amazon's 3rd party fulfillment service that all retailers who sell on Amazon can take advantage of if they want to. It provides access to Prime shipping, Amazon's unrivalled network of fulfillment centers and complete D2C order fulfillment for a specified sum that is agreed upon beforehand. It will help businesses ultimately reduce logistics and operational costs.
Cons for Retailers who Sell on Amazon
Sellers Need to Abide by Amazon's Rules
If retailers choose to sell on Amazon, they need to follow all the rules and regulations otherwise they can be penalised. Rules can also be changed at the drop of a hat without any say from the retailers. It is also not uncommon for sellers to be booted from the platform for minor breaches in the rules.
Sellers Have to Out-Compete Amazon
When retailers sell on Amazon, they not only have to compete with a vast array of other sellers but also with Amazon themselves. Amazon sells its own branded products so preference would be given to those over any other, in the form of promotions, ads and appearing at the top of search results.
Sellers are at Constant Risk of Being Scammed
A big threat to retailers who sell on Amazon is being susceptible to cyber-attacks and scams. Sellers have had to face problems like people buying all their inventory, only to ship it back once the peak season is over, hijacking of orders and losing control of their own listings.
Amazon Reduces Storage Space During High Demand
Retailers that sell on Amazon and utilize FBA warehouses and fulfillment centers constantly have their available storage space limited, especially during holiday seasons. They can also do this if your products are not in demand and accumulate on a large number of shelves.
You May Like: How to Sell on Snapdeal?
Conclusion: Is it Viable for Your Business to Sell on Amazon
While opting to sell on Amazon is something many retailers think is a no-brainer, it does depend on the nature of your products, the goals of the business, and the requirements for eCommerce fulfillment services. Selling on Amazon can give your business the boost and exposure that it needs to attain a steady level of growth. However, retailers would need to weigh the pros against the cons. If you do decide to sell on Amazon, and you want to preserve a little bit of your freedom, you can always opt for a 3PL fulfillment company like WareIQ, to take care of all your requirements. That way, you can focus on the heavy-hitting and leave the rest to us.
WareIQ is one of India's leading and fastest-growing full-stack eCommerce fulfillment companies that offer a variety of services from same-day and next-day delivery, shipping badges and RTO Shield, to state of the art technological solutions such as our custom Warehouse Management System (WMS) and our intuitive, well-designed app store. We can take care of your brand's entire fulfillment requirements and ensure that you and your customers get the best order fulfillment in the country and have a hassle-free experience and raise satisfaction levels to new heights.
Over 300 of the fastest-growing eCommerce brands such as The Man Company, Future Group, Kama Ayurveda and Wingreens Farms, already trust WareIQ with the fulfillment process of their companies, so they can focus entirely on core aspects of their businesses such as sales, marketing and R&D. You can also reap all these amazing benefits while stepping up your eCommerce game. We are tailored to every kind of business and offer the most competitive prices in the industry. Sign Up Now with WareIQ to take advantage of our superior fulfillment tech platform & accelerate the growth of your online business.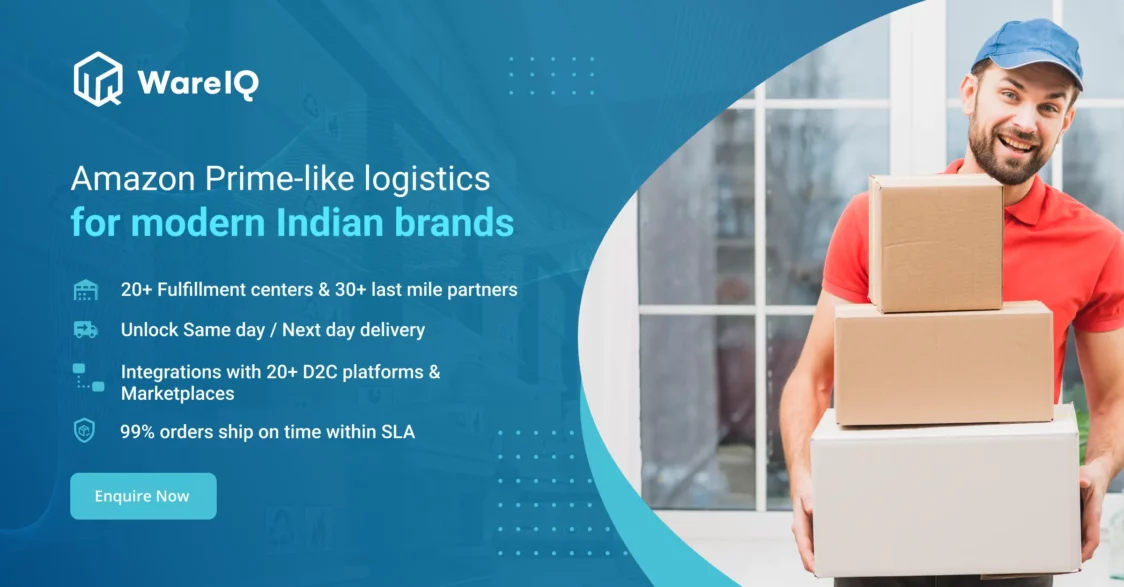 Sell on Amazon FAQs (Frequently Asked Questions)