How to Sell on Amazon Without FBA? A Detailed Guide for Online Sellers in 2023
Amazon is the world's largest eCommerce marketplace and has pioneered many of the technology and services most retailers and customers utilize and take for granted today, such as ultra-fast delivery, indicators that showcase delivery timelines, and much more.
While registering to sell on Amazon is one of the main priorities of most online sellers, due to the instant visibility and brand recognition associated with it, not all vendors want to use Amazon's in-house fulfillment solution – Amazon FBA – to deliver orders to customers. While there are many reasons for this, which we will touch on below, Amazon does provide the option to fulfill orders either by yourself or with the help of a 3PL fulfillment company.
Due to the market being inundated with aspiring companies that seek to assist sellers with fulfilling their online orders, identifying and partnering with a 3PL company that closely resembles your goals and values is not a hard task. In this blog, we will touch on what Amazon FBA is, why sellers may not want to make use of it, what the available alternatives are, and a step-by-step run-through of how you can sell on Amazon without FBA.
Introduction to Amazon and FBA (Fulfillment by Amazon)
Amazon is a global eCommerce marketplace founded in 1994 in Belleview, Washington and is currently headquartered in nearby Seattle, Washington. Having emerged as the largest eCommerce company in the world, Amazon developed much of the technology and many of the online selling patterns that are now commonplace in the eCommerce industry.
Although the business began eCommerce operations during the early 1990s internet boom, Fulfillment by Amazon (FBA), its first-party fulfillment service, wasn't offered until 2006. When Amazon first entered the Indian eCommerce sector in 2013, FBA was honed and developed a reputation for providing outstanding customer care among both sellers and consumers.
But not everything is as perfect as it appears to be. Retailers are subject to frequent inspection if they are unable to adhere to all of the extremely stringent regulations and guidelines and must pay a comparatively high charge to use FBA services. Retailers who value flexibility and freedom, as well as those with the means to fulfill orders independently or through a 3PL fulfillment partner, a move that Amazon gives its sellers the possibility of doing through its Fulfillment by Merchant (FBM) service.
WareIQ – Amazon-prime Like Logistics for Modern Brands in India
WareIQ, an eCommerce fulfillment company, empowers online brands with a superior-tech platform to compete with Amazon like service levels by bringing their average delivery timelines from 5-10 days to 1-2 days.
"With WareIQ, UTH is able to consolidate common inventory for all platforms and get much closer to the customer through access to WareIQ's strong nationwide network of fulfilment centres, and last mile & hyper-local courier partners.

We are excited about being able to offer

same day delivery

in several pin codes due to

WareIQ

.

"
5 Key Deterrents to Online Retailers Using Amazon FBA in 2023
Lowered Control Over Inventory Management
Due to Amazon imposing fines on merchandise that surpasses its storage timeline, sellers that store their products in FBA warehouses frequently struggle to add or remove items from their own assigned holding area. Because of FBA's rigorous storage regulations, retailers are less able to accurately predict the amount of inventory they will need over a specific time period and modify their stock levels in response to changing demand.
Requirement for More Cost-Effective Pricing
FBA has numerous useful capabilities but it commands a price that many merchants find prohibitive, especially smaller, more localized businesses that are already battling to retain their profit margins. It is also relatively pricey in comparison to industry standards, making it simple for sellers to identify significantly less expensive alternatives, which would be helpful if they just needed to employ the use of a few fulfillment solutions.
Reduced Branding Capacity
A bespoke branding experience is one of the primary ways businesses can leave an impact on their customers, in addition to the initial publicity they receive while ordering a product. However, customers will only see Amazon's logo while unboxing their products if they choose to work with FBA to fulfill your products. This allows Amazon to promote its own brand more effectively than that of its selling partners. It would be suitable to sell on Amazon without FBA if you wish to be in charge of your own packaging and highlight your own brand rather than Amazon's.
Exposure to Rigid Policies
Sellers are encouraged to conform to some of the most stringent SKU preparation prerequisites in the sector while using FBA. Retailers can be penalised for breaking any of the outlined rules. While it is Amazon's responsibility to regularise the delivery services offered by all sellers, standards like the Amazon Standard Identification Number System (ASIN), which requires that each product be given a separate label and be divided into multiple pallets, can lead to confusion and sharp price increases because multiple shipments require more storage space and transportation infrastructure than a single one does.
Access to External Fulfillment Companies
Amazon offers merchants the choice of FBM, which enables them to either complete orders independently or through a 3PL fulfillment business. Because their needs for order fulfillment are already being met by their 3PL partners, they are not required to pay additional costs to use FBA services. Due to the intense competition, these fulfillment providers encounter from other competitors, they typically offer greater facilities and flexibility than FBM, while also imposing significantly lower prices and providing more advanced technological facilities.
Suggested Read: Is FBA Profitable?
What are the Available Alternatives if You Want to Sell on Amazon Without FBA in 2023?
Fulfillment by Merchant (FBM)
A retailer can fulfill orders through Fulfillment by Merchant, which is a type of direct fulfillment option that gives retailers the chance to fulfill orders entirely on their own or through a 3PL logistics provider of their choosing.
Direct fulfillment does not make use of the fulfillment services offered by the online shopping sites where sellers sell their products, such as Amazon. To give sellers more flexibility and a variety of options, Amazon's FBM platform can be a good way to sell on Amazon without FBA. Generally, most 3PL companies offer a similar range of services as FBA, without the rigidity and red tape that make it a hassle at times.
Seller Fulfilled Prime (SFP)
With the use of Amazon's Seller Fulfilled Prime fulfillment option, sellers can choose to fill orders from their own warehouses and by using their own fulfillment processes. As an Amazon seller, SFP enables you to enjoy the sales advantages of having the Prime badge on your listing even if you choose to fulfill your own products, whether to maintain total control over the fulfillment and storage of your Amazon products or to avoid paying Amazon FBA and storage fees.
If you choose to sell on Amazon without FBA, SFP enables you to fulfill all of your orders with quick, two-day delivery at no additional cost to the customer.
Easy Ship
The delivery service that Amazon provides to its sellers is called Easy Ship. eCommerce businesses can utilise Easy Ship to take care of processing Amazon orders as well as storing products in their own warehouses or by renting one. The customer's order is then picked up and delivered by an Amazon delivery executive. Additionally, Amazon handles customer service and returns for these orders. Amazon takes care of delivering orders from your warehouse to the customer.
On the other hand, finding a warehouse for eCommerce retailers to keep merchandise could be challenging because it comes with additional effort and costs. Additionally, you must pick and pack orders in accordance with Amazon's strict regulations because failing to do so could result in penalties.
Step-by-Step Guide to Using Amazon FBM Instead of Amazon FBA to Fulfill Orders
​​Step 1: Choose an FBM Selling Model
On FBM, Amazon provides two different selling plans:
Individual: Every item you sell under the individual selling plan will be subject to a $0.99 share towards Amazon.
Professional: For the professional selling plan, there is a recurring monthly fee that costs $39.99.
Step 2: Create a Seller Account on Amazon
Visit sell.amazon.com, select "Sign Up," and fill out the required fields with your contact information. The following list contains the details you need to create your Amazon seller account:
Name of your company
Credit card information
Address, phone number, website link (if applicable) and other contact details of your company
PAN and Aadhar card details
Bank account information for transferring sales revenue
Tax information
Step 3: Upload Your Item Listings
If you don't yet have the ideal commodity before you, undertake some market and product research to find lucrative products and the main demographic you can market to. You can also start directly listing your already-sellable goods on your company's Amazon channel.
Use Seller Central's "Add Product" option to enter the product's details, including its title, description, keywords, images, videos, and SKU number, so that it can be traced along the supply chain and at the warehouse. Additionally, you must state that you use FBM on each and every one of your product listings.
Step 4: Draw in Potential Clients
The moment your item listings are active, you can work to increase the visibility of your products. Here are a few quick methods you can use to accomplish this:
Offering Ultra-Fast Order Delivery: A merchant will be designated as seller-filled prime and display a logo on the appropriate product listing if they can deliver orders within two days. Customers' faith in the delivery process will grow as a result.
Employing Sensible Pricing: Amazon offers a variety of pricing tools to assist merchants in determining the optimum price for their goods. Keep in mind that Amazon wants you to sell as many things as you can to benefit both of your accounts.
Using Marketplace Promotions: Amazon gives merchants the choice to boost their product exposure through ad campaigns and sponsored product programs for a set charge.
Step 5: Select Your Order Fulfillment Option
If you've chosen FBM, you can pick between 2 order fulfillment options:
In-House Fulfillment: With the help of this method, you can get all the order information directly from Amazon. After that, you must utilise your own internal picking, packaging and shipping processes to fulfill the customer's order while also making sure to include order tracking information.
Outsourced Fulfillment: Order fulfillment through your chosen 3PL business is referred to as outsourced fulfillment services. They can access your Amazon order information if they have a WMS and can handle crucial tasks like storing SKUs and picking, packing, and shipping an order after it is verified. However, you should ask your chosen fulfillment partner for more information because only a select few businesses provide order-tracking capabilities on every parcel.
Conclusion: Why You Should Consider WareIQ to Fulfill Amazon Orders Without FBA?
Amazon has been responsible for many advances in eCommerce that have benefited retailers, customers, and other selling platforms. The widespread use of services originally introduced by Amazon is a testament to the company's forward-thinking that was truly ahead of its time.
However, the same cannot be said about Amazon FBA due to the increased amount of sellers that perceive it as inflexible and expensive. For many small and medium-sized sellers, the high costs, rigid regulations and frustrating penalties are too big a factor to be ignored and in many cases, can become deal breakers.
Fortunately, the company does provide a couple of other fulfillment options that its sellers can take advantage of, so there is a respite for retailers that do not want to get entrenched in the Amazon ecosystem. If you need a fulfillment company that can enable you to seamlessly fulfill Amazon orders, among many other functions, WareIQ can be the perfect option for you.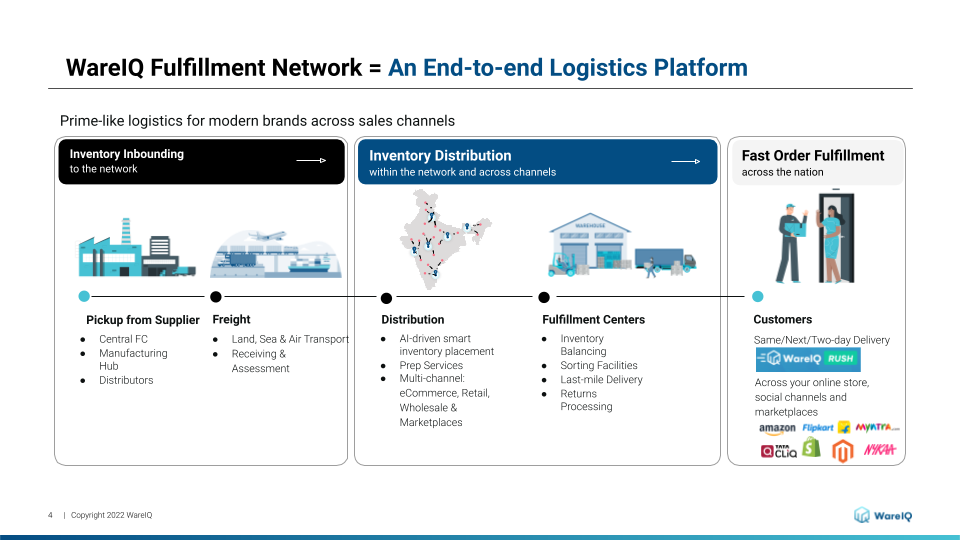 WareIQ is an eCommerce fulfillment company that was started in 2019 in Bangalore, Karnataka. One of our core differentiating factors from other providers is our comprehensive use of technology to take on most eCommerce requirements.
Whether it is regarding warehouse automation to providing multiple marketplace integrations and everything in between, WareIQ's platform is designed to make your life easier and offload strenuous fulfillment and distribution tasks over to us. We also provide various preparatory services for FBA and Seller Fulfilled Prime. Some of the reasons to partner with WareIQ to sell on Amazon without FBA are listed below:
Seller Fulfilled Prime (SFP) Enablement
Using Smart Technology: Utilizing smart technology, we can automatically map SKUs across different sales channels and bundle product combinations thanks to our API integrations, so you can update your item listings without worrying about eCommerce order tracking, fulfillment, and inventory levels.
Avoiding Paying High Storage Fees: If your products aren't moving as quickly as you'd like, you don't have to stress about being charged long-term storage fees because of WareIQ's lack of storage penalties, unlike Amazon FBA.
Taking Advantage of Using Amazon's 24/7 Customer Support: SFP clients using WareIQ's services will receive the same top-notch level of customer service that Amazon provides to all of its customers.
Removing the Need to Split Shipments: You will no longer be required to pay a per-item fee for inventory placement services to guarantee that shipments go solely to one fulfillment center or pay to spread inventory among three fulfillment centers.
Pick and Pack: We have the capacity to fulfill 1 to 10,000+ orders per day using WareIQ's automated order fulfillment system, which guarantees effective and accurate picking and packing services. Additionally, you only pay for what you actually use so you will only be charged for 1 item if you send just 1 item in a given month.
Amazon Product Compliance: Inventory could be refused, disposed of, or returned if Amazon-product preparation requirements are not followed and there may also be monetary penalties initiated for noncompliance. To avoid this, you can take advantage of WareIQ's FBA preparation facilities so all your goods will comply with all Amazon regulations, from repacking to labelling.
Hub and Spoke Transport: This method of streamlining the supply chain and lowering costs from the point of origin to the point of sale is advantageous. Our most typical arrangement involves bringing merchandise into our warehouse, relabeling it and then reorganising it for transportation to a variety of locations. We can also handle consolidations and deconsolidations to benefit from shipping discounts and make shipping generally simpler.
Sell on Amazon Without FBA: FAQs