Is FBA Profitable? A Detailed Analysis Of the Pros and Cons of Amazon FBA in 2023
Amazon is one of the largest eCommerce companies in the world. Having been initially founded during the expansive growth of the internet in the early 90s, the company has since blossomed into the international behemoth we have come to associate with. Having almost perfected its sales policies, marketing efforts and product listing procedures, the company set its sights on providing its own professional order fulfillment services, which came to be known as FBA, abbreviated as Fulfillment by Amazon.
FBA inspires conflicting opinions among eCommerce sellers. Some appreciate its ease of use, taking on important fulfillment-related tasks and providing multiple services and facilities. Conversely, some also find it expensive to use and cumbersome to abide by the strict rules and regulations that are imposed on every product and seller. In recent years, with the onset of multiple 3PL fulfillment companies that provide all the capabilities and technological features that FBA provides, there is a serious question mark surrounding whether retailers should opt for FBA or an external fulfillment company.
In this blog, we will provide answers to the question – is FBA profitable? – and also provide statistics to back up our findings.
What is Amazon FBA?
FBA, which stands for Fulfillment by Amazon, is Amazon's first-party fulfillment service that oversees the fulfillment of every order for all retailers that have subscribed to it. FBA began offering its services in 2006 and provides multiple fulfillment and distribution-related services, such as product storage, inventory management, shipping, last-mile delivery, and more. FBA also has its own set of practices in regard to how they store products.
For instance, they bundle together all products that fall into a similar category and price point. Additionally, retailers lack flexibility as to how their products are packaged, stored, and dispersed. Amazon FBA also subjects various preparatory guidelines as to how products should be packaged and readied for dispatch. If any of these guidelines are not followed, the respective items will instantly become ineligible for delivery. If the offenses are repeated multiple times, retailers can have fines and other penalties imposed on them, making it a slightly risky option for companies with few resources and small teams.
WareIQ – Amazon-prime Like Logistics for Modern Brands in India
WareIQ, an eCommerce fulfillment company, empowers online brands with a superior-tech platform to compete with Amazon like service levels by bringing their average delivery timelines from 5-10 days to 1-2 days.
"With WareIQ's full stack digital enabled fulfillment solution, we got access to the pan India network of fulfillment centers & cold storage facilities enabling same/next day delivery, without any upfront investment in supply chain infrastructure from our end. During the IPL campaign in April 2022,

WareIQ efficiently

handled unpredictable 200x surges in daily order volumes

of ~20k/day with a

99% fulfillment rate

. With WareIQ as our preferred fulfillment partner, we witnessed 172% growth in online order volume in just 4 months, with a significant improvement in the overall customer experience in fulfillment."
Is FBA Profitable? A Statistical Summary
An estimated 73% of Amazon retailers across the world use FBA to fulfill their orders.
Amazon Prime members spent roughly $1,300 compared to just $700 dollars by Prime users, indicating that FBA increases the visibility of sellers by showcasing Prime badges on their listings.
In India, the number of sellers using FBA increased from just 23% in 2017 to 47% in 2022.
In most major countries, the amount of Amazon sellers that use Prime is steadily growing annually.
There are currently more than 200 million Prime members across the world, so if you opt for Amazon FBA, your chances of generating sales from them will be higher.
Is FBA Profitable? 5 Simple Ways to Ensure Success in 2023
Start Out Small
The most successful way to be profitable by using Amazon FBA is to start out with small quantities of each SKU. This will allow you to test the waters and determine how much to order and store of each item. Some products may be more expensive but will be more slow-moving, requiring less of them to be ordered in bulk. Similarly, cheaper, more popular items will get sold faster, so they will require more frequent replenishment.
Use Relevant Keywords
Keywords are an important part of modern internet communication. It allows search engines to display the most relevant results based on your search query and is utilised by virtually all major websites and selling platforms. By using the appropriate keywords for each product, you can ensure that they rank higher than your competitors if a customer searches for that specific term or anything related to it.
Prepare Your Products
As mentioned previously, Amazon FBA has extremely strict and rigid protocols regarding the guidelines that products need to follow to successfully take advantage of FBA's services. Failure to comply with these standards can result in a lot of inconvenience and even monetary penalties. Thus, it is important to go through the regulations in detail and ensure that every product meets them down to the most minute detail.
Highlight Your Flagship Products
Your flagship products are your company's pride and joy. If they are targeted and promoted properly, they will be the number one earner for your business. Therefore, you should ensure that these crowned items are always in stock. You can also create additional space for them by removing slow-moving products from your inventory. You can also highlight these products on your company's Amazon page and mention them on other products' listing pages for increased visibility.
Take Advantage of Amazon PPC
Amazon PPC stands for Pay-Per-Click and is Amazon's advertisement program. If retailers choose to opt for PPC, they will be able to run sponsored ad campaigns that will highlight any item that they choose. It is an invaluable tool to help your products stand out and gain additional visibility, especially in the hyper-competitive environment known as Amazon. Payments are imposed based on clicks rather than impressions, enabling you to win big if you have set up the ad just right.
5 Drawbacks of FBA To Assess the Question "Is FBA Profitable?"
Heightened Fulfillment Expenditures
Since Amazon FBA takes care of every fulfillment procedure, you will have to pay for the privilege. This includes tasks such as order processing, picking, packaging, dispatch, shipping and last-mile delivery. All these procedures together can add up, especially when Amazon imposes its own premiums on each one. Thus, for retailers on a tight budget, Amazon FBA is probably not the right option.
Increased Storage Costs
Inventory storage is a must for every eCommerce seller, as many companies do not have their own physical stores or offices where they can store their products. Instead, most companies rely solely on warehouses and fulfillment centers, which are provided by Amazon FBA. However, storage costs are some of the most expensive in the industry and once you opt for a certain amount of storage, you cannot instantly upgrade or downgrade your plan if you need to, adding to the increased costs.
Presence of Supplementary Fees
FBA is notorious for having multiple hidden costs that only plague retailers once they have actually subscribed to the service. In addition to conventional fees for fulfillment and storage, there are multiple other fees that are suddenly imposed without the discretion of retailers and if they want to continue to use Amazon FBA services, they have no other choice but to pay them. Some of these fees include referral fees, closing fees, label printing fees and more. Additionally, these fees can increase or decrease based on a variety of external factors not within the control of either sellers or Amazon.
Loss of Input
Due to Amazon aiming to provide a highly standardised experience for every FBA service, retailers lose most of their ability to provide their own inputs as to the way certain services and procedures are conducted. Additionally, the disputed cases of damaged or returned items, Amazon usually sides with its customers rather than its sellers, which can cause a lot of damage to smaller firms relying on thin profit margins.
Reduced Flexibility
Similar to the above point, sellers cannot implement any changes they desire. Everything, down to the packaging and unboxing experience a customer will have, is centred around Amazon itself and not the company the item was purchased from. Additionally, there are very few customization options and aspects that are within the seller's control, so it can be a pretty unyielding experience.
Is FBA Profitable? 5 Benefits of Using Amazon FBA in 2023
Increased Visibility
Because FBA indicates fulfillment speeds by providing Prime badges on your listing pages, there will be increased trust and visibility amongst potential customers. Customers are often sceptical to purchase from retailers that don't provide fast shipping or other features. Having the Prime badge next to all your product listings will instantly inspire them to purchase from your store more than if you didn't have them, thus generating more sales.
Ultra-Fast Delivery
FBA set the now widely-used industry standard when it revolutionised order fulfillment with same-day and next-day delivery. It was so popular that in recent times, customers view it as a necessity rather than an added convenience. Through Amazon FBA, you can provide seamless same-day and next-day delivery options for every order, with the added bonus of having Prime badges displayed next to all product listings.
Prime Label
We have already spoken about the benefits of having a Prime badge next to your product listings but they cannot be stated enough. They act as an instant verification that orders will be handled and shipped within a certain time directly by Amazon. It is akin to having your order with you as soon as you purchase it because you know that it will be dispatched and shipped instantly, and given much higher priority compared to regular orders.
Inventory Storage
Amazon stores all of its FBA inventory in its own, officially run warehouses. Customers can be assured that all procedures relating to order fulfillment are handled directly by Amazon and not by any external service. Additionally, the warehouses are highly stacked with the latest technology and automation. Amazon handles processes like processing, picking, packing, dispatching, and shipping of all FBA orders.
Customer Service
Being one of the largest eCommerce firms has multiple perks for sellers that use Amazon FBA and customer service is one of them. Amazon offers some of the best customer care facilities in the industry, with highly trained personnel offering quick resolutions at every hour of the day. This will instantly make sure that your customers always have the best assistance when it comes to any query or issue.
Conclusion: Why WareIQ is the Best Alternative to FBA in 2023 if FBA is not Profitable for Your Business?
Amazon FBA is revered amongst many Amazon sellers that insist it has contributed to the success and efficiency of their companies but is FBA profitable? The answer can vary from seller to seller based on the industry they operate in, the types of products they sell, their business model, manufacturing costs, proximity to their customers and much more. However, Amazon FBA is widely heralded as one of the more expensive options in the fulfillment industry.
This, coupled with its lack of flexibility, rigid regulations and harsh sentences for retailers that make minor errors make looking at an external fulfillment option worthwhile. They provide all the same features, more value-added services, and offer cost-effective pricing. If you need assistance with fulfilling your online orders, WareIQ can be the right solution for you. Also, you can read about how to create an effective amazon pricing strategy here.
WareIQ is an eCommerce fulfillment company that was founded in 2019 and is currently based in Bangalore, Karnataka. The company provides a variety of eCommerce services, including product storage, inventory management, marketplace integrations, an in-house WMS, shipping aggregation, last-mile delivery and much more. A few features we provide that make us one of the best options to fulfill online orders are listed below:
An India-encompassing on-demand fulfillment center and dark store network
A custom WMS
Integrations with 20-plus online marketplaces, including Amazon

Ultra-fast delivery

A partnership with multiple shipping carriers
Higher inventory turnover as a common inventory pool for sales through multiple channels
Dedicated support to centrally manage returns claim management across marketplaces
Availability of inventory planning & optimization for higher product availability, and lower inventory holding cost
Ready access to marketplace benefits such as Prime tag
Custom apps
Access to Amazon's first-party 24/7 customer service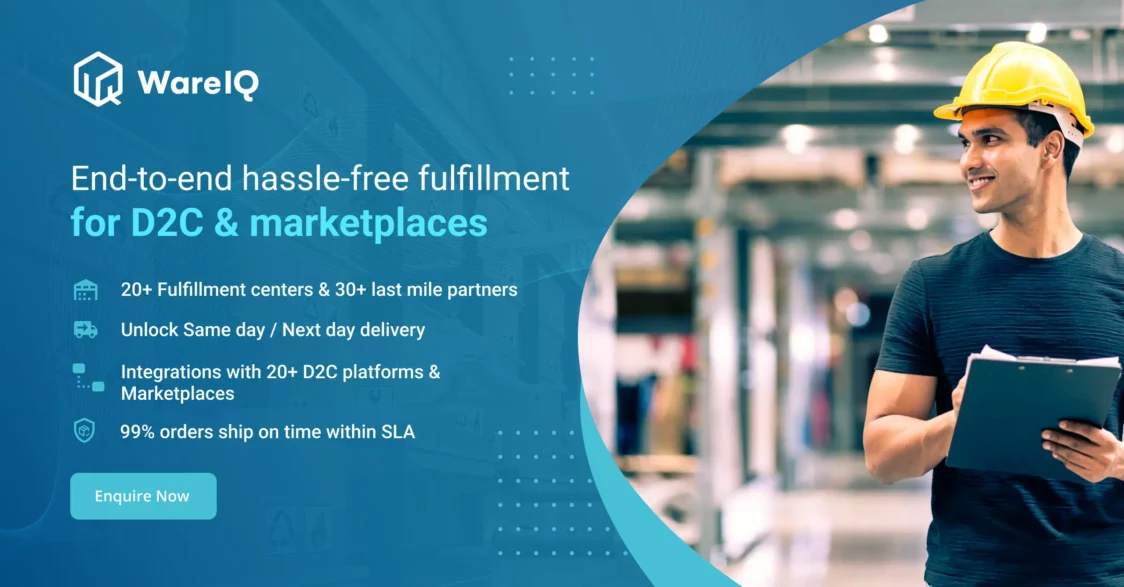 Is FBA Profitable?: FAQs