What is Pick and Pack Fulfillment Service in eCommerce? A Detailed Guide on Warehouse Pick and Pack Processes in 2023
It is a known fact that selling is not an easy task and when it comes to online selling, retailers need to make a lot of effort to sell a product. You could create a website or go on multiple channels, list products, take care of doorstep delivery, and a lot more. Among all the selling processes, order fulfillment is one of the most important tasks after a buyer places an order.
Receiving and sending orders entails a complicated set of interconnected procedures known as Order Fulfillment. In the process of fulfilling an order, storage, picking, packing, distribution, and receipt of the product by the customer are the important stages. Pick and pack fulfillment services are one of the earliest and most crucial stages in order fulfillment. It not only guarantees that the product can be sold to the buyer's preferred location but is also useful in branding, marketing, and tracking the product.
This article will introduce you to the principles of pick and pack fulfillment, pick and pack warehouses as well as show you how to handle picking and packing process.
What is Pick and Pack Fulfillment Service in eCommerce?
An online seller, after receiving an order on their website or another channel, sends an order confirmation message to the customer and then initiates order fulfillment. In the order fulfillment process, eCommerce pick and pack warehouse fulfillment is the earliest process that a seller initiates. As the name pick, pack, and ship fulfillment suggests, it is the process where ordered products are picked and packed, following a standardised process.
In a fulfillment-providing company, the supply chain must be streamlined with picking and packing fulfillment to reduce logistics costs.
Picking is choosing the appropriate product from storage, in the least amount of time, after an order has been placed. Dedicated companies that provide picking and packing fulfillment, have a sophisticated way of doing it. It is further classified into piece picking, batch picking, zone picking, and wave picking.
Packing is placing the things in the correct sized box with the proper packaging materials to ensure that they arrive at their final destination unharmed and at the lowest possible cost. Packing should involve efficiently placing orders within the fewest number of boxes, putting packing slips, and using the right type of packing material(s) for each product to reduce shipping costs and maintain order accuracy. Many warehouses include a warehouse management system (WMS) that can assist in determining which box is the best fit for the order at hand.
WareIQ – Amazon-prime Like Logistics for Modern Brands in India
WareIQ, an eCommerce fulfillment company, empowers online brands with a superior-tech platform to compete with Amazon like service levels by bringing their average delivery timelines from 5-10 days to 1-2 days.
"With WareIQ's full stack digital enabled fulfillment solution, we got access to the pan India network of fulfillment centers & cold storage facilities enabling same/next day delivery, without any upfront investment in supply chain infrastructure from our end. During the IPL campaign in April 2022,

WareIQ efficiently

handled unpredictable 200x surges in daily order volumes

of ~20k/day with a

99% fulfillment rate

. With WareIQ as our preferred fulfillment partner, we witnessed 172% growth in online order volume in just 4 months, with a significant improvement in the overall customer experience in fulfillment."
What are the Methods of Pick and Pack Fulfillment services?
Methods of pick and pack fulfillment may vary depending on the size, location, tie-ups with fulfillment centers, registration on different selling platforms, etc. A seller can change the picking and packing styles as per business requirements. Here are the standard pick and pack logistics fulfillment methods and strategies that most companies do to fulfilling orders.
Piece picking method
In this method of pick and pack fulfillment service, a single product is picked and sent for packing and further processes. The retailer's pick-and-pack fulfillment partner picks the order from the seller's shop, warehouse, or fulfillment center and initiates the order fulfillment process. Mostly piece picking is done by small businesses, luxury or heavy product sellers. For them, piece picking is the easiest pick and pack logistics method.
Batch picking method
The batch-picking method of pick and pack fulfillment service is an organized way of consolidating numerous orders to deliver to different locations. It is done, once a seller receives orders in large numbers. The orders are picked up in batches according to the pick-up location of the fulfillment center and the location of the customer. You can have a single SKU for several orders, it makes sense to bundle those orders together which will save time and resources.
It is also done by small retailers, once they get a good amount of orders.
Zone picking method
In this method of pick and pack fulfillment service, objects are picked up zone-wise and later transferred to another zone till it is delivered. It requires a strong fulfillment network, complex coordination, and technology to achieve the most accurate results by the fulfillment center. Zone picking will need a good pick and pack Warehouse Management Software to handle and automate all the complex processes involved.
Wave picking method
It is a combination of batch-picking and wave-picking methods. Here, a person arranges the batches of products according to their zonal movement. Then they transfer the batches to the respective delivery personnel in different zones.
These days, most of the good fulfillment centers are doing the same. It saves time, energy, and cost.
What are the Benefits of Pick and Pack Fulfillment Services for eCommerce Businesses?
Suppose you are an eCommerce seller and do multi-channel selling, you get orders across the nation, and you can fulfill hundreds of orders in a single day. While focusing on your core work of selling, you will have to take up a new responsibility of pick and pack fulfillment and also keeping track of hundreds of orders. You will need dedicated resources and capital for it. You might not be able to solve disputes across the country, so this is where pick and pack warehouse fulfillment companies can help. They will store your inventory in their fulfillment centers.
From the fulfillment centers, they will pick, pack and transport it to a shopping aggregator or courier service provider, which will then distribute it to the final location. In case you are a small seller, you can focus on the core aspects of your business such as expansion, marketing, development of new products and refining existing ones, instead of spending time and resources fulfilling orders miles away from your shop or godown.
The benefits of pick and pack fulfillment through the pick, pack, and ship services are listed below:
Fulfillment of orders 24×7: A seller through online selling sells 24×7 so they should also have access to pick, pack, and ship services fulfillment 24×7 for faster delivery and customer satisfaction. Pick, pack, and ship services receive, pick, and pack items around the clock.
Access to branded packing: Most fulfillment companies provide branded packing services that help you with customized packing. It saves you the cost of packaging and transportation and also the hassle of trying to make your packaging appealing to attract more customers.
Transportation to the best courier service: To make pick and pack eCommerce fulfillment a better experience for both the seller and their customers, these pick, pack, and ship services drop off the ordered items to the best logistics providers and courier services in a certain delivery area. They have enough experience to know who offers better delivery service in that area/city/state/region where orders need to be shipped.
Customized pick and pack fulfillment service methods: Orders are picked and packed after analyzing and bifurcating the ordered items according to their demand and estimated delivery time. They use the wave-picking method which saves cost, time, and energy.
Professional fulfillment staff: These pick and pack fulfillment companies are professionals in the field of pick, pack, and ship services and order fulfillment. They have a number of solutions for any mishap that could occur and contacts to resolve them in the shortest amount of time possible and at the cheapest rates.
Enhanced reverse logistics: After selling the product, companies need to have a comprehensive reverse logistics service in place in order to combat any wastage that could occur. Pick and pack fulfillment services take care of the entire reverse logistics process.
Why Should You Choose a 3rd-Party Pick, Pack & Ship Service?
In the era, where multiple unicorn start-ups are mostly outsourcing resources, there is a huge demand for pick, pack and ship services. Oyo outsources rooms, Ola outsources cars, etc. So the idea here is to not get stuck in micro-management and distract from the core task. Some services which you are able to outsource to pick and pack logistics fulfillment companies are:
Branded Shipping
Branded shipping is the shipping of a product by a seller to the buyer's address which includes packing, packaging slips & shipping labels, sending order confirmation messages with tracking details, highlighting product presentations and adding various personalized touches.
It is an opportunity to brand your business which can be done by an expert to reiterate the proper message to the target MQLs that may become SQLs in the future.
Technology and automation
Pick and pack businesses use cutting-edge technology and have well-trained service teams to provide high-quality, professional pick and pack fulfillment services among much more. Most pick, pack and ship services provide access to an online management system that allows you to monitor, authorize, and cancel purchases that are submitted by your company at any time.
Order fulfillment
Pick and pack fulfillment service providers are experts and equipped with high-tech devices, and software to mitigate any errors in the order fulfillment process. They pick items in batches, according to various metrics which makes it more accurate when transferring goods from one place to another. They also use dedicated vehicles customized according to the product size, area of delivery, freight charges, and much more.
Multi-channel selling
If you are a multi-channel eCommerce seller, choosing a pick and pack fulfillment service partner is beneficial from your business's point of view. They provide multiple options to you such as custom picking and packing where all the sales done on multiple platforms can be fulfilled from the same location and packed in a customized manner according to the requirements of the channel.
Streamlining processes
Because a pick and pack fulfillment service company's major duty is to execute the supply chain in the most efficient and cost-effective way possible, there are fewer distractions for them and their employees, as well as other obligations that get in the way. When organizations have to manage major processes themselves, it isn't usually the case because individuals are continually pushed in different directions. The supply chain can be reconfigured considerably more readily if required.
Pick, pack, and ship services are knowledgeable about the most recent technologies and procedures, as well as the full process from start to finish. This is especially useful if there are any problems or unexpected events along the way. A 3PL pick and pack fulfillment service can put your mind at ease if you're unsure about the capabilities or requirements of your business.
Assistance and scalability
Scalability refers to a company's ability to handle increasing workloads and the potential for expansion. The capacity to alter space and labor based on inventory and products is another advantage of employing a 3PL fulfillment company. Many pick and pack logistics companies have deliberately established facilities throughout the country to ensure efficiency and nationwide delivery at low prices that enable higher profit margins. This can lead to a re-engineering of distribution markets, which might be a blessing in disguise during periods of rapid expansion.
Reverse logistics
Pick and pack fulfillment cannot be completed without a return policy. Pick, pack, and ship services are done by dedicated fulfillment companies. In case of a return, they will have to perform all the similar steps in the regular supply chain, but in reverse. If a bad delivery is a bad experience for a buyer then a bad return is similar for a seller.
What are the Main Points to Consider While Choosing a Pick and Pack Fulfillment Service in 2023?
Hidden Fees & Additional Costs
You are in a business so you have to record the expenses. Before you choose a fulfillment partner for order fulfillment, you should know all their terms and conditions. Read twice about the minimum fee, storage costs, and pallet fees are all possible fees. Inquire about fees and compare them. Also, keep an eye on any hidden costs.
Knowledge About Your Pick and Pack Fulfillment Partner
Visit the warehouse of your potential pick and pack fulfillment service if at all feasible, or at least contact prior and current clients to learn more about the company. Pay attention to your encounters with them; the way they respond to you will most likely be similar to how they respond to your clients after you start working with them. Also, request a demonstration of any systems that will be used. Before committing, it's a good idea to thoroughly understand their skills.
Contract Duration
Check their terms and conditions regarding the duration of the contract they are offering. If you want a long-term contract then how long they can offer a partnership contract with you would be important and in case you do not feel like continuing with them then how easily can you discontinue the contract is just as important.
Prior Track Record
Always check online for any positive or negative evaluations of your potential pick and pack fulfillment service. It is always a good idea to get a sense of how other vendors and customers feel about a firm before committing. Check how long they have been in business and other metrics such as prior mishaps and how they were handled by the company.
Handling Bad Situations
A business is always accountable. Before going ahead with a pick and pack fulfillment company, it is important to know what the company's procedure is if your product gets misplaced, whether they keep track of damaged goods, and how often they count them. There should be full transparency between you and your pick, pack and ship fulfillment service.
Software and Technology
Check to see if your potential pick and pack fulfillment service has a reliable warehouse management system (WMS), if they can link to your sales channels to automatically retrieve orders, and can provide real-time data. It should all be automated by technology and all the information about your products in the warehouse or the process of fulfillment should be at your fingertips. It will help you to be answerable to your customers directly.
Conclusion: Should You Outsource Your Pick and Pack Fulfillment Service Needs?
When you grow as a business, you start delegating the work to your manager, supervisors, and other employees. You hire experts with years of experience in certain fields, so similarly, you should do the same with your company's requirements. You need to choose a cost-effect pick and pack fulfillment company for all your eCommerce shipping and eCommerce warehousing needs. They provide adaptable solutions for organizations of all sizes. If your firm is short on space, manpower, or time-related resources, a pick and pack fulfillment service company can relieve tension while also saving you time and money, all of which affect your bottom line. Examine your alternatives and select the one that best suits your company.
WareIQ has emerged as one of the trusted Order Fulfillment companies equipped with all the resources in pick, pack, and ship services, warehousing, logistics, and much more.
Established in 2019, WareIQ, a Y-combinator-backed startup, has rapidly grown to be the leading full-stack eCommerce fulfillment company for some of the most reputed brands in India. WareIQ offers a full-stack platform for eCommerce companies to enable same-day delivery and next-day delivery to customers – an Amazon Prime-like experience but accessible to everyone.
WareIQ manages the entire range of complex operations in the eCommerce fulfillment process, such as inbound functions like scanning and quality check, 100% accurate Pick and Pack, and inventory management across all channels, with a centralized platform for core fulfillment and shipping operations and post-shipping apps for a delightful experience and zero to minimal supply chain leakages.
WareIQ has empowered brands to sell more, sell faster & sell everywhere due to:
Access to WareIQ's strong nationwide network of fulfillment centers, micro-fulfillment centers & urban dark stores near their customers
Access to all major national & hyperlocal last-mile courier services at discounted rates for making same/next-day deliveries possible
Easy integration across multiple online platforms & marketplaces enhancing multi-channel selling
Access to a superior centralised tech platform for eCommerce operations

ML-based prediction engine for efficient warehouse network design & smart inventory placement
Centralised platform for core fulfillment & shipping operations
Post-shipping apps for a delightful experience & zero to minimum supply chain leakages (Branded tracking page with smart marketing placements; Trigger-based updates & smart communication platform)
WareIQ has customised offerings for merchants experiencing different order volumes as well as having different delivery speed expectations. WareIQ is probably one of the very few fulfillment tech companies in the world that have same-day delivery service for their customers under their product "WareIQ RUSH".
With world-class WMS functionalities, WareIQ handles the entire range of intricate operations in the eCommerce fulfillment process, ranging from Inbound Operations such as scanning and quality check, through 100% accurate Pick and Pack fulfillment service, to Inventory Management across all channels. At the same time, WareIQ customers realize significant cost savings and wider reach due to better negotiations with shipping partners, strategically placed warehouses, economies of scale and scope in warehousing and data-driven decision-making.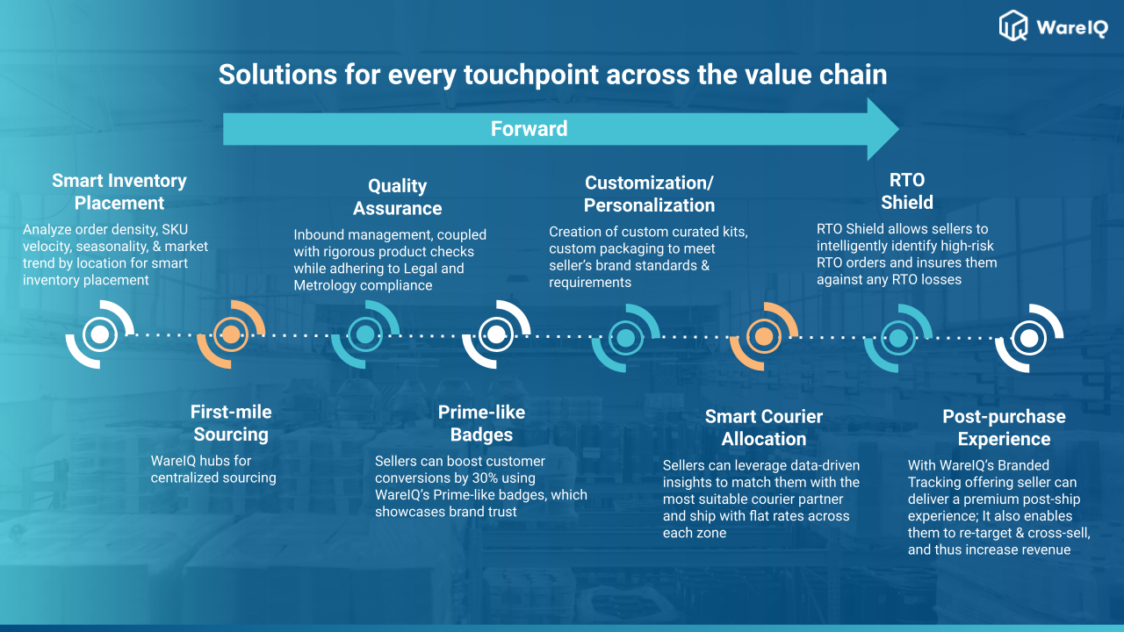 WareIQ's WMS, a centralised tech platform helps to better manage undelivered orders by reducing NDR processing time by 12 hours – a multifunctional NDR dashboard helps to track and take immediate action for undelivered orders in real-time, thereby reducing RTO by up to 10%. Automatic replenishment recommendations and easy purchase order creation capabilities on the WareIQ platform further empower eCommerce companies to leverage all possible ways of increasing their ROI.
Are you eager to know more about WareIQ's offerings if you sign up now? Find the features of the best-in-class, category-defining fulfillment services for eCommerce & D2C brands below:
Pan India Fulfillment & Darkstore Network: Plug-and-play fulfillment infrastructure with no minimums, which is compliant with Amazon Seller Flex, Flipkart Assured, Myntra and other marketplaces
Inventory & Network Planning Excellence: Best-in-class AI models for sales forecasting, product segmentation, and inventory management to reduce inventory by 40% and increase revenue by 10%.
Vertically Integrated Fulfillment Tech Stack: Our Fulfillment Tech Solution supports integrations with 20+ top marketplaces & D2C platforms, and prominent national, regional and hyperlocal couriers, enhancing reach by covering deliveries for 27,000+ pin codes
Supply Chain Productivity Applications: Integrate a host of supply chain productivity apps with a single-click to your existing CRMs, ERPs & accounting software to manage your logistics workflows from one command center. Use Apps like RTO Shield to get 100% RTO protection, Branded Tracking to turn your order tracking page into a profitable marketing channel, and many more.
Trusted by 300+ top Indian brands, we are helping them accelerate online sales and expedite their growth through a synergistic combination of advanced technology, robust fulfillment infrastructure & seller enablement services!WareIQ is backed by leading global investors including Y Combinator, Funders Club, Flexport, Pioneer Fund, Soma Capital, and Emles Venture Partner.
Pick and Pack Service FAQs (Frequently Asked Questions)