What is a Packing Slip and What to Include in Packing Slips for Shipping? [+Packing Slip Template Along With Benefits in 2023]
In an increasingly digital world, more and more physical items are becoming obsolete by the second. eCommerce has enabled items to be ordered and paid for entirely online, while receiving the products is the only tangible interaction a customer has with the entire process. Thus, it makes sense that the last instances of physical relics are still present on the package itself, including the box, return label, packaging material, and packing slip.
The packing slip is especially important if multiple products are ordered and shipped within the same consignment to the same destination, as it contains a summary of all the ordered items, along with important information about each, such as their SKU number, weight, dimensions, product descriptions, pricing and more. This enables customers to identify exactly what they bought and verify whether all the items are present or not. In this blog, we will unpack, pun not intended, the nuances of packing slips for shipping, including the definition, benefits, differences with other documents, and details it should consist of.
What is a Packing Slip?
A packing slip is a document that provides details about the contents of the package or shipment. It is usually embedded along with the items being shipped and is included inside or attached to the exterior of the package. The objective of a packing slip is to ensure that the recipient of the package is able to easily identify and verify that the items they have received match the ones they ordered.
Packing slips are commonly used by businesses that sell and ship physical products to customers. They can also be used for internal inventory management and tracking purposes. The information included in a packing slip can differ based on the specific requirements of the sender and recipient. However, most packing slips for shipping typically include the following information:
Order or invoice number
Item descriptions, including quantities, sizes and colours
Shipping and billing addresses
Contact information for the sender and recipient
Any special instructions or notes
WareIQ – Amazon-prime Like Logistics for Modern Brands in India
WareIQ, an eCommerce fulfillment company, empowers online brands with a superior-tech platform to compete with Amazon like service levels by bringing their average delivery timelines from 5-10 days to 1-2 days.
"With WareIQ's full stack digital enabled fulfillment solution, we got access to the pan India network of fulfillment centers & cold storage facilities enabling same/next day delivery, without any upfront investment in supply chain infrastructure from our end. During the IPL campaign in April 2022,

WareIQ efficiently

handled unpredictable 200x surges in daily order volumes

of ~20k/day with a

99% fulfillment rate

. With WareIQ as our preferred fulfillment partner, we witnessed 172% growth in online order volume in just 4 months, with a significant improvement in the overall customer experience in fulfillment."
Benefits of Packing Slips for Shipping in 2023
Verifies the Items to be Delivered
eCommerce is a complex web of various processes that ultimately seeks to ensure that the correct items are successfully delivered to the customer. Oftentimes, warehouse staff can be overwhelmed or confused by the sheer amount of products that are present in a warehouse and identifying the correct ones to be placed in a shipment can be a complicated task.
However, since packing slips for shipping contain all the important details about each product within the consignment, including their SKU number, name, dimensions and more, it makes the job of locating them in a storage facility that much easier. This enables fewer mishaps while locating all the items in a specific order and ensures that it is packaged and dispatched correctly.
Enables Tracking of Split Shipments
Sometimes, a single order needs to be split into multiple consignments due to certain factors, like weight, lack of storage space on the transit vehicle, items needing to be shipped to multiple destinations and more. This is done under split shipments and it can create heaps of confusion for the staff involved in the transportation of multiple shipments of the same order.
Because packing slips for shipping contain all the information necessary to identify each product, the contents of every parcel can easily be verified by both your company's staff and the customer, regardless of when they are shipped or received, resulting in a seamless experience all-round.
Helps Identify Desecrated Items
Damage can sometimes occur during transit, regardless of how well they are packaged. This can occur due to mishandling of the shipment, improper protection being enforced, or other unwanted circumstances.
However, because the packing slip indicates the contents of the shipped container, it makes it easy to identify which items have been damaged so that a return can be initiated for those specific goods and a refund can be set in motion. Additionally, if an entire parcel has been damaged, the entire value can be calculated based on the packing slip and the next steps can be done accordingly.
Confirms the Receipt of All Ordered Goods
Because packing slips for shipping are a physical record of the important details of all items shipped in a particular parcel, they can be used to verify that all the relevant items have been included.
Similarly, it can also help identify if any item is missing so that it can be instantly replaced or re-shipped. Therefore, including a packing slip allows for peace of mind for both the buyer and seller because it makes the entire delivery process more transparent and can correct any inaccuracies immediately.
Allows for Seamless Customs Clearance
If your company sells goods internationally, they will have to pass through customs in the country they are being sent to. Different countries have varying degrees of complexity involved in customs clearance.
However, a packing slip can act as a means for customs authorities to check the value and contents of a particular shipment, although a separate commercial shipping invoice that includes similar information as the packing slip but in more detail, would also need to be included.
Packing Slip vs Shipping Label vs Invoice: Key Differences
Type ➡️
Particulars ⬇️
Packing Slip
Shipping Label
Invoice
Definition
A packing slip is a document that is typically included along with a parcel that contains information about all the contents within the parcel so that it can be cross-checked against the items in the box.
A shipping label is a document that contains information about a package or shipment and is affixed to the outside of the package. The label is used by shipping carriers to track and deliver the package to its destination.
An invoice is a document that outlines the details of a transaction between a seller and a buyer. It is usually sent by the seller to the buyer to acknowledge the receipt of a product or service and to request payment for what has been provided.
Purpose
A packing slip is used to provide a list of important information about all the products within a consignment so that contents within the box can be verified against the ordered items.
A shipping label is used to keep track of products as they move through different stages of the supply chain until they are ultimately delivered to and accepted by the customer who ordered them.
An invoice is used to receive a payment from a customer for a good or service that they have purchased from a company. It is also used to track transaction history and identify any pending payments.
Location
A packing slip is typically either attached to the box, embedded within an envelope attached to the box or contained within the box itself.
A shipping label is usually directly attached to the package itself using adhesive, tape or other types of binding agents to keep it secure.
An invoice is generally sent along with the package for pre-paid and post-paid orders. It can also be emailed or sent through other digital or physical means.
Information
A packaging slip typically contains information such as SKU numbers, item descriptions, product details, shipping and billing addresses, contact information for the sender and recipient, and any special instructions or notes.
A shipping label typically contains information such as the sender's and recipient's addresses, the package weight and dimensions, the shipping service used and a unique tracking number that allows the package to be tracked throughout the shipping process.
An invoice typically contains information such as the name and contact details of the seller and buyer, the date the invoice was issued, a description of the products or services provided, the quantity, price and total amount due for each item or service, any applicable taxes or fees, and payment terms and instructions
Printing Method
A packing slip can be printed using commercial printers such as desktop printers, thermal printers and integrated label printers.
A shipping label can be printed using specialized software or online platforms that connect to shipping carriers' systems or they can be handwritten or printed on a template.
An invoice can be printed using specific invoice-printing software, online invoice generation or even through conventional office printers.
7 Important Details That a Packing Slip Should Contain
General Delivery Information
​​Similar to an invoice, fundamental information, such as the purchase order number, delivery address and any issues with the item during transit, is helpful for filing purposes. Of course, shipping providers use the shipping label by default but a packing slip can be a valuable fallback in case there are problems during transportation. This helps both the shipping company and the customer identify important information pertaining to the order and can help ease any confusion.
List of All the Products
To ensure they are receiving all the items they paid for, many buyers use the packing slip to compare the products they receive to the list of what they ordered. Although they can also refer to their confirmation email, some people might find it more convenient to have a packing slip on hand. It is also more useful to use the packing slip to identify the contents of the parcel, rather than look at each individual box and label, which aids in saving time and effort, leading to a better overall unboxing experience.
List of Unavailable Goods
If it is applicable, it is important to list down any and every item that was ordered but could not be delivered for whatever reason. These products should be listed on the packing slip along with the invoice so they can be reordered. It is pretty uncommon for there to be no communication between the time the order is confirmed and when it is dispatched. However, if it somehow does occur, it will be made very apparent by including a list of the out-of-stock items that were not currently available during the shipping of the order.
Number of Units of Each Item
The product name or SKU number is insufficient to check the quantity of every individual product from a packing slip because many customers order more than one unit of a particular item. If numerous units of the same item are ordered, a quantity column can help shorten the list so that the packing slip does not go on for multiple pages. It also provides clarification to staff while identifying and packaging products, as well as to customers when they are trying to verify if every item has been received.
SKU Numbers of Every Product
Customers may not understand what SKUs or UPCs signify but every seller assigns these numbers to their products and use them to keep track of their inventory. It is what the vendor will use to identify the source of a problem if you need to get in touch with them. It also aids in being able to monitor various shipments as they move through different phases of the supply chain and ultimately results in the smooth delivery of every order.
Slip Number
In order to make sure the correct order was shipped and received, shippers and purchasers can compare the PO number and the slip number, based on how many reference numbers the order consists of. This helps in removing any confusion and ensures that the right order is delivered to the relevant customer, negating the need for returns and addressing customer complaints about the wrong order being received.
Contact Information
Providing relevant contact information is a must. This ensures that customers can contact your support team in case they have any query, issue or anything else that needs to be addressed on priority. Additionally, you can also provide the addresses of your offices so that customers will not be kept in the dark in terms of getting things sorted on the off-chance that something goes wrong. It will ensure that they have a good experience and can increase the possibility of them making repeat purchases in the future.
Conclusion: Leverage the Use of Packing Slips With WareIQ
Packing slips for shipping are a supremely important component of the eCommerce delivery process. It allows both sellers and their customers to verify that all the ordered products have been successfully shipped and if not, the un-delivered or damaged products can be easily identified and the returns or refund procedures can be instantly initiated.
This helps to provide transparency and increases trust among customers that even if something happens to go wrong, it can be corrected immediately. Since they provide all the information needed to verify the contents of a parcel, customers can simply glance at it to confirm the received items as opposed to looking at the details of each product one by one. If you want to provide a seamless fulfillment experience to your customers, WareIQ is the solution for you.
WareIQ has emerged as one of the best 3PL fulfillment solutions in the country. We enhance your eCommerce operations by giving you access to the most advanced technology in the industry, such as a custom WMS software, automated inventory management procedures and more. In terms of packaging and delivery, we can assist in the following ways:
Packing Slips
We help your business provide packing slips to ensure that both you and your customers can seamlessly verify the contents of every parcel.
Branded Tracking
We provide branded order tracking pages that can be customized to include any information you want and also be designed according to your tastes.
Customizable Packaging
We have personalized and custom packaging facilities that can be tailored to your requirements so you can highlight your brand.
Choice of Shipping Partners
We provide you with a choice of the best shipping carrier facility in the country and automatically assign the fastest and cheapest option for every order.
Returns Management
We take care of the entire reverse logistics process while also providing safeguards such as an RTO Shield that protects your business from the adverse effects of returns.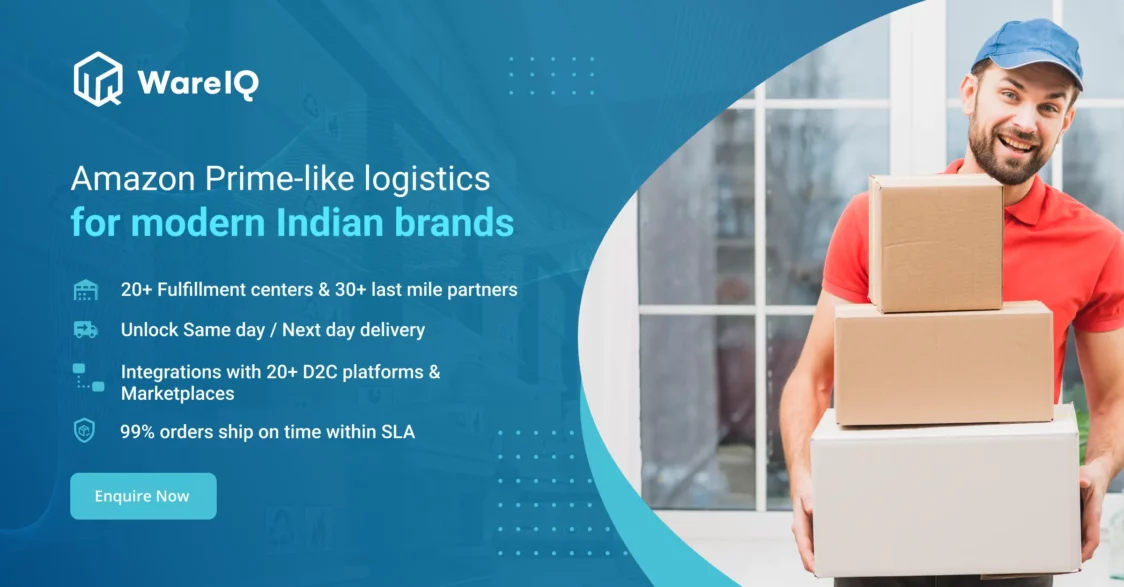 Packing Slip: FAQs