Return Labels for eCommerce: Definition, Importance, Types and 3 Easy Steps to Make Returns Address Labels in 2023
In the modern, hyper-competitive world of eCommerce, it is the duty of sellers to provide the most seamless and intuitive experience to customers, not only in terms of purchasing a product but also in returning it. Returns can occur for a wide swathe of reasons, some of which result from negligence in packaging, damage to products while they are in transit, shipping orders to the wrong address, and more. Additionally, due to the requirement of most companies to have flexible return policies to encourage purchases, customers can also initiate returns on a whim because they had a change of heart, experience buyer's remorse, or found a cheaper alternative elsewhere.
Regardless of the reason, ensuring that your customers can return the received items back to their origin in the easiest possible will have positive implications for your business. It will reduce costs, prevent goods from being held up in unwanted locations, impede them from being perpetually stuck in transit, and can help you retrieve the product successfully. In this blog, we will take a look at the ins and outs of return labels for eCommerce, including their definition, importance, fabrication, methods, types, and more.
What are Return Labels?
Return labels are pre-printed shipping labels that allow customers to return products to a retailer or manufacturer by typically including the address of the company the items were purchased from and other important information. These labels are generally included with the original shipment and contain the necessary information and instructions for returning the item, such as the return address, tracking number, and any relevant codes or other guidelines. Return labels make the process of returning products easier and more convenient for customers, and they also help retailers and manufacturers manage the returns process more efficiently, resulting in less risk and lower costs.
Importance of Including Return Shipping Labels
Involves Very Few Financial Resources
Return labels typically do not require huge financial investments. A return shipping label included in the package also won't cost your company anything if the consumer never uses it, aside from wasting paper. On the flip side, providing an easy method to return goods in addition to having a flexible return policy could persuade customers to send back goods even if they only have a minor defect and it can inspire them to change their mind even if there isn't anything wrong with products. However, that is a risk that could pay off in the long run, especially as your business starts to expand and more items are sold.
Requires Only Limited Effort From Customers
Returns are an inevitability in eCommerce, especially since companies are encouraged to provide an easy means for customers to return items to avoid offending them and generating negative feedback and criticism. Providing return shipping labels right in the box enables customers to easily and quickly return an item for whatever reason, as soon as they determine that they don't want it. Conversely, if there were no return labels that specified your company's address or contact information, they would need to get in touch with you, label the product and ship it themselves, increasing costs and the likelihood of damage occurring due to negligence.
Ensures Goods are Returned Securely and Swiftly
We've already established that return labels reduce the amount of time and effort needed by the customer to return a product, hence improving customer experience. Additionally, it ensures that your goods will always wind up at the correct address, rather than to an unknowing person elsewhere, who may just decide to keep their free parcel. A situation like this can have multiple implications for your business, in addition to the general expenses associated with returns. The customer who originally returned it will want a refund and the product may also be misplaced perpetually or take much more time and effort to retrieve.
Suggested Read: 12 Most Common eCommerce Customer Pain Points
Enables the Lowest-Cost Return Option to be Used
By ensuring that you provide customers with all the details and instructions they need to successfully return a product to your company, you can choose the cheapest possible method and shipping company to conduct the task. If a customer were to undertake this operation on their own, they could choose an unnecessarily expensive shipping option in a bid to just get done with the task and get their money back – an expense you would later be saddled with. To avoid the additional expenses and confusion associated with this, you can simply include return labels in the box.
Limits the Risk of Mishaps or Damage From Occurring
As discussed above, customers generally would not be aware of how to return a product and may just choose an option that isn't suited to the type of product that needs to be transported. To avoid the risk of your products getting damaged or stolen, it is best that you take the initiative of providing return labels so that your customers would simply need to follow the instructions that are mentioned. This will ensure that your products are returned safely and securely, and you can resell them or make other uses of them.
3 Easy Steps to Make Your Own Return Labels in 2023
Step 1: Pick a Shipping Carrier and Mailing Option
Return labels consist of all the information that customers would need to successfully transport the products back to you. The first detail to specify is the shipping carrier facility you have chosen, along with the mailing category that the product would fall into. This would help the customer understand which shipping company they would need to use to ship the product back.
Step 2: Specify the Desired Address
After you have provided the details of the shipping carrier and mailing category you have chosen, you need to specify the accurate receiving address that you would want the product to be shipped to. You need to ensure that every detail is correct and that the location is able to receive returned items at any time, regardless of whether it is an office, warehouse or distribution center address.
Step 3: Pay the Postage Fees
The last step you would need to do is to pay the postage fees for returning the product to your desired location. This would negate any additional effort or payment from the customer and will ensure that they can simply return the item. Doing this will ensure that their entire interaction with your company is seamless and will leave them with a positive impression so that they will have a higher possibility of purchasing from you again.
2 Main Methods Used to Provide Return Labels for eCommerce
Embedding the Return Label Within the Parcel
Using this method, the return label is ideally enclosed within the cargo when the shipment is sent out to be delivered for the first time. This is the easiest and most user-friendly way to provide return shipping labels to your customers. With this approach, if the consumer ever decides to return the item, they won't need to worry about any of the hassles associated with shipping returned goods. It saves both you and your client time and effort while also safeguarding the product from potential damage and negligence.
Enabling Consumers to Undertake Printing the Return Labels
Using this method, your company's website can be used to deliver this service to customers for added seamlessness and functionality. The website could offer a return label template that customers could use to create as many return labels as they need from their own homes. In addition, you could also encourage the consumer to inform you that they want to return an item before emailing them the return label. Before returning a package, the client can download, print and affix the label. However, this method takes significantly more time and resources, and offers less convenience for both parties.
Types of Printers Employed to Create Return Labels
Inkjet Printers
Inkjet printers use liquid ink cartridges to recreate an image on a paper surface. They are often used for printing high-quality images and graphics but can also be used to print text and barcodes. Inkjet printers are typically lower in cost than laser printers but the cost of ink cartridges can add up over time. If you plan on including return shipping labels along with all your packages, the recurring expenses associated with inkjet printers may disqualify them from being your go-to option when it comes to label printing.
Laser Printers
Laser printers use toner cartridges to print a particular image on paper. They are often faster and more efficient than inkjet printers, and can produce high-quality text and barcodes. Laser printers are generally more expensive than inkjet printers but the cost per page is often lower. They are commonly found in workplaces and households in current times, and they are able to print on any page you feed them. Naturally, these traits make them affordable and user-friendly in the long run. However, keep in mind that they can print only one label at a time.
Thermal Printers
Thermal printers use heat to transfer ink onto paper. They are often used in industrial settings and are well-suited for printing barcodes and various types of labels. Thermal printers are generally faster than inkjet and laser printers but may not be suitable for printing high-quality images or graphics. They generally don't employ a ribbon for printing. Instead, they use a chemical layer that is heated to activate the production of printed images. On the downside, they produce labels that don't last very long, especially with exposure to UV light. Additionally, labels printed on other printers are more vivid and crisp than on thermal printers.
Conclusion: Provide Return Labels for Seamless Returns With WareIQ
Due to the nature of the current eCommerce landscape, customers expect retailers to have highly flexible return policies for a hassle-free experience. Oftentimes, this affects their purchasing decisions because they want to be able to return an item easily if it is damaged, it isn't what they expected or they simply had a change of mind. Because returns are such a common occurrence, it would be beneficial for your own business to provide the easiest possible method for customers to transport items and for you to receive them.
Shipping packages with return labels in the box is an easy and cost-effective way of accomplishing this. It requires little effort from both parties while significantly improving the efficiency with which goods are returned. If you want to provide return labels along with every package, along with other value-added services, WareIQ should be your go-to option.
WareIQ is one of India's leading eCommerce fulfillment solutions. With a whole hose of various fulfillment services, we enable you to up your retail game and provide your customers with a positive experience that they will not forget. Additionally, we offer multiple returns facilities and safeguards that will improve returns management across the board. Some of them are listed below:
Return Labels
We provide label-printing services in-house, so you can include return labels in every package.
Reverse Logistics
We are successfully running as a leading reverse logistics company in India and can completely take care of your entire reverse logistics procedure and ensure your goods are inspected and transported back to your storage facility safely and securely.
Branded Tracking
We provide branded tracking pages that can be customized for both order delivery and returns, so you can always monitor the status of every package.
Customizable Packaging
We provide custom packaging facilities that can protect your goods in transit while also ensuring that your customers have an enhanced unboxing experience.
RTO Shield
We help protect your business from the negative impacts of returns by insuring and safeguarding your products and reducing RTO costs.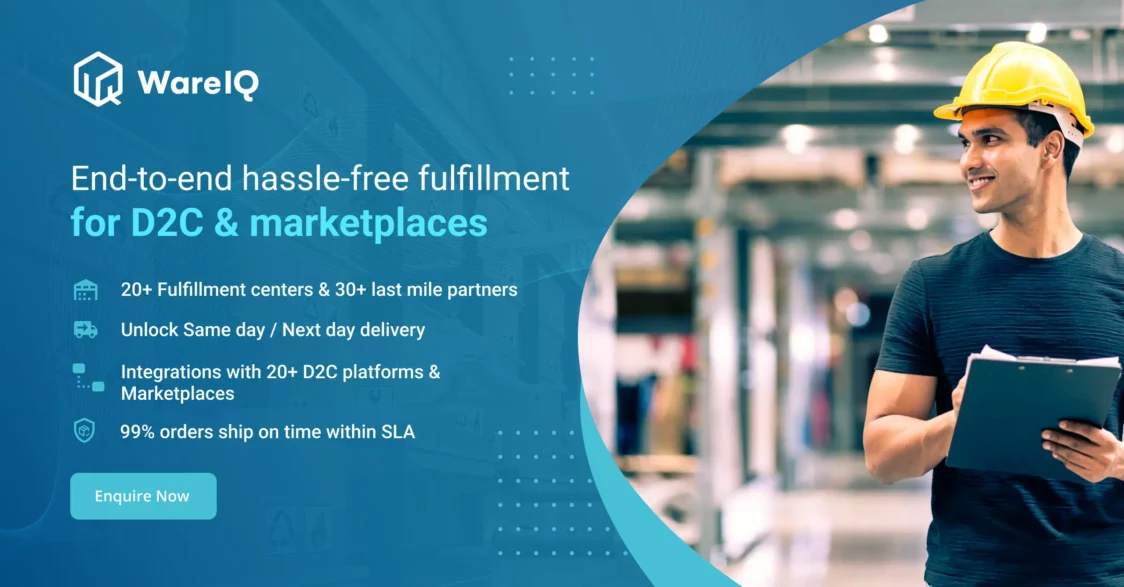 Return Labels for eCommerce: FAQs