10 Best Reverse Logistics Companies for Efficient Returns Management in eCommerce in India in 2023
The chain of supply moves both forward and backward. Logistics companies strive to get the shipment to the customer at the earliest time and in the safest way possible. However, the order is said to be unfulfilled until the customer happily accepts it. If the customer doesn't like the product and wishes to return it or submit another product for recycling, the company needs to pull it back. Reverse logistics companies are needed to handle this process.
Let's take a look.
What is Reverse Logistics?
Ecommerce Reverse logistics is the process of getting an already delivered product back from the customer. It follows the same supply chain process, but in reverse.
Being the polar opposite of the conventional supply chain, reverse logistics originates with the customer and ends with the product manufacturer or retailer. The process is sometimes triggered at the warehouse or storage facility, and the product needs to be shipped back to the seller. Even unsuccessful B2C deliveries, especially in the case of eCommerce purchases or B2B returns to the distribution centre, require reverse logistics. And, then, let's not forget those instances wherein the delivery person spots damaged goods and marks these for return immediately. So reverse logistics has many use cases, especially in the case of small businesses who need to offload their reverse logistics requirements to a competent 3PL company.
Either way, the Reverse Logistics Companies assist in moving the product from the origin to the destination. Here are the stages of this backward supply chain:
Initiation of return: The customer or delivery partner initiates the process of return. Reverse Logistics Companies then accept the request.
Shipping of the returned product: The shipment is then picked from the customer and brings it back to their warehouse or place of processing.
Processing of the return: Then thorough checks are run to assess any damage to the product.
Receipt by the seller: Once the seller receives the product, it can either be resold or recycled, depending on its condition.
Instances of resale: If the product quality has not deteriorated, the company resells it via the same process.
Instances of recyclement: If the product cannot be used again, it is sent for recycling.
Commencement of conventional supply chain: Once it is ready, the product is put up for sale again. It undergoes the forward supply chain process from scratch, to reach a new end customer.
WareIQ – Amazon-prime Like Logistics for Modern Brands in India
WareIQ, an eCommerce fulfillment company, empowers online brands with a superior-tech platform to compete with Amazon like service levels by bringing their average delivery timelines from 5-10 days to 1-2 days.
"WareIQ came to Gynoveda with a full stack fulfillment platform & gave Gynoveda access to a nation wide network of fulfillment centers & last mile & hyperlocal courier partners closer to our customers based out of North East & North India.

They made

same-day delivery possible

for us in metros.

"
What are the 5 Rs of Reverse Logistics?
The entire process of reverse logistics runs on these 5 Rs:
Returns
Reselling
Recalls or Repairs
Recycle
Replace
Let's understand what each process entails.
Returns
The eCommerce marketplace leads the amount of returns, although the rate of returns has slowed down from an average of 22% in 2020 to 18-20% in 2021. This trend was ushered in by customers' growing confidence in shopping online. The lockdown situation then further pushed customers to become accustomed to online purchases.
Companies strive for the lowest return rates, as it enhances their brand image, but such exchanges happen for several reasons. Sometimes, customers trigger the return when they are not happy with the product or if they received a wrong product and wish to exchange it. There are instances when they order more than they need or change their minds when unpacking the product. There are also returns due to delayed deliveries. Read this blog on branded shipping to understand how it helps deliver a superior shipping experience and limits the need for returns.
Product Return is the first step in the process that reverse logistics companies handle and also the most critical because it deals directly with the end customer. Handling it poorly can harm the company's image and service feedback. Whether the business is B2C or B2B, the steps taken by reverse logistics companies to process the return are similar. Here's the list:
Accepting customer requests through the company's portal or manually through customer care
Analyzing and defining the actual reason for return.
Processing the exchange request, if any
Issuing return labels
Readying the labels and other documentation for pick up from the customer's location
Notifying the customer at every step, to gain their confidence
Reselling
Once returned to the manufacturer or the seller by reverse logistics companies, the product undergoes stringent checks to assess any damage or quality depletion. If the returned product is reusable, the company aims to resell it as a new or returned product. This trend is escalating in many industries, especially the fashion and textile industry.
Fashion waste amounts to 92 million tonnes per year and is forecasted to increase to 134 million tonnes by 2030. Burgeoning customer awareness about sustainable living is driving the expansion in reselling and reusing products as much as possible. As a result, there is a growing interest and demand for returned items, especially in the fashion industry worldwide. It is evident that the second-hand and resale market is multiplying and is expected to be valuated at $53 billion by 2023.
Recalls or Repairs
Some products that are delivered to customers may have manufacturing defects. Some of these recalls are triggered by statutory policies or potential health hazards. eCommerce companies recall these faulty products back to their storage or production facilities for repair before sending them back to the customers.
Recalls are trickier than returns as the brand image, and substantial monetary liabilities are involved. Product recalls are followed by repairs and then re-delivered to the customer or exchanged if the products cannot be salvaged. However, some companies undertake to return the customers' money to retain and enhance brand loyalty.
Recycle
Globally, humans produce 2.12 billion tons of waste every year, out of which only 13% is recycled. However, sustainable practices are on the rise, and companies are adopting eco-friendly business methods. Recycling paper and waste material is the norm, and so is recycling returns that cannot be reused or resold as it is.
All industries are under pressure to employ the reduce, reuse and recycle strategy for efficient waste management. However, many enterprises, especially in the electronic and tech industries use a 3PL recycling partner to develop recycling strategies.
Reverse logistics companies consider the life cycle assessment of the returned order an essential step in the process to smoothly deliver the product back to the retailer. It evaluates the product's condition and helps ascertain its impact on the environment.
Smart recycling is critical for companies. If done right, companies can save reusable components of the product and avoid government penalties for poor waste management.
Replacement
Many customers find shipping a faulty product back to the manufacturer or seller to be a tedious process. Some sellers even prefer replacing the product instead of repairing it. The delivery personnel carries the replacement when they pick up the faulty product from the customer's location. The defective unit can then be packed in the same wrapping material as the replacement.
These practices help to save on transportation costs and prevent expenses incurred for packing the old unit. Moreover, this method also saves time for the customer and reverse logistics companies.
What Services do Reverse Logistics Companies Offer?
They offer most of the services covered in the five Rs of Reverse Logistics. They are listed below:
They offer picking up the returned product from the customer and delivering it back to the manufacturer or retailer. They also inspect the product for any damage.
Repacking and labeling the product for resale are offered by some reverse logistics companies, as per the requirements of the seller.
Taking the replacement during the pick-up process of the returned order, as per the requirements of the seller, and results in saved time and monetary resources.
Keeping customers informed about the status of pick-up or replacement.
Assisting in generating refunds are provided by them.
.Providing omnichannel services to sellers and their customers to ensure coverage via all channels
What are the Benefits of Partnering with Reverse Logistics Companies?
Delegating the humungous task of reverse logistics to dedicated companies brings in many rewards. The most crucial ones are:
Increasing customer satisfaction: The presence of reverse logistics companies in the scheme of operations brings in better customer feedback. Such associates provide timely pick-ups and transportation of the returned product to the origin, thus saving time for the company.
Curbing of losses: Reverse Logistics causes many expenses for the service provider and they help prevent that. Some countries, like the US and Canada, allow companies to employ a no-returns policy.
Facilitating reuse of returned products: They help to manage the returns process, a business does not need to be wary of product returns or recalls. These companies can take away all the headaches that are generally associated with the backward supply chain. The products and parts brought in by the reverse logistics partner are either reused or recycled by the company. Timely and safe returns further encourage businesses to salvage their products, thus enhancing their supply chain's overall value and eco-friendliness.
Improving the sustainability quotient: When a customer returns a product beyond redemption, the seller can ensure it is disposed of in an eco-friendly way. Reverse logistics companies help businesses ensure the sustainability of operations.
Offering valuable business insights: A business can gain valuable insights from reverse logistics companies in the various processes involved in reverse logistics, thus streamlining its operations.
Planning the delivery process: Their dispatch software and route planning apps allow them to foresee and schedule the pick-up and delivery of returned goods during their existing trips. This saves time and the requirement for multiple runs for delivery of products and pick-up of returns. Read this article about micro fulfillment to understand how it can help reduce delivery times and increase customer satisfaction.
What are the Challenges of Partnering with Reverse Logistics Companies?
Not everything would always go according to plan when a business partners with reverse logistics companies. There are bound to be challenged in collaboration. Let's see what they are:
Poor integration of systems: Most 3PL reverse logistics companies have their in-built systems that integrate with the seller/manufacturer's system for an unhindered flow of information. They assist the sellers and even themselves, in coordinating their operations. Most of these systems use cloud-based technology that helps both parties automate the returns process, pick-up and delivery for drivers, and sync order details and other information seamlessly.
But it would be meaningless if they don't integrate well with the seller's system.
For instance, when the seller triggers a Return Merchandise Authorisation (RMA), These companies must receive it as an acceptance of the return request. Therefore, any tech loophole can cause an issue in the completion of the order-return process.
They are also liable to provide information about the shipment's whereabouts to the seller. The inability to update this data in real-time can disrupt the critical stream of updates between the intermediaries and sellers.
Communication gaps: Multiple layers of processes exist between the manufacturer/seller and the end consumer in a supply chain. Adding 3PL reverse logistics companies to the equation can further distance the communication gap between the two ends, thus disrupting the information flow from the customer to the seller/manufacturer via the reverse logistics partner.
Most customers form an opinion of a brand based on its return policy and performance. Therefore, a deficiency in this domain can cost the business its clientele.
Collaboration issues: One of the critical layers in the chain of supply is the transportation or delivery personnel. Problems sometimes arise with the delivery and distribution of the end product and its return. Such chaos in collaboration with the delivery personnel of 3PL reverse logistics companies can cause more hindrances to smooth transportation.
Inadequate connectivity: To reach the customer to pick up the return is the first requirement for reverse logistics companies. The inability to cover a customer's pin code can halt the backward supply chain before it even begins. In addition, poor roads and inadequate signage can slow down the pick-up partner in reaching the customer's location and delay the order fulfillment process. More so, if the customer resides in another country, where different laws and regulations come into play, it can cause a big delay.
How to Choose the Right Reverse Logistics Companies for Your Business in 2023?
Businesses must do some research before partnering with reverse logistics companies. Some important information that you should know in 2023 has been listed below:
Previous experience: The businesses need to ensure that they tie up with those who have relevant experience or knowledge of the required operations. The retailer should know the reverse logistics companies' expertise in working with similar industries, how long they have been operating, their success rate, geographical coverage, among other factors before signing up.
Restrictions on product type: A seller must check if reverse logistics companies can handle their product type if and when there is a return by a customer. The product's condition varies when it is picked up from the customer, as compared to being dispatched by the manufacturer. The partner picking up the return must be able to handle it well without causing additional damage. For instance, if it is a fragile or time and temperature-sensitive product, the logistics partner must have the required resources and know-how to bring it back safely to the warehouse.
Systems and integration: The in-built systems of reverse logistics companies must be efficient and integrate seamlessly with the sellers platform. As discussed above, the dispatch and route analysis software are critical in the smooth execution of reverse logistics. Therefore, businesses must ensure the logistics partner's systems fit in well with their software to ensure a smooth flow of real-time information.
Timelines for processing returns: Timing is vital in supply chain management, and customers don't like to wait beyond the promised period. Businesses need to ensure that reverse logistics companies can match their service timelines. These durations must be in sync with the customer's expectations.
Rate plans: The reverse logistics cost is almost 75% higher than 4 years ago, and companies spend around 9-15% of their revenues on backward logistics. Hence, companies must check the rates of each service at every step of the process to identify any hidden costs and clarify them.
Warehouse network: The companies responsible for reverse logistics that operate in multiple locations closer to primary customer hubs can serve retailers at a quicker pace. A business must check the geographical proximities of reverse logistics companies to their customer hotspots or their own warehouses.
Current capacity: A business needs to know the current capacity of reverse logistics companies, in order to hand over their requests for returns to them. A partner can only be selected if they can handle the business' workload of the return requests.
Plans for expansion: This question must be focused on the plans and range of services of reverse logistics logistics companies to expand their reach across the country. The seller can also seek to know their performance appraisal measures.
Omnichannel returns: Most players in the supply chain can diversify their modes of distribution by adopting multi channel selling like online marketplaces and offline retail stores. Therefore, the business must know in advance how reverse logistics companies will be able to cover return requests from all channels. A few modes of omnichannel returns include in-store returns, different drop-off spots, customer doorstep pick-up, or return via courier. Giving them more return options ensures higher customer satisfaction.
Insurance Coverage: Accidents and mishaps can occur, sometimes out of anyone's control. In case of delays, damage to the goods, or any other unforeseen contingency, reverse logistics companies should be able to raise the claim. The seller must be aware of their insurance policy to stay protected.
Top 10 Reverse Logistics Companies in India in 2023
WareIQ
Bluedart
Ecom Express
Xpressbees
Shadowfax
Delhivery
Aramex
TCI Express
Bizlog
First Flight Couriers
WareIQ
By providing a full-stack eCommerce fulfillment solutions and giving its users an experience similar to Amazon Prime with same-day and next-day delivery, WareIQ has evolved to be one of the most excellent fulfillment firms in India. Established in 2019, this Y-combinator backed Shipping Aggregator is accessible to anyone.
Besides its stronghold and expertise in the eCommerce fulfillment sector, WareIQ as a Shipping Aggregator stands apart from the rest because of the following aspects:
Discounted rates and access to all major national couriers, as well as last-mile delivery services and couriers, guaranteeing next-day delivery and same day delivery service. This is extremely crucial for sellers as they can ensure that they live up to their service level and enjoy a higher customer satisfaction rate, thus leading to further business.
A powerful pan-India network of fulfillment centers, urban dark stores, and logistics network of national & hyperlocal shipping partners—all located near their clients, allowing them to provide timely and cost-effective logistical solutions.
A centralised logistical centre and tech platform for all eCommerce fulfillment based requirements

A centralised platform for core operations
Post-shipping apps provide tracking capabilities and a smart communication platform to offer the greatest client experience.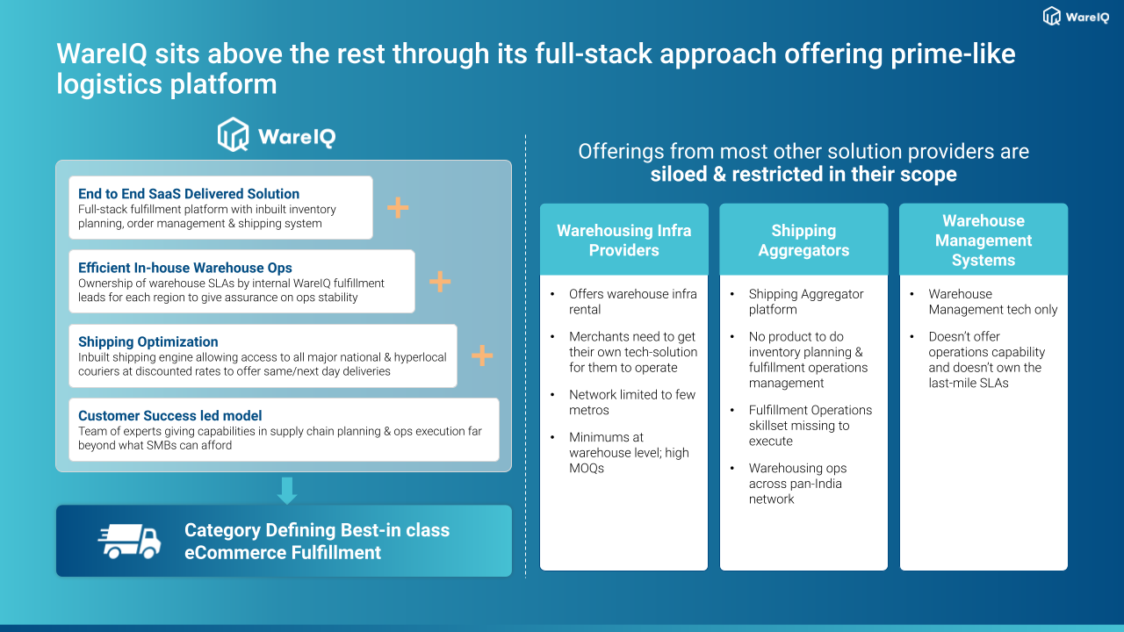 Multiple products and features are provided, such as the "WareIQ RUSH" that ensures same-day delivery and is amongst the rare fulfillment tech companies in the world, let alone India, to provide such a service, and is thus amongst the best fulfillment companies in India.
WareIQ customers benefit from considerable cost reductions as a consequence of WareIQ negotiating the best terms with shipping partners, strategic warehouse presence, and data-driven decision making.
WareIQ's central platform possesses a multifunctional NDR dashboard that helps reduce the processing time of NDR by 12 hours and reduces the RTO by 10%.
Related Search: Top 10 Logistics Companies in Mumbai
Bluedart
Blue Dart Express Ltd. is a South Asian express air and integrated transportation & distribution company, headquartered in Mumbai. It offers reliable and secure delivery of consignments to over 35,000 locations in India. It was founded in 1983 and in its early years, Blue Dart had an agreement with Gelco Express International (UK), for the operations of international air package express services from India.
Has delivered consignments over 35,000 locations in India
Has delivery services covering over 220 countries
Has distribution services including air express, supply chain solutions, customs clearance, and freight forwarding
Has warehouses at 85 locations across the nation as well as warehouses at the 7 major metro cities (Delhi, Mumbai, Ahmedabad, Bangalore, Hyderabad, Kolkata and Chennai)
Has state-of-the-art Technology, indigenously developed, MIS, for Track and Trace, ERP, Customer Service, Space Control and Reservations
Has a subsidiary service called Blue Dart Aviation that is dedicated to support time-definite morning deliveries through night freighter flight operations
Has a countrywide surface network to complement air services
Has eCommerce B2C and B2B initiatives including partnering with a few of the prime portals in the country
Ecom Express
Ecom Express Ltd. is an end-to-end technology enabled logistics solutions provider in the Indian e-commerce industry, headquartered in Gurugram, Haryana. It was incorporated in 2012 by a team with several years of experience in the Indian logistics and distribution industry.
The company has established its presence in the industry due to a differentiated business model which is built on delivery service capability, customization, scalability, and sustainability. It uses cutting-edge technology and automated solutions to enable first-mile pickup, processing, network optimization and last-mile delivery. The company's products include Ecom Express Services (EXS), Ecom Digital Services (EDS), and Ecom Fulfilment Services (EFS).
Has a presence all over the country including 29 states and union territories. It operates in across 27,000+ PIN-codes over 2650+ towns
Has also invested in Paperfly, Bangladesh's largest third-party e-commerce logistics (3PL) firm.
Xpressbees
Xpressbees is a logistic solutions company founded in 2015 and is headquartered in Pune, Maharashtra. It specialises with Last-Mile Delivery, Reverse Logistics, Channel Management, Dropshipping, Software Solutions, Payment Collection, Fulfillment Status, Fulfillment Services, Cross Border Services and Transportation.
It has logistics solutions across B2B Xpress, B2C Xpress, Cross-border and 3PL (Third Party Logistics) that come with an edge of accuracy, speed & scalability. It consists of a distribution network that penetrates 2000+ cities and towns across the country. With time, it has emerged as trusted logistics partners for the biggest names in eCommerce, health care, grocery, heavy machinery, finance, and automotive.
Has 3000+ offices & service centers
Has 52+ cargo airports
Has 500+ customer care executives
Has 100+ fulfillment hubs
Has 10 Lakhs sq ft of warehouse capacity
Has 35,000+ staff and executives
Shadowfax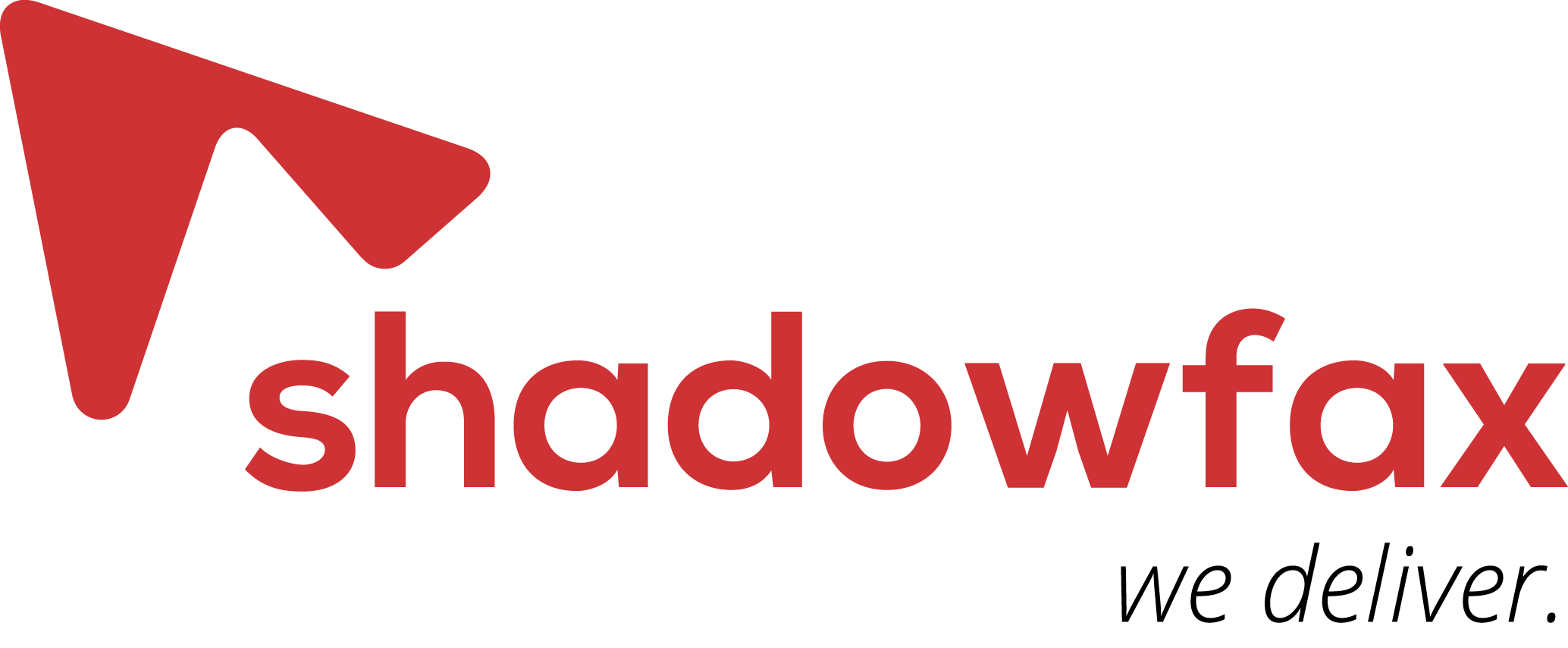 Shadowfax is a logistics company founded in 2015. It uses machine learning and artificial intelligence to ensure that supply keeps up with demand in the hyperlocal distribution environment, which is rapidly developing and extremely fragmented, and to provide a fantastic end-user experience. Shadowfax launched India's first delivery SuperApp in October 2021 to help delivery partners expand faster by giving them access to different opportunities through a single platform.
Has expanded to a staff of close to 5000 people
Has 100K+ daily active users
Is active in more than 600 cities throughout India
Promises to be able to fulfil 1 million orders each day in more than 7000 different pin codes
Delhivery
Delhivery, since its inception, has successfully fulfilled over 1 billion orders across India. Their aim is to build an efficient operations model for business, through a combination of world-class infrastructure, cutting-edge engineering and technology capabilities and logistics operations of the highest quality.
It is one of India's largest and most popular courier companies that is also homegrown.
It offers end-to-end fulfillment solutions and serves over 17,000 pin codes and 175 cities.
It offers features such as sending tracking details to customers through SMS and provides same-day/next-day delivery options.
It provides multiple payment options at the time of delivery.
Aramex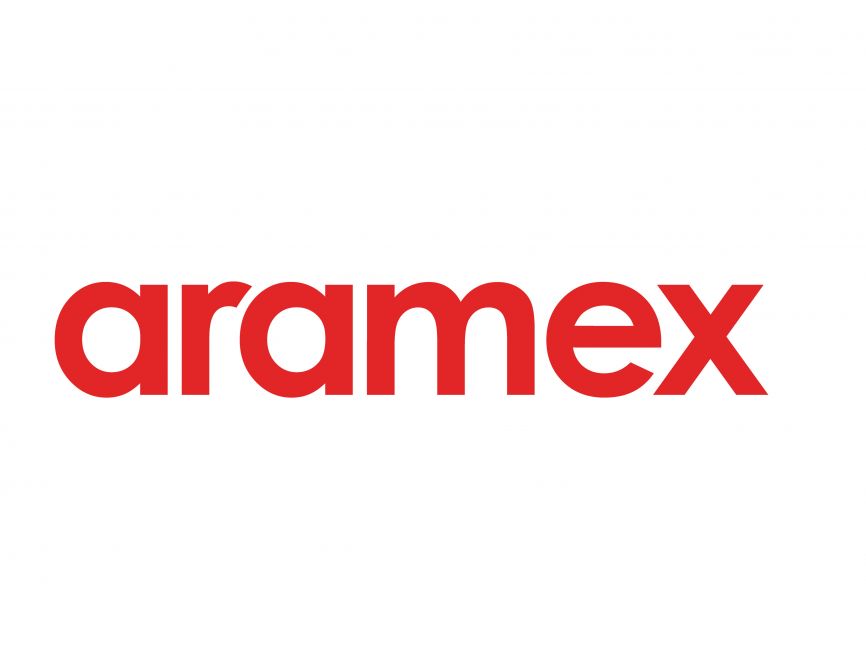 Aramex is based in the UAE and was established in 1982 with offices in Amman and New York. Their legacy, robust IT infrastructure and nationwide consolidation centers provide customised reverse logistics solutions to the customers.
Offers customized return results
Has the ability to integrate its return portal according to guidelines offered by customers
Has a custom payment platform called Aramex Payment Services
Has automatic language selection grounded on IP
Has 24/7 return requests
Has multi-language support
TCI Express

Transport Corporation of India started TCIExpress as a major division in 1996 and has grown over the years to become a household name in express delivery services. The company offers to pick up from 3000 locations across India and keeps a tab on the returns via their centralised system. Speed is an essential part of their services.
Has transparent and cost-effective pricing
Offers a vast number of reverse logistics services
Offers services such as supply chain consultancy, inbound logistics, warehousing/distribution center management, and outbound logistics, and in-plant stores & yard management
Bizlog
A tech start-up specialising in reverse logistics, Bizlog serves 53 locations across the nation and is aiming to serve more than 100 in the near future. They offer reverse logistics services from pick-ups, inspections, packaging, repairs and exchanges, insurance and warranty.
Pays attention to services such as reuse, refurbish, resale and residual value
Serves B2B, B2C, and C2C & C2B with its modular technological platform along with a technically trained team
First Flight Couriers
Based in Mumbai, First Flight Couriers offer expert reverse logistics services. They pick up the return from the customer or the retailer and provide thorough inspection and exchange for unredeemable products. They also offer tracking services every step of the way.
Offers a vast array of reverse logistics services
Offers exchange of merchandise
Has a comprehensive track & trace facility for orders
Has a global reach
Offers cost-effective and transparent pricing
Conclusion: How is WareIQ the Best Reverse Logistics Company for an eCommerce Business?
WareIQ offers a couple of advantages that make it the ideal choice for reverse logistical solutions.
Smart Platform: WareIQ's advanced supply chain tech studies the market trends, order density and conducts an in-depth slotting analysis to suggest the best way to move their returns.
Decentralised Warehousing: WareIQ believes that the closer you are to the customer, the faster you can serve them. The company promises to reach 90% of Indian cities within 48 hours.
Efficient Integration: The company's superior-tech ensures extensive integration with all prominent national and regional courier service providers. This enables same-day deliveries in metros.
Preventive Checks: As a preemptive measure, WareIQ's track record of delivery TATs ensures the businesses never face a loss due to delayed delivery or a lack of information. They also run thorough address checks to ensure the package doesn't return to its origin due to incorrect details of the customer's whereabouts.
Established in 2019, WareIQ, a Y-combinator backed startup, has rapidly grown to be the leading provider of full-stack eCommerce fulfillment services for some of the most reputed brands in India. WareIQ offers a full-stack platform for eCommerce companies to enable same-day delivery and next day delivery to customers – an Amazon Prime-like experience but accessible to everyone.
WareIQ has customised offerings for merchants experiencing different order volumes as well as having different delivery speed expectations. WareIQ is probably one of the very few fulfillment tech companies in the world that have same-day delivery service for their customers under their product "WareIQ RUSH".
With world-class WMS functionalities, WareIQ handles the entire range of intricate operations in the eCommerce fulfilment process, ranging from Inbound Operations such as scanning and quality check, through 100% accurate Pick and Pack, to Inventory Management across all channels. WareIQ's next day delivery and same-day delivery services are helping eCommerce businesses set new standards with respect to setting customer expectations and fulfilling them with high efficacy. At the same time, WareIQ customers realise significant cost savings and wider reach due to better negotiations with shipping partners, strategically placed warehouses, economies of scale and scope in warehousing and data-driven decision-making.
Related Article: How to Reduce Logistics Cost?
Are you eager to know more about WareIQ's offerings if you sign up now? Find the features of the best-in-class, category-defining fulfillment services for eCommerce & D2C brands below:
Pan India Fulfillment & Darkstore Network: Plug-and-play fulfillment infrastructure with no minimums, which is compliant with Amazon Seller Flex, Flipkart Assured, Myntra and other marketplaces
Inventory & Network Planning Excellence: Best-in-class AI models for sales forecasting, product segmentation, and inventory management to reduce inventory by 40% and increase revenue by 10%.
Vertically Integrated Fulfillment Tech Stack: Our Fulfillment Tech Solution supports integrations with 20+ top marketplaces & D2C platforms, and prominent national, regional and hyperlocal couriers, enhancing reach by covering deliveries for 27,000+ pin codes
Supply Chain Productivity Applications: Integrate a host of supply chain productivity apps with a single-click to your existing CRMs, ERPs & accounting software to manage your logistics workflows from one command center. Use Apps like RTO Shield to get 100% RTO protection, Branded Tracking to turn your order tracking page into a profitable marketing channel, and many more.
Trusted by 300+ top Indian brands, we are helping them accelerate online sales and expedite their growth through a synergistic combination of advanced technology, robust fulfillment infrastructure & seller enablement services!WareIQ is backed by leading global investors including Y Combinator, Funders Club, Flexport, Pioneer Fund, Soma Capital, and Emles Venture Partner.
Reverse logistics companies FAQs (Frequently Asked Questions)
Related Article: List of Top 10 Warehousing and Logistics Companies In Delhi NCR and Ghaziabad