10 Best 3PL for Small Business in India in 2023
Large e-commerce companies have been enjoying the privilege of having 3PL or Third-Party Logistics companies as partners to take care of the logistics of their products, and that has helped them to focus on their core function of sales and marketing to expand their businesses. However, having the best 3PL for small businesses as partners is still a constraint for most e-commerce businesses, especially for those which are at the early stage of their growth journey.
Small e-commerce businesses have been doing all their logistics by themselves owing to limited resources available at their disposal, and as such, they have been facing serious difficulties in matching the price and delivery timelines of large e-commerce businesses. Having understood this ground reality, more and more small e-commerce businesses are looking out for the best 3PL small business partners to improve their logistics framework and remain competitive in the growing market of e-commerce.
What are 3PL companies?
Order fulfilment is an essential and integral part of the operations of any e-commerce business. As the business grows, it may become very difficult for an eCommerce business owner to fulfil customer orders with in-house resources. 3PL or Third-Party Logistics companies act as eCommerce order fulfilment agencies for e-commerce businesses.
Therefore, 3PL companies can effectively provide third-party logistics in supply chain management. They provide comprehensive ecommerce logistics services needed by e-commerce businesses to meet their commitments to their customers. 3PL companies help their e-commerce clients to focus on sales and orders received from customers through online platforms, while they take care of all the logistics operations required for the safe and timely delivery of products to customers. A 3PL company handles functions like warehousing and storage, inventory management, transportation, distribution, delivery to customers, and reverse logistics in case of rejection/return by customers and customer support
3PL fulfillment companies bring many benefits to their e-commerce clients. First and foremost, by engaging services of 3PL companies, e-commerce businesses are not required to make huge investments in infrastructures such as ecommerce warehouses, transport vehicles, and manpower among other things. A 3PL company with expertise in documentation, national and international markets, mandatory compliance, and regulations adds a lot of value in terms of reducing costly delays and cycle time.
Logistics is a non-core function for an e-commerce business owner. The 3PL company helps the e-commerce business owner to focus on his core competency to manage and scale-up business instead of getting caught up in nuances of logistics management. Outsourcing of logistics to third-party also gives the flexibility to utilise services from 3PL companies based on business demand and needs. Above all, 3PL partners help improve customer satisfaction through efficient response time and timely deliveries.
WareIQ – Amazon-prime Like Logistics for Modern Brands in India
WareIQ, an eCommerce fulfillment company, empowers online brands with a superior-tech platform to compete with Amazon like service levels by bringing their average delivery timelines from 5-10 days to 1-2 days.
"WareIQ came to Gynoveda with a full stack fulfillment platform & gave Gynoveda access to a nation wide network of fulfillment centers & last mile & hyperlocal courier partners closer to our customers based out of North East & North India.

They made

same-day delivery possible

for us in metros.

"
What is the Significance of 3PL companies for Small Businesses?
In today's competitive business environment, specialisation is the key to the growth of a business enterprise. Executing all business functions in-house may not be possible without compromising on the performance of the core business activity. Outsourcing certain critical business functions to an experienced operator can be a good strategy for business growth.
While large e-commerce companies are already outsourcing their logistics and order fulfilment activities to 3PL companies, small businesses are also now increasingly inclined to do the same to take advantage of the benefits that 3PL companies bring to their businesses. It may seem like a big step for a small business, but it helps small business owners to stay ahead of their competitors. Optimisation of logistics functions can entail considerable savings by reducing wastage and helping the business to improve its bottom line.
A 3PL company with multiple customers creates extensive infrastructure for warehouse management and inventory management. However, small business owners need to pay only for what they use, and thus, they are insulated from fluctuating warehousing requirements and associated rates.
Normally, a good 3PL company will be equipped with good technology and analytical tools to provide total visibility and transparency of its operations. It adds to the user-experience of small business owners by helping them track the journey of their products till they are delivered to the customers. Many small businesses do not have facilities or infrastructure to manage multiple functions under one roof. 3PL companies, on the other hand, offer many value-added services to ensure smooth operation. Timely delivery at a competitive cost is the biggest challenge for any e-commerce company today.
The challenge becomes more demanding for small businesses as they have to compete with big e-commerce companies who have gained expertise in delivering a product to a customer at the most competitive price and within the tightest timelines.
Top Expectations from 3PL Companies for Small Business
Small businesses often manage their order fulfillment exercise in-house. It is manageable as long as the volumes are small. However, as the volume of orders increases, small businesses find it difficult to manage multiple activities due to limited resources and infrastructure. This is when they require the services of a 3PL company to handle their warehousing and order fulfilment requirements.
While fulfilment exercise is labour-intensive, infrastructure needs are costly. 3PL companies for small businesses, which already have infrastructure and manpower in place, can easily help small businesses to meet their order fulfilment obligations. Small businesses have many expectations from 3PL companies. However, the following expectations top the list:
Shipment
Inventory Management
Regular Feedback
Packaging plays an important part in giving customers a satisfactory e-commerce experience. Customers like their products to be delivered without any pilferage or damage during transit. 3PL companies for small businesses, with requisite expertise in packaging, make sure that it is done with appropriate materials, dimensions, and designs to protect products to satisfy the customers.
Shipment is a critical process in a supply chain as the efficiency of this process determines the timeline for delivery of the product to the customer. The companies are expected to choose the best and the most cost-efficient shipping option for each order so that it reaches the customer in the expected time frame. The 3PL companies for small businesses are expected to manage the inventories with regular reporting on stock levels and issue alerts whenever stocks go below-predetermined levels. The best 3PL for small businesses is also expected to provide specialised storage and inventory services for perishable goods so that product owners can withdraw expired products from the inventory well in time.
The 3PL companies for small businesses are expected to maintain total visibility in their operations for business owners by the use of technology and regular feedback. Any order fulfilment exercise is not complete till the product is accepted by the customer. In case the customer wants to return the product, 3PL companies are expected to efficiently manage the reverse logistics so that the product is safely returned to the product owner.
How do 3PL companies differ from 4PL companies?
| 4PL Companies | 3PL Companies |
| --- | --- |
| Manage the whole supply chain | Manage only logistics of the supply chain |
| Normally serve large businesses | Normally serve small-to-medium businesses |
| Functions integrated with the manufacturing process of business | Mainly focused on receiving and delivering products |
| Provide the supply chain management of the highest value | Provide only clearly assigned logistics services |
| Single point contact for supply chain operations | Certain aspects of the supply chain have to be managed by business clients |
10 Best 3PL For Small Business in India in 2023
Stockarea
Ekart Logistics
India Post
Blue Dart Express
DTDC Express
Ecom Express
Shadowfax
TCI Express
Delhivery
GATI
With the exponential growth of e-commerce in India, the need for 3PL companies for small business has also grown dramatically, and even small e-commerce businesses are now having the luxury of picking up the best 3PL companies that meet their specific requirements. We have presented here the list of 10 best 3PL for small businesses for 2023 based on their cost structure, pin code reach, visibility, terms of service, market share and quality of service.
Stockarea
The company specialises in Digital Warehousing with a wide range of automated tasks related to Fulfillment, Bonded, General warehousing, Cold Storage, Freight and other logistics-related functions. Stockarea has a presence in practically every major city in India with 100+ warehouses in its network.
One of the deep pockets of Stockarea is in the storage and transportation of perishable items (via its intricate, well-positioned network of cold-chain facilities) and heavy equipment (considerable care is taken and technical instructions are strictly adhered to in the process of handling). The company provides discounted quotations to the customers from its carrier partners for all types of freight – be it Less-than Truck-Load, Full Truck-Load or Last Mile Delivery.
While Stockarea reduces the hassles of documentation on behalf of its customers, such as FSSAI Certifications (for storage and movement of food items), accreditations from BIS, CWC, FCI etc., customers are charged a considerable premium for such value added services. However, these value added services have helped Stockarea establish itself as one of the preferred 3PL companies for small businesses.
Ekart Logistics
Ekart Logistics began its operations in 2009 as the in-house supply chain arm of Flipkart. The company provides end-to-end fulfillment solutions to a multitude of e-commerce businesses, ranging from hassle-free order pickups, multi-mode payment collections for COD orders, first mile and last mile coverage and effective handling of order returns.
Ekart Logistics has become one of the most popular 3PL small business partners in India because of their deep penetration into Tier-2 and Tier-3 cities and remote villages, seamless API based integration with eCommerce platforms, low rate per consignment, express deliveries and efficient reverse logistics. Ekart has also improved its communication systems over time to enable businesses to share the live status of the consignments with their respective customers via SMS, email etc.
India Post
Although the adoption rate of India Post as a 3PL small business partner among small businesses is slow, India Post offers three promising services to match the logistics and fulfillment requirements of small businesses precisely:
Business Post – This is meant for very small items such as stationery, gift cards etc. and is usually the most affordable alternative for delivery to customers located in any part of India. Business Post centres are conveniently located in major cities and can also be established on request at the small business or company's request if monthly order volumes are satisfactory.
Logistics Post – Under this scheme, India Post integrates features such as LTL & FTL services, Logistics Post Centres for collection of consignments, Multi-modal transport, Warehousing Services, Fulfillment services and Reverse Logistics.
Media Post – This is a fairly new concept introduced into the Indian market and will enable small businesses to penetrate into the less tech-savvy segments in villages and remote areas with physical promotional materials like flyers, catalogues etc.
The biggest advantage of India Post is its regulated pricing due to Governmental control and logistics experience of more than five decades. It is a popular choice among small businesses serving customers at remote locations where other 3PL players charge exorbitant prices or often do not deliver.
Blue Dart Express
Blue Dart Express Ltd. is a part of the DPDHL Group's Post-eCommerce-Parcel (PeP) division and hence has access to a giant logistics network and infrastructure across the globe. The company serves more than 36000 pin codes in India and enjoys tremendous popularity among customers for its reliability, experience, and sustainability.
Blue Dart has established itself as a 3PL small business leader in the domestic and international air express services, providing the entire spectrum of logistics solutions including repair and return, strategic inventory management and direct express inventory distribution. For small businesses and eCommerce enterprises, Blue Dart has launched Smart Box – Air Express and Small Box – Ground Express, which are convenient and affordable packaging units for speedy and reliable delivery to end customers.
Blue Dart has also developed multiple tech-enabled platforms, which the company refers to as E-shipping Tools, to better coordinate shipping management services for small businesses.
DTDC Express
Founded in 1990, it currently caters to over 10000 customers across 17500 pin codes and 430 operating facilities across India with easy accessibility for small Indian businesses. Apart from its Domestic Division which largely handles a large variety of orders, DTDC has established a dedicated Retail Division SBU that caters to the fast-changing requirements of D2C eCommerce brands and small businesses, with economical and customised offerings.
DTDC specialises in handling a wide variety of goods including high-value goods, heavyweight goods, and even hazardous materials. On the tech-front, it has pioneered in the introduction of high-tech solutions such as Image-scan of Proof Of Delivery (POD) on the web, Logistics and Warehouse Management applications, Mobile-based instant delivery update etc., which help small businesses minimise delivery-related risks while satisfying end-customers.
However, DTDC's prices for certain categories are perceived by small businesses as slightly on the higher side compared to those of its competitors.
Ecom Express
Established in 2012 and headquartered in Gurugram, Ecom Express pursued a business centred around customer-centricity, scalability and sustainability. The company uses latest technology and automated solutions to provide first-mile pickup, processing, network optimization and last mile delivery to a customer base spread across multiple business-sectors.
The company has two offerings – Ecom Express Services (targeted as medium and small businesses, including D2C eCommerce enterprises) and Ecom Ground Services (targeted at larger enterprises and eCommerce brands for bulky medium-weight products such as furniture, appliances etc.). Both these offerings are equipped with provisions for QC-enabled reverse logistics. Ecom Express also provides value added services such as Try & Buy, Switch Deliveries and Valuable Goods Handling, which lets it price its services with a premium.
Shadowfax
The company specialises in low-cost hyperlocal deliveries within 30 minutes with API integration and live tracking and therefore can add lot of value to logistics needs of small businesses.
It provides fulfillment and logistics services for eCommerce companies and Quick Commerce brands with its feature-rich technology and a closely-knit network of delivery executives, thereby leveraging both the Brand Advantage and Rider Advantage. For small businesses, Shadowfax enables Marketplace & warehouse pick-ups, End-to-end shipment tracking, COD/UPI doorstep payments on the Forward Logistics front and Air/surface transportation, Seller & warehouse pick-ups, Single integration for all deliveries on the Reverse Logistics front. Live imaging for quality check and instant refund issues to customer help small businesses keep their end customers satisfied while minimising risks of fraud. These tech features have enabled Shadowfax to make its mark among the top 3PL companies for small business.
TCI Express
It is a division of the Transport Corporation of India (TCI). While TCI Express specialises in cold chain (for perishable items) and bulky materials transport, it has a variety of offerings for small businesses as well.
These include Surface Express, Domestic Air Express, Rail Express and Ecommerce Express. With 28 sorting stations, 51 air gateways and other allied infrastructure, TCI Express serve 40,000+ locations covering 7500 districts across India.
The biggest strength of the company as a 3PL small business service provider lies in its completely owned network infrastructure such as warehouses, GPS enabled vehicles, packaging facilities etc., which provides it the flexibility to stretch to the best possible limits to delight customers and become a trusted 3PL small business partner.
Delhivery
Delhivery is a key player in the Indian small business order fulfillment sector. With 70+ fulfillment centres around the country, having a total storage and processing space of over 6 million square feet, it serves over 6000 small businesses across India. All the major demand channels and courier partners are integrated with their own warehouse management system.
Delhivery is equipped to support efficient multi-tenant, multi-location warehousing, allowing small businesses to expand operations across India rapidly and flexibly with no fixed expenses. By combining warehousing and freight solutions, Delhivery can provide small businesses with integrated distribution solutions. This allows Delhivery to be one of the best 3PL for small business customers with quick and cost-effective offline delivery.
Their services include:
Same-day/Next-day Delivery
Time-defined/Slot-based Delivery
Person Specific/Address Specific Delivery
Returns Management
Product Replacement/Exchange Services
Large/Oversize Order Delivery
High-value Product Delivery
HAZMAT/Dangerous Goods Delivery
Real-time Monitoring and Control
Consignee Address Validation
Fraud Detection
Flexible Payment on Delivery
GATI
Founded in 1989, it is one of the leading express distribution and supply chain management firms in India, dedicated to providing smooth and end-to-end solutions to customers, supported by cutting-edge digital tools and technology. It has world-class warehouses and fulfilment centres at strategic locations around the country.
Gati helps small businesses in their fulfillment endeavour with its Surface Lite and Premium Flexilite offerings. Gati has also developed a unique niche in its customer base by being a 3PL small business partner for firms selling Art Products (fragile and antique items such as sculptures, canvas paintings, pottery etc) with its premium offering, Art Express. It has capabilities for handling all logistics-related documentation on behalf of the small business owners, thereby helping them focus on their core business.
5 Factors to be Considered for Choosing the Right 3PL Small Business Partner
Small businesses aspiring to scale up their businesses can derive a range of benefits by partnering with the right 3PL companies. The challenge is to identify which 3PL partner is best suited to fulfil the specific needs of the business owner. Several factors are considered for selecting the right 3PL company. However, the following five factors are the most important factors considered by business owners while finalising 3PL service providers:
Experience & Track Record: It is very important to know about the business experience and track record of a 3PL company concerning its performance and relationship with its principal stakeholders like customers and employees. The 3PL company should be reliable in terms of financial stability, and business ethics and should have a proven track record of handling disruptions.
Customer Service: The service provider should have an exclusive and sustainable customer service mechanism in place that is professional and responsive to customer needs and grievances. The service provider needs to have robust warehousing and inventory management facility to ensure safe storage and delivery of the consignments and also for the safe return of consignments in case of non-acceptance by the customers.
Flexibility & Cost: The service provider needs to have the ability to be flexible in scaling up operations as per business demands and provide services at a competitive cost by optimising its resources.
Geographical Locations: The 3PL company should have a network of fulfilment centers to serve customers across the country and across the world to reduce last-mile delivery costs by maximising delivery speed and efficiency.
Technology & Integration: The service provider should have access to the latest logistics software that is user-friendly and can be easily integrated with systems on different technology platforms for real-time information gathering and updates.
Demerits of 3PL Companies for Small Business
As we have seen so far, there are many merits of 3PL companies for small businesses. However, 3PL companies also bring some demerits for business owners, and they need to be considered while engaging 3PL service providers.
Loss of Control Over Goods: The biggest demerit is that the business owner does not have control over the process of delivery of his products to his customers as the whole process is independently handled by the 3PL company. The business owner can only check inventory levels, incoming shipments, and deliveries in real-time by co-ordinating with the 3PL service provider.
Finding a Trustworthy 3PL Service Provider: The growth of e-commerce in India has given rise to mushrooming of many 3PL service providers, and many of them may not be of the desired level of competency that is expected of a 3PL service provider. In such a situation, it is difficult to choose the right 3PL partner, and it can be a stressful exercise as the wrong 3PL partner can do a lot of damage to the business.
Impact of Bad Service On Business: Despite engaging a 3PL small business service provider, the business owner is solely accountable to his customers for the service provided by the 3PL service provider, and therefore bad service by the 3PL service provider can adversely impact the business of the business owner.
Why Should You Choose WareIQ as 3PL Partner in 2023?
While most of the 3PL companies for small businesses that we have discussed so far, take care of only the logistics operations, WareIQ offers a full-stack platform that integrates a series of operations essential for fulfillment, such as warehousing, an easily integrable tech platform for centralised monitoring, last-mile delivery/ 3PL and post-shipping experience. So, if your small business is facing numerous problems on the fulfillment front, you should seriously consider outsourcing fulfillment, and choosing WareIQ as your partner can help you save both time and money.
Established in 2019, WareIQ, a Y-combinator backed startup, has rapidly grown to be the leading provider of full-stack eCommerce order fulfillment tech solutions for some of the most reputed brands in India. WareIQ offers a full-stack platform for eCommerce companies to enable same day delivery and next day delivery to customers – an Amazon Prime-like experience but accessible to everyone.
WareIQ has empowered brands to sell more, sell faster & sell everywhere due to the:
Access to WareIQ's strong nationwide network of fulfillment centers & urban dark stores near their customers
Access to all major national & hyperlocal last mile couriers at discounted rates for making same/next day deliveries possible
Easy integration across multiple online platforms & marketplaces

Horizontal marketplaces: Flipkart, Amazon etc.
Vertical marketplaces: Nykaa, Myntra etc.
D2C platforms: Shopify, Magento, WooCommerce etc.
Social commerce platforms: Bikayi

Access to a superior centralised tech platform for eCommerce operations

ML-based prediction engine for efficient warehouse network design & smart inventory placement
Centralised platform for core fulfilment & shipping operations
Post-shipping apps for delightful experience & zero to minimum supply chain leakages (Branded tracking page with smart marketing placements; Trigger-based updates & smart communication platform)
WareIQ has customised offerings for merchants experiencing different order volumes as well as having different delivery speed expectations. WareIQ is probably one of the very few fulfillment tech companies in the world that have same day delivery offering for their customers under their product "WareIQ RUSH".
With world-class WMS functionalities, WareIQ handles the entire range of intricate operations in the eCommerce fulfilment process, ranging from Inbound Operations such as scanning and quality check, through 100% accurate Pick and Pack, to Inventory Management across all channels. WareIQ's next day delivery and same day delivery services are helping eCommerce businesses set new standards with respect to setting customer expectations and fulfilling them with high efficacy. At the same time, WareIQ customers realize significant cost savings and wider reach due to better negotiations with shipping partners, strategically placed warehouses, economies of scale and scope in warehousing, and data-driven decision making.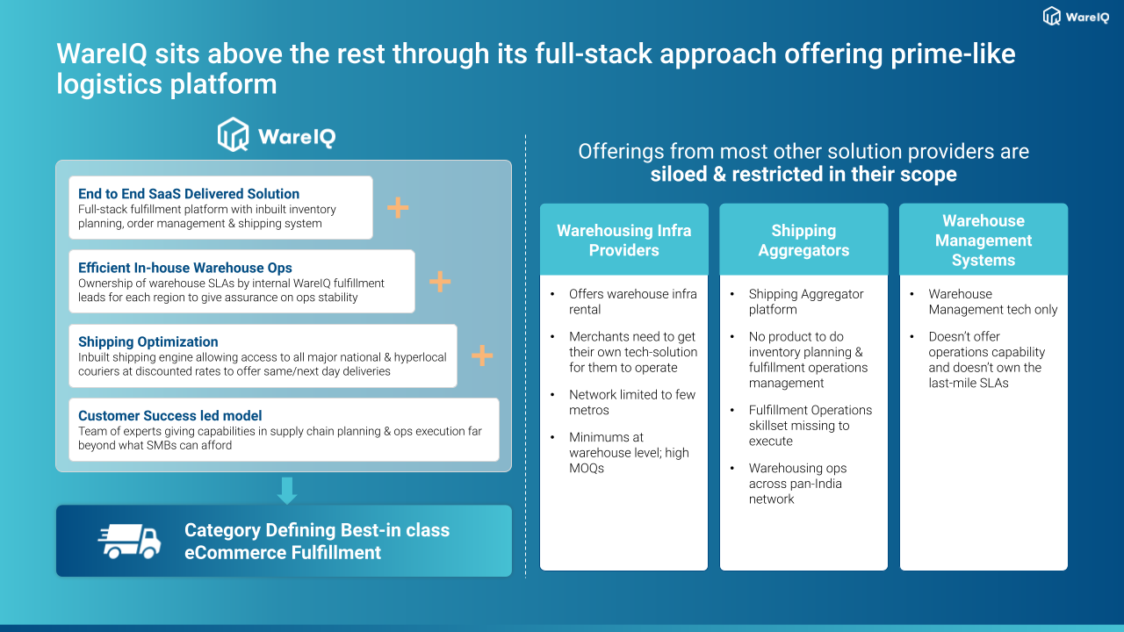 WareIQ's WMS, a centralised tech platform, is its core offering, with the following functionalities:
Shipping Management

Integration to all major national couriers and same-day courier partners through WareIQ platform with discounted rates
Generation of bulk shipping labels & invoices in a few clicks
Offering a branded tracking page and sending auto-alerts to inform customers of their shipment status
Reduction in RTO % (Return to origin) by automating cases of failed delivery attempts (NDRs) by the shipping partner
Preemption of COD frauds through integrated AI engine flagging risky orders

Orders management

Tracking of orders across the channels

Filtering of orders by status
Searching for specific orders
A quick timeline view of where the order is in the fulfillment process (e.g. when an order is picked, packed, or shipped)
Shipping-related information (e.g., weights, dimensions, or carrier service)
A quick snapshot of any orders that require action

Syncing WareIQ's out-of-the-box integrations with sales channels to eliminate manual importing of data and trigger all the necessary notifications to the end-customers

Inventory management

Tracking of inventory levels across multiple locations & sales channels – the website and marketplaces
Using WareIQ platform to distribute inventory to multiple locations optimizing for speed & cost/order
Setting reminders to proactively replenish inventory, bundle products for promotions, make inventory transfer requests, and much more

Warehouse management

Managing multiple warehouses and offline stores on WareIQ platform
100% inventory accuracy ​​​with scan-based operations
Automated reconciliation tool helps to keep track of returns and unsettled invoices
Integrations with all major ERP & Accounting systems
Assured tag on Flipkart without physically dedicating inventory to them
The central platform helps to better manage undelivered orders by reducing NDR processing time by 12 hours – a multifunctional NDR dashboard helps to track and take immediate action for undelivered orders in real-time, thereby reducing RTO by up to 10%. Automatic replenishment recommendations and easy purchase order creation capabilities on the WareIQ platform further empower eCommerce companies to leverage all possible ways of increasing their ROI.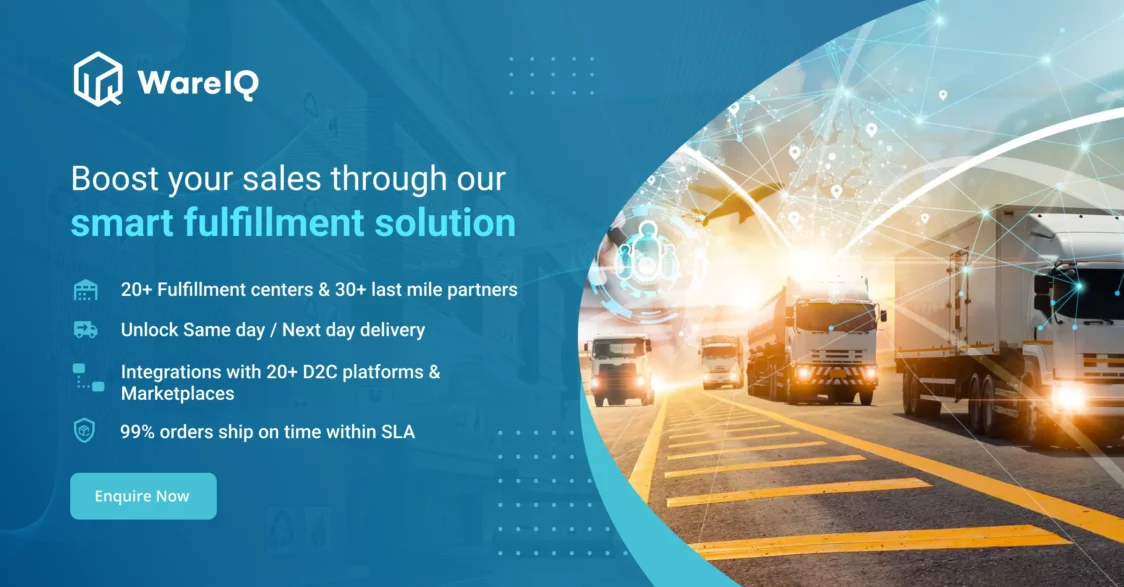 Best 3PL for Small Business FAQs (Frequently Asked Questions)