What is eCommerce Logistics? 10 Latest Trends in 2022
A change in consumer mindset encourages evolution in the way eCommerce retailers plan on serving them. Two years ago, what began as a force majeure became a habit, where customers were able to receive everything that they could possibly think of, right at their doorstep.
The answer is vast as to what is eCommerce logistics. The eCommerce industry's heavy reliance on a solid supply chain backbone has triggered a revolution in the eCommerce logistics industry.
But what is eCommerce logistics and what are the factors that it encompasses? Let's take a look.
What is eCommerce Logistics?
eCommerce Logistics is the complete supply chain process undertaken by an eCommerce company to get their products from the seller or warehouse to the customers and back via reverse logistics if needed.
All the proper systems and processes need to be in place for the millions of packages being shipped across the country, to multiple different locations, daily. eCommerce logistics begins with moving inventory from the origin point and ends at the customer's destination, once they take ownership of their order.
What are the Processes Involved in eCommerce Logistics?
As mentioned above, eCommerce logistics refers to the entire series of processes, from receiving an online order to the safe delivery of the package to the customer by the estimated date and time.
The processes involved in eCommerce Logistics are listed below:
Inventory Management: This process is highly critical to keeping regular track of inventory. While stacking products in the warehouse or fulfillment center, warehouse management should occur where the high demand products must be kept handy or easily reachable, followed by the goods where their accessibility is in proportion to their demand.
eCommerce logistics companies need to put in measures to ensure the safety and security of the inventory in their warehouses or storage spaces.
Order Preparation: The next step is to gather the inventory and prepare the final order per the customer's request. The next step is packaging and labelling.
Products are packaged in a single SKU or a kit with several SKUs before being labelled as per their batches and destinations. Many companies have adopted eco-friendly packaging and labelling to lure more aware customers.
Shipping Processes: Safe and timely delivery of orders is critical to the overall customer experience. This involves updating the customer regularly with the whereabouts of their package and ensuring that there are no errors or delays while shipping or transporting the product to their location.
Returns Management: Around one-third of all products bought online are returned to eCommerce companies. The reverse logistics process comes into play when the customer or delivery agent triggers the return request.
However, brick and mortar stores experience lower returns than online retail as the customers get the look and feel of the product before buying. However, both models employ a different set of logistical procedures to reach the final goal.
How Does eCommerce Logistics Differ from Brick and Mortar Logistics?
| | Brick and Mortar Logistics | eCommerce Logistics |
| --- | --- | --- |
| Warehousing | They serve a local area and hence need smaller warehouses or storage spaces. | eCommerce logistics companies serve many cities, and most of them cater to customers across the country. Hence, they need larger warehousing spaces closer to customer demand hubs. |
| Inventory | As they usually serve customers in local areas, brick and mortar stores need less inventory as their demand is less than an eCommerce business because they only have to cater to one location as opposed to the whole country. | Since they serve national and sometimes international customers, eCommerce logistics companies need to be heavily stocked with multiple products from multiple sellers. As a result, their stock-keeping processes are more extensive than brick and mortar stores. |
| Distribution | Brick and mortar stores need transportation from the warehouse to their outlet and thus don't need omnichannel flexibility and don't require complex supply chain processes for distribution.   | eCommerce logistics companies' pickup and delivery processes vary and are much more complex and intricate. They employ multiple channels to ensure delivery to hard-to-reach locations in tier 3, 4, and 5 towns and villages. |
| Technology | Brick and Mortar stores usually don't employ extensive software for their supply chain management as most processes are done physically, in-house and in just one location. | Serving a larger customer base comes with many challenges in managing orders, inventory, warehousing, distribution and returns. That's why all eCommerce logistics companies rely on advanced software, backed by AI or ML, for each stage of the logistics process, to avoid unwarranted manual error and delays. |
| Logistical Expenses | Contrary to popular belief, brick and mortar stores don't always prove to be more expensive. The major cost for these stores is the initial cost of setting up the shop and maintaining it, hiring labour, regular stocking etc. and logistics is limited to transporting items between the warehouse and the outlet. | The logistics costs of setting up an eCommerce business are significantly lower than Brick and Mortar retail. But companies begin to incur costs of infrastructure, shipping aggregation, returns, loss of customers, and website maintenance and development. And above all, attempting to keep up with emerging trends burns a major hole in their pockets. This is why it is advisable for these retailers to partner with dedicated eCommerce logistics companies. |
How to Choose the Right Type of eCommerce Logistics for Your Business?
Know Your Requirements
An eCommerce business has many requirements for which they need to hire an eCommerce logistics partner. However, shortlisting a 3PL eCommerce logistics company, the retailer should have an understanding of their own requirements, the services of the eCommerce logistics company they seek to partner with and their available budget.
An eCommerce company can ascertain which eCommerce logistics company would be the best fit for them through the following points:
Customer demand per day: This refers to how many orders the retailer receives in a day and how much they expect to receive in the future.
Product categorization: Grouping products into different categories helps companies better understand their eCommerce shipping requirements. For instance, perishable products require time and temperature-sensitive eCommerce logistics, while glassware demands fragile-safe transportation.
Technological requirements: It is important to understand what technological services you require for daily operations and which companies provide those services.
Staff Requirements: This is determined by the amount of demand and what would be the maximum and minimum operational load.
Speed of Order Fulfillment: This depends on the number of orders that need to be fulfilled per day and which parts of the country those orders need to travel to.
Storage Space needed: It is important for businesses to understand the scale of their operations and how much storage space they would need for available, unsold inventory.
Find Suitable Partners
After assessing all the requirements that are needed in different areas, eCommerce retailers can scout for eCommerce logistics companies that offer the same services.
It is important to weigh your options as per the following criteria to find the best eCommerce logistics partner:
Customer Service and Customisation: All businesses live to serve their customers. If the customer is dissatisfied, it affects sales and, in turn, the company's growth. Online retailers need to check if the eCommerce logistics partner can provide decent customer service, what their success rate is and whether their services can be customised as per the customer and the product that the business caters to.
Performance History: The performance of eCommerce logistics companies influences the operations of an online retailer. Therefore the eCommerce business must collect all the relevant information on their past performance to analyse their track record, and identify certain failures and how they were addressed.
same-day or next-day deliveries have become the norm these days, and the eCommerce logistics company must be able to provide these services. If the eCommerce business has certain demands, the eCommerce logistics partner must keep a provision for exceptional distribution timelines like 10-minute deliveries without affecting the service quality.
Omnichannel Presence: With severe competition coupled with rising customer expectations, it has become essential for businesses to employ multiple channels for order fulfillment. Before onboarding an eCommerce logistics provider, the business must ascertain if the 3PL company has an omnichannel presence to be able to reach as many customers as possible.
Besides distribution, the partner should also provide multiple channels to ensure seamless communication and data flow between the two organisations.
Technological Capability: This drives business operations productively. There are many tools utilised by 3PL eCommerce logistics providers such as a Warehouse Management System (WMS), platforms to fulfill and track orders, inventory and distribution management and any other cloud-based tech that empowers a business' supply chain. Having a good onboard tech platform improves efficacy and productivity, leading to fewer errors and higher performance.
Their system should also be able to integrate with other fulfillment services to enable seamless transfer of data and insights between multiple platforms, smooth order fulfillment and customer service.
Financial Strength: Without a solid financial backbone, no company can thrive. If an eCommerce logistics partner is monetarily weak, it can take down the eCommerce business' supply chain, thus affecting the latter's market image. Therefore, every company must thoroughly check the 3PL provider's financial books before sealing the deal.
The eCommerce logistics provider must also be able to survive all kinds of business disruptions with stable financial backing. Having good relations with banks and financial institutions proves helpful in many different situations. If the eCommerce logistics provider assures them of such support, they could be the ideal business partner.
Scalability: The eCommerce logistics provider should have an expandable business model that inflates as the eCommerce business grows its reach. The logistics provider should be able to adapt to the growing demand and expansion of the retailer they have partnered with.
Geographical Reach: Today, eCommerce businesses thrive on their reachability of tier 2, 3, 4 and lower towns and villages. The deeper and quicker their reachability, the more orders they can receive and fulfill, thus securing a better customer satisfaction ratio and obtaining access to new customers in different regions of the country.
Overall Cost: The overall package deal offered by the eCommerce logistics provider is very important to observe. Your company should be able to afford an eCommerce logistics provider, with all the services they offer, rather than paying less for a company that does not offer important services. Companies need to strike the right balance between services and cost.
What are the Top 10 Latest Trends in eCommerce Logistics?
eCommerce Warehousing
This practise is focused on storing inventory and products for the daily operations of an eCommerce business. eCommerce warehouses are storage spaces dedicated to operating an online retail business.
An eCommerce business needs to ensure that it operates and sets up storage closer to its customer hubs to reduce the time and expense of transporting goods. Partners like WareIQ help store the inventory closer to areas of high customer demand, thus enabling businesses to offer shortened delivery timelines.
Inventory Management
Many new trends in inventory management have emerged in light of the pandemic and other disruptions like the Ukraine-Russia war. A few such developments are the Just-in-Case method of managing inventory and the extensive automation of the supply chain.
Just-in-Time meant procuring the inventory as and when the demand arises. The Just-in-Case method pushes businesses to procure excess inventory to avoid hassles in case of a contingency like a lockdown or an interruption due to war. This inventory management trend has seen an upsurge in the past few months by eCommerce companies wary of being unable to meet the existing or increased customer demand due to unforeseen contingencies.
The shortage of workforce and other interruptions have pushed companies to look for measures that can support and maintain the speed and efficiency of the supply chain. Automating important processes is one such method. Advanced tech like AI and Machine Learning are driving the evolution of eCommerce logistics management systems like WareIQ. These tools enable real-time tracking of inventory nationwide which has pushed the efficacy levels higher, especially in the case of cross-country shipping.
Order Packaging & Labelling
Sustainability is not the only trend catching up with eCommerce packaging; minimalistic design is also gaining mileage. Besides eco-friendly packaging material, companies prefer labels and designs with minimal amounts of text and designs. This trend has taken the 'Less is more' opinion to the next level. For example, Apple's plain white boxes usually outshine other manufacturers.
Sending the orders in generic, uninspiring brown boxes will create an unwelcoming and impersonal client experience. Instead, choosing an eCommerce logistics firm that provides branded packaging services can help companies create a brand and raise the visibility of their business.
Besides just visual appeal, companies are also using packaging to communicate with customers. Adequate packaging needs three layers. When orders get punched, there's a label printed and stuck on another two layers of packaging and then dispatched. eCommerce logistics companies provide a wide variety of packaging strategies. For instance, bubble foil, padded paper and plastic emailer bags help to prevent the damage of goods during transportation.
Order Shipping
Shipping the order to the customer safely and on time has always been the priority for eCommerce businesses. But they can never ignore the affordability of the shipping charges. While companies have been tying up with eCommerce logistics providers for decades now, the pandemic has proved that loyalty is overrated. It has changed the priority from allegiance to cost and benefits.
There has been an upsurge in the spot pricing market for shipping, wherein companies shy away from long term contracts and focus on getting the best price for their shipping right now.
Another trend that is catching up is the need for business intelligence behind every shipment. Advanced tech backs every order from the origin to the customer and back.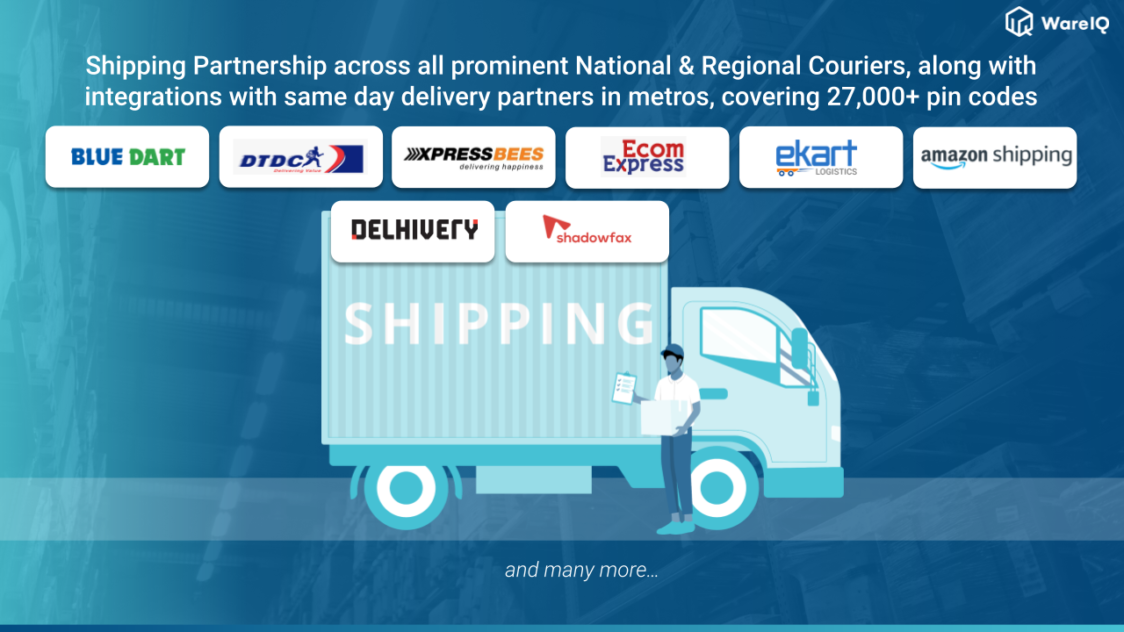 Weight Locking
This is a great trick to avoid product weight discrepancies in order shipping services. When the eCommerce logistics partner picks up the order from the business' warehouse, it weighs and measures the dimensions again before pushing the parcel out to the customer. Unfortunately, many times, there happen to be differences in the weight of the package due to unavoidable variations in weighing machines.
There are a few useful hacks to ensure that this doesn't happen:
Calculate the Volumetric Weight of the shipment. This is done by multiplying the product of package dimensions in centimetres by 5000 (which may vary as per the carrier). The resulting weight will remain the same globally. For odd-sized packages, automating the weighing system helps avoid discrepancies in a manual cubic calculation.
Associate with a supportive eCommerce logistics partner who resolves such discrepancies in a timely and effective manner.
Click pictures while weighing the package which helps as an application of proof in case of a dispute
Order Tracking
Online retail customers want real-time information on the whereabouts of their shipments. Therefore, companies invest in advanced tech like superior order management systems to ensure effective mapping of the orders and timely communication with the customer through fulfilment statuses.
Last-Mile Delivery
It needs to offer sustainability, timeliness, safety, flexibility, real-time updates and much more. These criteria define a significant share of a customer's experience with an eCommerce retailer. And the statistics say that it is an essential part of customer engagement.
Moreover, peak season has become a perennial trend. Customers prefer to receive their orders at home than shopping amongst huge crowds and queuing up for payments, especially during the pandemic. As a result, they push online retailers to invest heavily in last-mile delivery management software to manage last-mile deliveries and recruit and retain the right personnel.
Fast Shipping
No words can stress the significance of fast shipping. Customer expectations have crossed all boundaries, pushing eCommerce companies to strive toward delivering orders within ten minutes. This scenario is in the process of making next-day delivery obsolete.
This requirement has pioneered the invention of dark stores across the nation to cater to the growing demand for superfast supplies. One can only imagine how much faster it can possibly get.
Same Day & Next Day Delivery
Many eCommerce companies now focus on speedy deliveries so that customers get guaranteed next day or even same-day delivery.
Quick commerce is the next generation of online delivery systems which enables the delivery of items within a concise time bracket of one or two days, or less than 10 minutes for some business models. As a convenience, delivery speed and efficiency continue to define customer experience.
eCommerce returns (RTO) and Reverse Logistics
An unsatisfied customer will initiate a return, and many eCommerce logistics companies oblige. This trend has given birth to advanced reverse logistics. Superior technology, sustainability, and creativity are driving the backward supply chain.
With a high share of products bought online being returned, the eCommerce industry has been forced to revisit its return policies and invest in reverse logistics.
Conclusion: Do You Need to Outsource Your eCommerce Logistics?
eCommerce is no longer linear, and fulfillment is now Omnichannel. eCommerce customers may order online via mobile apps, phones, or online marketplaces. They may want home delivery, in-store delivery or curbside delivery. All those fulfillment systems need to be taken care of by eCommerce logistics partners for efficacy and punctuality.
eCommerce logistics strategies help to level up a business's digital presence by bringing radical shifts in the business paradigm. Hiring a logistics partner is one such remarkable strategy. Here are a few benefits of delegating the task to an external expert.
The eCommerce industry is slated to experience massive growth and evolution in the coming years. As customer demand widens, every nook and corner of the sector will need to be organised. eCommerce businesses cannot manage these processes on their own. The expectations are too heavy to be borne solely by them. Delegation of the major parts of logistics can assist them in taking some load off. Teamwork will play a vital role in the sector's development. Experienced players like WareIQ can lead your expansion story with creative ideas and are bound to enhance and improve supply chain processes.
Established in 2019, WareIQ, a Y-combinator backed startup, has rapidly grown to be the leading full-stack eCommerce fulfillment company for some of the most reputed brands in India. WareIQ offers a full-stack platform for eCommerce companies to enable same-day delivery and next day delivery to customers – an Amazon Prime-like experience but accessible to everyone.
WareIQ manages the entire range of complex operations in the eCommerce fulfillment process, such as inbound functions like scanning and quality check, 100% accurate Pick and Pack, and inventory management across all channels, with a centralized platform for core fulfillment and shipping operations and post-shipping apps for a delightful experience and zero to minimal supply chain leakages.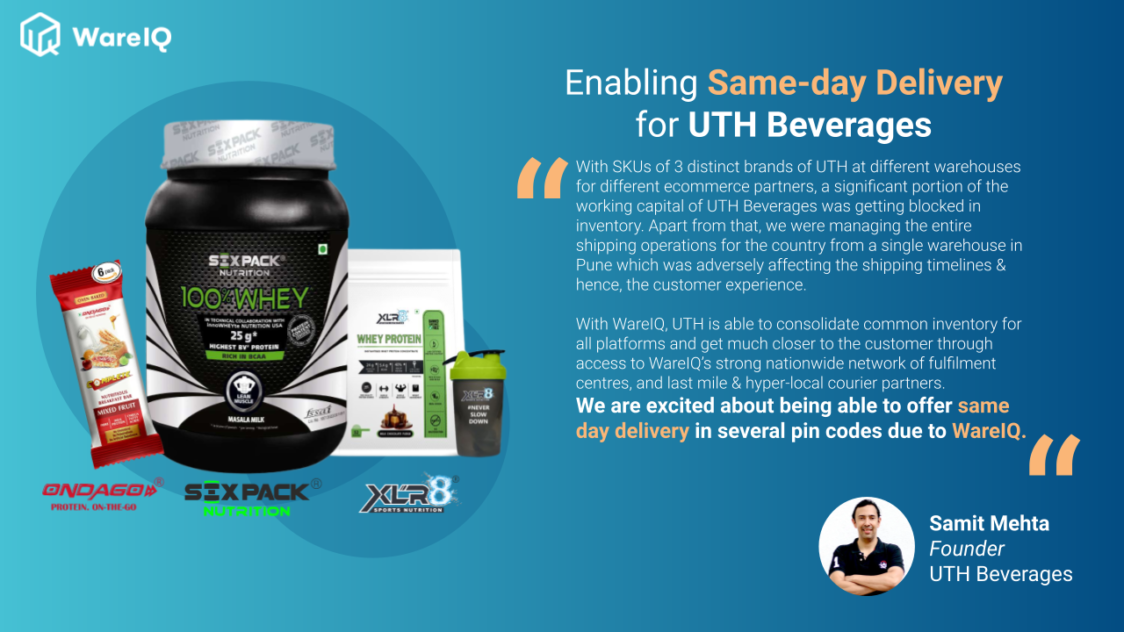 WareIQ has empowered brands to sell more, sell faster & sell everywhere due to:
Access to WareIQ's strong nationwide network of fulfilment centres, micro-fulfillment centers & urban dark stores near their customers
Access to all major national & hyperlocal last-mile couriers at discounted rates for making same/next day deliveries possible
Easy integration across multiple online platforms & marketplaces enhancing multi-channel selling

Horizontal marketplaces: Flipkart, Amazon etc.
Vertical marketplaces: Nykaa, Myntra etc.
D2C platforms: Shopify, Magento, WooCommerce etc.
Social commerce platforms: Bikayi

Access to a superior centralised tech platform for eCommerce operations

ML-based prediction engine for efficient warehouse network design & smart inventory placement
Centralised platform for core fulfilment & shipping operations
Post-shipping apps for delightful experience & zero to minimum supply chain leakages (Branded tracking page with smart marketing placements; Trigger-based updates & smart communication platform)
WareIQ has customised offerings for merchants experiencing different order volumes as well as having different delivery speed expectations. WareIQ is probably one of the very few fulfilment tech companies in the world that have same-day delivery service for their customers under their product "WareIQ RUSH".
With world-class WMS functionalities, WareIQ handles the entire range of intricate operations in the eCommerce fulfillment process, ranging from Inbound Operations such as scanning and quality check, through 100% accurate Pick and Pack, to Inventory Management across all channels. WareIQ's next day delivery and same-day delivery services are helping eCommerce businesses set new standards with respect to setting customer expectations and fulfilling them with high efficacy. At the same time, WareIQ customers realise significant cost savings and wider reach due to better negotiations with shipping partners, strategically placed warehouses, economies of scale and scope in warehousing and data-driven decision making.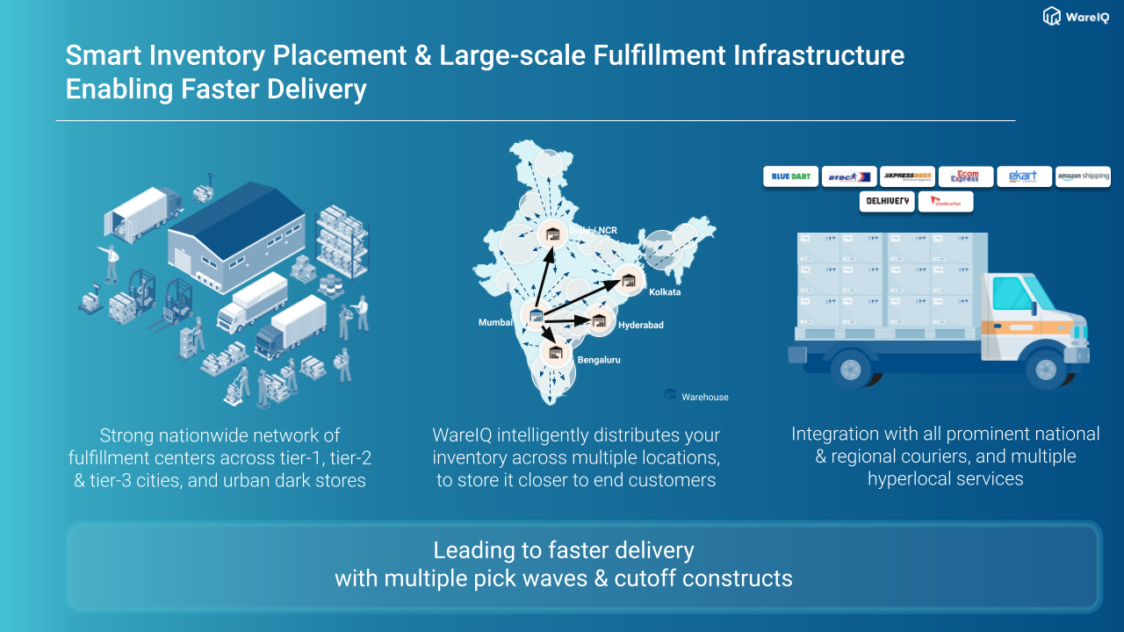 WareIQ's WMS, a centralised tech platform helps to better manage undelivered orders by reducing NDR processing time by 12 hours – a multifunctional NDR dashboard helps to track and take immediate action for undelivered orders in real-time, thereby reducing RTO by up to 10%. Automatic replenishment recommendations and easy purchase order creation capabilities on the WareIQ platform further empower eCommerce companies to leverage all possible ways of increasing their ROI.
300+ brands, such as The Man Company, Future Group, Kama Ayurveda and Wingreens Farms, have trusted WareIQ as a reliable partner in their growth journeys. No minimum order quantity requirements make it suitable even for small businesses, having low order quantities, to take advantage of the latest trends such as next day delivery and same-day delivery. The onboarding process is simple, convenient and less time consuming, while the pricing policy is clear and transparent. WareIQ also undertakes strict safety precautions at its warehouses and complete ownership of the operations, thereby minimising the risk exposure of WareIQ customers.
Thus WareIQ will definitely prove to be a more reliable and trusted long-term fulfillment partner compared to dropshipping and conventional 3PL companies.
Sign Up Now with WareIQ to avail our superior fulfillment tech platform & enhance your online business growth.