7 Best Ways to Increase Shipping Speed for Fast Fulfillment & Better Conversion in eCommerce Business in 2023
The speed of delivery has always been one of the major factors in meetings customer expectations and it seems to be getting more challenging. However, the real challenge is that in today's modern world, fast shipping in 1-2 days is considered the norm, not an additional benefit.
There is a dire need for eCommerce players to increase shipping speed to meet customer expectations. Before figuring out the reason for improving delivery speed, let's understand what eCommerce shipping speed means.
What is Shipping Speed?
Simply put, shipping speed refers to the speed of delivering customers' orders to their doorsteps. Whether the product being shipped is online fashion, groceries or pharma, its shipping speed is the time taken to travel from the warehouse to the customer. It depends on the distance between the storage unit and the customer's doorstep, the road network, and other logistical challenges and costs such as infrastructure.
Shipping/ Delivery Speed is calculated in the number of days or hours taken to deliver the shipment to the customer. It is different from the processing time that companies take to process and prepare the order for shipping. Processing time includes the time to procure the inventory and build the final product. Shipping speed comes into the picture once the product is handed over to the carrier.
Why is Shipping Speed an Important Metric in the Shipping Strategy of an eCommerce Business?
Customer expectations drive eCommerce business decisions. A few years back, the expectations were same-day or next-day deliveries. The internet penetration in smaller towns was already driving the trend of fast deliveries when the forced stay-at-home lockdowns changed customer mindsets. Gen-X and millennials were getting used to the idea of instant gratification. This situation reduced their patience even more and so too, the timeline given to eCommerce players to deliver.
The rising number of eCommerce players in the market has added to the desperate need to perform better. Most customers switch to another brand if the delivery takes more than one or two days. In fact, 49% of online shoppers accept that same-day delivery pushes them to complete the transaction. 80% of shoppers expect same-day deliveries, but 61% expect their package to arrive in less than three hours. Plus, many customers agree to pay for increased shipping speed.
The eCommerce logistics involved in shipping online perishables or groceries is another story. However, its penetration in the Indian economy is expected to reach up to 5% by 2025 from 1% today. Plus, around one-third share of the income is spent on groceries, and a young population below the age of thirty further pushes eCommerce companies to improve delivery speed.
All these factors combined are spearheading the need for speed in the shipping strategy of eCommerce businesses. In addition, the current consumer mindset is forcing online retailers to improve delivery speed to stay in the game.
WareIQ – Amazon-prime Like Logistics for Modern Brands in India
WareIQ, an eCommerce fulfillment company, empowers online brands with a superior-tech platform to compete with Amazon like service levels by bringing their average delivery timelines from 5-10 days to 1-2 days.
"WareIQ came to Gynoveda with a full stack fulfillment platform & gave Gynoveda access to a nation wide network of fulfillment centers & last mile & hyperlocal courier partners closer to our customers based out of North East & North India.

They made

same-day delivery possible

for us in metros.

"
Top 7 Ways to Increase Shipping Speed for Faster eCommerce Fulfillment in 2023
Streamline Picking
eCommerce business owners know the significance of same-day picking of inventory. The moment an order is placed, try to pick up the stock or schedule it through your logistics partner on the same day which increases shipping speed. Notify the customer of the pickup to keep them engaged. Let them know that their order is already on-route to the warehouse for processing. This technique serves as a great time-saver.
Use Multiple Storage Locations
Having multiple warehouses and dark stores is another way to increase shipping speed and although it also increases overall logistics costs, this hack indeed speeds up last mile deliveries. Areas are divided into geographical zones, and storage spaces are set up for order fulfillment. Moreover, it allows eCommerce companies to cover more pin codes.
The logic is simple. Being closer to the customer's destination helps in saving time and logistics costs. Plus, partnering with a specialist ecommerce warehousing provider at multiple locations can help the business reduce overheads.
Be Ready for Peak Season
Discounts and orders increase during the festive season, leading to hectic timelines and puts unprecedented pressure on the supply chain. As a result, shipping delays can quickly occur when orders pour in, in contrast to any other time of the year. So it becomes crucial for businesses to prepare for this increase in demand in advance.
Get resources such as manpower, inventory, software and 3PL fulfillment companies to prepare for the festive season. Unmet customer expectations can lead to poor reviews and a sudden drop in ratings. The eCommerce industry is on high alert during the peak season and all players look for ways to entice customers. No business can afford to lose its customers during this time due to underperformance. It is critical to focus on increasing shipping speed during this period.
Provide Updates Through Notifications
Letting the customers know of the whereabouts of their order is making a promise that their shipment is on the way. After making the payment, customers keep a frequent tab on their packages.
eCommerce companies should strive for same-day pickups but delay informing the customers. Instead, roll out the confirmation email after the order has been picked and packed from the warehouse and shipped. This way, the notification highlights your promptness and surprises the customer who will receive the package earlier than expected.
Partner with Experts
Managing an eCommerce business comes with a lot of challenges. Having a 3PL logistics expert on board to offer advice and logistical services can smoothen the process. A specialist can help businesses plan eCommerce warehousing at multiple locations, offer safe and well-timed transportation services and give advice on reducing expenses.
Have SLAs for Processing
Procuring the inventory and preparing the final product to make it ready to ship can be a cumbersome process. Moreover, delayed processing can pressure shipping partners to meet delivery timelines. It can lead to failed promises and unhappy customers in case of tight shipping deadlines.
Having service level agreements (SLAs) executed well on the ground helps prevent the snowball effect. eCommerce companies can also hire a logistics consultant to plan timely processing, push out the final product for delivery, and improve delivery speed for the business.
Automate Processes
Besides usual delays, as discussed above, human errors are another common cause of delays in operations and bad shipping speed. Automating the supply chain either partially or completely can save time & help to increase shipping speed. There are readily available automation mechanisms like robots, automatic barcode scanners and automated shipping decks.
eCommerce companies must develop and optimise their shipping routes for timely deliveries to a particular zone or location. Today's superior tech can automate the supply chain to save time and effort. AI and ML-enabled software assist in charting the best routes for efficient utilisation of transportation, workforce and time. Plus, advanced apps help integrate retail fulfillment systems with the supply chain and help improve delivery speed.
Despite all preemptive measures, delays can happen while shipping, but there are ways to handle them.
How do Online Businesses Manage Shipping Delays?
After facing delayed shipments, most online shoppers don't return to an eCommerce brand. It is more difficult to retain an existing customer than to acquire one.
If not a global pandemic, human errors, customs issues, poor warehouse facilities, transportation & warehouse management, or simply distorted communication between logistics partners can lead to shipping delays. Here are some ways to manage shipping delays:
Customer Communication
Update the customer in real-time with the reason behind the delay and the revised estimated delivery time. Then, offer them some discounts on their current or future purchases and special deals to pacify them.
Take Ownership
While some customers may understand, some might choose to post complaints on social media. Either way, eCommerce companies need to take ownership of the delay and issue a formal apology.
Track Orders in Real-Time
eCommerce companies must watch for any mishaps or delays once the shipment has left their warehouse. While hiccups occur, shipping partners usually offer a resolution. Some propose a money-back guarantee, which helps retail customers.
Use Multiple Logistics Partners
The supply chain requires multiple processes at different stages. Using multiple logistics partners is advisable for eCommerce businesses so they can fall upon someone else if one service provider falters.
How Can WareIQ Help Increase Shipping Speed for eCommerce Players?
WareIQ is a shipping and eCommerce fulfillment enterprise. They provide their eCommerce clients with high end updated technologies like an advanced warehouse management system, RTO Shield, a team of specialists, multiple warehouses across India, information regarding the best courier services (area-wise), etc. This series of offerings enables eCommerce businesses to store inventory closer to their customers throughout the country, thus facilitating faster order fulfillment and improving delivery speed.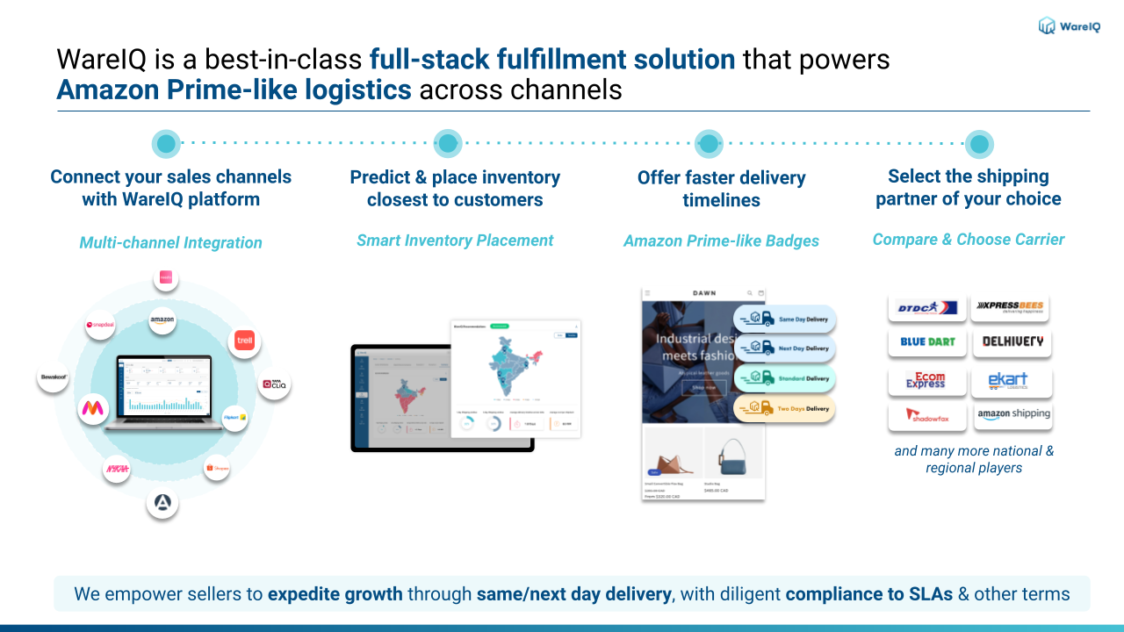 WareIQ's team and tech, combined, offer efficient solutions for Intelligent inventory placement and courier allocation to the eCommerce industry. They employ a full-stack approach that offers complete fulfillment solutions, last-mile delivery software for tracking, COD and returns management. After all, they are a seasoned logistics service provider.
Sign Up Now with WareIQ to take advantage of our superior fulfillment tech platform & accelerate the growth of your online business.
Shipping Speed FAQs