Top 7 Strategies to Deliver a Branded Shipping Experience to eCommerce Customers in 2023
People think an online seller earns a lot of money. Yes, they do, but how? Does the seller just make accounts on different online selling platforms and start his new journey? No! People might not know the process behind every single sale, but an e-seller has to put in a lot of effort and strategise accordingly.
When a seller starts selling on multiple platforms through multi-channel selling, they have to do a lot both before and after the order gets shipped. They have to list their product, upload details category-wise, make FAQs on different selling platforms, etc. After this, the next process would be if they receive an order request.
They need to pack it, take care of online payment, maintain inventory details, and a lot more. Among all, branded shipping is one of the most essential processes in online selling. It helps online sellers to make the process as personalized as possible and helps customers associate with the brand they have ordered from.
What is Branded Shipping?
Branded shipping is the shipping of a product by a seller to the buyer's address which includes a process of using custom boxes, packaging slips & labels, sending order confirmation messages with tracking details, making product presentations highlighted, and adding various personalised touches.
Experts believe branded shipping in ecommerce is an opportunity, especially for an online seller who cannot reach their customers directly. It helps them to increase brand presence and boost the recall value of a brand leading them to gain the mind-share of their customers and establish them as a brand. The primary objective is to safeguard the product through its movement with a delivery partner but it comes with numerous advantages.
WareIQ – Amazon-prime Like Logistics for Modern Brands in India
WareIQ, an eCommerce fulfillment company, empowers online brands with a superior-tech platform to compete with Amazon like service levels by bringing their average delivery timelines from 5-10 days to 1-2 days.
"WareIQ came to Gynoveda with a full stack fulfillment platform & gave Gynoveda access to a nation wide network of fulfillment centers & last mile & hyperlocal courier partners closer to our customers based out of North East & North India.

They made

same-day delivery possible

for us in metros.

"
How can your Business Offer Branded Shipping?
A business can offer branded shipping by taking care of several steps:
Offering Customised Packaging
Packaging plays an important role in defining the impression on a consumer's likelihood to purchase the same product again. A seller cannot sell products without packaging. Packaging not only safeguards products but also adds value to your brand. A seller should always pack the product in customised boxes and bags. It takes into account the exact space needed, reduces the logistics costs, and increases brand presence.
Sending order confirmation and tracking details
The buyer should know their purchase details through tracking IDs. Every time an order is placed, the seller should send a confirmation of order placement to the respective buyer. It is helpful for both the buyer and seller.
A buyer will get assured of his order and can track when they are going to get the delivery. At the same time, the seller can also track the product and get further insights into the status of the order and if the customer or the delivery partner is facing any problems.
Sending an e-bill as well as a hardcopy
E-bills have transformed the conventional way of giving a purchase receipt. An e-bill acts like a notification reminder for the buyer. In case the need arises to avail guarantee or warranty, it is easier to find than hard copies as they are susceptible to getting lost.
In the threshold of the digital era, we have all kinds of people around us. Most of the time, consumers are not the final buyer. They sometimes buy for someone who is not internet friendly and still prefers physical buying. So for them, the bill gives a personalised touch from the seller's side by informing them about your company and brand.
Using visual branding elements
Without marketing, your product sales are incomplete, and visual branding elements are a tricky way of marketing if you are not in direct contact with your customer. It includes logos, imagery, typography, colours, packaging and messaging, among other elements. As an eCommerce seller, it gives you recognition in a crowd of other sellers on the same platform. It can help you emerge as a brand and later get identified as a brand.
Partnering with branded logistics companies
The biggest online retailer, Amazon, offers the premium service of same-day or next-day delivery, for their prime members. Ecommerce logistics is the key to the success of online selling. It is a big factor among sellers to partner with a good logistic company to sell and buy products. People having a bad logistic experience may not choose the same seller and platform and would rather opt to purchase the same or a similar product from a different website.
Suggested Read: Find the Right logistics companies for your eCommerce Business.
What are the Advantages of Branded Shipping in eCommerce?
There are dozens of advantages of branded shipping for both the seller & the buyer. A few of the major advantages are listed below:
For the seller
Saves Time
In branded shipping, you already have developed a system of packaging, delivering, and much more to the product, post-sale. You just have to send the product for delivery from your shop, warehouse or fulfillment center. Then it will get wrapped, packed, and sent via the best delivery partner. Features like checking shipment unavailability or product unavailability can save time, money, and energy for both buyers and sellers.
Saves Money
Yes, this system will save money too in comparison to an unorganised way of packing and shipping. Unnecessary packing can be saved by using custom packaging. The extra weight and paper usage can add up to significant expenditures for businesses over time.
It can also help you save money on shipping. The majority of shipping expenses are determined not only by the weight of the package but also by the size of the box it is shipped in. Dimensional weight pricing is the accurate term for this. If a seller doesn't use custom shipping boxes, they're probably spending more for each item they send than they need to. These may not appear to be significant factors, but when multiplied by the number of units sold, they can add up to significant savings for any company.
Adds Brand Value
Premium packaging, fast delivery, brand presence on and in the box, tracking options, etc. makes each purchase hassle-free and unique for the customer which increases the brands reputation and value. The customer will want to keep choosing the same platform because of the positive experience associated with it.
Increases Brand Visibility
Packing slips & labels along with the product invoice in a customised bag/box with branded packaging tape, and neat packaging is a trick of advertising and marketing where a consumer will appreciate all the fine details. This gives a touch and feel experience to a buyer instead of having a look at it on some random sites.
Enhances the Customer Experience
A customer receiving an order with all the small details being taken care of, such as getting the purchase confirmation to posting a delivery review and return policy, will appreciate the effort. Many sellers do not care about such things but it matters a lot when we talk in terms of positioning for customer satisfaction.
For the Buyer
Ability to track order
The buyer will have a sense of satisfaction if they have been informed of all the detailed information about their order. They can see the entire delivery process, which is one of the most important things in online shopping.
Ability to contact the seller directly
The detailed information about the order and brand makes it easy for a buyer to reach out to the seller directly. Most of the time, people refuse to buy a luxurious or an electronic item for fear of being cheated so this eliminates that fear.
Offers a hassle-free Purchase
A buyer who talks about the disadvantages of online shopping usually mentions the bad experience and problems faced during the purchase. Branding Shipping eases the process and makes it hassle-free for them.
What are the Costs Associated with Branded Shipping?
A good service that will give you several advantages, market your brand, protect your product then it will automatically become quite expensive. Every time you will have to purchase customised boxes, and bags as per the dimensions of your product, you will have to spend more for genuine tracking and will have to do a lot of compliances. So here is your business worth question arises: What to do now?
You can do two things, either hire an expert if you are a single-channel seller, own warehouses with good inventory, partner with appropriate delivery channels, or you can just outsource an expert to do this all.
Interestingly, the outsource channel may cost you less and give some extra features that you can not avail yourself of. These features are:
Customised packaging
Opting for the best delivery partner
Gives you details about tracking
Reduces your cost of branding
Manage your inventory
Make return policy easy
Enhances post-purchase experience
There are few businesses helping e-sellers with all the above services at an effective price that will cost less in a ratio per product compared to doing it by self.
They save money because they do inhouse packaging, keep multidimensional bags and boxes, have their own fulfillment center, and eCommerce logistics experts to compare prices of different logistic channels with the fastest delivery, if the product got returned then they receive and keep it again at the fulfillment center which is quite cheaper than sending it back to the manufacturing units or warehouse and again ship it to some other buyer. These days they tell you, your fulfillment status and the return number(percentage) by the buyer which again helps you to choose to ship them or not.
Top 7 Strategies to Deliver a Branded Shipping Experience in 2023
Use Custom Shipping Bags and Boxes
The packaging supplies and shipping boxes can be ordered online and delivered right to the buyer's door, saving money for the seller. When it comes to branded shipping in eCommerce firm, the box is the first thing a seller should think about.
This gives plenty of chances to make it a memorable aspect of the delivery process. From corrugated boxes to printed courier bags, tapes, and stretch film rolls, can give the products a branded look without sacrificing quality.
Check out the custom shipping boxes for a variety of alternatives. Choose from a variety of sizes, colours, materials, and forms to create your ideal branded box. Customers are more environmentally sensitive than ever before, hence eco-friendly boxes are also accessible for shops. It ensures that the brand receives notice and that the shipping is more brandable.
Include Packing Slips & Labels
Two crucial components of branded shipment are branded labels and packaging slips. For many e-commerce businesses, they are only a means of improving brand loyalty and the transactional aspect of the e-commerce shipping process.
Sellers might be wondering how a standard shipping label and slip contribute to branded shipment. Remember that anything a customer touches or sees has the potential to engage them with the brand. Give the package slips and labels the same attention to produce the perfect branded shipping. A well-planned packaging slip can help in expanding the business.
The packaging slip is more crucial than the invoice because it ensures all aspects of a shipment, from purchase details to track, as well as identifying out-of-stock items, damaged items, and the package's worth. Packaging slips are one way to ensure branded delivery and manage customer expectations, regardless of how a seller handles their shipment.
Opting for the best logistic partner
One of the wealthiest people in the world guarantees you better logistics because he knows and has proved that the USP of online multi-channel selling will be the supply chain. We know logistics is the key to selling online, and being in your business you may not be a logistic expert then what to do now? Here, you should play smartly. You are not a logistic expert so get partnered with experts, and now your product has an equal better post-purchase service.
Send Order Confirmation & Tracking Details
When a buyer places an online order, they should receive an automated email immediately confirming that their order has been received. They should also be notified about the order status. It is important for informing the customer of the branded shipping experience.
It also raises the chances of customers returning to the seller's website and encourages signups. It helps in gathering consumer information to evaluate which customers convert the best.
Highlight the Product Presentation
The presentation of the product inside the box is just as critical as the exterior. This necessitates the use of high-quality packing materials, as well as consideration of the product's size and shape, as well as the shipping box. The usage of separators within the box improves the appearance of the products.
A seller may create a terrific unboxing experience that your consumers can post online. By using a certain colour scheme, look up some popular unboxing and product presentation ideas and keywords to discover which ones have attracted the most attention.
Add a Touch of Personalization
The easiest method to amaze a consumer is to add a personal touch to your shipping boxes. Consider the brand and let buyers know the company is paying attention to them. Including a thank you letter in the shipping box will demonstrate how much the company values its customers.
Furthermore, employing customised options might enhance the consumers' unboxing experience. Allow customers to take their time enjoying the things they've ordered. Although this may appear to be a minor action, it has the potential to earn sellers a fantastic reputation.
In today's competitive environment, how sellers brand their unwrapping and shipping experience has a direct impact on your customer's experience and perception of that brand.
Box Inserts
Once the box is opened, will you take this moment to present your customer with something in addition to what was ordered? This stage in the fulfillment process is often overlooked, but it can greatly enhance the customer's experience of unboxing their order. Here are some different options and ideas for box inserts:
Personal touches
At volume – handwritten notes aren't feasible, a printed note card is more than adequate to evoke a similar welcoming feeling. Consider taking this opportunity to thank your customer or formally welcome them to your brand.
Even packing slips can be personalized with a signature or stamp that says, "Packed for you by ____." This reminds customers that your business is run by real humans who care about the customer experience. In an increasingly automated world, these simple human touches can make your brand stand out.
Postcard inserts
Feature a call to action, such as an invitation to join a social media contest.
Ask customers to document their experience with a photo of their new products.
Share your company's origin story or brand values.
Include an on-brand quote or introduction.
Companies that offer high-touch support can invite customers to contact customer service with questions or feedback.
Promotional material such as a discount code for future orders will encourage repeat sales and maximize a customer's lifetime value.
Gifts
Delight your customers with an unexpected free item such as stickers, freebies, or other bonuses.
If your products can be distributed in sample sizes, this is a great cross-sell technique to introduce your customer to a new or complementary product. For the proper effect, the product sample must be of interest to the specific customer segment, based on the product ordered. Random or non-complementary gifts can have an adverse effect and may appear to be a tool for liquidating stale inventory.
Post purchase experience
Companies are now putting more emphasis on customer service than on product and pricing. It's all about driving new sales for numerous brands. When clients click the buy button, the mission is complete! Isn't it time to rejoice? Not so fast, my friend. The seller's work is just getting started.
The truth is that post-purchase touchpoints determine whether or not a buyer becomes a lifetime customer. The fact holds whether you're looking at it via the objective lens of lifetime value or the subjective lens of customer experience. If a brand can keep a customer satisfied for 100 days, the average customer will stay for five years. It's time to get serious about the post-purchase experience if your company sells products or services online.
Conclusion: How Does WareIQ Help eCommerce & D2C Brands Deliver a Branded Shipping Experience?
WareIQ offers a variety of services to eCommerce Retailers and can help deliver a high-end branded shipping experience to their customers. From our state of the art app store to custom shipping badges to inform customers of the estimated delivery time, WareIQ has got you covered.
With our comprehensive branded tracking system, you are able to:
Get a unique customised tracking URL
Integrate customised tracking links to your website and let customers track their orders on your website.
Intelligent marketing placements to cross-sell/up-sell
Turn your order tracking links into a profitable marketing channel. Create cross-sell/up-sell opportunities, drive repeat, and educate customers.
Store links on your tracking page
Convert customers back to your site by adding links to your website on the tracking page.
Shipping journey and order tracking
Get full shipping journey and real-time order updates on the tracking page.
Gather feedback from customers on the shipping experience
Customer Reviews App collects feedback from your customers & gives you an insight into the brand performance that can help you increase customer retention & loyalty, cater to the problems highlighted by dissatisfied customers faster & improve brand perception.
Shipping badges appear on your product pages that helps customer check pin code serviceability and the expected delivery date for any product.
The WareIQ App Store is well-designed and is enhanced to be as user-friendly as possible to allow customers to browse through all our apps, consolidated within the app store with just a few taps. With convenient navigational tools, fed with live data of your business performance, our app store offers users next-level capabilities to get the most out of their eCommerce business & offers best branded shipping experience. Some tools that we offer are listed below:
Provides you with more tools in your arsenal to boost your eCommerce operations and make the supply chain your competitive advantage.
Acts as a centralised portal, empowering you to manage all the stages of your eCommerce fulfillment and shipping operations from WareIQ platform directly.
Shed down the inefficiency, inconvenience and complexity of working on multiple non-integrable apps. Our suite of powerful applications can easily integrate with your eCommerce workflows and systems, thereby opening new avenues to scale up your business.
Leverage AI-ML powered analytics, fed with live data, for smart demand planning, smart inventory placement and network optimisation to enable same/next-day delivery for our customers.
Helps you reach out to your customers on the right channel at the right touchpoint, and build trust with your customers through transparent communication and seamless engagement.
Build customer loyalty by ensuring a delightful post-shipment experience for your customers.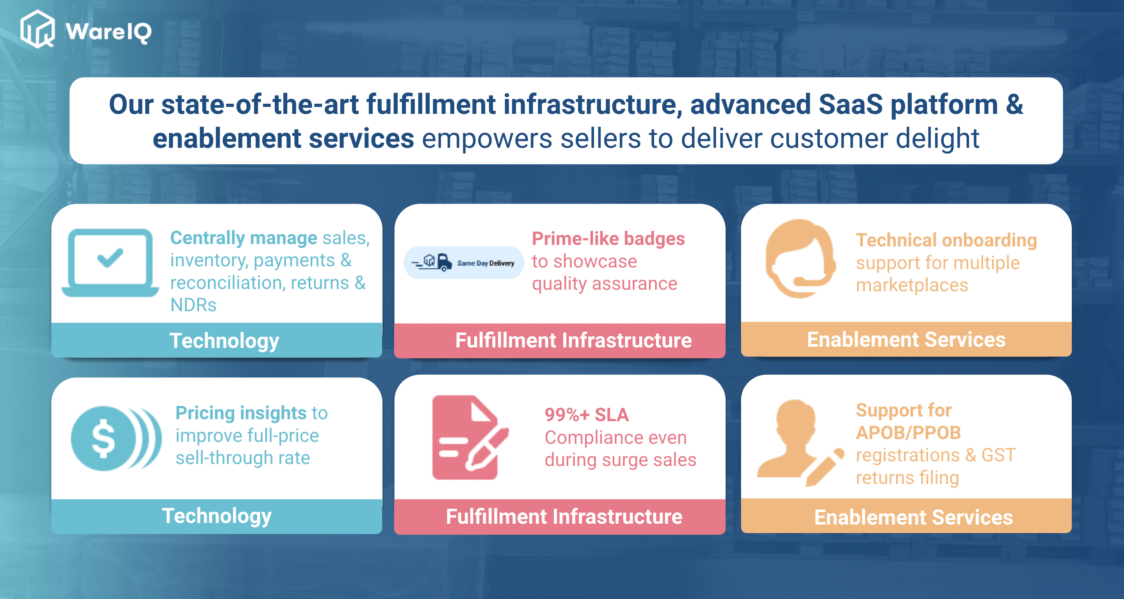 300+ brands, such as The Man Company, Future Group, Kama Ayurveda and Wingreens Farms, have trusted WareIQ as a reliable partner in their growth journeys. No minimum order quantity requirements make it suitable even for small businesses, having low order quantities, to take advantage of the latest trends such as next day delivery and same-day delivery. The onboarding process is simple, convenient and less time consuming, while the pricing policy is clear and transparent. WareIQ also undertakes strict safety precautions at its warehouses and complete ownership of the operations, thereby minimising the risk exposure of WareIQ customers.
Thus, WareIQ will definitely prove to be a more reliable and trusted long-term fulfillment partner compared to dropshipping and conventional 3PL companies.
Are you eager to know more about WareIQ's offerings if you sign up now? Find the features of the best-in-class, category-defining fulfillment services for eCommerce & D2C brands below:
Pan India Fulfillment & Darkstore Network: Plug-and-play fulfillment infrastructure with no minimums, which is compliant with Amazon Seller Flex, Flipkart Assured, Myntra and other marketplaces
Inventory & Network Planning Excellence: Best-in-class AI models for sales forecasting, product segmentation, and inventory management to reduce inventory by 40% and increase revenue by 10%.
Vertically Integrated Fulfillment Tech Stack: Our Fulfillment Tech Solution supports integrations with 20+ top marketplaces & D2C platforms, and prominent national, regional and hyperlocal couriers, enhancing reach by covering deliveries for 27,000+ pin codes
Supply Chain Productivity Applications: Integrate a host of supply chain productivity apps with a single-click to your existing CRMs, ERPs & accounting software to manage your logistics workflows from one command center. Use Apps like RTO Shield to get 100% RTO protection, Branded Tracking to turn your order tracking page into a profitable marketing channel, and many more.
Trusted by 300+ top Indian brands, we are helping them accelerate online sales and expedite their growth through a synergistic combination of advanced technology, robust fulfillment infrastructure & seller enablement services!WareIQ is backed by leading global investors including Y Combinator, Funders Club, Flexport, Pioneer Fund, Soma Capital, and Emles Venture Partner.
Branded Shipping FAQs (Frequently Asked Questions)