10 Simple Ways to Streamline Shipping Processes for eCommerce Sellers in 2023
eCommerce shipping is one of the most crucial parts of the entire industry. It consolidates a variety of tasks, such as picking, packing, dispatch, distribution, and first-mile delivery and last-mile delivery, to ensure that orders are successfully delivered to their respective customers. However, due to the volatile and constantly fluctuating nature of various external components that influence eCommerce shipping, such as fuel prices, distances, weather conditions, road closures, and more, paying more than you expected for each order is not uncommon. This is why you should streamline shipping processes for eCommerce.
Even if a situation arises that you haven't accounted for, its potential to cause delays and disruptions is reduced when all your shipping services are running smoothly. While there are many simple ways to ensure that your shipping processes are running at their maximum potential, you should also keep an eye on emerging trends that could have an effect on the way you are able to ship and deliver products to your customers. We will take a look at all these aspects and more so read along.
What is eCommerce Shipping?
eCommerce shipping refers to the process of delivering goods that have been purchased online to the relevant customer's doorstep. This typically involves locating the items in the warehouse, packaging them, arranging for a vehicle to transport them to the dispatch point, shipping the consignment to the customer's destination, having a delivery partner pick it up and transport it to the customer's end location and tracking the shipment to ensure that it arrives on time.
eCommerce shipping can either be directly handled by your company or the first-party fulfillment solution offered by chosen selling platform or outsourced to a third-party logistics provider. Because there are various processes involved with eCommerce shipping, there are different costs associated with it, all of which can skyrocket if they are not managed properly. Hence, investing in the resources needed to streamline eCommerce shipping operations pays dividends.
WareIQ – Amazon-prime Like Logistics for Modern Brands in India
WareIQ, an eCommerce fulfillment company, empowers online brands with a superior-tech platform to compete with Amazon like service levels by bringing their average delivery timelines from 5-10 days to 1-2 days.
"With WareIQ's full stack digital enabled fulfillment solution, we got access to the pan India network of fulfillment centers & cold storage facilities enabling same/next day delivery, without any upfront investment in supply chain infrastructure from our end. During the IPL campaign in April 2022,

WareIQ efficiently

handled unpredictable 200x surges in daily order volumes

of ~20k/day with a

99% fulfillment rate

. With WareIQ as our preferred fulfillment partner, we witnessed 172% growth in online order volume in just 4 months, with a significant improvement in the overall customer experience in fulfillment."
Why is it Important to Streamline eCommerce Shipping?
Improves Customer Satisfaction
When streamlining shipping processes for eCommerce, helps ensure that orders are delivered promptly and accurately, which can increase customer satisfaction and loyalty. Happy customers are more likely to make repeat purchases, which results in increased sales and revenue for your business. Many customers will also take to your website and other online forums to voice their positive experience with your business, which can lead to even more prospects deciding to give your business a chance over your competitors.
Reduces Distribution-Related Costs
Once you streamline shipping processes for eCommerce, it will help improve the efficiency of each operation, ensuring that it is running at its most efficient and cost-effective capacity. It will also reduce the number of errors and missteps that can lead to additional expenses. This can also have a snowball effect on other processes further down the supply chain, ensuring that your business receives a significant amount of savings that can then be redirected to more core business activities.
Improves Inventory Management
Inefficient inventory management can lead to more expensive holding and operational costs. When you streamline eCommerce shipping, it necessitates that you also invest in WMS software or OMS software that can enhance inventory management and group every product by size, weight, cost, SKU number and more, making it easier to locate each item so that it can be dispatched as soon as possible. It can also help improve the accuracy of demand forecasting, which can help to avoid overstocking and understocking situations.
Top 10 Methods to Streamline Shipping Processes for eCommerce in 2023
Set Up Automatic Alerts
Order tracking for ecommerceis a must-have facility that every customer needs access to, to prevent them from getting agitated regarding the whereabouts of their order. Using order tracking software that can automatically keep you and your customers informed about every stage of the supply cycle that an order passes through is one of the biggest steps to streamline shipping processes for eCommerce. It enables both parties to have peace of mind and can reduce RTOs and cancellations due to a lack of communication.
Synchronise Shipping Data Into Your CRM
CRM stands Customer Relationship Management and as the name implies, is a tool that consists of vital information regarding the various interactions you have with your customers. Integrating your shipping and order information into the CRM itself will let you know instantly if there is a delay or an actionable item with any customer's order, giving you a headstart on rectifying it, which makes it a necessity if you want to streamline eCommerce shipping.
Conduct Periodic Inspections
The main goal of streamlining something is to identify areas of improvement or bottlenecks that are impeding your intended level of progress. Similarly, in order to successfully streamline eCommerce shipping, you must implement a process of rigorous periodic checkups that can keep an eye out for any inefficiencies that can hamper your ability to deliver orders to your customers on time. Things like scanning SKU numbers to check if the product matches the order can save you tons of hassle in the long run.
Deliver Orders From the Closest Warehouse to the Customer
Despite many advances in delivery technology, nothing can match the speed with which an order can be delivered if the physical distance is as small as possible. Many 3PL companies have software that can determine the best storage location to fulfill an order from, based on the factors like distance to the customer's location, transit time and more. This technique will help streamline eCommerce shipping by ensuring that the shortest delivery distance is always allocated.
Use Automated Courier Allocation
If you or your 3PL fulfillment company has partnered with multiple shipping carriers, selecting the fastest option for each order is paramount. Many external fulfillment solutions are able to streamline shipping processes for eCommerce by automatically assigning the quickest option by comparing factors, such as the available routes, prices charged by individual shipping companies, delivery phases and more. This will ensure that orders are delivered quickly and efficiently.
Automate Replenishment Triggers
Either invest in a good WMS software or partner with a 3PL company that provides an in-house option. This will enable you to get access to data regarding which SKUs are being sold the most and which ones need to be restocked at particular intervals. Some alternatives can help you automate your replenishment triggers so that when units are running low in relation to the order frequency of a particular item, a reorder for a pre-determined quantity will be placed so you never have to worry about overstocking or understocking situations.
Present Realistic Delivery Estimates
While it would be nice to have same-day delivery guarantees for every item, it just isn't feasible. There are constant factors that physically prevent certain orders from being delivered in such a short amount of time, such as distance, item size, harsh weather conditions and more. Therefore, if you want to streamline eCommerce shipping and avoid giving customers false hope, make sure you mention realistic delivery estimates once an order is confirmed to avoid criticisms and negative feedback.
Store Similar SKUs Separately
Even the smallest eCommerce seller has multiple items, often in the same categories, that look so similar, they cannot be differentiated without comparing their SKU numbers. To successfully streamline shipping processes for eCommerce, you need to ensure that these items are stored separately. If multiple similar-looking products are stored together and there is a flurry of orders coming in, the wrong item can easily be picked and shipped, leading to multiple delays and awkward encounters.
Identify Supply Chain Bottlenecks
Identifying bottlenecks or things that are slowing down your ability to dispatch orders on time in your supply chain. It could be something minor, like a staff member taking longer than needed to pick, pack and dispatch an order. Conversely, it could also be something major, such as mismatched serial numbers, disparities in inventory counts and more. Scouting for these issues and tackling them before they fester and cause further disruptions is imperative to streamline eCommerce shipping.
Make Sure Your Objectives are Achievable
The biggest mistake that eCommerce businesses often make is being too over-ambitious. It is important to discern where you are with where you want to be. For instance, if you have an objective to be able to sell and fulfill a certain number of orders a month, you need to ensure that your existing fulfillment infrastructure can handle it or you will have to make the necessary investments to improve its capacity. If that doesn't happen, it can cause multiple issues, from unfulfilled orders and out-of-stock items being listed to massive delays and negative customer sentiments.
Conclusion: How Can WareIQ Help Streamline eCommerce Shipping for Your Online Business?
As online retail fulfillment continues to grow and evolve, the need for retailers to streamline eCommerce shipping cannot be overstated. In today's fast-paced world, customers expect their orders to be delivered quickly and accurately, and any mistakes or delays in the shipping process can lead to dissatisfaction and even lost sales. Overall, streamlining eCommerce shipping is vital for the prosperity of any online retail business.
By offering fast and reliable delivery, you can increase customer satisfaction, reduce shipping costs and cement your place in the market. By investing in the right tools and processes, you can ensure that you streamline shipping processes for eCommerce and that your customers stay happy and loyal. If you need assistance with streamlining your eCommerce shipping operations, WareIQ can be the answer to your needs.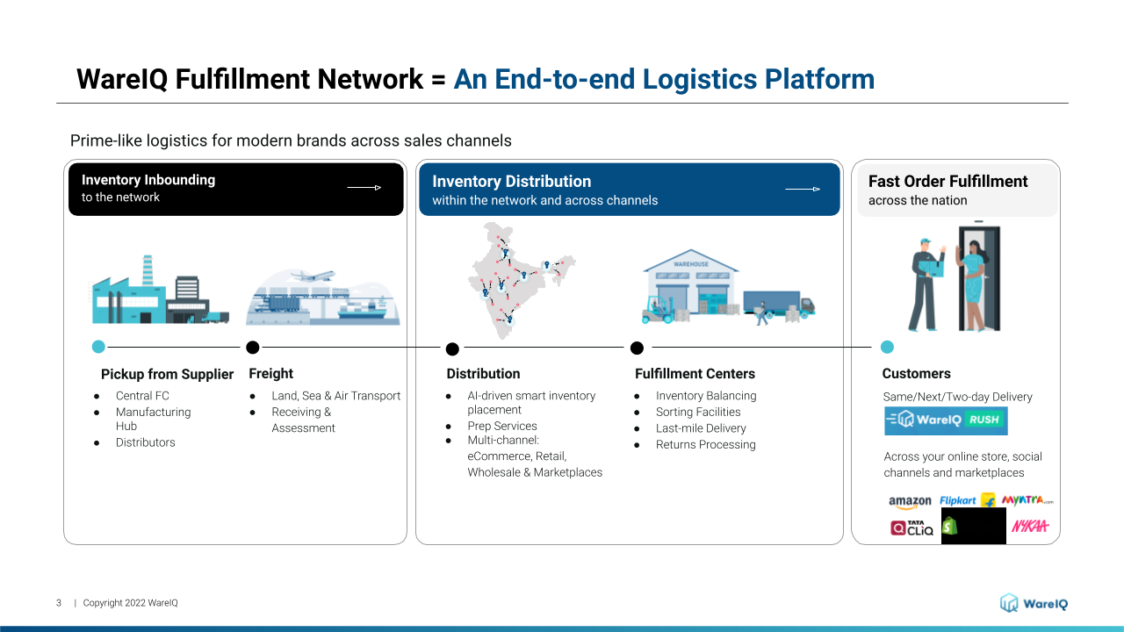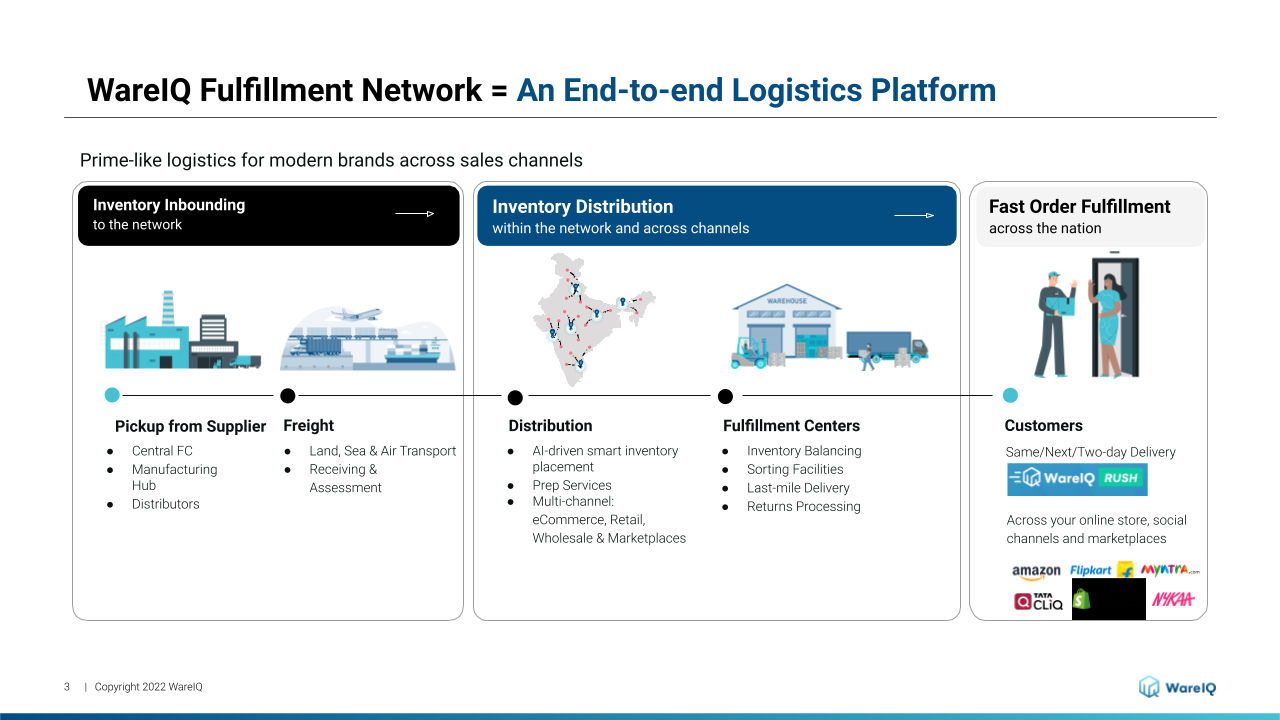 WareIQ is an eCommerce fulfillment company that was founded in 2019 and is currently based in Bangalore, Karnataka. We offer a vast array of solutions, encompassing every facet of eCommerce, including shipping and physical distribution. Some of the key ways we can help you streamline eCommerce shipping are listed below:
Partnership With Multiple Shipping Carriers
We have partnered with more than 12 of the leading shipping companies in the nation to give you the best options for every order
Ultra-Fast Delivery
We provide ultra-fast same-day and next-day delivery through our WareIQ Rush platform that is guaranteed to delight your customers.
Smart Courier Allocator
We provide a custom courier allocator that automatically assigns the quickest and most cost-effective option for every order.
International Shipping
We provide international shipping to more than 220 countries and territories around the world through our WareIQ Global platform, in addition to storage and last-mile delivery internationally.
Last-Mile Delivery
We provide last-mile delivery facilities both locally and abroad, to ensure orders are delivered on schedule with the help of Last Mile Delivery Management Software.
Streamline Shipping Processes for eCommerce: FAQs