What is Physical Distribution in Supply Chain Management? A Detailed Guide in 2023 
The Covid-19 pandemic has largely shifted the purchasing behavior of consumers from offline to online. The Indian online retail market is growing at a very fast pace and is expected to reach approximately $1.2 trillion (95 lakh crore). As an eCommerce seller, you need to grab this opportunity and establish your business by utilizing the required business tactics.
Getting listed on multiple channels and receiving orders are not the only things you should do when it comes to the long run. To not only be in the game but also win, you need to make your end customers happy. That is possible with the perfect placement of your product from the very first impression by the buyer to delivering it to them as they expect.
To achieve recognition from your customers, you must take care of fulfillment services and all of its processes which involve processing orders, controlling inventory, eCommerce warehousing, and eCommerce shipping. All of these factors fall under physical distribution in supply chain management. This has been the primary focus of most eCommerce brands in recent years. To ensure you as a seller are handling the physical distribution of goods properly and what the available options are to become more productive, you can read further.
What is Physical Distribution?
Physical distribution is the movement of finished goods and products from a company's distribution center, using its eCommerce fulfillment network, to the end-user. It includes warehousing, inventory control, order processing, retail fulfillment, and shipping, among other eCommerce supply chain tasks.
Customer satisfaction is directly affected by the physical distribution of goods and the capacity to get a product to a consumer rapidly and affordably. Business owners can ensure sustained success in a continuously changing, competitive global market by keeping items in handy places and developing dependable means of moving those items.
WareIQ – Amazon-prime Like Logistics for Modern Brands in India
WareIQ, an eCommerce fulfillment company, empowers online brands with a superior-tech platform to compete with Amazon like service levels by bringing their average delivery timelines from 5-10 days to 1-2 days.
"WareIQ came to Gynoveda with a full stack fulfillment platform & gave Gynoveda access to a nation wide network of fulfillment centers & last mile & hyperlocal courier partners closer to our customers based out of North East & North India.

They made

same-day delivery possible

for us in metros.

"
What are the Components of Physical Distribution?
Processing Orders
During the physical distribution of goods in huge quantities, a uniform system for handling and executing orders should be established. The time period to process orders must be reasonable. Any delay in order execution causes resentment and may result in economic loss. The customer always expects guaranteed delivery within a certain time frame. The degree of customer service is shown in the speed by which orders are fulfilled. Even a small improvement in customer service can result in a 15 to 25% gain in revenue. In marketing, order serving time can also be used as a USP.
Controlling Inventory
Inventory control is always a crucial part of the order fulfillment process. Physical distribution channel management, including the amount, location, handling, and transportation of physical inventory, plays a distinctive role. Inventory consists of all the items stored in warehouses that are waiting to be sold. Production activity (purchasing activity) and customer orders are linked via inventory (sales activity). As the customer service level approaches 100%, inventory costs rise at a faster rate. The inventory cost and the level of customer service must be correlated and balanced. All that has to be maintained with a proper inventory report.
To meet client demand, you need to have a well-balanced range of products for sale. Stockouts and missed sales can result from having an insufficient inventory. Too much inventory entails a lot of money upfront, poor turnover ratio, and greater inventory operating costs. Inventory control's major goal is to ensure minimal capital investment and inventory variations, as well as rapid order execution in response to client demand.
You May Also Read: How does multiple channel inventory management work?
Warehousing
The act of storing and conserving commodities is known as warehousing. It can balance supply over time. Nowadays, micro fulfillment centers are located around markets rather than the supply-chain network.
Under one roof, a fulfillment center can handle orders and deliver goods directly to customers where better and faster customer service can be initiated, resulting in a cheaper cost of distribution. Efficient distribution systems can cut delivery and storage times by half. The focus should be on selling rather than the store. Many businesses are moving away from storage facilities and toward fulfillment centers.
For material handling, data processing, and inventory control, fulfillment centers employ cutting-edge technology. The services provided by fulfillment companies are directed by a wholesaler through direct fulfillment or drop shipping fulfillment. Here the wholesaler act as a merchant intermediary and a distribution/fulfillment center could be considered as an inventory of a shop nearby the delivery area.
Handling Material
Modern warehouses have automated material handling equipment instead of relying on labour. The cost of physical distribution has been dramatically reduced because of new packaging, containerization, and palletization techniques. We now have access to machineries such as conveyor systems and forklift trucks. In Western countries, material handling is almost entirely automated.
Standard-size containers for packing and transporting items can be stored on pallets or small platforms and then moved by mechanical means. Automated physical distribution of goods and protective packaging enhance customer service, reduce distribution costs and accelerate order fulfillment.
Shipping
Physical Distribution consists of all the steps that ultimately lead to this final step that is responsible for getting orders to the buyer. The process of shipping is a network of activities that consist of storage at multiple sites coupled with a series of transport linkages during the distribution process. These multiple modes of transport can be through road, rail, water, air, etc.
It is a very complex activity in which orders are divided into batches and groups and then forwarded to the person responsible for the order to be delivered. This complexity is usually handled by logistics companies. The different transportation methods of physical distribution are listed below:
Road Transport: Trucking is the preferred shipping option for most businesses across the world. Trucks, which generally transport manufactured goods rather than bulky commodities, provide faster, more frequent, and cost-effective distribution to more locations across the country than any other logistical alternative. Trucks are very useful for short-distance shipments and they can carry both large and small cargo with relatively fast and consistent service.
Intermodal Transport: Intermodal shipping arrangements, which combine rail and truck transportation for specified stages of the journey, are frequently used by a small business for fulfillment. This combination generally results in cheaper overall expenses than single-mode transportation.
Air Transport: Enterprises often use air freight for the transportation of valuable or perishable goods due to comparatively high transportation costs. Reduced inventory-holding expenses and increased sales that may accompany speedier customer service can occasionally balance the high cost of air freight.
Courier Shipments: The delivery of shipping containers, parcels, or high-value mail as discrete shipments is known as package or parcel delivery. Most postal systems, express mail services, and private courier businesses offer courier shipment services or eCommerce courier services.
Water Transport: Shipping containers are routinely used to transport products via sea. Importers and exporters in the country and around the world use ocean freight as their primary form of transportation.
You can check the best shipping companies for your business here.
What are the Objectives of Physical Distribution?
Utilizes Time and Place
Physical distribution contributes to the efficient utilization of time and resources. Transportation and warehousing are used to accomplish this. The transportation system creates place utility by delivering items to the exact location where they are needed. Storing products and releasing them when needed utilizes time.
Reduces Costs of Distribution
Physical distribution costs make up a significant portion of the product's cost. If these costs are managed in a systematic manner, production costs can be reduced. Transportation schedules and routes, warehousing location and operation, material handling, order processing, and other cost-cutting measures can all be simply implemented.
Enables Market Expansion
Mega investments in the form of a strong promotional campaign may prove worthless if the physical distribution channel continues to fall behind the market expansion.
Firms will be in a great position to take full advantage of market expansion with prior planning for the launch of multiple warehouses, adding new distribution points, and extending the capacity of existing distribution points, as needed.
Maintains Market Share
The market is highly saturated. In a climate of fierce competition, firms expect to increase market share, while maintaining current market share would be a primary success. This is carried out with the use of proper eCommerce logistics systems. Logistics must be closely monitored by businesses. Companies should detect distribution flaws and take quick corrective action.
Stabilises Pricing
Physical distribution contributes to price stability. Buyers anticipate pricing constancy over time. The effective utilization of transportation and warehousing infrastructure can aid in matching demand with supply, ensuring price stability.
Offers Better Consumer Experiences
By using a physical distribution channel, consumer service is made more efficient by making products available in the correct quantity at the right time and in the right location, i.e. when a client needs them.
6 Factors That Affect Physical Distribution in 2023
Every manufacturer must figure out how to get their goods to the end-user. In today's economy, a variety of distribution channels are accessible. A producer needs to keep the following points in mind while choosing one or more distribution channels to ensure smooth operation and lowers logistics costs.
Transportation
Distribution is always dependent on the supply chain and its efficiency. There are many factors to consider to enable faster delivery in a country like India, where customers are scattered across the country.
Product Size
Product size is a matter of concern when it comes to cost-cutting and delivering on time. A heavy item cannot be delivered quickly and easily without prior planning. It needs more manpower, warehouse space, and larger vehicles which directly affect the cost of logistics and delivery. In a similar way, smaller and more perishable products also require their own precautions such as proper storage facilities, extra care, etc.
Product Durability
These days, food delivery applications are claiming to deliver orders in just 10 minutes. This is because food is a perishable product. Sellers need to identify the perishability of their products and plan physical distribution processes accordingly.
Delivery Preferences
Customers often have preferences for the delivery of their product such as the location, time, etc. It is the responsibility of the retailer to ensure that these preferences are respected to achieve a positive delivery experience for the customer.
Suggested Read: What is retail logistics?
Delivery Partner Reachability
It is nearly impossible to deliver across the country and make it smooth. A seller can partner with different logistics companies in different locations based upon their area specializations, better workforce, good manager, etc. So here, a seller needs to be smart and choose the best order eCommerce fulfillment company for specific areas. The delivery partner should also be easily contactable by the customer in case of any query, instruction relays or emergencies.
Warehouse Management Systems (WMS)
To perform complex supply chain tasks, handing hundreds-thousands of orders, moving thousands of miles in multiple vehicles, successfully delivering the product and minimizing the cost to do it is not an easy task for a retailer and consists of multiple variables. To make this more simple and efficient, a business needs high-tech software like Warehouse Management Systems (WMS). It also gives them tracking and transport abilities.
Conclusion: Why Should You Outsource Physical Distribution to WareIQ?
Physical distribution is a series of complex tasks and if even one of them goes slightly wrong, it can have a drastic impact on the entire supply chain. Businesses not only need to figure out the best way to accomplish this but also in the most cost-effective way possible, which takes away precious time and activity that could be spent on trying to grow the business. 3PL fulfillment companies such as WareIQ can take away some of that burden by enabling you to offload the entire process of physical distribution. Some features that may entice you are listed below:
Cost-Effective
With so many delivery options and an endless amount of envelopes, bubble wrap, double-walled boxes and tape needed to keep your items safe in transit, distribution is more complicated than you think, which is why outsourcing can save you a lot of money, not just on the physical costs but also on the costs to your reputation.
Trusting WareIQ to handle and deliver your goods will provide you with a competitive advantage and keep your partners satisfied since you'll benefit from our years of experience and deep industry knowledge.
Without costly overheads and adaptability to individual needs, WareIQ provides you with a single location for your material to be stored, managed, developed, and provided. Because of the high amount of parcels shipped each year, WareIQ has wholesale accounts with more than 20 dependable couriers, airmail and freight partners, allowing you to save up to 50% on your distribution costs when compared to other suppliers.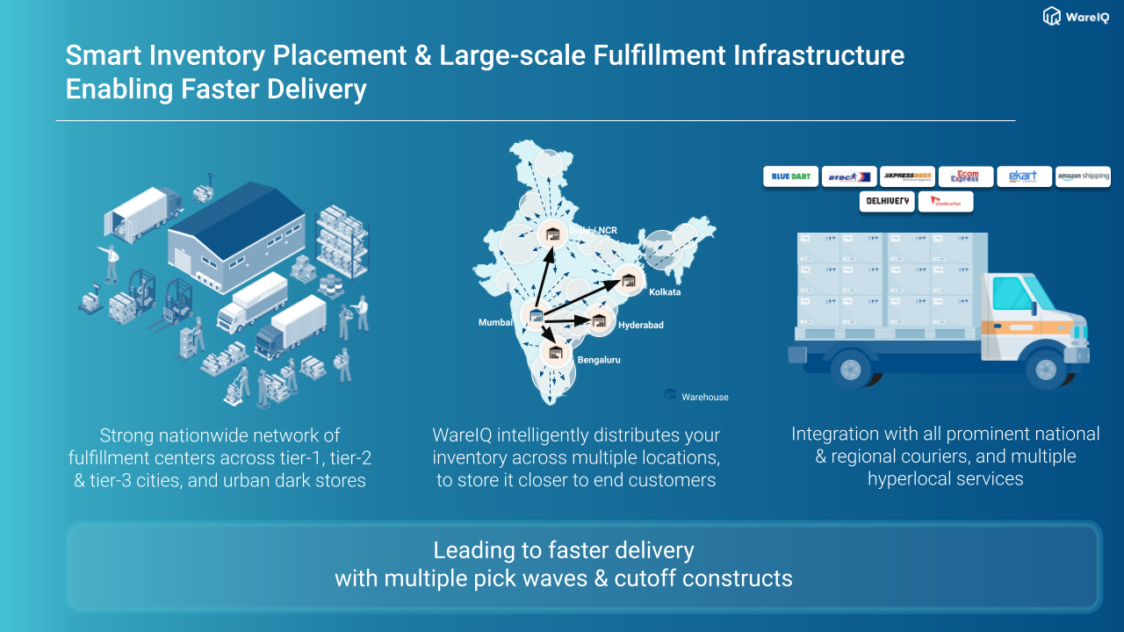 Flexible & Efficient
Outsourcing gives you more flexibility, which is important if your firm is seasonal or has peaks and valleys. Inventory levels and delivery requirements can fluctuate from month to month as your company expands.
WareIQ empowers you to adapt to required changes and continues to provide a professional and reliable service with more productivity to your business. We are dedicated to our role and create solutions that add value to your business as well as your brand image.
You can manage your stock remotely and view historical statistics for each order using our online system. It also gives you accurate stock data so you can avoid wasting money and make better judgments about printing and distribution during each marketing season.
Focus on Core Operations
Preparing to send something overseas takes time that you and your team could spend elsewhere. Few people outside the distribution industry are aware of the constantly changing customs restrictions and complexities of international and local distribution. This is also not common advice given by large courier firms; nevertheless, WareIQ has an experienced team that is available to advise, educate and support you. It's much easier to outsource your distribution than to do it yourself. You can completely concentrate on your core business and you will never have to worry about fulfillment again.
Suggested Read: Retail Distribution With WareIQ
Are you eager to know more about WareIQ's offerings if you sign up now? Find the features of the best-in-class, category-defining fulfillment services for eCommerce & D2C brands below:
Pan India Fulfillment & Darkstore Network: Plug-and-play fulfillment infrastructure with no minimums, which is compliant with Amazon Seller Flex, Flipkart Assured, Myntra and other marketplaces
Inventory & Network Planning Excellence: Best-in-class AI models for sales forecasting, product segmentation, and inventory management to reduce inventory by 40% and increase revenue by 10%.
Vertically Integrated Fulfillment Tech Stack: Our Fulfillment Tech Solution supports integrations with 20+ top marketplaces & D2C platforms, and prominent national, regional and hyperlocal couriers, enhancing reach by covering deliveries for 27,000+ pin codes
Supply Chain Productivity Applications: Integrate a host of supply chain productivity apps with a single-click to your existing CRMs, ERPs & accounting software to manage your logistics workflows from one command center. Use Apps like RTO Shield to get 100% RTO protection, Branded Tracking to turn your order tracking page into a profitable marketing channel, and many more.
Trusted by 300+ top Indian brands, we are helping them accelerate online sales and expedite their growth through a synergistic combination of advanced technology, robust fulfillment infrastructure & seller enablement services!WareIQ is backed by leading global investors including Y Combinator, Funders Club, Flexport, Pioneer Fund, Soma Capital, and Emles Venture Partner.
Physical Distribution FAQs (Frequently Asked Questions)