8 Best Small Business Order Fulfillment Services in 2023
When starting a small business and scaling up based on customer orders, every business owner needs to think about having them stored and shipped. While it's exciting when a sale is made, questions about where the products will be stored and how they would be transported to customers are pressing.
With the rapid digitization and the COVID-19 pandemic, the eCommerce business has been thriving more than ever. Small businesses have had a chance to scale up during this time, but order fulfillment is a crucial part of making a business successful. It may be confusing to those starting out or even when small businesses need to optimize their order fulfillment and logistics processes. In this blog, we will talk about everything small businesses would want to know about order fulfillment in 2023 and the list of the top 8 small business order fulfillment services providers.
What is Small Business Order Fulfillment?
Small Business Order fulfillment comes into play after the customer has placed an order with the small business. This process involves storing the products, packaging them and shipping them to customers.
There are many ways small businesses can manage order fulfillment. They can choose in-house management, partner with fulfillment partners, drop-ship their orders or even use a combination of different methods.
The four major milestones of the order fulfillment process are:
1. Creating the order when the sale is made
2. Invoicing the customer for the order
3. Picking, packaging and preparing the shipment
4. Delivering the order to the customer's doorstep
Order fulfillment involves receiving inbound wholesale shipments, sorting stock, and shelving inventory for efficient picking and packaging are all steps in the order fulfillment process.
The products are then picked, tested for quality and accuracy, packed, and labelled for shipment as orders come in. Returns management (also known as reverse logistics) is often thought of as an extension of the fulfillment process.
When a small business decides to do order fulfillment in-house, all stages of the process — storage, packing, and shipping need to be completed by them. They can also partner with a 3PL fulfillment company to handle the process or even employ drop shipping, with the rest of the processes handled in-house.
WareIQ – Amazon-prime Like Logistics for Modern Brands in India
WareIQ, an eCommerce fulfillment company, empowers online brands with a superior-tech platform to compete with Amazon like service levels by bringing their average delivery timelines from 5-10 days to 1-2 days.
"With WareIQ, UTH is able to consolidate common inventory for all platforms and get much closer to the customer through access to WareIQ's strong nationwide network of fulfilment centres, and last mile & hyper-local courier partners.

We are excited about being able to offer

same day delivery

in several pin codes due to

WareIQ

.

"
Challenges in Small Business Order Fulfillment
Startups and SMEs face setbacks in the order fulfillment process that can affect success and operational efficiency. Creating an order fulfillment system has become challenging, as the business grows and begins attracting customers from all over the globe. Not having a streamlined order fulfillment process can have a negative impact on customer delight and revenue. This in turn damaged the business reputation.
Some of the small business order fulfillment changes are:
Demand Planning
To have the right inventory stock, demand planning is important. Having the ability to predict the demand of the products based on customer buying habits is key to ensuring that businesses have a clear understanding of what to stock and what to hold back on.
Inventory Control
Maintaining a positive customer experience is important for SMEs and startups to flourish. Poor inventory management has a negative influence on everything from profitability to customer satisfaction, and it frequently leads to increased fulfillment costs and dead inventory stock. Small businesses usually struggle with effective inventory control to know exactly what they have, how much they have, and where it is.
Supply Chain
Having a good supply chain network is important for an effective order fulfillment process. Small businesses find it challenging to build ways to control each of the risks, reducing order fulfillment issues caused by unanticipated events.
Multichannel
Small businesses find it taxing to regularly ship the proper package, on time, and undamaged to the appropriate destination. Taking orders across various channels can make things even more complicated, with all the steps involved in the order fulfillment process. Due to a lack of real-time inventory control, eCommerce orders may be fulfilled at the expense of in-store product availability, or merchandise on the shelf vs in a shopping cart may be unaccounted for.
Transport and Logistics
Increasing transportation costs continue to have an impact on order fulfillment for small businesses, ultimately raising consumer prices. It is a challenge for SMEs and startups to achieve dispatch deadlines, resource management and ensure how client orders are prioritised.
Strategies to Improve the Order Fulfillment Process for Small Businesses
• Create a statistical forecast by analyzing sales trends, buying history and customer engagement to help make informed decisions for future demand planning.
• Collaborate with customers, distributors and logistical partners to understand the demand vs. supply anticipation.
• Analyse demands across channels to determine which platform allows for the most sales.
• Improve demand forecasting with the help of predictive ordering software solutions to stay equipped for unforeseen demand spikes
• Maintain clear stock visibility for overcoming small business order fulfillment issues like backorders, delays, and dissatisfied consumers.
• Use the first-in, first-out (FIFO) approach to sell products that were produced first. Have a system in place to add new products and items from the back to push older items for sale to the front.
• Identify low-turn stocks by evaluating products that weren't sold over the last 12 months. Have sales to have them sold and do not stock them until there is increased customer demand.
• Audit stocks to ensure that inventory matches the predicted demand forecast
• Leverage cloud-based inventory management systems with real-time analytics to ensure that there are surplus or out-of-stock items.
• Track stock levels and prioritize the most expensive products first
• Partner with proper suppliers to have a cohesive, collaborative supply chain.
• Identify potential supply chain risks to evaluate all possibilities and their likelihood of occurring.
What Are The Benefits of Using Order Fulfillment Services for Small Businesses?
No matter how big or small the business is, an order fulfillment service helps in keeping track of complete fulfillment status; will keep track of physical goods inventory and manage the end-to-end process of getting the order to the customer.
Order fulfillment firms frequently provide the following services:
• Warehousing
• Picking & packing
• Shipping
• Kitting
• Logistics
• Cross-docking
• International shipping
Some of the key benefits of using small business order fulfillment services are:
• Maintaining inventory remotely by retaining stocks in the service provider's warehouses. These warehouses can be accessed on-demand or on a long-term basis at any preferred location, for a smooth order fulfillment experience for the customer.
• Ensuring faster order delivery by reducing the distance between the product's source and the customer's location. Small businesses can easily utilize eCommerce warehouse fulfillment technologies provided by the service partner to store stock items in locations with the highest volume of orders.
• Enhancing customer experience by invoking a positive response from customers on a quick and seamless delivery process. By providing a pleasant customer experience, small businesses can increase brand loyalty and drive recurring sales.
• Leveraging technology to make delivery services seamless. Small business order fulfillment services use advanced technologies like AI and machine learning to enhance the accuracy of product sequencing, order fulfillment, product tracking and return order processing. Real-time updates on orders and track of stock and orders can also be easily achieved.
• Focusing on product sales and revenue generation. By allowing service partners to look into the order fulfillment process, small businesses can prioritize critical functionalities such as marketing, product design, product diversification, and so on, resulting in improved sales.
Latest Small Business Order Fulfillment Trends [2023]
Small businesses can navigate the order fulfillment challenges in 2023 as a result of the quick change to omnichannel retail and free and fast delivery. It is important to consider the latest trends in order fulfillment services for small businesses to gain a competitive advantage in the market. The latest small business order fulfillment trends include:
Extensive Supplier Network
The COVID-19 pandemic brought in a plethora of order delivery issues, with small businesses having the highest impact. With the demand outstripping supply, there were substantial worker and transportation shortages, with small businesses being unable to service diverse markets, and warehouse spaces not being able to keep up with shifting needs.
This brought in the importance of having a diverse supplier network and contingency measures in place to reduce or eliminate delivery failures.
Predictive Customer Journey
The pandemic changed the purchasing behaviour of customers. With the major shift in digitization, consumers became more vocal about their desires and needs from businesses in recent years.
This is why the customer journey and the ability to predict buyer decisions gained importance. By tailoring online platforms and processes, small businesses can make it easier for customers to buy things and monitor them from the shopping cart to the doorstep. This includes clear communication with customers through sending out automatic notifications when an order is shipped, as well as providing useful product selection advice. Hence, order fulfillment services for small businesses have identified this emerging need and integrated such customer-engagement features into their tech platforms.
Real-time Tracking
Customers have now grown accustomed to receiving real-time product availability and fulfillment information. With the availability of unique RFID data, eCommerce retailers can track inventories and instantly alert customers as the purchased item goes through the small business order fulfillment process.
Hybrid Order Fulfillment
There are now several delivery choices available when ordering products online. Before the pandemic, services like BOPIS (Buy Online Pick-Up In-Store) and curbside pickup were nearly unheard of. Having hybrid order fulfillment options relieves some of the strain on traditional supply networks and procedures. However, these order fulfillment services for small business solutions will necessitate the usage of a single inventory system so that retailers may fulfill online purchases using their on-site inventories.
Automation
Automation is in high demand, in the logistics business, as a solution to address complex supply chains and labour constraints. According to a recent study conducted by ARC Advisory Group, 79 per cent of respondents said they were "likely" or "very likely" to invest in automation in the next 1-3 years. Now, small business order fulfillment companies are working towards adopting a variety of automation options, including automated picking systems and robotic forklifts.
When and How to Choose Order Fulfillment Services for Small Business?
When a small enterprise begins to grow and order volume increases, outsourced order fulfillment services for small business can provide significant benefits in terms of product management, shipping costs, delivery speed, customised shipping services, and more. When choosing small business order fulfillment services, some of the factors that small business owners and operations managers should consider are:
Shipping Speed: The faster the customer receives the order, the more they come back for recurring purchases. With Amazon Prime having options like same-day and two-day delivery timelines, it's important for small businesses to have an order fulfillment service with quick shipping and delivery.
Fulfillment Service Costs: Although an initial investment is required when collaborating with an order fulfillment partner, be sure there are no hidden fees for long-term storage because the products are in high demand. Also, because of the amount they transport, negotiate with them for better carrier pricing.
Fulfillment Warehouse locations: The closer the fulfillment warehouses are to the customer base, the quicker the order fulfillment will be. Make sure that when choosing order fulfillment partners, they one ones with an extensive warehouse location network for shorter delivery distance and time.
Order Fulfillment Service Features: Order fulfillment software with easy-to-use features and those providing clear order visibility, responsive dashboards, easy inventory management etc. are important so that businesses can focus more on sales and marketing than on figuring out inventory levels and organize their order fulfilment.
Process Transparency and Order Visibility: Real-time order visibility and complete process transparency in any delays etc. are crucial to have while building a business and trying to improve customer satisfaction. It's important that there are easy tracking and order management features provided by the order fulfillment partner.
Packaging Options: Depending on the goods being transported, the fulfillment centre of the chosen service provider should be able to give packaging choices. Having a variety of packing solutions will also help to prevent product damage. In addition to packaging, the use of the appropriate insulation material, such as corrugated paper, bubble wrap, or air pillows, can ensure that products reach their destination securely.
Returns Management: Orders will be returned at times, and the fulfillment provider should collaborate with the business owner on returns management to help decrease or eliminate them, if possible, through better-advanced logistics. It's critical to be able to recognise clients who are frequent returners in order to reduce order returns and increase their trust in the products they buy.
The Best Order Fulfillment Services for Small Businesses Compared
WareIQ
Established in 2019, WareIQ, a Y-combinator backed startup, has rapidly grown to be the leading provider of full-stack eCommerce order fulfillment tech solutions for some of the most reputed brands in India. WareIQ offers a full-stack platform for eCommerce companies to enable same day delivery and next day delivery to customers – an Amazon Prime-like experience but accessible to everyone.
WareIQ has empowered brands to sell more, sell faster & sell everywhere due to the:
Access to WareIQ's strong nationwide network of fulfilment centres & urban dark stores near their customers
Access to all major national & hyperlocal last mile couriers at discounted rates for making same/next day deliveries possible
Easy integration across multiple online platforms & marketplaces
Access to a superior centralised tech platform for eCommerce operations

ML-based prediction engine for efficient warehouse network design & smart inventory placement
Centralised platform for core fulfillment & shipping operations
Post-shipping apps for delightful experience & zero to minimum supply chain leakages (Branded tracking page with smart marketing placements; Trigger-based updates & smart communication platform)
WareIQ has customised offerings for merchants experiencing different order volumes as well as having different delivery speed expectations. WareIQ is probably one of the very few fulfillment tech companies in the world that have same day delivery offering for their customers under their product "WareIQ RUSH".
With world-class WMS functionalities, WareIQ handles the entire range of intricate operations in the eCommerce fulfillment process, ranging from Inbound Operations such as scanning and quality check, through 100% accurate Pick and Pack , to Inventory Management across all channels. WareIQ's next day delivery and same day delivery services are helping eCommerce businesses set new standards with respect to setting customer expectations and fulfilling them with high efficacy. At the same time, WareIQ customers realize significant cost savings and wider reach due to better negotiations with shipping aggregators, strategically placed warehouses, economies of scale and scope in warehousing and data-driven decision-making.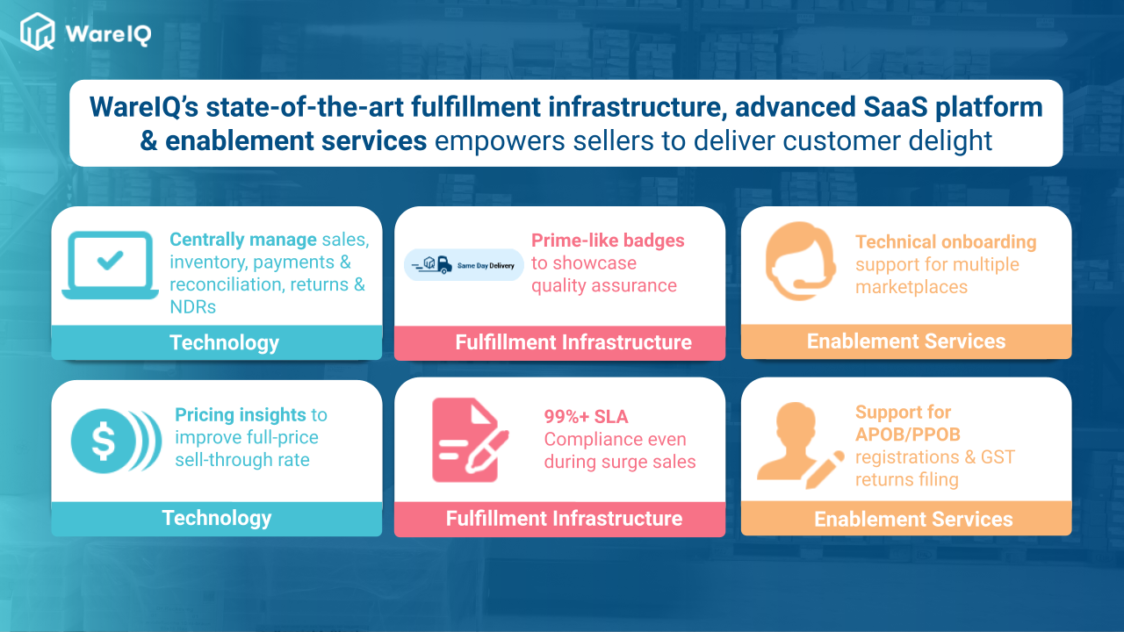 WareIQ's WMS, a centralised tech platform, is its core offering, with the following functionalities:
Shipping Management

Integration to all major national couriers and same-day courier partners through WareIQ platform with discounted rates
Generation of bulk shipping labels & invoices in a few clicks
Offering a branded tracking page and sending auto-alerts to inform customers of their shipment status
Reduction in RTO % (Return to origin) by automating cases of failed delivery attempts (NDRs) by the shipping partner
Preemption of COD frauds through integrated AI engine flagging risky orders

Orders management

Tracking of orders across the channels

Filtering of orders by status
Searching for specific orders
A quick timeline view of where the order is in the fulfillment process (e.g. when an order is picked, packed, or shipped)
Shipping-related information (e.g., weights, dimensions, or carrier service)
A quick snapshot of any orders that require action

Syncing WareIQ's out-of-the-box integrations with sales channels to eliminate manual importing of data and trigger all the necessary notifications to the end-customers

Inventory management

Tracking of inventory levels across multiple locations & sales channels – the website and marketplaces
Using WareIQ platform to distribute inventory to multiple locations optimizing for speed & cost/order
Setting reminders to proactively replenish inventory, bundle products for promotions, make inventory transfer requests, and much more

Warehouse management

Managing multiple warehouses and offline stores on WareIQ platform
100% inventory accuracy ​​​with scan-based operations
Automated reconciliation tool helps to keep track of returns and unsettled invoices
Integrations with all major ERP & Accounting systems
Assured tag on Flipkart without physically dedicating inventory to them
The central platform helps to better manage undelivered orders by reducing NDR processing time by 12 hours – a multifunctional NDR dashboard helps to track and take immediate action for undelivered orders in real-time, thereby reducing RTO by up to 10%. Automatic replenishment recommendations and easy purchase order creation capabilities on the WareIQ platform further empower eCommerce companies to leverage all possible ways of increasing their ROI.
300+ brands, such as The Man Company, Future Group, Kama Ayurveda and Wingreens Farms, have trusted WareIQ as a reliable partner in their growth journeys. No minimum order quantity requirements make it suitable even for eCommerce firms having low order quantities to take advantage of the latest trends such as next day delivery and same day delivery. The onboarding process is simple, convenient and less time consuming, while the pricing policy is clear and transparent. WareIQ also undertakes strict safety precautions at its warehouses and complete ownership of the operations, thereby minimising the risk exposure of WareIQ customers.
Delhivery
Delhivery is a key player in the Indian small business order fulfillment sector. They have 71 fulfillment centres around the country, with a total storage and processing space of over 6 million square feet. All the major demand channels and courier partners are integrated with their own warehouse management system. It's built to support efficient multi-tenant, multi-location warehousing, allowing businesses to extend operations across India rapidly and flexibly with no fixed expenses. By combining warehousing services and freight solutions, Delhivery can provide small businesses with integrated distribution solutions. This allows Delhivery to better serve its customers with quick and cost-effective offline delivery.
Their services include:
Same-day/Next-day Delivery
Time-defined/Slot-based Delivery
Person Specific/Address Specific Delivery
Returns Management
Product Replacement/Exchange Services
Large/Oversize Order Delivery
High-value Product Delivery
HAZMAT/Dangerous Goods Delivery
Real-time Monitoring and Control
Consignee Address Validation
Fraud Detection
Flexible Payment on Delivery
NimbusPost
NimbusPost is an intuitive, multi-channel distribution company. It offers a logistics automation CRM that assists customers in automating and simplifying important processes that are involved in the daily operations of a business. It provides cost-effective and transparent pricing and gives clients the option of partnering with the top 7 courier partners in the country. Prominent partners include Bluedart, FedEx, Xpressbees, EKart, Shadowfax etc.
Some of the solutions provided by NimbusPost are:
Fraud Detection and Order Filtering AI Tools
Plug & Play Technology Centered Integrations
Smart Automation of Shipping Processes
Cloud-Based Customer Care Facilities
Fast Cash-on-Delivery Remittance and Support
Cheaper Pricing Compared to Other Companies
Whitebox
It is popular with sellers on Amazon as well as other B2C sellers. It offers several services to facilitate sellers operating on Amazon. It differentiates itself from it's competitors since it offers marketing services in addition to order-fulfillment, making it convenient for clients. There is a flat monthly fee for using its platform which includes inventory storage, software, account handling, shipping, receiving, and processing. It does have a MOQ of 1,000 orders but has several success stories of small businesses that started with them and grew to become much larger firms.
Some services offered by Whitebox include:
Omnichannel Order Fulfillment
Retail Dropshipping
DTC (Direct to Customer) eCommerce
Marketplace Preparation
Amazon Seller Fulfilled Prime (SFP) Integration
Warehousing Facilities
Optimized Packaging and Shipping
iThink Logistics
iThink Logistics helps small business owners by providing features to automate operations like billing, labelling, and listing. This helps reduce RTO and save shipping expenses in addition to providing safe cargo facilities and a committed support team. There are additional alternatives that iThink provides such as same-day delivery, which is a value-added extension to its small business order fulfillment services. High level customisation of pricing is something that has allowed iThink to create a niche loyal customer base.
The extensive features provided by iThink Logistics are:
Automated reattempt
Multifunctional dashboard
Auto-Generated Reports
AI-Driven recommendation engine
Same day pickup
Live NDR Update
RTO
Real-Time Tracking
Early issue detection
Reverse order NDR
Reverse pickup (DTO)
Net Promoter score
White Label Tracking Page
Accurate date calculation
Customized tracking page
Automated billing reconciliation system
Faster Weight discrepancy resolution
Rate Calculator
Postpaid Payment
Easy credit transfer
Faster COD remittance
Email and SMS notifications
ShipBob
ShipBob delivers high-quality small business order fulfillment services with the level of flexibility desired by many small businesses. It has no order minimums and has a Growth Plan that is excellent for startups looking to rapidly grow their business and order volumes over the next few years. ShipBob has the greatest network of domestic and foreign fulfillment centres on its list, allowing it to deliver high-level distribution capabilities for small businesses across the globe. Some of the features that ShipBob has included are:
Zero monthly minimum or maximum orders
Affordable pricing
B2B fulfillment with EDI compliance
Itemized billing format for transparency
FDA-certified climate control and handling
99.95% accuracy rate
FBA prep services
ShipMonk
ShipMonk's features and capabilities are comparable to those of the industry's best direct-to-consumer fulfillment firms. Its platform is designed specifically to provide order fulfillment services for small businesses, with the scalability required to support expansion as these enterprises grow (with regard to increase in order volumes and geographical territories). The disadvantage of Shipmonk is that they require a minimum of $250 in pick and pack expenses and do not provide batch fulfillment services. Key features include:
Amazon Seller-Fulfilled Prime eligibility
Online billing portal
0.01% error rate
State of the art warehouse automation
Robust customization & branding options
Tax benefits and cost reductions for volume importers
Takes a photo of packed orders before they're shipped
FBA (Fulfilled by Amazon)
FBA gives vendors more access to Amazon's over 150 million Prime users thanks to its automatic Prime designation. Amazon merchants should consider Fulfillment by Amazon since it handles all customer inquiries, manages returns and refunds, and automates order fulfillment, all of which saves time. Amazon has set new standards in small business order fulfillment with same day delivery and next day delivery services.
However, FBA's pricing and procedures are more convoluted than those of many other fulfillment warehouses, especially when not selling little or light-weight items, so sellers have to research thoroughly to avoid paying excessive fees. Their key features are:
No order minimums
Comes with automatic Prime designation on Amazon listings
Amazon handles all customer inquiries, refunds, and returns
Can be used to fulfil non-Amazon orders (part of Amazon's Multi-Channel Fulfillment offerings)
Uses inventory pooling that groups identical products from different sellers
Conclusion
Having a third-party order fulfillment and logistics company can aid development while freeing up time and space for small businesses to focus on other key parts of the business. To provide customers with the fast delivery and flawless delivery experience that they demand, we recommend small businesses to partner with a full-stack order fulfillment firm like WareIQ, which is experienced and resourceful and can provide the greatest logistical experience in the eCommerce sector.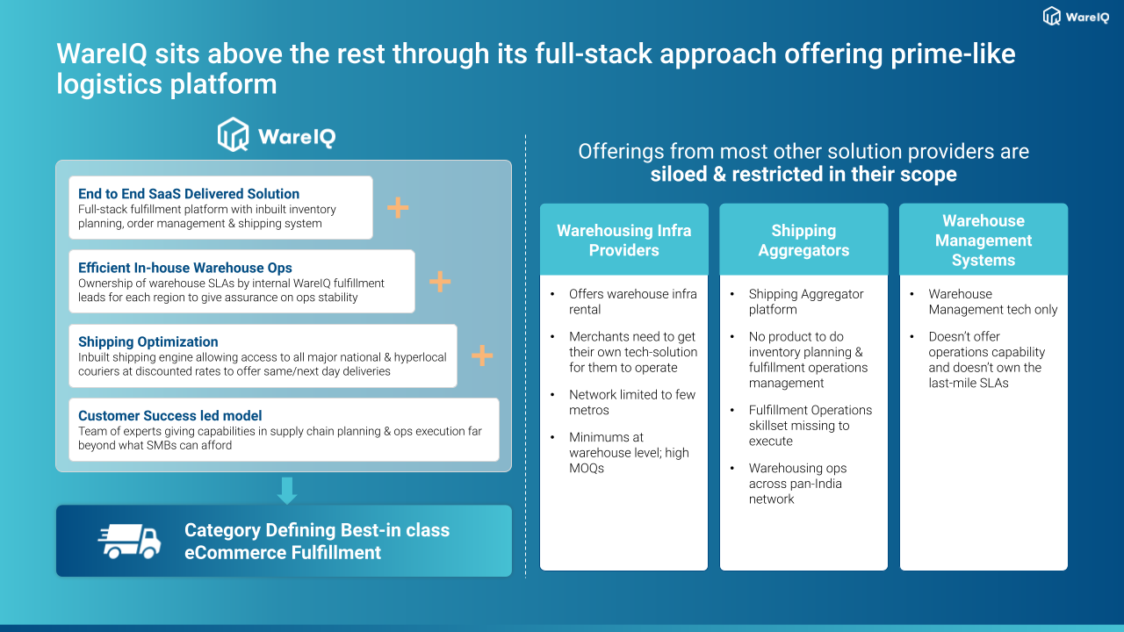 Being the fulfillment company that has been the preferred choice of 300+ eCommerce brands including numerous small businesses along with reputed brands (such as Future Group, Piramal Group etc.), WareIQ provides you with the right flexibility in small business order fulfillment with respect to order size and pricing. Moreover, WareIQ has been constantly working on incorporating feedback from customers and strengthening the focal points in the fulfillment chain to provide you with a consistent improvement in customer satisfaction.
We help you not only to reduce your logistic costs but also your delivery timelines – this could be the game-changer for your business needs!
Are you eager to know more about WareIQ's offerings if you sign up now? Find the features of the best-in-class, category-defining fulfillment services for eCommerce & D2C brands below:
Pan India Fulfillment & Darkstore Network: Plug-and-play fulfillment infrastructure with no minimums, which is compliant with Amazon Seller Flex, Flipkart Assured, Myntra and other marketplaces
Inventory & Network Planning Excellence: Best-in-class AI models for sales forecasting, product segmentation, and inventory management to reduce inventory by 40% and increase revenue by 10%.
Vertically Integrated Fulfillment Tech Stack: Our Fulfillment Tech Solution supports integrations with 20+ top marketplaces & D2C platforms, and prominent national, regional and hyperlocal couriers, enhancing reach by covering deliveries for 27,000+ pin codes
Supply Chain Productivity Applications: Integrate a host of supply chain productivity apps with a single-click to your existing CRMs, ERPs & accounting software to manage your logistics workflows from one command center. Use Apps like RTO Shield to get 100% RTO protection, Branded Tracking to turn your order tracking page into a profitable marketing channel, and many more.
Trusted by 300+ top Indian brands, we are helping them accelerate online sales and expedite their growth through a synergistic combination of advanced technology, robust fulfillment infrastructure & seller enablement services!WareIQ is backed by leading global investors including Y Combinator, Funders Club, Flexport, Pioneer Fund, Soma Capital, and Emles Venture Partner.
Small Business Order Fulfillment FAQs (Frequently Asked Questions)