10 Best Small Business Fulfillment Companies In 2023
The e-commerce industry is experiencing the same surreal growth as the Indian economy as a whole. Small businesses fulfillment companies have arrived to help them flourish, as they have tended to be the slowest to adopt the growing trend of online ordering and fulfillment. Many of them lack the necessary finances and resources to make it big in this business. In this article, we take a look at the disadvantages small businesses may face, the benefits of small business fulfillment companies, and why it would make sense for them to partner with a fulfillment center for small businesses to be successful.
Why Use Small Business Fulfillment Companies?
You may wonder why small businesses (e.g., eCommerce startups) would want the hassle of working with a fulfillment company in India. Wouldn't it be a lot easier – and more efficient – in doing it themselves? The answer is easy:
While self-fulfillment may appear cheaper and more hassle-free in the beginning, a small business quickly realizes the time, effort, resources, and expertise required in managing the logistics and distribution involved in a successful business. It quickly dawns upon them that they're better off outsourcing this task to an expert. It saves money, brings best-in-class expertise, and saves real estate. Therefore, the benefits of small business fulfillment services are endless!
Some Leading Advantages of Fulfillment Centers for Small Businesses
Inventory management
Warehouse outsourcing
Benefit from 3PL economies-of-scale
Best in class technology, software systems & data analytics
Reduced number of employees
Order processing
Return-order processing
WareIQ – Amazon-prime Like Logistics for Modern Brands in India
WareIQ, an eCommerce fulfillment company, empowers online brands with a superior-tech platform to compete with Amazon like service levels by bringing their average delivery timelines from 5-10 days to 1-2 days.
"With WareIQ's full stack digital enabled fulfillment solution, we got access to the pan India network of fulfillment centers & cold storage facilities enabling same/next day delivery, without any upfront investment in supply chain infrastructure from our end. During the IPL campaign in April 2022,

WareIQ efficiently

handled unpredictable 200x surges in daily order volumes

of ~20k/day with a

99% fulfillment rate

. With WareIQ as our preferred fulfillment partner, we witnessed 172% growth in online order volume in just 4 months, with a significant improvement in the overall customer experience in fulfillment."
But Why do Fulfillment Companies Reject Small Business Clients?
The barrier that new clients (e.g., eCommerce startups, D2Cs) face in finding a fulfillment center for small businesses is primarily related to order volume. Fulfillment is a high-volume business with low margins. And, unless clients promise a MOQ (Minimum Order Quantity), the fulfillment companies simply won't find it profitable.
Therefore, while the benefits are evident, small businesses must also carefully select the type of small business fulfillment companies to partner with. Weighing all the factors carefully in choosing the right fulfillment center for your businesses ensures a suitable match for both sides.
Are There Any Exceptions?
The timing of tying up with a fulfillment center for small businesses is an important one. You may want to get off the ground first and then partner with one, or if you are entirely cash-crunched, you'd like to wait till you have sufficient funds. Also, outsourcing may be unfeasible for manufacturing firms that use a JIT (just-in-time) supply chain. However, these are more of an exception than the norm and in most cases, using small business fulfillment companies brings immense value to those businesses.
Significance of Small Business Fulfillment Services
Small businesses, eCommerce startups, newly launched offline companies, and rapidly growing fledgling businesses are consumed with a host of frenetic daily business activities to manage their operations. And, when these companies are trying to achieve scale rapidly, such activities become greatly amplified.
Under such a scenario, a small business is much better off focusing its efforts on business growth and customer-satisfaction-related activities against spending the time and effort needed to execute the logistics and distribution function.
That's not to say that the logistics process isn't an essential part of managing the business – in fact, quite the contrary! In today's times of global and borderless marketplaces, managing your delivery and logistics is an even more vital tool to achieve customer satisfaction. Often, a company's differential advantage arises from this aspect. Therefore, all the more reason why the team is better off outsourcing this function to experts – like a fulfillment center for small businesses – is so that they can be reassured that it is in good hands.
How do Small Business Fulfillment Companies Deal with Minimum Order Requirements for Fulfillment Services?
A fulfillment center for small businesses manages your inventory, processes, and dispatches your orders on your behalf. Since they have several clients (online & offline), they need to know the order volumes they can expect from each platform to plan their operations, invest in resources, and create workforces accordingly.
As a result, they set limits, both minimum and maximum. This enables them to plan their resources and provide the best possible service to their clients. It also helps them calculate their critical internal metrics such as the number of vehicles, loaders, suppliers, storage space, MIS, full-time and part-time employees, drivers, slab-based pricing for various clients, etc. Read on to know more in detail about how order fulfillment services for small business here.
Typically, small business fulfillment services use the following metrics to bracket clients:
Minimum Monthly-Order-Quantity (MOQ), e.g., less than 500, 500-1000, 1000+
Minimum Monthly-Order-Value (MOV)
Minimum monthly-fulfillment fees. If your bill doesn't hit the minimum (e.g., Rs.50,000), you would still be billed that amount.
A minimum number of trucks/ pallets/ tonnage (etc.) is sent out every month.
New or growing businesses like eCommerce startups must carefully calculate their requirements while negotiating with a fulfillment center for small businesses. This helps them to get the best rates and service from 3PLs. Given below are essential metrics for small-business clients to consider while committing to MOQs:
Forecasting demand: Start with demand forecasting, i.e., the recorded demand for your products. Provide for scale, cyclical demand, seasonality, competitors, etc.
Calculate your break-even point: This requires a solid understanding of your business model, including:

Number of units sold to make a profit that covers operating-cost
Number of units sold to make a profit
Other costs, e.g., inventory carrying costs, overheads

Use MOV (Minimum Order Value): If you sell a basket of products, you could commit to a monthly MOV to your small business fulfillment company, i.e., you may not meet the MOQ for each product, but if you achieve a combined MOV, they would still give you reasonable rates and service.
Collaborate with other same-space players: Combining with other companies in your ecosystem that use similar supply-chain, raw materials, etc., will help you reduce your operating costs. This allows you to earn more profit, grow your business faster, etc.
Leverage the new business angle: Explain to your small business fulfillment company that you are still setting up and testing market conditions, demand, etc. And after gauging the results, you would gradually increase the quantity. Often, small business fulfillment services will be agreeable.
Benefits of Using a Fulfillment Center for Small Businesses
1. Rapid growth: Small-business owners and teams must rapidly focus on growing their businesses by logical extension of the section above. And, you certainly wouldn't want this growth to be restrained due to poor fulfillment. Partnering with a 3PL with a vast range of resources ensures your fulfillment partner matches your speed and enhances it.
2. Seamless integration of eCommerce platforms: Instead of grappling with integrating various individual systems, you're better off using an experienced 3PL to integrate all your eCommerce platforms for a unified, comprehensive solution. This setup is guaranteed to reduce cost and time.
3. 3PL discounted rates: Small business fulfillment companies serve numerous clients and operate at a tremendous scale. Therefore, they can command bulk discounts from shippers like UPS, BlueDart, & FedEx on rates and get better terms of service. Thus, when you use 3PLs, you can avail of these bulk-discount rates and facilities – despite not reaching that scale yourself.
4. Own warehouse not needed: Using a fulfillment center for small businesses means you don't need to own and manage your warehouse. This is very expensive, but it also requires massive resources and adherence to stringent practices to be effective.
5. Ease of selling internationally: When you sell across borders, dealing with various tax regimes, travel zones, international laws, customs, duties, and documentation becomes a significant challenge. It is common knowledge that a significant bottleneck of expanding internationally is dealing with global fulfillment. Using an order fulfillment service for startups reduces that burden.
6. Leverage 3PL expertise: Experts are good at what they do. And small business fulfillment companies are experts in providing 3PL fulfillment services. So, it is in your interest to outsource all your inventory and fulfillment activities to them, leaving you to concentrate on your company's growth.
Related Article: 3PL Warehousing Companies
Top 10 Small Businesses Fulfillment Companies and Startups in 2023
WareIQ
Shopify Fulfillment Network
Red Stag Fulfillment
ShipMonk
eFulfillment Service
ShipBob
FedEx Fulfillment
Whitebox
Shiphero
Saltbox
The following 3PLs have a reputation of being conducive to small businesses, can work without minimum order quantities or even with small amounts, and have received positive reviews from small-businesses owners.
WareIQ
Established in 2019, WareIQ, a Y-combinator backed startup, has rapidly grown to be the leading provider of full-stack eCommerce fulfilment services for some of the most reputed brands in India. WareIQ offers a full-stack platform for eCommerce companies to enable same-day delivery and next day delivery to customers – an Amazon Prime-like experience but accessible to everyone.
WareIQ has empowered brands to sell more, sell faster & sell everywhere due to:
Access to WareIQ's strong nationwide network of fulfilment centres, micro-fulfillment centers & urban dark stores near their customers
Access to all major national & hyperlocal last-mile couriers at discounted rates for making same/next day deliveries possible
Easy integration across multiple online platforms & marketplaces enhancing multi-channel selling
Access to a superior centralised tech platform for eCommerce operations

ML-based prediction engine for efficient warehouse network design & smart inventory placement
Centralised platform for core fulfilment & shipping operations
Post-shipping apps for delightful experience & zero to minimum supply chain leakages (Branded tracking page with smart marketing placements; Trigger-based updates & smart communication platform)
WareIQ has customised offerings for merchants experiencing different order volumes as well as having different delivery speed expectations. WareIQ is probably one of the very few fulfilment tech companies in the world that have same-day delivery service for their customers under their product WareIQ RUSH.
With world-class WMS functionalities, WareIQ handles the entire range of intricate operations in the eCommerce fulfilment process, ranging from Inbound Operations such as scanning and quality check, through 100% accurate Pick and Pack, to Inventory Management across all channels. WareIQ's next day delivery and same-day delivery services are helping eCommerce businesses set new standards with respect to setting customer expectations and fulfilling them with high efficacy. At the same time, WareIQ customers realise significant cost savings and wider reach due to better negotiations with shipping partners, strategically placed warehouses (there are different types of warehouses for different requirements), economies of scale and scope in warehousing and data-driven decision making.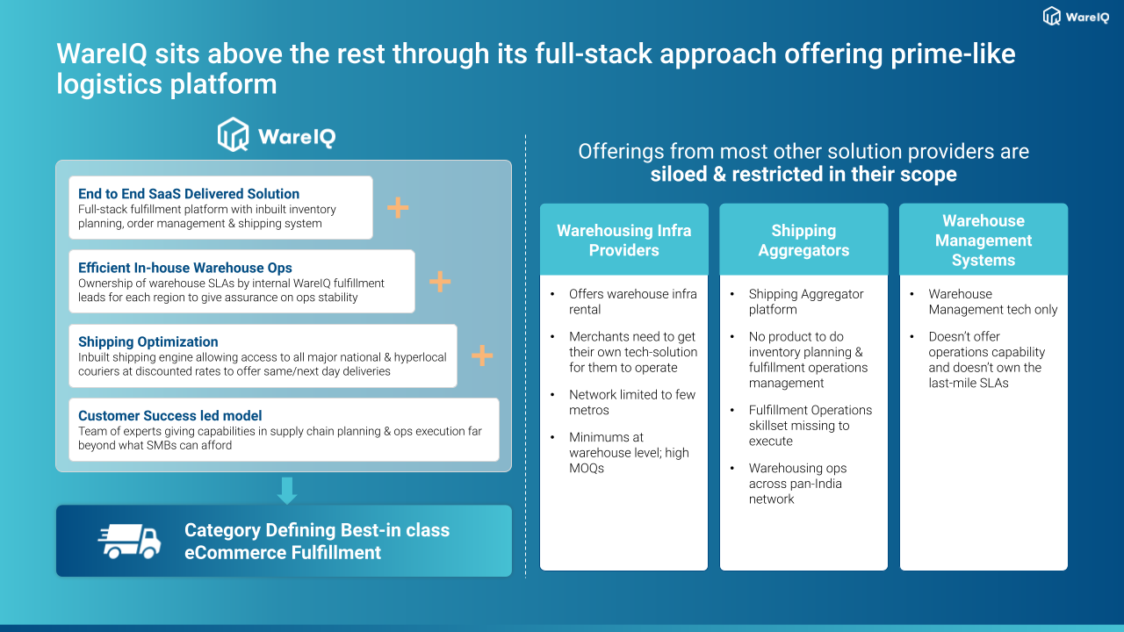 WareIQ's WMS, a centralised tech platform, helps to better manage undelivered orders by reducing NDR processing time by 12 hours – a multifunctional NDR dashboard helps to track and take immediate action for undelivered orders in real time, thereby reducing RTO by up to 10%. Automatic replenishment recommendations and easy purchase order creation capabilities on the WareIQ platform further empower eCommerce companies to leverage all possible ways of increasing their ROI.
300+ brands, such as The Man Company, Future Group, Kama Ayurveda and Wingreens Farms, have trusted WareIQ as a reliable partner in their growth journeys. No minimum order quantity requirements make it suitable even for eCommerce firms having low order quantities to take advantage of the latest trends such as next day delivery and same day delivery. The onboarding process is simple, convenient and less time consuming, while the pricing policy is clear and transparent. WareIQ also undertakes strict safety precautions at its warehouses and complete ownership of the operations, thereby minimising the risk exposure of WareIQ customers.
Shopify Fulfillment Network
It was launched in 2006 in Ottawa, Canada and was specifically targeted at small-business clients. It is an excellent option for small businesses but still provides ample space for clients to expand into enterprises. Its platform is utilised by over 1.7 million businesses in over 175 countries. Clients can ship fewer than 10 orders or exceed a 1000 orders, daily. It suggests locations for inventory storage. Locations are vetted by Shopify and facilitated by a panel of fulfillment services across Canada and the USA. They have flexible contracts and customized pricing. They offer a custom API to track order progress and insights. Some features offered by Shopify are:
Mobile commerce ready: Online Shopify stores contain an in-built, mobile commerce shopping cart. Customers can shop from the seller's store digitally, through a smartphone or tablet.
Automatic carrier shipping rates: Shipping rates can be received automatically through major shipping carriers like UPS, USPS, and FedEx.
Flexible shipping rates: Shipping rates can be set up according to fixed-price, tiered pricing, weight-based, and location-based rates.
Customer profiles: Sellers can get more information about their customers and their preferences. Their personal information such as contact info and order history can be found in one place.
Digital products: Customers can order and download digital products right from the seller's online store.
Red Stag Fulfillment
It is conducive for small businesses and maintains numerous fulfillment centers. Hence, it offers quick delivery times and reduced costs. A 30-day trial is also offered. The company has tie-ups with market leaders like WooCommerce and Shopify. As per statistics, 100% of orders are shipped on time and to an accurate location. Typically, the MOQ is set at 200 orders per month, but fewer orders can be shipped. It works with Amazon Prime and ships internationally. Some features offered by Red Stag Fulfillment are:
Warehousing: 3 existing warehouses in the US are available for inventory storage and 3 more warehouses are expected to be added to their fulfillment network in the near future.
Order fulfillment: Red Stag's fulfillment process consists of specialized training, handling, packaging, and shipping deals and makes it a unique proposition for merchandise that requires special handling. Same-day fulfillment with quick cutoff times, and heavy-duty packaging are also available.
Shipping: Red Stag partners with the biggest names in distribution – UPS, USPS, FedEx, Amazon, and OnTrac – most of which offer discounted rates.
Integrations: Red Stag offers integrations with eCommerce shopping carts and seller marketplaces.
Special services: Unique services offered by Red Stag include kitting, custom packaging, bundling, reverse logistics, international shipping, and more.
Shipmonk
It offers services to all eCommerce firms. Fees are based on monthly order volumes, and no MOQ is set. Inventory storage fees are fixed depending on the size and scale. Provide discounted rates from all leading shippers. Picking fees gradually reduce as your order pickups increase. In addition to Amazon Seller fulfillment, it also fulfills orders from non-conventional marketplaces like Groupon and Etsy. Some features offered by Shipmonk are:
Multiple Warehouses: Shipmonk offers multiple warehouses, located all across the country.
Free Integrations: Shipmonk has over 100 shopping cart and marketplace integrations, usually with free setup.
Transparent Billing: Their billing process offers a precise breakdown of costs in the portal so customers can maximise on budgeting efficiency.
Freight Management: A specialised engineer can help in case you need to import inventory by guiding you through the process of filing the correct documentation and coordinating freight.
Returns Management: Shipping labels for customers can be created directly in your account and alerts are sounded when a return enters back into the warehouse.
eFulfillment Service
You don't need any long-term contracts. There are no MOQ requirements or setup costs for initiation. The company offers competitive pricing and an efficient cross-docking facility, i.e., orders shipped out upon arrival, cutting out any holding or storage costs. It is a good option for crowd-funded firms to test the market fit for new products by shipping them to promoters and backers. Some features offered by eFulfillment Service are:
Simple, affordable pricing: There are no setup fees, long-term contracts, minimum order requirements, hidden fees, or fine print.
Friendly terms for e-commerce startups: They provide outsourced fulfillment that is specifically targeted at startups.
Integration with global distributors: They have integrations with every big name in distribution services such as DHL, Fedex etc.
Order Fulfillment technology: They offer things like custom tracking software and customisable alerts to keep customers updated about the fulfillment status of their order.
Best-in-class security: Their secure technology infrastructure ensures that your data is kept safe and protected.
ShipBob
Ship Bob is popular with eCommerce firms and is used by more than 5,000 online businesses. There are no MOQ requirements and its pricing plans are simple and transparent. It offers a growth plan service that suits fledgling start-ups with less than 400 orders per month. There are zero onboarding charges, payment is as per usage and it implements a self-service model. It is useful for flash sales and is integrated with BigCommerce, Amazon and Shopify. It offers a global shipment network and claims an impressive on-time delivery and accuracy rate of 99+%. Some features offered by ShipBob are:
Large fulfillment network: ShipBob has multiple warehouses and fulfillment centers that enable sellers to manage their inventory by keeping a certain amount of stock in multiple warehouses.
Web-based platform: ShipBob's web-based platform helps you to keep an eye on logistics, manage, edit, and customize orders, track real-time stock levels from any location, and receive notifications whenever inventory needs to be restocked.
Guaranteed 2-day shipping: ShipBob offers a 95% plus 2 day shipping fulfillment plan, regardless of where the order has to be delivered.
Omnifulfillment: ShipBob fulfills orders for both online and offline channels to help provide a consistent customer experience, regardless of where people buy your products.
B2B fulfillment: With ShipBob, you can easily connect to retailers for EDI-automated wholesale and retail workflows, and print retailer-compliant packing slips.
FedEx Fulfillment
It is a fulfillment company that is attractive for small businesses due to its one-stop fulfillment. It is a reputed, credible brand that is now hugely popular with start-ups because of its comprehensive one-stop solution. There are no onboarding charges. Their services include fulfillment, inventory storage, shipping, and packing. Clients benefit from its scale (like receiving significant shipping discounts) since its 3PL business is tied with its parent company. They do have a MOQ of 400 orders, but many benefits are offered in return. Some features offered by FedEx Fulfillment are:
Warehousing: FedEx consists of 13 warehouses in the US and 1 international fulfillment center, that are all connected to FedEx's comprehensive transportation network.
Order fulfillment: Through automation and process streamlining, FedEx Fulfillment ensures a reduction in the number of people handling each order, which increases efficiency and reduces the scope of errors.
Shipping: FedEx Fulfillment only supports FedEx shipping services, but the offers worldwide fulfillment in over 200 countries.
Reverse logistics: FedEx Fulfillment is a just a tiny portion of all services offered by FedEx's extensive logistics business, so users have access to all of FedEx's other services, including industry-leading return management services.
Integrations: Integrations are offered with Shopify, WooCommerce, Magento, eBay, Walmart, Etsy, and a many more.
Whitebox
It is popular with sellers on Amazon as well as other B2C sellers. It offers several services to facilitate sellers operating on Amazon. It differentiates itself from it's competitors since it offers marketing services in addition to order-fulfillment, making it convenient for clients. There is a flat monthly fee for using its platform which includes inventory storage, software, account handling, shipping, receiving, and processing. It does have a MOQ of 1,000 orders but has several success stories of small businesses that started with them and grew to become much larger firms. Some features offered by Whitebox are:
eCommerce software: Whitebox uses its proprietary technology, Omnifi™ throughout the entire lifecycle of order fulfillment. This gives sellers access to insights and metrics about their customers and order fulfilment process.
Marketplace management: Sellers can access tools to automate and simplify the management of online marketplaces, including review alerts, order tracking, reseller tracking and more.
Warehouse and Inventory Management: Whitebox offers a flexible warehouse management system that gives brands valuable live insights into inventory.
Optimised packaging and shipping: They offer recommendations about the best type of packaging for different types of products to help reduce damage and maintain a great customer experience.
National and international coverage: Strategically located warehouses result in cost-effective shipping wherever the customer is located.
Shiphero
It has zero setup charges and offers two solutions – fulfillment and warehouse software. These are very helpful for eCommerce firms and start-ups. The order-fulfillment service is completely automated and runs across hundreds of company-owned warehouses. It is a very popular small business fulfillment company and is used by over 5,000 brands. Some features offered by Shiphero are:
Order fulfillment: They smartly distribute and store your inventory across a country-wide network of warehouses, which offers faster delivery at a lower cost.
Diverse Integrations: They are integrated with leading eCommerce, marketplace, shipping and robotics platforms.
Mobile pick & pack: The order pickers are sent into the warehouse with mobile tech that makes picking faster and more efficient and cuts error rates by 99.99%.
Rate Shopping: Using ShipHero's real-time ship rate shopping enables you to save on postage. The cheapest carrier will always be suggested.
Reporting: Built-in reporting features cover everything from COGS to Picker/Packer Efficiency to Replenishment. Custom reports are available as well.
Saltbox
It is a fulfillment company that is suitably designed for start-ups and small-business clients. There are no MOQ requirements. The company provides discounted shipping rates from leading shippers like FedEx, DHL, & UPS. It offers warehousing and workspaces, which is unique and helpful and is integrated with WooCommerce, Shopify and Etsy, among others. Some features offered by Saltbox are:
Reduced transit time: They offer local drop-off which results in a reduction in both time taken to deliver the order and cost.
Guaranteed inventory replenishment: They offer 24-hour guaranteed dock-to-stock on inventory
Same-day fulfillment: They offer same-day shipping fulfillment for orders received by 3 PM
Free packaging: They offer standard packaging at no additional cost.
No penalty fees: There are no setup, onboarding or any other type of penalty fee that is applicable.
Top 5 Factors to Consider While Selecting Your Small Business Fulfillment Company
Firstly, select a small business fulfillment company that suits your business requirements. Just like players in any industry have their focus areas, so do 3PLs. Some are specialized, while others offer general logistics. Typically, 3PLs are classified into two categories:
General Purpose 3PL: Services range from transportation to storage. Generally handle cargo that doesn't need any special care, packing, etc., and is fairly inexpensive.
Niche-Specific 3PL: Serve specific markets and categories, e.g., eCommerce, certified 3PLs for special products, perishable goods, etc.
Also, Consider the Following Points to Analyze which 3PL Suits Your Small Business Requirements
Technology
Only through modern technology like cloud storage, AI, ML, IoT, Data Analytics (etc.) can a 3PL provide you with real-time, transparent, and efficient services.
Scalability
While you still may be a small business, you would undoubtedly be looking to scale. Unless a 3PL has resources that can serve you as you expand, it isn't the correct one for you.
Financial Strength
Select a financially stable 3PL since you will be dependent on them for an essential function of your business – you certainly don't want customer packages held up because your 3PL is facing cash-flow issues or is going out of business!
Industry Expertise
This is a critical consideration. When a 3PL is experienced in your industry, they bring knowledge and experience. Since a small business is only just starting, this expertise is valuable.
Transparent Rate Structure
While various 3PLs have their rates and tariff structure, you must select one whose tariff card is easy to calculate and understand. This is important for estimating your operating costs, breakeven points, and profitability. Typical cost-heads include storage, shipping, onboarding, order processing, etc.
Additionally, consider points like a 3PL's management skills, warehouse locations and maintenance, work culture, and disaster preparedness. Finally, look for 3PLs that typically don't ask small businesses to commit to long-term contracts or command hefty fees upfront.
Limitations and Challenges in Dealing with Small Business Fulfillment Services
Small businesses that partner with 3PLs may likely have to opt for those willing to work with small businesses in the first place. This could mean using a second-rung small business fulfillment company or accepting that the fulfillment center for small businesses will not immediately assign their best resources to you since you aren't a cash cow for them (at least not immediately).
As a result, several challenges exist in the working relationship between small businesses and their small-business fulfillment company. Some areas of possible friction or inefficiency are mentioned below:
1. Limited warehouses and shipping locations: With increasing Ecommerce competition, delivering customer parcels at the earliest (and cheapest) is now a critical function. The location of your 3PLs fulfillment centers directly determines your delivery times. Unless your 3PL has an elaborate network of warehouses and fulfillment locations, both central and satellite, they will not be able to achieve optimized delivery times.
2. Complicated fulfillment systems: 3PLs use the latest and modern technologies to manage their logistics and distribution operations. These elaborate back-end platforms power their businesses and seamlessly integrate with clients' MIS.
However, given that such fulfillment systems are vast in their scope, a small business may find it overly complicated and difficult to understand or negotiate. Remember, small businesses like eCommerce sellers are still boot-strapping or only just finding their feet. Therefore, assigning precious resources to a task that is outsourced for its convenience in the first place is counter-productive.
3. Inefficient handling of order returns: Order returns are omnipresent in eCommerce – they will be a part of your daily operations. When you use a 3PL, your logistics are set up for order returns to reach their warehouse directly. However, suppose your 3PL isn't set up to handle this efficiently and to the customer's satisfaction, including replacements, refunds, discounts on future orders, credit notes, restocking, returns to the manufacturer, etc., you will not only bleed profits but also create irate customers that will probably never return!
You May Read: Contract Logistics vs 3PL Logistics
4. Customer Service: It is much more difficult to retain a customer than get a new one. Unfortunately, eCommerce firms lose billions of dollars every year due to poor customer relations and processes handling. With new firms trying to sell to the same audience, you must provide good – if not excellent – customer service.
5. Stock-out problems: This occurs when an item isn't available because demand is outstripping supply. Again, while this is never a pleasant situation, it is something that the supply-side will have to deal with forever – the solution is to minimize its occurrence and, therefore, mitigate its damage.
For that, suppliers and 3PLs need to understand historical order patterns across products, customer segments, high and low demand periods (etc.) and use this to predict future buying trends.
Conclusion: Should you use a Small Business Fulfillment Companies for Your Fulfillment Needs?
The benefits of using a fulfillment center for small businesses like an eCommerce startup are evident. The trick, however, is for the small business to understand their business model and consumers comprehensively so that they can make well-calculated projections and commitments to the 3PL while entering into a contract and negotiating terms and conditions. This will benefit the 3PL by getting the best rates, but it will also help them plan and implement their small business fulfillment services in the best possible way. One such company that offers small business fulfillment services is WareIQ.
WareIQ is a category-defining, best-in-class full-stack eCommerce fulfillment tech platform (with inbuilt inventory planning, order management & shipping system) for modern brands to accelerate online sales/ expedite revenue growth & profits with same/next day delivery.
We not only help you reduce your logistic costs but also your delivery timelines – this could be the game-changer your business needs!
WareIQ offers a centralized tech platform for your entire eCommerce operations.
ML-based prediction engine for efficient warehouse network design & smart inventory placement
Centralized platform for core fulfillment & shipping operations
Post-shipping apps for a delightful experience & zero to minimum supply chain leakages
Are you eager to know more about WareIQ's offerings if you sign up now? Find the features of the best-in-class, category-defining fulfillment services for eCommerce & D2C brands below:
Pan India Fulfillment & Darkstore Network: Plug-and-play fulfillment infrastructure with no minimums, which is compliant with Amazon Seller Flex, Flipkart Assured, Myntra and other marketplaces
Inventory & Network Planning Excellence: Best-in-class AI models for sales forecasting, product segmentation, and inventory management to reduce inventory by 40% and increase revenue by 10%.
Vertically Integrated Fulfillment Tech Stack: Our Fulfillment Tech Solution supports integrations with 20+ top marketplaces & D2C platforms, and prominent national, regional and hyperlocal couriers, enhancing reach by covering deliveries for 27,000+ pin codes
Supply Chain Productivity Applications: Integrate a host of supply chain productivity apps with a single-click to your existing CRMs, ERPs & accounting software to manage your logistics workflows from one command center. Use Apps like RTO Shield to get 100% RTO protection, Branded Tracking to turn your order tracking page into a profitable marketing channel, and many more.
Trusted by 300+ top Indian brands, we are helping them accelerate online sales and expedite their growth through a synergistic combination of advanced technology, robust fulfillment infrastructure & seller enablement services!WareIQ is backed by leading global investors including Y Combinator, Funders Club, Flexport, Pioneer Fund, Soma Capital, and Emles Venture Partner.
Small Business Fulfillment Companies FAQs (Frequently Asked Questions)