Shopify Fulfillment: How to Fulfill Shopify Orders with WareIQ, a 3PL Fulfillment Service in 8 Easy Steps in 2023?
The big challenge for an eCommerce retailer who wants to establish itself in a competitive online market such as India's is to come up with a product that people want and need and to also be able to market that product so it is visible to the customer base it is meant to target. While most retailers are able to find solutions for these challenges, there is another big challenge that often doesn't get the same recognition – How can they provide the best shipping experience to customers, at the lowest cost?
The answer isn't complicated because large companies like Shopify offers users integrations with other fulfillment platforms that can help propel their order fulfillment and distribution process. There are a variety of options available and sellers will have to choose one depending on their product type, sales volumes, target market, and budget. Integrating Shopify Order Fulfillment with WareIQ's WMS offers advantages such as:
Utilization of WareIQ's full-stack fulfillment platform
Full order tracking and return management facilities
Choice of multiple courier partners
Advanced ML-based algorithm that smartly assigns a courier partner based on priority
Complete integration with Shopify store & 20+ other online marketplaces & platforms
Smart network design & inventory placement
Consistently low shipping costs on all platforms
Syncing of previous, current, and future orders
What is Shopify Fulfillment?
Shopify Fulfillment is a service offered by Shopify Inc. that encompasses important eCommerce logistics fulfillment processes such as picking, packing, inventory management, eCommerce shipping, and distribution. Online retailers who choose to partner with the Shopify Fulfillment Network gain access to a global network of warehouses and fulfillment centers, where inventory is stored securely and the number of units is monitored until they are sold, after which, each order fulfillment is packaged and distributed to the end customer and can be tracked using tracking software tailored for providing a seamless experience to customers.
Shopify has created a central fulfillment platform that can be integrated with existing eCommerce fulfillment companies. Online retailers are able to send inventory to Shopify's 3PL fulfillment partners, who in turn take care of any orders that are received and thus, simplify the entire fulfillment process for these retailers, who can focus on promotion and marketing their products to their target consumer base. Shopify Fulfillment verifies every fulfillment center in its network to ensure the provision of a standardized level of quality and efficiency.
WareIQ – Amazon-prime Like Logistics for Modern Brands in India
WareIQ, an eCommerce fulfillment company, empowers online brands with a superior-tech platform to compete with Amazon like service levels by bringing their average delivery timelines from 5-10 days to 1-2 days.
"With WareIQ's full stack digital enabled fulfillment solution, we got access to the pan India network of fulfillment centers & cold storage facilities enabling same/next day delivery, without any upfront investment in supply chain infrastructure from our end. During the IPL campaign in April 2022,

WareIQ efficiently

handled unpredictable 200x surges in daily order volumes

of ~20k/day with a

99% fulfillment rate

. With WareIQ as our preferred fulfillment partner, we witnessed 172% growth in online order volume in just 4 months, with a significant improvement in the overall customer experience in fulfillment."
How Can You Fulfill Orders from Shopify?
There are multiple steps involved in partnering with Shopify Fulfillment. The process begins with an application through your admin account, that lists out details about your store and fulfillment requirements and is then reviewed by Shopify Fulfillment.
Steps to Partner with Shopify Fulfillment
Determining the products
You should determine which products from your inventory will be fulfilled and distributed and get them approved by Shopify.
Choosing product packaging
You can consult with Shopify Fulfillment to determine how you want products to be packaged and if you require customized boxes, stickers, labeling, etc. You can opt for free packaging provided by Shopify Fulfillment services or choose branded shipping to send them your own brand-specific packaging.
Determining inventory locations
You can choose where and how much inventory you want to store at a specific location and get recommendations from Shopify Fulfillment to locate your products closer to your customers.
Fulfilling orders through multiple channels
When a customer makes a purchase from any of your Shopify Fulfillment platforms such as your website, Amazon, Instagram, etc., Fulfillment by Shopify will determine which fulfillment partner will pick, pack and ship the order, based on convenience.
Using the admin panel to gain insights
You can use the admin panel to get insights into the demand for each type of product you offer and their inventory levels, so you can always be ahead of the curb and restock depleted inventory. (Also read how to Continue Selling When Out of Stock on Shopify)
A huge advantage that Shopify Fulfillment services offer to its users is the simple and intuitive interface and lack of any complicated and tedious process to be followed. Insights and other indicators can be accessed directly from the admin panel, where any observations or changes to be made, can be accessed in one place. It may not offer the levels of customization that dedicated 3PL fulfillment companies offer but it does include all the information you would need, in order to make well-informed decisions.
Fulfillment Services Handled by Shopify Fulfillment
Receipt of shipments and storing inventory
Picking of orders in real-time, across multiple sales channels
Packaging of orders with standard packaging or customised packaging, depending on the order type
Automating the delivery tracking process for both the retailer and customer
Managing inventory by recommending the most efficient methods of allocating, supplying, and re-stocking inventory, based on the volume and demand
Processing of returns and taking care of the exchange process by verifying the condition of goods and adding them back to the inventory count
You can read our blog on shipping aggregators to understand the importance of partnering with top 3PLs who provide these services.
Suggested Read: List of top Shopify Shipping Apps
Benefits of Using 3PL Fulfillment Services with Shopify for Retailers in 2023
Multi-Channel Fulfillment
By partnering with a 3PL fulfillment company, you open your business up to the possibility of fulfilling orders from multiple online selling platforms, in one centralized location. Orders and inventory levels are synced across each and a change made in one will instantly reflect on all. This aids in a more seamless experience compared to juggling multiple accounts and passwords.
Cheaper and More Transparent Pricing
Opting to use Shopify's fulfillment services can be quite expensive and if you operate on a tight budget, it can be difficult to manage all the different costs associated with running an online company. However, 3PL retailers offer much more simple and more transparent pricing, without reducing any of the features or quality of their services.
Custom Packaging Services
Shopify has strict rules and regulations when it comes to packaging and orders are usually packaged with Shopify-specific packaging. While you need to not worry about the quality and security of your orders, it can take away valuable brand imaging from your company when a customer receives their order with Shopify packaging. 3PL fulfillment companies sort this out by providing multiple options to customize your packaging with different themes, materials, and styles so that you can make sure your brand is at the front and center for every unboxing experience.
Order Management Services
3PL companies usually have custom order management software to aid in the ease of use for order management, across multiple channel-selling platforms, which is something that Shopify's offering cannot do. Retailers can also get access to advanced order tracking facilities to mitigate any unwanted errors or delays.
Inventory Management Services
Most 3PL fulfillment companies offer highly advanced Warehouse Management Software (WMS) that assists in providing automated, efficient, and standardised inventory management processes across all of their warehouses and fulfillment centers. This helps their customers better manage and forecast their inventory according to present and future demand.
Nationwide Network of Fulfillment Centers
3PL companies offer a nationwide network of fulfillment centers and warehouses so that retailers can choose to store their inventory according to different factors such as areas of high demand, proximity to transport facilities, proximity to their manufacturing units, etc.
Ultra-Fast Shipping
These days, 2-day, same-day, and even 10-minute shipping have become the norm. Most 3PL companies offer a variety of different shipping methods and speeds, all at much lower prices than Shopify's fulfillment service. You can hop on the bandwagon to ensure that your customers are never left waiting long periods of time to receive their orders.
8 Easy Steps to Integrate WareIQ, 3PL Fulfillment Service with Shopify in 2023
Retailers who opt to integrate WareIQ with Shopify will instantly get access to a host of facilities such as a nationwide network of fulfillment centers, consolidated order details in one place, choice of courier partners, and integration with 20+ other online selling platforms.
Integrating Shopify Fulfillment with WareIQ WMS can be done in 6 easy steps:
Step 1: Go to WareIQ's WMS Dashboard and Click on the Hamburger Menu in the Top Left Corner
Step 2: Click on the "Account Settings" Option
Step 3: Click on the "Add Channels" Option
Step 4: Select the "Shopify" Option as the Website Builder
Note: After selecting it, you will get the following popup:
"You are required to enter your Shop Domain". Select the "Yes" option to include tax in the item price. Unselect the "Create products Automatically" option and select the "Add Channel" option. You may read more about how to sell on Shopify here.
Step 5: Enter the Shop Domain of the Shopify Account of Your Online Store in the "Shop Domain" Option
Note: Please enter this in the "Shop Domain" field.
You can open your Shopify account in another tab to easily copy the Shop Domain.
Log in to Shopify.com using your registered email & password for Shopify.
Once you log in, the URL is your Shopify domain. For example, in the image below, the selected portion in the URL is your Shop Domain – "wareiqtest"
Step 6: Enter the Shop Domain in the "Shop Domain" Option
After adding Shop Domain in the pop-up, select the "Yes" option to include tax in the item price. Unselect the "Create products Automatically" option and select the "Add Channel" option.
Step 7: Install WareIQ App on Shopify
After clicking on "Add Channel" in WareIQ WMS, click on the "Add Channel" option. You will be redirected to Shopify
Log in using your Shopify admin credentials and click on "Install app" on Shopify
Click on Apps in the left side navigation bar after you have logged into Shopify. You can see the list of all apps you have installed already
Click on "Create an App" & you get a pop up to fill up App Name & App Developer's email ID
Fill up the App name as WareIQ & add the app developers ID to install WareIQ as one of the apps.
Step 8: Select the Location to Integrate the Shopify Store Successfully
Go to WareIQ's WMS again & select the required location and click on the "Submit" option
You have successfully integrated Shopify with WareIQ WMS & are ready to fulfill orders on Shopify with WareIQ.
Read More: All about Shopify Websites
Top 5 Fulfillment Companies for Fulfilling Orders on Shopify in 2023
WareIQ
WareIQ is a category-defining, best- in class full-stack eCommerce fulfillment tech platform (with inbuilt inventory planning, order management & shipping system) for modern brands to accelerate online sales/ expedite revenue growth & profits with same/next-day delivery.
We at WareIQ can help with Shopify fulfillment Services. We not only help you reduce your logistics costs but also your delivery timelines – this could be the game-changer your business needs!
WareIQ offers centralised tech platform for your entire eCommerce operations
ML-based prediction engine for efficient warehouse network design & smart inventory placement
Centralised platform for core fulfillment & shipping operations
Post-shipping apps for a delightful experience & zero to minimum supply chain leakages
Deliverr
Deliverr is an eCommerce fulfillment company that was founded in 2017 in the United States of America. They offer integrations with eCommerce marketplaces, such as Amazon, Walmart, Shopify, eBay market, and many others. It offers 2-day delivery services and express delivery badges.
It has a network of strategically placed warehouses
It offers a 2-day delivery service for 95% of shoppers in the US
It offers transparent and affordable pricing
Amazon Multi-Channel Fulfillment (MCF)
Amazon Multi-Channel Fulfillment (MCF), is one of the many services that is offered by Amazon. It is a fulfillment service primarily targeted at brands that sell outside of the Amazon Marketplace. It offers varying shipping options in addition to the conventional same-day and 2-day delivery services.
It offers an extensive fulfillment network that is built with Amazon's comprehensive eCommerce infrastructure
It offers multiple delivery services, such as next-day and 2-day shipping
It offers simple and transparent pricing with competitive rates that are marginally more expensive than FBA
FedEx Fulfillment

FedEx Fulfillment is one of the many services offered by FedEx. It is a world-renowned third-party logistics (3PL), contract logistics services provider that offers storage, fulfillment status, and order fulfillment services. They have a vast amount of experience and offer a global network of fulfillment centers and shipping facilities.
It offers international shipping services
It consists of more than 600 facilities in the US and Canada
It offers to ship pre-ordered items that don't need to be stored
eFulfillment Service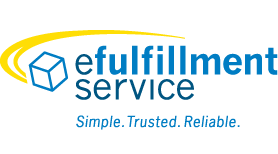 eFulfillment Service (EFS) is a fulfillment company that was founded in Michigan, in the United States of America. It primarily seeks to cater to small to mid-sized eCommerce retailers, as they don't require order minimums or long-term contracts.
It offers cross-docking capabilities for crowdfunders
It provides a 30-day test option for their services
It offers competitive and transparent pricing and doesn't consist of any long-term storage fees
It offers services such as competitive product storage, order fulfillment, and returns handling
Its web-based software allows sellers to view inventory, check orders and shipments, and request additional services or support
Conclusion: How can WareIQ's Shopify Integration Help Your Business?
There are many different aspects of an eCommerce business that contribute to the overall success in the online marketplace that it is competing. A major one is having access to a global fulfillment infrastructure and state-of-the-art technology.
Integrating your WareIQ fulfillment platform with Shopify Fulfillment gives you access to these facilities and much more. WareIQ is a best-in-class, full-stack technology fulfillment platform that assists its customers in stepping up their eCommerce services to their customers. From the complete fulfillment process to providing your customers with grade-A experience, we are guaranteed to help your business offload your logistics requirements effortlessly, reduce costs, and increase overall customer satisfaction.
WareIQ was established in 2019 and has emerged as one of the leading eCommerce fulfillment companies in India. Making use of our highly advanced technology platform, we offer a wide range of services that encompass any and every requirement that you have in terms of eCommerce order fulfillment. A few of the services that we offer are listed below:
Nationwide Network of Fulfillment Centers
We offer a pan-India network of warehouses, micro fulfillment centers, and dark stores that enable users to choose which storage solution works best for their requirements. Additionally, we offer intelligent inventory-placement suggestions to store your products in fulfillment centers that are located in proximity to areas of high demand and transit hubs.
Custom WMS
We provide custom Warehouse Management Software (WMS) that integrates with every major eCommerce marketplace. Users can track their inventory across multiple fulfillment centers and automate many warehouse management tasks to mitigate errors and increase speed and efficiency.
App Store
We offer an easy-to-use and well-designed app store where users can choose from a variety of applications to boost productivity across departments, that can easily be downloaded and installed with the click of a button.
You can check this if you are looking to know more about Shopify Applications for online stores
Choice of Shipping Aggregators
We have partnered with more than 20 of the most renowned courier services in the country and automatically assign the fastest and most cost-effective shipping service for each order so that orders will always be fulfilled in the shortest time while spending the least amount of money.
Are you eager to know more about WareIQ's offerings if you sign up now? Find the features of the best-in-class, category-defining fulfillment services for eCommerce & D2C brands below:
Pan India Fulfillment & Darkstore Network: Plug-and-play fulfillment infrastructure with no minimums, which is compliant with Amazon Seller Flex, Flipkart Assured, Myntra and other marketplaces
Inventory & Network Planning Excellence: Best-in-class AI models for sales forecasting, product segmentation, and inventory management to reduce inventory by 40% and increase revenue by 10%.
Vertically Integrated Fulfillment Tech Stack: Our Fulfillment Tech Solution supports integrations with 20+ top marketplaces & D2C platforms, and prominent national, regional and hyperlocal couriers, enhancing reach by covering deliveries for 27,000+ pin codes
Supply Chain Productivity Applications: Integrate a host of supply chain productivity apps with a single-click to your existing CRMs, ERPs & accounting software to manage your logistics workflows from one command center. Use Apps like RTO Shield to get 100% RTO protection, Branded Tracking to turn your order tracking page into a profitable marketing channel, and many more.
Trusted by 300+ top Indian brands, we are helping them accelerate online sales and expedite their growth through a synergistic combination of advanced technology, robust fulfillment infrastructure & seller enablement services!WareIQ is backed by leading global investors including Y Combinator, Funders Club, Flexport, Pioneer Fund, Soma Capital, and Emles Venture Partner.
Suggested Read: 10 Ways To Execute Shopify Speed Optimization Effectively in 2023
Shopify Fulfillment: FAQs