Top 20 Shopify Websites to Help eCommerce Retailers Set Up Their Own Shopify Store in 2023
In the current day and age and with the dawn of the immense growth of the eCommerce industry, retailers are constantly looking for the best option to sell their products online. In the past decade, there has been an onset of large international conglomerates and homegrown selling platforms that have entered the Indian market and trying to out-compete each other in terms of attracting the largest number of sellers and customers to their platforms. One company that is a household name in the online selling space is Shopify Inc. and with a whopping 1.7 million businesses choosing to sell on the company's marketplace, it isn't surprising that most retailers aspire to sell their products on Shopify.
Not only does it differentiate itself from its competitors by also providing services for offline businesses despite conventional eCommerce marketplaces only catering to online stores/businesses but it also enables users to build their own websites that can be customized to their requirements using inbuilt tools provided by Shopify. This greatly aids in the personalization that retailers are able to provide to their customers. Read further to get an in-depth overview of what Shopify websites are, their benefits, best practices to implement, and the top 20 Shopify stores to get inspiration from in 2023.
What are Shopify Websites?
Shopify websites, also called Shopify stores, are digital pages that are owned by retailers who sell their products on Shopify and are similar to listing pages on other eCommerce marketplaces that allow customers to browse through various product catalogs and consist of details such as photos, product descriptions, pricing and much more. The primary difference between Shopify websites and typical product listing pages is that these websites have their own domain name and operate independently from the Shopify app itself.
Customers are able to interact with these websites like any other self-sufficient online site. Shopify provides its own website builder that provides a seamless experience even for people that lack technical know-how, due to the lack of coding requirements and the provision of most features in an easily-accessible format. Additionally, retailers who have existing websites that use WordPress, Squarespace, Wix, or any other website-building platform can easily integrate them with Shopify without having to create a whole new store from scratch and that's how easily you can sell on Shopify.
WareIQ – Amazon-prime Like Logistics for Modern Brands in India
WareIQ, an eCommerce fulfillment company, empowers online brands with a superior-tech platform to compete with Amazon like service levels by bringing their average delivery timelines from 5-10 days to 1-2 days.
"With WareIQ's full stack digital enabled fulfillment solution, we got access to the pan India network of fulfillment centers & cold storage facilities enabling same/next day delivery, without any upfront investment in supply chain infrastructure from our end. During the IPL campaign in April 2022,

WareIQ efficiently

handled unpredictable 200x surges in daily order volumes

of ~20k/day with a

99% fulfillment rate

. With WareIQ as our preferred fulfillment partner, we witnessed 172% growth in online order volume in just 4 months, with a significant improvement in the overall customer experience in fulfillment."
You can also check other alternatives to Shopify here.
Benefits of Using Shopify Websites
Has a Relatively Easy Setup Procedure
Shopify websites are extremely easy to setup and integrate, regardless of whether a retailer is using an existing website and simply wants to synchronize it with Shopify or if they need to build a website from scratch using Shopify's inbuilt tools and need to import all their previous data such as product variations, photos, item/product descriptions and order history. Even though Shopify stores offer a large number of facilities, they are presented in a decluttered and easily navigable way to make it easy for users to access and make the most out of the ones that they need.
Does Not Require Technological Competence
The website builder that is used to create Shopify websites was fabricated on the basis of enabling normal store owners who may not have vast amounts of technical expertise but just want a reliable platform to sell their products on, to easily be able to set up and operate their websites seamlessly, with Shopify taking care of the more complex procedures such as website maintenance and hosting. Updates are also sent out by Shopify so users simply need to click on a button, similar to updating the software on a phone or laptop.
Provides Advanced Security Facilities
Retailers that operate their own Shopify stores can have peace of mind knowing that their prized online assets are protected by astounding, industry-leading levels of digital security. With the sheer amount of sensitive information that eCommerce companies deal with such as credit card information, online payments and contact details of their customers, having a safeguard to prevent any malpractices from occurring can be encouraging for both retailers and their customers.
Offers 24/7 Customer Support
When retailers choose to utilize Shopify websites to sell their products, their customers get access to round-the-clock customer care facilities so that any query or issue regarding their order can be instantly resolved to prevent a negative purchase experience. This helps retailers be shielded from bad reviews and poor feedback because all the customer support is provided by Shopify.
Provides Access to a Vast Amount of Applications
Retailers that use Shopify stores to sell their products can enhance their website's visual appeal and productivity by making use of a whole range of applications and themes that can be easily downloaded with a single click. In addition to a choice of 160 plus themes to personalize their Shopify websites, retailers can also install applications to add additional features such as social media integrations, wishlists, marketing apps, analytics, reviews, and much more.
Suggested Article: List of best Shopify shipping apps for 2023
Best Practices While Running Multiple Shopify Stores
Implement a Standard Theme
For retailers that run multiple Shopify websites to sell similar products, they need to stick to a standardized theme for all, even if minor design cues may differ on each website. This is to create a cohesive brand image that can be easily recognised by customers as opposed to having multiple different themes that do not look like they are a part of the same company. While aspects of Shopify stores such as language and customised marketing can be implemented for stores in different countries or markets, the general theme of the website should be similar across the board.
Use a PIM for Inventory and Order Management
If a retailer needs to operate multiple Shopify stores, they may have to use different accounts and shell out an additional $2,000 every month. However, there is a method to bypass the need for retailers to do this and that is by using a product inventory management (PIM) system. It provides insights and summarizes data, across multiple Shopify websites and can be accessed from one central dashboard. Changes to inventory levels, product listings and orders that are made will be synced across all the websites.
Offer a Help Desk to Customers
Even though Shopify manages customer support on the behalf of retailers, sellers that run multiple Shopify websites would be better suited to set up a help desk that can integrate across all stores so that customer queries, complaints and order-related information can be accessed in one location so that tyey can be managed and addressed easily. This will increase customer satisfaction and reduce the number of unsolved requests.
Top 20 Shopify Websites for Online Retailers to Get Inspired From in 2023
Raymondnext.com
Raymond Next is the Shopify website of a long-time success story in the clothing industry in India – Raymond. With the onset of Raymondnext, customers can effortlessly get the clothes of their choice delivered by Shopify right to their doorstep. The website design is centred around minimalism and putting out a laid-back vibe that coincides with their messaging of being a clothing store for men.
Femella.in
In keeping with the trend of successful clothing stores in India, Femella.in is the Shopify website for Femella, an apparel brand that is primarily targeted toward women. Operating since 2008, it aims to offer the newest trends and items at affordable prices to women all over the country and with the customers being able to order their products online and have them delivered to their location, Femella has succeeded. The website itself has a white background with a bright red cover photo to add a hint of colour.
Goodstuffofficial.com
The online store of Goodstuffofficial is one of many Shopify websites that takes a more bold route with its colour choices while also focusing on detailed, high-resolution photography to keep their customers engaged and enticed to buy their products, which makes sense as they mainly target young and enthusiastic shoppers. They also set their navigation buttons at the top to enable users to quickie get to the section they are looking for.
Luxyhair.com
Luxyhair is one of many Shopify websites that sells exclusive hair products. However, the design of their website is what sets it apart from its competitors. With a simple white background, emphasis on product benefits and easy-to-view CTA buttons, its website offers a simple interface to customers.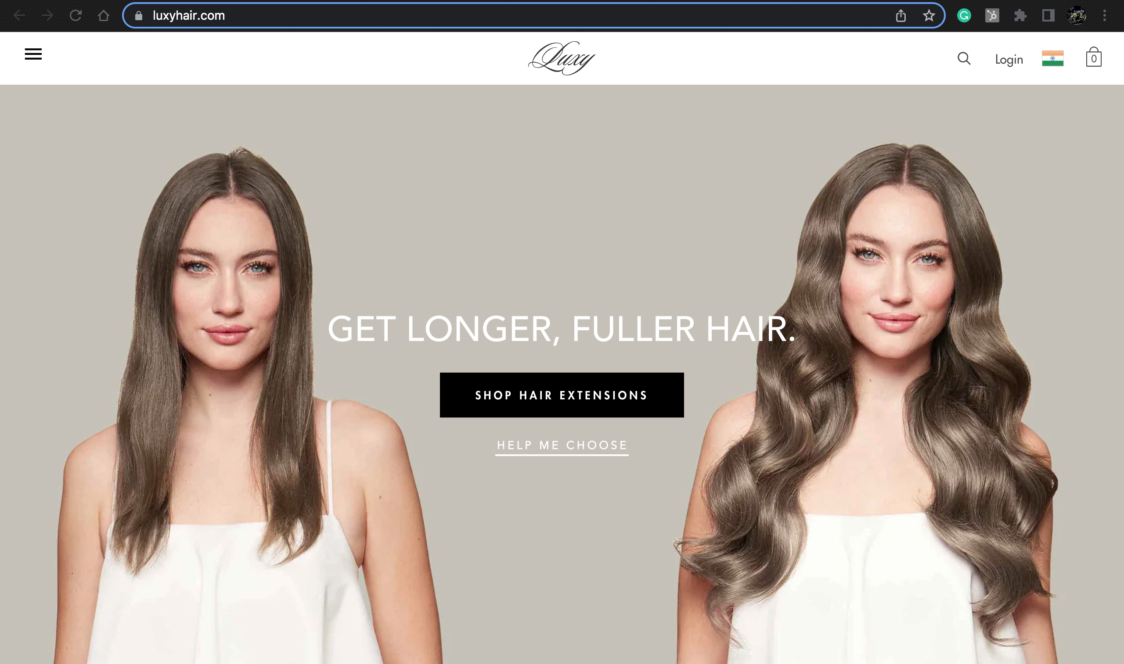 Yellowfashion.in
Yellowfashion.in is one of the many Shopify stores that supplies Indian ethnic wear that caters to many different occasions and festivals. Their website contains a ton of information including their contact information and hours of operation. Additionally, they use a diverse colour palette consisting of pink, yellow and brown on their logo to emphasize their brand objective of providing traditional clothing for a vast range of purposes. Navigation on their website is also pretty straightforward.
Namustore.com
Namustore primarily caters to women that are looking to diversify their wardrobe collection for the holidays. For their Shopify website design, they have focused on creating an elegant theme and have also abstained from the traditional square photo grid that is used on most other Shopify websites.
Nonasties.in
Nonasties is a fabric company whose unique selling point is providing 100% fiar trade cotton apparel for both men and women. Like many other Shopify stores, their website design is focused on a simple navigable interface that provides plenty of room for large, high-resolution images that show off their items to potential customers.
Royalenfield.com
Royal Enfield is synonymous with providing modern, retro-styled motorcycles in India and has also expanded into many foreign markets such as the UK and US. Their store is one of the only Shopify websites where customers can purchase authentic Royal Enfield-branded merchandise such as jackets, helmets, riding boots, gloves and much more. The website makes use of the brand's dark colours and also implements a camouflage pattern to provide an impression of ruggedness and quality.
Hugedomains.com
Huge domains is one of the few Shopify websites that allows its customers to purchase unique domain names at significantly reduced prices compared to the competition. The theme of the website has a monochrome bluish background with black and white text. A lot of effort has been made to add a plethora of information on the home page while reducing the sense of clutter.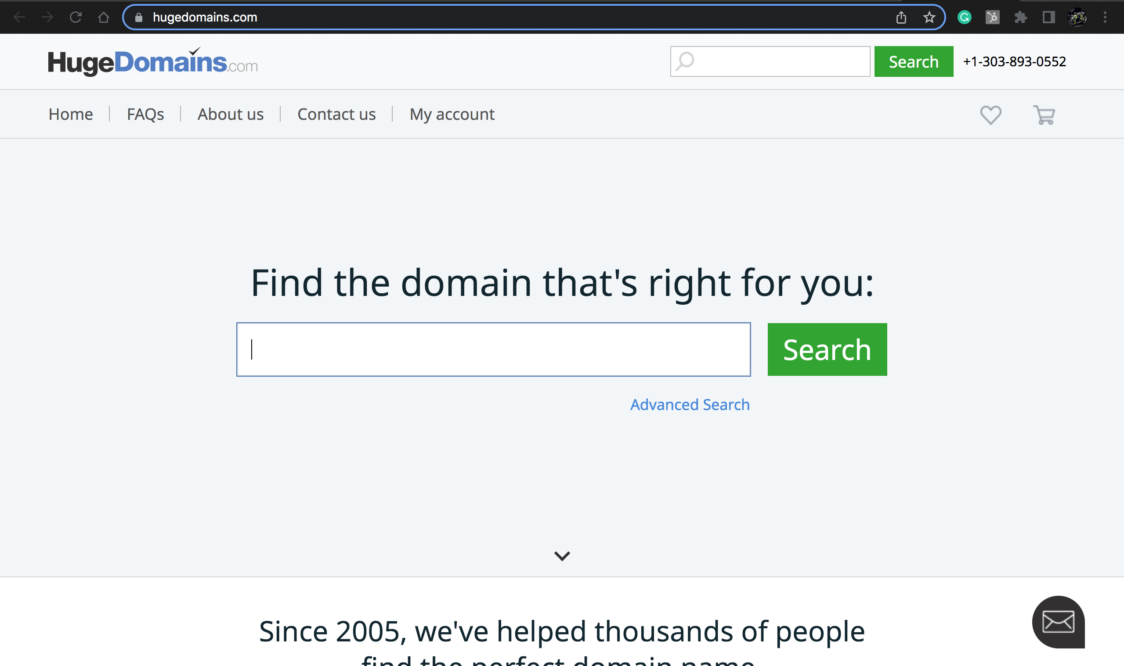 Fabmart.com
Fabmart is a homegrown retail company that was founded in 2012 and is one of the few Shopify stores that focuses on selling its products exclusively through Shopify. The website uses a white background that is contrasted with dark colours and a unique font that provides the perfect insights into the brand and its objectives.
Hauslondon.com
Haus London is a company that sells multiple home decor products such as modern furniture, lighting and home accessories. In keeping with its contemporary appeal, the website uses a light and minimalistic theme to offer customers an insight into their philosophy.
Studioproper.com
Studio Proper is one of the many Shopify websites that sells technology-based products. Its tagline of "Simplifying everyday experiences with technology" has also clearly inspired their website design by using a modern theme and a simple layout for customers to easily navigate for what they are looking for.
Thecriticalslidesociety.com
Even though the Critical Slide Society is one of the many Shopify stores that sell clothing, it distinguishes itself by selling casual and surfer-themed apparel. The website is also minimal, fresh and allows the owners to constantly put out messages that they want their customer base, consisting of artists, designers, photographers and surfers, to see.
Quadlockcase.com
Quadlock is a phone case and mount manufacturing company that sells custom cases and phone mounts to allow customers to attach their phones to their cycles and motorbikes. Their website contains gifs of their products in action, curated product bundles and much more.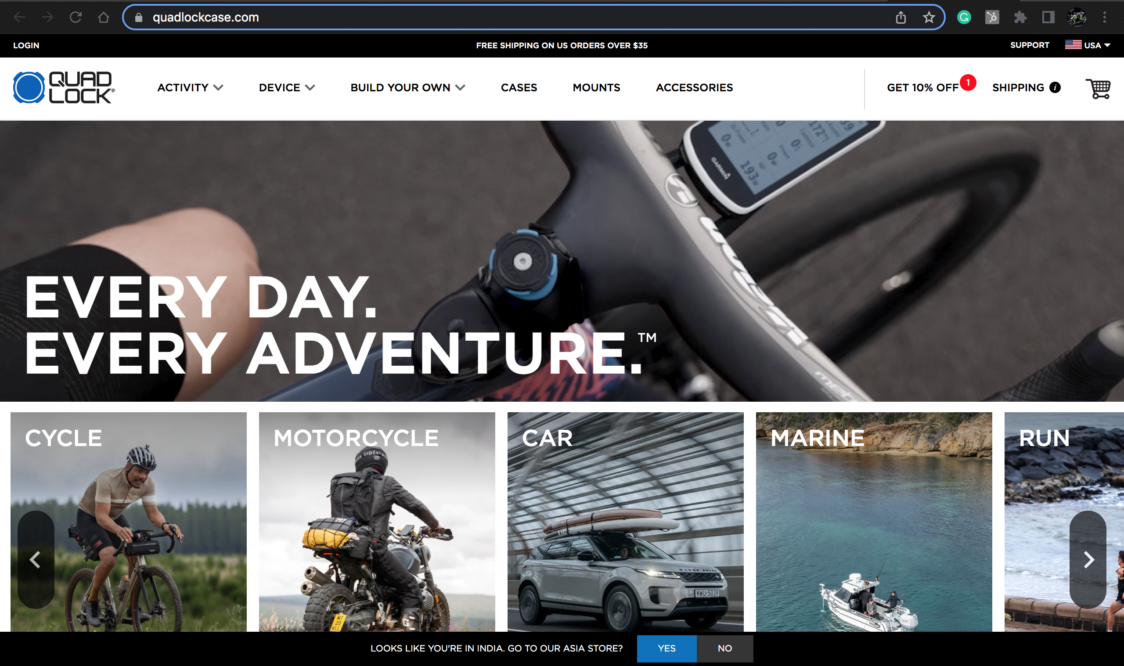 Tluxe.com
Tluxe is an Australian clothing and apparel brand that won the 2018 Good Design Award. In addition to the navigation controls on the home page, the website only has a main banner and its Instagram feed, making it one of the most simple but intuitive Shopify websites.
Brilliant.co
Brilliant is one of the most popular Shopify websites to purchase bicycles. Their website is centred around high-resolution photography of their products, with splashes of colour to add contrast. Their navigation is also user-friendly.
Themodernshop.com
The Modern Shop is a Canadian home decor company that sells accessories, lighting and unique furniture. Like many other Shopify stores, it uses a minimal white background with blue contrasts and navigation is also seamless and easy to use.
Thecandifactory.com
The Candi Factory is a clothing and apparel brand for both men and women. Their brand image is centred around personalization and their Shopify website helps them achieve this messaging to their customers with a white background and quaint photography that emerges as a natural highlight.
18karatwholesale.com
18 Karat Wholesale is a jewellery wholesale company that caters to retailers and other businesses which exposes them to a different audience than if they were a B2C company. This is also reflected in their website design, which offers a professional and easy-to-browse interface.
49thcoffee.com
49th Parallel Roasters is one of the top Shopify websites for coffee products. Their website design includes realistic photographs of their high-quality coffee products which blend in with their minimal theme and background design.
Conclusion: Integrate With Shopify Through WareIQ
Shopify websites offer an easy-to-use and intuitive means for eCommerce retailers to sell their products to a large audience while maintaining and conserving their own brand image by being able to customize their Shopify stores with themes and features that appeal to them and their customer base. With all the benefits on tap, setting up Shopify stores makes sense for retailers who have an eye for personalization and prefer selling products on a dedicated website while simultaneously using other platforms to attract as wide a range of customers as possible.
If you are a retailer that uses Shopify websites to sell your products and needs an eCommerce fulfillment company for Shopify fulfillment that can seamlessly integrate with Shopify and fulfill orders on your behalf, you can consider teaming up with WareIQ.
You can alternatively check out their page for all details on Shopify Order Fulfillment.
WareIQ is one of the fastest-growing eCommerce fulfillment companies that is based in India. We provide a wide swathe of eCommerce solutions to tackle every requirement that retailers may have. In regards to Shopify websites, we offer the following services that can help make your life easier:
Custom WMS
We offer a custom WMS that can integrate with more than 12 of the largest eCommerce marketplaces including Shopify to be able to manage your inventory and order data, across platforms and fulfillment centers, in one centralised location.
Choice of Shipping Aggregators
We have partnered with more than 20 of the biggest shipping service providers in the country and automatically assign the quickest and most cost-effective option for every order to increase speed and save money.
Pan-India Network of Fulfillment Centers and Dark Stores
We offer a network of fulfillment centers and dark stores that are scattered across every corner of the country so that you can store your inventory closer to high-demand locations. We also offer smart inventory placement by helping you determine suitable locations for each product based on its demand.
Pay Only for What You Use
We do not enforce any minimum order requirements. You only pay for what you use whether it is storage space, services you take advantage of or orders that are shipped. This will help you manage your finances more efficiently.
Are you eager to know more about WareIQ's offerings if you sign up now? Find the features of the best-in-class, category-defining fulfillment services for eCommerce & D2C brands below:
Pan India Fulfillment & Darkstore Network: Plug-and-play fulfillment infrastructure with no minimums, which is compliant with Amazon Seller Flex, Flipkart Assured, Myntra and other marketplaces
Inventory & Network Planning Excellence: Best-in-class AI models for sales forecasting, product segmentation, and inventory management to reduce inventory by 40% and increase revenue by 10%.
Vertically Integrated Fulfillment Tech Stack: Our Fulfillment Tech Solution supports integrations with 20+ top marketplaces & D2C platforms, and prominent national, regional and hyperlocal couriers, enhancing reach by covering deliveries for 27,000+ pin codes
Supply Chain Productivity Applications: Integrate a host of supply chain productivity apps with a single-click to your existing CRMs, ERPs & accounting software to manage your logistics workflows from one command center. Use Apps like RTO Shield to get 100% RTO protection, Branded Tracking to turn your order tracking page into a profitable marketing channel, and many more.
Trusted by 300+ top Indian brands, we are helping them accelerate online sales and expedite their growth through a synergistic combination of advanced technology, robust fulfillment infrastructure & seller enablement services!WareIQ is backed by leading global investors including Y Combinator, Funders Club, Flexport, Pioneer Fund, Soma Capital, and Emles Venture Partner.
Suggested Read: Learn About Shopify Plus Stores
Shopify Websites: FAQs