Shopify Alternatives: Reasons to Look Out For Alternatives to Shopify and 10 Best Shopify Competitors to Consider For Your eCommerce Platform in 2023
eCommerce and Shopify have become mutually compatible. With justification. It is one of the widely used eCommerce platforms, supporting over a million enterprises across more than 175 nations.
But even if something is well-liked, it could be a more incredible option for you. But, of course, since you're looking for Shopify alternatives, you're presumably already aware of this.
This blog can assist you whether you're a current Shopify user looking for Shopify alternatives or are just beginning to investigate what eCommerce platforms are available.
Before you open your store or think about switching platforms, use our list of some of the finest Shopify alternatives to make an informed choice.
Let's first see what Shopify is, why to consider Shopify alternatives, and the best Shopify alternatives (free and paid).
What is Shopify?
You may run an online store using Shopify eCommerce software. You may create your website, manage your products, determine shipping costs, sell through various channels, and use the platform.
You are not required to maintain the program because Shopify is a hosted, cloud-based solution (also known as SaaS or software-as-a-service).
With its Shopify and Shopify Plus eCommerce programs, Shopify offers services to small businesses and larger corporations.
Shopify: Small businesses should use Shopify. Depending on your plan, you can access various features with three pricing tiers: Basic, Shopify, and Advanced.
Shopify Plus: This is for larger companies. Shopify Plus users can access more advanced features built for higher volume stores for a bespoke price (a % of revenue with a minimum of $2,000 per month).
While there isn't a free plan available, Shopify Lite is no choice, considering Shopify alternatives if you want to add a buy button to an already-existing website or blog.
Suggested Read: What is Shopify Fulfillment & How to Fulfill Shopify Orders?
Why Do Online Sellers Look for an Alternative to Shopify?
Shopify is not a one-size-fits-all solution and cannot meet some complex requirements.
If you already pay for a CMS like WordPress, you might be annoyed by the additional cost of the second platform. Additionally, if you're an artist, you can find yourself paying for extra features you don't require or want to spend time learning how to utilise.
Thankfully, Shopify alternatives provide and fill the potholes that giants like Shopify neglected to address. You might discover that, in your situation, an option to Shopify is preferable if you test some of them.
After covering the fundamentals, let's discuss why you might consider utilising Shopify alternatives to manage your eCommerce firm.
Transactional Charges
One justification is having free reign to select your payment gateway. However, if you choose not to use Shopify Payments, their in-house payment processor (powered by Stripe), you may be subject to transaction costs of up to 2% of each sale.
Additionally, if you don't use Shopify Payments, you won't have access to features like the option to transact in different currencies. Further, even if you wish to use Shopify Payments, if you sell a product with a higher risk, like vaporizers, you can't.
Control Over Website SEO
A significant portion of the marketing functions included with an eCommerce solution is search engine optimization (SEO). Even though Shopify performs an excellent job managing fundamental SEO duties, if you primarily rely on organic search, you might desire greater control over your website.
For instance, users cannot view or modify robot.txt files on Shopify. For those unfamiliar, this file is used to instruct Google on how to index your website so that the web pages you desire appear in the search engine results.
While initially, this might not be an issue for you, as your site gains popularity, you'll undoubtedly want firm control over how Google crawls and indexes your page.
Blogging
Shopify could be better for blogging because it takes a store-first strategy, which can be problematic for web admins and companies that rely significantly on content marketing.
Now that you possess a detailed understanding of the advantages and disadvantages of using Shopify. Let's examine some of the top Shopify alternatives that are currently available online.
Top 3 Features To Look Out For in Your Next eCommerce Platform
No matter what challenges Shopify has presented, you should ensure your next platform addresses them head-on without adding more. And while each internet business is unique, consider the following aspects.
Multiple Payment Alternatives
Each consumer has a preferred method of payment. For example, while one individual would want to use their Visa to earn points, another person could prefer PayPal because it allows them to make purchases without physically entering their card information.
As a result, while assessing new platforms, make sure you have many options for payment processors. BigCommerce, for instance, allows more than 55 payment gateways. Additionally, you can frequently negotiate better rates as you grow, which can lower your expenses.
Don't rule out future global expansion even if you aren't selling internationally. Instead, think about websites that provide payment gateways that can deal with and settle in several currencies.
Do consider if the platform supports multiple payment gateways when considering Shopify alternatives.
Customization Possibilities
You want to let your consumers know that your company is unique to you. Additionally, how you run your company differs from someone else's. Customization is crucial for web design because of this.
Make sure you can quickly make modifications that fit your business strategy and your target clients when choosing your eCommerce platform—for example, developing original functionality is your top goal if you are a programmer.
A drag-and-drop website builder can provide you with all the capability you need to make these modifications — without the additional coding requirements — if you don't wish to spend time constructing your website.
If the platform offers your website to get customizable, this factor determines Shopify alternatives.
Supportive To Your Growth
Shopify might be a better fit for you. However, refrain from letting your present situation determine where you will be in the future.
You must plan for growth as a company owner. First, consider the various technology platforms you'll need to use. Next, determine whether your eCommerce platform is compatible with those technologies.
Top 10 Shopify Alternatives and Competitors To Consider For Your Online Business in 2023
WooCommerce
WooCommerce is incredibly flexible, simple to set up, and straightforward. It is the most well-liked eCommerce plugin for WordPress and an excellent open-source platform for creating online stores.WooCommerce is also one of the best Shopify competitors and Shopify alternatives.
Characteristics
It's unpaid: It costs nothing to download or set up WooCommerce. It takes money to host your website on a domain name, but whether you use WooCommerce or another open-source eCommerce platform, the cost is essentially the same.
WooCommerce is open source, making it simpler to modify if necessary because the plugin code is visible.
You can use WooCommerce to build an online store and sell anything if you have inventory, product feeds from your suppliers and a little technical know-how. It is compatible with all themes and extensions that enhance functionality or add features to your website.
Pricing
The use of WooCommerce is open-source and cost-free. Even so, there are some expenses associated with maintaining your WooCommerce store. WooCommerce requires a WordPress website because it is a plugin. You must pay for hosting.
You can buy new themes in addition to the free use of the store's standard ones. The typical annual cost of themes is between $0 to $100.
Suggested Read: How to Sell with Woocommerce in 2023?
BigCommerce
Suppose you want a straightforward drag-and-drop editor that makes it flexible for building your website. Then, BigCommerce can be a great option when considering Shopify alternatives.
Despite only having seven free themes across all industries, the platform features some excellent themes. In addition, because the premium version is paid for, it offers more customization options than Shopify.
However, the loading speed of BigCommerce could be better compared to other websites.
Characteristics
There are numerous integrated drag-and-drop visual editing tools.
Several sales channels
There are many free options available, including an Instagram in-app payment tool.
Complete URL customization and SEO capabilities
Adaptable to various business models
Pricing
Prices range from $29.95 per month for the entry-level plan to $299.95 per month for the top tier.
Squarespace
With Squarespace's all-in-one website builder, you can stand out from the crowd of online retailers. How? With its top-notch, fashionable, and expressive designs. With Squarespace, you can present your goods (or services) in the greatest possible light.
You can sell your services on Squarespace. Because it features a booking feature, whether you're an artist getting ready to release your newest work, an online magazine wanting to sell memberships, or a restaurant needing a reservation system, SquareSpace can support how you do business. As a result, Squarespace stands as one of the best Shopify alternatives out there.
Characteristics
It offers several stylish templates to pick from.
Even for non-techies, it works wonderfully.
Enables website visitors to reserve your services.
Taxes, checkout options, and flexible payments.
Pricing
The most popular Business Package is $18 per month. However, it already has an integrated eCommerce store with effective order, inventory, and catalog management.
Choose the Basic Commerce Plan for $26 per month if you want to avoid paying the 3% transaction fees and have access to key marketing elements, POS, customer accounts, checkouts, and similar things.
Need subscriptions, cart recovery, and the whole works when it comes to eCommerce? For $40 a month, the Advance Commerce bundle offers unrestricted access.
Magento
Magento may be a name you are familiar with. This well-liked platform has a sizable and active community globally and is appropriate for seasoned store owners.
Given the cost, it is simple to understand why Magento is so well-liked. One of the top Shopify alternatives because of its comparable pricing to WooCommerce. Although the content management system is free, hosting, themes, and plugins are not.
However, Magento is primarily an open-source ecosystem-focused platform, which is great for companies trying to scale their operations.
Characteristics
It is incredibly expandable and adaptable.
A feature set with more than 250,000 developers
There are numerous secure payment gateway choices.
There are multiple add-ons and extensions available.
Outstanding community support
Pricing
It is comparable to WooCommerce. Although the CMS software is free, additional costs like web hosting, plugins, and themes apply. However, Magento has more significant server resource needs. Although they are somewhat elusive regarding their price, they also provide a cloud-based platform.
Shift4Shop

Interestingly, before being made available to the general public in 2001, Shift4Shop (formerly 3Dcart) was created for private usage. They last established a household name nearly two decades ago. Still, Amazon did bestow a pleasant honour upon them when it was revealed that it was the favoured eCommerce platform for their fulfilment business.
You receive a few good additions in terms of features, including CRM, customer reviews, automation, and even the option to establish an affiliate programme. The most exciting opportunity, though, is their free plan, which, if you choose Shift4Shop as your payment processor, provides you access to all capabilities and an infinite number of products and users. Unfortunately, this free plan is currently only accessible within the US.
Characteristics
Numerous standard payment gateways are supported
Great speed of transactions
CSS and HTML can be used for customization.
Both newcomers and big businesses can afford it.
Pricing
Starting at $29 per month, the cost increases to $229 per month. You get premium products, email marketing campaigns, and SEO tools for this fee.
Square Online

The eCommerce website builder from Square is called Square Online. Square, which was once a payment processor, just bought Weebly. Square Online is a quick and straightforward way for business owners to integrate eCommerce functionality into their website if they currently use Square to accept payments.
It's okay if you don't know how to code. The onboarding process for Square Online is excellent. Customers are led through the entire store setup procedure via several prompts. You can open and operate a professional-caliber store in a matter of hours.
Because it provides a free option for developing and managing an online store, Square Online may be one of the best Shopify alternatives for individuals on a tight budget.
Of course, the free version is limited in the functions Square provides. However, it works since all you have to pay is the processing cost for each transaction. Additionally, Checkout Pages can be used if you don't want to create a whole online store. These are also fantastic methods to enhance the checkout capabilities of your current website.
Characteristics
Available in a free version
Thanks to checkout pages, you may add eCommerce capabilities without an entire site.
One of the ideal Shopify alternatives if you currently manage payments with Square.
Excellent for people who own physical stores as well.
Pricing
On Square Online, you can create, publish, and even sell things at no cost. The yearly price range for Square Online's premium plans is $12 to $72; the monthly rates start at $16 and go up to $79 per month.
Zoho Commerce
Zoho Commerce is an extensive on-cloud eCommerce solution with order processing, role-based user permissions, inventory tracking, shipment managing, serial number tracking, product classification, analytics, and more. Business owners can easily create a storefront using a drag-and-drop website builder. They can also add or remove products, add metadata, use SEO tags, and control how the content is shown on their website. Marketers can run targeted campaigns and establish landing pages with promotional goods. For instance, you could send reminder emails for abandoned shopping carts and provide tailored deals or discounts for particular goods, collections, groupings, and shipping zones. Customers can also use individualised profiles to see their orders' progress, track past orders, post product reviews, and cancel or return charges.
Characteristics
Zoho Commerce has robust integration options that let you control inventory.
Order fulfilment and delivery configuration
Automate taxes and take online and physical payments.
It offers in-depth statistics and real-time information on the operation of your store.
Pricing
Three pricing tiers follow the 30-day free trial period for Zoho Commerce with cost-effective plans that meet all the needs, budgets, and scale-up requirements of aspiring entrepreneurs, eCommerce startups, small businesses, and mid-sized enterprises.
Following are the pricing details-
Commerce Starter- For 2,000 customer accounts and 2,000 products, $22 per month (paid annually), $27 per month (billed monthly).
Commerce Pro- Unmetered customer accounts & 10,000 products; $60/month (paid yearly), $75/month (billed monthly).
Commerce Advanced- For unmetered customer accounts & 50,000 products, $140/month (paid yearly), $175/month (billed monthly).
Wix
Wix provides all your assistance with budget-friendly plans and a simple user interface. As a solution for newcomers and users, it offers more than 100 clever models, several apps, fully configurable theme settings, and a stunning design.
Wix offers two options for setting up your website: manually or automatically. ADI is an artificial assistant that suggests adverts depending on your responses to questions. The Wix editor, on the other hand, provides complete user customisation and drag-and-drop functionality, which lets you position anything on your website wherever you choose.
The Wix App Store provides more than 280 apps, plugins, extensions for live chat, payment gateways, coupons, social media integration, and more. In addition, Wix has an advantage over Shopify in that you can utilise different button styles, add HTML code, add light boxes, and more for fair pricing, which makes Wix one of the best Shopify alternatives.
Characteristics
Editor with drag and drop
100+ designs with original designs
It is compatible with numerous external payment gateways.
Pricing
The $5/month plan is a popular option for many internet businesses because it includes 1GB of bandwidth, 500MB of storage, and the capability to connect to conventional servers. In addition, a free domain name, 20GB of storage, 10GB of bandwidth, plus a few extras are all included in the $16.50 a month Wix eCommerce plan.
Ecwid
You may utilise Ecwid's shop builder plugin with an existing website, unlike the other eCommerce store builder platforms on our list of best Shopify alternatives.
It is one of the least expensive eCommerce options and does not require additional transaction fees.
Characteristics
Simple to use and navigate
No transaction costs apply.
This can be one of the best Shopify alternatives if you already have a website.
It integrates with online markets like Amazon and enables social media selling (Facebook, Instagram, etc.).
Pricing
Ecwid has a free plan with ten items and a few features available. Paid packages begin at $15 a month.
Dukaan
Dukaan is one of the ideal Shopify alternatives since it is scalable, loaded with advanced eCommerce features, and extremely easy to use. But unfortunately, Shopify has a steep learning curve.
With Dukaan, all you need to establish your eCommerce store is your company name, a list of your products, and your contact information.
Dukaan has all the functionality, business tools, and plugins required to operate, manage, and develop your business as an eCommerce platform.
Characteristics
Dukaan provides a wide range of cutting-edge eCommerce features, including:
Recovery of an abandoned cart
A dynamic dashboard
RTO optimizer
Discount coupon generator
Store location
Auto sales tax calculator
These are a few of the many capabilities available.
Additionally, it offers flexible payments, allows for the establishment of wishlists, and connects with numerous payment gateways (Stripe, PayPal, Xendit, dLocal, etc.).
Also, the site frequently introduces new tools to improve your selling experience.
Pricing
The platform is reasonably priced for the functionalities it provides. Check out the various pricing options.
Both monthly and annual options are available.
The Entrepreneur plan is 14.99(monthly) to $149.99 (yearly). Also, agency plans are $49.99(monthly) to $499.99(annually).
Conclusion
We covered everything from explaining why you should seek Shopify alternatives to giving a thorough rundown of options you might consider.
Dukaan and BigCommerce, have emerged as the most well-liked options for enterprises by effectively meeting their expanding wants.
Although you might discover several platforms on various websites, the most important thing is whether your business needs are satisfied.
The platform that satisfies your requirements in terms of needs, price, and skill set is the "best Shopify alternative" for you. So conduct your research while keeping your eventual aim in mind.
Boost Your Order Fulfillment Sevices For Shopify & Shopify Alternatives With WareIQ
There are unique challenges to operating an internet store related to challenges in eCommerce fulfillment and others. For Instance, logistics management to be one of them, WareIQ eliminates the need. Several eCommerce companies have partnered with us to streamline and improve logistical processes.
WareIQ claims to use the most cutting-edge technology to provide the best fulfilling solutions possible. After we are on board, you can expect increased order accuracy, a clearer image of the inventory and shipments with SLA badges, and more control over customer and shipping information.
With the help of WareIQ's extensive network of fulfilment centers, you can send your goods promptly and affordably to customers.
It makes sense for a business looking to grow to contract out fulfillment and logistics to a respected 3PL provider like WareIQ. So that you may focus on your company's primary growth drivers, WareIQ can offer you entire supply chain fulfillment solutions. You can definitely boost your fulfillment services for Shopify. and it's alternatives with WareIQ.
Are you eager to know more about WareIQ's offerings if you sign up now? Find the features of the best-in-class, category-defining fulfillment services for eCommerce & D2C brands below:
Pan India Fulfillment & Darkstore Network: Plug-and-play fulfillment infrastructure with no minimums, which is compliant with Amazon Seller Flex, Flipkart Assured, Myntra and other marketplaces
Inventory & Network Planning Excellence: Best-in-class AI models for sales forecasting, product segmentation, and inventory management to reduce inventory by 40% and increase revenue by 10%.
Vertically Integrated Fulfillment Tech Stack: Our Fulfillment Tech Solution supports integrations with 20+ top marketplaces & D2C platforms, and prominent national, regional and hyperlocal couriers, enhancing reach by covering deliveries for 27,000+ pin codes
Supply Chain Productivity Applications: Integrate a host of supply chain productivity apps with a single-click to your existing CRMs, ERPs & accounting software to manage your logistics workflows from one command center. Use Apps like RTO Shield to get 100% RTO protection, Branded Tracking to turn your order tracking page into a profitable marketing channel, and many more.
Trusted by 300+ top Indian brands, we are helping them accelerate online sales and expedite their growth through a synergistic combination of advanced technology, robust fulfillment infrastructure & seller enablement services!WareIQ is backed by leading global investors including Y Combinator, Funders Club, Flexport, Pioneer Fund, Soma Capital, and Emles Venture Partner.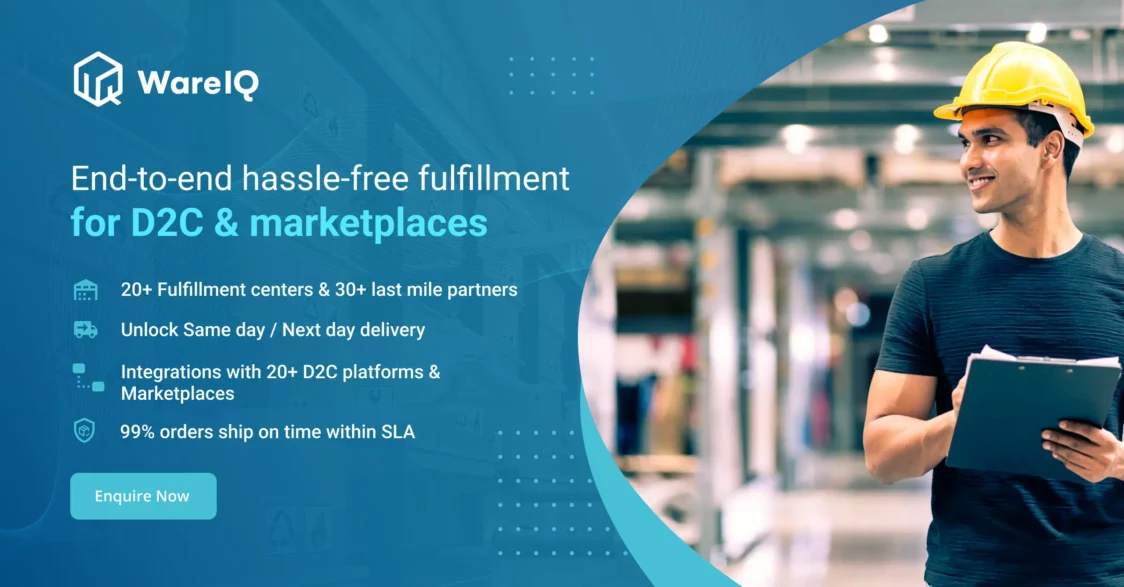 Shopify Alternatives and Competitors FAQs