When and How to Choose a Fulfillment Service for Shopify for Your D2C & eCommerce Business in 2023? 
Shopify is one of the largest eCommerce marketplaces in the world. Consisting of a user base of around 2 million sellers across the world, the company provides a wide range of unique services and facilities, such as offering support for brick-and-mortar sellers, providing a vast catalogue of external and 1st-party apps and plugins that can enhance various facets of a company's eCommerce operations, enabling well-designed websites through custom templates and editors, and much more. Additionally, Shopify offers its users the ability to opt for external fulfillment solutions for their own convenience.
This is advantageous because many sellers may have an existing relationship with a fulfillment company, have all their data securely stored in their databases, and is accustomed to their prices, policies and user experience. Conversely, some sellers choose a fulfillment service for Shopify due to the multiple benefits associated with them, such as lower prices, access to vast storage networks, use of the latest technology, and more. In this blog, we will cover when you should choose a Shopify 3PL company, the benefits of partnering with them, and elements you should look at while making your decision.
An Introduction to Order Fulfillment and Fulfillment Services for Shopify
Order fulfillment comprises all the procedures associated with successfully delivering an order to the doorstep of the customer that ordered it. This includes identifying the appropriate product in the warehouse, packaging it, getting it ready for dispatch, shipping it to the customer's destination and using a delivery partner on the ground to ensure it reaches its intended location. Thus, it is a big portion of the entire eCommerce process because, without order fulfillment, customers would not have any reason to purchase items online in the first place.
Similarly, companies that provide all the above services and more are known as fulfillment services or 3PL fulfillment companies. Since Shopify provides 3 fulfillment options – automatic, partial, and manual – the last of which enables retailers to opt for their own Shopify 3PL company, you can choose which one would be the best option for your current business requirements. Fulfillment services can additionally provide many more services, such as a storage network, custom packaging, online integrations, and more.
WareIQ – Amazon-prime Like Logistics for Modern Brands in India
WareIQ, an eCommerce fulfillment company, empowers online brands with a superior-tech platform to compete with Amazon like service levels by bringing their average delivery timelines from 5-10 days to 1-2 days.
"With WareIQ's full stack digital enabled fulfillment solution, we got access to the pan India network of fulfillment centers & cold storage facilities enabling same/next day delivery, without any upfront investment in supply chain infrastructure from our end. During the IPL campaign in April 2022,

WareIQ efficiently

handled unpredictable 200x surges in daily order volumes

of ~20k/day with a

99% fulfillment rate

. With WareIQ as our preferred fulfillment partner, we witnessed 172% growth in online order volume in just 4 months, with a significant improvement in the overall customer experience in fulfillment."
When Should You Look Out for a 3PL Fulfillment Service for Shopify?
The top 6 situations in which you should definitely look out for a 3PL fulfillment service provider for fulfilling orders from Shopify are listed below:
Erratic Sales Patterns
Fluctuating demand and sales patterns can have dire impacts on even the most experienced eCommerce businesses. Sellers have to factor in many different things while choosing how much inventory they should have on hand for each SKU. If consumer demand is volatile and fluctuating constantly, you may not be able to gauge how many units you need to store, which will create uncertainty and could lead to overstocking or understocking. If you choose a fulfillment service for Shopify, you will instantly be able to monitor external conditions and utilize various tools to safeguard your inventory in such conditions.
Reduced Financial Capabilities
Not every business has access to a vast pool of capital. In fact, most of them have to be extremely careful with their finances. Because of this, they often get left behind when it comes to introducing the latest services and technology to their customers, which will diminish their brand's reputation in the long run. However, if you partner with a Shopify 3PL company, you will get access to all of their features and technology, and use it effectively to
fulfill orders and satisfy your customers.
Periods of Excess Growth
During various holiday seasons, such as Christmas and Diwali, when customers are most likely to make online purchases, your sales can flourish. However, if you aren't prepared for the increased demand, you may find it difficult to keep up, which will eventually lead to errors and order backlogs. To actually appreciate and make use of appreciating sales, partnering with a Shopify 3PL company is a good option because they have the necessary infrastructure in place to tackle bulky orders and high demand.
You can refer to this to avoid mistakes during the holiday season.
Lack of Your Own Fulfillment Infrastructure
Many eCommerce companies do not have access to their own fulfillment infrastructure, such as fulfillment centers, shipping carrier partnerships, last-mile delivery service personnel and more, which is obviously needed for successful order fulfillment. Most fulfillment providers supply all these options and some even let businesses choose the specific services they need. To keep up with each other, they also employ the latest technology and features, which will help your company be on the bleeding edge of eCommerce fulfillment.
Difficulty in Omni Channel Order fulfillment
If a seller on Shopify has a presence across multiple online marketplaces as well as traditional offline channels, streamlining the entire fulfillment process, including eCommerce warehousing, shipping, etc. or self-fulfillment becomes a difficult task to manage.
Seeking to Prioritize Other Business Activities
Even though order fulfillment is important, it isn't the be-all and end-all of a company's activities. Work also has to be done to research new products, refine existing ones, market them to the relevant audience, conduct audits and much more. For a company that is doing all these tasks on its own, it can get more than a little strenuous. Therefore, partnering with a Shopify 3PL company can alleviate the burden of order fulfillment from your plate, so you will be free to pursue more nuanced business activities.
5 Benefits of Partnering With a 3PL Fulfillment Company for Shopify
Increased Efficiency
3PL fulfillment companies have the expertise and resources to handle all aspects of order fulfillment, from storage and inventory management to packing and shipping. This can help ensure that orders are fulfilled quickly and accurately, which can improve customer satisfaction and reduce the risk of returns or refunds. Additionally, every process will be streamlined and handled directly by the fulfillment company itself, so you rest easy knowing that everything is taken care of in relation to order fulfillment.
Improved Scalability
As your business grows and the volume of orders increases, it can be challenging to fulfill orders in-house. A Shopify 3PL partner can provide the necessary resources and infrastructure to handle the increased demand, allowing you to scale your business without having to invest in additional equipment or personnel. Make sure to choose an option that has future-proof facilities and technology, and you should be able to fulfill orders, regardless of how fast the volume increases.
Reduced Costs
Partnering with a Shopify 3PL service can help you save money on fulfillment-related expenses, such as storage, packaging and shipping. A 3PL can also provide bulk discounts on these services, further reducing your logistics costs and other. Additionally, outsourcing fulfillment to a 3PL can free up your time and resources, allowing you to focus on other aspects of your business that are also important, such as marketing, research and development and accounting.
Enhanced Customer Satisfaction
A Shopify 3PL company can provide additional services, such as custom packaging and gift wrapping, that can enhance the experience customers have with your business. They can also offer faster shipping options and provide order tracking information to customers, which can improve customer satisfaction and reduce the likelihood of returns or complaints. Most importantly, they ensure you are able to provide the most cutting-edge facilities to your customers, so you can stay relevant in relation to your competitors.
Top 5 Factors to Consider While Evaluating 3PL Fulfillment Services for Shopify in 2023
Storage and Distribution Network
It is important to choose a fulfillment service for Shopify that is conveniently located in regard to your business and especially, your customers. This will help ensure that orders are shipped and delivered quickly and efficiently, regardless of where they are placed from. Many 3PL companies have nationwide storage and distribution networks which will help you fulfill orders to remote locations just as easily as to large metropolitan areas.
Range of Services
Different Shopify 3PL companies providers offer different services, so it's important to choose one that can meet your specific criteria. For example, some providers may offer additional services like custom packaging and labeling, while others may only offer basic fulfillment services. You should also look for fulfilment services that can easily integrate into the existing framework used by other eCommerce businesses. For instance, when you sell on various eCommerce platforms, those linkages are crucial for seamless channel-to-channel logistics. This covers vendor management systems and B2B wholesale channels.
Pricing Options
A Shopify 3PL provider can have the best possible feature set and have every facility you need but if you cannot afford it or it bombards you with additional hidden costs, it may not be the option for you. Fulfillment services can vary greatly in price, so it's important to compare the costs of different providers to ensure that you're getting a good deal. Don't forget to consider any additional fees or charges that may not be included in the quoted price because they can contribute greatly to the amount you'd actually end up paying.
Reputation Amongst Existing Clients
It's always a good idea to do your research and read reviews from other businesses that have used the Shopify 3PL provider you are considering. This can help you get a sense of their reliability and customer service. It pays dividends to browse through their reviews on their own website and other online forums to get a sense of how they tackle existing issues and whether customers are satisfied with the resolutions they received. After all, since the company is going to be responsible for such a big part of your business, they should be answerable to you whenever you need any clarifications.
Data and Analytical Infrastructure
eCommerce, like other internet-based industries, is extremely data-driven. Data is used to identify how much inventory to order, predict future demand, ascertain the right target audience, identify which products are successful and which aren't, determine why customers are abandoning their carts and much more. It is able to give you detailed insights that we just wouldn't see without clear indication. Hence, it is important for you to choose a fulfillment service for Shopify that gives you access to a detailed suite of data and analytical tools so you can monitor key metrics of your business and its performance relative to where you want it to be.
Conclusion: Why Should WareIQ be Your First Pick for a Shopify 3PL Fulfillment Service in 2023?
Choosing a fulfillment service for Shopify can be a make-or-break decision for your eCommerce business. Shopify 3PL companies can be your gateway to increased sales, positive reviews and expansion to other markets. On the other hand, if you are struggling to tackle the increased load brought about by successfully selling and marketing your products, it may lead to negative sentiments among customers if orders are delivered incorrectly, delays occur and stockout situations arise.
Shopify, one of the biggest online selling platforms on the market, can provide the publicity and visibility your business needs. However, this could work both for and against you, based on the type of experience you are giving your customers. Therefore, choose a fulfillment service for Shopify that closely resembles your desired objectives. One of the best options currently available is WareIQ.
WareIQ has emerged as one of the leading eCommerce fulfillment companies in India. Having been founded in 2019 in Bangalore, Karnataka, WareIQ offers many conventional eCommerce facilities in addition to unique features that can result in skyrocketing customer satisfaction. Some of the key services we offer are listed below:
Platform Integrations
Shopify itself, as well as upwards of 20 other eCommerce marketplaces and online stores can be seamlessly integrated with WareIQ so you can view all of your crucial data from a single dashboard.
Super-Speedy Delivery
With the help of WareIQ Rush, you can deliver purchases to consumers the same day or the following day, improving their satisfaction with your business.
Returns Management
Returns are an unavoidable aspect of online shopping. Crucially, their detrimental effects on your company don't have to be. We fully manage your returns process and provide a number of precautions to protect your business and its products.
Selection of Shipping Companies
With more than 12 of the largest shipping companies in India in the nation as partners, WareIQ also provides an intelligent courier service allocator that chooses the quickest and least expensive shipping method for each order.
India-Encompassing Storage Network
We have a network of dark stores and fulfillment centers that spans the entirety of India. Additionally, you can manage your inventory and orders across all of them using our unique WMS.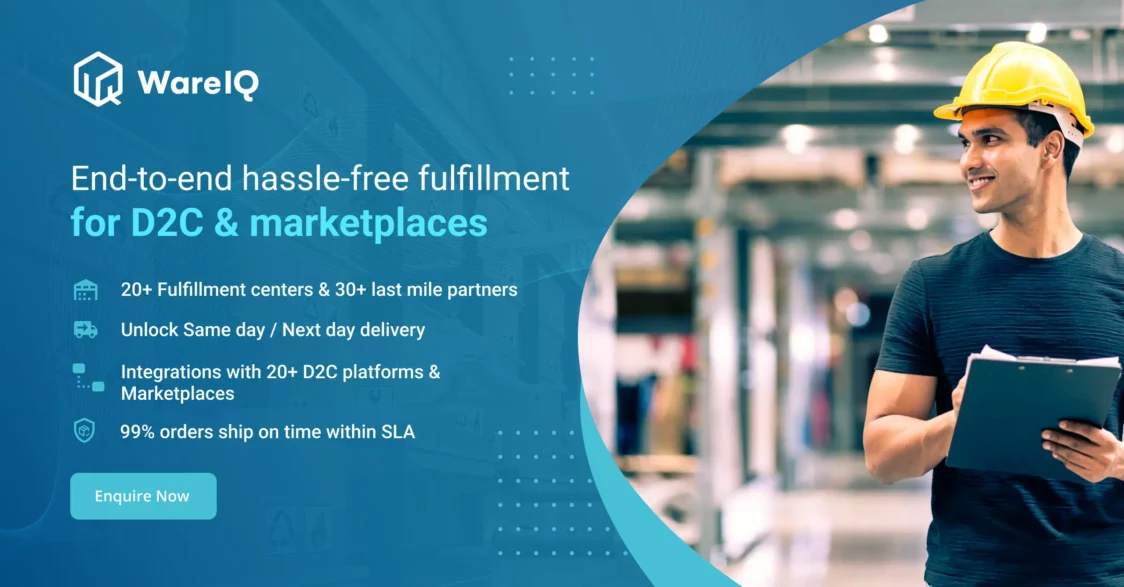 Suggested Read: Shopify Fulfillment: How to Fulfill Shopify Orders with WareIQ?
Choose a Fulfillment Service for Shopify: FAQs