What Are eCommerce Operations? A Detailed Guide for Operations Professionals on Functional Aspects & Best Strategies for eCommerce Operations Management in 2023
eCommerce Operations are the foundation of any organisation and the function that makes things happen. And a lot is going on in the background regarding eCommerce operations.
An eCommerce operations manager must enhance eCommerce processes that directly increase gross margins. Managers can wisely allocate essential resources to deliver the most value to the business by prioritising profit-generating eCommerce operations.
According to statistics, Global retail e-commerce sales were estimated to be around 4.9 trillion dollars in 2021. Over the next four years, this amount is predicted to increase by 50%, reaching roughly $7.4 trillion by 2025.
eCommerce has contributed to more than 40% of the rise in retail sales in the US alone, and by 2040, experts predict that 95% of all purchases will be conducted online.
The operations manager significantly influences the growth of an online brand. To ensure that your operations can fulfil customer expectations and keep expanding, you must maintain a constant watch on the market, your rivals, and the wants of your clients.
This article provides a detailed analysis of eCommerce operations and how to enhance eCommerce operations for productivity and growth.
What are eCommerce Operations?
All components of online goods sales and shipping are referred to as eCommerce operations. Successful online retailers are defined by having a solid eCommerce operations plan. Your ability to address essential eCommerce operations and sales components, such as order logistics and fulfilment, domestic and international shipping, and inventory management, is crucial to developing an efficient eCommerce operations management plan.
Making your eCommerce operations strategy as clear and thorough as possible is essential because it enhances the likelihood that purchases will be finished and delivered on time, keeping customers happy and ultimately improving your business.
Significant Functional Aspects Involved In eCommerce Operations Management
Since its start, the eCommerce sector has expanded incredibly quickly to reach its present status, defined by a solid market position. Due to this process, new difficulties have also evolved in the worldwide landscape of eCommerce operations. Merchants must change to remain competitive and gain an edge over their rivals.
The problem that most eCommerce merchants now confront is simplifying their business operations seamlessly.
Here is a list of business tasks retailers can use to create a successful and efficient eCommerce operational workflow.
Order Management
Online stores have replaced traditional physical businesses as the norm in eCommerce. As a result, the need for multichannel order management has grown due to this transition.
It is getting more challenging to handle and execute your orders when there are hundreds of sales channels available, whether they are marketplaces like Amazon, eBay, or Etsy or sales channels like Shopify, Magento 2.0, or Woo-commerce. Therefore, their most significant chance of remaining competitive is to have the capacity to manage orders across several digital channels. This helps eCommerce businesses both attract new clients and keep their current ones.
Product listing, inventory management, order placement and processing, billing, payment collecting, fulfilment, shipment management, and communication are all included in the multichannel order management process.
Import all your orders into one location: eCommerce shop owners with a fully integrated order management system can monitor and manage their orders from a single platform. As a result, they can stop logging into different portals to check on the status of their orders.
Address verification: An automated address verification method is necessary to limit the number of failed deliveries, accounting for up to 10% of eCommerce package deliveries.
Printing shipping labels and invoices in bulk: For anyone selling goods online, batch processing and mass printing shipping labels and invoices are essential. Thermographic printers make these processes simpler.
WareIQ – Amazon-prime Like Logistics for Modern Brands in India
WareIQ, an eCommerce fulfillment company, empowers online brands with a superior-tech platform to compete with Amazon like service levels by bringing their average delivery timelines from 5-10 days to 1-2 days.
"With WareIQ's full stack digital enabled fulfillment solution, we got access to the pan India network of fulfillment centers & cold storage facilities enabling same/next day delivery, without any upfront investment in supply chain infrastructure from our end. During the IPL campaign in April 2022,

WareIQ efficiently

handled unpredictable 200x surges in daily order volumes

of ~20k/day with a

99% fulfillment rate

. With WareIQ as our preferred fulfillment partner, we witnessed 172% growth in online order volume in just 4 months, with a significant improvement in the overall customer experience in fulfillment."
Inventory Management
A robust platform and successful inventory management system like Inventory LogIQ can help an eCommerce firm reach its highest potential.
The two most essential factors in an eCommerce business are time and money. Companies can save both by using a centralised inventory management procedure. Furthermore, it provides companies with
Accurate forecasting: An eCommerce business might profit from monitoring customer wants during a specific season and concentrating on marketing campaigns.
Product Evaluation: Separating the products in high demand from those that aren't is just as important as anticipating. Long-term inventory storage of the latter can be dangerous for an eCommerce store's ability to sell. As a result, businesses can offer tempting discounts when buying such a product.
Relationship between an eCommerce firm and its suppliers: A successful relationship between an eCommerce business and its suppliers is crucial. This guarantees the timely delivery of goods. Additionally, it is a good idea to have fallback plans. As a result, if the primary suppliers cannot ensure on-time delivery for some reason, the secondary suppliers can do it quickly, maintaining the positive perception of your brand among your target market.
The ideal contingency plan should provide effective inventory management and serve as a conduit between eCommerce stores and their customers without jeopardising the interests of either. Including this information in the terms and conditions not only allays client concerns but also facilitates future business transactions by saving time, money, and hassle.
Warehouse Management
Warehouse management includes monitoring all aspects of eCommerce operations, from staffing to equipment and inventory management.
Receiving, storing, and tracking inventory are only a few of the procedures involved in warehouse management. Other activities include keeping an eye on the flow of finished items into and out of the warehouse and managing their effectiveness.
The flow of inventory and other activity across a warehouse (i.e., what is being received, stowed away, fulfilled, and sent and by whom) is frequently tracked using a warehouse management system (WMS).
With a WMS, manual processes are eliminated, time is saved, and a more accurate picture of what is happening inside a facility is provided without needing ongoing warehouse audits. In addition, operations managers can track their success and find areas for improvement using the data collected from a WMS, which promotes supply chain optimization.
Fulfilment and Shipping Logistics
All these features are necessary for your system to fulfil your requests successfully.
Serviceable Zip code management based on prepaid orders and cash-on-delivery
Evaluating shipping costs across various carriers and the services they offer
Real-time tracking number and allocation
Expecting to complete this manually may cause delays and mistakes. Additionally, clients demand error-free communication from eCommerce businesses in this digital age. Further, the success of an eCommerce business determines its reputation.
Choosing a Product, Packing it, and Shipping It
Successfully processing customer orders is essential to the success of an eCommerce firm. This must be carried out without fail. An exemplary implementation creates a win-win scenario for an eCommerce company and its clients. While the latter can reduce the possibility of product returns, the former can prevent the potential for mistakes in monitoring its inventory inventories, and using equipment like a barcode scanner to automate order picking and packing up can be beneficial.
Order Shipping, Schedule Pickups, Tracking & Delivery
Ensuring prompt item delivery is one of the critical components of order fulfillment in eCommerce operations. It aids businesses in creating a favourable reputation and long-term customer retention. In addition, utilizing the advantages of shipping management software can help the company grow.
Fulfilment automation has emerged as one of the current trends, with eCommerce businesses becoming increasingly reliant on them. Therefore, it makes a lot of sense for eCommerce enterprises to use software and systems that do away with the laborious manual processes and facilitate the efficient completion of this activity.
Returns Management
Owners of physical stores encourage a "no return or no exchange" policy regarding purchases made there. They can avoid the inconveniences of product returns as a result. However, this is not true with online eCommerce retailers.
Customers have the option to cancel their orders while they are in transit, as well as return things after delivery with eCommerce businesses. The former might occur for several causes, ranging from unsatisfied customers to the delivery of incorrect goods.
Therefore, having a well-planned and recorded return management policy is necessary for eCommerce stores. To ensure that customers know what they can return and how it is ideal for making this remark under terms and conditions. Returning an ordered or delivered item must also be made clear in advance. One of the best methods for putting customers and business owners at ease is this. As a result, it leaves clients with a favourable impression of an eCommerce store.
Commercial Accounting
Keeping track of your brand's financial activities and ensuring your books are in order are crucial components of your eCommerce operations. This includes balance sheets and inventory write-offs. Inventory is the most critical (and frequently valuable) asset for eCommerce enterprises. Thus any anomalies in inventory counts can affect your bottom line.
You may gain insights into your spending and earnings with accurate eCommerce book-keeping, making it possible for you to be ready for tax season.
6 Best Practices To Simplify and Streamline Your eCommerce Operations in 2023
With today's technology, we have many eCommerce automation choices to choose from to meet our business needs. The idea is very straightforward—using software to turn manual processes into automated workflows. Numerous tasks can be completed with technology without the involvement of humans. Examples include sending emails to many customers, creating support cases, and completing orders. eCommerce automation saves not only time but also money. Additionally, it means that eventually, the company team will have more time to concentrate on innovation, client satisfaction, and creativity.
Let's look at six ways technology could make an eCommerce business function more efficiently.
Multi-Channel Automated Centralized Inventory Management
eCommerce Brands can optimise their supply chain and stop any losses during stock-out situations by using a cloud-based omnichannel inventory management system. Businesses can display their products on many eCommerce platforms and handle orders using a single dashboard that provides real-time access to stock movement with the help of an IMS.
Eliminating the manual component from inventory management saves additional overhead costs that may be spent to grow the firm rather than risking human error.
The following are the main benefits that an IMS offers:
Reduce the amount of staff needed for daily operations
Reduce overstocking and understocking
Prevent misshipments
Hasten order fulfillment
Accurately estimate and plan inventory
Detailed inventory and sales reports
Automated Accounting With Least Effort and Sales Identification
A small sales team is one of the main advantages of a digital business.
Automated processes and evaluation tools like a CRM can improve operations even with a small sales crew.
For instance, gathering contact details, planning calls, and allocating follow-ups may all be done quickly and openly when a new lead is added to the system. Additionally, it prevents situations where several people are pursuing the same information, which is almost certainly a dead end. The sales staff can also record call details and outcomes, which could be helpful for follow-ups in the future. Some of the most well-known CRMs are Zoho, Hubspot, and Salesforce.
Sales and accounting should always work together since book-keeping is never fun.
There are several ways to keep track of accounts on your own, but you can pick one that integrates effectively with your inventory management system. Read more about eCommerce accounting software.
Building Brand Loyalty With An AI-enabled Customer Service
Consumer service plays a crucial role in building brand recognition and customer loyalty. There are several options for handling customers and automating the time-consuming steps in the process. One of the most popular ways to handle this topic correctly continues to be chatbots.
By responding to a set of predetermined circumstances, triggers, and events, chatbots help automate client interactions. As a result, companies are quickly using chatbots for their customer-facing products. According to a Facebook poll, more than half of customers believe they are more likely to shop with a firm that offers live chat.
Customers anticipate being able to quickly and easily find the information they require. Chatbots are merely a tool to achieve that goal. Additionally, several tools can quickly and cheaply integrate chatbots into social media accounts and eCommerce websites. Since they have been around for a while, chatbots have established themselves as a crucial component of any company's customer care strategy.
Innovative and Seamless Payment Methods Powered by Technology
Customers desire personalization and frictionless eCommerce experiences. Global consumers are anticipated to make 1.1 trillion non-cash payments by 2024 as they buy goods and services using a combination of web, mobile, and connected devices, according to Business Insider. The experience is smooth when individuals can make purchases online fast, effortlessly, and safely. Passive authentication techniques like face and touch ID are becoming more and more common as technology advances since they may be used to complete transactions since the user's credentials are already stored in their wallet. This holds for applications such as GooglePay, AmazonPay, PayPal, PhonePe, Paytm, and others. Giving clients the option to use digital payment methods improves the customer experience because it is easier and takes less time.
Nearly all eCommerce businesses provide a choice of digital payment alternatives nowadays to speed up checkouts and improve consumer convenience.
Switch to An Omnichannel Customer Experience
It's become less important to test a product before buying it. The ease of a single-click purchase on eCommerce sites, brand recognition, social media presence, and general lifestyle affinity are essential factors in deciding to buy. Social media, online markets, and web stores are part of omnichannel retailing.
Making sure that marketing strategies enable customers to convert across any sales channel is the aim of multichannel selling. Your company may offer a smooth customer experience if you have efficient automation technology at your disposal and an omnichannel strategy in place. One of the best instances of how organisations can utilise technology using an omnichannel strategy is Walmart's "order-by-text and chat services." Walmart offered a service that guaranteed same-day delivery and allowed users to place orders by text message alone. Although the service is no longer in use, it opened the path for other eCommerce firms to provide their clients with something remarkable.
You can use various tools and methods on your online store to collect data, monitor conversions, and target messaging when executing an omnichannel marketing plan.
Make Social Commerce A Part Of Your eCommerce Strategy
Many firms use social media platforms for advertising. The accessibility, ease and reach that come with social media aids consumers in purchasing.
2018 saw the launch of Facebook Marketplace, which aims to take on Google Shopping, Easy, and Amazon. In addition, Instagram started using product tags in 2016 to make it simpler for consumers to identify the goods and prices they see in advertisements, and in 2017 Shopify and BigCommerce were integrated, directing shoppers to a website where they could make an immediate purchase.
Select brands were given buyable pins on Pinterest, which resembles Instagram in functionality, in 2015, and the number of brands increased in 2016. In addition, to make it simpler to make purchases from several merchants at once, a shopping cart was also developed.
Conclusion
In conclusion, operating in the eCommerce industry requires balancing many competitors with matching client needs and expectations. The technology at our disposal now has the potential to automate repetitive work and expedite processes that call for more attention to detail. You can start using parts of it immediately and take your time selecting others, like an IMS or a chatbot, to boost your company's overall productivity and operational effectiveness.
How WareIQ as a 3PL Fulfillment Partner Helps in Your eCommerce Operations Management?
WareIQ, as a tech-enabled fulfillment partner, uses a fulfillment network that returns information to our clients so they can monitor inventory levels and orders as they are chosen, packed, shipped and delivered in real-time.
Orders are automatically delivered to our warehouses once your store is connected. The product is chosen, packed, and dispatched (and tracking info is pushed back to your store and shared with your customers). WareIQ's fulfilment services assist you in time and cost optimization as well as the utilisation of the delivery process to surpass customer expectations and take control of a more significant portion of the client relationship.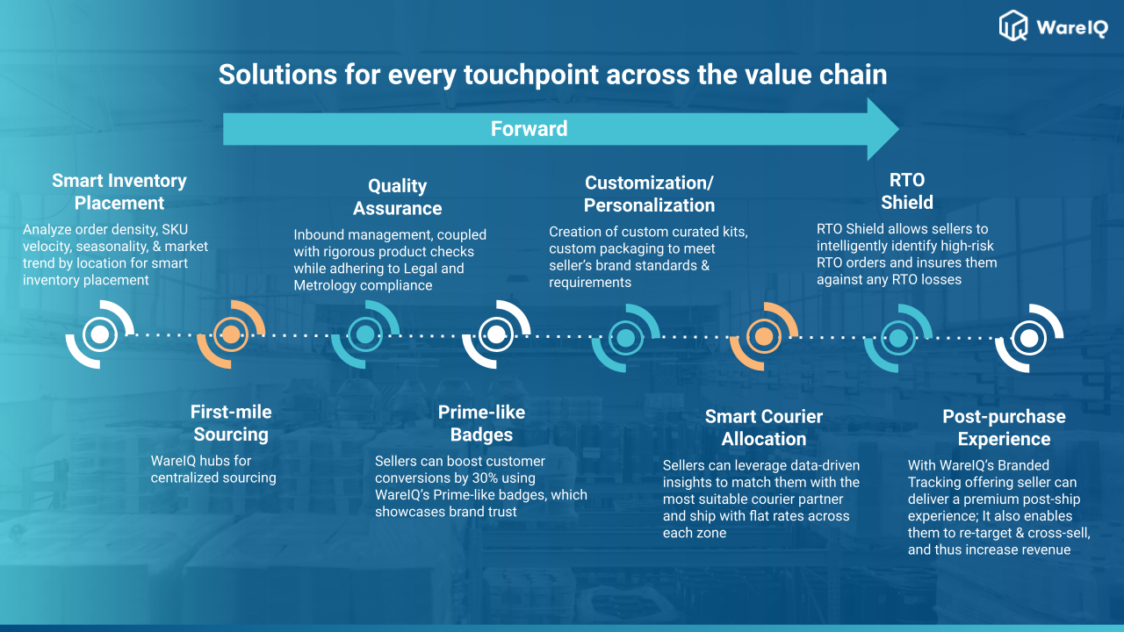 With the aid of WareIQ's fulfilment facilities, you can strategically distribute your inventory among our locations to deliver your products more quickly and affordably. By keeping inventory close to your target market, you can cut down on the shipping zones and expenses involved in sending orders to distant locations. With WareIQ's 2-Day Express shipping model, you can provide 2-day shipping across the country whether you ship from one fulfilment centre location or several.
WareIQ delivers data and analytics to assist you with everything from year-end reporting to better supply chain decision-making. We do this to give you visibility into our operations and performance and to hold ourselves accountable. For example, we provide information on the fulfilment centres you should stock, the number of days your inventory will last before it runs out, the effect of sales promotions on stock levels, the average cart value, shipping costs, and transit times for each shipping option, your fulfilment costs per order, your storage costs per unit, and much more.
Ecommerce Operations FAQs: Frequently Asked Questions