Top 10 eCommerce Fulfillment Services For Fastest Shipping and Delivery for Online and D2C Brands
With the eCommerce boom occurring across India over the last few years, consumer preferences have rapidly changed and this has led to the requirement for eCommerce businesses to choose a reliable partner from among the best eCommerce Fulfillment Services in India in 2023.
Indian customers, especially during the pandemic lockdowns, have gotten a taste of express delivery or same day deliveries and compare companies based on how fast either can deliver the same product. In this era of 10-minute delivery, customers may debate the necessity of such services. But what needs not to be debated is the fact that not upgrading to meet the expectations of the customers can lead to lost ground to the competition.
This is where eCommerce fulfillment companies step in. Armed with their massive infrastructure, not just warehouses and established logistics networks but also the latest software platforms, the best eCommerce fulfillment services in India ensure the products reach their desired destination in the promised time, thus ensuring the highest levels of customer satisfaction.
What is a Fulfilment Centre?
A fulfilment centre is a supply chain component that serves as the hub for all logistical procedures required to deliver a product from the seller to the client. It manages the full order fulfilment process, from selecting and processing orders to packaging and shipping. The fulfilment centre is used by a third-party logistics (3PL) provider, such as WareIQ, to receive, process, and complete consumer orders for online businesses wishing to optimise their operations. A fulfilment centre exists to ensure that online purchases are delivered to clients on time and to relieve ecommerce enterprises of the burden of handling this critical yet difficult operation.
How do fulfillment centers work?
Fulfilment centre operations include the work that gets online orders to your door, often known as the jio order fulfilment process. In order to complete client orders, an ecommerce business's inventory is strategically housed in a 3PL's fulfilment centre. After a customer makes a purchase on an ecommerce site, merchandise is selected and boxes are packed before being labelled for shipment.
Fulfilment centres can handle both business-to-business (B2B) orders — often a large volume of items supplied to a big-box store — and business-to-consumer (B2C) purchases, which are dispatched directly to a consumer's house. When a seller outsources ecommerce fulfilment, the 3PL completes the fulfilment process on behalf of the shop owner.
E-Commerce Fulfillment Service
Key Features
Service Offerings
Pricing
Delivery Time
WareIQ
Full-stack platform for same-day and next-day delivery.
Decentralized fulfillment for faster delivery.Inventory and Network planner for decreased inventory and increased revenue.
RTO Prediction & insurance
Maximize share of stock for fast delivery.
Decrease inventory and increase revenue.
Improve item availability.
Grow business by 3x leveraging WareIQ solution
Customized pricing.
Varies based on services
Same-day and next-day delivery
Shipway
Partnered with 30+ eCommerce couriers.
End-to-end shipping automation.
Pan India warehouses and fulfillment centers.
Reliable and affordable shipping services.
End-to-end shipping automation for 12,000+ eCommerce retailers.
Customized pricing.
Varies based on services
Quick delivery across India.
Shopify Fulfilment Services
90-day trial period.
Inventory Management.
Same-day fulfillment.
Omnichannel capability
90-day trial period.
Omnichannel support
$79 / month for standard module
Same-day fulfillment
DHL eCommerce Fulfilment
Pan India warehouses.
Inventory Management
International Deliveries
Minimum Orders
Warehousing and inventory management.
International deliveries for cross-border sales.
Varies based on services.
Varies based on location.
Delhivery
75 fulfillment centers across India.
Inventory Management.
Separate channels for B2B and B2C customers.
End-to-end fulfillment solutions.
Inventory management.
Different channels for B2B and B2C
Varies based on services.
Efficient and customizable.
Flipkart Fulfillment
Fulfillment center space.
Faster delivery of products.
Quality check by Flipkart experts
Fulfillment center services.
Faster delivery and quality checks
Varies based on services.
Fast and quality assured.
Fulfillment by Amazon (FBA)
60 fulfillment centers across India.
Market access to MSME, craftsmen, and artisans.
Broad market access and A-to-Z Guarantee.
Three months trial period.
Varies based on services
Efficient and reliable.
Eshopbox
Eshopbox Workspace software.
Nationwide network of warehouses.
Integration with major platforms.
End-to-end eCommerce fulfillment solutions.
Warehouse network and platform integration
Starts at INR 15,000 per month.
Web-based integration.
ShipDelight
Over 55 years of experience.
Services over 26,000 in the country.
Order management, branded tracking, shipping automation.
Shipping and distribution services.
Order management and automation
Starts at ₹25 per 0.5 kgs of inventory shipped.
Quick and reliable.
Pickrr Plus
24-48 hour delivery.
Zero weight discrepancy.
Reduction in RTO.
No capital investment in the warehouse.
Fast and accurate delivery.
Reduced RTO and no warehouse investment.
Customized pricing.
Varies based on services.
Quick and efficient.
What are eCommerce Fulfillment Services?
eCommerce fulfillment services are defined as the most integral part of any eCommerce company's operations that encompasses the entire fulfillment cycle once an order is placed online. The fulfillment cycle involves receiving the order, packaging, order management, storage, sorting, transportation, inventory management, post-order tracking, and returns (reverse supply chain).
eCommerce fulfillment services providers are responsible for enabling delightful post-purchase experiences for online customers through the fastest delivery, dispatch & delivery of correct orders to the right customers, real-time order notifications, delightful packaging, etc. We can understand how eCommerce fulfillment services in India form the backbone of the entire eCommerce industry.
Much like a 3PL logistics service provider, eCommerce fulfillment companies and fulfillment centers cater to the many logistical requirements of the sellers, especially in this ever-changing and rapid delivery expectation environment.
Imagine a business run out of a flat or a garage. (Very relatable to some!) Receiving the order, packing it, transporting it, or shipping it through a courier are all handled solely by a person.
Now scale it up and replace the person with a company. That is what an eCommerce fulfillment company does.
WareIQ – Amazon-prime Like Logistics for Modern Brands in India
WareIQ, an eCommerce fulfillment company, empowers online brands with a superior-tech platform to compete with Amazon like service levels by bringing their average delivery timelines from 5-10 days to 1-2 days.
"WareIQ came to Gynoveda with a full stack fulfillment platform & gave Gynoveda access to a nation wide network of fulfillment centers & last mile & hyperlocal courier partners closer to our customers based out of North East & North India.

They made

same-day delivery possible

for us in metros.

"
What Services Do the Best eCommerce Fulfillment Services Provider Offer?
With eCommerce growing in India at unprecedented rates, with numbers projected at a growth of 57% in online grocery sales and 31% growth in online retail sales by IBEF (Indian Brand Equity Foundation), the need for eCommerce fulfillment companies is now more than ever.
But what differentiates the best eCommerce fulfillment companies in India from the others is the presence of the following services/features:
Shipping Speeds – Same Day and Next Day Deliveries
With next-day and even same-day delivery becoming the norm, it is imperative that the best fulfillment company you choose can deliver on its promises, quite literally. According to a survey by Dropoff, 53% of the customers have canceled their order because of a slower-than-expected delivery time. Such canceled orders can prove to be quite a bane for many companies.
Warehousing
The best fulfillment companies in India for large businesses or small business share the same service promise to you, what you have promised to your customer. Upholding your service promise is the prime responsibility. Ensuring timely delivery depends highly on the nationwide presence of warehouses, thus reducing the last mile delivery pains and ensuring the middle mile delivery is faster and more cost-effective to you.
The Fulfilment Software
The on-ground capabilities of a fulfillment company are just not enough. What matters is also the fulfillment software given that everyone from the management team to the fulfillment warehouse staff shall be dealing with this. As sellers tend to use different tools and platforms for different processes, it is vital to ensure the software used by the fulfillment company is easy to implement and can integrate with other platforms and tools. The best fulfillment companies provide dashboards with intuitive business intelligence and easy to use user interfaces.
Returns Management
With about 1/3rd of orders being returned, the 3PL fulfillment company of your choice must also cater to the reverse supply chain. Handling returns and ensuring the cause of return is resolved by ensuring the package reaches back to the seller differentiates the best fulfillment companies in India from others in the market.
Costs
In the end, it is all about money. It is not about being the cheapest, but which eCommerce fulfillment company provides you with the best return on your investment, the best logistics cost, and more by providing the best value for the money. This involves the ability to scale up and down as the demand grows or subsides the shopping cycle weekly or monthly and even on an hourly basis. The sellers value the variety and customizations in pricing plans because it gives them the flexibility and choice they desire.
Transparency
The ability to track and monitor one's shipments is highly valued by all customers, be it in the B2C or B2B segment. It prevents customers from unnecessary mental hassle and uncertainty about their package. This transparency and living up to the service promise bring back customers to the sellers. Thus, the best eCommerce fulfillment companies ensure that customers/sellers have complete transparency during the fulfillment process.
How Can eCommerce Fulfilment Companies Boost Your Online Revenue?
The best fulfillment companies in India ensure that your product reaches your customer no matter where they are located, be it in Ahmedabad or Abohar. With next day or two-day delivery being the new level of expectations amongst consumers, ensuring your product reaches the consumer before your competitors' is what must be followed.
However, heavy capital expenditure on numerous warehousing facilities, investment in robotic product handling, rapid order processing, and packing, and lack of transport infrastructure in remote locations are a few of the challenges to this micro fulfillment revolution. Hence the micro fulfillment model by eCommerce fulfillment services is fast evolving to provide a more customised experience for eCommerce sellers with same-day delivery and next-day delivery offerings.
Top 5 Challenges Faced by eCommerce Fulfilment Companies in India
eCommerce fulfillment companies have to deal with multiple parties and stakeholders, and thus this compounds the problems faced; added to that is the uncertainty factor, especially that of the unexpected. Such is the impact of these events: a term in shipping that goes "AGWWP (All goes well, weather permitting)"!
The following are some of the challenges faced by eCommerce fulfillment companies and of which sellers should be wary:
Returns: With a high number of returns, companies require a robust return supply chain to ensure the product is picked up from the customer on time and returned to the seller without any damages. It involves additional capital expenditure on maintaining two supply chains, even though some aspects are interlinked.
Information inaccuracy: From wrong addresses to a wrong contact number, these issues are all realised in the last mile delivery, and by then, it is too late to take any corrective action. This information inaccuracy can occur at any stage, be it by the customer, wrongly printed by the seller, or improperly handled by the fulfillment center.
Exceptions: Natural Disasters to a massive container ship blocking the Suez Canal, these delivery exceptions occur pretty often, ironically. Despite the best preparations by the best eCommerce fulfillment companies, there is sometimes no getting around such situations which eventually leads to delays or damages.
Delays during pre-shipping: In some supply chains where the Push-Pull boundary is extremely high up in the chain, often seen with customisable products, delays during the pre-shipping stage, caused by processing and producing the order, add added pressure onto the fulfillment company to fulfill the order within the promised time.
Inventory Management issues: Inventory Management is every seller's most common issue, be it choosing between the Newsvendor Model, the Economic Order Quantity (EOQ), the Continuous Review (ROP), or the Periodic Review (FOI) and lack of appropriate forecasting leads to significant inventory management issues at the beginning of the supply chain which travel down eventually causing the Bullwhip Effect.
How to Choose the Best eCommerce Fulfillment Services in India?
How do you choose who should be your fulfillment provider? This is an essential question as the growth of one's business depends entirely on how effective the service provider is. Thus, the following points shall be able to help one choose the best eCommerce fulfillment service provider.
Shipping speed
A fulfillment company that is capable of beating your competitors is what is essential to prevent customers from being pushed away.
Warehouse location
Location, Location, Location! The strategic presence of the warehouses is critical to the supply chain and forms the balance between costs and speed.
Shares same ideologies
Choose a fulfillment company that shares the same ideology as your company, for, e.g., If you own an organic produce company, then choosing an eCommerce fulfillment company that has no Green Policy or is not taking steps to reduce its carbon footprint could be taken highly negatively by your customer base.
Order fulfillment software
A cross-platform and easily integrated software that is adaptable and driven by a well-programmed ML-based prediction engine to help the companies understand the trends and prepare for them better.
Scalability
To handle the ups and downs of the demand cycle without adversely impacting the customers and the sellers.
Customer Support
Customer support that is efficient and quick to resolve issues.
Packaging and Branding
Providing that personal touch to the packaging can go a long way in creating the impression one needs in the customers' eyes. All fulfillment companies provide packaging services, but only the best fulfillment companies go the extra step to ensure special packaging for special products.
Certifications
Never compromise on quality, and a good check of that is the company's qualifications.
Transparency and visibility
The best fulfillment companies ensure that the sellers have the transparency they are entitled to. The sellers and end customers alike have complete visibility of where the package is and are intimated of any discrepancies or issues.
Which are the 10 Best eCommerce Fulfillment Services?
WareIQ
Shipway
DHL eCommerce Fulfilment
Delhivery
Flipkart Fulfillment
Fulfillment by Amazon (FBA)
Eshopbox
ShipDelight
Pickrr Plus
The Indian eCommerce Marketplace fulfillment shows no signs of slowing down and will not for a long time to come. Thus, one must understand who are the key and best players in the market and decide on which of these best fulfillment companies for eCommerce & D2C players in India should approach to grow their business:
WareIQ
Established in 2019, WareIQ, a Y-combinator backed startup, has rapidly grown to be the leading provider of full-stack eCommerce fulfillment tech solutions for some of the most reputed brands in India. WareIQ offers a full-stack platform for eCommerce companies to enable same-day delivery and next day delivery to customers – an Amazon Prime-like experience but accessible to everyone.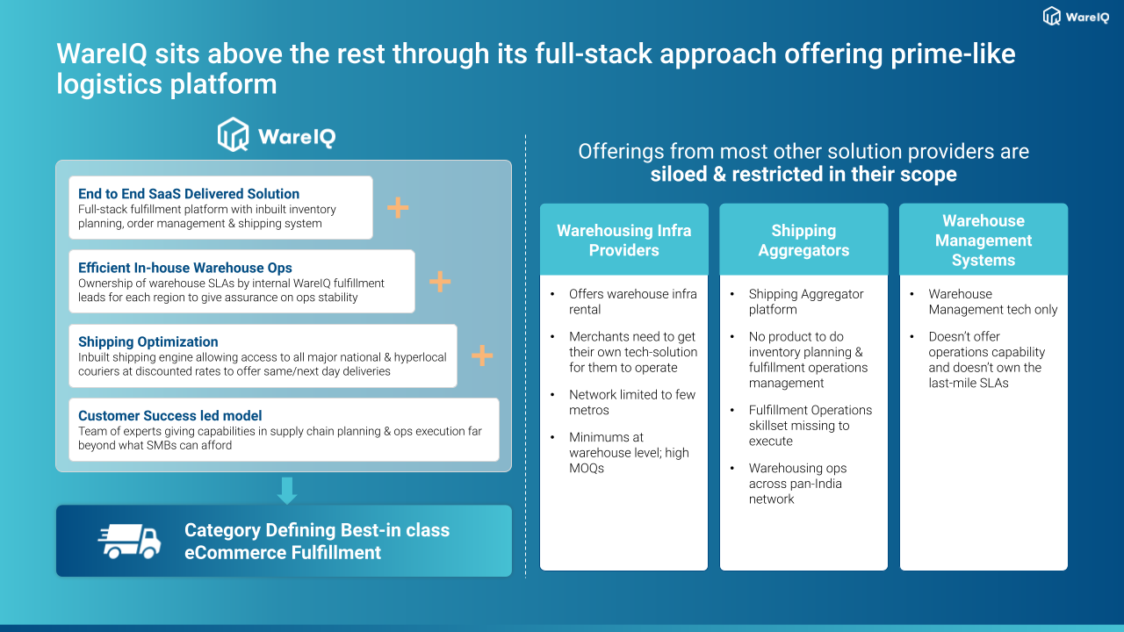 7 Benefits of choosing WareIQ for eCommerce fulfillment services are mentioned below:
Maximize share of stock eligible for same/next day delivery using decentralised fulfillment
Decrease inventory by 40% and drive revenue by 10% with 80%+ regional utilisation using WareIQ Inventory & Network planner
Increase item availability to 99%+ through efficient inventory management
Grow your business by 3x in a year by leveraging WareIQ solution – fulfillment infrastructure, Inventory
management capabilities and Full-stack technology platform
RTO Prediction & insurance through RTO Shield
Create the best post-purchase experience using Appstore
Same day delivery using WareIQ Rush, leading to higher customer satisfaction, reduced cost & near zero RTO%
No minimum order quantity requirements make it suitable even for eCommerce firms having low order quantities to take advantage of the latest trends such as next day delivery and same day delivery. The onboarding process is simple, convenient, and less time-consuming, while the pricing policy is clear and transparent. WareIQ also undertakes strict safety precautions at its warehouses and complete ownership of the operations, thereby minimising the risk exposure of WareIQ customers.
Shipway
Shipway is a newcomer that specialises in offering dependable and affordable shipping services to eCommerce businesses. This eCommerce courier services provider allows you to focus on business operations, ensuring that your customers receive the finest shopping experience. Services offered by Shipway are listed below:
Has already partnered with 30+ eCommerce couriers.
Currently provides an end-to-end shipping automation solution for fulfillment and logistics to over 12,000 eCommerce retailers.
Pan India warehouses and fulfillment centers
You Can Also Check: List of Shipway Alternatives
Shopify Fulfilment Services
The Indian arm of this Canadian company offers end-to-end fulfillment solutions for eCommerce companies. The services provided by them are as follows:
90 day trial period
Inventory Management: Recommendations for inventory storage
Same-day fulfillment: Orders received by 1600 Hrs are shipped on the same day
Omnichannel capability: Caters to eCommerce stores and orders from social networking platforms.
Pricing: $79 / month for the standard module.
You can simultaneously check Best Shipping Software for Shopify in 2023
DHL eCommerce Fulfilment
The known international courier service has been present in India since 1979 and has an established national network of warehouses and last-mile delivery. The services provided by DHL are:
Warehousing: Pan India warehouses
Inventory Management: A fulfillment portal with access to inventory levels and snapshots/reports.
International Deliveries: For sellers with a significant chunk of cross-border sales.
Minimum Orders: Country-specific minimum orders per day
Delhivery
Established in 2011 and entered the Unicorn club of India, this eCommerce Fulfilment company has upgraded warehouses to provide end-to-end fulfillment solutions.
Warehousing: 75 fulfillment centers across India and integrated with courier partners for last-mile delivery.
Inventory Management: Have a proprietary WMS and provide inventory management services.
Separate channels for B2B and B2C customers.
Flipkart Fulfillment
Flipkart requires no introduction, but few know about the fulfillment services they offer. These services include:
Fulfillment center space
Faster delivery of products
Quality check by Flipkart experts
Packaging that will delight the end customers
Seamless order processing
Inventory placed across multiple fulfillment centres
Fulfillment by Amazon (FBA)
The pioneer of eCommerce fulfillment, this heavy giant has set the industry standard for fulfillment services. Though many eCommerce companies have benefited from Amazon's same day/next day delivery, those with a less regular rate of orders tend to suffer. Additionally, the same day/next-day delivery is available only for registered vendors.
Attributes of Amazon's fulfillment services are below:
60 fulfillment centers across 15 states in India
Market access to MSME, craftsmen, and artisans
Amazon's A-to-Z Guarantee
Three months trial period
Dashboard with up-to-date technologies for tracking.
Eshopbox
This Gurugram based company was set up in 2015, focusing on end-to-end eCommerce fulfillment. It focuses on helping pure-play digital sellers and D2C companies handle and solve inventory, warehousing, and logistical issues. The following are some services and features of Eshopbox:
Customers use web-based software called "Eshopbox Workspace."
A nationwide network of warehouses with tie-ups with regional carriers.
The software can integrate with major players like Amazon, Flipkart, etc.
Additional offerings for D2C customers on specific websites for D2C growth.
The monthly subscription fee starts at INR 15,000.
ShipDelight
ShipDelight has over 55 years of consolidated experience in the shipping and distribution industry. The founders of ShipDelight have supreme knowledge about how to solve the many problems related to order fulfillment and seek to fully integrate the requirements of eCommerce retailers and the logistics and fulfillment services that are provided by the company. Services offered by ShipDelight are listed below:
Services more than 26,000 in the country.
Offers services such as order management, branded tracking, shipping automation etc.
Provides same and next day delivery.
Offers the lowest rates in the industry at ₹25 per 0.5 kgs of inventory shipped.
Pickrr Plus
Pickrr was founded in 2015 with a vision to make shipping simple and seamless for businesses across the globe. Pickrr has started end-to-end eCommerce warehouse fulfillment services under the brand name – Pickrr Plus Fulfilment.
Some of the Pickrr Plus's notable features include:
24-48 hour delivery to the customer
Zero weight discrepancy
Up to 5% reduction in RTO
No capital investment in the warehouse
Read our blog on Pickrr vs Shiprocket vs WareIQ to understand how WareIQ offers the best fulfillment platform among the 3.
Elevating E-Commerce Fulfillment for Competitive Advantage
You want an ecommerce fulfillment partner that can consistently supply services to meet and exceed KPIs.
The usefulness or strength of two-day delivery as a competitive advantage has begun to decrease with the introduction of same-day and two-hours or less delivery possibilities. This is because current customers no longer perceive these alternatives to be fast enough.
As a result, growth-minded e-commerce companies are progressively shifting to quick delivery, since this is a tried-and-true method for improving customer experience and boosting client acquisition and retention.
If speed is important, look for a micro-fulfilment-based solution that leverages tiny warehouses (or micro-fulfilment centres) in highly populated urban areas to reduce time/distance to the end consumer.
Because a delivery courier may therefore deliver one order at a time (point-to-point) instead of hundreds of orders by the truckload, having your inventory hyperlocal to clients can make the last-mile delivery experience extremely speedy.
Revolutionizing E-Commerce Fulfillment with Micro-Fulfillment Centers
Most warehouse ecommerce fulfillment services are often performed on big warehouses on the outskirts of cities, however, modern-day fulfilment solutions utilise a network of small-scale warehouse ecommerce fulfillment centres known as micro-fulfilment centres.
These micro-fulfillment centres are located in metropolitan regions and rely on automation to meet the demands of consumers while also meeting the aims of quicker and more sustainable delivery across many geographic locations.
Although traditional 3PLs and e-commerce fulfillment center services have some overlap, most 3PL companies focus on providing basic logistics functions (pick and pack, warehousing, distribution, etc.), whereas fulfillment center services offer more comprehensive services, such as customer support and returns.
Another significant difference is the proximity of these contemporary e-commerce fulfilment services to end clients, which allows them to employ eco-friendly transportation (walkers, bicycle messengers, and electric cars) and decrease the need for wasteful cardboard packing.
This, on the other hand, is not achievable with a regular 3PL. Ecommerce fulfillment providers specialise in order processing and delivery for online retailers.
Receiving and storing goods, processing orders, choosing and packaging, inserting packing slips, and shipping are all part of this procedure. Order processing services are provided by several ecommerce fulfilment suppliers.
Choosing the Right E-Commerce Fulfillment Provider
When it comes time to process your online orders, you want the fulfilment centre to get them out the door and to your customers as soon as possible. When deciding which ecommerce fulfillment providers to choose, fulfilment speed is critical.
When it comes time to choose an ecommerce fulfillment center for your company, keep the following ideas in mind. You will then employ the fulfilment services firm that will work best for your organisation and provide the services you require.
Fulfillment.com can manage huge order amounts if you conduct a significant volume of company and wish to look at fulfilment businesses other than Amazon FBA. If you are a high-volume international ecommerce firm, Fulfillment.com might be even more beneficial as an ecommerce fulfillment center.
You may limit your ecommerce fulfillment center alternatives by analysing all of these factors and how they pertain to your specific organisation. You will then be able to choose the appropriate services provider to assist your firm in meeting its diverse sales goals.
Finally, it comes down to selecting the best fulfilment operation that can meet your specific requirements. You must also ensure that they interact easily with your ecommerce platform. You must also examine the sort of fulfilment you want and the quality of customer care you desire.
They have software that links to your website, and after an order is placed, they assemble it into a box, scan it, and ship it off. And all of this data is relayed back to your website. Assume you're selling shampoo. You most likely have different sizes of bottles and smells. You can send them all to your fulfillment warehouse. They will select the size, smell, and quantity of your customer's order and pack it into a shipping box after they get an order.
Navigating E-Commerce Fulfillment: Key Strategies and Concepts
Seamless connections, multi-channel fulfilment, numerous fulfillment warehouses, and simple returns administration are some of the greatest fulfilment business characteristics. You should also ensure that you can fit everything within your monthly budget.
When it comes to sending items quickly, location is critical. The most effective approach to shipping is to employ a 3PL with numerous fulfilment warehouses.
You may avoid sending to the most expensive shipping zones by minimising the distance a shipment travels. This also shortens travel times and lowers freight costs.
It's best to choose a 3PL that has fulfilment warehouses in significant hubs and cities near your target customer's location. Merchants in great locations have the opportunity to reach a higher number of customers.
Modern terminology for a packing warehouse includes fulfillment house and fulfillment centre.
But, what is a fulfillment centre? A fulfilment centre is a third-party service provider that processes and sends items ordered by your consumers. eCommerce fulfillment manages the logistics of delivering an online order to a customer's door, removing the need for you to box, address, and ship each item individually.
Now that we know what is a fulfillment center, another question that pops up is how to use a fulfillment center? You must first save your product inventory with the fulfilment provider before using a fulfilment centre.
When you get an order through your website, you alert the centre, which locates the ordered item, prepares it for delivery, and works with a shipping provider to have it delivered to your consumer. From the customer's perspective, your ecommerce site is the only point of interaction.
These order fulfilment services are provided by a range of firms. Some services, such as Fulfilment by Amazon, are exclusively available to sellers that administer their online storefronts through specific platforms. Others, such as FedEx Fulfilment, are integrated with other logistics services, whereas Floship or James and James Fulfilment are provided by firms that specialise in third-party ecommerce fulfilment operations.
Key Considerations for Selecting E-Commerce Fulfillment Services in India
You should be able to choose the best "E-commerce services India" now that you understand the benefits.
There are several fulfillment services India on the market, but selecting the wrong one might have a detrimental impact on your business and income.
A warehouse that provides kitting services might be an excellent addition to your E-commerce services India.
To increase the value of your product, fulfilment services for E-commerce might include customised labelling or just-in-time assembly.
Because most ecommerce fulfillment India service providers ship in bulk, they may be eligible for lower shipping rates from freight firms.
Check to see whether you are eligible for such savings. While you may presently only sell to domestic clients, why limit your future opportunities?
The e-commerce business has enormous worldwide sales potential. Choose an ecommerce fulfillment India service provider who can help you take your online store to the next level
Conclusion
Now that you have looked at the best eCommerce fulfillment services in India and discussed some common problems with eCommerce fulfillment companies, you can well comprehend why it is crucial for you to make the right choice when selecting eCommerce fulfillment services for your business.
When Should you Consider Changing your Fulfilment Provider?
There are a lot of things that can hold you back when it comes to fulfillment providers. Here are some of the prominent signs that are an immediate red flag.
The cost of your logistics is rising but not your profits.
Your inventory is not in the right place at the right time to cater to the increasingly distributed demands of your customers.
You are repeatedly failing to make those deliveries on the committed timelines.
You see a rise in cancellations and return of orders.
The customer reviews and ratings are plummeting. Remember that these ratings are heavily influenced by how the product is delivered to them by your 3PL partner.
You are planning to scale your business to new cities but facing challenges in the same.
You seem to miss out on the latest technologies and order tracking/reporting software that can collect key metrics and optimize your supply chain.
All these observations are a direct result of how your 3PL provider manages your logistics. Once you notice that things are not working as expected, it is time to change your strategy and look for a new partner.
So, it is best to trust WareIQ for the best eCommerce fulfillment services in India.
WareIQ is one of India's leading eCommerce fulfillment companies in India that uses an advanced technology platform to enhance the eCommerce experience of multiple online sellers. We have a fully-fledged, well-designed, and intuitive app store that consists of a vast variety of downloadable apps that enhance the productivity of different eCommerce services, depending on the requirements of each retailer. A few of the features that the apps have are listed below:
Post-Purchase Notifications
Retailers can send engaging notifications through email, SMS, and Whatsapp to keep their customers informed about their order status until it is delivered to their doorstep.
Customisable Email Editor
With our custom email editor, sellers can tailor every email according to their preferences, circumstances, and content. Just like any other text editor, you can edit the text, font, colour, size, and much more.
Real-Time Updates
Customers automatically receive updates about their order in real-time, such as when an order is on a new phase of the fulfillment process or if and when any delivery delay or issue arises, so that customers are not left wondering about where their order is.
Incentivize Return Customers
Businesses can encourage customers to return through customised product suggestions, either based on their previous orders through AI-based predictions or manually, such as when there is a product promotion running and the company wants to increase its visibility.
Optimise After-Sales Interaction
We offer retailers the ability to access customizable email and workflow templates, that can be automated based on multiple trigger factors. We also offer multi-lingual support for email communication.
Branded Tracking Pages
We offer highly customisable branded tracking pages that can be inserted with product suggestions, a description of the company and its goals, links to social media pages, and much more. This encourages customers to spend more time on the page and can even lead to additional sales.
Order Analytics
We record a vast array of order analytics that can be analysed to identify which processes and interactions are successful, so they can be maintained and which aren't, so they can be improved and streamlined.
Best Ecommerce Fulfillment Services India FAQs (Frequently Asked Questions)