Top 10 Shipway Alternatives for eCommerce Retailers in 2023
eCommerce is currently experiencing explosive growth in India, a country with a population of 1.4 billion people and a potential customer base in the millions. With most forecasts showcasing that this growth is only set to increase in the coming years, as more people adopt the usage of eCommerce for their shopping needs and as services and technology continue to mature, many enterprising entrepreneurs have sought to gain a foothold in untapped markets where profit potentials are high. However, many startups and even more experienced small and mid-sized companies generally lack the financial and technological prowess that is required to provide cutting-edge facilities to their customers.
This is why partnering with a 3PL shipping company like Shipway comes into play. Shipway provides a variety of shipping and distribution-related services that can assist sellers who need a competent courier service to fulfill orders. However, for companies that require additional services, such as storage facilities and inventory management, there are many Shipway alternatives in the market that could be a better choice. In this blog, we will take a look at 5 reasons companies consider searching for Shipway competitors and list down the top 10 alternatives to Shipway.
About Shipway
Shipway is an emerging shipping aggregation eCommerce company that was established in 2015 and has its present headquarters in Gurgaon. It specialises in offering reliable and affordable distribution facilities to eCommerce businesses. The company helps deliver the finest possible shopping experience to your customers, which allows you to focus on your core business operations, such as product development and marketing.
At the moment, Shipway collaborates with over 30 shipping carriers. Currently, its all-encompassing shipping automation solution for eCommerce logistics and fulfillment serves upwards of 12,000 online sellers. Additionally, it can automate multiple supply chain processes, offers ultra-fast delivery, provides order tracking facilities, and has extremely reasonable pricing plans.
WareIQ – Amazon-prime Like Logistics for Modern Brands in India
WareIQ, an eCommerce fulfillment company, empowers online brands with a superior-tech platform to compete with Amazon like service levels by bringing their average delivery timelines from 5-10 days to 1-2 days.
"With WareIQ, UTH is able to consolidate common inventory for all platforms and get much closer to the customer through access to WareIQ's strong nationwide network of fulfilment centres, and last mile & hyper-local courier partners.

We are excited about being able to offer

same day delivery

in several pin codes due to

WareIQ

.

"
Why Do eCommerce and D2C Companies Want to Move Away From Shipway and Look For Alternate eCommerce Logistics Solutions?
Large-Scale Storage Facilities
Shipway, being primarily a shipping aggregation company that is focused on logistics and distribution, does not offer any storage facilities and lacks a nationwide network of fulfillment centers and warehouses. For companies that need to rely on their 3PL partners for the entire spectrum of eCommerce fulfillment services, including product storage, the lack of any available storage facilities is an instant deal breaker. Therefore, companies with these requirements would be necessitated to opt for one of the many Shipway alternatives that provide these services.
Subsidiary Value-Added Services
While Shipway does offer a few subsidiary features, such as COD fraud prevention, order tracking and returns management, they are mostly directly related to shipping and logistics. As you will see from the list of Shipway competitors further down, there are many companies that offer a diverse range of services, from app stores and intelligent inventory planning to dedicated customer onboarding and custom packaging facilities. These services can enhance the overall experience that customers have with your business as opposed to just functionally shipping them their orders.
More Extensive Facilities
Shipway is transparent about the fact that its main services are shipping aggregation and distribution facilities. However, if you require any other fulfillment services, such as product storage, inventory management, marketplace integrations, WMS software, and more, you would be better suited to opt for one of the alternatives to Shipway that we have mentioned. By partnering with a company that offers all these facilities, you can improve the productivity and efficiency of your business, while leaving the heavy hitting to your 3PL partner.
Additional Customer Support Assistance
Like most companies. Shipway does offer basic eCommerce customer service, but if you need anything additional, it would be prudent to search elsewhere. Many Shipway alternatives offer 24/7 customer support through a variety of mediums, such as email or Whatsapp, in addition to conventional phone support. If you think that you'd want to take advantage of having a dedicated customer support team at your beck and call whenever you'd need it, you can opt for some of the other options that are available in the market.
More Transparent and Flexible Pricing Plans
While Shipway offers modest pricing and good value for money, other alternatives to Shipway offer cost-reducing features, such as no minimum order requirements, no monthly fees, no upfront payments, granular subscriptions, and much more. Making use of these features can have a drastic reduction on the total cost you need to pay for fulfilling each product and can help increase your profit margins, which is useful if you are already running on thinner edges than you'd like.
10 Best Shipway Alternatives & Competitors for eCommerce Fulfillment and Shipping in 2023
WareIQ
Since its inception in Bangalore in 2019, WareIQ has been among India's top-performing eCommerce fulfillment companies. In order to support a wide range of eCommerce services, including inventory management, order fulfillment, reverse logistics company, ultra-fast order delivery, customer assistance, and much more, the company uses technology as a central foundation. The company was established with the aim of offering exceptionally speedy fulfillment to every Indian pin code by building a substantial infrastructure of distribution facilities and transportation hubs.
The business provides a wide range of unique features, such as an app store where users can download various apps to enhance their experience, internally-built WMS that can integrate with various online selling channels, an RTO shield to protect sellers from being riddled with undue expenses due to returns and much more. Some notable features of WareIQ that make it one of the best alternatives to Shipway are listed below:
It has flexible pricing plans and no minimum order restrictions
It can integrate with multiple selling platforms, like Amazon and Flipkart, and website builders, like Shopify and Magento
It provides ultra-fast delivery through a partnership with more than 20 shipping carriers
It has highly-bespoke packaging where most components can be customised
It provides branded tracking facilities for every order
Amazon FBA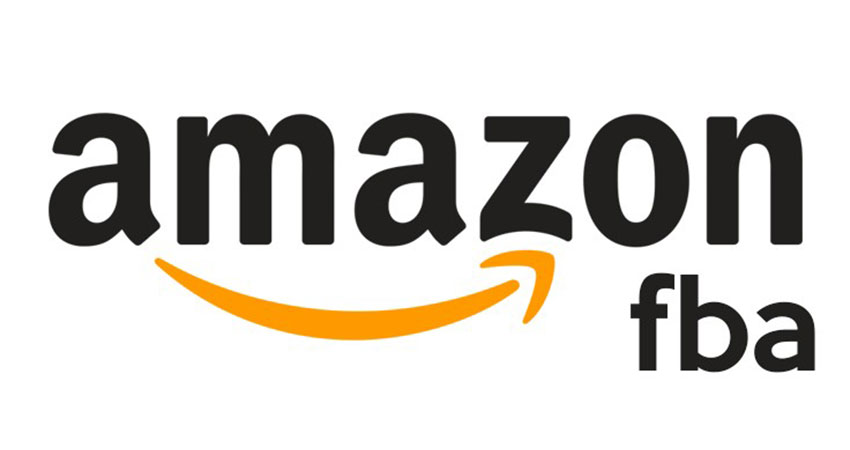 In terms of eCommerce fulfillment and retail, Amazon is a well-known brand. The order fulfillment revolution was ushered in by Fulfillment by Amazon (FBA), the company's first-party fulfillment service when it made its debut in 2006. Amazon makes use of its position to provide a comprehensive list of solutions, including operating several fulfillment facilities across the globe, processing returns, offering free shipping to customers, and much more.
Additionally, it aids businesses in cost management by offering free order processing, warehousing, and other services. However, it is only compatible with Amazon and other limited eCommerce selling sites, so sellers must keep that in mind. Some notable features of Amazon FBA that make it one of the best alternatives to Shipway are listed below:
It provides cost-saving perks, such as free shipping and free order processing
It makes use of inventory consolidation to combine products from various suppliers that are similar in nature
It can manage orders from a select range of external selling channels
It responds to all client inquiries and manages returns and refunds
It has no minimum order requirements
BlueDart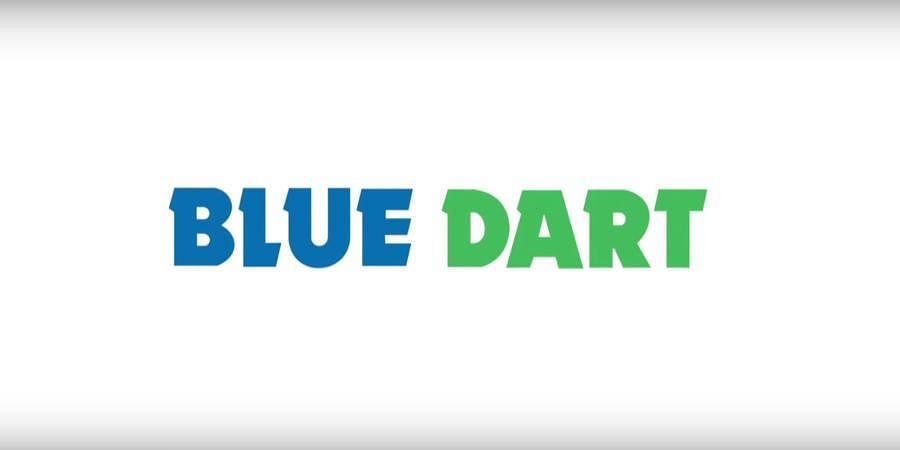 BlueDart is a logistics and shipping company that was established in 1983. It is one of the country's longest-continuously operating shipping companies. Its current administrative base is in Mumbai, Maharashtra. The company is one of the biggest and most experienced Indian eCommerce delivery partners, serving over 35,000 pin codes within India and doing business in over 220 other countries.
In addition to a number of basic eCommerce services, they also offer some unique features, like letting customers select scheduled delivery dates they prefer by allocating predetermined time slots. It also provides an API that makes it possible to provide specialised services like automated proof-of-delivery notifications, weather-shielded packaging, and more. Some notable features of BlueDart that make it one of the best alternatives to Shipway are listed below:
It enables scheduled delivery at predetermined times and dates
It uses most popular payment methods that are available
It provides unique features, including impermeable packaging
It comprises both domestic and international services
It has extensive knowledge of the industry due to its 40-plus years of expertise
Rivigo
Rivigo was founded in 2014 and is currently headquartered in Gurgaon, Haryana. Since then, it has developed a reputation for being a highly-regarded and reputable logistics company within the country. It is largely a technological company with a strong presence in the eCommerce fulfilment industry. Its goal is to provide logistical support to a sizable number of eCommerce vendors.
It is also employing an industry-first relay construct to tackle the tangible problem of an absence of delivery personnel in the eCommerce sector. Its recent acquisition by Mahindra Logistics is bound to inject more resources into its existing catalogue of services. Some notable features of Rivigo that make it one of the best alternatives to Shipway are listed below:
It employs more than 100,000 people and more than 15,000 delivery, executives
It provides services for 29,000 pin codes spread across more than 4,000 Indian cities
Its customer base includes leading names, like Flipkart, ITC, Maruti Suzuki, and more
It gives customers the choice of selecting between prepaid, UPI, and COD payment options during delivery
It features a unique API with a stellar reputation for lightning-quick delivery, including hyperlocal services
ShipDelight
A group of people with a combined 55 years of expertise in the distribution and eCommerce shipping industries formed ShipDelight in 2015 in Mumbai, Maharashtra. Because of this, unlikely events rarely deter the company. The business provides innovative services including shipment automation, ultra-fast delivery, order fulfillment, bespoke order tracking, and much more to around 26,000 pin codes in the country.
The fact that ShipDelight imposes some of the cheapest rates in the eCommerce shipping sector – just ₹25 per 0.5 kilos of goods – is another reason for its success. Some notable features of ShipDelight that make it one of the best alternatives to Shipway are listed below:
It offers many different logistics and fulfillment services
It offers services including branded tracking, order management, automated delivery, and much more
It charges under ₹25 per 0.5 kg of merchandise, which is among the lowest shipment charges in the market
It offers same-day and 1-day delivery options
It provides services to most regions of the country
Suggested Read: Alternatives to shipdelight
iThink Logistics
iThink Logistics is a 2017-founded homegrown fulfillment and logistics business with its headquarters in Mumbai, Maharashtra. At the moment, its order capacity sits at roughly 25,000 packages on a daily basis. It is active in more than 180 nations around the world.
Additionally, its technological platform presently supports more than 26,000 pin codes within India and can be integrated with most mainstream online selling channels. Some notable features of iThink Logistics that make it one of the best alternatives to Shipway are listed below:
It offers the necessary tools for managing returns
It offers Non Delivery Report (NDR) support for all its customers
It provides specialised services based on effectiveness for particular target audiences
It offers recommendations backed by AI for the top delivery providers for every order
It collaborates with more than 12 shipping firms
Suggested Read: IThink Logistics vs Shiprocket vs WareIQ: Which is the Better Option?
Vamaship
Vamaship is a shipping aggregation and logistics company that was founded in 2016. Its current headquarters are in Mumbai, Maharashtra. Currently operating in more than 200 nations, the company offers businesses the ability to automate many of their shipping procedures in order to expedite and improve the speed of order fulfillment while also assisting them in sending their goods by land, air, and sea at most competitive pricing.
Customers can also use it to oversee the performance of their distribution partners and other associated resources on a centralised platform. Some notable features of Vamaship that make it one of the best alternatives to Shipway are listed below:
It has a document organizer that gathers shipping documentation and organises it in a searchable way
It offers connections to a variety of online selling platforms, such as Amazon, Magento, Shopify and more
It enables retailers to use it to check the prices of many shipping aggregators rapidly and choose the most economical option
It provides a wide selection of shipping partners
It offers a centralised system for monitoring order and inventory data
Gati
Gati offers eCommerce fulfillment services and their headquarters are currently situated in Mumbai. It started its voyage in 1989, making it one of India's oldest logistics companies. Today, it is a well-known participant in the fulfilment sector. Complete logistical solutions are offered for eCommerce fulfillment. They offer a range of service bundles from which to pick.
It provides tools for managing on-ground operations, warehouse procedures, supply chains, air cargo, and online transactions. Every significant state in India has a Gati office. Some notable features of Gati that make it one of the best alternatives to Shipway are listed below:
It provides a variety of services at various price points
It services numerous industry sectors, including B2B, C2C, and B2C
It services 99% of states and upwards of 17,000 pin codes across the nation
It lays claim to pioneering the country's first express delivery facility
It offers services like time-scheduled delivery, bespoke packing, ultra-fast fulfillment, shipment of bulky items, and EPOD (electronic proof-of-delivery)
Shadowfax
Founded in Bangalore in 2015, Shadowfax is a domestic logistics and eCommerce fulfilment business. The company provides many different delivery alternatives, including marketplace and fulfilment center pickups, initial and final-stage delivery, hyperlocal fulfillment and ultra-rapid delivery.
In addition to its quick delivery services, the company is also known for offering helpful solutions like on-demand pickup both nationally and abroad and in-transit storage. Some notable features of Shadowfax that make it one of the best alternatives to Shipway are listed below:
It has ensured that roughly 7000 pin codes in the country are serviced
It offers the overwhelming bulk of commonly used payment methods
It has numerous shipping choices available to its customers
It offers services like demand-based pickup and in-transit inventory storage
It has simplified the initial and final-leg delivery processes
Shipyaari
Shipyaari is an Indian eCommerce shipping aggregation and logistics company that was founded in 2013. Its present headquarters are in Mumbai, Maharashtra. One of its distinguishing features is its ability to handle large volumes of orders from huge organizations.
The company provides a wide range of eCommerce connections and last-mile delivery options in addition to providing extensive cash-back assurances. Some notable features of Shipyaari that make it one of the best alternatives to Shipway are listed below:
It offers partnerships with ten courier companies that span 25,000-plus pin codes
It provides additional services, such as RTO limitation, NDR administration and trackable metrics.
It offers software for managing inventory, fulfilling orders and providing delivery services.
It offers order tracking to customers through the use of API connections
It provides connections to well-liked eCommerce platforms, including WooCommerce, Magento and Shopify
Related Article: 10 Best Prozo Alternatives Offering eCommerce Fulfillment and Shipping Solutions
Conclusion: Why Should You Switch From Shipway to WareIQ If You are Looking for Shipway Alternatives in 2023?
Shipway provides comprehensive shipping and logistics solutions for affordable prices. However, it does lack many key fulfillment services that are the reason you would want to partner with a fulfillment company in the first place. If you are an eCommerce seller and require assistance with many different eCommerce requirements than just shipping aggregation, it would be beneficial to partner with one of the many Shipway alternatives that we have taken the liberty of listing.
There are many companies that choose to focus on different aspects of eCommerce so it is important to chalk out your own objectives and business needs, so you can make a well-informed decision that will help your business in the long run. If you have plans for further domestic and, eventually, international expansion, you need a company that can adapt and take on the extra load without any hassle. If you need a blend of every important feature that eCommerce fulfillment encompasses, we would recommend partnering with WareIQ.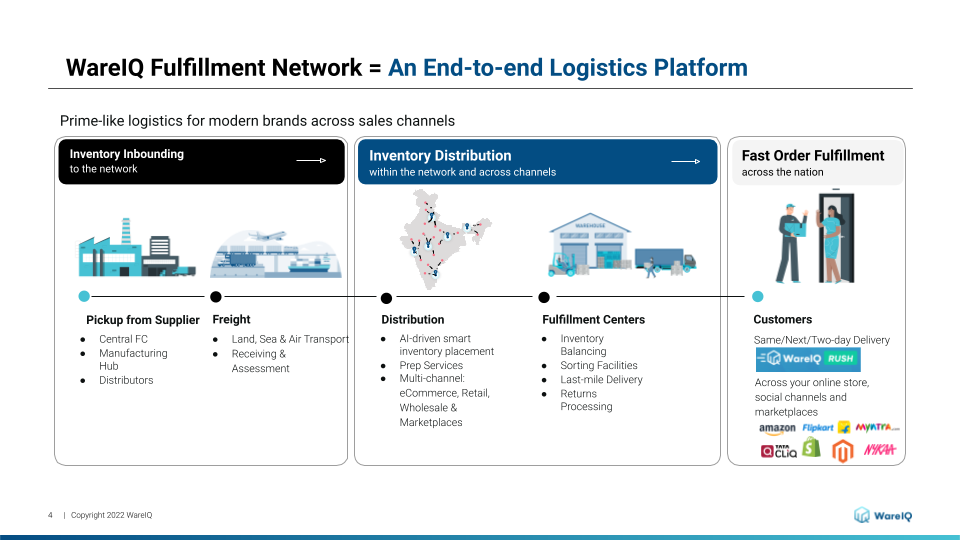 WareIQ has emerged as one of India's leading eCommerce fulfillment providers that offers an in-depth array of services that can help propel sales and garner positive feedback from your customers. Some of the main offerings we provide are listed below:
We as delivery partners offer blazing-fast same-day and next-day delivery thanks to our partnerships with more than 20 of the best shipping aggregators in the country. Additionally, we always select the quickest and most affordable option for every order.
Each fulfilment center has access to our custom WMS, which can integrate with 20-plus eCommerce selling channels and website builders, including Amazon, Flipkart, eBay, Shopify, WooCommerce, Magento and more, and compile inventory and order information from all of them into a single dashboard.
We provide an India-wide network of fulfilment facilities and dark stores along with smart inventory placement recommendations, which suggest the most practical site to store your items depending on demand and accessibility to transportation infrastructure.
We offer a full RTO Shield that handles the reverse logistics process and protects all products to limit the harm caused by RTOs.
We provide an in-house app store where various productivity apps can be downloaded in order to enhance the functionality of many business processes, such as branded tracking and customer feedback.
Shipway Alternatives: FAQs