Top 10 ShipDelight Alternatives for eCommerce Retailers Looking for Fulfillment & Shipping Solutions in 2023
The current state of the eCommerce industry yields many advantages to new and existing eCommerce sellers due to the refinement of various supply chain processes, including order fulfillment. As facilities such as same-day delivery, free shipping, and branded order tracking become mainstream, eCommerce retailers are expected to adapt and offer the latest features to their customers. If not, they will hold a significant disadvantage in relation to their competitors. However, it is not often easy for small and medium-sized businesses to adopt the technology and resources that make these services possible on their own since they operate on tight financial budgets.
This is where partnering with a 3PL fulfillment company like ShipDelight comes in. However, due to the sheer scale of eCommerce in India, the fulfillment industry has also grown at a similar rate. If you are an existing or aspiring eCommerce seller, there are many ShipDelight alternatives to choose from, which we will go over in detail in this blog. Additionally, we will also cover the services that you should look for in your alternatives to ShipDelight and how WareIQ can be of service.
About ShipDelight
ShipDelight was initially founded in Mumbai, Maharashtra in 2015 by a group of individuals with a combined 55 years worth of experience in the distribution and eCommerce shipping sectors. Therefore, there are few unforeseen circumstances that can phase such seasoned campaigners. The company services more than 26,000 pin codes in India and offers advanced services such as shipping automation, order fulfillment, branded tracking, same-day and next-day delivery, and much more.
Additionally, one of the claims to fame that has made ShipDelight so successful is that it charges some of the lowest shipping rates in the eCommerce industry at just ₹25 for every 0.5 kilos of inventory. This has made fast and quality shipping easily accessible to a much wider variety of eCommerce sellers due to the cost-effective nature of ShipDelight's primary offerings.
WareIQ – Amazon-prime Like Logistics for Modern Brands in India
WareIQ, an eCommerce fulfillment company, empowers online brands with a superior-tech platform to compete with Amazon like service levels by bringing their average delivery timelines from 5-10 days to 1-2 days.
"With WareIQ, UTH is able to consolidate common inventory for all platforms and get much closer to the customer through access to WareIQ's strong nationwide network of fulfilment centres, and last mile & hyper-local courier partners.

We are excited about being able to offer

same day delivery

in several pin codes due to

WareIQ

.

"
5 Services to Look for While Choosing Alternatives to ShipDelight
Choice of Shipping Aggregators
One of ShipDelight's core offerings is its automated shipping service through multiple delivery partners. The company also imposes the cheapest rates in the industry, where for every 0.5 kgs of inventory, you need to pay just ₹25. However, some ShipDelight competitors offer additional perks, such as not having any minimum order requirements, so you can only opt for and pay for the amount of space you need.
Returns Management
The procedure of examining, collecting, and storing an order after a consumer returns it is known as returns management. For eCommerce businesses, returns are an unavoidable reality, so it is preferable to be ready and safeguard your company from any harm they may do. Many ShipDelight competitors provide returns management services, and some go above and beyond by including insurance for each product to add an extra level of security.
Package Tracking Services
Ecommerce order tracking is crucial because it enables your clients to be informed whenever their orders progress to a new step in the delivery process and allows you to let them know at any moment what the status of their orders is. While ShipDelight does provide branded tracking facilities, several of its rivals also offer it as a service. Branded tracking pages are a useful value-added feature that can be tailored to promote complementary products, and provide clients with more details about your company and any other information that you would want them to have access to.
WMS Software Solutions
Once again, ShipDelight provides a combined WMS and OMS configuration, although there are several ShipDelight alternatives that feature easier user interfaces and a more thorough design. WMS software is essential for maintaining efficient warehousing and logistics eCommerce operations and for organising SKUs in accordance with different criteria and is also responsible for being able to integrate with multiple online selling platforms.
Nationwide Fulfillment Center Network
Although ShipDelight has a network of fulfillment centers spread across most of the country's major regions, there are ShipDelight competitors with more dispersed fulfillment center locations that also offer technology like intelligent automated selecting and packaging, inventory placement, and many other features. Find out where the majority of your demand often comes from and choose a fulfillment partner with a strong infrastructure there who can handle your company's growth without becoming overburdened.
10 Best ShipDelight Alternatives & Competitors Offering eCommerce Fulfillment in 2023
WareIQ
WareIQ has emerged as one of India's leading eCommerce companies. Initially founded in 2019 and currently headquartered in Bangalore, the company offers a comprehensive list of eCommerce fulfillment solutions, ranging from order fulfillment to last-mile delivery and everything in between. WareIQ prides itself on its easy-to-use technology platform, which includes a WMS, OMS, app store, last-mile delivery software , and much more. This enables users to get access to the latest features in relation to inventory storage, supply chain management, and distribution. A few note-worthy facilities that make WareIQ one of the best alternatives to ShipDelight include:
It provides an inventory planner for strategic inventory allocation to prevent stockouts and reduce overstocking
It enables users to choose the most cost-effective last-mile delivery partner via a shipping recommendation engine
It provides extremely customisable packaging facilities
It provides branded tracking services that can be customised to meet the needs of every seller
It offers market-leading price plans
Are you eager to know more about WareIQ's offerings if you sign up now? Find the features of the best-in-class, category-defining fulfillment services for eCommerce & D2C brands below:
Pan India Fulfillment & Darkstore Network: Plug-and-play fulfillment infrastructure with no minimums, which is compliant with Amazon Seller Flex, Flipkart Assured, Myntra and other marketplaces
Inventory & Network Planning Excellence: Best-in-class AI models for sales forecasting, product segmentation, and inventory management to reduce inventory by 40% and increase revenue by 10%.
Vertically Integrated Fulfillment Tech Stack: Our Fulfillment Tech Solution supports integrations with 20+ top marketplaces & D2C platforms, and prominent national, regional and hyperlocal couriers, enhancing reach by covering deliveries for 27,000+ pin codes
Supply Chain Productivity Applications: Integrate a host of supply chain productivity apps with a single-click to your existing CRMs, ERPs & accounting software to manage your logistics workflows from one command center. Use Apps like RTO Shield to get 100% RTO protection, Branded Tracking to turn your order tracking page into a profitable marketing channel, and many more.
Trusted by 300+ top Indian brands, we are helping them accelerate online sales and expedite their growth through a synergistic combination of advanced technology, robust fulfillment infrastructure & seller enablement services!WareIQ is backed by leading global investors including Y Combinator, Funders Club, Flexport, Pioneer Fund, Soma Capital, and Emles Venture Partner.
You May Like: Quickshift Alternatives for eCommerce Retailers
ShipKaro

For eCommerce companies that require effective order administration, Shipkaro has offered shipping aggregation services since its founding in 2017. The Gurgaon-based company also gives organisations the ability to automate and customise shipping procedures in accordance with their intended results. Additionally, it offers services like bulk order uploading, label printing, individualised delivery schedules, and much more. A few note-worthy facilities that make ShipKaro one of the best alternatives to ShipDelight include:
It has affiliations with over 14 domestic and international shipping providers
It integrates with a variety of eCommerce selling sites, including Flipkart and eBay
It enables customers to take advantage of shipping discounts and offers a tool for contrasting those prices with those of competing businesses
It syncs order data from various order management programs for seamless order processing
It offers precise order tracking
Deliverr
Deliverr, a 2017 startup based in San Francisco, provides small eCommerce businesses with superior fulfillment solutions, including a 2-day delivery option. Badges that resemble Amazon Prime, transparent pricing and providing a hassle-free experience are the core components of Deliverr's offerings. eCommerce companies can use Deliverr's live data tracking features to anticipate their fulfillment performance going forward and even provide D2C clients with next-day delivery. A few note-worthy facilities that make Deliverr one of the best alternatives to ShipDelight include:
It provides online customer service
It offers straightforward integrations with multiple selling platforms
Its pricing is clear and straightforward
It offers a live performance tracker
It has a customary 2-day delivery schedule
ShipBob
ShipBob is a 2014 Chicago-based startup that offers global logistics, technology and eCommerce fulfillment services, and provides next-day delivery for orders filled by direct-to-consumer (D2C) firms. Over 7000 clients worldwide are served by ShipBob, which boasts a 99.95% accuracy rate. It provides a complete range of eCommerce fulfillment facilities. It offers 2-day shipping at affordable and transparent prices in addition to a solid software platform that provides access to the company's central platform through a developer-friendly API. A few note-worthy facilities that make ShipBob one of the best alternatives to ShipDelight include:
It offers reasonable pricing options
It provides straightforward integrations with multiple online selling platforms
It has an extensive network of warehouses that is dispersed over numerous regions
It offers a fantastic user experience that is simple to use
It provides uniform 2-day shipping
Shipmonk
The current headquarters of Shipmonk, which was established in 2014, are located in Fort Lauderdale, Florida, in the United States. The company provides a variety of services, including inventory and warehouse management, pick and pack options, customer service, packaging facilities and much more. With its primary goal being to make technology-based eCommerce solutions as accessible as possible, it runs more than 100 virtual stores and assigns a personal manager to each client to help with the onboarding procedure. A few note-worthy facilities that make Shipmonk one of the best alternatives to ShipDelight include:
It does not require setup and inventory receiving fees
It offers consumers a digital billing interface
It offers multiple customization and branding options
It assists with inventory management automation
It charges reduced costs for large orders as well as offers additional tax benefits
Red Stag Fulfillment
Red Stag Fulfillment was founded in 2013 and is currently headquartered in Knoxville, Tennessee. It is capable of processing orders for a wide range of goods, but its primary focus is on packaging and delivering bulky items. Because of their exceptional scalability, they can meet the demands of both small and large businesses.
The additional services offered by the company provide a variety of tools that eCommerce business owners can employ to help them deliver goods promptly and effectively. Heavy goods and complex shipping requirements are areas where Red Stag excels. A few note-worthy facilities that make Red Stag Fulfillment one of the best alternatives to ShipDelight include:
It provides video surveillance facilities in all its warehouses
It offers exceptional customer service
It offers a vast fulfillment center network
It provides same-day delivery services
It gives its customers peace of mind with an order completion guarantee
eCourierz
eCourierz is a logistics and fulfillment company that was founded in 2015 and is currently headquartered in Chennai, Tamil Nadu. It provides both international and domestic courier and shipping services. Its rates are some of the lowest in the industry and the company follows rigid safeguard measures to protect goods while they are in transit. The company currently operates in more than 220 countries. A few note-worthy facilities that make eCourierz one of the best alternatives to ShipDelight include:
It provides a single dashboard to access important shipping-related information
It provides order-tracking facilities with live email updates
It offers partnerships with more than 18 shipping aggregators
It offers competitive pricing plans
It utilises white labelling for better brand projections
iThink Logistics
iThink Logistics is an Indian logistics and fulfillment company that was founded in 2017 and is based in Mumbai, Maharashtra. Its current shipping volume includes 25,000 parcels per day. It operates in more than 180 countries. Additionally, its technology platform can integrate with more than most major eCommerce marketplaces and it currently services more than 26,000 pin codes. A few note-worthy facilities that make iThink Logistics one of the best alternatives to ShipDelight include:
It has an AI-powered recommendation program to suggest the best shipping companies for each order
It offers NDR support
It has partnerships with 12 shipping companies
It provides returns management facilities
It offers customised solutions based on performance for specific demographics
Rocketbox
Rocketbox is primarily a logistics and shipping aggregation company that was founded in 2015 in Mumbai, Maharashtra. The company specialises in the bulk shipping of products and offers tremendous discounts that you can take advantage of. The company has an impressive technology platform that enables the automation of multiple shipping and distribution functions. It also offers a serviceable area of more than 28,000 pin codes in the country. A few note-worthy facilities that make Rocketbox one of the best alternatives to ShipDelight include:
It offers tools to analyse the performance of each carrier and suggest the best option
It consolidates shipping data in one dashboard
It has partnerships with reputed companies such as FedEx and Delhivery
It offers fair pricing
It implements automation in multiple processes
Rakuten
One of the best options for eCommerce fulfillment services for businesses is Rakuten Super Logistics, which offers packaging and shipping services. They also assist eCommerce retailers with their marketing efforts. Rakuten provides customised pricing quotations and services that are tailored to the demands of the businesses it supports. However, despite being a preferred fulfillment supplier for many global brands, Rakuten lacks worldwide fulfillment centers, specialised packaging, and DHL integration. A few note-worthy facilities that make Rakuten one of the best alternatives to ShipDelight include:
It offers specifically-tailored services for their partners
It offers fully-integrated marketing services for an additional cost
It offers a specialised feature for small and medium-sized businesses known as XParcel
It has facilities for specialised fulfillment
It provides services such as kitting and subscription boxes
Why WareIQ Should be Your Top Pick if You are Looking for a ShipDelight Alternative in 2023?
The vast amount of fulfillment companies on offer means that you can select one that fits your requirements down to the most minute detail. ShipDelight provides many exceptional services that can help you fulfill orders. However, it does lack some value-added features that its competitors offer, which may come in useful in enhancing the experience your customers ultimately have with your business. While it is a very affordable shipping solution, there are competitors that offer perks such as no minimum order requirements, flexible pricing policies and much more. If you need an efficient ShipDelight alternative that fits the bill, look no further than WareIQ.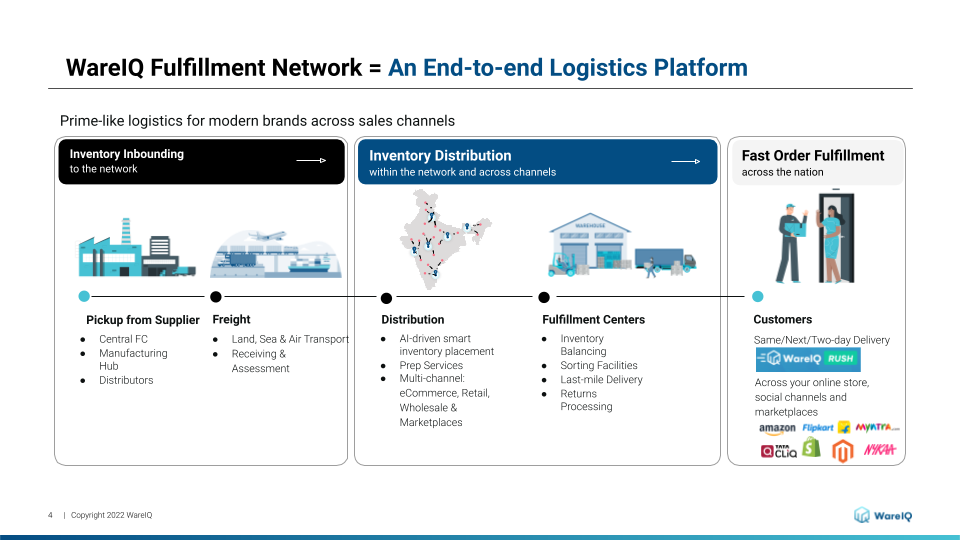 WareIQ is one of India's leading eCommerce retailers that provides a variety of eCommerce solutions. We offer conventional services such as:
Order Fulfillment
We provide ultra-fast same-day and next-day delivery through our partnership with more than 20 shipping aggregators and automatically assign the fastest and most cost-effective option for every order.
Inventory Storage
When you partner with us, you can store your inventory in a nationwide network of fulfillment centers that are located in every major region of the country. We also offer smart inventory placement recommendations that will help you determine the best storage location based on factors such as demand and proximity to transport facilities. Additionally, we also have a network of dark stores that aid in hyper-local delivery.
Inventory Management
We offer a custom WMS that can track your inventory and order data across multiple fulfillment centers and consolidate it in a single dashboard. You can also automate replenishment triggers so that you never run out of stock for any SKUs. It also helps organise your products based on factors such as demand, value, size, and much more.
Integration With Multiple Selling Platforms
You can integrate with more than 12 of the biggest eCommerce marketplaces, such as Amazon, Flipkart, eBay, and more, and keep track of your order data and assign specific inventory for each one. You can also access all your historical data across multiple platforms in a single location.
Additionally, we also offer value-added services such as:
App Store
We provide an app store with multiple downloadable apps through a simple interface that is reminiscent of the Google Play Store or Apple App Store. This allows you to enhance the productivity of various business functions, such as branded tracking and customer feedback.
RTO Shield
Our RTO Shield is designed to protect you from the negative implications of returns. We provide insurance for every product and take care of the entire reverse logistics procedure.
Branded Tracking
Our branded tracking pages will allow you to convey whatever information you want to your customers. You can choose to feature additional products, give them more information about the company and much more.
Customizable Packaging
We provide a wide range of customizability through a choice of design, packaging material and much more. You can highlight your brand and product while offering customers a unique and unmatched unboxing experience.
ShipDelight Alternatives: FAQs