How to Reduce Shipping Costs? 10 Most Effective Tips to Reduce Shipping Costs For Online Businesses in 2023
eCommerce sales have dramatically increased as technology advances and customer experiences become more personalised. However, most organisations face the dilemma of whether to reduce shipping costs to remain profitable or to provide high-quality shipping services to customers.
Shipping costs are a substantial expense for every company, but you may risk providing a poor customer experience while trying to save money.
Continue reading to learn how to efficiently reduce shipping expenses without sacrificing service quality, customer experience, or operational efficiency.
What are Shipping Costs?
In the broadest sense, shipping costs are the total rates of getting the order delivered to the customer. When looking at door-to-door delivery from the manufacturing unit to the customer's location, multiple prices are involved.
The total shipping cost can be divided into 2 types – shipping and handling. This entire process will have the following associated costs:
Warehouse storage costs
Packing materials costs
Picking and packing costs
Labour costs
Loading costs
Fuel costs
Transportation costs
Postage costs
Surcharges and customs costs
Delivery labour costs
WareIQ – Amazon-prime Like Logistics for Modern Brands in India
WareIQ, an eCommerce fulfillment company, empowers online brands with a superior-tech platform to compete with Amazon like service levels by bringing their average delivery timelines from 5-10 days to 1-2 days.
"WareIQ came to Gynoveda with a full stack fulfillment platform & gave Gynoveda access to a nation wide network of fulfillment centers & last mile & hyperlocal courier partners closer to our customers based out of North East & North India.

They made

same-day delivery possible

for us in metros.

"
Top 10 Factors to Consider While Calculating Shipping Costs
Now that we understand the various price components involved in shipping costs, we will take a look at other factors that impact how much a package will cost to be delivered. They are listed below:
Weight of Package
The package's actual weight is a significant factor in increasing shipping costs. A heavy package/delivery item will require more space and energy to deliver to the customer's location. The packaged weight translates to higher shipping costs while delivering heavy packages.
Dimensions of Package
Apart from weight, the dimensions of the package also influence shipping costs. The larger the order, the more space is required in the delivery fleet for a seamless experience.
Distance to Delivery Locations
The distance between the package pickup and delivery location is another major factor that determines the shipping cost. Delivery fleets divide delivery locations into zones depending on delivery speed, type of package (domestic or international), mode of delivery (sea, land, or air), the feasibility of delivery, etc. The further the delivery address, the higher the costs associated with it will be.
Fuel Fluctuations
Changes in fuel prices contribute drastically to the associated shipping charges. Higher fuel costs automatically increase the cost of shipping orders. When fuel prices are stable and manageable, it also lowers transportation charges and is able to decrease shipping costs.
Delivery Speed
The time it takes to deliver an order affects the shipping cost. Many delivery fleets have standard timelines to deliver packages across various distances. Opting for same-day delivery or overnight shipping increases the costs associated with delivery.
Type of Delivery Location
It is cheaper for delivery personnel to drop packages off at a commercial site or office building than to go to individual houses. It is cheaper to ship orders to apartment complexes than to individual houses, since apartments receive multiple orders on the same day, balancing out the costs. There may also be additional fees for deliveries to hospitals, military areas, and out-of-the-way locations like rural addresses that may take longer to fulfill the delivery.
Weather Conditions
A factor that many businesses don't consider is the weather's impact on delivery. Bad weather at the warehouse or fulfillment center location, while in transit, and even at the delivery location can cause delays. Weather conditions can also adversely impact ports, container ships, air cargo, and trucking services.
Shipping Insurance
Keeping in mind that shipments can be damaged, delivered to the wrong address or could have delivery-related delays so it is vital to protect and insure your orders. Especially when shipping an expensive order, it is indispensable to use shipping insurance. This helps to recover any costs involved in replacements. Most package carriers charge a percentage of the product value as shipping insurance.
Customs and Duties
International shipping charges can vary based on delivery location. Different countries have customs and other obligations that need to be cleared for smooth delivery.
Multiple Orders
If a customer has placed multiple orders, shipping and packaging costs can increase. Sometimes, some orders have n increased delivery timeline because they are perishable. In this case, additional shipping costs will be involved to make multiple deliveries to the exact location on different days. Numerous orders should be packed and shipped together to save time and money whenever possible and decrease your shipping costs.
Keeping all these factors in mind, companies can decide which type of cost structure to choose when it comes to shipping: Flat Rate Shipping Vs Standard Shipping.
You can learn in detail about how to calculate shipping costs here.
10 Best Ways to Reduce Shipping Costs to Boost Profits in 2023
The key to excellent order fulfillment involves good planning, sticking to timelines, and ensuring that overhead costs are not too high. Striking a balance can help increase the profits of a business and improve customer satisfaction. Here are ten ways to reduce shipping costs for eCommerce in 2023:
Make Packages Lighter
While product weights remain the same, ensure to use minimal packaging material to reduce the overall weight of the package. Use more lightweight, efficient materials like air pillows to protect items. You can also use lightboxes to pack. For durable products that won't cause spillage, try switching to plastic bags with branding rather than bulky boxes to reduce shipping costs, you can learn more about branded shipping here.
Use Smaller Boxes
Make sure that the box used for packing items is slightly larger than the actual product so that minimal packing fillers are needed to keep it secure and will ultimately decrease shipping costs. The bigger the box, the more space it will take in the delivery vehicle, leading to more expensive shipping costs.
Keep DIM Weights in Check
Smaller boxes can keep DIM weights in check while packing your order which will help reduce shipping costs. Carriers calculate the DIM weight by considering the package dimensions. There are chances that the DIM weight can be higher, even for lightweight items, solely because of the box's size. It is good to create custom packaging that will keep the products snug and free from movement by using the purchased item's original packaging as well. Shipping products in their own packaging can prevent the need for an additional box to ship to the customer, which will also decrease shipping costs.
Club Orders Wherever Possible
It is much cheaper to ship a single box that is bigger and heavier than multiple small boxes with single items. Bundling orders is possible when the same customer orders various products; this can help reduce shipping costs. You can also provide discounts on order volumes to increase customer delight.
Have a Network of Multiple Shipping Partners
Having various shipping aggregators to negotiate with will help get better rates and will decrease shipping costs. Shipping companies decrease shipping costs if the business has consistent order volumes. This provides an excellent opportunity to negotiate with multiple providers based on prices offered by competitors.
Use Packaging Provided by Carrier Partners
Since shipping costs are affected by package dimensions, it's better to use packaging materials offered by the carriers themselves. This will eliminate associated dimensional fees and reduce shipping costs, overall.
Opt for Third-Party Insurance
Shipping insurance is higher when taken directly from the carrier partner. Also, consider shipping insurance for fragile and high-value items. You may not need to insure every single package. Third-party insurance providers are cheaper than native carrier partners, helping businesses decrease shipping costs by almost 50%.
Use Prepaid Shipping
Prepaid shipping can help sellers decrease shipping costs by at least 20%. You can opt for prepaid shipping and buy shipping labels from carriers in advance. This is ideal for businesses with consistent orders of the same package size and weight.
Look for Hybrid Solutions
If you can manage same-day order processing, it is best to choose a hybrid model for order fulfillment. It can help to reduce shipping costs for eCommerce. eCommerce Shipping companies partner with carriers who can have it picked up from a business location and get it to customers quicker with last-mile delivery. However, keep in mind that orders need to be processed as soon as possible after a customer places the order to meet delivery expectations. There may also be other factors to consider with this hybrid approach, such as specifications of weight, dimensions, order volume, etc.
Reduce Shipping Distance
Keeping inventory at locations closer to areas of high demand will help decrease shipping costs drastically. The closer the products are to delivery locations, the less money and time businesses need to spend in getting their orders to customers. Having a third-party fulfillment partner will optimize the delivery experience and decrease shipping costs.
Suggested Read: Ways to Provide Free Shipping to Costumers.
Conclusion: Does Outsourcing Fulfillment to a 3PL Partner Like WareIQ Help to Reduce Shipping Costs?
The best way to decrease shipping costs, reduce order processing times and improve customer satisfaction is to outsource fulfillment operations. Here is how a 3PL fulfillment services provider like WareIQ can help businesses maximize profits and reduce shipping costs:
Flexible Warehouse Space
WareIQ allows businesses to pay only for the warehouse space that is actively used without the businesses having to invest anything in warehouse management.
Packaging Optimization
Having experts manage fulfillment ensures that products are packed with suitable materials that provide damage-free delivery and avoid an increase in the DIM weight.
Provision of Discounts
Having a fulfillment partner helps improve shipping costs as they buy packaging materials in bulk and can help reduce overall fulfillment costs.
Inventory Management
With access to fulfillment centers, businesses can easily manage optimal stock levels and scale the business without high capital investments
With a centralised platform for core fulfillment, eCommerce shipping operations, and post-shipping apps, WareIQ manages the entire range of complex eCommerce operations in the eCommerce fulfillment process. Inbound functions like scanning and quality check, 100% accurate pick and pack, and inventory management across all channels provides a delightful experience and zero to minimal supply chain leakages. Customers of WareIQ enjoy significant cost savings and a broader reach with no minimum order quantity (MOQ) limit.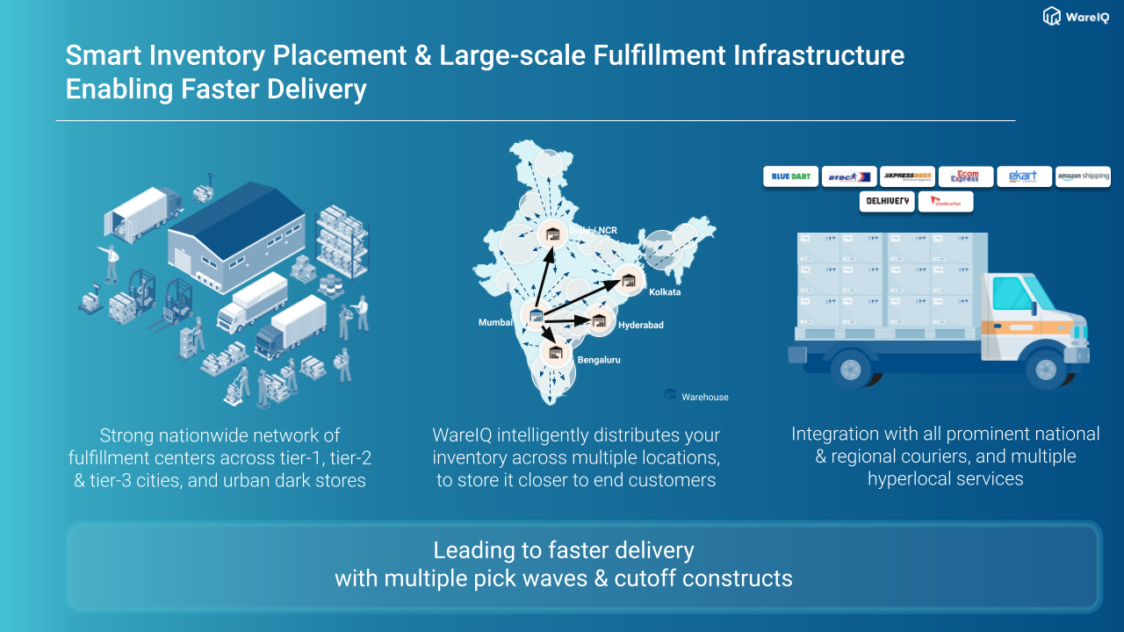 Are you eager to know more about WareIQ's offerings if you sign up now? Find the features of the best-in-class, category-defining fulfillment services for eCommerce & D2C brands below:
Pan India Fulfillment & Darkstore Network: Plug-and-play fulfillment infrastructure with no minimums, which is compliant with Amazon Seller Flex, Flipkart Assured, Myntra and other marketplaces
Inventory & Network Planning Excellence: Best-in-class AI models for sales forecasting, product segmentation, and inventory management to reduce inventory by 40% and increase revenue by 10%.
Vertically Integrated Fulfillment Tech Stack: Our Fulfillment Tech Solution supports integrations with 20+ top marketplaces & D2C platforms, and prominent national, regional and hyperlocal couriers, enhancing reach by covering deliveries for 27,000+ pin codes
Supply Chain Productivity Applications: Integrate a host of supply chain productivity apps with a single-click to your existing CRMs, ERPs & accounting software to manage your logistics workflows from one command center. Use Apps like RTO Shield to get 100% RTO protection, Branded Tracking to turn your order tracking page into a profitable marketing channel, and many more.
Trusted by 300+ top Indian brands, we are helping them accelerate online sales and expedite their growth through a synergistic combination of advanced technology, robust fulfillment infrastructure & seller enablement services!WareIQ is backed by leading global investors including Y Combinator, Funders Club, Flexport, Pioneer Fund, Soma Capital, and Emles Venture Partner.
Reduce Shipping Costs FAQs (Frequently Asked Questions)