What is Free Shipping In eCommerce? How To Offer Free Deliveries in 2023 For Your Online Store in 10 Ways?
eCommerce Shipping stores are a common sight in online shopping. Instead of wandering around in physical stores and fighting amongst crowds, fulfillment sellers can sell whatever their products at great convenience from the comfort of their offices or homes. For many merchants, free shipping (also known as free distribution, or free delivery) is an added draw that helps them build customer loyalty and lower shipping costs. However, it's not just enough to give away the goods; there needs to be a strategy behind putting this offer together. Free deliveries are a marketing strategy for eCommerce fulfillment companies.
In today's competitive online world, many small businesses plan to offer free shipping or at least find ways to lower shipping costs – but it can be hard to understand how to apply this successfully in a real-world scenario. Warehousing and Fulfillment can be tricky for eCommerce logistics, especially those that rely on warehousing and D2C fulfillment companies. However, there are many benefits of free delivery – from increasing customer retention rates to receiving appreciation from your customers. This article will outline how you can provide free shipping and lower shipping costs to your online customers in 2023.
What is Free Shipping in eCommerce?
Free shipping is a fantastic feature for online shoppers. It allows customers to get their items without paying any extra fees. It can be a great way to attract new customers and make them feel appreciated. Ensure you have accurate shipping information on your website and offer free shipping on qualifying purchases.
Use promotional codes and discounts to incentivise buyers to make purchases that qualify for free shipping. It will help you reach your MOV requirement faster and increase the number of customers who receive free shipping when they make a purchase, which will enable a higher rate of customer retention and acquisition.
WareIQ – Amazon-prime Like Logistics for Modern Brands in India
WareIQ, an eCommerce fulfillment company, empowers online brands with a superior-tech platform to compete with Amazon like service levels by bringing their average delivery timelines from 5-10 days to 1-2 days.
"WareIQ came to Gynoveda with a full stack fulfillment platform & gave Gynoveda access to a nation wide network of fulfillment centers & last mile & hyperlocal courier partners closer to our customers based out of North East & North India.

They made

same-day delivery possible

for us in metros.

"
Why Should Online Stores Offer Free Shipping?
Online stores can evaluate both flat rate shipping or standard shipping offered by the 3PL players & then decide which kind of shipping will help them offer free shipping to their online shoppers. Read the blog on flat rate vs standard shipping to understand the differences. Free Deliveries are a great way to attract customers and keep them returning to your online store. Offering free delivery on all orders can help you gain loyal customers and make more sales.
There are many reasons online stores should offer free delivery, but four of the most important ones are listed below:
Helps Increase Your Customer Base
When you offer free deliveries, you tell customers that you value their business and are willing to go the extra mile to ensure that they're satisfied with their purchase. It makes customers more likely to return and recommend your store to their friends.
Boosts Your Sales Figures
If an online retailer has many shipping options, they can better cater to the sizes and needs of their consumers. The availability of these different shipping methods equates to a higher sales rate. In 2017, eCommerce warehousing giant Amazon reported that offering free shipping increased sales by 27%. That's a massive boost for any online store and it demonstrates just how important free shipping is for attracting customers.
Can Increase Profit Margins
The shipping charge should be available both on the product page and at checkout to maintain an ongoing cost from product page to checkout. If an extra shipping charge deters a customer, they may abandon their shopping cart. Offering free delivery or at least providing lower shipping costs makes it even cheaper for customers since they don't have to pay any additional fees associated with shipping. Plus, if you have a lot of regular customers who order large items, free shipping can save them money.
Shows Your Customers That You Care
Many online stores offer free distribution on orders on a specific retail value to show their customers that they're valued and appreciated. Offering free delivery is one way to show your customers that you understand the importance of their business.
10 Different Ways to Provide Free Shipping to eCommerce Customers in 2023
There are a few different ways to offer free deliveries by eCommerce fulfillment to customers. Here are some examples:
Use Voucher Codes
If you have voucher codes that you offer your customers, you can include them with orders or offer them as a separate product. This way, customers can get access to lower shipping costs or free shipping without spending extra money on more purchases.
Offer Free Returns
If you offer free returns, you can make it so that customers who return items receive free shipping. This way, customers won't have to worry about paying for shipping twice – once for the original purchase and again for the return. However, use this policy sparingly if your business incurs the logistics cost.
Provide Free In-Store Pickup
If you have a brick-and-mortar store, you can also offer free in-store pickup for online orders that are above a certain amount. This way, eCommerce customers can take their purchases home without having to pay for shipping.
Offer Exclusive Deals on Free Shipping
Sometimes, it's beneficial only to offer free delivery on specific items or particular year periods. This way, you can promote your products and keep your customer base loyal by offering exclusive deals with the benefit of free shipping.
Use Social Media to Promote Free Shipping
You can use social media platforms like Facebook and Twitter to promote special deal. This way, you can attract new customers and keep your existing ones happy by offering free shipping on their favourite items.
Offer Minimum Requirements
You can always specify minimum requirements that customers need to meet in order to take advantage of free shipping. This could result in more sales as customers try to reach these minimum requirements which will result in more revenue for the company.
Offer Free Shipping to Certain Locations
You can offer free shipping to certain locations that meet your expectations for the amount of demand and confirmed orders that they yield. It will help to increase demand even further in these areas, while mitigating increases in shipping prices as orders can be shipped in bulk and you can take advantage of large scale discounts offered by shipping companies.
Provide Free Shipping During Specific Seasons
Certain seasons result in more demand and more products sold than others. In order to make your customers happy and not risk your bottom line by being too generous, you can offer free shipping only during seasons that result in a large number of sales for your business.
Suggested Read: Peak Season Shipping
Include the Shipping Fee in the Price of Products
By doing this, you are able to maintain your profit margins and also make customers feel like they are getting a better deal than what they actually are since they assume that they are getting something for free.
Use Memberships or Subscriptions as a Way to Entice Customers
You can entice customers into signing up for memberships or subscriptions by offering perks such as free shipping and ultra-fast delivery. This will help to promote your products as well generate new sales.
How Do eCommerce Brands Recover the Zero or Lower Shipping Costs?
Brands that are not profitable enough to provide shipping free on all products can choose to offer bonuses with purchases so that customers will spend more and qualify for free delivery.
Find Out How to Increase the Price of Your Product.
When you are pricing expensive items, shipping may be more than the cost of the item itself and make the product seem overpriced. However, adding a little to the price of already expensive products might not dissuade customers from buying as it will still be cheaper than paying for shipping.
Add markup to your products to cover the average shipping and logistics costs. It is hard to predict additional orders, so covering shipping might make it plausible for the other charges.
Find Out How to Get Customers to Spend More Gradually
Increase LTV, offer subscriptions and loyalty programs and consider effective email marketing strategies. Customers often need to make a second purchase to cover the cost of acquisition. For example, six will subscribe for a second transaction out of ten customers. If the customer's next purchase covers their initial expense, then anything after that is a bonus.
Add Bundling or Lower the Spending Threshold to Increase Your AOV
Bundle products together to be able to charge lower shipping costs. Include other benefits, such as buying a membership to the website to get more value and money from the customer's purchase. Increasing your AOV (average order value) will help you reach new customers and keep old ones coming back for more.
To increase the average order value (AOV), you should bundle products together or pre-kit them, so it's a single pick and pack process to fulfill an order. For example, Bathorium, a manufacturer of bath frames, allows customers to purchase six for the price of five – this saves shoppers money and increases AOV.
To avoid losing customers, consider raising prices if the cost of free shipping is too high. If you offer low-cost items or no subscription model with a product, you might require customers to have a minimum order quantity(MOQ) to receive free delivery.
How Do I Know if Free Shipping is Right for My Online Business?
Some stores have the flexibility to offer customers free shipping on all products. However, other stores need to offer free distribution as an incentive for customers for specific products. For instance, if your product is expensive, you should test free delivery/shipping out for that product by running a limited-time promotion.
To promote or boost sales, experiment with the minimum spending requirements and time limitations. It will help you customise the campaign to your customer's needs. Remember, experimentation is critical when it comes to marketing, and you should always keep track of what is working by doubling down on it and stop or remove things that aren't working well.
Free delivery likely indicates that retail fulfillment is profitable. If you keep purchasing and making returns, there's always demand for the product and shipping aggregation. Avoid excessive returns by examining the potential impacts and ramifications of your purchase.
If you want to offer free shipping, lower shipping costs or make your entire shipping process more efficient, WareIQ can help. We offer the choice of more than 20 of the largest shipping courier providers in the nation at the most competitive prices to enable you to retain higher profit margins and provide a high quality delivery experience to your customers.
WareIQ is one of India's leading and fastest-growing full-stack eCommerce fulfillment companies that offer a variety of services from same-day and next-day delivery, shipping badges and RTO Shield, to state of the art technological solutions such as our custom WMS and our intuitive, well-designed app store. We can take care of your brand's entire fulfillment service requirements and ensure that you and your customers get the best order fulfillment in the country and have a hassle-free experience and raise satisfaction levels to new heights.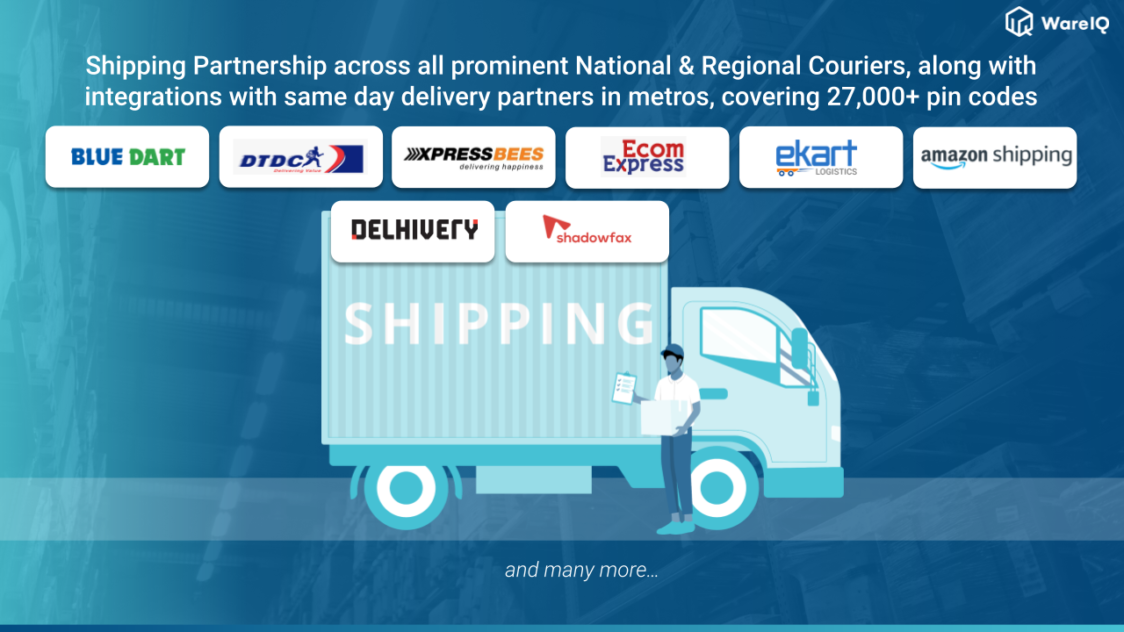 Are you eager to know more about WareIQ's offerings if you sign up now? Find the features of the best-in-class, category-defining fulfillment services for eCommerce & D2C brands below:
Pan India Fulfillment & Darkstore Network: Plug-and-play fulfillment infrastructure with no minimums, which is compliant with Amazon Seller Flex, Flipkart Assured, Myntra and other marketplaces
Inventory & Network Planning Excellence: Best-in-class AI models for sales forecasting, product segmentation, and inventory management to reduce inventory by 40% and increase revenue by 10%.
Vertically Integrated Fulfillment Tech Stack: Our Fulfillment Tech Solution supports integrations with 20+ top marketplaces & D2C platforms, and prominent national, regional and hyperlocal couriers, enhancing reach by covering deliveries for 27,000+ pin codes
Supply Chain Productivity Applications: Integrate a host of supply chain productivity apps with a single-click to your existing CRMs, ERPs & accounting software to manage your logistics workflows from one command center. Use Apps like RTO Shield to get 100% RTO protection, Branded Tracking to turn your order tracking page into a profitable marketing channel, and many more.
Trusted by 300+ top Indian brands, we are helping them accelerate online sales and expedite their growth through a synergistic combination of advanced technology, robust fulfillment infrastructure & seller enablement services!WareIQ is backed by leading global investors including Y Combinator, Funders Club, Flexport, Pioneer Fund, Soma Capital, and Emles Venture Partner.
Free Shipping in eCommerce FAQs (Frequently Asked Questions)