Top 10 Methods to Increase Average Order Value (AOV) for eCommerce Sellers in 2023
The central aim after starting an eCommerce business is to sell more and more products. Some business practices help you get an idea of your sales performance and how to increase it for the betterment of your firm. One method is to increase average order value. You can calculate how well your store is doing by finding out what your AOV is.
The tactics in this article can help you to increase average order value after you have determined it. You will be well on your way to increasing the number of orders placed on your online store, whether you decide to implement bundled discounts or a free shipping threshold, post which, you can easily prepare to experience an increase in sales.
What is Average Order Value (AOV)?
Average order value (AOV) in an eCommerce business is the average amount of money that each customer spends on each purchase that they order from your business. It is an indication of the cash and inventory flow of your online business.
High AOV denotes high sales and healthy profit margins. So for new eCommerce sellers, it is often a challenge to increase average order value.
WareIQ – Amazon-prime Like Logistics for Modern Brands in India
WareIQ, an eCommerce fulfillment company, empowers online brands with a superior-tech platform to compete with Amazon like service levels by bringing their average delivery timelines from 5-10 days to 1-2 days.
"WareIQ came to Gynoveda with a full stack fulfillment platform & gave Gynoveda access to a nation wide network of fulfillment centers & last mile & hyperlocal courier partners closer to our customers based out of North East & North India.

They made

same-day delivery possible

for us in metros.

"
How to Calculate Average Order Value?
To calculate your average order value (AOV), simply put the total revenue you earned and divide it by the total number of orders.
Average Order Value(AOV) = Total Revenue (Earnings) / Total Number of Orders (Sales)
For example, let's assume that you own an eCommerce store that sells earphones. In July, you generated ₹45,000 in total revenue from 30 earphones that were ordered.
Your average order value will be:
45,000/30 = ₹1,500
The value means that a customer is spending ₹1,500 on average on each transaction from your online store.
Benefits of Having a Stong AOV in 2023
Boosts Sales and Profits
You will notice a surge in sales and profit as the AOV increases. Your business will generate more money overall, the more you make with every order. If you notice an increase in average order value, you can put more money into the expansion of your company and earn more profit.
Offers Better Overall Marketing Returns
When you spend money on fixed assets and marketing, that amount is more or less a fixed expense that you have to spend on the business. By spending the same amount of money, you can increase average order value and thus, the overall return margin on spending will also increase.
For instance, after subtracting the cost of the products and taxes, you would not have made much money if you spent a lot on marketing, especially if your AOV is low. However, your marketing expenditure becomes more profitable when you notice an increase in the average order value. Hence, the necessity of implementing an average order value strategy is vital.
Maintains Better Cash and Inventory Flow
A better AOV will provide you with a better flow of inventory as well as the cash flow associated with it. You will be providing fresh items to your buyers and never feel a cash crunch in the business.
In the case of pumping extra capital into the business, you will be assured of getting a good return instead of fearing the blockage of money due to leftover inventory.
Provides Data for Forecasting Orders
The insight that the average order value shows you is the market demand for your products. If it is low, you need to order fewer items and offer discounts in order to sell them. And if it has a high figure, you need to reorder more at a particular time to avoid stockouts.
10 Effective Tips to Increase Average Order Value
Execute First Time Offers
If your company is less than six months old, the majority of your consumers will be first-timers. Promoting discounts to new customers helps raise the AOV. You can offer this specific audience a one-time discount when they purchase multiple units of a well-liked product or special bundle offers reserved only for customers who have never purchased with you before.
It will be considerably simpler to persuade your customer to buy with you again if they order many goods and are happy with their purchases. They will have already had a personal experience using your website to shop. As a result, your chances of getting them to buy from you again are higher, which will help to increase average order value.
Run Flash Sales
Flash sales are special offers provided by an eCommerce seller for a few hours for a set of specific products. These products often have extra discounts during the period of the flash sale.
Flash sales increase the sales velocity for hours in a day which can ultimately increase average order value. It is mostly done during the off-season when the AOV is lower.
Provide Discount Coupons
Discount coupons and gift cards are a physiologically better method to increase average order value. To avoid losing money, you must make sure that your product prices are high enough to prevent a free purchase from your business after the buyer uses the discount coupons. Make sure that customers are aware that they cannot use the discount coupons to pay for current purchases or delivery and implement digital barriers to prevent them from doing so.
Offering discount coupons also encourages additional purchases, which helps cut down on additional advertising expenses. Giving clients more for their money is an amazing idea when sales are lagging due to various factors. This deal should not be available all year long because it can become ineffective and result in losses.
Have Festive Offers
Many buyers wait for festive offers to buy high-priced products, specifically so that they can receive discounts. These high price products are ordered by a few customers but offer a better profit than most other products.
These festive offers also add more customers to your shop while helping you maintain your AOV for the future.
While these offers help increase average order value, you can sell your old products by giving high discounts on them and free up your money instead of holding onto them perpetually.
Initiate a Free Shipping Threshold
Offering a free delivery threshold is the simplest strategy to raise the average purchase value. For example, free delivery on a purchase of above ₹500.
When customers check out and their order falls short of the minimum amount required for free shipping, you can include an additional notification. This notification will prompt them to add more items to their cart and enable you to increase average order level.
Offer a Minimum Order Discount
Indians have a tendency to save money and constantly search for the best offers. Buyers may feel guilty about placing large orders. By showing customers their overall savings if they order a certain amount, you can increase average order value and also increase customer satisfaction. This can stop cart abandonment or alterations, which could reduce the total they intended to spend.
Customers will feel as if they are getting a better deal. Even if it serves as a preventative measure, demonstrating to customers the financial advantages they get from purchasing multiple things can help raise your AOV.
Cross-Sell or Up-Sell Related Products
A cross-sell is a product that is distinct from the one that a consumer is currently browsing but that they might also like. For instance, if a consumer is looking at a pair of shoes, you may suggest a pair of socks that go well with it as a recommended product.
Adding all the items that the model is wearing in the listing pictures to the suggested items is a great cross-selling strategy. As an illustration, if a tank top in the product photo is being sold, you might cross-sell the jeans that are in it too. Customers are more inclined to buy the two items together since they can see them in use.
To increase average order value or profit, you can up-sell by persuading customers to purchase more expensive items or upgrades. For example, if you sell mobile phones, you might up-sell earphones, mobile covers, add-on guarantees, etc.
Offer Same-day or Next-day Delivery
An enhanced sense of satisfaction comes when products/services come to customers as soon as possible and they can utilize them. Many companies are doing their best to make their customers happy and that is why all buyers strive to provide amazon prime-like delivery, i.e., offering Same-day or Next-day delivery
A seller who offers a slow fulfillment option can be at risk of buyers preferring to choose a competitor that offers faster delivery. So always keep in mind to make delivery hassle-free and available all over the nation.
Provide Different Payment Options
Many times, a buyer is willing to purchase and pay for the product but in the end, the cart is abandoned due to a variety of reasons. You may try to persuade the buyer by giving them offers on the product or some extra benefits like free shipping but very often, the reason behind it is the lack of payment methods available.
For example, a buyer may prefer to pay through UPI to avail of coupon benefits given by a digital payment platform. So the more payment options you give, your AOV will get higher.
Have a Clear and Easy Return Policy
In an eCommerce business, you must have a return policy because, in the sector, buyers are afraid of getting a fake or damaged product instead of the one they spent their hard-earned money on. The return option gives them a sense of trust which influences them to place orders without worrying about the product quality.
Conclusion
Average order value in eCommerce is a helpful tool used by businesses to calculate the average value of transactions done with respect to a particular time frame. There are several reasons to increase average order value and several methods to go about it. This is where WareIQ can help.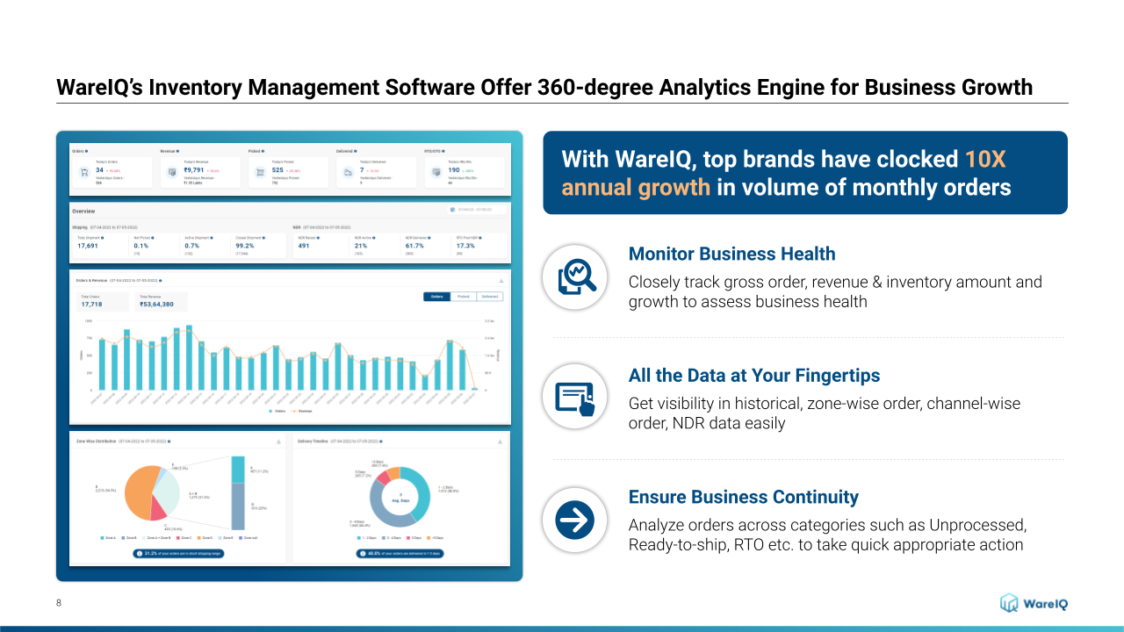 WareIQ provides services relating to picking, packing, reordering and managing inventory which will help you increase average order value by providing smooth and fast fulfillment to ensure better reviews and positioning of your products.
When you use WareIQ's Warehouse Management System, Inventory Management System and other services, you do not have to worry about fulfillment, taking care of returns or placing orders to your merchants manually as all these processes will be provided by us. We also provide a network of fulfillment centers across the country for easy storage and have partnered with more than 20 of the biggest shipping aggregators to provide ultra-fast delivery to every customer.
Increase Average Order Value: FAQs