Flat Rate Shipping: How is it Important for eCommerce Business in 2023?
If you are a part of the eCommerce Industry, either as an online seller or shopper, you would be familiar with the term flat rate shipping. It's likely that you've interacted with eCommerce shipping companies that have offered this service, or that you have chosen it as a customer when making online purchases.
Shipping margins are crucial to the profitability and long-term sustainability of eCommerce businesses. You are wasting precious resources if you're not moving your products in the most cost-effective and efficient method possible. Flat-rate shipping is one approach to reducing operational and eCommerce logistics expenses.
So, what is it about flat-rate shipping that has become so popular lately? What makes this such a popular choice for big packages? Should you use the flat rate shipping method as a seller or merchant? You can read further to find answers to all these queries, and also specifics on flat rate shipping charges and other related topics.
What is Flat Rate Shipping?
Flat rate shipping is a way to measure the cost of eCommerce logistics shipping based on the size of the parcel or envelope rather than the dimensional (DIM) weight. When there are no peak-season charges, flat rate shipping is an appealing choice for holiday buyers.
For example, you might charge ₹50 for local delivery, ₹750 for flat-rate international shipping, and ₹10 for orders over ₹500. Furthermore, many merchants have chosen a few fixed flat rate shipping costs to cover their vast shipment requirements.
Several shipping providers offer flat rate shipping, regardless of where the cargo will be dispatched from. If the goods appear to fit within the carton and weigh no more than the allowable limit, they can be delivered to any destination at no additional charge.
Flat-rate delivery is an effective way for businesses to standardize shipping charges and eliminate major price fluctuations caused by factors like dimensional weight, shipment distance, and seasonal swings. Flat shipping rate deliveries are an ideal alternative for online businesses seeking to optimize their delivery procedures.
WareIQ – Amazon-prime Like Logistics for Modern Brands in India
WareIQ, an eCommerce fulfillment company, empowers online brands with a superior-tech platform to compete with Amazon like service levels by bringing their average delivery timelines from 5-10 days to 1-2 days.
"WareIQ came to Gynoveda with a full stack fulfillment platform & gave Gynoveda access to a nation wide network of fulfillment centers & last mile & hyperlocal courier partners closer to our customers based out of North East & North India.

They made

same-day delivery possible

for us in metros.

"
Importance of Flat Rate Shipping in eCommerce
With eCommerce rapidly expanding year after year, retail fulfillment shipping processes will also need to be adapted. For more than 50% of merchants, the key commercial limitation is the cost of delivery. eCommerce enterprises will need to find new ways to save money and streamline fulfillment processes as consumers become more accustomed to free and expedited shipping, as well as free returns.
Based on how shipping prices are normally determined, flat rate shipping is an interesting shipping option for a few reasons:
1. The further the distance or shipping zones are to which you ship your goods, the more expensive their services are and this only gets worse as the order size increases.
2. Dimensional weight is a standard price method that is derived by multiplying a package's length, width, and height. Shipping rates are calculated by freight carriers like USPS, FedEx, and UPS depending on whichever number is greater – the package's actual weight or its calculated dimensional weight.
3. Flat rate shipping simplifies things considerably and might be an excellent choice for certain companies, particularly smaller ones.
What is the Process of Flat Rate Shipping?
The term flat rate shipping highlights the fact that the cost of shipping is related to the weight, shape, or size of the shipped commodity. It is calculated by how much stuff can be crammed inside the packaging box. Following these procedures allows eCommerce warehousing enterprises to ship products at a flat charge.
Flat rate delivery is now offered by all major shipping aggregators. Some carriers will insist that you use their packaging, while others will allow you to use your own as long as it meets specific dimensions. There are also weight limits that merchants must adhere to, to avoid incurring additional penalties.
The process of how flat rate shipping works are discussed below:
Choose your carrier and the size of containers or flat rate envelopes you require.
Use the flat-rate packaging provided by your carrier or choose a box that meets your size requirements.
Put your order together and ship it to your customers' address.
Attach a shipping label to the item and drop it off at the post office or arrange for a pick and pack fulfillment.
Suggested Read: What is Commercial Shipping?
How to Figure Out the Optimal Flat Rate Shipping for Your Company?
Flat rate shipping costs vary depending on the goods, geography, and destination. While you would want to give your customers a comfortable checkout experience, you must also take into account the cost of delivering their products. This helps in devising a strategy that raises sales without any compromise.
The most accessible way of determining how much to charge is to calculate your usual delivery cost. This average can be used as a standard shipping rate, signifying that depending on the purchase, businesses would either gain or incur losses on delivery. Now when you know the statistics of average flat rate shipping, you can eventually balance the revenue generated with the costs that need to be spent.
6 Factors Affecting Flat Rate Shipping
The amount you will need to charge for shipping is unlikely to be the same as in any other industry. When it comes to your business, there is no one-size-fits-all solution, and flat rate shipping is no exception. Consider the following variables in year 2023 when determining how much you should charge:
Size and Weight
Each carrier has its terms and categories for describing weight and size regulations, but envelopes for standard documents, packages for larger documents, boxes, and pallets for compact objects, are the most common. Surcharges may apply to oversized or odd-sized packages. It's a good idea to ask your favorite carrier if you're not sure which size category your package belongs into.
Dimensional Weight
Another aspect that can affect transportation costs is dimensional (DIM) weight. It refers to the package density, or how much space it takes up in comparison to its actual weight. When the DIM weight of your package exceeds the actual weight, it becomes the billable weight.
Shipping Distances
Your shipping prices may be affected by whether you're sending domestically or overseas. Carriers frequently use dynamic geographic zones to determine how far your shipment must travel. The bigger the expense, the longer the distance.
Time Zones
Carriers normally offer a range of standard and express service times depending on the country of origin and destination. Although the service titles may differ by carrier, the time frames generally fall into one of three categories:
Time-sensitive delivery sends packages at certain times only.
Overnight and next-day delivery services are available.
Depending on the distance the item must travel, expected delivery dates range from two to seven business days.
Surcharges
Surcharges are costs that are placed on top of the base rate. It's critical that you're aware of them and knows which ones apply to your shipment. If the shipping needs more paperwork, effort, or time, additional costs and supplementary fees (for import shipments) may be charged. Anything not covered by ordinary shipping and handling will increase the shipment cost.
The most common type of surcharges are listed below:
Charges for Fuel
This is the most typical surcharge, which compensates for fluctuations in oil prices. It's determined as a percentage of the total shipment cost, and it's usually modified weekly.
Surcharges for Packages That are Too Big or Too Little
Non-stackable or cylindrical shipments, as well as packages that exceed your carrier's normal format, may be subject to additional charges.
Charges for Extending Area Service to Rural Areas
Package delivery to remote places incurs an extra charge.
Charges for Hazmat Items or Dangerous Goods
Additional charges will apply to the shipping of any dangerous goods that may endanger a person or compromise other shipments.
Charges for Documentation or Address Inaccuracy
You may be charged penalty costs if your carrier needs to modify documents for you.
Customer Expectations
The typical shipping cost for your customers will vary depending on your consumer base, the products you deliver, and the order's delivery schedule. According to research, 65 percent of customers are willing to pay more for speedy delivery. Find out the balance between how much your consumers are prepared to pay and getting those packages out the door without negatively affecting your revenues.
What are the Positives and Negatives of Flat Rate Shipping?
Positives of Flat Rate Shipping
Transparency
When you choose flat rate shipping, you give your customers a fixed price, which simplifies the selling process. As a result, you acquire the consumer's trust and your company's relationship with the customer improves. They would also prefer your firm over your competitors because there are no additional shipping or handling costs.
Predictable Shipping Expenses
Many online sellers' revenues are seriously impacted by DIM weight and peak season surcharges. While splitting shipments or comparing carriers that can save you money, it's hard to avoid paying for home delivery when using a regular shipping service. By adopting flat rate delivery, you can eliminate these extra costs and keep shipping prices reasonable for both you and your customers.
Utilization of Carrier's Packaging
If you're using conventional packaging rather than more expensive custom-branded packaging, fulfillment costs can still rise significantly. For merchants, being able to partner with a carrier that provides their packaging for free is extremely cost-effective, especially for those who are just getting started.
Packaging provided by the carrier also aids in the speedy eCommerce fulfillment process. You don't need to weigh and confirm the dimensions of each package before delivery because the DIM weight has been pre-determined by the carrier. This speeds up the direct fulfillment process significantly.
Simplified Management
Your eCommerce website will no longer require a shipping calculator after converting to flat rate shipping. The delivery prices of Individual products will not need to be adjusted based on weight or size. This frees you up to focus on improving your items and other fulfillment services such as packing and sourcing.
Implementation of Promotions With Free Delivery
When you know exactly what your shipping expenses are and how much they cut into your profit margins, it's much easier to provide free shipping to customers. Merchants can confidently bake the cost into their product prices or set a free shipping threshold because flat-rate shipping rates don't fluctuate during the year or with each purchase, which indirectly helps in promoting the business.
Cart Conversion
Flat rate shipping allows you to communicate up front with your customers about your shipping prices.
According to a recent study, 50% of customers abandon their carts because the additional expenditures, such as shipping, tax, and other fees, are too costly. Another 20% claimed it was because they couldn't estimate the total cost of the order upfront. Customers do not want any unpleasant surprises when they pay. Knowing how much shipping will cost before they begin purchasing from you will prevent shipping charges from negatively impacting your cart conversion.
Negatives of Flat Rate Shipping
Increased Transit Time
Every consumer wishes that their ordered items arrive in a shorter period. If you're charging a flat shipping rate, there's no other alternative than to use the surface mode for shipping. Customers may become irritated as a result of lengthier transit time.
Undercharging
Interpret which form of delivery will make you and your customer happy before making any decisions on the shipping alternatives you would be providing to your clients. Make certain that the flat cost you charge does not result in a loss for your company.
Inaccessible To Various Locations
One of the most significant disadvantages of flat rate shipping is that it cannot be extended to consumers who live in rural areas. Because shipping costs rise with distance, charging a flat fee may result in a loss for the firm, as the seller must absorb the additional costs.
Easily Comparable With Competitors
Since your shipping costs are transparent and there are no hidden fees, clients will be able to compare your rates to those of competing suppliers, perhaps resulting in the loss of customers to other companies.
Missed Branding Opportunities
One of the most important competitive differentiators in eCommerce logistics is the time of delivery. However, by using carrier-supplied packaging, you're not able to sell your brand image.
To summarize, flat-rate shipping might mean foregoing an important avenue for establishing brand familiarity and trust with customers, as well as foregoing remarkable unpacking experiences that increase customer engagement.
How Can WareIQ As Your Fulfillment Partner Provide the Best Flat Rate Shipping Services in India in 2023?
If your eCommerce business has outgrown your present delivery techniques, efficient shipping is another approach to reduce shipping costs and increase profitability. WareIQ as a fulfillment partner uses integrated technologies and various fulfillment facilities to speed up your delivery by optimizing your flat rate shipping expenses. Here's how WareIQ handles fulfillment:
Connects Your Store
The WareIQ platform integrates with your online business (for example, to handle selling on Amazon and Flipkart Selling), allowing you to simply manage inventory and track the fulfillment process from beginning to end.
Handles Your Inventory
WareIQ's nationwide fulfillment network allows you to store your merchandise. This brings your items closer to your clients, resulting in lower transportation costs and faster delivery.
Automatic Fulfillment of Orders
Orders are automatically routed to the best eCommerce fulfillment center, where they are chosen, packaged, and shipped from WareIQ's end.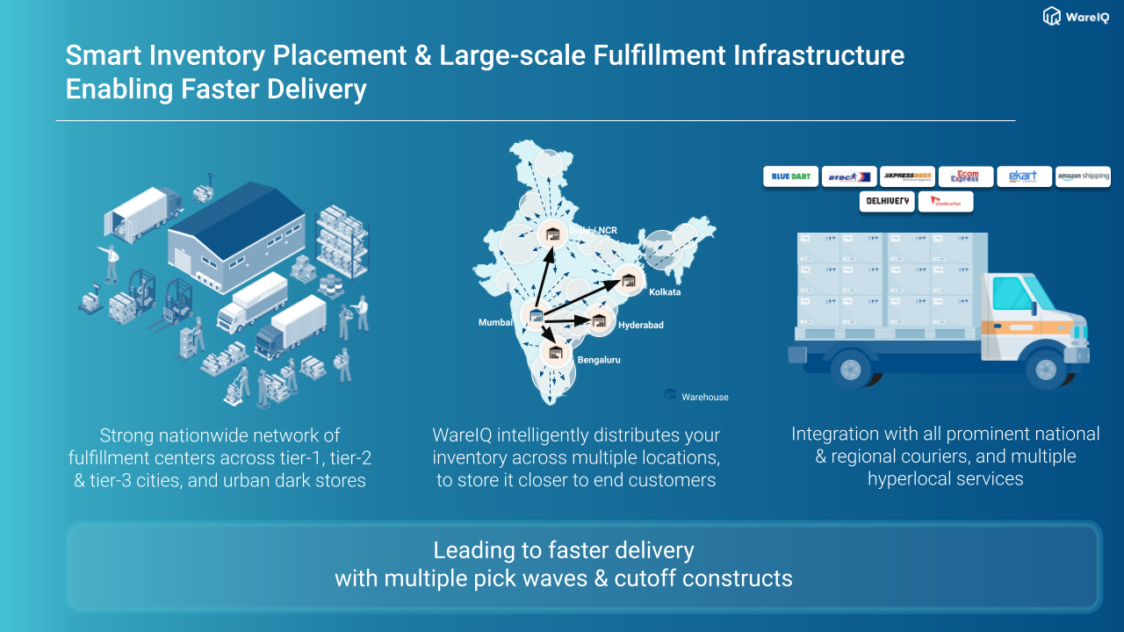 Hassle-Free Last-Mile Delivery with Flat Shipping Rates Across Zones
WareIQ has partnered with all national & hyperlocal courier service providers to provide hassle-free same-day or next-day shipping. eCommerce businesses can select their preferred last-mile delivery partner among the 20+ options available. In case of bulk orders or during sales events, WareIQ even offers flat shipping rates to its eCommerce clients to mitigate the revenue lost by them due to heavy discounts during sales events.
Tracking and Analysis
Once an item has been dispatched, eCommerce order fulfillment tracking information is supplied to the consumer so they can track its progress and you can also analyze your weekly and monthly performance on the platform provided by WareIQ.
Are you eager to know more about WareIQ's offerings if you sign up now? Find the features of the best-in-class, category-defining fulfillment services for eCommerce & D2C brands below:
Pan India Fulfillment & Darkstore Network: Plug-and-play fulfillment infrastructure with no minimums, which is compliant with Amazon Seller Flex, Flipkart Assured, Myntra and other marketplaces
Inventory & Network Planning Excellence: Best-in-class AI models for sales forecasting, product segmentation, and inventory management to reduce inventory by 40% and increase revenue by 10%.
Vertically Integrated Fulfillment Tech Stack: Our Fulfillment Tech Solution supports integrations with 20+ top marketplaces & D2C platforms, and prominent national, regional and hyperlocal couriers, enhancing reach by covering deliveries for 27,000+ pin codes
Supply Chain Productivity Applications: Integrate a host of supply chain productivity apps with a single-click to your existing CRMs, ERPs & accounting software to manage your logistics workflows from one command center. Use Apps like RTO Shield to get 100% RTO protection, Branded Tracking to turn your order tracking page into a profitable marketing channel, and many more.
Trusted by 300+ top Indian brands, we are helping them accelerate online sales and expedite their growth through a synergistic combination of advanced technology, robust fulfillment infrastructure & seller enablement services!WareIQ is backed by leading global investors including Y Combinator, Funders Club, Flexport, Pioneer Fund, Soma Capital, and Emles Venture Partner.
Flat Rate Shipping FAQs