Top 10 Fastest & Cheapest eCommerce Courier Services in India in 2022
In the age of eCommerce retail expansion, what is highly critical for any company's success is the delivery experience of its customers. Consumers are willing to abandon a product from their cart if the shipping exceeds a week. Thus, every seller must ensure not only that they have the most efficient shipping experience for the consumer, but also the most cost-effective one.
What are eCommerce Courier Services?
The terms eCommerce courier services and fulfillment services are quite interchangeable in the present scenario, even though they were used to denote delivery experiences that are slightly different from each other. eCommerce courier services provide a delivery experience of small packages from the seller's location to the end user's doorstep, across several pin codes. In some cases, courier companies also cater to reverse logistics.
What are the Factors to Keep in Mind while Choosing eCommerce Courier Services?
Every manufacturer must choose which of the many available courier companies to partner with for their eCommerce courier services. This decision is bound to have long-term implications on the seller and their customer service.
India's eCommerce boom has led to the growth and emergence of several courier companies that cater to traditional businesses and households. Sellers should bear the following points in mind when picking eCommerce courier services to partner with:
Serviceability
Every seller's goal is to obtain the maximum scope that their product can reach. Thus, partnering with eCommerce courier services that provide pan-India network coverage, should be the priority of every seller. This feature ensures that their product can reach the maximum customer base possible.
Freight Cost
The simple rule of any business is that the revenue must be more than the total incurred costs. While this may sound simple, the leakage of capital through unchecked expenses can be the deciding factor between a profitable new business or one that operates at a loss.
Logistics within India can be cost-intensive due to differences in fuel prices, geographical landscapes, and overhead costs such as vehicle maintenance. Therefore, some areas may face delays due to poorer road connectivity.
Delivery Speed
41% of consumers are willing to pay extra for same-day delivery. Therefore, sellers risk losing out to their competitors if eCommerce courier services don't have the flexible and efficient delivery systems that provide sellers with the advantage they seek. In this era of 10-minute, same day and next day deliveries, any delay will mitigate a customer's ability to be satisfied and give positive feedback.
Insurance and Security
In these uncertain times, sellers need to ensure that their shipment reaches the destination intact and without any damage. Certain pin-codes within the nation tend to have a deteriorated law and order situation. Consequently, courier companies must ensure that they handle a seller's products with the required level of security.
Businesses must ideally opt for eCommerce courier companies that take responsibility for any damages that may occur to their products.
RTO
Returns have now become an integral part of the eCommerce shopping experience. Certain products such as clothing, see the maximum number of returns compared to other goods. Hence, a seller must appoint eCommerce courier services that can guarantee a smooth reverse logistics process so that the product will safely return to the seller.
Manufacturers can look into the RTO percentage of courier companies to measure how successful their return percentage is.
What are the Benefits of Partnering with eCommerce Courier Services?
eCommerce courier services should not be seen as just logistical partners. Sellers must understand that the advantages that courier companies extend are beyond just the handling of the operational matters and reducing logistics costs. These benefits may not be tangible, but their impact is immense towards enabling a company's growth, ensuring that it can either work towards being profitable or retaining and even increasing its profitability.
The following are some of the benefits that eCommerce courier services extend to sellers who partner with them:
Increased Network Cover
Established courier companies have a solid infrastructure built up over decades. This has helped them to achieve an unmatchable pan-India network that any emerging eCommerce company would take years to rival. To give you a more realistic example, the difference between partnering and not partnering with eCommerce courier services is similar to attending a job interview versus conducting a job interview – All the cards are held by you.
Being Cost-Effective
Last mile delivery can easily constitute 40-70% of the entire shipment cost for a seller. This is entirely due to the capital investment, operational costs, and maintenance fees that fulfillment and courier service companies must undertake. Costs of this magnitude and frequency can swell up the liabilities side of balance sheets, proving disastrous for companies.
eCommerce courier services use economies of scale to consolidate the orders from multiple sellers for a particular geographical location. This strategy brings down the marginal cost for each seller and additional products.
Branding and Packaging Upgrades
eCommerce courier services ensure that all packaging needs are handled with the utmost care. Being associated with eCommerce courier services that provide value add-on services through branded shipping such as personalised packaging, adds to the brand value of the seller itself.
Cutting-Edge Technology
eCommerce courier services are far from small-scale firms. The importance of the supply chain and fulfillment cycle has been realised, enabling many courier companies in India to turn into unicorns.
With this heavy influx of capital, eCommerce courier services are investing heavily – not just into building infrastructure but also into adapting to the latest and most efficient technologies in the industry. The end-user can witness these upgrades first hand – a simple sign on a sheet of paper has transformed into using tablets for signatures and photo recognition. All these factors create a better customer experience.
Professional Help
Courier companies have an established standard protocol for warehouse management, namely, handling goods from the seller's warehouse to the customer's home. These measures take into account the various adverse situations that the company could experience during delivery.
By planning ahead, eCommerce courier services can react accordingly using the appropriate contingency procedures and decide the right course of action. They are carried out after conducting various risk assessment studies and using the company personnel's expertise.
Sellers may find it challenging to cater to all the possible roadblocks in the shipment journey. As such, partnering with eCommerce courier services provides them with some much-needed professional help, advice, and assurance during the most crucial leg of the fulfillment cycle.
Top 10 Cheapest eCommerce Courier Services Companies in India
WareIQ
Founded in 2019, WareIQ is one of India's leading eCommerce courier services and shipping aggregators and has partnered with all the major national and hyperlocal courier companies in the country. It has a customer base of 300+ brands in India alone, in just over 3 years.
Ware IQ offers a simple and convenient onboarding process, guaranteed same-day/next-day delivery, and no minimum order quantity requirements. More importantly, the Y-combinator-backed shipping aggregator provides a transparent pricing policy and strict safety procedures. It also prides itself on being one of the few order fulfillment tech businesses in the world.
WareIQ stands out as an eCommerce courier services provider for the following reasons:
It offers competitive rates by negotiating the best terms with its shipping partners.
Its timely and efficient deliveries boost the sellers' customer satisfaction percentage, growing their sales in the process. It relies on data-driven decisions to ensure fewer delays and issues in the shipment process.
Ware IQ has a strategically located, nationwide network of warehouses and fulfillment centers. As such, it can offer a full range of logistical services in a short amount of time.
It can cater to all your eCommerce fulfillment-related needs under one roof with a centralised platform. Its versatile NDR dashboard lowers processing time by an impressive 12 hours, decreasing RTO by 10%.
WareIQ RUSH is one of the company's many offerings that guarantee same-day delivery.
Blue Dart
One of the biggest names amongst eCommerce courier services in the country, Blue Dart has nearly 40 years of experience in shipping and logistics. Within India, Blue Dart covers more than 35,000 pin codes. It has been DHL's official partner since 2002, with the two providing a formidable land and road transport infrastructure.
Blue Dart offers a wide range of services, such as early morning deliveries and temperature-controlled logistics (TCL) solutions.
It also provides value-added services like cash-on-delivery, waterproof packaging, and automated reports.
Sellers must note that their charges may seem higher than other competitors owing to their service record and their existing pan-India network.
Ecom Express
Ecom Express, based in Gurugram, was founded in 2012 and is a relative newcomer to the eCommerce courier services market. Regardless, it is seen as a viable option for consumers seeking both shipping and logistics services.
Ecom Express has demonstrated enormous promise in a short time, transforming into one of the top eCommerce courier services for retail firms today. It is a trusted partner to its customers, ensuring the safest, most economical, and most dependable pick-up and delivery in India.
This courier company is appropriate for users who intend to use a combination of logistics for delivery purposes. Its prices are reasonable, and its service quality and reaction time have shown great promise. It is one of the top eCommerce courier services because of these qualities. It does, however, come with a lot of room for expansion.
Ecom Express covers over 27,000 pin codes and 2600 cities across India.
It provides additional security and monitoring services during storage and transit. For this reason, it is a popular choice for eCommerce enterprises that handle high-value commodities like jewels.
Sellers can avail of a broad range of courier services, including express delivery and doorstep quality checks (QC) for returned items.
The eCommerce courier services provider also guarantees that deliveries will be completed within 72 hours, both to consumers and to items returning to the origin warehouse.
DTDC
DTDC is one of the most popular eCommerce courier services providers in the country. It has been in the courier service business since 1990 and has a network of more than 10,000 pin codes dispersed across the country.
The courier company uses a state-of-the-art Management Information System (MIS) that keeps track of bulk parcels for seamless pick-up and delivery through fulfillment status facilities. Their value-added services comprise cash-on-delivery and a custom shipping process for imported and special goods.
Although DTDC originated in India, it has grown to the point that it now provides services to over 240 nations.
It assists your brand with Indian as well as international courier shipments at a lower cost than other market competitors, thanks to its global reach.
In terms of services and prices, it may not be a viable solution for small businesses due to compromises on the number of facilities to focus more on its core offerings.
FedEx
FedEx is another top-rated and low-cost eCommerce courier services provider for online enterprises. Established in 1973, it has close to 50 years of valuable experience in handling and shipping a wide range of products. It offers nationwide and worldwide shipping services that include door-to-door pick-up and delivery. This courier company is committed to excellence, making it a worthy logistics partner for your eCommerce enterprise.
FedEx comes with flexible delivery options and allows sellers to have their packages held at a secure location until it is ready to be sent out.
It also allows customers to monitor their parcels in real-time. Additionally, clients can change the location of their shipments even if they are out for delivery, improving customer experiences with your business.
The FedEx API documentation also makes it easy to manage returns, create shipping labels, and track performance.
FedEx provides outstanding delivery service at reasonable prices in the places where it operates. Although it offers the fastest delivery speed and service, it only covers a fraction of the pin codes covered by other eCommerce courier services. Thus, it may not be a reliable candidate for eCommerce companies that aim to rely entirely on it and no other courier companies for logistics.
DHL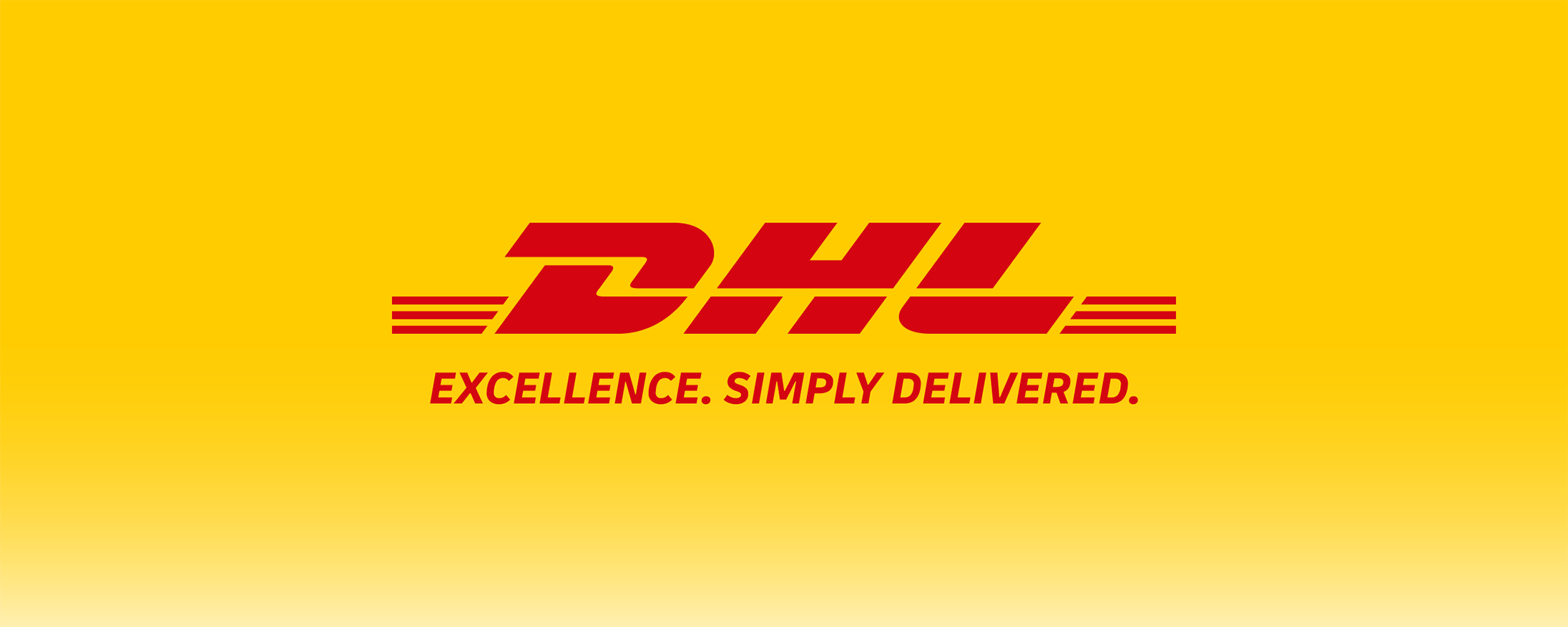 Another prominent international eCommerce Courier services provider in India is DHL (Dalsey, Hillblom, and Lynn). Its globally controlled and well-connected network of distribution centers enables it to effectively optimise supply chain solutions to increase order fulfillment throughout 220+ countries. DHL is trustworthy and readily available to meet the requirements of any eCommerce platform.
The shipping giant covers over 26,000 pin codes across the country, allowing eCommerce sellers to successfully tap into the Indian market.
Another critical factor to consider when choosing DHL is its environment-friendly practices. This courier company maintains a high standard when it comes to decreasing wastage in the delivery process, making a sincere effort to reduce each company's environmental footprint.
The only caveat is that DHL's courier fees within India are slightly higher than those charged by other local carriers. However, when it comes to worldwide coverage, there aren't many reputable options that can rival this company.
DHL eCommerce, a branch dedicated solely to eCommerce enterprises, is also available. It is dedicated to offering a smooth worldwide eCommerce delivery service that includes accurate transit schedules and customs clearances.
Gati
Gati, based in Hyderabad, is another well-known Indian eCommerce courier services provider that aims for total customer satisfaction. Founded in 1989, Gati has expanded at a rapid pace over the decades to serve over 19,000 pin codes within India.
This eCommerce courier company promises better reach and business growth by delivering to 735 of the 739 different districts in the country.
Gati strives to meet the shipping and courier needs of small business owners, offering some of the most affordable eCommerce courier services in India.
It provides a diverse range of express delivery options and warehousing solutions, enabling customisable pick-ups from locations.
Shipway

Shipway is a newcomer that specialises in offering dependable and affordable shipping services to eCommerce businesses. This eCommerce courier services provider allows you to focus on business operations, ensuring that your customers receive the finest shopping experience.
Shipway has already partnered with 30+ eCommerce couriers.
It currently provides an end-to-end shipping automation solution for fulfillment and logistics to over 12,000 eCommerce retailers.
Xpressbees
Xpressbees, best known for its speedy and affordable parcel service, is one of India's fastest-growing eCommerce courier services providers. As Xpressbees' logistics partner, you may offer your customers same-day and next-day courier services, as well as reverse logistics for return orders. These services allow eCommerce vendors to deliver a positive customer experience and boost their business performance.
It caters to the end-to-end fulfillment needs of sellers and covers 13000+ pin codes, 100+ hubs and service centers.
They are seasoned professionals, providing tech-based solutions for courier service requirements.
It has state-of-the-art logistics centers spread across the country.
Delhivery
Delhivery, since its inception, has successfully fulfilled over 1 billion orders across India. Their aim is to build an efficient operations model for business, through a combination of world-class infrastructure, cutting-edge engineering and technology capabilities and logistics operations of the highest quality.
It is one of India's largest and most popular courier companies that is also homegrown.
It offers end-to-end fulfillment solutions and serves over 17,000 pin codes and 175 cities.
It offers features such as sending tracking details to customers through SMS and provides same-day/next-day delivery options.
It provides multiple payment options at the time of delivery.
Conclusion: How WareIQ can Help with Your Need for eCommerce Courier Services
WareIQ stands apart from the rest as one of the best possible eCommerce Courier services for businesses of every size and domain. Sellers looking for a reliable and cost-effective eCommerce courier service provider can choose Ware IQ for the following attributes:
Access to WareIQ's strong nationwide network of fulfillment centers, micro-fulfillment centers & urban dark stores near their customers
Access to all major national & hyperlocal last-mile couriers at discounted rates for making same/next day deliveries possible
Easy integration across multiple online platforms & marketplaces enhancing multi-channel selling
Access to a superior centralised tech platform for eCommerce operations

ML-based prediction engine for efficient fulfillment warehouse network design & smart inventory placement
Centralised platform for core fulfillment & shipping operations
Post-shipping apps for delightful experience & zero to minimum supply chain leakages (Branded tracking page with smart marketing placements; Trigger-based updates & smart communication platform)
WareIQ has customised offerings for merchants experiencing different order volumes as well as having different delivery speed expectations. WareIQ is probably one of the very few fulfillment tech companies in the world that have same-day delivery service for their customers under their product "WareIQ RUSH".
With world-class WMS functionalities, WareIQ handles the entire range of intricate operations in the eCommerce fulfillment process, ranging from Inbound Operations such as scanning and quality check, through 100% accurate Pick and Pack, to Inventory Management across all channels.
WareIQ's next day delivery and same-day delivery services are helping eCommerce businesses set new standards with respect to setting customer expectations and fulfilling them with high efficacy. At the same time, WareIQ customers realise significant cost savings and wider reach due to better negotiations with shipping partners, strategically placed warehouses, economies of scale and scope in eCommerce warehousing and data-driven decision making.
WareIQ's WMS, a centralised tech platform helps to better manage undelivered orders by reducing NDR processing time by 12 hours – a multifunctional NDR dashboard helps to track and take immediate action for undelivered orders in real-time, thereby reducing RTO by up to 10%. Automatic replenishment recommendations and easy purchase order creation capabilities on the WareIQ platform further empower eCommerce companies to leverage all possible ways of increasing their ROI.
300+ brands, such as The Man Company, Future Group, Kama Ayurveda and Wingreens Farms, have trusted WareIQ as a reliable partner in their growth journeys. No minimum order quantity requirements make it suitable even for small businesses, having low order quantities, to take advantage of the latest trends such as next day delivery and same-day delivery. The onboarding process is simple, convenient and less time consuming, while the pricing policy is clear and transparent.
WareIQ also undertakes strict safety precautions at its warehouses and complete ownership of the operations, thereby minimising the risk exposure of WareIQ customers. Thus WareIQ will definitely prove to be a more reliable and trusted long-term fulfillment partner compared to dropshipping and conventional 3PL companies.
Sign Up Now with WareIQ to avail our superior fulfillment tech platform & enhance your online business growth.