Shopify Shipping Apps Guide | 10 Best Shipping Software for Shopify in 2023
With eCommerce having gained a stranglehold on the way people choose to buy products, eCommerce sellers have been expected to adapt to fit the growing demands of their customers. India is one of the fastest-growing eCommerce markets in the world and is expected to jump to the top in the not-so-distant future. Every sector is currently experiencing unprecedented growth, especially as more potential customers get accustomed to using the internet for their purchasing requirements.
The country has an interesting dynamic, with the majority of eCommerce purchases (61%) coming not from large cities but from smaller tier-2 and 3 towns. Additionally, these smaller cities saw annual eCommerce growth rates of 92% and 85%, respectively, trouncing the growth rate of large cities, which sits at just 47%. This indicates that retailers have to ship more orders to distant locations.
Therefore, they need to have the eCommerce shipping and distribution infrastructure in place, digitally and on the ground, to be able to successfully fulfill every order that comes in. One way to do that, especially if you want to sell on Shopify and other online selling platforms to sell your products, is to use Shopify shipping apps. In this blog, we will go into detail about Shopify shipping apps and list the 10 best options currently available.
Introduction to Shopify
Shopify Inc. was pioneered in 2006 and is currently headquartered in Ottawa, Canada. The company provides a platform for online sales and is designed to assist eCommerce sellers in achieving their targets. With the help of its platform, customers can open an online store to sell products on Shopify and benefit from instantly gaining access to a sizable online market.
One of the biggest eCommerce companies in the world, Shopify has more than 1.7 million merchants selling their items on its channel. One distinctive feature of Shopify is that they provide a selling platform for both online and physical businesses, a market that not many other major eCommerce competitors have chosen to enter. Additionally, Shopify also has provisions for various apps and online stores, to help users engage more deeply with their prospects.
WareIQ – Amazon-prime Like Logistics for Modern Brands in India
WareIQ, an eCommerce fulfillment company, empowers online brands with a superior-tech platform to compete with Amazon like service levels by bringing their average delivery timelines from 5-10 days to 1-2 days.
"With WareIQ's full stack digital enabled fulfillment solution, we got access to the pan India network of fulfillment centers & cold storage facilities enabling same/next day delivery, without any upfront investment in supply chain infrastructure from our end. During the IPL campaign in April 2022,

WareIQ efficiently

handled unpredictable 200x surges in daily order volumes

of ~20k/day with a

99% fulfillment rate

. With WareIQ as our preferred fulfillment partner, we witnessed 172% growth in online order volume in just 4 months, with a significant improvement in the overall customer experience in fulfillment."
What are Shopify Shipping Apps?
Shopify apps in general, are designed to streamline the functionality of various eCommerce functions. Retailers can create apps for their own businesses and list them on the Shopify store, from where customers can download them to get access to enhanced, app-specific features. Shopify apps provide a variety of functions, from payment processing and promotional activity to inventory management and customer service. You can learn more about Shopify inventory management apps here.
In the case of enhancing shipping capabilities, Shopify provides multiple shipping apps. In addition to apps, it also offers various extensions and integrations to enhance your shipping services. Primarily designed to improve the post-purchase experience of customers, Shopify shipping apps come filled to the brim with various features, such as the automation of vital shipping processes, eCommerce logistics, order management, tracking shipments, and much more. The best shipping software for Shopify will provide a similar experience to the interface of existing online stores to provide a unified feel across platforms.
10 Things to Consider to Help You Choose the Best Shipping Software for Shopify in 2023
User Interface
The user interface of your Shopify shipping app should be intuitive and easy to use. An overtly complicated interface can lead to doubts and cause confusion amongst your staff, which will, in turn, lead to delays and disruptions further down the line. Choose an option that has all its functions laid out in a simple and well-designed way.
Customer Support
A major deterrent for partnering with any shipping solution that does not provide customer support is that customers could be left a long time waiting for an answer to their queries and you may not be able to get in touch with the company directly whenever an unforeseen event arises. Thus, it would be advisable to partner with one of the many Shopify shipping apps that provide comprehensive customer support.
Feature Usability
The main selling point of Shopify shipping apps is that they seek to streamline your shipping processes so that they will be more efficient and easy to operate. However, if you mistakenly choose to partner with an app that proves to be difficult to operate, requires a steep learning curve, and needs someone with coding skills to set it right, you may be in for a world of pain. There are many options that have simple UIs that can seamlessly synchronise your existing data, so partnering with them would be worthwhile.
Business Requirements
Different sellers have different requirements. The type of Shopify shipping apps you choose to partner with should be closely related to factors such as the industry your business operates in, the type of products you sell, the price bracket they fall into, and so on. Additionally, companies at different stages of their growth cycle need to prioritize different things when it comes to shipping so it is important to conduct some internal research to determine what would be ideal.
Prior Feedback
Scrolling through past reviews on their app page or other online forums can be a good indicator of the reputation that a Shopify shipping app has built with its previous and current customer base. Additionally, it would also highlight the frequency at which they respond to online customer feedback and whether they provide a prompt and suitable resolution to any negative inputs.
Available Integrations
All Shopify can definitely integrate with Shopify. The doubt in question is about whether they can integrate as seamlessly with multi-channel selling platforms and shipping carriers. If your shipping app fails to be able to integrate with the existing channels you use, it could cause massive disruptions and complications. Choose one that has a variety of integrations so you won't need to worry about juggling multiple platforms.
Future Scalability
eCommerce as an industry is subject to constant change. If a new technology gets introduced that revolutionizes the way orders are stored or delivered, you need to have a delivery partner that has the ability and available resources to take advantage of it. Additionally, as your company starts to grow and order volumes increase, it would be suitable to have a Shopify shipping provider that can adapt accordingly.
Pricing Plans
There would be no point in choosing a shipping solution that has all the features you need but charges an arm and a leg for the privilege. Some Shopify shipping apps are free, while others have free trial periods, payment requirements on a monthly basis, or impose charges on each load. Choose one that makes the most sense with your business model and financial capabilities.
Onboarding Process
The onboarding process varies from app to app. Some apps have a short and simple onboarding process that may take you 15 minutes to complete. Others have a convoluted and cumbersome process that could result in delays and loss of functionality of your shipping processes if you aren't able to sign up and integrate all of your data properly. Shortlist one of the many Shopify shipping apps that have simple onboarding procedures so you can start utilizing their services immediately.
Available Services
Every shipping app provides specific services that may be unique to them. Some may choose to focus entirely on enhancing activities directly related to shipping, such as smart courier allocation and price comparison tools, while others may supply more fulfillment-related services, such as order processing and packaging. Browse through the entire catalogue and find a set of Shopify shipping apps that closely relate to what you looking for from your shipping provider. If you are keen to know about Shopify fulfillment services, you can learn here.
Top 10 Shopify Shipping Apps for eCommerce Sellers in 2023
A list of the 10 best shipping software for Shopify in 2023 along with their features, payment requirements, etc. are mentioned below.
Easyship
Shippo
ShippingEasy
ShippyPro
ShipStation
parcelLab
ShipperHQ
Shipway
AfterShip
Vamaship
Easyship
Payment Requirement: It is free to install.
About: EasyShip is an eCommerce shipping company that was founded in 2014 in Hong Kong, It has a shipping extension for Shopify that serves as a flexible shipping option. eCommerce Shipping, last-mile delivery, customer service, and order fulfillment are all aided. You can have access to more than 250 international courier services using Easyship's Shopify app. By using the many shipping options offered, you can gain advantages like reduced prices.
You can handle orders by integrating with your current courier partners from a single digital location. Using the offered dashboard, you can give clients simple order-tracking assistance. The items that clients have in their shopping carts are used to calculate rates. These expenses go above and beyond delivery fees. Some features that make Easyship one of the best Shopify shipping apps are listed below:
It helps you connect with 250-plus shipping carriers.
It can get you discounts of up to 70% for one account.
It assists you in utilising your tariffs and connects your account to your courier.
It enables you to view the required taxes, tariffs, and courier fees upfront for any delivery, regardless of where you are delivering.
It gives you accurate estimates because it is based on what customers currently have in their carts.
Shippo
Payment Requirement: It is free to install.
About: Shippo is an international shipping company that was founded in 2013 in San Francisco, California, USA. It maintains an official presence on the Shopify app store. You can install and set up this app to start offering shipping and fulfillment services. It enables users to synchronise orders with Shopify and other shipping partners through an automated process. The same method enables you to handle orders quickly by printing shipping labels in bulk with pre-filled information.
Businesses can choose from more than 85 international shipping companies that have partnered with Shippo. eCommerce stores can take advantage of a variety of advantages using the Shippo Shopify app. These include the option to ship orders in multiple shipments at a discount or to receive cheaper shipping prices. Some features that make Shippo one of the best Shopify shipping apps are listed below:
It helps you receive immediate savings on UPS, DHL Express and USPS.
It provides a tool to compare costs with up to 50+ carriers simultaneously.
It assists with faster printing by ensuring that box information is pre-filled and stored.
It can print batch labels to make product dispatch simpler.
It has no hidden or recurring fees and you can upgrade to a preferred payment option that can be customised.
ShippingEasy
Payment Requirement: It is free to install.
About: ShippingEasy is a shipping company that was founded in 2011 in Austin, Texas, USA. It is one of Shopify's best shipping automation apps. It enables eCommerce businesses to sync their orders between different platforms and carriers. Through the use of targeted emails, ShippingEasy assists with marketing in addition to managing shipping processes. It also enables automated order processing.
This makes it easier to print shipping labels by eliminating the requirement for human entry. To speed up shipping procedures, shipping labels can also be printed in bulk. Regular order progress updates are also sent to Shopify and all of your other selling channels. Some features that make ShippingEasy one of the best Shopify shipping apps are listed below:
It provides automated shipping that will save time, energy and human error.
It helps with integrating your Shopify store with all other channels you sell on.
It sends automated emails so you can increase brand recognition while recouping lost sales from abandoned cart emails.
It has drastic price discounts for UPS and USPS.
It allows you to compare options for carriers and providers quickly based on their prices.
ShippyPro
Payment Requirement: The base price is $49 per month.
About: ShippyPro is a shipping and order fulfillment company that was founded in 2016 and is currently based in Firenze, Italy. It provides an app for managing shipments and deliveries. The original system works as a proprietary integration that provides a complete feature set. It concentrates on returns management as a Shopify shipping app.
It has a provision that enables eCommerce businesses to track their goods. It is simple to send all tracking notifications to clients directly. You can prevent mistakes in shipping information by automating your distribution process with Shippy Pro's Shopify app. Additionally, it compares shipping costs for different shipping partners. Some features that make ShippyPro one of the best Shopify shipping apps are listed below:
It has partnerships with more than 159 shipping carriers.
It provides comprehensive returns management.
It offers integrations with multiple shipping carriers, online selling platforms and external apps.
It has an in-house label creation service.
It provides a multi-carrier shopping API to help with the automation of logistics processes.
ShipStation

Payment Requirement: The base price is $9 per month.
About: Shipstation is a shipping and e-commerce logistics company that was founded in 2011 and is currently based in Austin, Texas, USA. The app is available for purchase on the Shopify app store. eCommerce companies can automate and integrate multiple tasks using this app. However, It is crucial to remember that this Shopify shipping app has a 10,000 consignment limit. With the help of sophisticated shipping rules, online retailers can automate various logistics processes.
This reduces the amount of manual labour required for procedures like label creation and shipment processing. The simplicity and quickness with which it generates and prints shipping labels stand out as noteworthy features. Through a variety of shipping carriers, this app offers various shipping options for your store. You can also view current shipping carrier rates using ShipStation. Some features that make ShipStation one of the best Shopify shipping apps are listed below:
It offers significantly reduced rates from USPS, UPS discounts of up to 55% off and FedEx delivery options.
It enables you to save money by providing a price comparison tool.
It helps you gain efficiency by collecting orders from your sales channels and streamlining order administration with a set of straightforward yet effective rules.
It can connect to Shopify and more than 150 other applications.
It helps you create a large number of shipping labels at once for UPS, FedEx, USPS, Canada Post and more.
parcelLab
Payment Requirement: The base price is $51 per month.
About: For eCommerce businesses, parcelLab is a shipping solution whose app can be privately linked with Shopify stores and other eCommerce marketplaces. More than 150 eCommerce shipping firms are linked with it. The company was founded in 2015 and is currently headquartered in Boston, Massachusetts, USA. parcelLab employs an Operations Experience platform to assist in emailing consumers about order tracking updates.
A customised "Order Status" page allows customers to interact with your company further. Customers can also view tracking updates on a variety of platforms. parcelLab is renowned for fostering brand loyalty through individualised interactions and brand-specific adaptations. Some features that make parcelLab one of the best Shopify shipping apps are listed below:
It services more than 550 distinct clients across the globe.
It provides customers with a centralised hub from where they can access all their important information across platforms.
It provides insights into various business processes to allow for tracking and analysing.
It has a large list of high-profile clients, including Bose and H&M.
It allows for the automation of custom delivery notifications.
ShipperHQ
Payment Requirement: The base price is $71 per month.
About: ShipperHQ is a shipping management company that was founded in 2013 and is currently based in Austin, Texas, USA. Its Shopify shipping app enables eCommerce businesses to make wise financial decisions and cut costs. It serves as a mechanism for managing shipping rates. With the help of this Shopify app, online retailers can design rules that alter shipping costs and delivery options.
Additionally, conditions for dimensional weight calculation, box packing and package selection can be made. This shipping tool is especially useful during particular times of year and occasions when there are a lot of online orders. It is practical to employ throughout the holidays and in situations involving certain customers. Some features that make ShipperHQ one of the best Shopify shipping apps are listed below:
It provides various delivery options, including scheduled delivery and alternate pickup.
It can integrate with other online storefronts, such as BigCommerce, Salesforce, Magento and more.
It has a custom API that can synchronise with your existing website and tools in addition to creating custom integrations.
It offers a packaging configurator to determine the most efficient packaging solutions.
It provides a price shipping calculator to compare the prices from multiple carriers.
Shipway

Payment Requirement: It is free to install.
About: With its current headquarters in Gurgaon, Shipway is a young eCommerce company that specialises in shipping aggregation. It can be considered one of the best shipping apps for Shopify India. It was founded in 2015. It specialises in providing trustworthy and reasonably priced distribution facilities to online retail companies. The company provides its own Shopify shipping app. By assisting in providing your clients with the best possible shopping experience, this shipping solution frees you up to concentrate on your primary business activities, such as marketing and product R&D. Currently, Shipway works with more than 30 shipping carriers.
Over 12,000 online vendors are currently served by its all-inclusive shipping automation system for eCommerce fulfillment and logistics. Additionally, it includes incredibly flexible pricing options, ultra-rapid delivery, order tracking capabilities, and the ability to automate numerous supply chain activities. Some features that make Shipway one of the best Shopify shipping apps are listed below:
It enables you to automate pushback in Shopify, auto-allocate orders to your carrier, assign shipping labels automatically and much more, with just a few clicks.
It lowers RTO frequency by immediately alerting clients of an unfulfilled purchase.
It helps you cut your 15-day return cycle to 5 days with an all-encompassing returns management process
It provides automatic pickups with quality checks and instant refunds for COD and prepaid orders.
It provides a shipping calculator so you can compare the prices of various shipping operators.
AfterShip
Payment Requirement: It is free to install.
About: AfterShip is a distribution and logistics company that was founded in 2012 and is currently headquartered in Hong Kong. It operates a popular Shopify app with many features. This shipping tool, developed by Aftership, keeps track of the orders that your logistics partners have received. It enables you to control shipments and boost client interaction.
On the app, tracking updates from your shipping partners are instantly received in your dashboard. Customers are informed of these order tracking alerts as soon as they are updated. On each of your selling sites, a tracking page shows these statuses as well. Some features that make AfterShip one of the best Shopify shipping apps are listed below:
It provides multiple value-added features, such as an all-in-one marketing tool.
It provides an in-house webpage template builder.
It enables the automation of prompting feedback from customers.
It provides branded tracking pages for every order that can be customized to your liking.
It offers shipping insurance for every order.
Vamaship
Payment Requirement: It is free to install.
About: Founded in 2016, Vamaship is a logistics and shipping business currently located in Mumbai, Maharashtra. The company, which is currently active in more than 200 countries, provides its own Shopify shipping app. It provides businesses with the option to automate several of their distribution processes in order to speed up and enhance the rate of order fulfillment, as well as help them ship their goods by air, rail, land and sea at the most affordable prices.
Customers can also use it to centrally monitor the effectiveness of their shipping carriers and other related resources. Some features that make Vamaship one of the best Shopify shipping apps are listed below:
It offers customized labelling where you can add your company's name and logo for enhanced brand visibility.
It sends NDR updates per case on a daily basis to build your shipment conveyance rate.
It offers a large number of shipping partners.
It sends personalised SMS alerts for various functions like pickup, dispatch and out-for-delivery.
It provides a consolidated system for keeping track of order and inventory information.
Conclusion: Amplify Your Shopify Shipping Efficiency With WareIQ Shipping and Fulfillment
Shipping is one of the most complicated and risky eCommerce procedures because it involves the transportation of orders through a variety of means, such as air, rail, land and sea, to get them to their customers' destination before the promised date and time. This is the stage at which your business is most susceptible to unforeseen circumstances, such as delays, harsh weather conditions, products being damaged in transit, incorrect location and contact information provided and much more.
If any of these factors are allowed to fester and cause a disruption, customers will have a poor perception of your business. Thus, employing the use of Shopify shipping apps to gain insights into your orders, track packages while they are in transit and monitor the performance of your shipping partners is vital in curtailing these factors. If you need additional assistance, beyond the need to increase basic shipping functionality, you can consider partnering with WareIQ.
You can alternatively check out their page for all details on Shopify Order Fulfillment.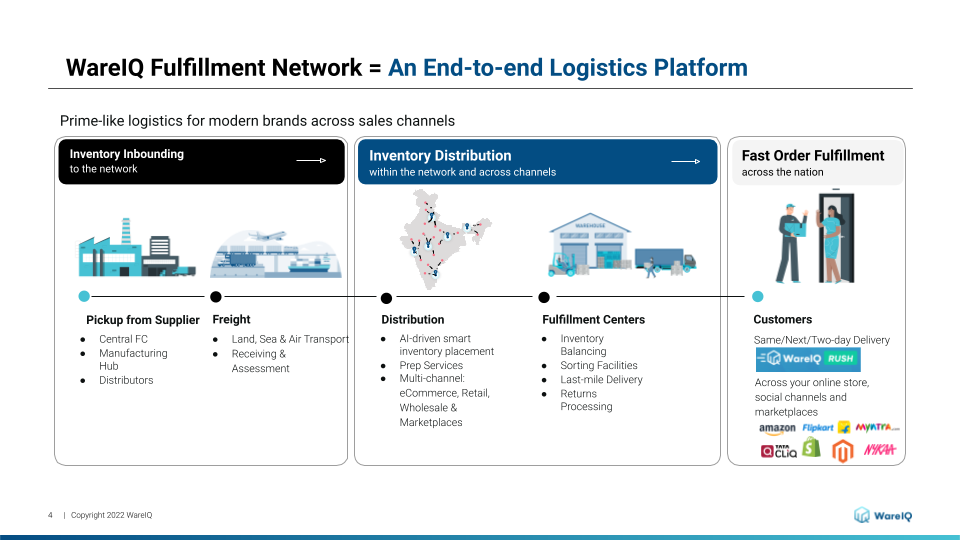 WareIQ is an eCommerce fulfillment company that was started in Bangalore, Karnataka, in 2019. The company has become one of the most rapidly-growing options in the country due to its use of technology to tackle a wide range of eCommerce requirements. In terms of shipping and applications that enhance business functions, the company provides the following services:
Partnership With Multiple Shipping Carriers
We have partnered with more than 12 of the largest shipping carriers in the nation. Additionally, we have a smart courier allocator that automatically assigns the quickest and most cost-effective option for every order. In the case of a shipping delay with any carrier, the order will simply be assigned to the next best option.
Ultra-Fast Shipping
We provide ultra-fast same-day and next-day delivery services to almost every corner of the country. We also take care of last-mile delivery to ensure your customers receive their orders on the promised date and time.
Branded Order Tracking
We provide highly-customisable order tracking pages where you can add whatever information you want your customer to see, such as testimonials from other clients, promotions for upcoming products, social media links, information about the company and much more.
App Store
We provide an in-house app store with support for both 1st-party and 3rd-party apps that are designed to enhance the capabilities of various business processes. We have an app to add shipping badges to your product listings to indicate delivery speed, generate customer feedback both personally and online, provide branded tracking pages for every order and much more.
Returns Management
WareIQ, a reverse logistics company provides complete returns management, including an RTO Shield that will protect your business and products from the harsh implications of returns and entirely handle your reverse logistics processes.
Shopify Shipping Apps: FAQs