What are Shipping Delays? Causes, Impact, and Solutions to Mitigate Effects of Delays in Shipping for Retailers in 2023
Shipping products is one of the most important processes in the retail industry. Products need to be transported from manufacturers to storage facilities for both online and offline businesses. In the case of eCommerce companies, they also have to ensure that products are delivered on time to their customers, which involves their items spending even more time in transit.
In a bid to offer the best products at the cheapest prices and to generate as much hype as possible, sellers are often blissfully unaware that certain aspects of their shipping procedures may not be up to the mark and, as a result, are causing delays. Order delays can have dire implications not just for the business itself but also for its customers. This can lead to undesirable opinions of your business and can lessen the chances of it getting repeated as well as new customers. In this blog, we will take a look at the meaning, causes, impacts and methods to reduce shipping delays for your retail business.
What are Shipping Delays?
Any instance where raw materials that are being transferred to the manufacturer, finished goods that are being transported to a storage facility, or orders that are being transported to customers do not reach their destination on the specified date and time can be termed as a shipping delay. In essence, a delay caused while products are in transit can be considered a shipping delay.
These delays can happen for a variety of reasons and not all of them are the fault of your own operations or negligence. Oftentimes, especially when a product is being transported, you are at the mercy of external influences, such as road repairs, vehicles being damaged, natural calamities, and much more. Therefore, it is important to try and forecast and account for as many of these situations as you can, in order to prevent and negate the negative outcomes caused by order delays.
WareIQ – Amazon-prime Like Logistics for Modern Brands in India
WareIQ, an eCommerce fulfillment company, empowers online brands with a superior-tech platform to compete with Amazon like service levels by bringing their average delivery timelines from 5-10 days to 1-2 days.
"With WareIQ, UTH is able to consolidate common inventory for all platforms and get much closer to the customer through access to WareIQ's strong nationwide network of fulfilment centres, and last mile & hyper-local courier partners.

We are excited about being able to offer

same day delivery

in several pin codes due to

WareIQ

.

"
What are the Primary Causes of Order Delays in 2023?
Labour Scarcity
Since the onset of the pandemic, many countries and specific industries have faced vast labour shortages. This is especially prominent in developed countries, such as the US and UK, where job openings are at all-time highs and labour participation rates are dwindling. This obviously has an effect on the way products are able to be produced, shipped, and delivered to customers and it can cause severe shipping delays and disruptions throughout the fulfillment pipeline. One way to curtail this is to ascertain in advance how many employees you need to conduct operations successfully and procure the necessary resources instantly.
Public Holidays
The significance of various public holidays dictates the closure of many important services on those specific dates, resulting in uncertainty and, eventually, shipping delays. The fact that sellers often experience their highest demand of the year during specific holiday seasons just rubs salt into the wood in case they are experiencing late shipment deliveries brought about by the holiday restrictions. Additionally, because they are often a lot more orders to deal with during the holidays, it requires additional resources and effort in order to successfully fulfill all of them, which can expose the efficiency of your shipping processes for the better or worse.
Suggested Read: Tips to Prepare Your Fulfillment and Logistics Strategy for the Holiday Season in 2023
Unsuitable Weather Conditions
Orders are the most susceptible to damage or delays while they are in transit, as this is where they are the most exposed to external factors such as harsh weather conditions. From experiencing the direct impacts caused by fog and hailstorms to the indirect effects due to road closures caused by fallen trees or electrical wires and flights being delayed due to excessive rain or snow, weather conditions play an important role in the success rates of shipping practices. Although it is not possible to control weather patterns, you can brace yourself by investing in technology that will offset the impacts and making the necessary preparations.
Supply Chain Disruptions
The world and its populace have been through a lot in the past couple of years, firstly due to disruptions to supply chains caused by the global pandemic and all its restrictions, and then due to conflicts like the war in Ukraine and the closure of various trade routes, ports and pipelines that have contributed to an increase in the prices of transport, oil and gas. This has had a negative impact on retail shipping by making it more expensive to conduct the same processes as before. Thus, many extended shipping delays can be attributed to these supply chain disruptions happening in many parts of the world.
Incorrect Shipping Details
If there is any factor that is 100% assured to cause inevitable order delays, it is not having your eCommerce shipping information filled out accurately. For instance, any disparity in important details, such as the customer's address, phone number, warehouse address, or SKU number, can cause multiple disruptions and ensure that orders are subject to heavy hindrances. In turn, this can also cause costs to skyrocket, RTOs to increase, and enhance the likelihood of goods being damaged. To prevent this, it is important to ensure that all details are filled out accurately.
The Impact Late Shipments Can Have on Your Business
Delegitimizes Your Brand in the Eyes of Customers
Concerningly, around 41% of customers associate delayed deliveries directly with the brands they purchased them from. Customers will surely be upset when their order doesn't arrive when they anticipated it to when they expect businesses to deliver their orders on time.
This dissatisfaction may spiral into future delivery-related agitation and even apprehension about placing repeat orders. Additionally, more than 32% of buyers worldwide suggest that one of the major downsides of making an online purchase is dealing with shipment issues or delays. This is why it is important to give your customers a positive experience and tackle the issue of shipping delays before it even starts.
Makes You Lose Out on Valuable Revenue
Retail income can be severely impacted by shipping delays. A single lengthy hindrance to production could wipe away as much as 30–50% of a company's revenue prior to paying taxes, interest and lost profits due to depreciation, according to a recent McKinsey article. Additionally, clients frequently find lengthy delivery schedules to be off-putting, which could hamper your chances of getting repeat purchases from them.
They could either completely back out of the purchase or shop elsewhere. 32% of customers say they abandoned their shopping carts in the past year because the projected shipment time was too long. Thus, it is important to regulate your shipping processes to avoid mishaps and provide ultra-fast shipping.
Creates Confusion Regarding Inventory
Retailers may find it challenging to accurately predict demand and arrange their inventory due to shipping delays. As a result, businesses risk overstocking and incurring expensive storage fees for their inventory. Alternatively, they can underestimate consumer need, quickly run out of supply and be unable to replenish their inventory in time to satisfy actual customer demand.
Inconvenient stockouts, which cost retailers $1 trillion annually, can result from overcompensating for fear of ordering too many items. Either way, it is important to forecast demand levels and ascertain the quantity of each SKU you need to store to fulfill orders.
5 Simple Ways to Mitigate the Effects of Shipping Delays in 2023
Provide Free Shipping as an Option
Free delivery, according to 75% of customers, persists in having a big impact on what they buy. Offering clients free delivery is an opportunity to demonstrate your appreciation for them and dedication to offering excellent service. Free shipping goes a long way in enhancing the customer experience and motivating people to shop with you, even if orders are subject to shipment delays.
Even if you use methods such as accounting for shipping costs in your eCommerce product pricing, providing free shipping if the cart value is above a certain amount and more, it will still give customers the perception that they are getting the item delivered for free.
Have Clear and Transparent Communication
Customers want to be aware of delivery expectations upfront. Over 45% of buyers actively seek out retailers who display delivery timeline estimations. Consequently, after making a purchase, most consumers desire real-time alerts on the status of their shipment. Trust can be developed by keeping lines of communication open with clients.
In addition to improving their delivery procedures, 49% of the firms in a recent survey also pledged to be transparent about their delivery promises, such as by letting customers know when an item is being processed and dispatched. Encourage communication with customers on platforms like SMS and Whatsapp to keep them engaged on a more personal level, in addition to the updates they receive from the order tracking screen.
Appease Customers With Consolitory Discounts
On many occasions, dealing with shipping delays is inevitable, both for you as well as your customers. Even when things don't go as planned, giving consumers special offers and coupons is a good method to demonstrate your appreciation for their business and their lost time.
Gift certificates and discounts can be provided to ease their agitation about the delayed arrival of their orders. This tactic will cost you a small amount of money but it's considerably less expensive and more impactful than having your consumers leave negative reviews or never do business with you again.
Offer Customers the Ability to Pick Up Orders
Giving customers the flexibility of picking up their own orders from a specified location can reduce shipping delays, and efforts and costs associated with last-mile delivery. For a better chance of getting their orders on time, 35% of customers consistently choose shipping options like curbside pickup.
Customers are more receptive to alternative methods of receiving their products as they grow more aware of order delays. As a result, click-and-collect and curbside pickup are two options that 41% of retailers plan to divert more funding towards.
Keep Track of Every Shipment
Customers want to be aware of the arrival date of their orders so that they can the necessary arrangements to ensure it is picked up. 96% of respondents to a recent survey said they find order tracking helpful while awaiting deliveries. Even if it is delayed, shipment monitoring helps reassure customers that their order will make its way to them shortly.
Order tracking can also help you be aware of where customers' orders are and can help you address their grievances in a more informed way. Ultimately, order tracking provides a good way to keep customers informed in the event of an order delay.
Conclusion: Partner With WareIQ to Ramp Up Your Shipping Processes to Avoid Delays
Whenever products need to be shipped or transported from one location to another for whatever reason, there are bound to be delays somewhere down the line. Shipping delays are a harsh reality of the retail industry but companies need to take steps to mitigate the effects of delays and provide a better experience for customers. Clear communication, technology and a robust transportation network all play a role in minimizing shipping delays, which should rank highly in prioritization for every seller that deals with product shipments.
Additionally, preventing shipping delays from occurring will enhance the perception and loyalty that customers have of your brand and increase the likelihood of becoming returning customers. Due to all the negatives associated with shipping delays, retailers need to pay extra attention to their in-house processes as well as external factors. This is why it is a good idea to partner with an experienced 3PL fulfillment company like WareIQ.
WareIQ is an eCommerce fulfillment company that specialises in a vast array of eCommerce and retail solutions, including shipping. Through our WareIQ Global platform, we can help you streamline your shipping processes to avoid delays and offer your products locally and internationally. Here are some of the facilities we can provide to your business:
Domestic and International Shipping
Retailers can ship their goods natively and to more than 220 countries and territories worldwide. We also offer last-mile delivery, storage facilities and other services both local service and international courier service.
Last-Mile Delivery
By making sure that items are picked up before being delivered to the relevant customer's city and delivered right to their doorstep, we assist retailers with the final stage of the delivery process.
Shipping Aggregation
In addition to offering lightning-fast same-day and next-day delivery, we have worked with more than 20 of the biggest shipping providers in the nation and automatically assign the best and cheapest option for each unique purchase to increase customer satisfaction.
Absence of Minimum Order Restrictions
We don't have any minimum order restrictions for items to be dispatched, unlike other 3PL fulfilment firms. Additionally, we offer users a selection of the services they wish to choose from and they only need to pay for the resources they actually utilise, which boosts their profit margins and lowers their expenses.
RTO Shield
Our specialised RTO Shield enables a reduction in RTO requests and shelters sellers from financial losses through insurance and liability coverage.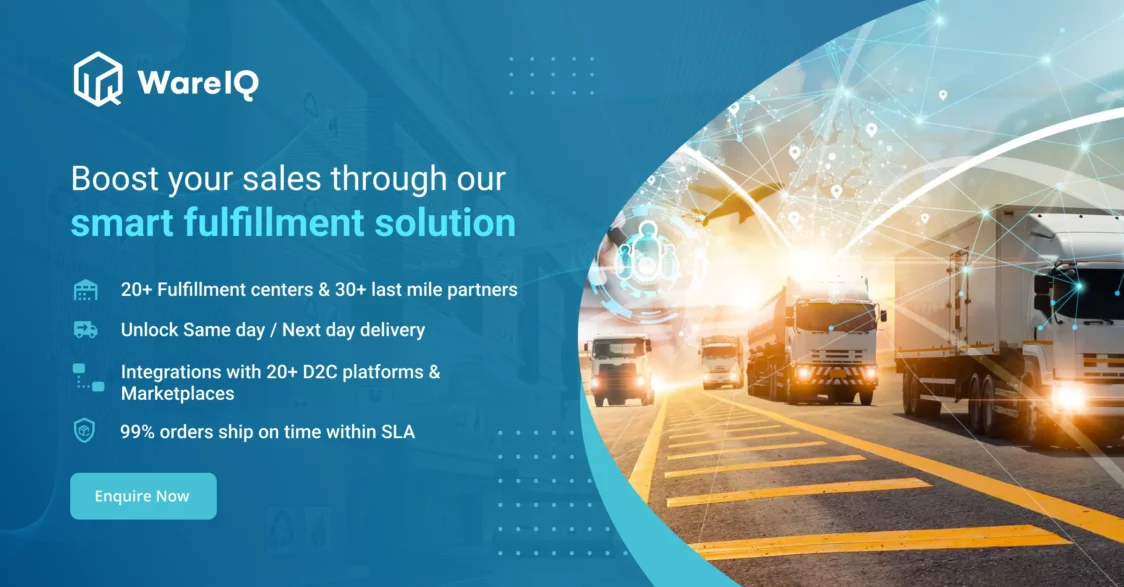 Suggested Read: What is a Shipping Policy?
Shipping Delays: FAQs