10 Tips to Prepare Your Fulfillment and Logistics Strategy for the Holiday Season in 2023
The holiday season marks a significant increase in the amount of demand and sales that eCommerce retailers can generate. Capturing interest from customers and ultimately converting that interest into a purchase is only a small part of the entire spectrum of fulfillment services in order to successfully complete the entire supply cycle of ensuring that the customer receives their order on the promised date and time. Performing these tasks accurately can become an even more challenging prospect due to the skyrocketing volume of orders that are brought about by the festive season.
To ensure that all orders are delivered quickly and error-free to avoid dissatisfaction from customers, lost sales and RTO initiations, companies need to have an effective logistics strategy to tackle the ever-growing influx of orders. Read further as we discuss what logistics strategies are, the impact the holiday season can have on it, the importance of framing an effective logistics strategy and 10 tips to help retailers assemble one for the festive season.
What is the Meaning of Logistics Strategy?
Logistics generally encompasses all the processes that are involved in efficiently transporting an order from the manufacturer to the fulfillment center it will be stored in and ultimately to the end customer. A logistics strategy is the implementation of a predetermined set of rules and guidelines so that orders can be delivered smoothly and cost-effectively. Having a comprehensive logistics strategy is essential for eCommerce retailers to run their logistics processes smoothly so that the time taken to fulfill each order is reduced and errors or mistakes can be mitigated.
This is especially vital during the holiday season as firms will have to fulfill a much larger number of orders compared to seasons of conventional demand. Not paying attention to adopting a logistical strategy can lead to firms not being able to fulfill orders at their full capacity and will also result in unhappy customers, negative feedback and lower sales volumes.
WareIQ – Amazon-prime Like Logistics for Modern Brands in India
WareIQ, an eCommerce fulfillment company, empowers online brands with a superior-tech platform to compete with Amazon like service levels by bringing their average delivery timelines from 5-10 days to 1-2 days.
"With WareIQ's full stack digital enabled fulfillment solution, we got access to the pan India network of fulfillment centers & cold storage facilities enabling same/next day delivery, without any upfront investment in supply chain infrastructure from our end. During the IPL campaign in April 2022,

WareIQ efficiently

handled unpredictable 200x surges in daily order volumes

of ~20k/day with a

99% fulfillment rate

. With WareIQ as our preferred fulfillment partner, we witnessed 172% growth in online order volume in just 4 months, with a significant improvement in the overall customer experience in fulfillment."
Influence of the Holiday Season on Your Logistics Strategy
Higher Demand
Retailers often expect and anticipate higher demand and sales volumes than usual due to customers being more prepared to make purchases, either for themselves, family, and friends, and in many cases, all of the above. Thus, the onus is on eCommerce companies to develop their logistics strategies to cope with this higher demand so that they are able to fulfill every order that comes their way and are not put in the position of needing to turn away paying customers.
Impatient Customers
Due to customers being on a tight deadline in order to receive their orders in time for the holiday season, they are often more impatient than usual, which can result in increased agitation and frustration if they do not receive their orders on time. If an order doesn't get delivered on time, their negative perceptions of the delay and ultimately the firm, maybe more pronounced due to their enhanced anticipation of receiving their goods in a timely manner and on the promised date. Retailers need to make sure that their logistics strategy is efficient so that every order can be delivered according to the ETA that is mentioned to customers.
Extra Pressure on Manufacturers
Increased demand on the part of retailers during the holiday season means that manufacturers also need to step up their game so that goods, especially the best-selling items, will be available to fulfill orders when they come in. Retailers need to take the initiative of having a logistics strategy in place at least 2 to 3 months before the festive season which includes communicating with their manufacturers on the expected inventory levels that are needed from them. This will help them take the necessary steps in advance and will avoid pushing out finished goods in a hurry at the last minute, which can lead to decreased levels of quality, higher costs, delayed production and other negative impacts.
Added Workload on Every Department
eCommerce retail, especially the logistics aspect of it, is not a one-man show. Instead, there are many different departments and external companies and manufacturers that have to come together as one, well-oiled unit. A company's logistics strategy should clearly lay out the goals that are expected from each department and specify guidelines to streamline each process so that they can be performed efficiently.
Importance of Framing an Effective Logistics Strategy for the Holiday Season in 2023
Reduced Travel Times
When an eCommerce company has an effective logistics strategy in place, travel times get drastically cut as each process along the supply chain would be operating at its most efficient capacity. Firms can be prepared for unforeseen delays and other circumstances that could disrupt the delivery process so workarounds can be implemented.
Increased Sales
Due to the increased demand during the holiday season and reduced travel timelines of each order, retailers that have framed a logistics strategy will be able to fulfill more orders in a shorter period of time, leading to more sales, higher revenue, and larger profit margins. If firms put themselves in a position to capitalize on the excess demand, the entire company will be benefited.
Enhanced Customer Satisfaction
If companies implement a sound logistics strategy, the entire process of delivering an order to the end customer will be streamlined, resulting in a favourable customer experience and in turn, positive feedback and reviews on their websites or other online forums. Customers generally value the feedback of other customers who have experienced the fulfillment process first-hand and will be more willing to purchase from that company. This allows the firm to generate more sales which will have positive results on the overall objectives of the business.
Accounted Expenses
By accounting for all the expenses and variables that take place in the logistical process, companies can budget themselves more efficiently which ultimately leads to reduced operational and logistical costs. If an accurate logistics strategy is planned, all the costs involved will be mentioned so that retailers can choose which costs are too high and it gives them the jeopardy to remove or streamline various processes.
10 Important Tips to Help Prepare Your Logistics Strategy for the Festive Season in India in 2023
Implement Accurate Demand Forecasting
Demand forecasting is a key element that is needed to assemble an efficient logistics strategy. By analysing historical data of business performance during prior holiday seasons, businesses are able to ascertain which processes worked and which didn't and can successfully determine demand levels in the current year, which allows them to store accurate amounts of inventory to avoid stockouts and wastage which will also reduce storage and ordering costs.
Prepare Inventory According to Demand
After retailers have gauged the estimations of consumer demand for the current holiday season, inventory can be prepared accordingly. The best-selling and highest-demand products for that particular season can be stocked in high amounts while low-demand products can be stored in lower numbers. This helps businesses alleviate risks that stem from overordering and underordering and can also reduce costs associated with inventory management. This also makes the sorting and picking of products easier and faster to increase fulfillment speeds.
Store Products Closer to Customers
While many retailers who have limited resources don't have access to fulfillment centers across the country, others, especially those that have partnered with 3PL fulfillment companies, can make use of nationwide networks of fulfillment centers and warehouses so they can choose where they want to store certain products according to their demand. These products can be stored in close proximity to the customers that are purchasing the most in order to reduce travel distance and time to those customers.
Note Important Deadlines
Important deadlines pertaining to the logistics strategy should be noted by retailers so that they can be reminded to make the necessary arrangements for those deadlines. Important events in the logistical process for the holiday season include picking, packing and shipping customer orders, reordering inventory to avoid stockouts, adding and removing discounts depending on the length of various promotions and receiving orders from manufacturers, among many others. Planning in advance is imperative for the success of the logistics strategy.
Pay Attention to Returns Management
A big factor in the logistics process, especially during the festive season is returns management, also known as reverse logistics. eCommerce companies need to include provisions for returns management in their logistics strategy because customers are extremely choosy these days and if a small aspect of their purchase experience isn't as per their preference, there will be a risk of them initiating an RTO. Because of the increased demand of the holiday season, there are bound to be increased returns as well which retailers need to account for so that they can maintain customer satisfaction while also preventing costs from skyrocketing.
Partner With a 3PL
3PL companies can be a very useful tool for most retailers to frame their logistics strategy, especially during the holiday season and especially for small and mid-sized businesses that don't have access to their own resources and technology. These companies come armed with a host of advanced facilities and technology that will enable eCommerce sellers to enhance the experience they are able to deliver to their customers, while also obtaining a competitive edge in certain areas such as providing same-day delivery, assessing their inventory data through a WMS and much more.
Use Custom Packaging
By Using custom packaging, orders can be packed into containers that are made precisely for them instead of trying to fit them in generic containers that can either be too loose so that they can wobble around and receive damage or too tight so that they constantly rub against the container and can warrant concern from customers when they open it. Custom packaging not only enhances the brand's image but also ensures that the product is secure during transit until it is delivered to the customer, which can increase satisfaction and delivery speed and reduce the rate of returns.
Provide Ultra-Fast Delivery
Ultra-fast delivery is a must for retailers that want to compete in an ever-expanding eCommerce space. It is perceived more as a right than a privilege by consumers so sellers that don't offer it are constantly subject to cart abandonments and negative feedback. By including ultra-fast delivery in their logistics strategy, firms not only provide a positive fulfillment experience to their customers but can also fulfill more orders in a shorter period of time thanks to the reduced delivery time of each order.
Offer Premium Customer Support
Logistics is important for delivering orders to customers but is also the phase where many things can go wrong such as delays, breakages and theft. Therefore, an efficient logistics strategy necessitates the provision of premium customer support and order tracking facilities so that customers will always be informed about the whereabouts of their order and can inquire and get answers seamlessly and quickly so that they can be reassured.
Create a Budget
By creating a budget while planning their logistics strategy, retailers can discern what processes are essential and where they can cut down costs. Budgeting is crucial, especially during the holiday season when costs can easily increase without much knowledge. Having a budget in place means that every process will have a cap on how much is allotted to it so if there is a risk of any operation going over budget, a call can be taken as to how to reduce it.
Conclusion: Take Advantage of WareIQ's Fulfillment and Logistics Services
Logistics is extremely important as it is the means by which eCommerce business are able to order, deliver and transport goods from one location to another until it is finally delivered to the customer. For this reason, it is essential that firms come up with an effective logistics strategy as per their business objectives and requirements. It greatly helps in speeding up and streamlining processes and reducing costs. If you are an eCommerce retailer and need assistance with the logistical aspect of your business or any other eCommerce-related service, you can consider employing WareIQ's offerings.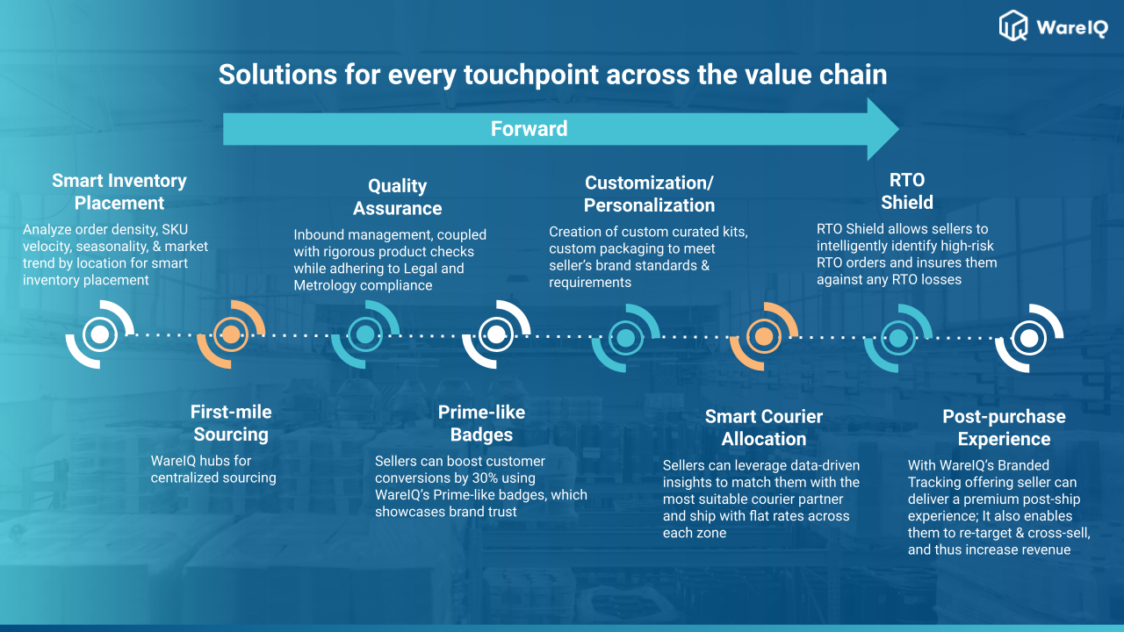 WareIQ is a rapidly-growing eCommerce company that is based in India and provides solutions for all things eCommerce. We make use of an advanced technology platform to provide a seamless experience to our users and their customers.
By offering unique features such as a custom WMS that can provide real-time inventory updates across multiple fulfillment centers and 20 plus eCommerce marketplaces, an app store that has a catalogue of multiple apps to increase productivity in different areas, an RTO shield that provides insurance and protects retailers from returns-related costs, a pan-India network of fulfillment centers and dark stores with intelligent inventory placement to store your products closer to your customers and a partnership with more than 12 of the largest shipping companies in the country to assign the fastest and most economical option for every order, WareIQ can help you frame and implement your logistics strategy as per your goals and requirements.
Fulfillment and Logistics Strategy: FAQs