Top 10 Ways to Reduce Logistics Costs in eCommerce
Running an eCommerce business efficiently is an arduous task. Managing eCommerce logistics along with constantly thinking of various ways to reduce logistics costs further adds to the woes of owners of operations of online businesses. Expenses line up for the owner even before they set up the website. Although a responsive website and preferred domain cost around a hundred dollars, the eCommerce business demands anywhere between $1000 – $10,000 for a small company and the north of $50,000 for a medium-sized start-up.
Once up and running, the enterprise starts to demand cash inflow for various other activities like:
Inventory: Things that an eCommerce business sells are the priority. Having good quality stuff to sell helps the business owners make a brand name. Tying up with worthy sellers to procure the raw material or the finished good is critical for the business's success.
Operational Costs: These include costs like incorporation and registration of the company, any legal fees, trademarking the logo, or buying software for internal or customer use.
Website Costs: From buying the preferred domain, building and running a website to maintaining a secure payment gateway comes under website costs. In fact, purchasing server costs around $200 to begin with. Although purchasing an SSL certificate adds to the cost, custom designing and developing a website that runs on all digital platforms alike can cost anywhere above $10,000.
Offline and Miscellaneous Costs: From buying an office space to running it, involves rent, infrastructure costs, internet costs, and other maintenance costs.
Hiring and Retaining Staff: Having the right staff is critical for any business; a wrong hire costs around 30% of the employee's first-year earnings to a company.
Marketing Costs: Every business needs a good marketing strategy, more so if running an online store. Creating a logo, branding and ads, physical advertising copies, visiting cards for the employees, building and maintaining social media profiles, and sending customer updates via email marketing, all cost around 10% of the total expenditure as per Shopify.
Logistics Costs: A majority of the customers consider safe and timely shipping of their purchases as an essential criterion for rating a service. Everything boils down to nothing if the product they ordered arrives in pieces or is ruined. But logistics doesn't only mean shipping the product from the warehouses to the customer. It embraces many layers that add to the logistics costs.
Let's take a look.
What are eCommerce logistics?
Customers shopping in an online store add their liked items to the cart and head to the payment gateway. However, when they see the details like the expected delivery date or any additional costs associated with the logistics, they tend to abandon the cart midway. Similarly, if the returns take time to process, the customers tend to change their brand preferences.
Getting the purchase to the customer safely, timely, and in the most affordable way is what eCommerce Logistics embraces. This includes all logistical and supply chain management activities undertaken to run an online store.
eCommerce Logistics is the supply chain movement from the seller to the customer or back from the customer, in case of returns. Businesses running an online store sometimes tie-up with logistics service providers to undertake all supply chain-related activities.
Customers demand superfast deliveries and even agree to pay more to get them. India has moved on from one-day arrivals to receive their orders within 10 minutes of purchase for some items. With environmental enthusiasts calling for sustainable packaging solutions every day, the requirement for efficient and eco-friendly logistics has multiplied.
eCommerce logistics has scaled manifold in the past five years. It is expected to grow to ₹492.8 billion by 2025 at a CAGR of 23.6% since the escalating demand from tier 2, 3 and 4 cities is driving this progress.
WareIQ – Amazon-prime Like Logistics for Modern Brands in India
WareIQ, an eCommerce fulfillment company, empowers online brands with a superior-tech platform to compete with Amazon like service levels by bringing their average delivery timelines from 5-10 days to 1-2 days.
"WareIQ came to Gynoveda with a full stack fulfillment platform & gave Gynoveda access to a nation wide network of fulfillment centers & last mile & hyperlocal courier partners closer to our customers based out of North East & North India.

They made

same-day delivery possible

for us in metros.

"
What are the costs associated with eCommerce logistics?
An eCommerce business incurs many costs under the head of logistics alone.
Inventory Cost
Managing inventory well requires a lot of planning, workforce and money. Upstocking more than the demand can hog on the company's cash flow. Keeping less inventory can cause disruption in supply and meeting consumer expectations, thus causing considerable losses to the business.
Likewise, many mistakes increase the overall logistics cost for a company:
Incorrect forecasting
Sky-high production costs
Reduced inventory turnover
Unexpected overheads
Failed or delayed deliveries
Mistakes in data keeping
Loss of customers
Storage Costs
eCommerce companies need to store the inventory, the finished goods in high demand, and returned products. With crunched delivery timelines in the current times, they need multiple storage spaces or dark stores across the country to fulfil customer orders rapidly. All these efforts add to the overall logistical costs.
Packaging and Handling Charges
Different products need different packaging solutions. If the customers demand sustainable packaging, businesses need to procure specialised eco-friendly material to wrap the products with care. Moreover, fragile products demand extra care and time or temperature-sensitive commodities require expert infrastructure for transportation. Therefore, the company incurs many expenses to pack and handle their products effectively.
Transportation Costs
The expenses incurred in carrying the finished good to the customer or the returned product to the warehouse form 58% of the total logistical expenditure. If the inventory is not planned well, the transportation bears the burden of additional costs.
COD Charges
Due to convenience, around 80% of Indian customers opt for cash on delivery. The delivery partners eCommerce companies hire for the job charge extra for COD for the payment collection from the customer and submitting the proof of delivery to the company. Moreover, the logistics provider incurs additional charges if the product needs to be returned to the warehouse, thus passing on the cost to the eCommerce enterprise.
Non-Delivery Reports
Failed deliveries cost a lot to the logistics service provider. If not managed well, they can disrupt the supply chain. Every undelivered product needs to be traced back to the eCommerce company. If the reason behind the unsuccessful delivery is not uncovered, the other attempts might fail too.
Cost of Labour
The supply chain survives through the presence of good employees. They are needed at every step, whether it is packaging, warehousing, transporting or finding the way to the customer's house for drop-off. Therefore, finding the right hire is critical for eCommerce companies to continue to exist, and they add to the overall logistics cost borne by them.
Reverse Logistics Costs
The charges are incurred when a customer opts to return the product to the seller. In such a scenario, the eCommerce company incurs costs for picking up the product from the customer's place, transporting it to the warehouse, and inspecting and repackaging it for resale or recycling.
Insurance
Although insurance matters less to most eCommerce companies, the product's security being transported to or from the customer's place holds utmost significance. The company doesn't insure a product if it is of less value, but that doesn't take away the need for top security measures to be in place and for readiness in case of unforeseen contingencies. Having insurance is a great way to lure more customers as it ensures the safety of their order. Many logistics service providers offer to insure their deliveries, and eCommerce companies negotiate the rates with them.
Taxes
The unavoidable devils of expenses, taxes form a crucial component of the logistics costs. The introduction of GST in 2017 condensed multiple taxes into one, but it still consumes a significant share of revenue earned by the eCommerce Logistics companies.
A variety of factors influences all expenses. Let's understand what those factors are for the logistics costs.
What Factors can have an Impact on Logistics Costs?
Consumer Expectations
Like the others, eCommerce businesses take customer expectations and feedback very seriously. To address the growing consumer demand for shorter delivery timelines, even eCommerce startups invest heavily in dark stores and multiple warehouses across the nation, thus increasing the logistics costs. They bring down product rates to lure more hits to the website as the quality goes up irrespective of the price tag.
Technological Advancements
AI and Machine Learning have entered the supply chain and are revolutionising how eCommerce warehousing and distribution work. eCommerce companies are using superior software to drive the supply chain.
Information is key in the logistics business, and improved online supply chain platforms assist the logistics managers in carrying out tasks related to inventory, warehousing, transportation and order management quickly. Having a solid tech backbone enables better information processing and, thus, better decision making. Decision Support Systems (DSS) also give businesses the desired competitive edge.
Economic Scenario
A country's financial performance and regulatory framework influence eCommerce and the supply chain industry. When GST was introduced in 2017, it changed how taxes worked in India, especially in the supply chain industry. When the distribution had halted except for essential goods during the pandemic, the eCommerce industry was among the worst affected. The businesses couldn't deliver despite the demand, and the industry faced losses more than ever before.
Logistics is a critical industry that influences global trade. It generates employment, income, and infrastructure and invites foreign investment. However, a vicious cycle of influence runs between the industry and the economy. One cannot function while the other suffers.
The Emergence of Global Brands
The entry of Amazon changed the face of eCommerce in India. Such global brands with deep pockets pushed the Indian eCommerce players to think creatively to secure their share in the vast market of Indian consumers. Soon, the war was not limited to mere price tags. It also spread to product quality, delivery timelines, and returns policies.
Everything combined, the Indian eCommerce logistics has borne the brunt of escalating costs and consumer demands due to intense competition in the sector.
Weather
It is not just pizza that gets delayed in a hailstorm. eCommerce suffers as an industry due to poor weather, which directly affects the physical movement of goods. The weather seems to be a prominent factor that impacts the speed of this industry. However, climate change isn't far behind.
Climate change has been causing severe disruptions globally, and eCommerce is well aware of the indirect costs it is bound to bring. The above simple example of a failed delivery snowballs into reverse logistics costs, unmet customer expectations, wastage of perishable produce, expenditure on fuel and person-hours, and the resulting monetary loss.
Fuel Prices
Fluctuations in fuel prices trigger a chain reaction in logistical costs. All modes of transportation run on fuel, and steady fuel prices mean cheaper transportation costs. In case of an upsurge, even if the eCommerce company tries to save costs in other areas, it boils down to nothing as the fuel price hike burns down the additional savings.
Package Dimensions
Weight and dimensions play a significant role in eCommerce logistics costs. The heavier or bigger the package, the higher the transportation cost. Moreover, some odd-sized packages require specialised transport, which demands more money.
eCommerce companies employ various hacks to save costs here. Using fitted packaging or intelligent ways of wrapping help save costs associated with weight and dimensions.
Delivery Timelines
As mentioned earlier, the international giants introduced tighter delivery timelines in the country, which fueled the competition in the eCommerce industry and pampered the customer's imagination. While most players now have similar deadlines, they endure steep expenditures due to strict targets.
Surcharges
From a public holiday extras to the cost of reaching a difficult-to-access destination, surcharges vary in range but add to the overall cost of eCommerce Logistics.
With so many ingredients escalating the final number and multitude of factors affecting the eCommerce logistics cost, it becomes imperative for corporates to adopt ways to reduce it. But how can eCommerce companies reduce logistics costs?
Here are ten sure shot hacks to achieve it.
How to Reduce Logistic Costs in 10 Efficient Ways?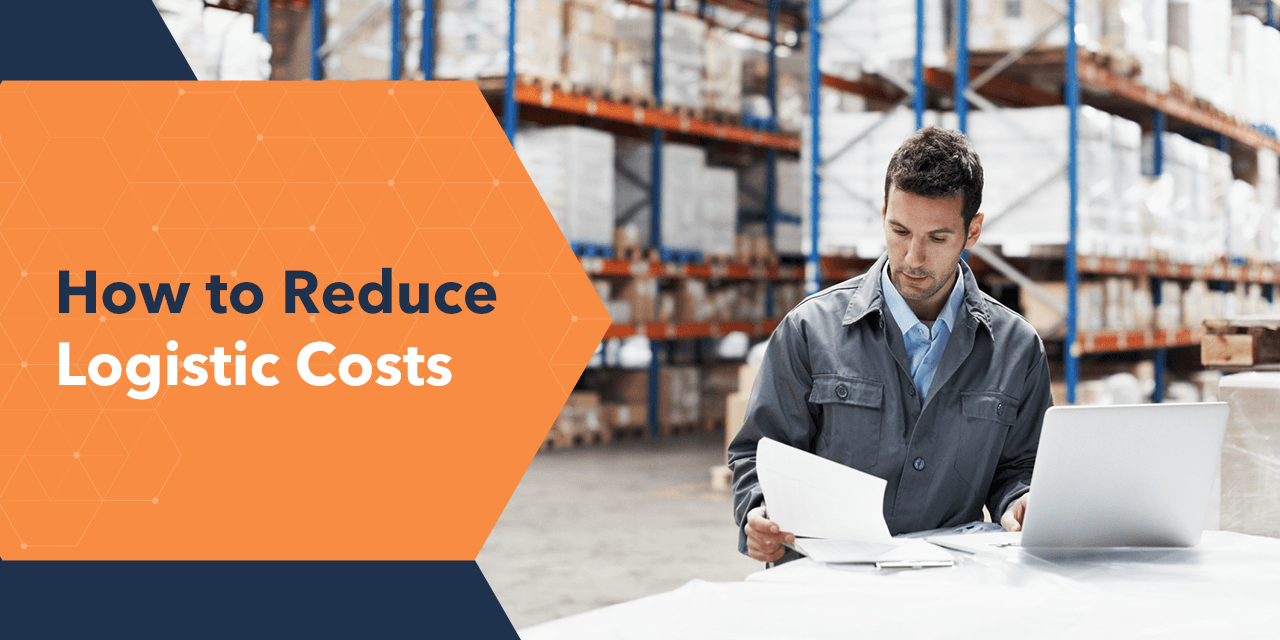 Partner with a 3PL Provider
Sometimes, a business needs another pair of hands to delegate tasks and ease their workload and get an expert or a different opinion on managing work. That is why many eCommerce businesses outsource logistics to a third party who is an expert in customised supply chain solutions and can help them reduce logistics costs.
These 3PL fulfillment service providers are professionals who can analyse and suggest ways to cut costs and still meet customer expectations. For instance, they can recommend the best means to widen the customer reach and shorten delivery timelines. Their services range from warehouse management, inventory management, transportation and distribution, technology solutions and reverse logistics. However, the most critical service they provide is delivery, as it deals with the end consumer.
Keeping storage spaces closer to customer hubs where a business receives most orders is a foolproof trick to improve delivery timelines and save costs. But not every business can afford to open a dark store or a storage centre in various parts of the country. Buying or renting such spaces burns a hole in the logistical pockets of eCommerce companies. Logistics partners like WareIQ assist eCommerce companies in reducing costs and warding off logistical nightmares by providing storage spaces closer to customers across the country.
But before signing up with a 3PL partner, eCommerce companies should ensure their end goals and vision sync with the logistics provider. They should be able to customise services per the company's requirement and provide specialised handling services for fragile, delicate, perishable and time-sensitive orders. But most importantly, they should give a bouquet of delivery options to ensure order fulfillment in case of contingencies. Read the blog on best 3pl for small businesses to understand factors online businesses should consider before choosing a 3PL
Collect Data Extensively
All good decisions have one thing in common. Availability of data in abundance. eCommerce players survive and grow on data collected from their customers, sellers, logistical partners, delivery personnel, suppliers, government and other players in the industry. eCommerce companies need to know every pinhole that might be leaking revenue out of their systems.
But that's not it. The data collected needs to be analysed well to churn out information that decision-makers can use. Good technology helps a lot in analysing and processing data.
Employ Extensive Tech
To reduce logistics costs, a company needs to automate warehousing, transportation and distribution. Many eCommerce companies looking for hi-tech solutions employ Warehouse Management Systems (WMS), shipping aggregators or delivery tracking apps to manage operations. Some even use automatic container loading systems in their storage spaces to save staffing and time and prevent damage to the goods.
But the world has moved past these tools. Instead, AI and ML have changed how technology operates and adapts to businesses. For example, WareIQ offers a comprehensive, streamlined platform to keep a tab on warehousing, delivery and drive customer engagement. These tools also help eCommerce players collect, store and analyse data.
Locate Suppliers Closer to Customers
A business' preferred supplier in Cochin could make it difficult to transport products to its distribution centre in the East or most customers in the tier-3 town next to Patna. To reduce eCommerce logistics costs and save time, the company must find sellers close by. A good seller next door is better than the best associate a thousand miles away.
Consolidate Shipments
Businesses must look out for consolidation opportunities for their shipments to a single location or team up with other shippers to increase and fully utilise their truckload. Both these techniques help reduce logistics costs for them and save time.
While consolidating their shipments, companies must use industrial-grade floor weighing very accurate scales. Reduced weight discrepancies lead to lower logistics costs. Moreover, rethinking and optimising their delivery routes is essential while combining shipments to a location to reduce transportation costs.
Optimise Storage
Warehousing consumes a significant chunk of a company's revenue and contributes around 10% to the total logistics costs incurred by corporates. ECommerce companies must optimise storage capacity by collecting in-depth data and adapting superior technology and out-of-the-box techniques. eCommerce companies need to analyse their storage, inventory and order management systems to ensure no resource goes waste. They should minimise spaces and increase density for good optimisation to reduce overall costs of the supply chain.
Another trick is to reduce the inventory for items that don't sell much or categorise items based on their rate of returns. This way, companies can save time and space.
Buy Packaging in Bulk
A simple yet effective technique. Businesses should buy packaging material in bulk to save money and time. They could strike a deal with their preferred supplier for a regular supply of the wrapping ingredients in bulk. If the company is into eco-biodegradable packaging, purchasing in bulk can help reduce logistics costs.
Define the KPIs
A business cannot improve what it cannot measure. The extensive data collection techniques don't serve any purpose if the companies don't have performance indexes to measure them against. Therefore, all eCommerce companies must define their key performance indicators to measure their performance regularly. Beginning from delivery success rates to return rates and the level of inventory wastage, everything needs to be appraised.
Ascertain All Costs
Every business incurs some fixed and variable costs. Companies need to keep a tab on and strive to reduce individual expenses. For instance, preventive maintenance is a fixed cost but an indispensable expense, but varying shipping costs can be trimmed through various tricks discussed above.
Reduce Cart Abandonment
Cart abandonment proves that the customers like what you are selling but not the overall proposition. In most cases, the biggest reason occurs to be the figure flashing on the checkout page. Other reasons are the delivery timelines or simply the additional shipping charges. Either way, it costs the company a customer as that buyer is unlikely to return to shop at this portal.
ECommerce businesses need to reduce their cart abandonment rates. A trick to do this is placing a minimum order quantity for purchase to get free or faster delivery.
MOQs increase revenue, which helps in managing logistics costs. Companies can keep a minimum order quantity while ordering pushes the users to add maybe one more item to get a free or a quicker delivery. As a result, they receive what they like, and the business gets closer to its profit margin besides being able to reduce the abandonment rates for shopping carts.
Conclusion
eCommerce companies face a cash crunch due to intense competition for price and services and the flaws in the country's logistics infrastructure. Since logistics plays the most significant role in their success story, they must scout for solutions to reduce logistics costs. The right tools and significant associations make the uphill task easier. Managing logistics in-house while focusing on the reduction of logistics costs is a difficult task for online businesses. Hence, it's advisable to outsource logistics to a fulfillment services partner like WareIQ.
Established in 2019, WareIQ, a Y-combinator backed startup, has rapidly grown to be the leading provider of full-stack eCommerce fulfillment services for some of the most reputed brands in India. WareIQ offers a full-stack platform for eCommerce companies to enable same-day delivery and next day delivery to customers – an Amazon Prime-like experience but accessible to everyone.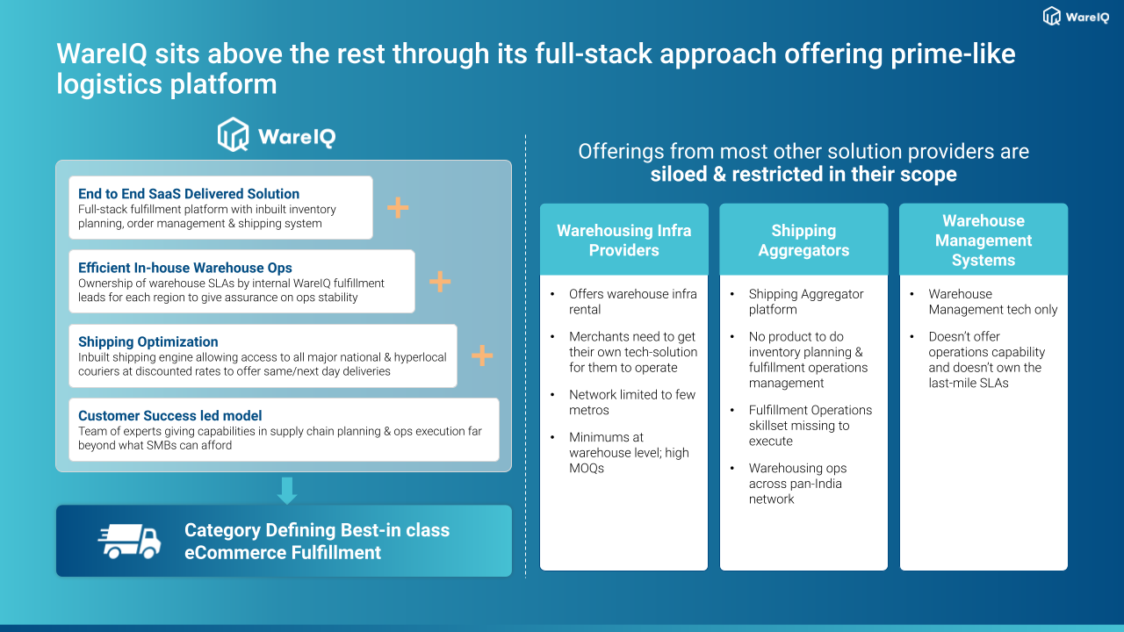 WareIQ's fulfillment platform optimises delivery speed, logistics costs & customer experience through the 4 steps mentioned below:
Sellers send their stocks to WareIQ's Regional Distribution or fulfillment centers
WareIQ Intelligently places inventory across its network of 20+ FCs
WareIQ picks, packs & ships orders across the online/offline channels
WareIQ's Recommendation engine to choose from a wide network of courier & shipping partners and prioritize shipping speed and logistics cost, with access to WareIQ Rush for same-day delivery
Are you eager to know more about WareIQ's offerings if you sign up now? Find the features of the best-in-class, category-defining fulfillment services for eCommerce & D2C brands below:
Pan India Fulfillment & Darkstore Network: Plug-and-play fulfillment infrastructure with no minimums, which is compliant with Amazon Seller Flex, Flipkart Assured, Myntra and other marketplaces
Inventory & Network Planning Excellence: Best-in-class AI models for sales forecasting, product segmentation, and inventory management to reduce inventory by 40% and increase revenue by 10%.
Vertically Integrated Fulfillment Tech Stack: Our Fulfillment Tech Solution supports integrations with 20+ top marketplaces & D2C platforms, and prominent national, regional and hyperlocal couriers, enhancing reach by covering deliveries for 27,000+ pin codes
Supply Chain Productivity Applications: Integrate a host of supply chain productivity apps with a single-click to your existing CRMs, ERPs & accounting software to manage your logistics workflows from one command center. Use Apps like RTO Shield to get 100% RTO protection, Branded Tracking to turn your order tracking page into a profitable marketing channel, and many more.
Trusted by 300+ top Indian brands, we are helping them accelerate online sales and expedite their growth through a synergistic combination of advanced technology, robust fulfillment infrastructure & seller enablement services!WareIQ is backed by leading global investors including Y Combinator, Funders Club, Flexport, Pioneer Fund, Soma Capital, and Emles Venture Partner.
Reduce Logistics Cost FAQs