Top 10 Best eCommerce Order Fulfillment Companies to Grow your Online Business in 2023
E-Commerce fulfillment is an important business component to ensure that orders are delivered to customers on time. Receiving inbound wholesale shipments, sorting stock, and shelving inventory for efficient picking and packaging before it gets to the customer's doorstep is all part of order fulfillment.
Order fulfillment setbacks for startups and SMEs can harm their business and operational efficiency. As the company grows and attracts customers worldwide, creating an order fulfillment system has gotten more difficult. Customer satisfaction and income can suffer if the order fulfillment procedure is inefficient. As a result, the company's reputation is also affected. Read along to understand how eCommerce fulfillment companies and dropshipping fulfillment companies can help eCommerce & D2C brands to grow their business and list of top fulfillment companies for eCommerce.
What Do eCommerce Fulfillment Companies Do?
E-commerce fulfillment companies specialise in order processing and delivery. This procedure includes receiving and storing goods, processing orders, picking and packing, inserting packing slips, and eCommerce shipping. These companies use software that connects to the seller's website. Companies providing eCommerce fulfillment services inspect the products, pack them, and ship them to the consumer once an order is placed. They also help retailers with inventory management and tracking. Orders are also stored at eCommerce fulfillment facilities.
eCommerce fulfillment services can be performed by third-party order fulfillment companies that will manage all of the eCommerce operations when an order is placed, allowing businesses to focus on marketing and product development. Order fulfillment helps startups/small businesses, and SMEs alleviate the burden of having a physical location or a dedicated storage facility to fulfill orders.
WareIQ – Amazon-prime Like Logistics for Modern Brands in India
WareIQ, an eCommerce fulfillment company, empowers online brands with a superior-tech platform to compete with Amazon like service levels by bringing their average delivery timelines from 5-10 days to 1-2 days.
"With WareIQ, UTH is able to consolidate common inventory for all platforms and get much closer to the customer through access to WareIQ's strong nationwide network of fulfilment centres, and last mile & hyper-local courier partners.

We are excited about being able to offer

same day delivery

in several pin codes due to

WareIQ

.

"
Self-Shipping vs eCommerce Fulfillment – What is Right For You?
| | Self-Shipping | eCommerce Fulfillment |
| --- | --- | --- |
| What does it mean? | All aspects of the fulfillment process are completed in-house – storage, packaging, shipping, and returns handling. Businesses can either choose a shipping partner to execute delivery with the rest of the work done in-house or drop shipping. | eCommerce fulfillment companies specialise in packaging and shipping, resulting in less damage and lower shipping costs. |
| Pros | Businesses have complete control over product quality, customer service, streamlined and timely shipment, and even material costs. | Businesses can achieve global reach without incurring large overhead costs by outsourcing order fulfillment activities, allowing them to focus on other key business functions and operations. |
| Cons | Logistically intensive and diverts time away from marketing, sales, and product expansion. | An extensive study should be done to ensure the reliability of 3PL. Order fulfillment companies reputations and performance influence the seller's business and customer satisfaction rates. |
| Our recommendation | Due to the significant need for people, space, and specialist software, we would not recommend self-fulfillment for startups or small enterprises. | Collaborating with eCommerce fulfillment companies requires upfront capital; we only propose it to scaling firms and have funds available. |
What are the Benefits of Using Fulfillment Companies?
Key benefits of using eCommerce fulfillment companies for the order fulfillment process include
Remote inventory management: With the service provider's warehouses, businesses will not require dedicated physical storage spaces. For a flawless order fulfillment experience for the customer, fulfillment companies for eCommerce can be accessed on-demand or long-term at any preferred location.
A shorter distance between source and delivery location: By shortening the distance between the product's source and the customer's location, eCommerce fulfillment centers can ensure speedier order fulfillment.
Optimised storage: Businesses can easily store stock goods in areas with the largest volume of orders using eCommerce warehouse fulfillment technologies provided by the service partner. (Note that different types of eCommerce warehouses are used for different functions)
Improving customer satisfaction: Positive feedback from customers about a speedy and flawless delivery process. Businesses may improve brand loyalty and promote repeat purchases by providing a pleasant client experience.
Must-Have Features of eCommerce Fulfillment Companies
When businesses partner with 3PL fulfillment companies for eCommerce order fulfillment, the following features should be provided with the help of an app integration for better order management:
Warehousing: The fulfillment center should store and manage inventory and process them based on customer orders.
Order Picking: When a customer places an order, the fulfillment center should promptly pick up the required order items from the warehouse to process them for delivery.
Order Packaging: Once the required items are picked up from the warehouse, the fulfillment center should work on packing them appropriately to ensure that they arrive undamaged at the customer's location. If the customer has placed multiple orders, they should also work on clubbing all the SKUs to have a combined package created with a single shipping label to deliver it easily.
Shipping: Once the order is packed and ready to go, they should have it shipped from the fulfillment center to the customer's location to ensure a quick delivery. Fulfillment companies for eCommerce should share real-time tracking details with the seller and the customer for order visibility.
Returns management: In case an order is undelivered or is returned by the customer, the same should be processed by the eCommerce fulfillment center and accordingly added back into the business's inventory (if the products are undamaged and unused).
eCommerce platform and multi-channel integration: Integration with all eCommerce platforms is critical for eCommerce fulfillment software. This ensures that no orders are overlooked, which leads to decreased customer satisfaction.
Access to a customer portal: The software of fulfillment companies needs to provide a good platform for customers. Customers that order frequently may choose to use a customer portal to alter invoicing and delivery options, track order fulfillment status, and examine prior orders. This feature also helps detect anomalies, identify frequent returners, and other factors that can be looked into to improve logistics and customer satisfaction.
Technology-driven 3PLs simplify businesses to integrate their online store with their system. This creates a two-way information flow, allowing business owners to monitor inventory levels in real time. They also have access to dependable, accurate, and transparent data.
Top 10 eCommerce Fulfillment Companies for Growing Online Stores [Updated List for 2023]
WareIQ
DHL Fulfillment
ShipBob
Deliverr
ShipMonk
FBA (Fulfilled by Amazon)
Falcon Fulfillment
Rakuten Super Logistics
FedEx Fulfillment
Red Stag fulfillment
WareIQ Fulfillment Company
WareIQ, one of the top fulfillment companies in India is a category-defining, best- in class full-stack eCommerce fulfillment tech platform (with inbuilt inventory planning, order management & shipping system) for modern brands to accelerate online sales/ expedite revenue growth & profits with same/next-day delivery.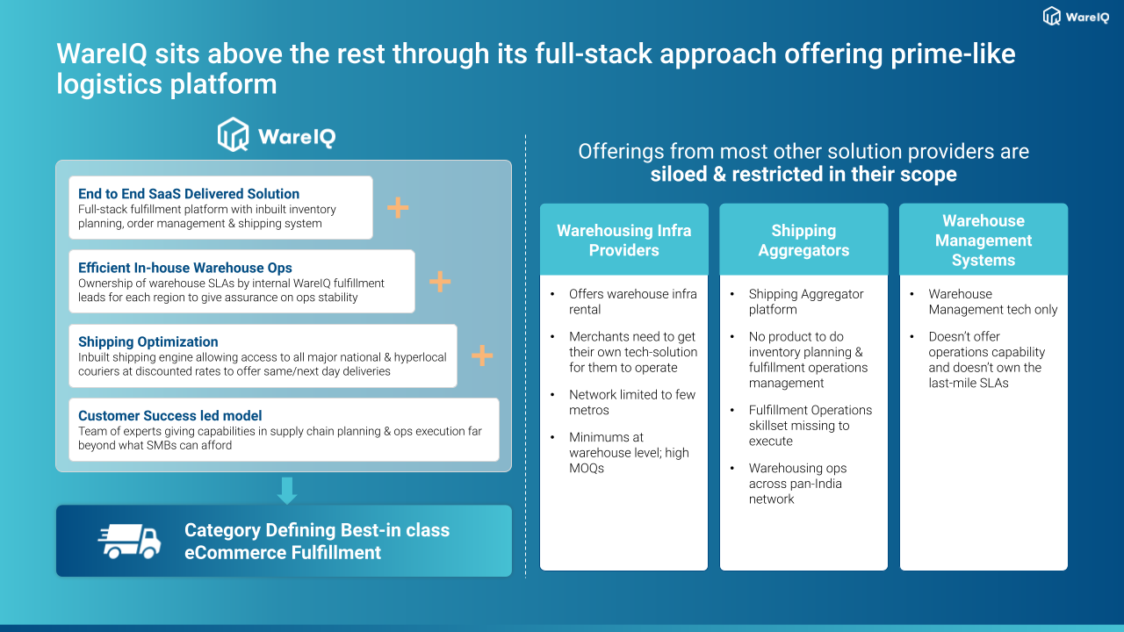 A few of the important features of WareIQ are as follows:
Pan-India Fulfillment & Darkstore Network

Plug & play with no minimum
Compliant with Amazon Seller Flex, Myntra, Flipkart Assured & other marketplaces
Regional Sourcing hubs to cut first mile costs
In-house managed warehouses – no outsourcing

Inventory & Network Planning Excellence

Best-in-class AI models for sales forecasting & auto-replenishment triggers
Product segmentation according to product type (Regular, Non-Regular, Seasonal, etc.) to improve sell-through focus

Vertically Integrated Fulfillment Tech Stack

Integrated with 20+ top marketplaces (national and international marketplaces) & D2C platforms
Integration with National, Regional and Hyperlocal couriers, covering 27k+ pin codes
One unified tech stack for OMS & WMS

Supply Chain Productivity Applications

RTO Shield – 100% RTO protection
Branded Tracking – Create the BEST post-purchase experience
Engage – Alert customers on shipment status through Whatsapp, SMS, and Email
Customer Feedback – Gather feedback, improve customer experience & trust

WareIQ Rush

Offer same-day delivery at no MOQ or distance-based billing
Jump in revenue conversion up to 30%
Near-zero RTO%
NDR & COD Verification via Whatsapp
Reduced Cost per Shipment (CPS)
DHL Fulfillment Company
DHL Supply Chain, a division of Deutsche Post DHL, introduced the India fulfillment network (IFN) to enable businesses to power their e-commerce business models by providing access to omnichannel distribution capabilities across major markets, according to a press statement. Through additional ready-to-use hubs, their fully integrated end-to-end fulfillment solution on a 'pay per usage' basis helps firms de-risk. Some of the features of DHL IFN fulfillment company for eCommerce are:
One-view tech platform for processing orders, inventory management, order fulfillment & delivery to the end consumers
Next-day delivery in over 80 cities
Range of B2B & B2C warehousing services
Seamless logistics management
Inventory optimisation, smoothing, and synchronisation
In-plant logistics; just-in-time inventory and Kanban replenishment of raw materials/components to manufacturing
Vendor-managed inventory
Inbound handling, consolidation, and global distribution to outstations
ShipBob Fulfillment Company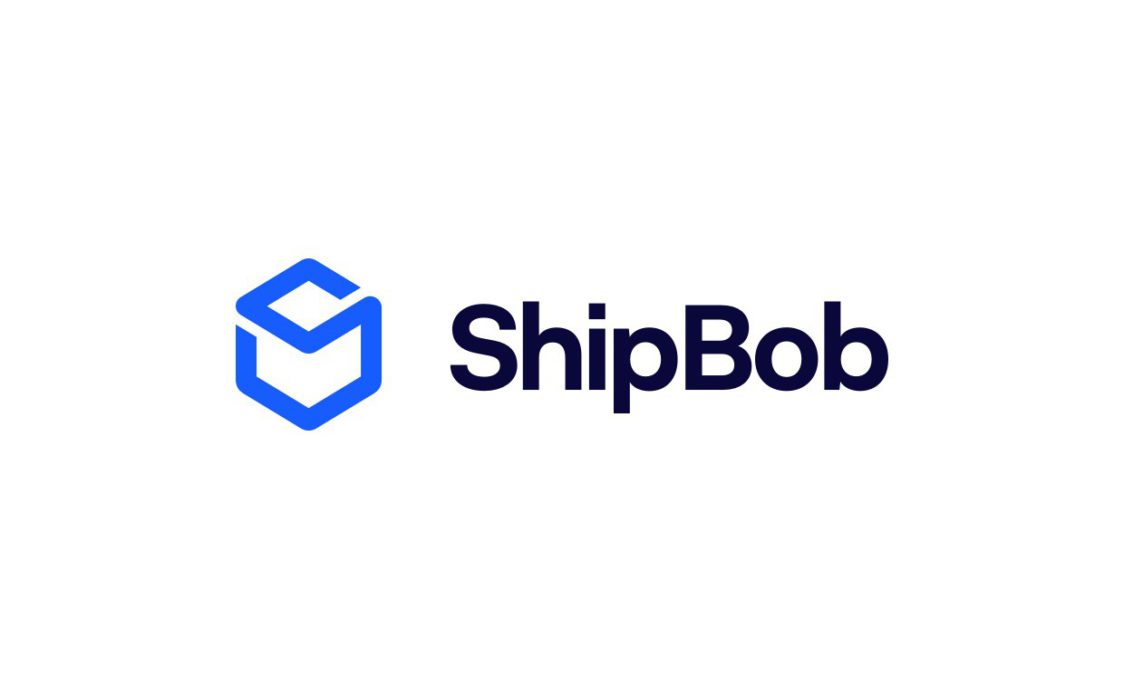 ShipBob has no order minimums and aside from Amazon, has the largest network of domestic and international fulfillment centers on our list, allowing it to provide high-level distribution capabilities. ShipBob provides several eCommerce-related services. Businesses can obtain quick access to a variety of web integrations, eCommerce inventory features, and advanced filter capabilities. ShipBob, which has been in business since 2014, delivers great customer service and assigns each online business its dedicated account manager.
Some features ShipBob has are
Affordable pricing
B2B fulfillment with EDI compliance
Itemized billing format for transparency
FDA-certified climate control and handling
Deliverr
Deliverr is an excellent option for startups, especially if the majority of their customers are located in the United States. Deliverr, like Amazon Prime, offers 2-day shipping across several shopping channels. What sets them apart is their transparent pricing. Sellers may find out exactly how much their estimated spend will be by inputting product information into the cost calculator on their website. Deliverr has some drawbacks, such as the lack of return processing and subscription box kitting. Some of the features include:
All-in-one fees include receiving and fulfillment
Real-time inventory and order tracking
Free trials for limited SKUs
Fast-shipping tags
Smart algorithm to allocate inventory across Deliverr's fulfillment warehouse network intelligently
ShipMonk Fulfillment Company
ShipMonk's platform is tailored to match the business' scalability needed to accommodate growth. But they do not provide batch fulfillment services and require a minimum of $250 in pick and pack fees. ShipMonk has been around since 2014. ShipMonk specialises in B2C eCommerce, subscription boxes, and crowdfunding projects and offers a wide range of fulfillment services. They also provide access to a vast list of integrations from which to choose while assessing the best possibilities for your business. ShipMonk is recognised for its subscription fulfillment services, but that's only a small part of what they do for customers, and its services may be customised to meet their specific needs. Key features include:
Amazon seller-fulfilled prime eligibility
Online billing portal
Warehouse automation
Robust customisation & branding options
Tax benefits and cost reductions for volume importers
No setup or inventory receiving fees
Discounted shipping rates
Claims management
International order processing
Photos of packed orders before they're shipped
FBA (Fulfilled by Amazon)
Because of its automatic Prime designation, FBA gives sellers better access to Amazon's over 150 million Prime subscribers. FBA is a good option for Amazon retailers since it handles all customer inquiries, administers returns and refunds, and automates order fulfillment, saving time.
However, FBA's pricing and procedures are more complicated than those of many other fulfillment warehouses, particularly when selling large or heavy items, so do your study to avoid paying excessive fees. Its key features are:
No order minimums
Handling all customer inquiries, refunds, and returns
FBA can fulfill non-Amazon orders
Uses inventory pooling that groups identical products from different sellers
Falcon Fulfillment
Falcon is one of the leading eCommerce fulfillment & warehouse service providers specialising in health and wellness and cosmetics fulfillment and was founded in 2015. Falcon Fulfillment provides straightforward pricing and a simple platform to scale as your company grows. The company presently only covers the United States. Due to the 4,000 minimum monthly order requirement and the lack of overseas Warehouses, Falcon is a good choice for established eCommerce vendors who have their customer base in the US. Another disadvantage is that some integrations necessitate the use of ShipStation.
Some of their features include:
Rakuten Super Logistics Company
Rakuten Super Logistics provides packaging and shipping services and is one of the best eCommerce fulfillment services suited for enterprises. They also assist eCommerce sellers with marketing. As a company that serves enterprises, Rakuten offers personalized pricing quotes and tailors services to meet the needs of the enterprises. Rakuten does not have global fulfillment centers, specialised packaging, or DHL integration, despite being a favoured fulfillment provider for enterprises. Key features of Rakuten include:
Tailored services for enterprises
Integrated marketing services at additional costs
1-2 day ground shipping in the United States
Specialty fulfillment centers
Kitting and subscription box services
FedEx Fulfillment Company
For international delivery and order management, FedEx Fulfillment is the best option. FedEx Fulfillment Services are modular and adaptable, allowing businesses to develop and customise options to meet their specific requirements. In the extremely competitive aftermarket and critical inventory business, FedEx Fulfillment Services offers a strategic advantage. The FedEx Global Distribution Centre (GDC) provides hub-based warehousing for both forward and reverse logistics, with the capacity, environment, and experience to store, organize, and ship orders when it's needed. FedEx, on the other hand, does not offer product-based batch fulfillment, and while there are no setup fees, it does levy account fees when orders fall short of the minimum requirement. Features of FedEx fulfillment are:
Global footprint
Range of eCommerce integrations
Easy-to-use platform
Extensive delivery network
Fast shipping and returns management
Red Stag fulfillment Company
Red Stag can handle a wide range of product orders, but it specialises in packing and shipping larger, heavier items. They have remarkable scalability, allowing them to fulfill the needs of both small and large businesses. Red Stag Fulfillment's extended services provide various elements that eCommerce business owners may make use of to assist them to get products to their intended destinations quickly and efficiently. Red Stag excels at handling complicated shipping requirements and heavy cargo. Key features include
Video monitoring
Excellent customer support
A pallet delivery system
Same-day shipping and order completion guarantee
fulfillment warehouse network
Excellent scalability
Costs and Challenges of Partnering with Fulfillment Companies
Having an eCommerce fulfillment partner for order fulfillment does not require any upfront capital. While the costs of fulfillment services can vary based on the provider being chosen, most of their revenue comes from long-term storage costs. However, other associated costs include
Setup fees
Weight Charges
Packaging fees
Processing and Returns costs
Account Management
Customer Support costs
Additional one-time costs for other things may also be a part of the fulfillment center fees. Examples are order cancellations, SKU labeling, barcoding, payment card processing, marketing inserts, product assembly, etc.
A few challenges that businesses can experience when partnering with an eCommerce fulfillment center are
5 Questions to Ask While Choosing New 3PL Fulfillment Provider in 2023
You have to consider a bunch of factors while choosing a fulfillment provider. Here are some important questions to ponder before you make your decision:
Does the eCommerce fulfillment company have a PAN-India presence?
It is your key takeaway in partnering with a 3PL and cannot be compromised. For instance, WareIQ has a network that can cover 90% of cities in India with over a million population for next-day delivery. That's the kind of presence you should look for.
How easy is it to scale?
Traditional 3PLs that have vertical integrations face certain limits in this aspect. A decentralized inventory network that WareIQ has, allows us to scale to new demand centers quickly.
Does the fulfillment provider have minimum requirements or rigid contract sizes, terms, etc?
You will find that most providers would have certain criteria which may not be favorable for all parties and at all times. A good provider must be flexible with client requirements. For example, WareIQ provides the option of micro-fulfillment where you can start with something as small as a single rack.
Does the provider give technology-powered value-added services?
In today's data-driven world, analytics on inventory placement and supply chain can be extremely helpful in staying efficient and cost-effective in all our operations. WareIQ is able to provide the same with its in-house software platform.
How easy is it to integrate your business into the supply chain of your 3PL partner?
When you are shifting to your new partner, you might not want to wait for too long before the end-to-end flow is set up. A traditional 3PL firm might take from 3 to 6 months for the same. WareIQ is able to onboard new partners within a week!
Why WareIQ should be your Preferred Fulfillment Company in India for eCommerce Business?
WareIQ, is a leading provider of full-stack eCommerce fulfillment services in India for some of the most reputed brands in India. WareIQ, a fulfillment company for eCommerce offers a full-stack platform for eCommerce companies to enable same-day delivery and next-day delivery to customers – an Amazon Prime-like experience but accessible to everyone.
The immediate and most important benefit you can get when you choose WareIQ as your preferred order fulfillment company is the ability to safely deliver your products across the country (including tier 2 and 3 cities) faster than ever before. It will give you the wings needed to provide an Amazon-level service. Beyond this, there are other interesting benefits.
Once you hand over the management of eCommerce logistics to the right 3PL provider like WareIQ, you will be able to make time to focus on other important aspects of your business like brand marketing, launching new products, etc. The job of getting them to your customers is out of your concerns with a trusted partner.
WareIQ platform is powered by cutting-edge technology that makes it super easy to track and monitor your orders in real-time.
Features like smart inventory placement offered by WareIQ can further help your business drive sales on time at high-demand locations.
Are you eager to know more about WareIQ's offerings if you sign up now? Find the features of the best-in-class, category-defining fulfillment services for eCommerce & D2C brands below:
Pan India Fulfillment & Darkstore Network: Plug-and-play fulfillment infrastructure with no minimums, which is compliant with Amazon Seller Flex, Flipkart Assured, Myntra and other marketplaces
Inventory & Network Planning Excellence: Best-in-class AI models for sales forecasting, product segmentation, and inventory management to reduce inventory by 40% and increase revenue by 10%.
Vertically Integrated Fulfillment Tech Stack: Our Fulfillment Tech Solution supports integrations with 20+ top marketplaces & D2C platforms, and prominent national, regional and hyperlocal couriers, enhancing reach by covering deliveries for 27,000+ pin codes
Supply Chain Productivity Applications: Integrate a host of supply chain productivity apps with a single-click to your existing CRMs, ERPs & accounting software to manage your logistics workflows from one command center. Use Apps like RTO Shield to get 100% RTO protection, Branded Tracking to turn your order tracking page into a profitable marketing channel, and many more.
Trusted by 300+ top Indian brands, we are helping them accelerate online sales and expedite their growth through a synergistic combination of advanced technology, robust fulfillment infrastructure & seller enablement services!WareIQ is backed by leading global investors including Y Combinator, Funders Club, Flexport, Pioneer Fund, Soma Capital, and Emles Venture Partner.
eCommerce Fulfillment Companies FAQs (Frequently Asked Questions)