Outsourced Fulfilment Guide: Benefits of Moving Away From Self-Fulfillment and Outsourcing Fulfilment Services To a 3PL Company in 2023
Operations related to fulfilment and logistics are among the most crucial and challenging aspects of running an online store. eCommerce businesses today face an even greater requirement to manage the fulfilment and shipping operations due to the increased complexity and mounting pressure to meet consumer expectations.
Businesses frequently contract third-party logistics companies to fulfil orders (3PL). These businesses are also known as 3PL fulfilment services providers.
Such businesses offer various services, including order fulfilment, inventory storage, processing, and product delivery. This frees up businesses from the concern of handling shipments and managing inventory.
One method to ensure this crucial procedure runs smoothly and avoid the associated expensive blunders is outsourcing fulfilment services to a third-party logistics (3PL) company. This article overviews outsourcing fulfilment services, explains the benefits of outsourcing fulfilment services to 3PL providers, and how you can grow your business by outsourcing fulfilment services to 3PL service providers, such as WareIQ and gain shipping expertise to streamline this crucial aspect of operating an online store.
What are Outsourced Order Fulfillment Services?
Outsourced order fulfilment services are services a third party provides to handle specific aspects of the order fulfilment procedure, such as inventory storage, item packaging, or order delivery to clients. In addition, other services like inventory management, kitting, reverse logistics, and many others can be obtained by outsourcing fulfilment services to 3PL providers, depending on your order fulfilment requirements and the 3PL you choose to deal with.
You must first sign a contract with a third-party logistics service provider (3PL), who will store your products for you in return for a monthly fee based on how much space they take up in their warehouse to keep them. Then you combine your eCommerce business with its inventory management system to help streamline the entire fulfilment process.
When a consumer orders a product from your store, your 3PL partners get the order information to process and get it ready for eCommerce shipping.
How Do 3PL Fulfilment Providers Operate?
The order fulfilment process consists of five essential components. But first, let's examine what it is like outsourcing fulfilment services to a 3PL company.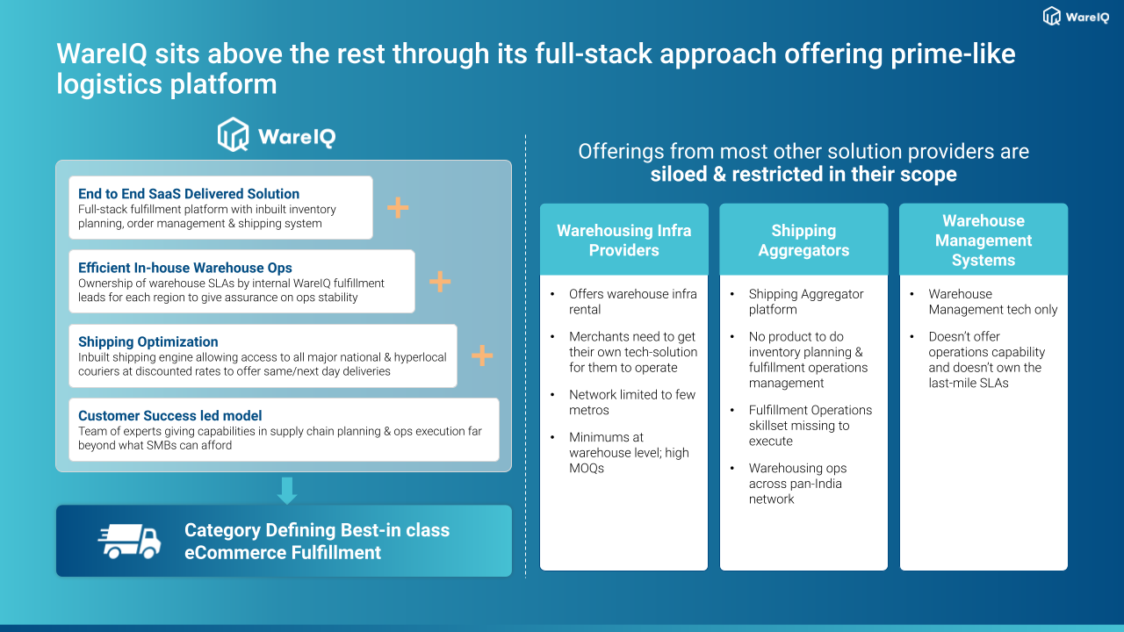 Product Receiving and Storage in Fulfillment Centers
You can ship everything to your fulfilment service provider if you currently have goods on hand. After that, the manufacturer will send all upcoming inventory purchases directly to the fulfilment business.
Usually, for the fulfilment company to get the items, you would provide them with your purchase order or the order confirmation from your supplier.
Sorting The Received Stock
Your order fulfilment service will oversee the entire inventory process after everything is set up. Receiving goods, organizing them, and storing them appropriately all fall under this category.
Before transferring the goods for sorting and storage, the provider's representatives check them for damaged or missing materials. In addition, SKU numbers and barcode labels are frequently used to keep track of inventory location and levels. To ensure you maintain adequate inventory levels, inventory tracking also allows monitoring sales volumes and other information.
Picking and Packaging
Your products are prepared for order processing once they have been stored. Every time a consumer puts in an order, the fulfilment provider receives it and takes care of picking and packing. By integrating your POS system, order management programme, or eCommerce platform with the system of the fulfilment provider, order processing can be efficiently controlled.
Processing Shipping Of Orders
Your customers are placing orders; the fulfilment business must now choose, pack, and ship them. They'll ensure the right things are picked and packaged securely for shipping. Your orders will arrive on time and in good shape thanks to the fulfilment company's sealing of boxes, order weighting, and box labelling services, which will reduce the number of return requests. Additionally, if your fulfilment supplier receives bulk discounts they pass along, you can benefit from lower shipping expenses.
Customer Returns and Customer Support
There will inevitably be clients who wish to return anything in retail. The customer must order the product from the fulfilment company for refunds. Following receipt, they will examine the package and decide whether to grant a refund.
You may then choose how you want the objects handled after that. For instance, by adding it back to your inventory, you may put it on sale.
Additional Fulfilment Solutions
The majority of fulfilment companies provide the services above; however, others go a step further by providing further services like:
7 Early Signs When You Should Start Outsourcing Fulfilment Services to a 3PL Service Provider
Once your eCommerce firm has grown, you will need to be outsourcing fulfilment services. The question is, when should you start outsourcing fulfilment services to a 3PL service provider?
Delivery Performance Is Declining
First and foremost, it's time for outsourcing fulfilment services if your delivery standards are declining. Following a bad delivery experience, 56% of customers will only revisit your store. You must take outsourcing fulfilment services into account if the rise in your order volume is causing deliveries to be made late or incorrectly.
Whether it's a gradual increase as your business grows or a seasonal surge because of the products you sell, outsourced fulfilment companies have the knowledge, resources, and personnel to handle an increase in orders. As a result, you are ensured flawless deliveries each time, keeping clients satisfied and devoted.
High Cart Abandonment Rates
Logistics is one of the main reasons why carts are abandoned. However, a 3PL fulfilment service provider can stop your customers from departing because of slow delivery times and pricey shipping options by:
Enabling a range of delivery cost and speed combinations;
Allowing you to participate in programmes like Amazon Prime and Walmart Free 2-Day Shipping, which will enable you to satisfy clients who pay for rapid shipping subscriptions;
Creating cost savings in shipping that can be applied to paying for the costs of free shipment.
Your In-House Fulfilment Expenditures Are High
Since the goal of operating an eCommerce business is to turn a profit, cost-cutting measures should always be considered. Your warehouse, personnel, shipping, and custom packaging costs increase along with the growth of your marketplace, inventory, and marketing fees.
You can generate more revenue by outsourcing fulfilment services to 3PL service providers; delivering your goods as quickly and inexpensively as possible is a speciality of outsourced fulfilment companies, which can save you money on shipping immediately. Additionally, you'll pay less for employees, packaging supplies, and warehouse space.
You Wish To Expand Your Business
Ensure your fulfilment procedures are prepared for expansion if your online store is. In-house fulfilment might draw you away from these crucial jobs, incredibly when you're fulfilling more orders. In addition, managing numerous sales channels, more significant order amounts, and additional marketing activities takes time.
By collaborating with a 3PL provider and outsourcing fulfilment services, you can free up more time for your business expansion objectives and eliminate the stress and time-consuming tasks associated with fulfilment. This means that when you are outsourcing fulfilment services to a fulfilment service provider, they will take care of all the operations, helping you to grow your business.
You Lack Fulfilment and Shipping Knowledge
You didn't establish an eCommerce business because you are an expert in fulfilment; instead, you did it because you identified a market niche, have strong selling skills, or are intimately familiar with your products. By outsourcing fulfilment services, businesses can have the expertise necessary to store, choose, and transport products most quickly and economically possible. However, while this knowledge is advantageous to your company, it can take time to acquire.
You Seek To Be Qualified As Gold Seller
Through emphasized fast shipping tags, preferred organic search ranking, and buy box eligibility, fast shipping programmes help small business owners. Use a fulfilment service that ensures eligibility for Amazon Gold Seller and other fast shipping programmes if you need help to meet the requirements for these programmes internally.
Fulfilment and Shipping Seems Exhausting Tasks
It's time for outsourcing fulfilment services if your day consists of packaging goods, printing shipping labels, and chit-chatting with the delivery person. We've even heard tales from vendors whose partners had threatened to leave them; although uncommon, it has happened and should be avoided.
By employing a small company fulfilment service to manage your shipping while you devote your focus and time to expanding your business, you can start working on it rather than just running it.
5 Benefits Of Outsourced Fulfillment Over In-House Fulfilment in 2023
Scalability is frequently the secret to a business's success. Therefore, it is crucial to satisfy growing demands without compromising quality or efficiency. B2C and D2C businesses, but particularly small ones, can expand their operations by partnering with a third-party logistics (3PL) provider to overcome operations limitations to a certain extent.
For medium to large business holders, 3PL providers offer the tools and knowledge required to support organizations in increasing their capacity for sales and clientele. Your business firm can grow to the size necessary to compete in the expanding market by collaborating with third-party logistics.
Outsourced order fulfilment services are becoming increasingly popular, especially among medium and larger enterprises, for several reasons listed below.
Rapid Business Growth
Businesses frequently hire 3PLs to fulfil orders because they need more in-house space or staff to handle the essential duties. However, a lack of internal resources (or the money to invest in them) might impede small business growth. So instead, they can grow their operations by concentrating on marketing, product development, and other activities crucial to a company's success by outsourcing fulfilment services.
Reduce Expenses and Save Money
When outsourcing fulfilment services, businesses can also save money. When you start outsourcing fulfilment services, you don't need to hire full-time employees, buy or rent warehouse space, or buy equipment to support order fulfilment operations. Instead, you pay a tiny fraction of the price to a supplier with the necessary infrastructure and partners to handle everything on your behalf.
You can cut costs on supplies and transportation by using 3PLs and fulfilment companies. Because of the increased volume they handle, they probably qualify for bulk packaging and postal discounts. Smaller businesses that run these operations internally deal with lower volumes, which may not be eligible for volume discounts.
Obtain An Edge Over Competitors
You can gain a competitive edge even when up against significant competitors because you can expand your firm without investing a fortune in logistics and warehouses.
For instance, reducing prices might enable smaller businesses to compete by providing consumers benefits like free delivery, two-day shipping, hassle-free returns, and other benefits. However, these benefits are difficult to implement for smaller enterprises that handle fulfilment in-house due to high prices or the amount of staff needed to fulfil orders quickly.
Obtain Fulfilment Expertise
While you can claim industry expertise, logistics and order fulfilment may only sometimes fall under that scope. Businesses may take advantage of a crew skilled in all the areas necessary to keep their order processing running smoothly by working with third-party logistics providers.
Expand Easily and Effectively
It will be simpler for a company to adjust to market changes and seasonal demand if it can scale up and down as necessary. Therefore, utilizing fulfilment services and the adaptability and scalability that accompany them helps businesses grow and penetrate new markets. For instance, a company that wants to expand its operations to another area would need to rent warehouse space, make equipment purchases, and hire personnel to manage the facility. In contrast, a business that uses outsourced fulfilment can grow into a new location without spending money on equipment and warehouse space by locating a fulfilment service provider that provides the infrastructure and services required in the target area.
Conclusion
Finding the ideal 3PL as a fulfilment partner is one of many crucial considerations you will need to make to secure the long-term success of your company if you are thinking about outsourcing fulfilment services. The perfect 3PL partner will effectively support your company's expansion, act as an extension of your staff, assist you in navigating the logistics and supply chain complexity, and ultimately keep your customers pleased by getting their orders delivered promptly and precisely.
Why Should You Outsource Fulfillment for eCommerce to WareIQ in 2023?
Benefits Of Outsourcing Fulfilment Services To WareIQ
As a technologically advanced 3PL, WareIQ uses its software throughout its fulfilment network to give customers real-time information on inventory levels and orders as they are chosen, packed, shipped, and delivered.
Your inventory is stored at our warehouses, where the product is picked, packed, and dispatched. By contracting with WareIQ to handle your fulfilment needs, you may cut costs and time while maximizing customer satisfaction by exceeding their expectations throughout delivery.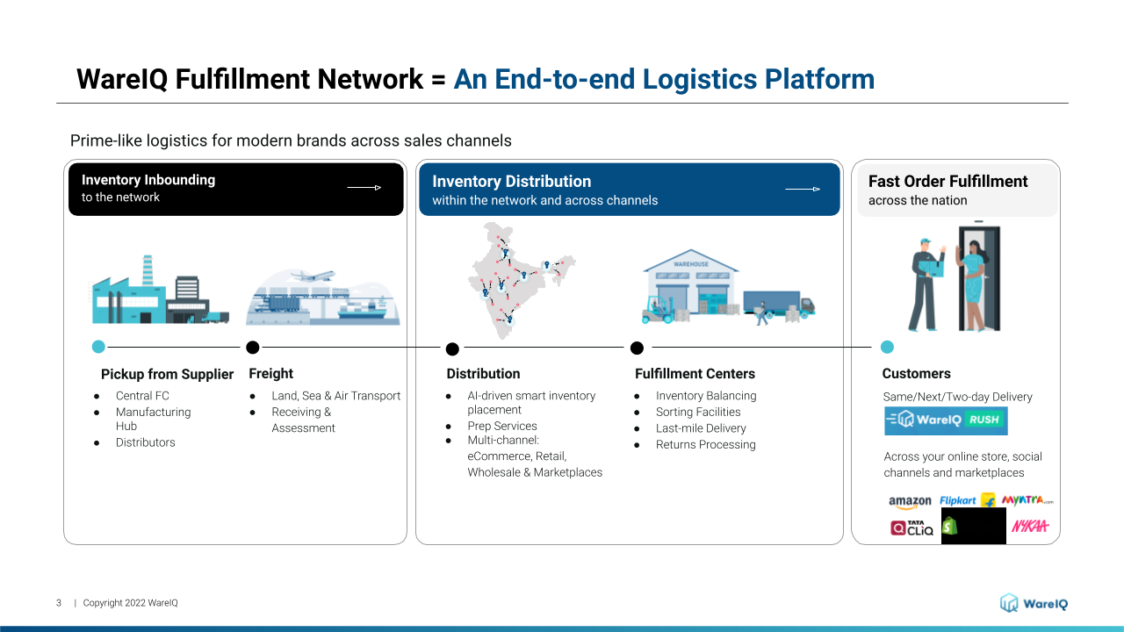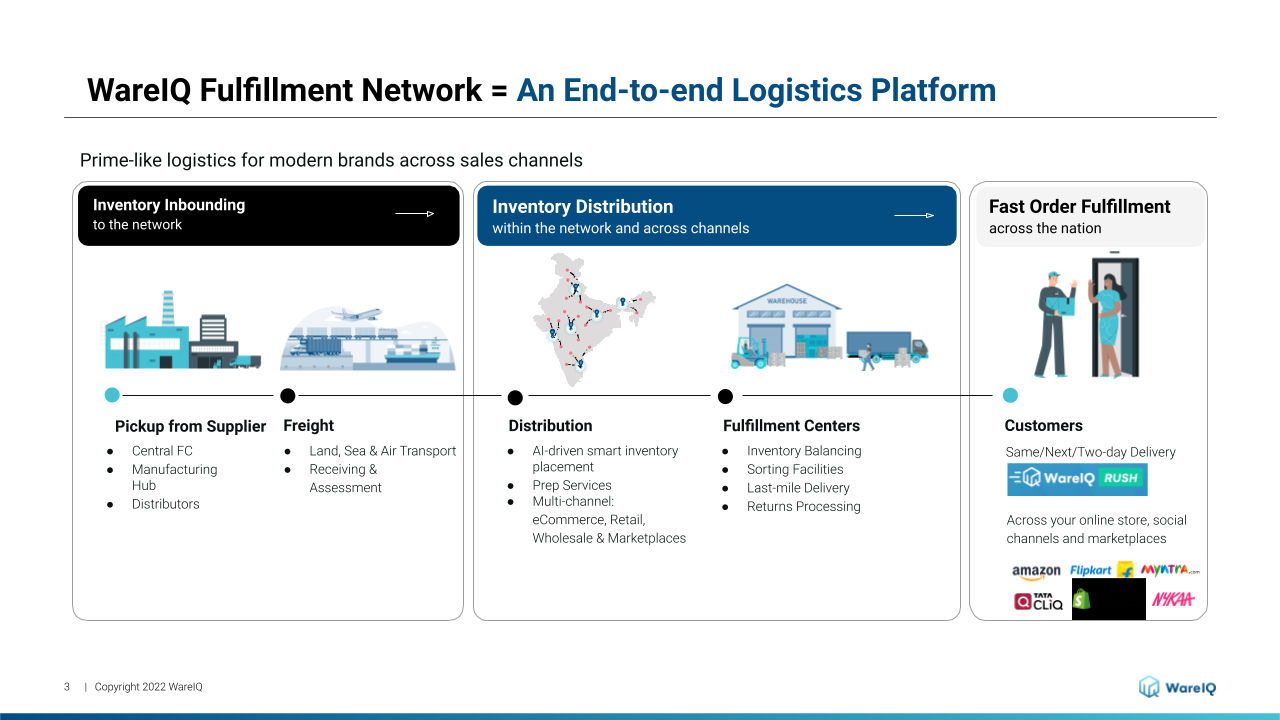 By outsourcing fulfilment services to WareIQ, a seasoned fulfilment partner, you can strategically execute inventory distribution across our locations to deliver your products faster and economically. Keeping inventory close to your customers helps reduce the shipping costs associated with shipping orders to far-off destinations. In addition, you can offer same-day or next-day express shipping options whether you ship from a single fulfilment centre or a number of them.
WareIQ delivers data and analytics to assist you with everything from real-time reporting to better supply chain decision-making. We do this to give you visibility into our operations and performance and to hold ourselves accountable. We provide essential information such as which fulfilment centres you should stock, how long you have before running out of inventory, how promotions affect stock levels, the average cart value, shipping costs, and transit times for each shipping option, as well as your fulfilment costs per order and storage costs per unit.
Are you eager to know more about WareIQ's offerings if you sign up now? Find the features of the best-in-class, category-defining fulfillment services for eCommerce & D2C brands below:
Pan India Fulfillment & Darkstore Network: Plug-and-play fulfillment infrastructure with no minimums, which is compliant with Amazon Seller Flex, Flipkart Assured, Myntra and other marketplaces
Inventory & Network Planning Excellence: Best-in-class AI models for sales forecasting, product segmentation, and inventory management to reduce inventory by 40% and increase revenue by 10%.
Vertically Integrated Fulfillment Tech Stack: Our Fulfillment Tech Solution supports integrations with 20+ top marketplaces & D2C platforms, and prominent national, regional and hyperlocal couriers, enhancing reach by covering deliveries for 27,000+ pin codes
Supply Chain Productivity Applications: Integrate a host of supply chain productivity apps with a single-click to your existing CRMs, ERPs & accounting software to manage your logistics workflows from one command center. Use Apps like RTO Shield to get 100% RTO protection, Branded Tracking to turn your order tracking page into a profitable marketing channel, and many more.
Trusted by 300+ top Indian brands, we are helping them accelerate online sales and expedite their growth through a synergistic combination of advanced technology, robust fulfillment infrastructure & seller enablement services!WareIQ is backed by leading global investors including Y Combinator, Funders Club, Flexport, Pioneer Fund, Soma Capital, and Emles Venture Partner.
Outsourcing fulfilment services: FAQs (Frequently Asked Questions)