What is a 3PL? Definition, Types, Benefits, Features, and Services Provided By Third Party Logistics Provider in 2023
As an eCommerce company grows its client base and enters fresh markets, in-house shipping and fulfilment cannot handle the rising order quantities.
When fulfilling consumer expectations and requests, a business must eventually determine whether to outsource its fulfillment operations. The idea of third party logistics service providers, who can keep your inventory for you, is introduced here. Your products will be chosen, packaged, and shipped. Between your production processes and your customers, 3PL distribution is a crucial link. As a result, your business will expand, and your clients will be delighted when your order fulfilment procedures are successful. To say that excellent fulfillment is essential for successful eCommerce businesses is not an exaggeration.
The third party logistics market was valued at $1,027.71 billion globally in 2019 and is anticipated to grow at a CAGR of 7.1% from 2020 to 2027 to reach $1,789.94 billion.
It's crucial to comprehend what third party logistics (3PL) is before you begin dealing with one.
This article will provide all the information you need to assess whether 3PLs are a good fit for your business.
What is 3PL or Third Party Logistics?
Third-party logistics, also known as 3PL, is a service that third-party couriers and logistics software providers offer to eCommerce retailers to assist with shipping and order delivery. Order acquisition, storage, warehousing, stock management, labelling, picking and packaging, and delivery to the customer are all handled by third party logistics. Online businesses choose to delegate the obligation of shipping and order fulfilment to third party logistics providers by choosing to partner with them. According to research, working with a 3PL service provider enables eCommerce organizations to expand far more quickly.
Because of their benefits, most eCommerce businesses are outsourcing shipping and logistics to third party logistics firms. As an online company expands and receives a greater volume of orders each month, it searches for a suitable third party logistics provider to offer its consumers seamless and simplified shipping and delivery experience.
When a consumer puts an order, a third party logistics provider can deliver the item after managing supplies, replenishing them as needed, and storing them in its warehouses. In addition, a 3PL offers eCommerce retailers custom packaging, picking, kitting, bundling, customs clearing, etc., and these shipping services.
Fundamentals of Third Party Logistics
For their clients, third party logistics services handle warehousing, inbound and outgoing transportation. Most third party logistics businesses offer their clients access to their own or rent warehouse space. They typically don't have their fleet of trucks and work with other carriers to carry and transport freight.
When you use the term "third party," you outsource order fulfilment. The warehouse is not your property. Instead, you lease shelf space in a big warehouse where many different companies' products are kept. Employees at the warehouse receive your products and add them to the inventory. To satisfy orders, they choose things from shelves and pack them safely for transportation. To deliver orders to your clients, third party logistics collaborates with a number of carriers.
Third party logistics warehouses are designed to be as simple and efficient as possible. They can handle the increased volume as your company expands, allowing you to increase your capacity without adding more people. As a result, a third party logistics partner can help you find ways to cut down on delivery times and shipping expenses. In addition, you gain expertise and concentration when you outsource your eCommerce fulfilment to a 3PL business.
Types Of 3PL Service Providers
Although most third party logistics provide a range of services, not all of them, and some have areas of expertise. One of these functional domains is where most 3Pl service providers concentrate:
Transportation
Inventory shipments between manufacturers and your warehouse or between your business and customers are handled by a third party logistics service provider focusing on transportation services. These include the shipping companies for small packages like UPS, FedEx, and USPS, as well as the freight forwarders who frequently move bulky items over international borders.
Warehousing, Fulfilment, and Distribution
It offers essential services like storage, fulfilment, pick-and-pack, shipping, and refunds. This is the most prevalent kind of third party logistics. Sellers u utilize third party logistics services to outsource all or most of their fulfilment and storage requirements. Additionally, most of the third party logistics handle the seller's transportation, choosing the best shipper, maintaining the vendor's connection with the shipper, and optimizing the shipment plan.
Informational and Financial
These third party logistics providers, typically utilized by larger eCommerce businesses, optimize your company's logistics network by offering services like accounting and cost control, freight forwarding, inventory tracking and management, and related tasks.
Some big third party logistics provide services for their clientele in the sectors mentioned above.
WareIQ – Amazon-prime Like Logistics for Modern Brands in India
WareIQ, an eCommerce fulfillment company, empowers online brands with a superior-tech platform to compete with Amazon like service levels by bringing their average delivery timelines from 5-10 days to 1-2 days.
"With WareIQ, UTH is able to consolidate common inventory for all platforms and get much closer to the customer through access to WareIQ's strong nationwide network of fulfilment centres, and last mile & hyper-local courier partners.

We are excited about being able to offer

same day delivery

in several pin codes due to

WareIQ

.

"
8 Most Significant Features and Services Provided By Third Party Logistics Partner in 2023
Depending on the vendor you select, 3PL fulfilment services may or may not include order shipping. Here are some of the most advantageous attributes and logistical services that 3PLs frequently provide.
Inventory Management
Inventory management is crucial in the eCommerce fulfilment process and your overall supply chain. It entails much more than having a 3Pl partner store your goods to send them once an order is received.
A 3PL service provider should ideally integrate inventory management software between your online business and the warehouses where your products are kept. With a real-time picture of their inventory at each facility, the seller can plan and ensure that stockouts, also known as product shortages, do not occur. In addition, the third party logistics center can transmit real-time inventory counts to your web storefront and merchants with the proper integration, letting customers know what is in stock and might need to be back-ordered.
To get advanced shipment notifications (ASNs) from the manufacturer with the incoming goods, a 3PL will collaborate with the seller or the seller's freight forwarder. As a result, the seller and 3PL clearly understand what products are arriving, how many there are, where they are being transported, and when. This is essential for planning since the seller can effectively control the amount of inventory stored and offer information on what needs to be ordered.
You must always make sure that your products are safely stored and tracked. To ensure that the physical count of your inventory matches what is in the system, a 3PL partner should regularly execute physical audits of your inventory.
3PLs must adhere to operational solid discipline and control to manage your inventory effectively.
Expedite Shipping
Convenient delivery alternatives for eCommerce shipping solutions play a significant role in the convenience of online shopping for consumers. Consumers today anticipate free 2-day shipping and home delivery options similar to those offered by Amazon Prime whenever they shop online:
Customers anticipate quick and economical shipment at the touch of a button, especially given that the most well-known online shops have two-day free shipping choices.
As we'll cover in the following section, the location of your 3PL warehouse can make or break your capacity to satisfy client expectations by keeping products closer to your shipment destination. In addition, by collaborating with the appropriate 3PL, you may provide 2-day shipping to your customers at an affordable price.
The most significant cost savings for 2-day delivery come from dividing your inventory across fulfilment centres into multiple areas. In addition, third party logistics service providers frequently have contacts with shipping carriers that allow them to negotiate reduced rates for their clients.
Distributing Inventory
Most third party logistics providers have warehouses dispersed around various cities, enabling clients to divide inventory among fulfilment centres. When a company's clientele is geographically dispersed across the country, two-day shipping is made possible by having inventory closer to shipping destinations. Distributing inventory, however, might only be financially viable for suppliers who wish to expand their customer base and deal with high shipment volumes. By distributing goods around several locations, you can also cut the cost of air freight, guarantee backup supplies, and be ready for emergencies.
Business to Business Fulfillment (B2B or B2R)
In most cases, when we discuss eCommerce, we're talking about B2C (business-to-consumer) fulfilment. However, working with a 3PL that handles DTC (direct-to-consumer) and B2B (business-to-business) fulfilment can make things simpler for an eCommerce company wanting to improve its multichannel logistics strategy. Therefore, a third party logistics provider can act as your back-end logistics hub, centralizing multichannel inventory management and fulfilment, whether you are fulfilling online subscription orders, running a brick-and-mortar store, or selling retail on an online marketplace.
Bundling and Customization
The warehouse and shipping method known as kitting involves packing different but related products and sending them as a single unit. It boosts warehouse productivity, reduces labour expenses, boosts product sales, and facilitates quicker shipping. Online firms may also create the optimal unpacking experience for clients by customizing inventory. In addition to kitting, 3PLs assist with order customization by providing customized gift notes, unique packaging, and personalized sender labels.
Returns Management
eCommerce companies value services like managing and processing returns in a 3PL service provider. In addition to handling returned orders, 3PLs give customers access to produce software solutions to make the return process simpler. You can receive end-to-end visibility into returns and decide whether to have the returned goods disposed of, quarantined, or restocked when a 3PL partner manages your returns management process.
Advanced Analytics
In today's economy, data is a significant resource in every sector, and supply chain logistics is no different. Examining the data and concluding is essential to provide firms with a competitive edge. Many 3PLs offer robust data analytics tools to facilitate better reporting and decision-making. Visibility into historical stock levels at any time, the time it takes to deliver orders, the average cost of storage per unit, and other data analytics features are possible.
Universal Fulfillment
Trying to establish your brand on a worldwide scale? The ideal option is to collaborate with a third party logistics service that offers cross-border solutions and has a physical presence in numerous nations. Air freight shipping is expensive, but a third party logistics provider with facilities abroad can help your company expand into international markets. In addition, a 3PL can be your one-stop shop for global order fulfilment, combining warehouses, stock, and orders.
What Does A 3PL Order Fulfilment Process Look Like?
You must comprehend the 3PL order fulfillment process if you are new to outsourcing fulfillment services to a third party logistics company.
The complete procedure, from the time the customer puts an order to the last-mile delivery, is explained in detail below:
Receiving Shipment
Your company's inventory will be sent to a 3PLs warehouse, where it will be stored before being shipped to a client. A person or business that assists in managing and organizing bulk shipments from the manufacturer to the distribution centre is known as a freight forwarder. The 3PL will need to work with this company to coordinate the inbound shipments. A good 3PL should have integrated warehouse management software to simplify this procedure. To make it simple to fulfil orders and choose which ones to fulfil after an order is received, the programme will determine where a product is stored and when it was placed in storage.
Inventory Holding
After a 3PL receives the inventory, the products are stored at their fulfilment centres. 3PLs frequently maintain a sizable network of fulfilment centres and keep inventory among fulfilment centres to promote speedier delivery times to end customers. Each SKU is given a dedicated storage area, a pallet, a shelf, or a container. Different 3PLs have different storage capacities.
Picking
The activity starts when a buyer orders through an online store. Others utilize sophisticated technology that interfaces with the eCommerce marketplace or platform, while some third party logistics demand that eCommerce clients manually update order details. For a more simplified experience, the 3PL is consequently alerted automatically when customers place online orders. Following receipt of the order information from the 3PL, the warehouse picking personnel retrieves the ordered items from their appropriate locations in the inventory.
Packing
The next step in picking up an order's components is for the warehouse staff to box it up for shipping. The 3PLs selection of packaging materials typically depends on various factors, including its capabilities, the goods being delivered, and the client's preferences. Common packaging materials include poly bags, bubble mailers, dunnage, simple boxes, and more. The best packing not only safeguards the goods but also minimizes transportation expenses, and here is where 3PLs apply their shipping expertise.
Shipping
Order fulfilment is complete after the order is shipped. In 3PL shipping, the provider negotiates rates, purchases, and prints shipping labels on behalf of the client with partner carriers. While some 3PLs rely on their preferred shipping partners, others compare the carriers in the market to discover the most cost-effective shipping options based on the customer's specified delivery schedule. In addition, the 3PL service provider will automatically update online stores with shipping tracking information when order ships using included technology.
Returns Processing
The priority of third party logistics order fulfilment operations is increased customer happiness, which they guarantee by providing services for returns processing. Orders returned by customers are shipped back to the 3PL provider. The provider's return rules and the preferences of the eCommerce customer will determine whether the item is restocked or discarded. eCommerce companies can avoid the trouble of internally processing returns and provide customers with simple access to the status of their returns by allowing 3PLs to provide return shipping labels for customers.
Advantages Of Partnering With A 3PL Service Provider in 2023
The benefits of third party logistics are enormous. This is the rationale behind the widespread use of third party logistics companies by eCommerce businesses worldwide. Some eCommerce businesses choose to handle shipping in-house when they first start.
When order numbers are low, and logistics are controllable, this is a practical choice for a store. However, it makes sense to collaborate with a 3PL when orders increase over time. Learn about the benefits of third party logistics partners for eCommerce firms.
Reduced Shipping Costs
The cost-effectiveness that 3PL service provider offers are among its main benefits. Due to their extensive clientele, third party logistics providers can supply individual eCommerce businesses with shipping rates that are both affordable and appealing.
Internally handling logistics is a costly expenditure. Conversely, 3PL firms can exploit their economies of scale to offer good shipping services at significantly cheaper costs.
Quick Delivery
Due to their focus on shipping, 3PLs run a sizable number of delivery fleets that can expeditiously transport orders from one location to another. Third party logistics also has the benefit of having numerous warehouses spread out across the nation.
They can thus deliver orders to clients considerably more quickly because they are much better equipped. eCommerce third party logistics suppliers have started offering blazing-fast deliveries to clients even at the last minute since Amazon made one-day delivery to customers the standard.
Tracking Orders in Real Time
Maintaining transparency and communication between eCommerce businesses and their clients requires a robust order tracking tool. In addition, today's consumers anticipate being able to track their orders at all times.
Customers can access a self-serve order tracking page provided by third party logistics companies by inputting their Order Id or Tracking Number. Many third party logistics provider can even notify consumers via email and phone when an order has changed. Ecommerce businesses build trust and customer loyalty by informing their clients where their orders are.
Multiple Payment Gateways
Due to the variety of payment methods they provide to consumers, third party logistics providers can be very beneficial. Cart abandonment is greatly influenced by the checkout page's lack of payment choices.
The ability to accept cash payments via Pay on Delivery, bank transfers, UPI, credit/debit cards, and Cash on Delivery (COD) is a capability of 3PLs. Giving customers, so many payment alternatives results in lower cart abandonment rates and more customer satisfaction at the time of purchase.
Suggested Read: List of Top 10 Pay on Delivery Courier Partners
Enhanced Customer Satisfaction
Customers value easy deliveries. With their superior delivery fleets, customized packaging, prompt order status updates, and safe transit of orders without breakage or damage, third party logistics can deliver that. eCommerce businesses will seek to raise their customer satisfaction percentage as they scale up and go beyond their early growth stages.
A greater customer retention rate translates into more and more repeat business, fewer product returns and exchange requests, and the creation of a strong sense of community among your consumers. The benefit of having a 3PL partner is that they may assist online shops in getting to that stage much more quickly without requiring additional funding for hiring personnel and renting more extensive facilities.
Customized Shipping Services
Using customization and personalization to win over your customers is the secret. The benefit of a third party logistics provider is that they may offer a wide range of customized shipping services for both B2B and B2C sectors.
3PLs may also print personalized shipping labels and design unique packaging for special orders. Naturally, customized shipping services are more expensive. Therefore, make sure to discuss such fees upfront with your third party logistics provider.
Insurance And Additional Perk
You must arrange an insurance plan for shipment if your eCommerce site sells jewellery, precious stones, luxury watches, or any other expensive items. The main benefit of using third party logistics is that they have insurance policies to protect you against any losses you might incur in a shipping accident.
Insurance policies serve as a safety net in any unforeseen circumstance. However, ensure the insurance policy you select does not leave the loss entirely on your shoulders. It's crucial to choose a strategy that places responsibility on both parties.
Disadvantages Of Partnering With A 3PL Service Provider
While there are advantages to outsourcing your company's logistical requirements, it's vital to take into account some of the disadvantages as well:
Minimal Ability to Influence Logistics Operations
Some businesses prefer to have total control over the management of the supply chain and the delivery procedure. An established 3PL service provider will now collaborate with you to create a system you're happy with. However, many people are uncomfortable outsourcing the task since they worry about effectiveness and security. However, if you pick the right 3PL partner, none of these problems will materialize. A reliable 3PL will take charge of the logistics while ensuring you know each step.
Substantial Upfront Cost
Selecting a cheap delivery option may be alluring if your small business is small. However, when the businesses expand, this subpar service will cause you to pay more money because shipping costs will rise. While a 3PL may seem like a big purchase, it will eventually more than pay for itself. This affordable solution will be worth the first expenditure because it allows you to expand.
Many companies decide against working with a 3PL because they believe they won't be able to monitor quality control or because they wish to increase their process understanding.
Knowing that a 3PL already has the necessary knowledge can save you time, money, and effort in learning the ins and outs of logistics for shipping and warehousing. Instead, focus on other important areas like marketing, human resources, and development. In addition, you may relax knowing that the procedure is handled by a business with industry expertise and familiarity with the relevant laws.
Suggested Read: Which is better: Contract Logistics or Third Party Logistics?
Conclusion
The lists above make it quite evident that outsourcing to third party logistics has many more benefits than drawbacks. But it's critical that eCommerce businesses fully understand the advantages and disadvantages of third party logistics providers before signing a contract with them.
With the aid of 3PLs, eCommerce enterprises can access newer markets, interact with new clients, offer simple delivery, and much more. On the other hand, dealing with third party logistics can put eCommerce enterprises off due to differences in company values and a lack of control. Therefore, the needs and resources of your company will ultimately determine if you decide to collaborate with a third party logistics provider.
What Drives Organizations to Outsource eCommerce Operations to WareIQ, A 3PL Fulfillment Provider?
With the help of WareIQ, eCommerce businesses can ensure that workflows are efficient and that consumers are appropriately taken care of. WareIQ offers the market expertise and industry understanding required to reduce supply chain inefficiencies by providing a full-stack eCommerce fulfillment solution to optimise delivery, cost and customer experience.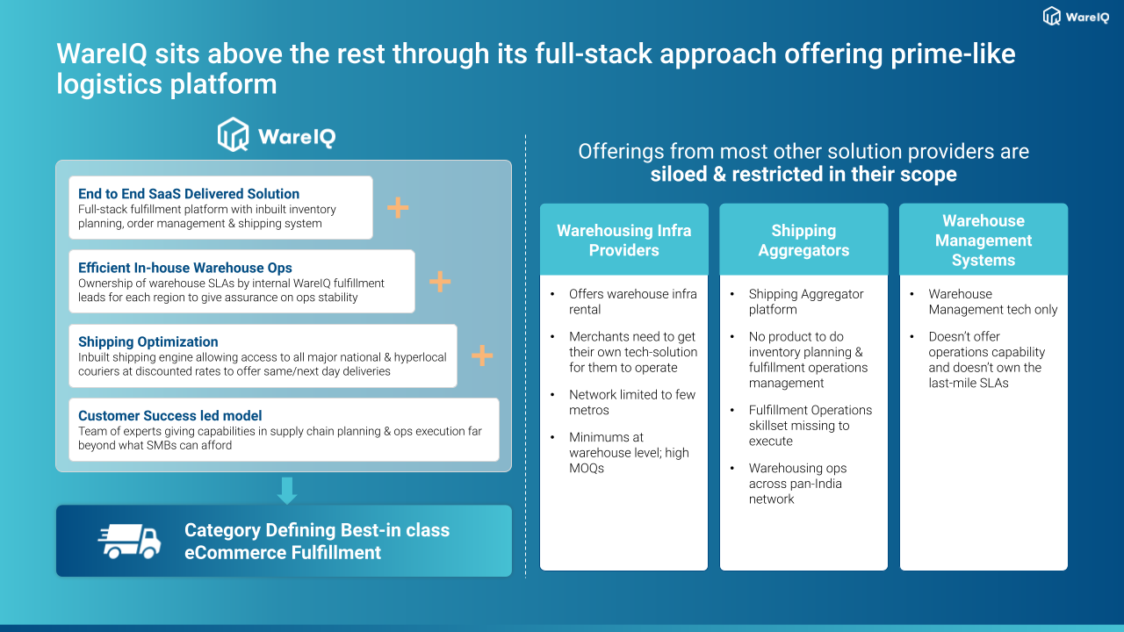 Some of the main factors that influence a company's decision to work with WareIQ
Industry Expertise
The price of handling fulfilment internally comprises, among other things, the cost of a warehouse and delivery charges. The cost of fulfilment is rising as customer expectations rise. Working with WareIQ relieves a company's concerns regarding warehouse locations and quick shipping because WareIQ has an extensive eCommerce fulfilment network across India. Furthermore, WareIQ takes advantage of pre-existing experience to offer reduced shipping rates and lower administrative costs.
Industry Insight
By combining industry knowledge and expertise with optimization and efficiency, WareIQ ensures logistics and supply chain operations improvement. With our years of experience, eCommerce businesses may take advantage of time savings, cost savings, and enhanced consumer experiences.
Decreased Supply Chain Inefficiencies
By establishing end-to-end supply chain visibility through advanced technologies like warehouse management systems, WareIQ can boost accuracy, speed, and efficiency. The sophisticated software solutions can automate information transfer and improve shipping and inventory tracking, among other things. To increase competency and efficiency in customer service, the best use of software automates the fulfilment process.
Are you eager to know more about WareIQ's offerings if you sign up now? Find the features of the best-in-class, category-defining fulfillment services for eCommerce & D2C brands below:
Pan India Fulfillment & Darkstore Network: Plug-and-play fulfillment infrastructure with no minimums, which is compliant with Amazon Seller Flex, Flipkart Assured, Myntra and other marketplaces
Inventory & Network Planning Excellence: Best-in-class AI models for sales forecasting, product segmentation, and inventory management to reduce inventory by 40% and increase revenue by 10%.
Vertically Integrated Fulfillment Tech Stack: Our Fulfillment Tech Solution supports integrations with 20+ top marketplaces & D2C platforms, and prominent national, regional and hyperlocal couriers, enhancing reach by covering deliveries for 27,000+ pin codes
Supply Chain Productivity Applications: Integrate a host of supply chain productivity apps with a single-click to your existing CRMs, ERPs & accounting software to manage your logistics workflows from one command center. Use Apps like RTO Shield to get 100% RTO protection, Branded Tracking to turn your order tracking page into a profitable marketing channel, and many more.
Trusted by 300+ top Indian brands, we are helping them accelerate online sales and expedite their growth through a synergistic combination of advanced technology, robust fulfillment infrastructure & seller enablement services!WareIQ is backed by leading global investors including Y Combinator, Funders Club, Flexport, Pioneer Fund, Soma Capital, and Emles Venture Partner.
3PL Guide: Frequently Asked Questions