10 Best Web-Based Order Management Software (OMS) for eCommerce in 2023
The goal of every retail business is to sell as many items as they can to turn over a profit. However, in order to achieve that goal, they need to have in place a centralized solution that consolidates order, sales, delivery and return data across sales channels, physical stores, their own website, and more. Doing this is important because when a company deals with multiple orders and starts to scale up its operations, managing and keeping track of them can start to become disorganized and can fluster the people who are in charge of maintaining the order and sales records.
Having an automated software solution that can automatically enter the relevant data every time an item is purchased, delivered or returned can drastically smoothen out the order management process and reduce the number of mistakes or omissions that are made. In this blog, we will thoroughly explore what order management software is, its functions, the benefits associated with it, factors to consider when making a choice and the top 10 web based order management systems currently available.
What is Order Management Software?
Order management software is a type of web-based tool that helps businesses manage their orders and inventory across multiple channels. It allows companies to control every aspect of their orders, including order entry, order processing, inventory management, shipping, reverse logistics and customer service. With an order management system in place, businesses can efficiently manage their orders, reduce errors, improve order accuracy and speed up order processing times.
Order management software can integrate with other systems, such as accounting and CRM software, providing a complete solution for managing a business's sales and customer service operations. Order management software can be used in a variety of industries, including eCommerce, retail, manufacturing and distribution. It is especially useful for companies that sell products across multiple channels, such as online marketplaces, brick-and-mortar stores, and mobile apps.
WareIQ – Amazon-prime Like Logistics for Modern Brands in India
WareIQ, an eCommerce fulfillment company, empowers online brands with a superior-tech platform to compete with Amazon like service levels by bringing their average delivery timelines from 5-10 days to 1-2 days.
"With WareIQ's full stack digital enabled fulfillment solution, we got access to the pan India network of fulfillment centers & cold storage facilities enabling same/next day delivery, without any upfront investment in supply chain infrastructure from our end. During the IPL campaign in April 2022,

WareIQ efficiently

handled unpredictable 200x surges in daily order volumes

of ~20k/day with a

99% fulfillment rate

. With WareIQ as our preferred fulfillment partner, we witnessed 172% growth in online order volume in just 4 months, with a significant improvement in the overall customer experience in fulfillment."
Top 3 Functions of Web-Based Order Management Systems
Keeping Tabs on Your Inventory Levels
For most retail companies, managing inventory across several channels ranks highly on their list of challenges. If you haven't laid the groundwork for scalable development, monitoring the velocity, volume, and fulfillment of omnichannel orders can bottleneck your organization. An order management system can aid merchants in managing inventory across all of their sales platforms.
It is a product specifically made to assist eCommerce businesses planning to enhance their inventory management procedure during the coming years. An OMS can help in multiple ways, such as being able to receive real-time updates of inventory levels across all online marketplaces, understanding which products receive the most demand per channel and much more.
Automating Your Fulfillment Procedure
By treating the entire supply chain as a connected ecosystem, modern web-based order management systems can enable sellers to automate their in-house procedures from order placement to fulfillment.
Online store owners who want to expedite the processing, selection and delivery of orders can depend on an OMS for multiple tasks such as accepting payments regardless of currency or delivery destination, printing shipping labels, routing customer orders to the relevant courier services, transmitting order data to wholesalers or 3PLs so they can start the order fulfillment process and more.
Storing Sensitive Customer Details
A CRM system is a type of order management tool that gives retailers access to all the data they have gathered from a customer, including past purchases, lifetime value and location. Using this data, retailers can customize their marketing efforts towards specific customers in an effort to close transactions. An OMS can synchronize with most CRMs and consolidate every piece of customer information.
A company, for instance, could use information from its OMS to develop consumer segments based on their location, income, purchase history, return data, and more. Therefore, each segment can be targeted based on the traits they have exhibited to create a higher chance of getting a purchase from them.
What are the Benefits of Using Order Management Software for eCommerce?
Enhances Order Precision
​​Conducting order fulfillment without an OMS is a dangerous endeavor. Spreadsheet-based order processing exposes you to the occurrence of human mistakes. Errors resulting from manual order management is the primary source of inventory or fulfillment problems for the majority of merchants.
This leads to logistical headaches in addition to ruining client experiences, especially if the incorrect product is shipped to a consumer. Both the number of returns you'll need to handle and the cost of fixing incorrect orders will increase dramatically. Therefore, using order management software will instantly streamline the way orders are processed and items are dispatched. You can learn more on how to streamline shipping processes.
Enables Faster Shipping
Modern consumers continue to place a premium not only on low delivery costs but also on how quickly a product is delivered after an order is placed. When shopping online, most consumers choose same-day delivery or 2-day/next-day delivery. This is a need that brands must meet to increase the chance of recurring business.
By comparing stock levels across many warehouses, order management software optimizes the picking and packing procedure, determines the fulfillment facility with stock that is closest to the customer, dispatches the product as quickly as possible and sends order data to the relevant location. This enables orders to be dispatched and delivered as soon as possible.
Reduces the Prevalence of Overstocking and Understocking
Many businesses have too much cash locked up in inventory and sellers can lose up to 12% of annual sales as a result of these two major issues, which are frequently caused by a lack of understanding of the required inventory levels to have. Overstocking refers to the accumulation of huge amounts of unsold inventory that suggests you are financially strapped because you are paying for both the products themselves and the storage costs to keep it.
Conversely, stockouts refer to when sellers don't have enough inventory to meet demand. This means that you will have to turn away clients and persuade them to come back after the inventory has been restocked, causing dissatisfaction. The presence of order management software will negate these risks as it can help forecast demand and suggest the right amounts of inventory to store.
Improves the Customer Experience
It is evident that shipping is a sensitive topic for contemporary consumers. Customers value more than just the timeliness of your fulfillment procedure. 97% of customers want to know where their orders are, the delivery stage they are in and when they should expect the items to reach them. Using order management software enables retailers to fulfill these demands.
The majority of platforms feature built-in order tracking that, upon request, provides clients with updates on the status of their packages. It's the kind of openness that converts customers into posting positive feedback as opposed to unfavorable reviews online.
Enables You to Sell Globally
The estimated value of the worldwide eCommerce market is $4.5 trillion. The capacity to reach clients globally is definitely a strength for eCommerce brands. Their only restriction was the procedures required to accept and complete orders from abroad. This is where order management software aids eCommerce companies in expanding globally.
Retailers can do things such as accept several currencies as payment for orders coming from abroad, send order information automatically to 3PL partners in the relevant nation and send information to the warehouse that is most convenient for the end user.
Factors to Consider to Choose an Order Management Software for eCommerce in 2023
Your Own Short-Term and Long-Term Objectives
Finding the ideal order management software begins with knowing what purposes you will use it for, much like investing in any new form of software. Organize a meeting with your internal decision-makers to determine which features are essential and which are optional. Don't forget to consider future scalability and growth prospects throughout these discussions. Your decision-making should be significantly influenced by your plans for expanding the company. An order management software for eCommerce that can expand together with the business is necessary.
The Quotations Provided by Each Company
Vendors of web based order management systems will submit proposals to you for consideration if you inquire with them. These proposals aim to clarify the technical specifications and constraints of the system you intend to deploy so that you and them are on the same page. Don't forget to describe in full how you anticipate the order management software to operate in your organization. Provide details such as your order totals, number of units, the CRM you use, and training and hiring constraints to vendors so they can customize the bid for your company.
The Availability of Options You Have
It is unlikely that your initial contact with multiple order management software companies will instantly lead to the perfect match for your business. In order to analyze possible vendors, develop a list of multiple options that you can choose from. Make contact with each provider to set up a product demo or trial. To ensure you're choosing wisely, come up with a requirements checklist for each OMS vendor during this process and tick off each box depending on the services they offer. By doing this, you will be able to easily compare which options fit your requirements and which don't, so you can shortlist and choose the best one.
Top 10 Order Management Software Solutions (OMS) in 2023
WareIQ
Founding Year: 2019
Features: Inventory level monitoring, demand forecasting, smart placement recommendations, space optimization, multiple integrations and more.
Country of Origin: India
Pricing: On-request
Description: WareIQ is an eCommerce fulfillment company providing end-to-end fulfillment services starting from warehousing to smart inventory placement to inventory management to last mile deliveries. It has a dedicated inventory management and order fulfillment platform that uses a wide variety of technology, such as AI and ML to help provide a deeper understanding of how to optimize inventory management and streamline various storage and procurement procedures. The company is quickly emerging as one of the best order management software companies out there due to its USP of having a unified platform where users get all the features mentioned below from just WareIQ's smart fulfillment platform:

Warehouse and inventory management
Order management
Courier allocation and tracking
NDR and returns management
Analytics and insights
QuickBooks
Founding Year: 1983
Features: Multiple eCommerce integrations, Inventory and order tracking, reporting facilities, business intelligence metrics, partnerships with multiple channels and more.
Country of Origin: USA
Pricing: Between $10 to $30 per month
Description: A well-known brand in the accounting and order management software industry is QuickBooks. This program offers a wide range of capabilities on a single platform, allowing you to access and complete all of your accounting tasks in one convenient location. Its primary focus is on accounting as well as order management. Although QuickBooks is a well-known brand in the industry and has a wide range of capabilities, it is best suited towards the order management requirements of small businesses because it only supports a modest number of transactions and users.
Brightpearl
Founding Year: 2007
Features: In-built CRM, automated pre-sales procedures, back order management, access to customer information, multiple integrations and more.
Country of Origin: UK
Pricing: On-request
Description: Multiple order management features are available in the Brightpearl OMS. The order management software, which was created for multichannel retailers, gathers data from numerous sales platforms and displays it in a single dashboard. Sellers can compartmentalize order fulfillment, automate pre-sales processes and manage back orders thanks to its extensive order fulfillment options. Moreover, Brightpearl also includes an in-built CRM. Retailers are able to know where, what and how a consumer made their purchases. It includes the fundamental contact information that assistance requests would require from customer service teams.
Adobe Commerce
Founding Year: 2016
Features: Flexible solutions, global order fulfillment, multiple integrations, refunds and back order handling, inventory tracking and more.
Country of Origin: USA
Pricing: On-request
Description: Founded in 2016 as Magento and later acquired by Adobe, Adobe Commerce is an order management software that enables seamless cross-channel interactions and enables you to sell or fulfill orders from anywhere on the globe. It is renowned for its capacity to modify depending on the nature and scale of the requirement. It is a fantastic platform for individuals who require a high-quality order management system. It is adaptable and provides a lot of useful features but this benefit also has the drawback of making it difficult to use.
LinnWorks
Founding Year: 2010
Features: Good adaptability, multiple online integrations, business performance analytics, automated data synchronization, access to multiple channels and more.
Country of Origin: UK
Pricing: On-request
Description: Linnworks is an order management software based in the UK. Businesses across multiple sectors can sell wherever their clients are by using Linnworks, which manages, connects and automates online commerce procedures. With Linnworks, you can get actionable analytics across online marketplaces and storage locations while managing your omnichannel orders, inventory and fulfillment from a centralized dashboard. The company offers a consolidated platform with all your order management requirements in one place.
Skubana

Founding Year: 2015
Features: Generation of sales reports, cross-platform inventory tracking, multiple integrations, a single dashboard for all your information, automated order routing and more.
Country of Origin: USA
Pricing: Starts at $999 per month
Description: Skubana is one of the best order management software solutions around. The platform gives you the ability to effectively manage all the order management operations of your eCommerce company by precisely tracking your inventory levels and order history and even provides forecasts based on your historical data to help you expand. Although Skubana is a well regarded platform and has a tonne of functionality, using the system can be challenging and it is also quite expensive compared to other options on this list.
Zoho
Founding Year: 1996
Features: Single dashboard access, inventory and order tracking, multiple integrations, automated reorder alerts, generation of sales reports and more.
Country of Origin: India
Pricing: Between $39 to $199 per month
Description: Zoho is an order management software that you can use to manage both inventory and orders. You can link it with multiple website hosting platforms as well as most online marketplaces. It enables you to always keep track of your inventory levels, receives real-time order-related information and get alerts whenever any SKUs drop below the pre-specified reorder threshold. You can also use it to keep track of important information like pricing, costs and availability to keep your inventory organized. Every time a sale occurs, your inventory levels will automatically be updated across all of your sales platforms.
Netsuite
Founding Year: 1998
Features: Various automations, multiple integrations, seamless synchronization of data, currency-specific pricing, customer support and more.
Country of Origin: USA
Pricing: Starts at $499 per month
Description: NetSuite is an omnichannel order management software that manages your orders from the point at which they are placed until they are delivered to the customer. With the aid of some comprehensive tools, such as currency-specific pricing, multiple automations, multiple delivery options and more, this OMS can help streamline both your order management and delivery processes. The company can accommodate companies of all sizes ranging from small startups to large-scale MNCs.
Salesforce
Founding Year: 1999
Features: In-built CRM, inventory level monitoring, multiple integrations, customer data insights, access to multiple channels and more.
Country of Origin: USA
Pricing: Between $0.15 to $0.50 per order
Description: Salesforce is an order management software that connects customers to products whenever, wherever and however they want them by integrating commerce, marketing and quality service. Because of its foundation as one of the world's top CRM tools, it seamlessly blends customer-focused information gathering and order management, enabling merchants to offer adaptable, omnichannel operations at a scale that is truly global. Therefore, the company is best suited if you have not already partnered with a CRM.
Orderbot
Founding Year: 2009
Features: Inventory level monitoring, multiple integrations, data synchronization, historical analytics, order tracking and more.
Country of Origin: Canada
Pricing: On-request
Description: Orderbot is an order management software that allows you to sync inventory data across platforms and websites, issue shopping alerts and import order history from other sites. Additionally, it can integrate orders that arrive from online marketplaces with clear visibility, as well as process payments and send real-time alerts for both orders and inventory levels. The platform can synchronize with numerous shipping companies, as well as accounting programmes. You can also integrate with ERP programs with a little extra work.
Conclusion: What Makes WareIQ's Order Management Software the Top Solution for Your Business?
Investing in comprehensive order management software can save your business a ton of time, effort and money in the long run. It streamlines the way orders are accepted, processed, dispatched and fulfilled, and can also handle procedures like returns and tracking inventory levels across multiple online marketplaces and physical stores. It is able to store vital customer information, which can assist you in tailoring your marketing solutions to give you a higher chance of success.
Just like how online video platforms have negated the need to physically store multiple CDs by giving you access to thousands of movies and shows at your fingertips, order management software can store all of the most important data across multiple platforms and stores in a single dashboard, reducing clutter and organizing it in a way that is easy to understand and accessible by whoever needs to view it. You can enable all these benefits by partnering with WareIQ.
WareIQ is an inventory management and order fulfillment company that provides dedicated tools to optimize your inventory management and order fulfillment procedures. Some of the main services we offer are listed below:
An In-House OMS
We have a custom-built OMS that can integrate with multiple online sales platforms and CRMs to help you store and manage all your order and inventory data in one place.
Real-Time Alerts
Our OMS provides automated real-time updates regarding orders and inventory levels and can also set automated reorder triggers whenever a particular item is running low.
Accurate Inventory Forecasting
By giving you access to historical order and inventory storage data from prior seasons, we help you ascertain how many units you need to store of a particular item based on its current and future demand.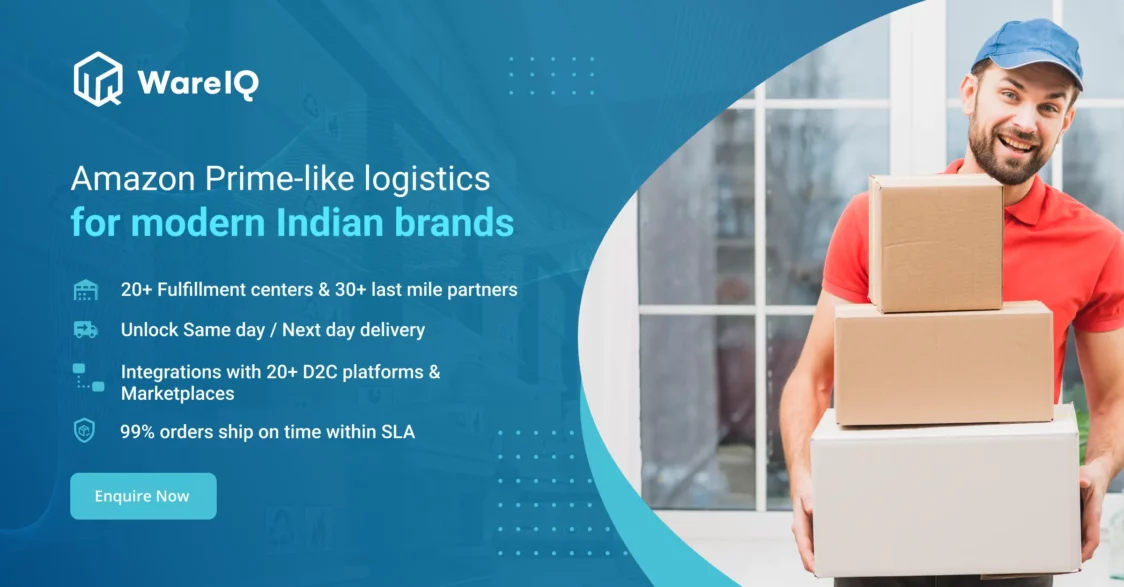 Order Management Software (OMS): FAQs