Top 20 Most Profitable eCommerce Business Ideas for Aspiring Entrepreneurs in 2023
The current world has made it incredibly simple to start an eCommerce business, thanks to the Internet. A simple website can be used to communicate with anyone, anywhere around the globe. Concentrating on the appropriate demographics and offering the right products may quickly establish an extremely lucrative eCommerce business. Less overhead, better adaptability, and ease of scaling are further advantages of operating an internet business.
The worldwide eCommerce market is as competitive as ever. According to Statista, $3.4 million was spent online for retail in the world in 2019. Global retail eCommerce sales were estimated at 5.2 trillion dollars in 2021. By 2026, this amount is expected to have increased by 56%, totaling roughly 8.1 trillion dollars.
There are many prerequisites for an online store to increase sales. Unfortunately, none of those will matter much if you don't have the right business idea. If you intend to explore these niches, we'll review some of the most successful eCommerce business ideas in this guide.
What is an eCommerce business?
The phrase "eCommerce" refers to business transactions, purchases, and sales of goods and services made through the Internet, particularly through websites. eCommerce transactions can happen between companies or between companies and clients.
Businesses with physical stores have been replaced by eCommerce as it has grown in popularity over the past few decades. Without incurring the exact cost of operating a physical store, eCommerce enables you to buy and sell things anywhere in the globe at any time. However, for the best marketing and conversion rates, an eCommerce company—typically a company that sells both online and offline—needs a physical location.
How to identify the ideal eCommerce business idea for yourself?
Pick The Niche That Interests You
If you genuinely care about your products, you may see their advantages and disadvantages and create long-term economic success. In addition, you'll be driven to overcome the difficulties of owning a business if you genuinely enjoy it.
Use your interests, passions, and pastimes as the foundation for your research. Use search engines and social media to hone your concepts and perform in-depth analyses on each one. For example, find out what products and industries are becoming more popular online and whether they might make a successful eCommerce offering.
Think About Your Capacity and Resources
This is important while starting a business. You must consider three primary factors: people, resources, finances, knowledge, and experience. If you have limited resources, you should launch a business with modest sales of low-cost goods. The same is true for a novice with no expertise or understanding. You will encounter challenges and issues like overpriced or low-quality goods, vendor fraud, or even con artists posing as suppliers.
Cutting back on stages of business operations or scaling down your scale are your best options if you don't have much personnel. When you hire employees, you can spend more money on benefits.
Inspire From Others
It's healthy to read books, the news, or blogs, but the advice offered is generic and theoretical. Starting a business requires hands-on work, so you should prepare some helpful advice. Therefore, you should ask questions and pick up knowledge from those with more experience and expertise in your sector. In addition, there are several online communities where you can participate and interact with people. If there is an issue with your proposal, people will either recommend a different idea or offer a remedy to improve it.
WareIQ – Amazon-prime Like Logistics for Modern Brands in India
WareIQ, an eCommerce fulfillment company, empowers online brands with a superior-tech platform to compete with Amazon like service levels by bringing their average delivery timelines from 5-10 days to 1-2 days.
"WareIQ came to Gynoveda with a full stack fulfillment platform & gave Gynoveda access to a nation wide network of fulfillment centers & last mile & hyperlocal courier partners closer to our customers based out of North East & North India.

They made

same-day delivery possible

for us in metros.

"
Top 20 Most Profitable eCommerce Business Ideas In 2023
Every eCommerce business idea needs an effective business plan. In the eCommerce industry alone, there are thousands of niches. You must choose the ideal market segment to sell your items to if you want to run a successful business.
It takes a lot of research to choose the best niche. First, find out which products are popular and whether or not the market will accept them. The viability of sustaining these goods or services over the long run should also be considered; this measure may entail government regulation and control.
So, look at some of the top eCommerce business ideas you can launch in 2023.
Clothing & Fashion
The value of the global apparel market is anticipated to increase from 1.5 trillion dollars in 2020 to about 2.25 trillion dollars in 2025, making this an excellent choice for eCommerce business ideas.
Major apparel and fashion brands worldwide have also experienced consistent growth, indicating an increasing global demand for clothing and footwear.
On Instagram, search for the hashtag #OOTD to see millions of posts. Almost everyone wants to spend money on nice clothing, which always seems presentable.
This has given the already flourishing garment business a significant boost. As a result, numerous new fashion and apparel brands are emerging, ranging in size from small mom-and-pop shops to massive retail giants.
Cosmetics and Beauty Products
These days, many individuals spend a lot of money on cosmetic items, which make up 11% of all online sales. In addition to skincare items, which are in high demand with today's health-conscious customer base, this product includes makeup and is one of the lucrative eCommerce business ideas.
Consumers are eager to spend money on cosmetics for several different reasons. Due to business closings, there was a drop in sales during the first few months of the pandemic. Due to this, numerous companies changed their strategies and started selling popular goods online, including hand sanitisers, makeup removers, and hair care items. Some even started offering home spa packages online, including face masks, hair treatments, and other cosmetics.
As pandemic restrictions have eased, more and more people are attending live events, returning to work, and holding in-person meetings. All of these factors have continued to fuel demand for this industry.
Social media and beauty applications have also helped specialised beauty items become more popular. These platforms motivate aspiring business owners to launch online ventures that serve a more extensive clientele. According to Amazon data, DIY beauty and self-care goods like skincare, men's grooming products, and hair care are popular.
Fitness Gear
Fitness-related products and programmes are among the most looked-up eCommerce business ideas. The global market for online fitness is anticipated to reach $16.15 billion this year and approximately $80 billion by 2026.
Taking advantage of this trend, many fitness instructors today have even become influencers, gaining sizable fan bases on YouTube and social media sites like Instagram and Facebook.
A few of these bloggers and influencers have created fitness applications. Although celebrities with enormous followings of ardent fans might boost sales, it's frequently ideal to start by offering goods they already endorse and that are related to their target market, such as:
Suggested Read: Instagram Business Ideas for 2023
Smart Home Products
The demand for innovative home products is a more significant eCommerce business idea than ever. By 2026, it is predicted that the global smart home market will be worth $205.61 billion.
This product category might be lucrative for a startup business owner, but it's also difficult to break into. Customers are constantly searching for fresh and cutting-edge innovative home items. According to research, 78% of prospective homeowners are prepared to spend more to live in a home equipped with innovative technology.
Among innovative home goods, the popularity of voice-activated assistants, robot vacuum cleaners, and keyless locks has increased significantly.
Online Courses for Learning
Open online courses had been around for a while, but the pandemic was their turning point. As a result, people in this era started thinking about different methods for spending time when cooped up.
These online courses are convenient for users who live far away, more affordable than those at many traditional schools, and flexible because they may be taken at your leisure. They don't demand a lot of dedication from students, particularly those simultaneously working from home. Offering online courses to subject matter experts in in-demand fields may prove to be a lucrative endeavour.
A few topics taught online are email marketing, dropshipping, affiliate marketing, search engine optimization (SEO), and affiliate marketing, apart from learning platforms for government competitive exams. The success of this eCommerce business idea depends on finding online courses that address the growing issue of the skills gap in the industry.
Electronics
According to the National Policy on Electronics (NPE) 2019, India aims to produce $400 billion in electronics by 2025.
This is one of the best eCommerce business ideas since it enables you to sell a variety of household appliances, from basic models to sophisticated ones with artificial intelligence (AI) and voice control, as well as laptops, cell phones, TVs, and other electronic products. Additionally, purchasing electronic devices at a lower cost makes this category the most popular on eCommerce platforms.
According to the 2020 survey, the average profit margin for vendors in the electronics industry is 20%, which is much greater than the average for other categories. This results from the higher demand and the reduced commission fees at online marketplaces charges for devices. In addition, compared to different product categories, referral fees for most electronic devices are the lowest at 8%. The figures clearly show how profitable the electronic product category has been and will be in the future.
Other products in the electronics area include cameras, photographic equipment, and related accessories. Baby monitors and wireless security cameras for homes have been among the most well-liked devices in this category, despite the appearance that consumer demand for cameras has recently fallen.
Home Decor & Furniture
In 2021, the market for home decor on a global scale was worth US$682 billion. The publication projects that the market will reach US$ 898.3 billion by 2027, growing at a CAGR of 5.1% from 2023 to 2027.
With profit margins of between 40 and 60 percent, online furniture selling is one of the best eCommerce business ideas. Also, this category has been consistently ranking at the top of sales rankings across several eCommerce platforms.
Given the consistent and ongoing demand from so many different market segments, including the real estate industry, the interior design industry, fundamental consumer wants, etc., selling furniture online has proven to be one of the most lucrative areas within today's online eCommerce.
Household furniture is ranked as one of the three best-selling online shopping categories, which makes the situation more encouraging.
To set up an online furniture company, you must develop an eCommerce website that sets it apart from those selling their home furnishings on eBay or Amazon.
You can also offer ornamental items for the home, such as artwork, designer lightbulbs, plants, and other things.
Pet Food and Supplies
The pet food market is anticipated to grow to $163.70 billion by 2029. Given that more people stayed at home, more individuals adopted dogs, and breeders and rescue organisations reported an increase in inquiries, the pandemic may have contributed to this extraordinary growth.
For online retailers, this market expansion means more commercial potential.
Along with the typical organic pet food, vendors can also sell pet supplies, including pet toys, beds, apparel, and supplements.
Eco-Friendly Apparel and Products
Today's growing climate change and sustainability consciousness drive demand for ecologically friendly goods. Because of this, many people now favour living a more sensible and sustainable lifestyle and wish to support companies dedicated to creating and selling eco-friendly items.
According to a survey, 65% of consumers think companies are just as accountable for encouraging beneficial environmental improvements as governments are. Most people still consider price and quality when making purchases. However, a product's environmental impact is now something that many people pay special attention to, which makes this eCommerce business idea quite lucrative.
Jewellery Products
According to a Grand View Research analysis, the worldwide jewellery market is anticipated to reach $518.90 billion by 2030. Per their survey, the most common jewellery item that draws buyers are rings, and customers favour pieces with elaborate designs that may be worn as statement pieces.
Collectors love customised jewellery products as well. More than 1,400 metric tonnes of gold are used by jewellery manufacturers, the material with the quickest market growth.
If you want to be successful in the eCommerce jewellery industry, you should think about spending money on online marketing to promote your goods. Utilizing the potential of social media marketing can generate interest in your company. At the same time, research through search engines can give you an idea of your target market's needs.
Books
Did you know that Amazon's website began as a digital book store? You did hear correctly. In the 1990s, Amazon was founded as an online bookstore in Jeff Bezos' garage. So it is not surprising that selling books online is one of the most liked eCommerce business ideas.
The books area has developed over time to focus more on digital content. eCommerce marketplaces are logical venues to sell digital books because they provide Kindles. This category offers many classic books and epic adventure stories adapted into Hollywood films. In addition, books that are selling best in bestseller's category lists may double as textbooks.
Books meet several requirements for a good eCommerce business category, making them excellent possibilities for selling on the market. They are, first and foremost, portable and simple to ship. You won't need to be concerned about them breaking during shipping because they are likewise not delicate. They also won't rust or degrade, so you don't need to offload them quickly. So, if you want to enter the market as a new seller, this is one of the most profitable eCommerce business ideas you could think about.
You can find best-selling books on Amazon or other online bookstores by reading reviews or investigating the most popular genres on eCommerce marketplaces.
Online Groceries & Foods
People desire food. That yearning can be satisfied as you earn money. Online grocery and food buying boomed as more individuals were compelled to stay at home.
You can take advantage of the fact that the market for food and supplies is as active as ever. Whether you want to buy packaged food at the store or create it yourself doesn't matter. You have a lot of infrastructure at your disposal that you may use to your advantage and succeed.
You must familiarise yourself with the legislation because the retail food sector is strictly controlled. However, there is a real chance for the business to succeed if you figure out how to get around compliance.
You can offer a website and a mobile app here so that consumers can order groceries and deliver them in under an hour. They use intermediary shoppers to work on consumer orders and provide them immediately, so their method is easy and uncomplicated.
Healthcare Supplies
You can also create a website to use as a distribution hub for medical supplies. Instead of buying these things over the counter, people who have prescriptions or are looking for health supplements can come to your business and buy them.
You might have many hoops before your website is fully launched because the regulatory standards regulating healthcare products are also quite effort-taking. Thus, this is not a suggested alternative if you want to launch a business quickly and easily.
Sell Your Art Online
Get your things online and start selling them if you're an artisan and you're confident in what you do.
Today, several eCommerce systems may assist you in setting up and running an online gallery to sell your artwork. All you have to do is pay a recurring charge, and they provide you with all the resources you need to scale up.
To sell your products, you must use branding and marketing strategies. The most important thing is to set a budget and stick to it. This is a fantastic method to profit from your abilities.
You could also benefit from seller communities, as they connect artists with a large audience of art lovers and collectors worldwide. They also provide additional services, such as photo framing and POP art conversion.
Digital Products
These items frequently take the form of digital files that may be downloaded or streamed, including MP3s, PDFs, movies, plug-ins, and templates. As a result, the e-learning market is also booming. By 2025, the market is expected to be worth over $331 billion, according to recent research, making digital products one of the most significant online business prospects for both creators and instructors. Examples include books, music, films, and online courses. Moreover, they are popular among consumers since they can download and utilise them whenever suits them best, even though they can't be held or touched.
Because they are affordable to produce and deliver, digital items also present fantastic business potential. You don't need to resupply inventory or communicate with suppliers to sell it to different customers frequently after making it just once. If you consider yourself an expert in a particular industry, you may organize your knowledge in a bundle and sell it as a one-time fee or subscription.
Video Games & Gaming Consoles
Undoubtedly, the video games category on the list would be necessary to include. In any online marketplace, locating a list where gaming consoles and accessories are not profitable categories would be challenging. During the pandemic, the gaming industry kept people occupied in their homes.
High profits for sellers are guaranteed in this category. A growing number of movie-themed games are becoming well-liked in the market and are in great demand from consumers thanks to the yearly stream of animated movies. Additionally, gaming consoles and their accessories are among the most popular gift options among consumers, which positively affects the sales of the products and justifies the category's high profitability among the top eCommerce business ideas.
Personalised Gift Shops
The market for personalised gifts is currently worth $31.63 billion, and options include canvas prints, novelty items, and eco-friendly presents.
The gift market is undoubtedly quite different, and because of its enormous capacity, no two business concepts can be the same. The demand for personalised gifts has many dominant players, and this is where time-based competition is relevant. The industry has quadrupled with a 25% growth over the previous five years, and new gift item categories have been introduced. The forecast predicts that global retail sales will reach $27.33 trillion in 2022, up 5% YoY. Social media has a significant impact on unusual customised gifting.
The variety of gifts available has also increased the Millennial generation's purchasing power. The growth has caused customers' purchase behaviour to change drastically. A luxurious lifestyle and social media influence significantly impact unconventional custom-tailored gifting.
Not to add, the increasing acceptance of eCommerce is cited as a significant element. The most exciting and rapidly expanding medium for business transactions in India is e-commerce. The Indian e-commerce market is anticipated to increase from US$48.5 billion in 2018 to US$200 billion in 2026. The increased use of smartphones and the internet has led to this growth. A sizable portion of the pie will go to online services in particular. This was clear when online commercial sales skyrocketed during the COVID-19 pandemic's lockdown.
Car and Bike Accessories
One of the most lucrative areas is the automotive industry! In this market, starting your firm is straightforward. Many automobile and motorcycle components can be sold online, such as seat coverings, rims, tyres, rearview mirrors, and batteries.
The eCommerce industry for auto accessories is booming. The prospects for newcomers who desire to enter this area are still plentiful. This is the ideal time to launch and grow your eCommerce business if you're interested in selling automobile and bike accessories.
The automotive industry is a massive market that is expanding yearly. To keep their vehicles functioning well, people need bikes and automobile accessories. Delivering genuine bike and vehicle accessories at competitive prices can help you launch a successful online business.
Bags, Luggage & Other Travel Accessories
The travel sector has become a crucial component of the world economy and offers business owners countless opportunities. Because travel is becoming more accessible, the billion-dollar market of bags, luggage, and accessories market is also expanding.
In 2021, the backpack market reached almost 18.3 billion USD. The market is projected to continue expanding from 2022 to 2027 at a CAGR of 6.61%, reaching around USD 26.88 billion by that year.
These statistics predict a fantastic chance to start a successful eCommerce business.
Baby Products
From 2021 to 2026, the market for selling infant items online is anticipated to increase by 13.61 billion US dollars. Additionally, the market's growth velocity will pick up at a CAGR of 9.82% during the projection period.
Selling children's toys, clothing, or accessories might be a lucrative eCommerce business idea because many parents will lose money for their little ones.
Offer more affordable products to parents who are on a tight budget as one approach to set your company apart. Or offer heirloom-calibre or sustainably produced goods that appeal to parents willing to pay more for more expensive stuff.
Word-of-mouth is a powerful marketing tool in this industry, so sharing client testimonials and displaying social proof on your digital networks will help you expand your company.
Conclusion
Even if the eCommerce sector is quickly growing, simply creating a store is insufficient. Your business plan must provide customers with products or services they are interested in to be profitable.
You can employ several business concepts and market your products directly to customers if you want to open an online store soon. Any of the recommendations above would be a great place to start.
WareIQ As A Fulfillment Partner
WareIQ, a 3PL with technological capabilities, utilises its software across its network of fulfillment facilities. As a result, customers can view inventory levels and follow their orders' selection, packing, shipping, and delivery in real-time.
After we've connected your store, orders are automatically sent to our warehouses. The thing is chosen, wrapped, and sent (and tracking info is pushed back to your store and shared with your customers). With our fulfilment services, you can make the most of your time and financial resources by using the delivery process to surpass client expectations and take more control over the customer relationship.
You can strategically distribute your inventory throughout WareIQ's locations using our nationwide spread fulfillment centers to deliver your products more quickly and affordably. This is so that you can reduce the shipping zones and costs associated with sending orders to far-off areas by keeping inventory local to your customers. Additionally, whether you ship from one fulfilment center or numerous, you can offer same-day or next-day delivery to 98% of the country's population with WareIQ's 2-Day Express shipping option.
WareIQ offers data and analytics to assist you with anything from year-end reporting to enhanced supply chain decision-making. By doing this, we hold ourselves accountable and notify you of our progress. We show essential data like which fulfilment centres you should stock, how much time is left before inventory runs out, how sales affect stock levels, the typical cart value, shipping costs, and transit times for each shipping option, as well as your fulfilment costs per order and storage costs per unit.
Are you eager to know more about WareIQ's offerings if you sign up now? Find the features of the best-in-class, category-defining fulfillment services for eCommerce & D2C brands below:
Pan India Fulfillment & Darkstore Network: Plug-and-play fulfillment infrastructure with no minimums, which is compliant with Amazon Seller Flex, Flipkart Assured, Myntra and other marketplaces
Inventory & Network Planning Excellence: Best-in-class AI models for sales forecasting, product segmentation, and inventory management to reduce inventory by 40% and increase revenue by 10%.
Vertically Integrated Fulfillment Tech Stack: Our Fulfillment Tech Solution supports integrations with 20+ top marketplaces & D2C platforms, and prominent national, regional and hyperlocal couriers, enhancing reach by covering deliveries for 27,000+ pin codes
Supply Chain Productivity Applications: Integrate a host of supply chain productivity apps with a single-click to your existing CRMs, ERPs & accounting software to manage your logistics workflows from one command center. Use Apps like RTO Shield to get 100% RTO protection, Branded Tracking to turn your order tracking page into a profitable marketing channel, and many more.
Trusted by 300+ top Indian brands, we are helping them accelerate online sales and expedite their growth through a synergistic combination of advanced technology, robust fulfillment infrastructure & seller enablement services!WareIQ is backed by leading global investors including Y Combinator, Funders Club, Flexport, Pioneer Fund, Soma Capital, and Emles Venture Partner.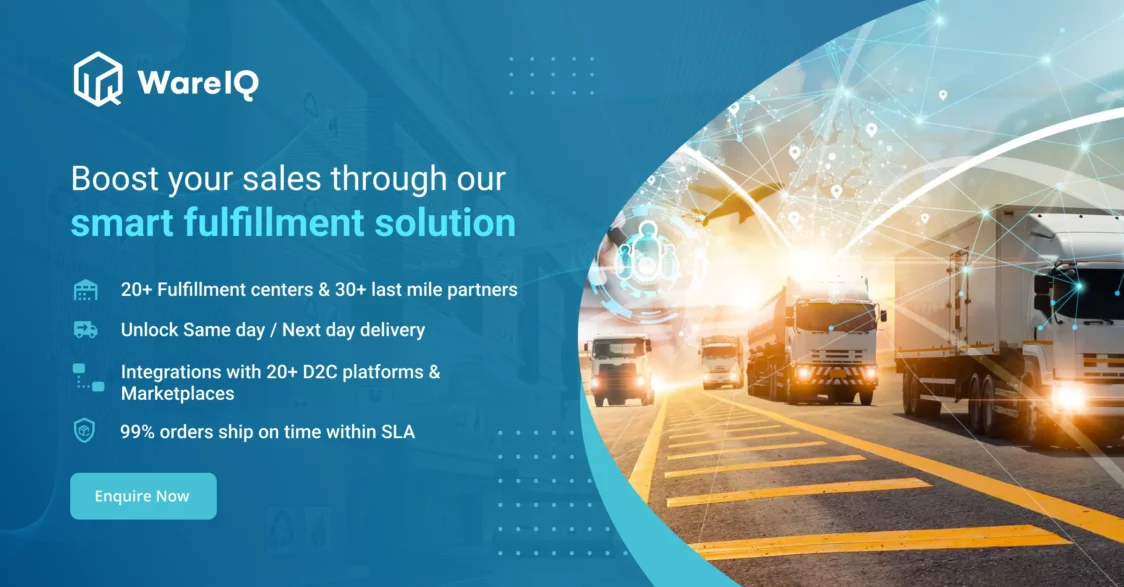 Profitable eCommerce Business Ideas FAQs